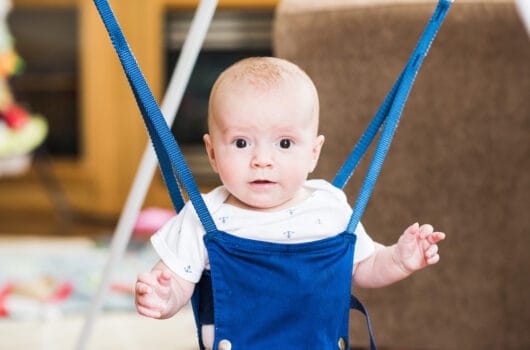 O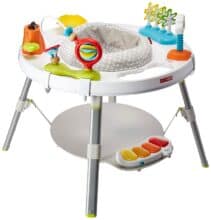 Skip Hop Explore Activity Center
B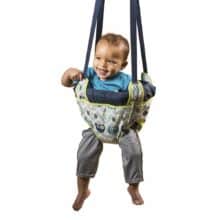 Evenflo Exersaucer Door Jumper
P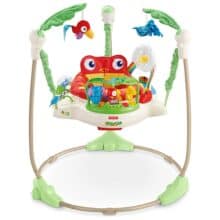 Fisher-Price Rainforest Jumperoo
Previous
Next
Once kids start walking, which usually happens when they reach six months, you won't be able to stop them. Babies are always full of energy, ready to move and explore the world. This is where baby jumpers come in.
The jumper is not just a toy, it is a device that facilitates crucial parts of childhood development and will help to improve a toddler's motor skills. With a baby jumper, your child will walk almost unassisted without any risk of injuries, giving you, the parent, a much-needed break.
What to Know Before Picking a Jumper
Today, we are going to tell you about the ten best baby jumpers available on the market. Because there are different types of baby jumpers, each one serving different age ranges and offering different educational benefits, our guide below will give you the best information before making the selection that is best for you and your kid.
Types of baby jumpers
Freestanding Stationary Jumper
A freestanding jumper is an all-in-one structure, with straps that attach the jumping portion to built-in poles. They're very convenient if you want your baby to be close by while you're busy working or doing chores around the house. Freestanding jumpers are great because they can be placed anywhere in the house. However, some of them tend to be a bit bulky and can even go as far as to take up the whole room! Also, a stationary only gives the baby the ability to jump and doesn't include any additional entertainment such as music or attached toys.
Doorway Jumper
Doorway jumpers come with the straps that fasten to the top of the doorway. One of the biggest benefits of this type of jumper is that it takes up way less space than a freestanding one. However, it is pretty inconvenient if you need to walk regularly right through that doorway where your baby jumps.
Activity Jumper
The activity jumper is constructed of a seat, a frame, and a tray that usually has attached toys and a built-in music system. This type of jumpers is excellent for providing extra activities and entertainment for your baby. They are also very convenient because they are very easy to move from room to room and don't take as much space as stationary jumpers.
Safety
Your baby's safety should always come first when choosing a baby jumper, as they can be dangerous if not appropriately monitored. Since baby jumpers help toddlers to move faster and bounce up and down, there is the possibility of accidental collisions.
Age and size limitations
All baby jumpers are designed for different ages. Make sure that you put your baby in a jumper appropriate for their age, weight, and height. If you violate any of these factors, you might end up putting your baby's safety at risk.
Portability
For convenience, it is recommended to choose a baby jumper that can be moved from place to place and even carried to every place you will be going. A good baby jumper should be light in weight without compromising its weight capacity.
Features
Every baby jumper comes in various styles, themes, and purpose. Finding out the features such as bouncing, music, sounds, lights, and toys may save you some time and effort.
Top 10 Best Baby Jumpers 2020
Guide to Buying the Best Baby Jumpers
What Is a Baby Jumper?
As mentioned before, a baby jumper is not just a toy; instead, it is a versatile tool that parents should have in their home. Think of it as a play and exercise area in one package. Bouncing in a jumper, your babies can get all the exercise they need to develop their leg muscles, motor skills, and play with fun toys. And as a parent, you will finally get some time to rest or to do the things around the house as your kid will be busy and safe.
What Age Is Ideal to Start Using a Jumper?
Babies can begin using jumpers around the ages of 3-5 months. That is typically when children are strong enough to hold their neck and head up without support and put their weight on their legs without knees buckling.
Remember that each manufacturer outlines the age, weight, and height restrictions of its products if you have doubts about a particular baby jumper.
Advantages of a Baby Jumper
Improves Pre-Walking Skills
A baby jumper is not a walking tool; however, by using it, kids can learn how to balance their bodies and how to take steps.
Helps to Develop Leg Muscle Strength
Bouncing in a jumper can help strengthen babies' legs, as they are pushing up their body weight with their leg muscles.
Has Positive Effects on Cognitive Function
When your baby is involved in physical and mental activities, they start developing better attention span, memory, and cognitive functions as early as possible. This may help them become smarter when it comes to learning and education.
Makes Your Baby Go to Sleep Faster
A baby jumper is something that your child would use for about 20-30 minutes per day. If you allow them to do this before bedtime, the baby will get tired, fall asleep faster, and sleep much tighter. So, get a baby jumper and enjoy the quiet sleep.
Allows Parents to Do Chores
As a parent, you want to spend all the time in the world with your baby. But you probably also need to do things around the house. Well, a baby jumper can be a great help. It can keep your baby safe and entertained while you're doing your chores.
Factors to Consider When Choosing a Baby Jumper
Size
Some of the jumpers can be pretty big and bulky, so it may be challenging to take them apart or carry them with you. However, the larger the jumper, the more features like toys, music, and greater weight support you will get from it. So, if you have spacious rooms in your house, it would make sense to go for a larger freestanding baby jumper. If not, then a doorway jumper may work a bit better for you.
Ease of Cleaning
It is needless to say that accidents happen, and there would come a time when you'd need to clean your baby's jumper. Well, do yourself a favor, choose one that is easy to clean. Doorway jumpers are usually the easiest to clean due to their small size, and freestanding and stationary jumpers are a bit trickier. We would recommend you go for the ones that have a removable and machine-washable seat because it gets dirty often.
Adjustable Height
A good baby jumper must have several height settings to utilize. That will allow you to keep using the same baby jumper for longer as your kid grows. Adjustable height also ensures that you have a bit of flexibility if your child is higher or shorter than average. Or if you wish to have one baby jumper for more than one kid of different height.
Toys and Additional Features
All babies like toys. So, the more toys there are on a baby jumper, the longer your child will play. Very few toys or none at all would mean that your child can become bored pretty quickly. Other features like lights and sounds would also help engage, entertain, and keep your baby busy for longer. Some jumpers may even feature a motion detection system that rewards your kid for jumping and encourages exercise. One of the most fun baby jumpers is the Evenflo Jump and Learn Exersaucer.
Seat
Make sure to take a closer look at the seat before buying a baby jumper. A jumper seat with more padding is obviously a more comfortable choice. Also, for convenience, look for removable spot pads that could be easily thrown in the washer.
If you go with an activity jumper, your baby must be able to reach all the toys from the seat without any extra effort. That is why a seat that rotates 360 degrees is the best option. It will allow your baby to turn themselves to face any section of the toy or activity tray they want.
Final Words
When a child is learning to walk, a jumper is an essential product to have. Besides improving the baby's health through exercising, jumpers add a lot of fun. We hope that with the help of our article, you were able to find the best baby jumper that suits your baby's needs.