It's an exciting time for everyone when the little one finally starts exploring a home on their own. That urge to learn and discover can fill a child's days with endless wonder, leaving them eager and energized to take advantage of their newfound navigation skills.
But as any parent who's ever scraped a thigh across the pointed edge of a table knows, there are a surprising number of hazards right out in the open in most homes. If you're looking for a guide on how to protect your little one from hurting themselves on these sharp edges and corners, look no further – we're here to help you choose the right protective childproofing guards for you and your family.
Choosing the Right Guards
As you set out searching for a childproofing guard that suits you, you'll quickly find yourself spoiled for choice. A lot of these choices might be hard to tell apart at first glance. If you're feeling a little overwhelmed trying to spot the differences, don't worry. We've put together some of the most important considerations when it comes to choosing the best corner or edge guards for you and your precious one.
Material
You can make a guard out of almost any material, as long as it's soft and lacking in sharp edges, but by far the most common you'll find online are foam, rubber, and plastic. Each has its advantages and disadvantages, which we go into the full details of in the types of materials section of our buyer's guide.
Size
Furniture comes in all shapes and sizes, and so do the guards you can put on them. It's also important to know just how much bulk and protection each one provides. We've listed the dimensions and thickness of every pick, so all you have to do is make sure they fit your furniture.
Durability
While we want these guards to be soft enough to keep our little ones out of danger, they also need to stand up to any curious attention that comes their way. We'll talk a little bit about the adhesive strength of each guard, and how well they stand up to being pulled, poked, or even chewed on by a teething toddler.
Convenience
With your hands already full enough raising a rambunctious little one, you'll definitely want your new corner guards as hassle-free as possible. Ease of installation and day to day use are huge factors in which will work best for you. What works for a table in the playroom might be too large and unwieldy for your work desk, so we'll make sure you can choose the right guard for the right situation.
Safety
No matter how convenient or durable a guard might be, the whole point of childproofing your home is to make it safer for your little ones. Arguably the most important quality of the guards you choose, all of the picks on our list are great choices, but we break down just how protective each guard is at the end of the day in our reviews too.
With all of these considerations in mind, you're probably already getting an idea of what kind of guards will work best in your home. If you still need help figuring out just where you're going to put them, we've got you covered with some helpful tips about location choice after our reviews section.
Once you know what kind of guard you want and where you're going to put it, you're ready to dive into our picks for the top ten best edge and corner guards.
Top 8 Best Childproofing Corner Guards 2021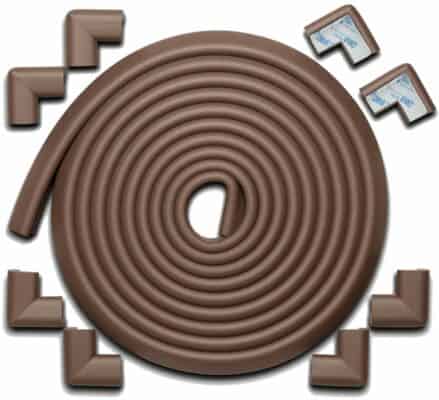 Why we like it:
Made of a dense, sturdy, BPA-free foam and available in several colors, the Roving Cove Edge Corner Protectors let you childproof the entire table instead of just the corners.
Editor's Rating:
Quick Notes
Material: Foam
Size: 2.2" (L) x 1.2" (W)
Thickness: 0.4"
Contents: 18 ft edge, 8 corners; 15 ft edge, 4 corners
Colors: White, black, brown
Safety
Neither too soft nor too rigid and dense, it's easy to see why we were so happy with these guards after getting them installed. You might even confuse them for rubber on a first pass. They're thick enough to completely dull the edges or sharp, pointed corners on your furniture and absorb the force of an impact with ease. We even found them sturdy enough to protect full-grown adults from those awkward cabinets and wide bed frames.
Durability
The foam material this Roving Cove offering is made of won't easily tear or fray, but because it is made of foam, you're going to want to make sure your child isn't left to chew or pick at it on their own.
The adhesive is more than strong enough to keep your guard in place when properly applied. They'll last a surprisingly long time even when used regularly as long as they're not being abused, so you won't have to worry about replacing them very often.
Convenience
Installation of the corner guards is about as simple and easy as can be, but you're going to have to apply the adhesive to the edge guards on your own. We found this wasn't too complicated of a task, but it does take time and accurate measurements.
This is definitely a project you'll want to save for after the little ones are sleeping. They do have a bit of bulk, which we've already mentioned is great for safety, but that also means the guards can get in the way of drawers if you're trying to childproof a cabinet or dresser.
Verdict
While there's no shortage of quality choices for corner guarding, we want our best overall choice to offer both great versatility and safety in one package. Roving Cove's Edge Corner Protector does exactly that, making it an awesome addition to any full childproofing regime. It might lack the slimmer, more subtle profile of our transparent options elsewhere on this list, but that bulk isn't just for show.
Pros
High-density foam provides great protection

Versatile - works on both edges and corners

Long-lasting adhesive means less replacing
Cons
Installation can be time-consuming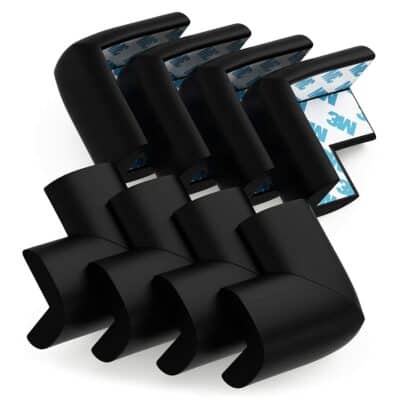 Why we like it:
With several choices in size and color and a spartan yet stylish design, these corner guards make up for a slightly higher price with a premium look and quality.
Editor's Rating:
Quick Notes
Material: Foam
Size: 2.1" (L) x 1.25" (W)
Thickness: 0.41"
Contents: 12 corners (Small) 8 corners (Medium and Large)
Colors: Whtie, black, brown
Safety
The non-toxic foam Sure Basics Table Corner Protectors provide every bit of protection you'd expect from guards like this. They do seem a little squishy at first glance, though we found that can be a benefit sometimes, especially if the corner you're protecting isn't particularly sharp.
The foam here isn't quite as dense as other options, so these are best suited for places where a child might accidentally bump a table or counter as opposed to something your little one will run into at full speed.
Durability
While the Sure Basics guards aren't quite as dense as the other foam offerings we've reviewed on this list, they're still made of solid, high-quality foam.
We don't expect any problems with tearing from general use, but as we cover in the materials section after the reviews, foam isn't a material you should let your little one pick at or chew on.
Convenience
It isn't uncommon to find a corner guard that's quick and easy to install, but many take a one size fits all approach. Sure Basics takes it a step further by providing size options, meaning even thin tables or smaller furniture can be protected without being smothered in foam. We've focused on the large size for this review, but it also comes in small or even extra-large forms, making it even easier to find the perfect fit.
Verdict
While they come in at slightly pricier for what you get in a single package, Sure Basics makes up for it by providing a premium feel and an eye for aesthetics that competitors lack. These will look great both inside the playroom and out of it, and you can guarantee a near-perfect fit between their size options and trimming yourself.
Pros
Three different sizes and colors

Great blend of style and safety

Easy to fit on any sized furniture
Cons
Softer foam isn't as dense as other options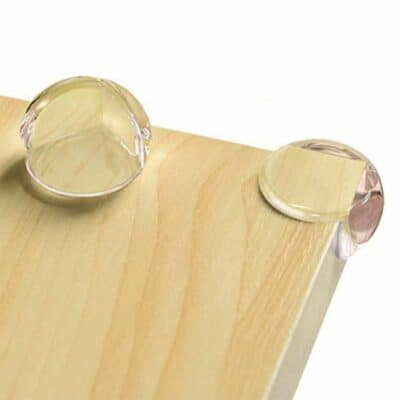 Why we like it:
These flexible, almost rubbery clear guards don't just provide a sturdy padding - they're uniquely great at protecting sharp corners closer to the ground, and you could easily guard every corner in the house at a great price.
Editor's Rating:
Quick Notes
Material: Plastic
Size: 1.29" (L) x 0.88" (W)
Thickness: 0.1"
Contents: 12, 18, or 24 corners
Color: Transparent
Safety
The soft, transparent plastic the CalMyotis Corner Guards are made of is thick and sturdy enough to turn even the sharpest and most dangerous of corners into a safe, blunted edge that won't break skin.
As we cover in the durability section, the adhesion strength is really impressive on these – that means you won't have to worry about your little one pulling it off. This is a huge relief, since these guards are small enough that the last thing you want is for them to end up in a child's mouth.
Durability
Unlike many of our other picks, CalMyotis has opted out of the traditional 3M-brand adhesive pads for these guards. Instead, they're using a slightly thicker, gel-based adhesive that applies best when warmed up with a hair dryer or heat gun before application.
When you follow the proper adhesive installation instructions, the binding it creates is incredibly strong. Heating it up makes it just as easy to remove, though that also means we can't recommend using these guards in the garage during summer.
As they're made of food-grade PVC plastic, there's very little worry about your little one tearing chunks off or the material wearing away with heavy use.
Convenience
The first thing you'll notice about these guards is probably the flattened side of the sphere. More than just an interesting aesthetic choice, this makes them brilliant for any sharp corners closer to the bottom of your furniture—but it also makes them a bit tough to use on slanted or uneven corners.
They'll sit evenly with the ground without the risk of unbalancing your tables or sliding around on the floor. When mounted on the top of a table, they can be easily hidden away under a tablecloth without creating noticeable bulges, making them a great pick for subtle corner guarding.
While the installation can be a bit tricky, requiring relatively squared corners and precision application of the adhesive, CalMyotis has packed in enough replacement pads to mount every guard in this kit three times over. That means even if you mess up applying it the first time, all you have to do is remove the adhesive and try again.
If you manage to run out of those or have any other issues with your order, they'll even replace it with no questions asked up to 30 days from the date of purchase.
Verdict
CalMyotis really pulls out all of the stops with these guards, even going as far as including a custom gel-type adhesive for maximum grip. When you see how many you get for the price, it's hard to beat this as a budget option when it comes to childproofing your entire home. Though not as soft or good at dispersing impacts as foam guards, they still do a brilliant job at keeping your little one safe.
Pros
Best valued package on this list

Great for table legs and bottom corners

More than enough replacement adhesives
Cons
Doesn't work as well on slanted or uneven corners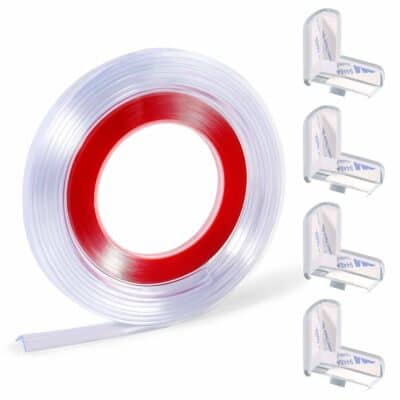 Why we like it:
An awesome, versatile kit perfect for securing particularly sharp-edged tables without asking you to mount bulky foam all over, they combine versatility and subtlety in the best of ways.
Editor's Rating:
Quick Notes
Material: Plastic
Size: Edges – 10' (L) x 0.4" (W) Corners – 1.65" (L) x 0.6" (W)
Thickness: 0.1"
Contents: 10 ft edge, 4 corners
Color: Transparent
Safety
You can think of these a little like the clear plastic version of the Roving Cove Edge Corner Protectors – a versatile kit that will cover both corners and edges wherever you need it most. These are great on tables with sharp edges, because you don't want to leave even an inch unprotected around an energetic little one.
Durability
The roll of double-sided adhesive tape this kit comes with is thin and noticeable through the clear plastic, but it's more than strong enough to secure the less than half an inch of soft plastic to a sharp edge. The same can be said for the corners, which are mounted with standard 3M adhesive. For such a slim piece of plastic, the edge protectors are surprisingly sturdy, keeping their shape under all sorts of abuse.
Convenience
While the corners come with adhesive already on them, you'll need to use a roll of double-sided tape to install the edge guards. They're under half an inch wide, so you'll have to be careful and patient to get the tape on just right. Don't worry if you mess up, though – there's way more tape in this kit than you actually need, so mistakes are easy to fix.
If there was one glaring issue we found with these guards it's that we wished there were more included in the package. With just ten feet of edge and four corner guards, you'll have to buy a kit for every table you want to protect. They aren't so expensive that this is a huge blow, but it's definitely inconvenient.
Verdict
While we were left a little disappointed in how much was in the box, Safe2m's Bumper Strip Kit is still an affordably priced package that combines the advantages of the Ella's Home Clear Edge Bumpers with a soft yet durable edge guard you can use to protect an entire table instead of just the corners.
That kind of all-around protection made these one of our favorite choices for transparent guards, and the best bet if you want something that won't stand out.
Pros
Protects an entire edge without bulky foam

Particularly hard to damage

Comes with tons of replacement adhesive tape
Cons
Pricey for what you get - only enough to protect one table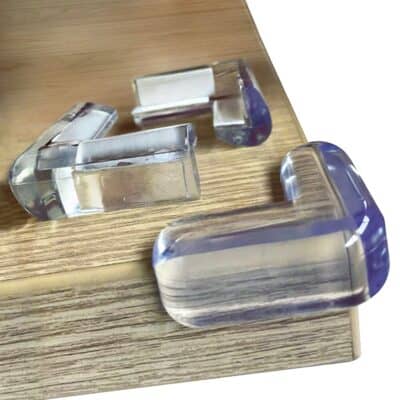 Why we like it:
If you're looking for something a little more understated, transparent guards are the way to go, and we found these easy to apply bumpers to be some of the best in their class.
Editor's Rating:
Quick Notes
Material: Plastic
Size: 1.5" (L) x 0.59" (W)
Thickness: 0.1"
Contents: 20 corners
Color: Transparent
Safety
You'll find there's no shortage of transparent round corner guards on the market, which makes solid, squared-off guards like Ella's Homes Clear Edge Bumpers stand out in the crowd. While round guards have their places, they can leave the immediate edges around the corner exposed or hang too far off the edge of a thin glass table, giving the little one plenty of leverage to pull on. With these guards there's nearly two inches of buffer around the corner and it sits much flatter against the furniture.
Durability
The adhesive is a little thin, so you'll want to take extra care to make sure you've got these stuck on right and careful not to yank all of the adhesive off along with the paper covering. We found these particular guards tended to be a little stiff for flexible PVC, which is great for their longevity but softens impacts less.
Convenience
We found Ella's Homes guards great for a hassle-free installation. They come with the adhesive pre-applied to the inside of each guard, ready for you to peel and mount wherever you please.
Because the guards aren't overly thick, on a large enough table you can even mount one on the top and one on the underside, making these our favorite option for a fully padded corner.
Verdict
Though they aren't as budget-friendly as the CalMyotis Corner Guards or as soft and impact friendly as Sure Basics' Table Corner Protectors, we found these guards some of the best at blending in with your furniture. If you're tired of large pieces of foam or gaudy rubber making your nice furniture look like a mess, Ella's Homes might just have what you need.
Pros
Applies great to every kind of corner, even beveled ones

Subtle design interferes less with your furniture's appearance

Great protection whether you mount it over or under a corner
Cons
Adhesive is thin and harder to get a strong grip with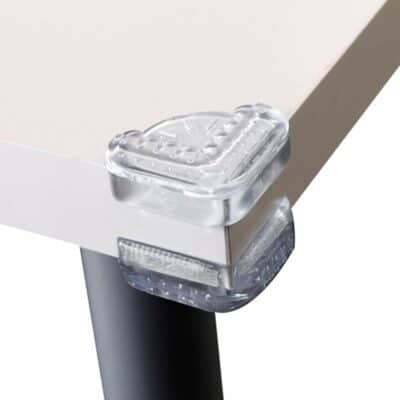 Why we like it:
One look at these large, sturdy Baby Mate Clear Corner Bumpers is all you need to figure out why they made our pick for most durable guards. Their low profile and flat shape also keep the little ones from getting a good grip.
Editor's Rating:
Quick Notes
Material: Plastic
Size: 1.6" (L) x 0.6" (W)
Thickness: 0.25"
Contents: 16 or 24 corners
Color: Transparent
Safety
Especially for those who own thick glass or metal tables, many slimmer alternatives to Baby Mate's bumpers just don't do as good of a job covering a corner as you'd like. With the guards you're getting in this pack, you're getting a full 90 degrees of coverage that sits flat against the table or counter you've mounted it on.
That flat design along with the flexible ridges lining the inside of the guard makes it really hard for a child to get the leverage they need to tug on it. You might even find the little ones losing interest entirely when they feel like they aren't making any progress getting it off.
In the unlikely event they do get it off or the adhesive loses strength, they're large enough to almost fill an adult's palm, meaning there's no risk of a choking hazard.
Durability
Baby Mate has opted for a thicker adhesive on these guards, making for a grip strength strong enough you're going to want to use a heat gun or hair dryer to help you get it off.
As we mention down below in our materials guide, the food-grade PVC these bumpers are made of is long-lasting and durable. You get more of it here than you do with any other guard we reviewed – enough we felt like it was protecting our furniture as much as our little ones.
Convenience
The custom fit, double-sided adhesive tape that comes with these guards doesn't come pre-applied, so you're going to have to take on installing it yourself—but keep in mind you'll only be able to use it on corners. It's luckily not too tricky to get the larger adhesive pads where they need to go, and they're a snap to install after that.
We touched on this when talking about how strong the adhesive is, but it responds really well to heat when you're trying to remove it. They leave behind very little residue, and what's left behind is easy to clean up.
Verdict
We found it great to see a guard designed not just to protect the little ones, but discourage them from playing with it entirely by making it so hard to tug on. When you combine that with more than twice the thickness of our other PVC plastic picks, we had to single out the Baby Mate Clear Corner Bumpers out as the most durable guards.
Pros
Large enough it's impossible to swallow - zero choking hazard

Flat shape is hard to grip and notice, making kids less likely to play with it

Thick and durable material stands up to all kinds of abuse
Cons
Only suitable for right-angled corners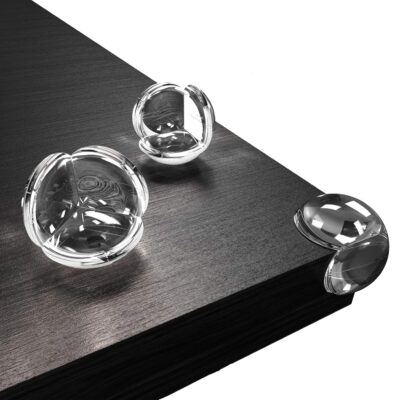 Why we like it:
These smooth and round corner guards are great alternatives to their flat-sided counterparts and are flexible enough to protect tapered or uneven corners too.
Editor's Rating:
Quick Notes
Material: Plastic
Size: 1.6" (L) x .94" (W)
Thickness: 0.1"
Contents: 12 corners
Color: Transparent
Safety
At first glance, you'll find the guards in this pick look very similar to the other round guards on our list. Though the forms and functions are similar, the real difference-maker is in the details. Unlike the flattened sphere, best for the tabletop and legs, where these really shine are on the undersides of your tables and counters.
Many picks on this list can mount just as easily there as they can on the top, but the sphere shape of these Skyla Homes brand guards provides the smoothest surface for any accidental head bumps. This is especially great for growing little ones just an inch or two too short to notice how close the counter edge is to their heads.
Durability
Given their similar design to the CalMyotis guards, we were a little disappointed when we found the adhesive used here isn't quite as thick. It still provides more than enough grip strength, but we found ourselves a bit spoiled by the solid reliability thicker gels can provide.
There's a chance your little one will be drawn in by the appealing round shape of these guards. Thankfully, they're more than durable enough to withstand teething abuse, though as always you'll want to put a stop to any chewing yourself as soon as possible.
Convenience
We can't help but breathe a little sigh of relief whenever we see a guard like this with the adhesive already pre-applied. Though this often means they're not as strong as adhesives you apply yourself, it's not always possible to keep the little ones away long enough for an elaborate installation. Time-saving features like this go a long way towards convenience.
The flexible plastic also makes it easy to mount wherever you need, even if the corner isn't perfectly even. Without a flattened side, the Skyla Homes guards aren't as well suited for table and chair legs, but they work great almost anywhere else.
Verdict
A great alternative to other transparent guards on this list, the Skyla Homes Clear Edge Protectors offer subtle but unique advantages with their completely round shape and easy installation.
If you have a lot of corners in your house that need childproofing, we even recommend using it in tandem with the CalMyotis Corner Guards, ensuring maximum protection no matter where the corner you're trying to guard is.
Pros
Awesome for the undersides of counters and tabletops

Flexible enough it can stretch around uneven corners

Pairs well with similar guards
Cons
Adhesive strength could be stronger

Round shape might be appealing to teething children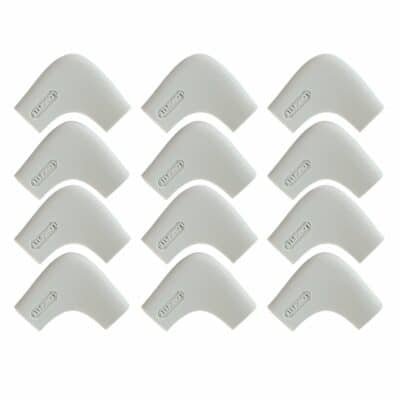 Why we like it:
With two color options and a low-profile, modern design, the LONGFITE Silicone Corner Protectors do everything they can to show off their strengths, making them an awesome example of what a silicone-based childproofing guard is capable of.
Editor's Rating:
Quick Notes
Material: Rubber
Size: 1.9" (L) x 0.63" (W)
Thickness: 0.2"
Contents: 12 or 8 corners, 9.84" edge
Colors: Grey, brown
Safety
Made of awesomely safe food-grade silicone – which we've got more to say about in our materials guide further down the page  – we found the design of these guards really smart.
Unlike a fully squared-off corner guard, they start out thin and grow thicker as they approach the apex of the corner. That means maximum protection where it matters most without the bulk of a foam guard. They strike a great balance between density and softness, making them great at absorbing impacts from adults and little ones alike.
Durability
Coming with a standard adhesive, these attach and stick as well as they need to. The real star of the show here is the material they're made out of. Silicone doesn't dry out or harden over time and there's zero chance of your little one managing to chew their way through it. These have the potential to be some of the longest-lasting guards on this list, as long as the adhesive holds up.
Convenience
You'll find the familiar 3M adhesive tape pre-installed on the inside of these guards, a simple peel-and-place mounting all that's between you and a protected corner—but the adhesive probably won't last as long as the guards, so keep in mind that you'll need to replace them eventually.
They're flexible enough you might even be able to get them on corners with angles wider than 90 degrees, but work best on common right-angles. If you really need to get them in a tricky spot, silicone is easily trimmed down to whatever size you need.
We did find ourselves wishing they had more color variety, or even size options, because they don't look great on every piece of furniture.
We also think it's worth mentioning you can bundle these with a pack of silicone edge guards that line up perfectly with the ends of the corner guards. That means you can pad an entire table in soft, protective silicone rubber.
Verdict
A little like taking the best of round plastic guards and the soft density of sturdy foam guards, the LONGFITE SIlicone Corner Protectors have a design as smart as their material choice. These are awesome for anyone looking for a safe alternative to the most popular guard types.
Pros
Smart tapering design is thickest where it counts most

Made of durable and non-toxic food-grade silicone - very safe

Matching edge guards available
Cons
Guards will outlast the adhesive - you'll eventually need to replace it

Doesn't blend with furniture very well
Guide to Childproofing Corner Guards
You might find it surprising there's so much to learn about a simple thing like corner and edge guards. Every part of a proper childproofing plan is worth paying the attention your little one's safety deserves, and these guards are no different.
The more you know before you start browsing, the easier it'll be to get it right the first time. We've broken down everything we think you'll need to know below and included a few recommendations for what should come next in your childproofing journey.
Benefits of Corner and Edge Protection
As adults, we hardly pay a second thought toward the sharp corners and edges in our homes, the issue only really coming up when we painfully bump a glass coffee table or scrape our thighs on a sharp bed frame. For a growing little one, these corners can be at the right height to cause dangerous eye and head injuries if run into or fallen on accidentally.
The US Consumer Product Safety Association recommends edge and corner protectors as a crucial part of any childproofing regimen, so we can't stress enough how important it is to protect your child around your furniture.
Types of Materials
If a material is safe and absorbs impacts well, odds are it's already been made into a protective guard of some kind. But there are obvious winners at the end of the day. There are three types that stand out as by far the most common, each with their own unique advantages. All of the materials and products on this list are non-toxic and free of dangerous chemicals like BPA.
Plastic
The kind of rigid, sharp plastic that comes to mind when you first read that word is rarely, if ever, the kind corner guards are made of. The most common kind of plastic used in guards like the CalMyotis Corner Guards is a flexible food-grade PVC that feels more like rubber than one of your little one's toys. While it isn't as soft as foam, it does a great job at completely dulling out the sharpest and most dangerous parts of your furniture.
Foam
Foam corner guards such as our top overall pick have the highest variance in density, ranging from similar to common office chairs to more like a pool noodle in rigidity. Out of the three most common materials, foam is your best bet for impact absorption.
At the same time, the sponginess that makes them so protective can be a detriment to a persistent child. They can only stand up to so much picking or chewing, so you'll want to be extra attentive about stopping that if your little one is in their teething phase.
Rubber
Ideally made of food-grade silicone – a material very similar to PVC plastic – rubber guards are less common than the other types but are just as protective, if not even more so. Food-grade silicone used in corner guards such as the LONGFITE Silicone Corner Protectors is completely non-toxic and tasteless.
In fact, it's so safe you might have kitchen utensils made of it sitting in your home right now. It won't stiffen with time like soft plastic may, so they're the longest-lasting kind of corner guards. This is something of a middle ground between the softness of foam and the dense protection of PVC plastic.
Choosing the Right Locations
As you go through your home keeping an eye out for potential dangers, there are a few things you should keep in mind. While childproofing every last piece of furniture in every room of your house is definitely the safest route, that means applying sticky adhesives and potentially bulky guards everywhere. This can take away precious time better spent enjoying your little one's company.
Consider where your child spends most of their time, or places they might run through while playing, and start your childproofing from there. Sometimes it might be easier to stop your little one from entering a room entirely or rearrange furniture out of the way instead of padding up every danger in sight. Play rooms, bed rooms, living rooms, kitchens and dining rooms are all usually full of great candidates for securing.
You'll also want to take a close look at your countertops – many modern homes have done away with dangerous corners and edges over the years, so your efforts might be better focused elsewhere.
Adhesive Installation
You might find it surprising to learn just how huge of a role you play in how strong these guards stick to your furniture. The number one complaint we found with childproofing corner guards were little ones managing to work them free over time, or even pull them loose all at once.
Though it's not impossible your adhesive is old or defective somehow, when properly applied the most common types of adhesives are hard for even an adult to remove with their bare hands. It's extremely important to properly clean and dry the surface you'll be sticking these pads to ahead of time. Dust and dirt will interfere with its ability to get a good grip on your furniture, as will moisture.
We also don't recommend using any kind of adhesive on weak finishes or painted furniture. It can bind to the finish instead of the furniture, leading to potentially messy or even damaging removal. You might need speciality adhesive to attach securely to rough surfaces like brick or stone, as most of these adhesives are intended for smooth or grained surfaces.
Further Childproofing
As we mentioned earlier in this guide, corner and edge guarding is only one part of an ideal childproofing routine. Be it safety latches and locks, baby gates, oven dial guards, outlet covers, or any number of other protective avenues—you'll have your work cut out for you. We think you'll agree when we say work is a small price to pay when it comes to the safety of our little ones.
Childproofing FAQ
Are Childproofing Corner Guards Safe for My Child?
These guards are all designed with your child's safety in mind, and adding any one of them will make your home a safer place. But none of them can keep a little one out of trouble like an attentive parent, and so like all other childproofing methods they won't cut it alone.
It's extremely important you don't let your child play with or chew on any sort of guard, as they aren't made to be teething toys and can even present a choking hazard if accidentally removed.
How Much Safer Will a Childproof Corner Guard Make Sharp Edges?
Using proper guards can drastically reduce the risks of scratches, scrapes, and dangerous head injuries around your home. While nothing is as safe as teaching your little one to slow down and look before they run, accidents do still happen, so adding corner guards to your childproofing routine is highly recommended no matter how cautious your child is.
Can You Use Childproofing Corner Guards to Protect Furniture From Damage?
Yes, in addition to keeping the little ones safe, you can keep your home safe from your little ones as well. Try sticking a bumper on the back corners of dressers or nightstands so there's no risk of it being shoved into drywall or other nearby furniture.
Will a Childproofing Edge or Corner Guard Work for an Adult Too?
We've all had issues with sharp-cornered beds or coffee tables that stick out just a bit too far. There's no age limit on accidents, so these guards will do their job no matter how young or old you are. We even found them great for certain pets – such as breeds of dogs like pugs – who are prone to sniffing around dangerous lower edges and corners.
Final Thoughts
A child's life is a whirlwind of energy and discovery, full of excitement and wonder around every corner. It's our job as parents and guardians to keep them safe while they learn and develop, even if it does feel like we just can't get them to sit still sometimes. Safety tools like the corner guards we've reviewed and explained are one way we can do that, but they can't replace patiently teaching your child how to keep themselves safe. Before you know it, they'll be grown up and it really will be all up to them.