If you haven't shopped for a baby monitor recently, you probably didn't realize how quickly the transition from audio to streaming video happened. Maybe that's why most of us were relying on sound-only baby monitors for keeping tabs on our little ones until recently. But not anymore. Today video baby monitors cost little more than voice-only options, making them the standard in nurseries everywhere.
Even better, multi-kid families don't need to worry about how the costs might pile up when buying one for each offspring, because you don't. The cameras on our list below come with multi-camera support, allowing you to have both your babies on the same screen. If there's support for split-screen, you'll even be able to see them all at once.
If you are already using a video baby monitor with one camera, check if it's expandable – you might only have to buy an extra camera for it.
If it isn't expandable, or you don't have one, this guide's for you! Let's start with the most important things you should keep in mind when shopping for a new video baby monitor with support for two or more cameras.
How to Choose a 2-Camera Baby Monitor
You've concluded that, yes, a video baby monitor with multiple cameras sounds like a worthwhile purchase. Still, it's not an easy choice. You have to take into account each model's strengths and weaknesses to find the perfect one for you.
If you don't want to overthink it, the following basics should be enough for an informed choice. To make sure it's the best one, though, you may want to jump into our more in-depth guide.
How Do They Work?
There are two popular types of video baby monitors: closed dedicated systems and standalone network cameras.
Most of the choices in our guide fall in the first group. Those are kits of a monitor-receiver and one or more cameras. When brought together, they create a local, small distance wireless network for their communication.
The second group's cameras connect to your existing WiFi network to communicate with your smartphone, tablet, or PC. They cost less, since you only pay for the cameras, without an extra monitoring device. By taking advantage of our smartphones' capabilities, they can offer pretty advanced features. Still, as we'll see, we'd suggest you avoid them.
Do I Need One?
Many people think that video baby monitors are gimmicks, useless devices for modern parents with cash to burn. From a specific point of view, they are right. You don't need a video baby monitor to raise a healthy adult, just like your parents didn't.
Following that train of thought, you also don't need hot water and electricity, like their parents didn't. And why should you pay rent when there are perfectly serviceable caves?
Size and Quality of the Screen
The centerpiece of every video baby monitor is its screen. The newer and higher-end devices come with 5″ screens, vibrant colors, and HD resolutions.
Still, in actual use, you don't look at that screen all day long, no matter how beautiful it is. That's why the rest of their features might be equally or even more important to you.
Best for Two Rooms
Most of the devices we'll see come by default with two cameras, and many can connect to more. A 2-camera setup enables you to check on your cubs even if they are in separate rooms. You only have to press a button on the parenting device/receiver to switch between cameras. Most can also switch automatically between the cameras or display their streams side-by-side.
Large Spaces, Multi-Angle Views
A 2-camera baby monitor can also be useful in cases where your lone sprout has reached The Age of Roaming. Strategic placement of multiple cameras will allow you to remotely monitor your toddler's adventures, minimizing possibly troublesome blind spots.
Device Juggling
Being able to control multiple cameras from a single unit also means that you won't have to juggle multiple devices. In this case, "juggling" doesn't only mean "having to carry around," but also remembering to keep them charged.
Save Space
An unexpected bonus of using a single device to monitor multiple cameras is that it saves space. It might not seem like an annoying problem until you find yourself with more than two cameras and a kitchen resembling a newsroom.
Price
Newer affordable models might skimp on the build quality compared to older devices from well-known brands. But they also might not, because technology evolves, and prices drop.
As you'll see, some 2-camera video baby monitors that are very popular today remain virtually unchanged since release, relying on years-old tech. Their lesser-known competitors offer better specs, tech, and more features, for much less.
Common Points
We should note that all the models in our list share some characteristics that you can take for granted unless explicitly stated otherwise. Specifically:
They all have night-vision sensors.
They all allow two or more zoom levels.
All models offer two-way communication.
Most models can work as audio baby monitors, relaying sound from the cameras with their screen off.
You can place their cameras' on a flat surface or mount them on a wall.
All parenting units use rechargeable batteries and are portable.
Their cameras aren't portable, though, and have to be plugged into an outlet to work.
Now that you know the basics, let's see the best 2-camera video baby monitors available for purchase in 2022. For a more in-depth dive into the world of multi-camera video baby monitors, check out our comprehensive guide below.
Top 9 Best 2-Camera Baby Monitors 2023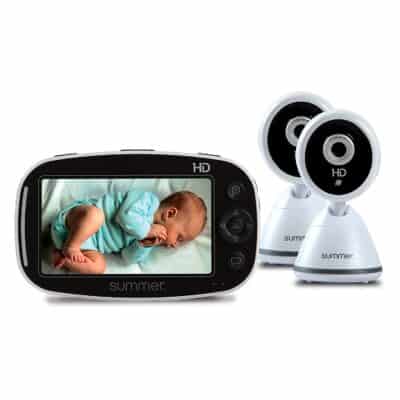 Why we like it:
With one of the best screens among its peers and all the features you need, the Summer Baby Pixel Zoom HD Duo is the best choice if money is no object.
Editor's Rating:
Quick Facts:
Screen Size: 5"
Cameras Included: 2
Cameras Supported: 4
Multi-Camera Modes: manual, auto-switch
Remote Control: pan, tilt, zoom
Range: 800ft
Lullabies/White Noise/Soothing Sounds: yes
The Summer Baby Pixel Zoom HD Duo's price sets high expectations of a premium device with best-of-category features. In many regards, it doesn't disappoint. Its parenting unit has a large and detailed 5″ 720p screen dominating its face panel. It's a stylish two-color design and a fine example of modern technology, aesthetics, and build quality. It might even remind daddy of his beloved PS Vita.
Like the "what have the Romans done for us?" skit in Monty Python's Life of Brian, some might see the Pixel Zoom HD Duo's price and wonder: yes, it is a premium device. But apart from a large and beautiful display, remote control of its motorized cameras, sound indicators, support for VOX, and a selection of lullabies, what does it bring to the table? It's a logical question, apt for the cost, and it does, indeed, have an answer: safe boundaries.
Summer's Baby Pixel Zoom HD Duo is the only kit in our list that allows you to set virtual boundaries through the parenting unit. The feature doesn't become useful until your little ones start exploring their surroundings. The device can "read" any movement the cameras pick up and check if it overlaps with the virtual boundaries. When that happens, the Pixel Zoom HD Duo can alert you that your toddler is "racing" at 5 Mph towards your favorite – and breakable – vase of petunias.
It's worth noting, though, that a few owners of Summer's Baby Pixel Zoom HD Duo have reported a potentially serious problem with the device: failed batteries. This can happen with any mass-produced device, but might be reason enough to prefer Infant Optics' DXR offering. It will be a step back technologically, but its battery is its strong point. No matter which one you choose, we suggest you don't leave them – or any other device for that matter – charging unattended near your baby.
Pros
Large, clear, crisp display

Its virtual boundaries feature can prove extra useful

Cameras can be aligned remotely
Cons
Costs up to three times as much as alternatives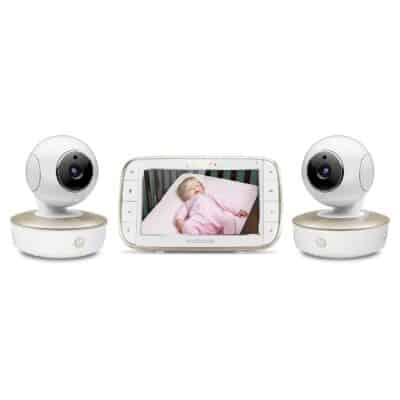 Why we like it:
Motorola's MBP50-G2 is the best "all-rounder" with split-screen support.
Editor's Rating:
Quick Facts:
Screen Size: 5"
Cameras Included: 2
Cameras Supported: 4
Multi-Camera Modes: manual, auto-switch, split-screen
Remote Control: pan, tilt, zoom
Range: 1000ft
Lullabies/White Noise/Soothing Sounds: yes
When you pick up the MBP50-G2, it's easy to tell why Motorola is a household name. Even at close inspection, both the cental parenting unit and the two included cameras have top-notch build quality. Motorola's expertise is more apparent, though, in that they simply know what most people want.
If you make a list of every essential feature you'd want in a 2-camera video baby monitor, the MBP50-G2 probably has it. Split-screen? Check. Crystal-clear audio? Check. Good visuals even during the night, and alarms for any noise your babies make? Check, and check. Still, to keep prices affordable, Motorola did prioritize and cut corners. Their expertise in consumer electronics is apparent in that you have to double-check to find where the MBP50-G2 lacks compared to the alternatives.
After some squinting, the smartest cost reduction is right there, at the center, staring back: the screen. It's far from the greatest ever to grace such a device, one or two notches under VAVA's excellent offering, but it's also not a muddy mess. It looks excellent up close, but take two steps back, and you could be looking at someone else's kid. Keep the screen on, and 3 to 4 hours later, the MBP50-G2 will demand you introduce it to the closest power socket.
From our point of view, MBP50-G2's primary weakness, though, is how you can't easily purchase extra cameras to expand it. Amazon doesn't seem to offer the specific cameras on their own, and alternatives that are said to be compatible cost twice as much as the whole bundle.
Pros
Build quality

Split-screen

High-quality microphones and speakers
Cons
Not widely available extra cameras

Mediocre screen

Poor battery life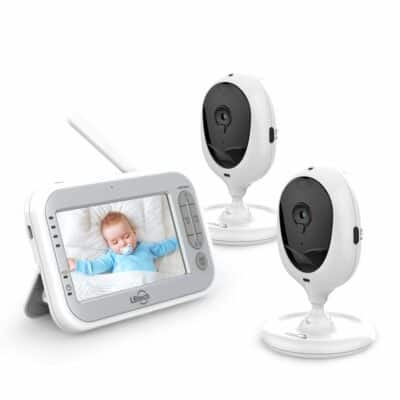 Why we like it:
It offers everything that matters for a fair price.
Editor's Rating:
Quick Facts:
Screen Size: 4.3"
Cameras Included: 2
Cameras Supported: 4
Multi-Camera Modes: manual, auto-switch
Remote Control: Zoom
Range: 1000ft
Lullabies/White Noise/Soothing Sounds: no
LBTech's LB55953-2T is the cheapest full-featured option on our list. It also marks the point after which every further drop in price is also apparent in a product's build quality, features, and implementation. In many ways, it feels like a more cost-conscious version of Motorola's MBP50-G2, minus the split-screen, remote pan/tilt controls, and lullabies.
When directly compared to pricier multi-camera video baby monitor bundles, it looks like their "lite" equivalent. When taking into account its price, though, it becomes an enticing choice. For a little over $100, you get a feature-rich and future-proof bundle which includes an easy to use parenting device and two remote cameras. Mere years ago, we used to pay much more for barely acceptable voice-only models.
If you put on your realist hat and take a long, hard look at the other options in our list, you will see that some don't offer enough to justify their almost two times higher price tag.
Pros
Complete but affordable bundle

Good screen
Cons
No camera remote control

Better options available for a little more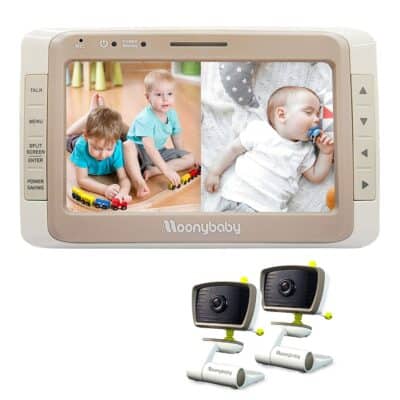 Why we like it:
The Moonybaby Split 50 Baby Monitor has all of the features that you might need from a two-camera baby monitor at an affordable price.
Editor's Rating:
Quick Facts:
Screen Size: 5"
Cameras Included: 2
Cameras Supported: 2
Multi-Camera Modes: manual, auto-switch, split-screen
Remote Control: Zoom
Range: 1000ft
Lullabies/White Noise/Soothing Sounds: yes
The Split 50 Baby Monitor by Moonybaby is one of the most focused products on the market. Many people wouldn't be impressed by VAVA 720p's excellent screen, because of its lack of split-screen. Here, though, it's the device's defining characteristic – as hinted by its very name: it's a 2-camera video baby monitor with split-screen support, available at a relatively low price.
This could also be used as the answer to any question about the rest of its features. Why's the screen's resolution low? Because it's a 2-camera video baby monitor with split-screen support, available at a relatively low price. Repeat for any question regarding its battery life, night vision, audio quality, etc.
Unfortunately, the Split 50 Baby Monitor's split-screen is also its only claim to fame. It supports most of the features you'll need but doesn't excel in anything, rendering it a solid but unremarkable choice. At the very least, we'd prefer to pay a little extra to have remote control of the cameras' pan and tilt.
Pros
Best affordable bundle for twins

Split-screen support

All the features you might need, from VOX to lullabies
Cons
No remote pan & tilt

Not expandable over two cameras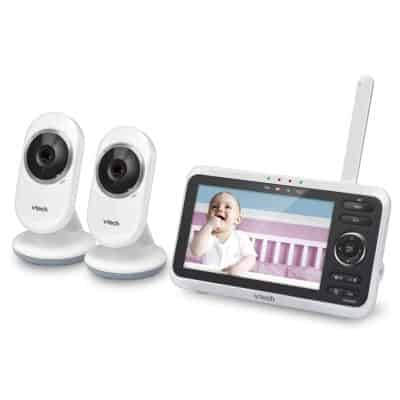 Why we like it:
The cheapest full-featured option with support for split-screen.
Editor's Rating:
Quick Facts:
Screen Size: 5"
Cameras Included: 2
Cameras Supported: 2
Multi-Camera Modes: manual, auto-switch, split-screen
Remote Control: Zoom
Range: 1000ft
Lullabies/White Noise/Soothing Sounds: yes
With VTech's VM350-2, it's clear as daylight (unlike its night vision) that you have to make compromises to drop lower than $100. The VM350-2 is also proof of how a screen's size and resolution are only numbers, if you consider they're the same as VAVA 720P's. Like other budget options, the VM350-2 lacks camera remote control, and its battery life and night vision quality are merely acceptable.
But it supports split-screen.
This renders all arguments against it moot for all parents seeking an affordable 2-camera baby monitor setup with split-screen. So what if something like the HeimVision HM136 would be a better all-rounder? Would it lack split-screen? Would it cost twice as much? Strangely, depending on your priorities, VTech's VM350-2 could very well be a better option compared to much pricier alternatives.
Because, you know, it supports split-screen!
Pros
Large screen

Cheapest solution with split-screen support
Cons
Image quality

Night vision

Battery life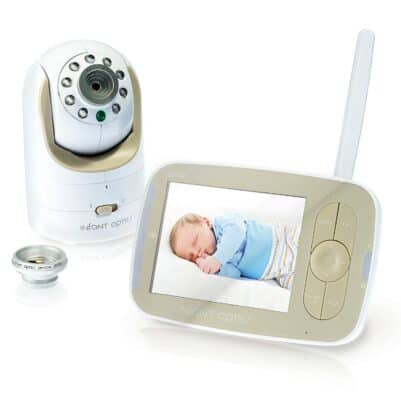 Why we like it:
One of the most popular video baby monitors, tried and tested by tens of thousands of owners who vouch for it.
Editor's Rating:
Quick Facts
Screen Size: 3.5"
Cameras Included: 1
Cameras Supported: 4
Multi-Camera Modes: manual, auto-switch
Remote Control: pan, tilt, zoom
Range: 700ft
Lullabies/White Noise/Soothing Sounds: no
Is it possible to get a premium experience while on a budget? As car fanatics will tell you, yes, it is if you go old-school. That's precisely what the DXR 8 by Infant Optics offers: yesterday's premium video baby monitor experience, today.
For many, the DXR 8 is a classic that's still worth it. It's a tried and tested solution tens of thousands of people have voted for with their hard-earned money. Why shouldn't they? It's one of the few video baby monitors that support wide-angle and zoom lenses but also have ultra-long battery life.
Still, the DXR 8 in many regards feels old and obsolete today when compared to the alternatives. It's bundled with a single camera, but costs as much as options that come by default with two. Although you can add up to three extra cameras, each one will cost you almost as much as the central parenting station + camera bundle. Its screen is advertised as being intentionally small, to prolong battery life and keep its weight low. Still, you can find models with larger and more impressive screens, better battery life, and a second camera bundled.
In other words, it might have been one of the best options in the past, but today it's probably a viable choice only for the retro-fans among us.
Pros
Interchangeable lens (zoom, wide)

Long battery life
Cons
Accompanied by only one camera

Pricey add-on cameras

Feels out of date and lacks features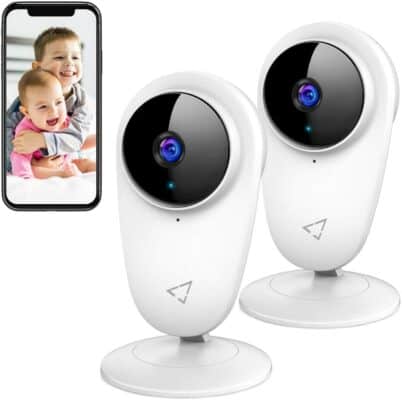 Why we like it:
If you ignore the security implications, a solution like Victure's PC420B is easy to use, cheaper, and packed with useful features.
Editor's Rating:
Quick Facts:
Screen Size: Depends on your smartphone/tablet
Cameras Included: 2
Cameras Supported: Infinite?
Multi-Camera Modes: manual
Remote Control: Zoom
Range: Within your WiFi's reach
Lullabies/White Noise/Soothing Sounds: No
The rise in popularity of solutions like Victure's WiFi Camera PC420B is justified, thanks to the features their combination of network-connected cameras and smartphones brings to the table. The PC420B is one of the better options available and is marketed as a baby monitor. The very same devices, though, are also presented as "security cameras."
In practice, they're the same, and the wireless evolution of webcams. Take your average webcam that connects to a PC through USB and replace the USB cable with the ability to connect wirelessly to a local WiFi network. Then, tweak its software so that it doesn't only control basic functionality, like zoom levels, brightness, and contrast. Instead, allow it to also take photos and record clips without relying on third-party apps.
To better monetize the setup, add to the software the ability to upload those photos and clips to your web server. Add a subscription model as a privilege for connecting to that server, and the ability for photo and video syncing and sharing. Finally, instead of promoting your product to computer owners, port the software to smartphones for a much bigger audience!
That's precisely what Victure is, although it's "camouflaged" as a baby monitor. Like the dedicated video baby monitors, it can continuously, day and night, stream video of your baby to your smartphone or tablet. But that's where the similarities end, and why we suggest you prefer something else.
Initially, only paying for a camera and using your smartphone instead of a parenting unit in a makeshift video baby monitor setup seems like a smart idea. You put the tech you already have to good use, and you save money. In actual use, you realize you have to keep your smartphone connected and turned on all the time to act as a baby monitor.
Prepare to recharge it a lot. Since it's not a dedicated device, some features of dedicated devices that also rely on hardware are non-existent. LED sound indicators? Remote pan & tilt? Forget about them! And let's not even get started on the topic of security – for we'll expand on it later for anyone interested.
They're the most affordable solution, though, and make sharing photos and videos of your baby effortless.
Pros
Recording

Sharing support
Cons
Your smartphone must remain active to use as a baby monitor - no standby modes and VOX here

Security worries due to the solution's very nature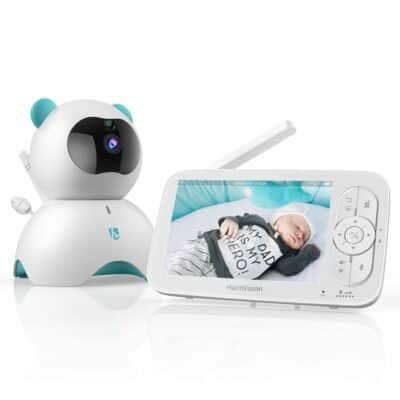 Why we like it:
HeimVision's HM136 impresses with its feature set, screen, and night vision performance.
Editor's Rating:
Quick Facts:
Screen Size: 5"
Cameras Included: 1
Cameras Supported: 4
Multi-Camera Modes: manual, auto-switch
Remote Control: pan, tilt, zoom
Range: 1000ft
Lullabies/White Noise/Soothing Sounds: yes
When seeking a 2-camera video baby monitor, it's easy to skip HeimVision's HM136, but you'd be missing out.  Having to add two different products in a shopping cart instead of a single bundle complicates the purchasing process – by at least three more clicks. In exchange for this trouble, you get one of the best video baby monitors available on the market today, plus a second camera.
Yes, it doesn't come by default with two cameras in a bundle. Look at it positively: you get the chance to upgrade it with even more cameras since the HM136 supports up to four. Why not get one for the doggo as well, to ensure he's always a good boy?
A black spot in HM136's resume is its inability to stay away from wall sockets for longer than 5 hours – give or take. After that, it's recharging time or a parenting unit that will be temporarily useful only as a technologically-advanced brick. Features like VOX and voice-activated indicators help with that problem, too, in video baby monitors. Apart from being valuable features on their own, they also allow you to keep the device's power-hungry screen off, extending its uptime.
However, an even more significant problem has to do with HM136's screen: it's excellent. After witnessing its magnificence, it's hard to go back to another device that dares to self-identify as a video baby monitor. That is, except if it has an even better screen, like the VAVA 720P 5″ Video Baby Monitor.
HeimVision's baby monitor also offers a gordian knot – like answer to the dilemma that's kept many a parent awake at night: should they keep staring at a wall, or try to practice The Way Of The Ninja, enter the kiddo's room silently, and realign the camera? HM316 asks offers the option to change the cameras' pan, tilt, and zoom remotely instead.
Then, get a much-deserved nap, knowing that your shiny new gadget will alert you if it detects noise or sub-optimal temperatures.
Pros
Impressive screen

Top-tier night vision

Remote controlled pan, tilt, and zoom
Cons
Comes with a single camera

Barely adequate battery life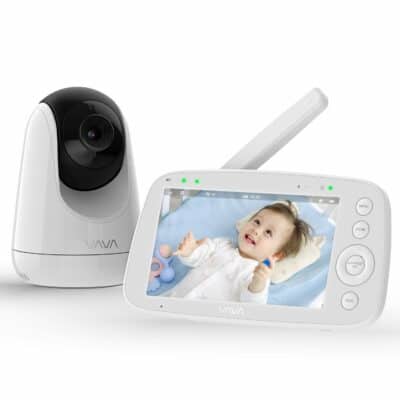 Why we like it:
Those who claim that a portable device with a top-of-the-line screen can't have long battery life haven't seen VAVA's offering.
Editor's Rating:
Quick Facts:
Screen Size: 5"
Cameras Included: 1
Cameras Supported: 4
Multi-Camera Modes: manual, auto-switch
Remote Control: pan, tilt, zoom
Range: 900ft
Lullabies/White Noise/Soothing Sounds: no
IPS. Those three letters are the primary reason the professional monitors used by designers, graphic artists, and photographers display exceptional detail and super-accurate colors. They're also the secret behind VAVA 720p's stunning screen, which also uses an IPS panel. It is the reason why VAVA 720p's color reproduction will probably look more impressive than your TV or laptop's monitor.
People don't buy video baby monitors to design graphics on them, though, but for their baby-monitoring prowess. The VAVA 720p is among the best available today. However, it does stumble in some regards, making alternatives with lesser screens but more features – like the Motorola MBP50-G2 – look like better options.
Its advanced night vision will allow you to admire your baby on the VAVA's superb screen, even in the middle of the night. You can't delegate the actual monitoring to it, though, since it lacks support for VOX. In other words, even with the screen off, you'll have to get used to a continuous stream of "empty" audio and do most of the "monitoring" yourself. The device will assist you, but it can't replace you.
We should also note that its pro-level screen comes with an equally pro-level cost. Its bundle's price doesn't deviate much from its competitors, but only includes the parenting unit and a single camera. Like with the HeimVision HM136, you'll have to purchase the second one separately. Unlike HeimVision's offering, extra cameras for the VAVA 720p cost almost as much as the main bundle.
Pros
Best-in-category screen

Clear-as-day night vision

Extended battery life
Cons
No split-screen support

No VOX

Comes with only one camera

Pricey
How to Choose the Best 2-Camera Video Baby Monitor for 2022
Although we covered the basics for choosing a video baby monitor with two or more cameras, to find the best for your needs you have to look in the details. All products in our list are solid choices. Still, depending on your personal preferences, you might hate one and love another, despite their specs or what we think about them.
That's why we decided to gather everything worth knowing about them in the following guide to assist you in choosing the right one from the dozens of available models.
Video
The most popular reason for choosing a multi-camera setup is to monitor individual children in their rooms. Such a choice can also be useful, though, if you want better video coverage of your space.
Camera Switch
2-camera baby monitors have an obvious problem compared to single camera solutions: how can you check out what two individual cameras are pointing at while using a single monitor?
Most baby monitors that come by default with two or more cameras come with a "sync" mode, or equivalent, alternating between the connected cameras every X seconds. However, some models don't auto-switch and expect you to choose the active camera manually.
Split-Screen
Alternating between two cameras means that while one is active, the other isn't. Baby monitor's like Motorola's MBP50-G2 solve that problem by displaying both camera screens side-by-side in split-screen mode.
Screen Size, Type, and Resolution
A large screen isn't always the better option. A smaller screen with a higher resolution will offer a crisper image, more details, and a better view of your baby. At the same time, there's no reason choosing a model with a thumbnail-sized screen when there are worthy alternatives with better specs at similar prices.
Pan, Tilt, and Zoom
Although all setups in our list allow zoom functionality, for most it's a digital zoom, done in software. Unfortunately, this means both that it leads to lower image quality and, for the same reason, that it's restricted to (usually) 2x. Anything over that would result in too blurry imagery.
Many 2-camera video baby monitors, like the Baby Pixel Zoom HD Duo by Summer, allow you to control a camera's pan and tilt remotely. For those that don't, you'll have to align each camera's orientation manually during placement/installation. No realigning them until you pay them a visit in person.
Lens & Field Of View
Some video baby monitors specifically state how their cameras come "zoom lenses," or "optical," or "analog" zoom. All those mean that "the zoom" happens in their lenses instead of the parenting unit's software, producing a cleaner on-screen image.
"Wide viewing angles" (or lenses) are the opposite, lacking in zoom capabilities but covering a wider area. Most video baby monitors come with a wide-ish lens and digital zoom. Some give priority to one over the other. A few allow you to choose by installing a different lens on the cameras.
Night Vision
All devices in our list, as well as most of the other choices that are widely available, support Night Vision – being able to see your kid when it's dark.
They do it with secondary sensors that capture less detail than the primary ones but are more sensitive to light. That usually means that a poorly performing camera during the day will probably worsen with the lights out – precisely when you need it the most. That's why some devices end up being "video" baby monitors only in theory, used as voice-only models instead.
Recording
Although dedicated video baby monitor setups rarely support recording video, most modern WiFi-enabled models like the Victure PC420B do.
It's one of the features where you're trading convenience for security, and the reason you'll see it missing from most of our choices. When talking about our kids, we prioritize their safety over our convenience.
Audio
Aside from being able to see your baby, being able to hear them is the best way to be sure they are safe. Here are some things to consider when evaluating the audio features of a baby monitor.
Two-Way Communication
Almost all video baby monitors today support a form of two-way communication. Many refer to it as "walkie-talkie mode since it works the same way: by pressing a button on the parenting unit, you enable a microphone that can relay your voice to your toddler through a mini speaker in the camera.
Mic Sensitivity
The sensitivity of a setup's microphones proves more vital in day-to-day use in the long run, since most parents end up using it more than the screen. Cheap models with low-quality microphones in their cameras might only wake up when your toddler's actively yelling at them.
On the other end, top-of-the-line offerings with good microphones, like the Motorola MBP50-G2, can transfer your baby's every breath to your parenting unit. That's when features like VOX or even a simple volume down option become a necessity.
Audio Quality
Audio quality is the universal weak point of video baby monitor setups. Compared to your average smartphone's sound, the mics and speakers in video baby monitor setups are sub-par, at best. Note that this applies to both the parenting units and the cameras.
Eco/Standby/Screen Off-Audio ON
Almost all devices support their use as audio baby monitors with their screens off. This also significantly prolongs their battery life, allowing you to keep them portable without a constant need for recharging.
Sound Activated LEDs & VOX
Even if you'd love to, you won't be looking at your brand-new baby monitor all day long. Even if you self-identify as a supermom or superdad, you have to keep in mind that even Superman needs some shuteye.
Noise-activated LEDs will show you a visual notification whenever your baby's camera hears something, even if you've got the sound muted and the screen turned off.
Even more useful, VOX sets the parenting unit in standby mode while keeping an ear for you for any incoming sound. With VOX, the parenting unit in models like HeimVision's HM136 springs back to life when it "hears" anything, without needing any user intervention.
Lullabies/White Noise
More and more video baby monitors come with a feature you'd never expect to find useful: playing lullabies or white noise to lull your baby to sleep. Yes, it can work wonders, but it depends on the baby, for we're not all the same.
Connectivity
No matter how good your camera or screen is, it's all for nothing if they cannot communicate with each other. Here are some things to consider about connectivity before buying a video baby monitor.
Connection
The vast majority of the dedicated 2-camera video baby monitor setups rely on 2.4GHz FHSS for their connectivity. You might have seen the same number on a WiFi router, and that's because 2.4GHz FHSS isn't much different. It is much more secure, though.
FHSS is short for Frequency Hopping Spread Spectrum. It is the WiFi equivalent of you calling The President for an update on that ultra-secret mission of yours, while in a Mel Brooks comedy. With no specialized equipment at hand, you could use ten phones instead, to make eavesdropping harder. Jump from phone to phone, wireless frequency to wireless frequency, uttering only one or two words in each before going to the next one. Before someone could listen to you on one, you'd have already moved to the next one a whole three seconds ago.
Range
A long-range initially seems like a good idea for a baby monitor. Then you realize it's you who'll be watching your toddler, not your neighbors. For this reason, most devices play in the 800ft – 1000ft range, enough to cover a typical house.
Connection Reliability
Just imagine how inconvenient it would be if the cameras and parental units we're talking about were connected with cables. Wireless connectivity is vastly easier and more convenient, but it's not perfect. It's more susceptible to interference from other wireless devices, and the range drops when it has to go through and around solid objects.
Expandability
There are lots of reasons parents would want more than one camera to watch their little ones. Here's how to decide the right expandability features for you.
Cameras Included/Supported
Don't assume that a 2-camera video baby monitor can connect to more, or skip single-camera options like the VAVA 720P without checking if they are expandable.
Before your final decision, check if extra cameras are available – and their cost. Even if your video baby monitor can't connect to more than it comes with, you never know if you'll need to replace one in the future.
Multiple Receivers
For security reasons, most baby monitoring setups don't allow their cameras to sync with more than one parenting unit. Thus, both parents must share the same device.
Although there are exceptions, if you need such a feature, you should look towards the WiFi-enabled individual camera solutions that pair with your smartphone. Make sure you understand the security risks that come with those options.
Peace of Mind
This is the whole reason baby monitors are so beloved. They provide parents with extra peace of mind, even when their baby is in another room. Here are some additional features to look for that may help you rest easier in your own home.
Temperature
Many video baby monitors use temperature sensors to alert you when your baby's room is too hot or cold. Unfortunately, this feature is not useful in some devices, with their reported temperatures deviating and not representing actual conditions.
Night Light
Night lights are simple – and cheap – to implement, but most video baby monitor manufacturers skip the feature. It usually comes as a LED light included in the camera units that can keep your child's bedroom illuminated with a soft light during the night.
Alerts and Alarms
When buying a new video baby monitor, it's worth checking what it can alert you about, and how. Each device uses a different combination of audio cues, on-screen icons, and LED indicators. You might prefer one over the other.
Those alerts can update you about your child's or their room's condition, even with the screen off or the audio muted on the parenting unit. They may indicate sound detection, suboptimal temperatures, or anything in-between.
Alarms work the same way but differ in that you are responsible for them, not the device. For example, you might set one up as a reminder for feeding times.
Safe Boundaries
Found only on high-end and technologically advanced models like Summer's Baby Pixel Zoom HD Duo, a safe boundaries feature allows you to define virtual limits to the area monitored by your kit's cameras. It's especially useful when your formerly not-so-mobile baby starts exploring its surroundings, sounding an alarm when the kid moves off those boundaries.
Motion Detection
Some higher-end video baby monitors don't rely only on their microphones to update you on your kid's condition. Instead, they include motion detection functionality, that allows them to spring back to life when their cameras see anything moving.
Low Battery and Out of Range Warnings
All devices come with low battery and out of range alarms, ensuring the audiovisual connection they provide to your kids won't be accidentally severed. Depending on the model, those may be an audible alarm, an on-screen message, or a LED lighting up on the parenting device.
Security
As scary as the thought of not being able to see your baby is, the thought of a stranger being able to see them without you knowing is even worse. Here is what you should consider about the security of each device.
Digital vs Analog Baby Monitors?
Most video baby monitors available today are digital. Compared to older analog systems, digital video baby monitors have better audiovisual quality. Even more importantly, they offer increased security while minimizing the effects of interference from other wireless devices that share the same wireless spectrum.
Radiation Woes
There's no point worrying about the radiation emitted from baby monitors since similar radio emissions already surround us. Our smartphones, computers, radios, even TVs are wireless and communicate or connect to the Internet in similar ways.
Although electromagnetic radiation is generally considered harmless, the World Health Organization's International Agency for Research on Cancer (IARC) classifies it as a "possibly carcinogenic." Thus, it's suggested you don't place your baby monitor's cameras directly on the baby's crib, and prefer a shelve or to wall-mount them at least 3ft away.

The Case Against IP Cameras
Instead of boring you with the details, allow us to present the major points against using network cameras as baby monitors, despite their affordability and enticing features.
WiFi isn't the most secure networking standard. Search online for "hack WiFi," and you'll even find automated tools for the job.
Network Cameras advertised as baby monitors are, still, network cameras, relying on the same WiFi networking mentioned above. What's different is their branding and maybe some features in their accompanying software.
Modern models expect you to use an app on your smartphone to take advantage of their features. Unfortunately, the operating systems in our smartphones don't have the greatest security track record.
Most people don't update theirs, and some models don't even support such a thing. When a security exploit is found on those models, their streams might end up online. Note that this doesn't happen only with obscure models.
And that's why you shouldn't use WiFi-connected, smartphone-controlled network cameras for transferring something as sensitive as a video stream of your sleeping babies.
Placement & Portability
Convenience matters too. Many of the baby monitors available today offer extra portability features to make parents' lives easier.
Portability
Today, rechargeable batteries are cheap, leaving no excuse for a parenting device to stay tied to a wall outlet. That's why most modern video baby monitors don't even mention their portability as a feature. It's a given that their parenting units include rechargeable batteries, allowing you to move them around while doing your chores.
On the other hand, video baby monitor cameras are rarely portable. Most of them won't work unless plugged to a nearby wall socket.
Placement
The majority of video baby monitors, and all in our list, can be placed on a flat surface in your baby's room, like a shelve or desk. Most also come with wall-mounting solutions, either as holes in the camera's body or add-on brackets you can use to screw them on a nearby wall.
Some also come with tool-less solutions for wall placement or clips that allow them to "grab" on a crib.
Cable Length
You'll probably rarely use a video baby monitor receiver while tied to a wall socket and only use cables for recharging. It's the other way around with the cameras, which usually stay on the same spot, connected to a wall socket.
Some video baby monitors come with short power cables for their cameras. It's an easily solvable problem, not even worth mentioning, since you can use an extension cord between them and the nearest wall socket.
Battery Life
Many people expect the portable parenting unit of their brand new video baby monitor to be mobile throughout the day. That's not a realistic expectation, since screens have enormous demands in energy.
The actual battery life depends on many factors and varies from device to device. We made sure to talk about it when a model in our list excelled or was severely lacking in this regard.
Battery Indicator
Most video baby monitors offer a battery indicator in their on-screen UI. Usually, it comes as an icon showing the current charge of the included battery, alerting you when it's almost depleted. Some devices go for a LED instead, changing colors depending on the battery's charge.
Charging
Fast charging may be ultra-useful for our smartphones but isn't a thing in the realm of video baby monitors. At least, not yet. Most parenting devices need between three to ten hours to reach full charge.
It helps, though, that you can keep using them while they're charging, so it's not like you'll rely on their battery charge to get through the whole day.
Build Quality / Durability
If there's one aspect where the saying "you get what you pay for" is valid for baby monitors, that's their build quality and durability. More expensive devices, or those coming from better-known brands, almost always have a perceivable difference in build quality compared to cheaper alternatives.
Better materials, construction, and smarter design lead to more user-friendly and durable devices. It's a point worth taking into consideration since video baby monitor receivers are precisely the type of device that can get bumped off a table more than once in their lifetime.
Ease of Use
The more features a device has, the more complicated its use. If you'd prefer a straightforward solution for monitoring your baby, go for the simple – and cheaper – offerings.
If, on the other hand, you'd like a feature-rich package, be prepared to invest some time to get familiar with everything it has to offer.
Upgrading Your Baby's Monitor Can Lead to an Upgraded Life
You might not believe it at first, but a 2-camera video baby monitor can significantly upgrade your quality of life. After mere days of use, you'll see that "it's an unnecessary purchase" precisely the same way your car was when you could be using public transportation.
Having two kids (or more) makes it clear that you can't always be a satellite over them. There's a lot of rushing from one to the other, from room to room, tending to their needs, making sure they don't need anything, they're not too cold, too hot, or playing again with the cat's tail.
A 2-camera video baby monitor will help you gain back some of the time wasted hovering over them to make sure they don't need you when, allow us the redundancy, they don't need you. Moment-to-moment, it won't feel as much, but in the grand scale of things, it adds up.