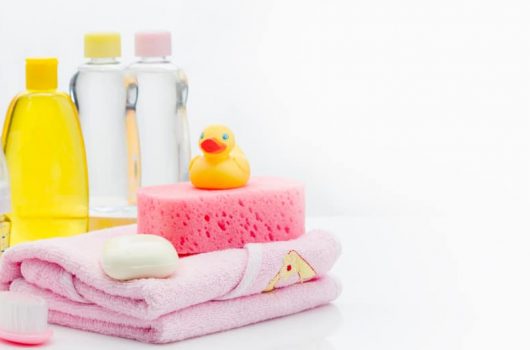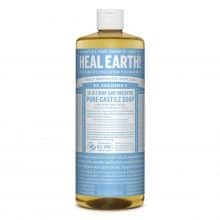 Doctor Bronner's Pure-Castile Babu Soap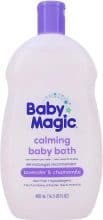 Baby Magic Calming Bath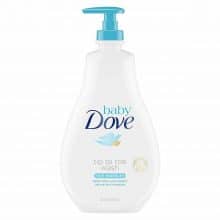 Baby Dove Tip to Toe Baby Wash and Shampoo
Previous
Next
As parents, you always want to make sure your child is as clean as possible. Showering and bathing may be easy enough for us adults, but we're sure you've noticed that babies just aren't able to get the job done on their own yet. Not only do you need to make sure you give them a proper bath, but you also need to make sure that you're using the best shampoo and body wash for your child's delicate skin.
As adults, we tend to forget about the little labels on every shampoo and body wash bottle. These ingredients may seem insignificant to us, but for our little ones, the components will make all of the difference. Their skin is fragile, and if their hair has begun to grow, it needs to be treated with care. This can make shopping for the best shampoo and body wash seem impossible, but don't worry, we have your back.
We'll be showing you ten great shampoos and body washes, and we'll give you some great pointers to look for while you shop. So, if you're ready to make sure your baby gets the proper hair and skincare that they need, read on.
Factors to Consider When Choosing a Baby Shampoo and Body Wash
Ingredients and Performance
As babies have sensitive hair and skin, choosing a shampoo or body wash with the right ingredients is the most important consideration. You'll want to avoid harsh chemicals like sulfates, parabens, phthalates, and harmful synthetic fragrances and dyes, which may cause blisters, rashes, and irritation. Instead, skin-safe plant, oat, or soy-based formulas will do a much better job at cleansing without causing pain or irritation. It's also important to choose a product that isn't overly alkaline or acidic, so we've made sure that every item on this list is pH neutral.
Fragrance
Have you ever noticed that adult shampoo and body wash tends to smell fantastic? The reason that adult shampoo, soap, and body wash products feel so good are added fragrances and scents. Most wash products don't have a pleasant smell to them, and if they even have a smell at all, it's more of a faint odor.
While these scents may be great for adults, they can be dangerous for your children. Fragrances are typically made with additives, and in some cases, they may even be tested on animals as well. It doesn't mean that all fragrances are harmful, but if you are buying a scented shampoo and body wash for your baby, the scent should natural and harmless.
Size and Value
Getting the right amount of shampoo and body wash is an essential part of baby care. If you run out too soon, you'll end up with days or weeks where you can't give your little one the wash they deserve. An excellent place to start is with an 8 ounce bottle. The 8 ounce size is the most common, and can last you a week or two. 8 ounces is a great place to start, but if you need more, there are plenty of size options. If you want shampoo and body wash to last you longer, always consider getting larger bottles. That being said, some products are more concentrated than others, so we'll mention whenever a shampoo and body wash goes further than you'd expect.
Top 10 Best Baby Shampoos and Body Washes 2020
How to Choose the Best Baby Shampoo and Body Wash
You've seen the ten best baby shampoo and body washes on the market, and if you've made it this far, we bet you already have one or two options in mind. Knowing the products is a great place to start, but keep reading to learn about how to pick the right product for your child.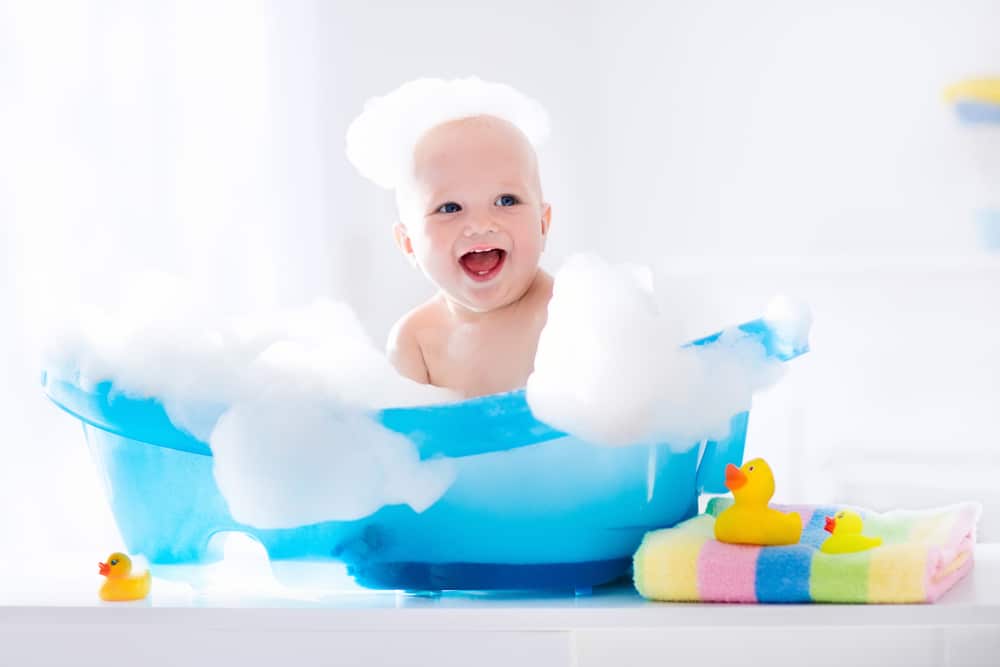 Choosing the right formula
Baby shampoo and body wash come in many different formulations, and this can result in some slight confusion while shopping. You should always familiarize yourself with each of the typical formula bases to make sure that the shampoo and body wash you choose works for you and your child. Let's spend some time breaking down each of the standard formulas that you'll come across.
Plant-based
Plant-based baby shampoo and body wash is one of the more common formulas you'll find. They're easy to make, work well for moisturizing, and are mostly organic. Plant-based recipes can be made up of different ingredients, but they tend to all include some type of vegetable-based glycerin as a base. Plant-based products also allow room for more fragrance choices because different plant combinations can create different aromas.
Plant-based baby shampoo and body wash is excellent for most children, just be sure to remain mindful of any plant allergies your children may have. If you want to go the plant route, we recommend considering something like Doctor Bronner's Pure-Castile Baby Soap.
Oat-based
Oat-based baby shampoo and body wash is less common than the soy-based and plant-based formulas, but it's just as effective. It comes down to preference, but oat-based recipes tend to provide a wash that doesn't even incorporate soap. They're gentle, but often a bit less effective than products that use other formulations. If you're considering using an oatmeal blend, you can't beat the Aveeno Baby Gentle Wash & Shampoo.
Soy-based
Baby shampoo and body wash that uses a soy formula comes with its unique benefits. For example, soy can usually work well with ingredients that cause bath bubbles or foam. One thing to consider when working with soy is that children with soy allergies are not a good fit. A great product to try if you'll be going the soy route is Burt's Bees Baby Bee Shampoo.
Choosing organic or non-organic baby wash and shampoo
Organic and non-organic is going to be about preference. You'll come across both types of products when shopping for baby shampoo and body wash, so this is something you'll have to decide about. Luckily, both organic and non-organic products are typically safe. Natural products are made with little to no preservatives, pesticides, and no synthetic materials. On the other hand, non-organic products will almost always include pesticides and synthetic materials.
You might be shocked to see that organic producers may only be between 90 and 99 percent natural, but these are excellent ratings. No fully effective baby shampoo can be 100% organic, so the Burt's Bees Baby Bee Shampoo is as good as it gets.
GMO or Non-GMO
One thing you should always consider is how you feel about genetically modified organisms (GMO). These are organisms that have been altered to either enhance an organism's genetic traits or to help a plant grow faster. The science behind GMO products is mixed. For example, in some cases, GMO products lead to allergic reactions. Keep in mind that this is rare, and it comes down to whether or not you're comfortable exposing your child to products containing GMOs. If you want to steer clear of them, the Everyone 3-in-1 Kids Soap should fit the bill perfectly.
Tear-free and hypoallergenic
Tear-free and hypoallergenic ingredients are great for both you and your child. Tear-free products make sure that the soap doesn't irritate your child's eyes, and hypoallergenic ingredients make sure that a shampoo and wash is safe for kids with susceptible skin. Not all shampoo and body wash will have these traits, and while they're not necessities, it's always a good idea to go with brands that give your child a pain-free bathing experience.
If you want to make sure that you get tear-free and hypoallergenic shampoo and body wash, consider products like Johnson's Head-To-Toe Gentle Wash & Shampoo.
FAQ
When can I start to bathe my baby?
Though even very young baby's can handle being bathed, you should take extra care early on in their life. Until the umbilical cord falls off, at about one week old, babies should be given sponge baths rather than a typical bath in a sink or tub.
How often should baby shampoo and body wash be used?
As adults, we tend to shower or bathe daily. You can do this for infants and babies, but the younger your child is, the less often they should be washed. Baby's skin is fragile, which means it needs to be treated with care.
Is it safe to change shampoo and body washes?
When you run out of shampoo and body wash for your child, you might see a new product that may sound better. While it may be safe to change the current formula you're using, just be mindful of ingredients and irritations. If you notice skin problems, always switch back to the soap you started on.
Is alcohol safe in baby shampoo and body wash?
When looking at ingredients, always make sure that there is no alcohol present. Alcohol can remove moisture, which can lead to dead skin. None of the products we've recommended here contain any alcohol.
Final Thoughts
Shopping for shampoo and body wash for a child is not always as simple as just picking the flashiest looking brand. When shopping for your child, you need to keep a close eye on the ingredients and make sure you're up to date on any skin allergies your baby may have. As long as you follow our guidelines, you'll have no trouble picking the best baby shampoo and body wash for your child.