Another sleepless night? Chronic sleep deprivation is a tough reality for new parents and during the first two years of your little one's life, a good night's rest may feel closer to a lottery win than a daily habit.
What's worse, you're not the only one struggling to catch some shut-eye. If your baby is the reason you're awake during the twilight hours it could be a case of separation anxiety, feeding time, a much-need diaper change, or the result of their natural sleep cycle pattern. Short of an intravenous caffeine drip, your options for coping can feel limited and there's not much choice other than to battle on through. Or is there?
Enter the baby soothing projector. These clever little devices cast colorful projections onto the ceiling, visually distracting your baby and creating a soft, calming room ambiance for them to relax in, as well as soothing them back to sleep if they wake during the night. Here's everything you need to know.
Factors to Consider When Choosing Baby Soothing Projectors
There's a huge variety of baby soothing projectors available and trying to choose between them all may feel quite daunting. Plus, between feeding time and diaper changes you've already got enough on your plate. Fret not, our list includes a broad range of devices to satisfy the needs of all babies, and their parents. So whether you're after a dazzling sound and light show with all the bells and whistles, or a simple starlight projector to guide your loved one into a soft slumber – we've got you covered.
The specific functions you should prioritize will depend on the issues that you're trying to address and for a more detailed breakdown, you can skip over to our guide on choosing the best device for your baby's sleep issues. Still, whichever functions are most important to you, there are some features common to all baby soothing projectors that you should pay attention to. These are the features we used to evaluate the best baby soothing projectors on the market.
Style
Some devices have a traditional dome-shaped design and these types typically offer a more impressive projection show. Other devices are animal-themed and may look more like a soft toy than a projector. The latter can look adorable, but there's often a trade-off for this in the projection quality they offer.
Projections
Each device offers different light projection patterns, shapes, and colors – all the details of which are noted in our reviews. Just remember to factor in brightness and if this can be varied. Excessively bright projections could be overstimulating for nighttime rest, but too dim and they won't be fascinating enough to hold your little one's attention. You should also consider whether the projection is powerful enough to extend onto high ceilings if you have them. If not, the patterns can distort, spoiling the effect.
Sounds & Volume Control
Some projectors offer soothing sounds to accompany the visual effects, like lullabies or sounds of nature. If so, take note of the volume controls and how adjustable the sound level is. Every baby has their unique sensitivity to sound and if you expect sound to be overstimulating for bedtime, there are sound-free options available. Both are included in our product reviews.
Parent-friendly
While the lights and sounds do a great job soothing your baby, you're the one who needs to fiddle with the controls each evening. You probably won't want to leave the device on all night – it's a waste of power. On the other hand, do you want to risk waking your little one by heading back towards them to switch it off, or have them wake up to complete darkness? Automated time controls can help strike a good balance here and each device differs in its customizability – some even offering remote smartphone controls.
Power & Portability
Some devices run on batteries, others require an AC adaptor, and a select few can be dual-powered. For corded projectors, you need to take note of where the power outlets are in your baby's room. Trailing wires are a safety concern as well as an eyesore, and the distance from their crib will dictate how important sound/brightness controls are for you. You should also consider portability. Battery-powered options are typically smaller and lighter and if a projector can successfully soothe your child to sleep, you'll want to take it with them everywhere.
With these factors in mind, let's get right into our top 10 picks for the best baby soothing projectors.
Top 10 Best Baby Soothing Projectors 2023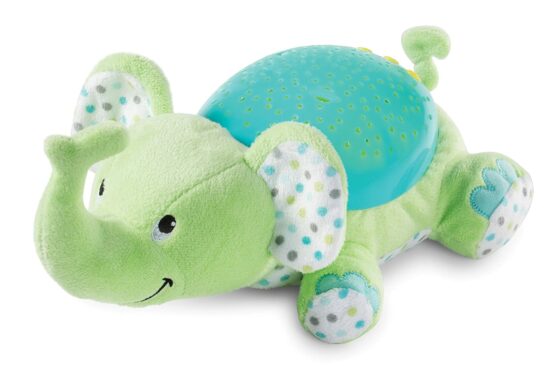 Why we like it:
Summer Slumber projectors have a beautiful plush design and offer varied light projections, soothing sounds, variable auto-off options, and impressive battery life. The perfect all-in-one solution for parents looking to ease their little one into a sweet slumber.
Editor's Rating:
Quick Facts
Style
Eddie the Elephant is made from plush material and looks more like a soft cuddly toy than a projector. But while he might seem cute and cuddly, it's important to remember that the device is not officially crib-safe and sleeping with soft objects is not recommended until your child is 12 months+.
Still, the plush exterior is much more pleasing to the wide eyes of a baby than a more traditional globe-style projector like the Luckkid Nightlight for Kids. It's also suitable for letting your tot hold it in the daytime to help create a positive association.
Projections
Eddie the Elephant (and his friends – the dozing hippo and the butterfly) offers a mixed rhythmic, starry-night light show, or a choice between green, blue, or amber projections. We love that you can select your own colors and if your baby finds it hard to settle, they may well benefit from the amber projections, as warmer tones are thought to help facilitate sleep – you can read more on this in our guide to choosing colors.
You can adjust the pacing of the display and we find the projection brightness to be expertly balanced; it's capable of lighting up the entire ceiling without being overly bright and risking disturbance.
Sounds & Volume Control
Eddie offers a choice between 5 different songs and sounds to accompany the visual light show. Notably, the volume has three adjustable levels, but even the lowest setting is fairly loud and might be unsuitable for tots who are particularly sound-sensitive. We would have liked an extra, lower-volume setting, but if your child shows no signs of sound-sensitivity, this shouldn't be a deal-breaker.
Parent-Friendly
The build quality is excellent and despite the toy-like appearance, this is the most durable item we reviewed. This is impressive when you consider that it's also one of the most budget-friendly items on our list. Our favorite feature is perhaps the variable auto-off, which gives you a choice between 15, 30, or 45 minutes.
Unfortunately, the buttons are a little clunky and lack the convenience of a remote-controlled option, like the Fisher Price Smart Connect. These buttons aren't backlit either, which can make nighttime changes a bit of a hassle.
Power & Portability
Battery use means you have complete freedom in room placement. Plus, this projector offers exceptional battery life performance – expect to get many months of use without issue.
PRO-TIP: If the audio starts to cut out, don't assume the projector's broken. When the batteries run down it's common for these devices to exhibit audio drop-outs before light failure. Some new AAs should be all you need.
Pros
Choice between different light colors

Adorable plush-style elephant design

Excellent auto-off timer variations

Incredible battery performance
Cons
Volume on the loud side

Clunky buttons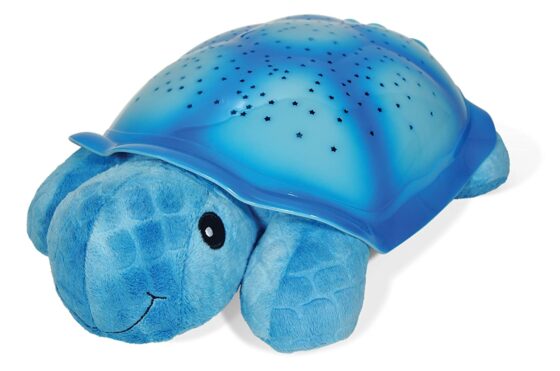 Why we like it:
The gorgeous animal-themed designs and authentic constellation patterns and learning aids make this an excellent pick for young newborns to older toddlers.
Editor's Rating:
Quick Facts
Style
Cloud b offers 5 loveable animal varieties, with their electronic hardware encased within a plastic shell. They're durable and won't be damaged easily, but be aware that the exterior surfaces are harder than they appear in the images. Still, they definitely look more like toys than projectors and older children may need to be reminded that they're not to be played with.
Projections
The Cloud b Twilight Turtle projects a whopping 8 different authentic star constellations to soothe your little one. The casting pattern extends further than Eddie the Elephant and is strong enough to light up the entire ceiling and all surrounding walls.
It also comes with a 'Twilight Star Guide' that older kids can use to identify the star patterns – a very unique and educational feature. Due to this, the device is advertised for children 3+, but as long as it's not placed in the crib, it's one of our top picks for newborn babies and infants, too.
It projects in three colors (amber, blue, and green) but we find the amber light to be much less visually striking. We do love how the shell of the turtle can be illuminated without casting projections, meaning it doubles as a handy nightlight, perfect for late-night feeding or diaper changes.
Sounds & Volume Control
This device offers no music or natural soothing sounds, making it a less complete offering than some of the other products reviewed. Some newborns may prefer the silence though and it's by no means a necessary feature for facilitating good quality sleep.
Parent-Friendly
This projector is incredibly simple to use – just push a single button on the turtle's body to start the show – it doesn't get easier than that. It also has a 45-minute fixed auto-off timer, to help conserve battery power. We would have liked a few more options here, but if 45 minutes isn't sufficient, the nightlight can handle staying on all night. This is ideal for parents who like to keep enough light in the nursery to stop them from bumping into furniture during check-ups.
Power & Portability
Similarly to Eddie the Elephant, this projector gives you the flexibility to place the device wherever you wish.
Pros
Lovely toy-like design

Impressive authentic star constellation patterns

Powerful, far-reaching projections

Educational for slightly older kids
Cons
No soothing songs or sounds

Deceptively hard exterior - not suitable for cuddling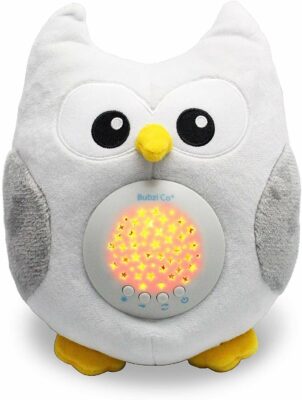 Why we like it:
Compact in size, powered from batteries and easy to wash, the Bubzi Co Owl is the perfect projector for soothing your little one on-the-go.
Editor's Rating:
Quick Facts
Style
Bubzi Co Owl is made from a hand-washable plush fabric, with a separate and removable central hardware component. Removing this during the day turns the projector to a simple plush toy, which you can let your child cuddle with to their heart's content. We find the fabric is surprisingly easy to clean with a damp washcloth and the device is also easy to attach to the crib frame, or even a stroller, thanks to its adjustable Velcro straps.
Projections
The Bubzi Co owl projector casts truly beautiful galaxy star patterns, but they're not very powerful. We'd say it's only strong enough to project onto one wall, and it must be within close proximity. Thankfully, battery power means you should be able to place it close enough to your child for this to not cause an issue.
Sounds & Volume Control
Bubzi Co Owl comes with an impressive range of sound options: 10 different lullabies, as well as natural sound choices like chirping birds or a heartbeat metronome. The volume control range is excellent too, with 5 different settings to choose from. So wherever you choose to place the device you should be able to get the volume just right.
The sound quality is slightly lower than some devices we reviewed, but we'll make the bold assumption that your baby's not an audiophile – in which case this shouldn't be a deal-breaker.
Parent-Friendly
A single button push will start the projection show and accompanying sounds, so if you're a fan of convenience this might win out over the more technologically advanced options like Vtech's Wyatt the Whale, which takes more set-up time. It also includes an auto-off after 30 minutes, with the visual projections gradually fading out to match.
Power & Portability
It's easy to remove the central hardware component to replace the batteries, but you'll need to do this quite frequently as it drains battery juice at an alarming rate. More positively, it's compact size means this projector functions wonderfully as a portable soother and it's the best device we found for long road-trips, overnight stays with grandparents, or whenever you're trying to accustom your child to somewhere new.
Pros
Impressive sound and volume control options

Remarkable ease of use

Easy to wash fabric

Compact and portable
Cons
Lower than average sound quality

Batteries don't last long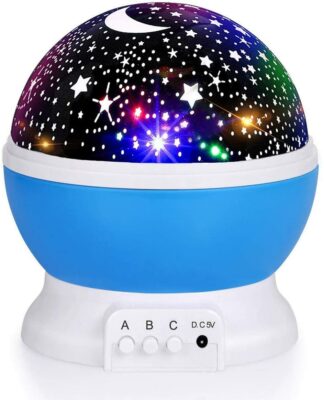 Why we like it:
The Luckkid Baby Night Light is a simple device with impressive projector patterns and a very affordable price tag.
Editor's Rating:
Power: Dual power options
Style
In essence, this projector is a similar but more budget-friendly version of the Luckkid Night Light for Kids. From the same brand, both these devices put visual effects at the forefront and double up as a nightlight as well as a projector.
Projections
This device can display 8 unique multi-color projection patterns, or you can choose between fixed colors of green, blue, warm yellow, or red. You can also turn the rotation off if your child finds the movement too stimulating, which is a nice touch. Although not quite as dazzling as the Luckkid Night Light for Kids, it bests every other device in terms of projection quality and variety.
Sounds & Volume Control
As with the Luckkid Night Light for Kids, there are no soothing sound options built-into the device, and you will hear some whirring as the device rotates.
Parent-Friendly
The Luckkid Baby Night Light is incredibly simple to use and you can have it up and running each evening in just a few seconds. There's no auto-off function but if you're looking for a basic device that you can keep on throughout the night to make check-ups and feeding a breeze – this could be just the ticket.
Power & Portability
When battery-powered the runtime is very impressive and we've not seen a competitor device comparable in this regard. It's suitable as a portable device, but if you frequently move it, don't expect it to last forever. After a while it's not uncommon for the light projections to randomly cut out, and it's definitely the least durable projector to make our list. Still, for the price it's hard to complain.
Pros
Choice of power source

Long-lasting battery power

Budget price point
Cons
No auto-off function

No soothing sounds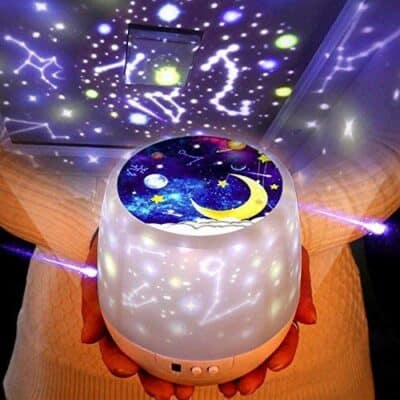 Why we like it:
Simply put, this is the best visual projector we've seen and no other product comes close to the dazzling and highly customizable light shows that it can offer.
Editor's Rating:
Power: Dual power options
Style
This device looks more like a traditional projector and prioritizes quality over cute animal design. That said, the design looks sleek enough to fit nicely in any nursery room and it doubles up as a nightlight, too.
Projections
This device offers stunning projections – the absolute best we've seen. So if a beautiful light display is your primary wish, this is where to spend your money. The projections are sharp, well-focused, give full ceiling and surrounding wall coverage, and are guaranteed to mesmerize your little one.
It uses a rotational 'film strip' system and comes with five different film themes – constellation, planet, star, sea world, and birthday. Each can be set to work on one of three brightness levels and in either amber, blue, or purple colors. The possibilities for variation feel endless and you can change the films every night if you wish – using different colors and brightness levels each time.
Sounds & Volume Control
The Luckkid Night Light for Kids doesn't include any soothing songs or sounds. Our only gripe is that the rotational film system does make a slight whirring noise as it spins, and some light soothing sounds could have helped to disguise these.
Parent-Friendly
There's no auto-off timer and so the device will stay on all night unless you pop back into your tot's room to turn it off manually. This might work well for older children who have developed a fear of the dark, but if you're simply looking to ease your little one to sleep, you may prefer a device that doesn't stay on all night.
Power & Portability
The USB cord was recently updated and is long enough to make room placement a non-issue in the majority of cases. The batteries do run down quickly, but we applaud this device for being one of the few options to include dual-charging options. It's also lightweight and older children can carry it room-to-room, but it's not ideal for away-from-home trips, like the Bubzi Co Owl – too many breakable parts.
Pros
Stunning projection quality

Massive combination of film/light choices for varied projections

Dual power: works with both USB outlet charge or battery-powered
Cons
No soothing sounds offered

Machine makes slight whirring sound as films spin

No auto-off feature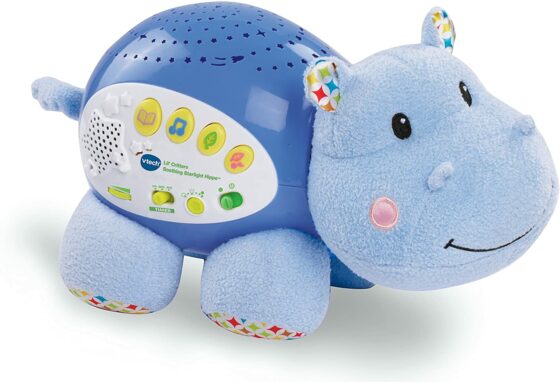 Why we like it:
Unrivalled in terms of the songs and sounds offered, this Lil' Critter also includes a unique voice activation system to soothe your baby while you sleep.
Editor's Rating:
Quick Facts
Style
The VTech Baby Lil' Critters Soothing Starlight Hippo is one of three cute animal-themed variations, built with a hard plastic torso and a soft fabric head. It's an all-in-one soothing solution that's suitable from birth and offers starry projections, songs, sounds, and voice control.
Projections
This device projects a multi-colored starry projection that fades in and out across the ceiling. Unfortunately, there aren't any options to vary the colors or patterns and the projection range is limited.
Sounds & Volume Control
This is where the Lil' Critters device shines. It has 100+ songs, melodies, sounds, and phrases – which beats out the closest competitors multiple times over. So no matter the age or preferences of your little one, you're sure to find something that suits you. Plus, the volume is controlled with a rolling wheel which allows you to be very specific in the sound levels chosen and avoid any startling surprises.
In our experience, the songs appear to change at seemingly random intervals, rather than playing out in full. This can be nice for variety, especially as babies can become dependent on white noise sounds for sleep, but it's not ideal if your child seems to favor a specific song for comfort. Young children are notoriously finicky and if you find something that soothes them – you want to keep doing it!
Parent-Friendly
Another totally unique feature of this device is the inbuilt voice sensor. This projector can turn on in response to the sound of your baby's cries and start soothing them instantly! As well as being perfect for reassuring a little one who wakes frequently, this feature can also help your own sleep – you'll no longer need to leap out of bed at the first sound of their cries and can let a hippo do the hard work for you. The voice activation can't be turned off but you can dictate how long it stays on once activated: 10, 20, or 30 minutes.
Power & Portability
You can expect the batteries to wear them down quickly, especially if you set a longer auto-off time and/or if the voice sensor is reactivated multiple times during the night. More positively, it's small and light enough to be taken on trips and only loses out to Bubzi Co Owl as our favorite portable device.
Pros
Over 100+ songs and sounds

Unique voice activation feature to soothe crying babies

Volume dictated by rolling wheel for precise control

Portable
Cons
Songs skip at odd intervals

Short battery life due to voice activation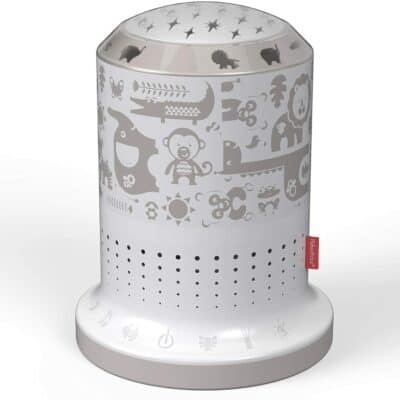 Why we like it:
The app-controlled settings allow complete sound, light, and volume control, all from the comfort of your own bed.
Editor's Rating:
Power: AC outlet
Style
The Fisher Price Smart Connect is a 7" cylindrical shape and looks unlike any other device we've seen. At first glance, it's not the most beautiful projector, but it really comes in life when it's switched on.
Projections
There are three projection modes. The first is a classic starlight projection with variable colors, similar to many other devices. Secondly, it offers a soft amber animal projection – this is a cute variation and most similar to the sea world film of the Luckkid Night Light for Kids. Unfortunately, the animal projection doesn't rotate and if your room has high-ceilings you'll see some shape distortion. Finally, it has a neat nightlight function.
Sounds & Volume Control
It includes 3 sound options: nature sounds, white noise, or soothing music, all controllable via smartphone app. The audio quality is much better than other devices we reviewed and the volume can be set both louder and quieter than most sound-capable projectors, too. So while the AC-power requirement may limit placement options, you'll still be able to find the perfect volume for your little dreamer.
Parent-Friendly
Thanks to the SmartConnect feature, this projector is fully controllable via an app (available for both iOS and Android) allowing you to turn the soother off and on from another room. That means no excessive energy usage during the night and could even mean you'll no longer need to move from bed to soothe your child.
The stand-out feature is the 'Sleep Stages' app function, which helps you create a unique bedroom routine for your little one by preserving your settings for 'settle' 'soothe' and 'sleep' modes. These can be tailored to directly address your little one's main sleep issues and can be tweaked over time as they continue to age. Notably, if you don't have your phone with you, you can also manually alter the settings via a backlit control panel on the rear of the unit – although it's a lot harder to configure this way.
Power & Portability
As it requires AC power, you'll need to bear in mind the desired location and distance from an available outlet. It's also rather heavy, so skip this option if you're looking for portability.
Pros
Lights and sounds are remotely controlled via a smartphone app

Unique 'sleep stages' app function to address your child's routine and preferences

Impressive audio quality
Cons
Requires AC Power

On-device back panel is hard to configure

Projections can distort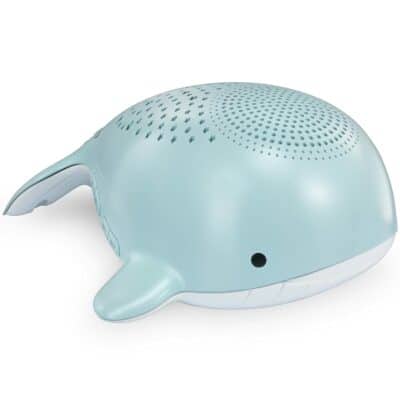 Why we like it:
The unique story-telling and voice recording functions make Wyatt the Whale a wonderful premium option for parents who don't mind paying a little extra.
Editor's Rating:
Power: AC outlet
Style
Despite its friendly whale shape, the hard-plastic exterior makes this device look a little less appealing than the plush-style options we've reviewed. Still, it'd be an adorable addition to any nursery room.
Projections
Wyatt shines soft light through his back to project a starry night scene onto the ceiling, in a choice of 3 colors. This looks pretty, but the projections aren't very powerful and won't cover the entire ceiling. In fact, the projections are the weakest feature of the device, which is the only thing preventing it from placing higher on our list.
Sounds & Volume Control
In addition to the 10 pre-loaded lullabies and soft ambient sounds (such as white noise or a trickling stream), the VTech Wyatt app offers further functionality via its smartphone app. The app contains a vast library of stories (as well as more songs and sounds) that can be played through the projector to soothe your little one. It's the only projection device we've seen to offer story-telling, and the fact that you can switch in/out stories from the app means they'll never get repetitive.
The app also contains scripts which parents can read aloud while being voice recorded, so while you catch up on your own sleep, your tot can still doze off to the sound of your voice. You can even record your own personal voice messages to be played, too. When it comes to sound, Wyatt the Whale gets full marks.
Parent-friendly
We also love the choice between 3 auto-off times (30, 45, or 60 minutes). 60 minutes is the longest auto-off time we've seen offered – only the Project Nursery Night Light can match it – and is perfect for babies who take a little longer to nod off. While the app-control is excellent, it's only for the story-recordings and can't be used to control the functions of the device. The Fisher Price Smart Connect is the only device capable of full, remote control.
Power & Portability
Due to the outlet power, it's not much of a portable device. Plus, the charging port on the device is less durable than we'd expect for the premium price tag on this product and appears to fault-prone.
Pros
Impressive variety in pre-set sounds

App control offers story-telling as a unique soothing tool

Record feature means your child can fall asleep to the sound of your voice

60-minute auto-off option
Cons
Projections are weaker than most competitors

Charging port prone to fault

Premium price tag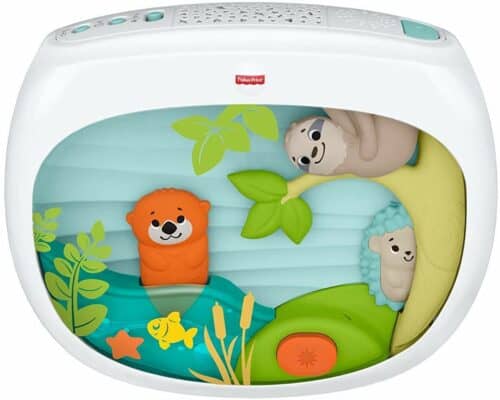 Why we like it:
As well as being designed to fix onto the crib, this projector is packed with totally unique features, such as a 'viewing window', specially designed 'settle & sleep' program, and a kid-activated button.
Editor's Rating:
Power: Battery-powered (2x4C)
Style
This device is markedly different from everything else on our list, as it includes a 'viewing window' where wildlife animal figures (a hedgehog, sloth, and otter) light up, swing, and play peek-a-boo in front of your baby's eyes. It's such a cute and unique design and is perfect for holding a newborn's attention.
Projections
While we truly love the animal viewing window, we find the lights are far too bright and have no option to be manually dimmed. They do dim gradually as part of the preset programming, but the initial brightness is too stimulating to be used effectively as a sleep aid. Thankfully, this device also offers a soft starry-night ceiling projection effect, which is very pretty and has much softer lighting. Unfortunately, you can't run the viewing screen and the ceiling projector at the same time, forcing you to make a choice without knowing which your baby might prefer.
Sounds & Volume Control
The Fisher Price Settle & Sleep offers an impressive 3-stage sound playlist to help your baby doze off. It's a pre-set 30-minute sequence that gradually transitions to white noise as it lulls your baby off to sleep. The sequence includes music and sounds of nature and (unlike the brightness) the volume can be altered manually. Unfortunately, this playlist is preset with no auto-off timer options, a common feature amongst most other projectors.
Parent-Friendly
It's very easy to operate, and even has a big 'kid-activated' button on the front, so as your little one gets older they can even start the show themselves. We've seen no other projector offer a similar feature.
Power & Portability
We consider this projector small and light enough to be used portably, but it's built to be securely attached to most crib frames. Then, as your baby grows up and the crib is no longer used, it can free stand on a table or desk. This is the only projector we've seen that's been designed with crib attachment in mind and the close proximity makes the viewing window so attention-grabbing and enjoyable for little ones.
Pros
Can be attached to crib to watch the show up-close

Unique viewing screen feature

Graduated 30-minute sleep sequence
Cons
The viewing screen is excessively bright

Must choose between viewing screen or ceiling projection

No auto-off options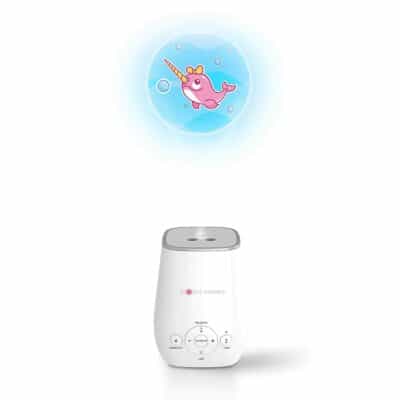 Why we like it:
The Product Nursery Night Light casts image-style projections of sea-life, shapes, and modes of transport that are unlike the visuals on any other projector we've seen.
Editor's Rating:
Power: Dual power options
Style
The unit design itself is unappealing and would perhaps look more at home in the kitchen than the nursery room. But don't write this projector off at face-value, it offers a unique projection style, varied sound options, and a built-in nightlight.
Projections
Rather than starry night sky projections, this device projects sharp (but static) images onto the ceiling. There are 9 images in total, across 3 themes: shapes, transportation, or sea-life. The sea life images are extremely cute, but we find the shapes and transportation images underwhelming and unlike to captivate your baby's attention if used repeatedly. We love the concept of static image projections though, and this could be the perfect solution for tots who tend to get overstimulated at bedtime.
Sounds & Volume Controls
The device includes 3 lullabies and 5 sounds from nature, which function independently from the projections, giving you a great deal of freedom in customization. The volume can be adjusted, but unfortunately, even the loudest setting is a little too quiet for our tastes.
Parent-Friendly
An auto-off choice between 15, 30, or 60 minutes is impressive, and VTech's Wyatt the Whale is the only other projector to offer a full 1-hour auto-off option. This is perfect for particularly restless tots who take their time dozing off.
Power & Portability
This is one of the few dual-powered options to make our list. The battery-power option means you don't need to worry about outlets restricting placement, but we wouldn't describe this as a portable device – it's a little too big and clunky. Notably, Project Nursery does offer a portable nightlight product that contains many of the same functions of this device, but without the image projections.
Pros
Unique image ceiling projections

Excellent range in auto-off controls

Dual-powered
Cons
Sound is on the quiet side

Not enough projection variation

The unit design isn't appealing to young children
Guide to Buying the Best Baby Soothing Projectors
Every projector to make our review list can create a calm, relaxing ambiance in your baby's nursery room and help to soothe them when it's time to rest. But if you still need help picking that perfect projector for your little one, this complete guide contains everything you need to know. Let's start with why sleep is so important and the common issues you may be experiencing at nighttime.
Sleep Is the Secret Sauce
During their first years of life, your baby's brain develops rapidly and a whole heap of these changes take place while they sleep. It's during rest that brain synapses are formed, and around 1 million neural connections are formed per second during these first few years. Pretty crazy stuff. Sleep is also how memories are consolidated and is vital for successful cognitive and emotional development.
Before you descend into panic, please understand that it's completely normal for you and your baby to experience sleep issues at this time and it doesn't mean you're doing anything wrong. That said, the quicker you can resolve these issues, the better your chances of developing healthy sleep habits for their future. Thankfully, a soothing projector can be invaluable for dealing with the common sleep issues that babies, infants, and toddlers deal with as they develop.
Choosing a Soothing Projector for Common Baby Sleep Issues
If you're still unsure which projector is best for your situation, we suggest that you prioritize functions that can help to address your little one's primary sleep issue. Here are the most common.
1. Check-ups & Feeding
Typical age range: 0-4 months
In the first few months, newborns usually wake for feeding every 3 hours. Luckily, many soothing projectors allow you to make sure the room remains well-lit with a soft nightlight. This means you won't need to turn on the main light and risk disturbing your child, and also makes you much less likely to stub your toe on the cabinet (who put that there?!) as you try to navigate your home in the dark.
Our suggestion: Cloud b Twilight Turtle has a built-in nightlight function that will stay on all night, perfect for keeping a small amount of light in your baby's room for when you need to check-in.
2. Waking During the Night
Typical age range: 6 months – 2 years
Even once nighttime feeding has become a thing of the past, it's still common for infants to wake multiple times in the night, seemingly for no reason. This is because they have much shorter, natural sleep cycles than adults do. Unfortunately, these wake ups always seem to happen just as you've fallen into a deep sleep yourself. In these cases, usually all it takes is some light reassurance to guide your child back into a sweet slumber.
Our suggestion: The Fisher Price Smart Connect allows you to start a projection show remotely from your smartphone if your little one wakes, and the VTech Baby Lil' Critters projector is automatically activated when it hears the sound of your child crying. Both are convenient solutions and provide immediate relief to your baby without disturbing your own sleep habits more than is necessary.
3. Separation Anxiety
Typical age range: 6 months+
Separation anxiety typically occurs as your little one starts to form attachments and panics when things that comfort them (like you!) go out of sight. To help with this, we suggest that you opt for a projector with strong, varied projections and accompanying sounds, to fully captivate your child and distract them from the initial separation. To save energy, you should also opt for a device with an auto-off feature that will switch off once the initial anxiety has passed and your child has fallen into a more restful state.
Our suggestion: Summer Slumber Buddies Eddie the Elephant is an excellent all-round option that displays a beautiful projection show with accompanying songs to create a soothing show that will fully immerse your little one. It even has a handy auto-off feature to turn the projector off after 15, 30, or 45 minutes.
4. Fear of the Dark
Typical age range: 1.5 years+
If your baby cries as soon as the lights go out, or becomes unsettled moments after you manage to get under the sheets yourself, you may suspect that they're scared of the dark. The truth is, young babies don't have the cognition to experience fear in this way. In fact, thanks to all the time they spent developing in the womb, they actually find sleeping in the dark more comfortable. Instead, they're likely to be experiencing separation anxiety (see above).
But your child is approaching toddlerdom, so it's normal for them to develop a fear of the dark. Don't stress too much – although this feels like yet another hurdle to overcome, for most children this fear only lasts for a few months and can be easily resolved with most projectors.
Our suggestion: Luckkid Night Light for Kids offers the most stunning light-show we've seen and will illuminate your child's room enough to quell any fears. It also has a nightlight function that you can leave on all evening if the light show is too stimulating.
5. Lacking Routine
Typical age range: 0-2 years
Before the 'terrible twos', your child's sleeping habits will frequently change. Although this can be very stressful as a parent, it isn't a problem for your little one. Children gradually develop a circadian rhythm over the first two years of life and ever-changing patterns before this is to be expected.
That said, the earlier you can develop a regular nighttime routine, the better. By using a soothing projector to 'wind down' every evening, your little one will learn to associate the patterned lights with sleep and find it easier to drift into a sweet slumber. Essentially, the more you use it, the better it works.
Our suggestion: The Fisher Price Smart Connect allows you to create specific nighttime routine settings for your child with its 'sleep stages' app function.
Sleep Tips: Getting the Most Out of a Baby Soothing Projector
No matter your little terror's age or sleep issue, here are some general usage tips that'll help give your night times a little more peace.
Light Location
If the device you choose is outlet-powered, you'll need to be mindful of appropriate room placement. Even dim lights and low sounds can be disturbing when placed closeby, and this is especially true of projectors, which typically flicker and rotate. If the only available outlets are at your baby's bedside, battery-powered devices or projectors with a more powerful projection range are the most convenient solution.
PRO-TIP: Here's a handy test to check if the projections or nightlight is too bright and could risk disturbing your baby. Turn on the projections/nightlight and then close your eyes for a few seconds, and take note of how dark it looks. Then repeat the test again, but this time also place your hands in front of your eyes. If the second test is darker, you should reduce the light. If things look the same, you're good to go.
Soothing Sounds
Songs and sounds of nature can be a great way to create an extra special ambiance for a restless baby. But if you're trying to build a better sleep schedule for your child, try not to rely too heavily on these.
It's easy for young ones to form strong associations with auditory stimuli, and using the same sounds every night could lead to dependence over time. We suggest experimenting by just using the projections alone, or switching between different, natural sounds.
PRO-TIP: Due to their small ear canals, the sound pressure generated in the ears of little ones is much greater than in adults, so don't assume that just because something sounds soft to you, it will to them. Start with the lowest setting first and work your way up.

Choosing Colors
<ahref="https://www.sciencedaily.com/releases/2016/06/160608154233.htm#:~:text=Lighting%20color%20affects%20sleep%2C%20wakefulness,it%2C%20find%20researchers%20%2D%2D%20ScienceDaily">Different colors can help to trigger or delay rest, with blue lights being associated with increased stress hormone production and inhibiting melatonin – the exact opposite of what you're hoping for at bedtime. In contrast, orange and red hue lights are considered better for rest and relaxation as they're less likely to alter circadian rhythms.
Still, many parents routinely use colors like blues and purples to help send their little one off to sleep. It all comes down to individual susceptibility and as with everything related to children, your mileage may vary. Our suggestion is to start with your favorite colors and if you still have trouble, switch to softer tones like amber or deep red.
Practice Patience
For many parents, a soothing light projector is all you'll need to establish a healthy sleep-wake cycle for your tot. But developing positive habits can take some time, and if things don't work right away, don't stress. Accept that you might have to experiment a little and above all, give yourself a break. It's estimated that new parents face up to six years of sleep deprivation, so you can forgive yourself for not being on the ball 100% of the time.
Frequently Asked Questions
How Can I Get My Newborn to Sleep Longer at Night?
While you may be worried that your newborn isn't sleeping sufficiently during the nighttime, their current patterns are probably quite normal. Newborns usually sleep around 8 hours a night, but due to their small stomachs, they wake every few hours to eat. To ease the ride, here are a few helpful tips.
Learn the signs of sleep readiness (yawning, rubbing eyes, fussing)
Place your baby in bed before they fall asleep (so they learn to fall asleep alone)
Create a soothing sleep environment (the best baby soothing projectors can help)
Remain patient (after 4-6 months your baby should start sleeping through the night)
IMPORTANT: Pay close attention to pattern changes. If your baby has been sleeping soundly and consistently and has recently started waking more frequently, there could be a problem.
At What Age Do Babies Sleep Through the Night?
According to The Sleep Foundation, a typical range is between 3 to 6 months. Just don't expect this to mean a full 8 hours – anything above 5 hours is classed as 'sleeping through the night'. Still, 5 hours can be a big improvement and things should continue to settle further as they age. By 6 months, most children will no longer require any night feeding and the majority of their sleep should come in the nighttime hours, with just a few naps during the day.
What's the Best Sound Volume for a Baby Soothing Projector?
In general, noises softer than 80 dB will not damage your baby's hearing unless they're exposed consistently for several hours. While soothing projectors should fall well under these limits, according to BabyHearing.org, these devices can still be a hazard. As such, we highly recommended that you follow the below tips for safe use.
Test the sound output before use
Use the lowest volume setting possible
Don't leave sounds playing all through the night
Place the machine as well away from their crib/bed as possible
End the Day Softly With a Baby Soothing Projector
Your little bundle of joy – now they're here it's impossible to imagine living without them. Unfortunately, it might also be impossible to imagine sleeping with them here, too. If you feel lucky to catch 40 winks yourself around nap-time, it may be time to invest in a baby soothing projector. These devices can help address your little one's sleep issues and help them to build healthy nighttime habits for the long-term. Plus, more rest for them means more rest for you.
Oh, and if your baby already sleeps like – well – a baby (lucky you), then don't feel guilty about wanting a projector just for the beautiful visual effects. We get it! Projectors make nursery rooms look super cute and are a worthwhile investment for any loving parent. Enjoy choosing one for your nursery from our list.