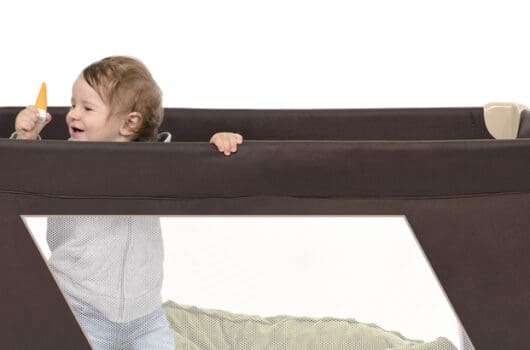 O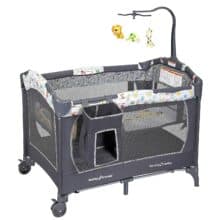 Baby Trend Nursery Center Pack 'n Play
B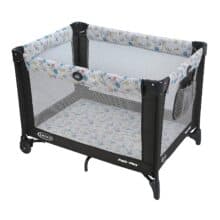 Graco Portable Playard
P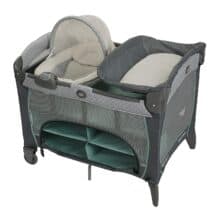 Graco DLX Pack 'n Play
Previous
Next
Most new parents know that a pack 'n play is a piece of essential equipment, especially if you plan to travel anywhere with your baby. They make it possible to set up a convenient place for your little one to take a nap or safely play while you are on the go. Of course, they can also be used at home. Many parents will set one of these portable playpens up in the living room, or even in their room so the baby can sleep or play nearby without requiring constant supervision.
There are many factors to consider when making your decision on which pack 'n play to buy for yourself or add to your baby registry. If you get the right one, this product will be used by your little one all the way into toddlerhood. Pack 'n plays are also called 'playards' and are made with so many different features that it may get overwhelming to decide which is right for you. This article is meant to help you weigh what's most important before making this decision.
How to Choose the Best Pack 'n Play
As you shop around for the perfect pack 'n play for your little one, make sure to keep in mind how you plan to use it. Will this be something continually set up in a common living space in your home for the convenience of having a changing table and napping surface nearby? Or will it only be used on rare occasions when traveling so your baby has a place to safely play and sleep?
If you are looking for a playard that will only be used for traveling and otherwise stored away, do not be too enchanted by the deluxe "nursery center" pack 'n plays, which feature numerous accessories and attachments. The nursery center style of pack n' plays are the ones with feature extras such as nappers, changing stations, and spacious storage organizers that attach to the side.
If you are a parent hoping to get a big bang for your buck and use your playard to its fullest capacity to help get you through those newborn days, a nursery center style pack n' play like the Evenflo BabySuite DLX Playard will provide that convenience. Parents especially like to have this if their baby's nursery is on the second floor of the house, so they do not have to go up the stairs for every nap and diaper change.
On the flip side, many parents are not in need of a "do-it-all" playard, but rather would like a dependable, simple, safe place for their baby to take naps, sleep while traveling, or even play. A basic pack 'n play like the Graco Portable Playard provides a spacious enclosed area for your baby to play while you make dinner or take a phone call.
These more basic versions are a breeze to collapse and put back up as needed. They are also a perfect choice for parents who will only be using their pack 'n play while traveling and will otherwise have it stored away while it's at home. If you are curious what other options are available in Pack 'n Plays, check out our section on pack n' play features.
We have combed through the abundance of pack 'n play options out there and are excited to present to you these top ten playards along with what we like and dislike about each.
Top 10 Best Baby Pack & Plays 2020
Your Complete Guide to Purchasing a Pack 'n Play for Your Baby
It becomes easily overwhelming to choose a pack 'n play in a market that is saturated with hundreds of options, all claiming to be the very best choice for you and your baby. To begin narrowing down the options, we're offering these important considerations to think about before selecting a pack n' play. We hope this will help you prioritize what is most important in a playard and choose the most fitting option for your family.
Consider How You Will Use It
When browsing through pack n' plays, you will quickly notice two main categories emerge. First is the more basic models. These are straightforward playards that do not have a lot of bells and whistles but are quite a bit less expensive. Then the other option is the ones that are often called "nursery centers," which are like mini nurseries with useful attachments.
Are you just looking for a pack n' play that will stay in storage except for when you travel somewhere? Then a nursery center is unnecessary and a basic pack n' play will do the trick for you. If, on the other hand, you are looking for more convenience and greater features, a nursery center style, such as the Graco DLX Pack 'n Play may be more your speed.
Parents often like to set these up in the living room or some other common area of the home to provide an additional place to change diapers and set the baby down for a nap outside of their nursery. This is especially helpful if the baby's room is on the second floor or another distant area.
Having a convenient "center" on the main floor for easy access makes life much easier. These nursery centers come in a large spectrum from very deluxe with all attachments imaginable down to more simplified versions. Below are things to consider when choosing which features are important to you.

Which Features Matter Most To You?
Pack n' plays run from extravagantly deluxe (and expensive) down to more affordable and basic units. A main price factor is the features or attachments that it comes with. Here we will describe some of the common attachments and characteristics of playards to help you decide which of these are important to you as parents.
Changing Station
Numerous pack n' plays now comes with attachments that serve as a convenient place to change the baby's diaper. Parents know that babies go through a lot of diapers, especially in those early months, so having an extra station for diapers in very handy in many circumstances. When looking at changing stations, take note of how high the walls are for safety. Also, pay attention to whether it has an adjustable buckle for safety in case your baby rolls.
Another consideration is the style of fabric on the lining. Of course, you want the baby to be comfortable, but diaper changes can get messy, and having a surface that is easy-to-clean is crucial. While most changing stations are removable attachments that clip onto the top of playards, there are also some models of "fold away" changing pads that flip over the side of the playard when not being used, making for quick transitions, which may be an attractive option for some parents.
Bassinet Attachment
The next most common attachment that often comes with pack 'n plays these days is the bassinet attachment. These come in a large variety of shapes and sizes. Some are simple, soft, slightly dipped surfaces to place baby, and some are fancy, plush bassinets with canopies over top of them and attached mobiles. Consider how you would use the bassinet attachment. If you'd use it in your room while the baby is a newborn for overnight sleep, make sure you find one that is safe for overnight sleep and not just a "napper" attachment, which may not offer the same level of support.
Many bassinet attachments come with an electronic hub, such as the Baby Trend Retreat Nursery Center Playard where you can select songs, nature sounds, and vibration comfort settings.
An additional important characteristic of the bassinet attachments is whether or not it can be removed and used as a portable bassinet or little cradle on the floor. Some parents enjoy being able to bring the bassinet to another room for a cozy little place on the floor for the baby to safely nap.
Bassinet Level Setting
Most pack 'n plays, including the Pamobabe Portable Playard, give you the ability to adjust the height of the sleeping pad between two heights: the bottom, lowest setting and the mid/upper "bassinet" height. The Bassinet height of the sleeping pad is convenient for smaller babies who cannot yet pull themselves up. It provides the same spacious sleeping area but at a slightly taller height, so parents don't have to bend all the way over to the bottom for placing and picking up the baby.
It also makes it a little easier to transfer a sleeping baby from your arms to the sleep surface! If you only plan to use the pack 'n play for occasional trips, this might not be a feature to prioritize as much. On the other hand, if you plan to use the pack 'n play in your own home with frequency, it is certainly a nice feature.
Also, if you choose a pack 'n play which does not have a changing station attachment, the bassinet level makes for a comfortable place for occasional diaper changes, though it's not ideal to use as the exclusive diapering station, nor is it going to be a long-term solution for taller parents.
Storage Organizer
Storage compartments are normally accessories which can be clipped to the side of the pack 'n play. Many functions on both the longer or shorter sides of the playard depending on preference. Some pack 'n plays have storage shelves built into the side of the playard, but this isn't as common as the clip-on. If you plan to use the playard nursery center as your main changing station, you should consider a storage unit with a large capacity for keeping plenty of clean diapers, creams, and the like close at hand. There are some storage organizers, such as the Evenflo BabySuite DLX Playard, that also come with an extremely useful mesh cover that can zip closed to keep your little one's hands from grabbing out whatever is inside.
Other Considerations
Apart from these key features of playards, there are other aspects to think about before making a purchase. One key consideration is the way it looks. Playards come in a variety of colors and style schemes; if your pack n' play is going to be set up regularly, you should certainly get one that you actually like to look at. If you plan to use it for multiple kids to come, it may be wise to opt for a gender-neutral color scheme.
Another aspect to look into before buying is the weight of the unit. If you will be hauling this between houses and loading it into cars regularly, a lighter option may make sense depending on the ability of the person who will be responsible for collapsing it and moving it regularly.
Playards can be found in a range from heavy and clunky to lightweight and very slim when folded down. Parents also should consider the washability of the unit. If there are attachments like a bassinet, is the liner machine washable? Does the sleeping pad come with a sheet or cover that can be washed? There is no denying that babies are good at making messes between spit-up and diaper blowouts. You will want something that you are comfortable cleaning with frequency.
Have Fun Picking a Pack n' Play!
Playards vary in price based on the quality, brand reputation, and included convenience features. Often a middle ground with some conveniences but not every accessory imaginable is what parents opt for. Your investment will be contingent on how you plan to use the pack 'n play and making sure you get your money's worth.