Most new parents know that a pack 'n play is a piece of essential equipment, especially if you plan to travel anywhere with your baby. They make it possible to set up a convenient place for your little one to take a nap or safely play while you are on the go. Of course, they can also be used at home. Many parents will set one of these portable playpens up in the living room, or even in their room so the baby can sleep or play nearby without requiring constant supervision.
There are many factors to consider when making your decision on which pack 'n play to buy for yourself or add to your baby registry. If you get the right one, this product will be used by your little one all the way into toddlerhood. Pack 'n plays are also called 'playards' and are made with so many different features that it may get overwhelming to decide which is right for you. This article is meant to help you weigh what's most important before making this decision.
How to Choose the Best Pack 'n Play
As you shop around for the perfect pack 'n play for your little one, make sure to keep in mind how you plan to use it. Will this be something continually set up in a common living space in your home for the convenience of having a changing table and napping surface nearby? Or will it only be used on rare occasions when traveling so your baby has a place to safely play and sleep?
If you are looking for a playard that will only be used for traveling and otherwise stored away, do not be too enchanted by the deluxe "nursery center" pack 'n plays, which feature numerous accessories and attachments. The nursery center style of pack n' plays are the ones with feature extras such as nappers, changing stations, and spacious storage organizers that attach to the side.
If you are a parent hoping to get a big bang for your buck and use your playard to its fullest capacity to help get you through those newborn days, a nursery center style pack n' play like the Evenflo BabySuite DLX Playard will provide that convenience. Parents especially like to have this if their baby's nursery is on the second floor of the house, so they do not have to go up the stairs for every nap and diaper change.
On the flip side, many parents are not in need of a "do-it-all" playard, but rather would like a dependable, simple, safe place for their baby to take naps, sleep while traveling, or even play. A basic pack 'n play like the Graco Portable Playard provides a spacious enclosed area for your baby to play while you make dinner or take a phone call.
These more basic versions are a breeze to collapse and put back up as needed. They are also a perfect choice for parents who will only be using their pack 'n play while traveling and will otherwise have it stored away while it's at home. If you are curious what other options are available in Pack 'n Plays, check out our section on pack n' play features.
We have combed through the abundance of pack 'n play options out there and are excited to present to you these top ten playards along with what we like and dislike about each.
Top 10 Best Baby Pack & Plays 2023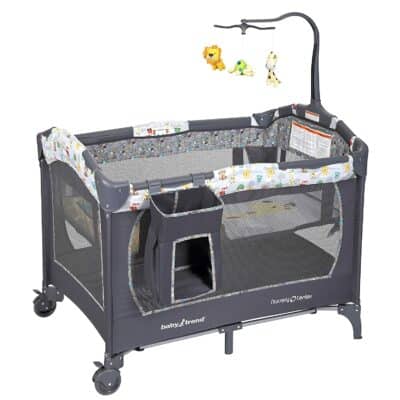 Why we like it:
Setting up this pack 'n play is quick and easy. It also doubles as a changing station for infants.
Editor's Rating:
This model of pack 'n play is an excellent middle ground for parents who desire some convenience features but don't wish to spend too much money on all of the bells and whistles. As with many pack 'n plays, the Baby Trend has the option of two different levels for the height of the mattress, so it can be placed lower as your infant gets older. The higher setting makes for a great place to change the baby if you would like an extra diaper changing station in a convenient spot in your home. It even comes with a diaper storage station that attaches to the side for a handy spot to keep diapers and wipes.
There is also a mobile attachment that comes with this model to give your baby something interesting to look at as she drifts off to sleep. The characters of objects on the mobile vary depending on which design of playard you choose. This particular model of pack 'n play comes in different design styles to go with different decor styles and personalities. For being a sturdy and dependable playard, it is on the lighter side of the spectrum, which makes it easy to break down and pack away for traveling.
Pros
Adjustable height

Includes a removable storage accessory for convenience

Comes in numerous design styles
Cons
Weight capacity for the bassinet setting of the mattress height is only 15 pounds, meaning it cannot be used long term for a diapering station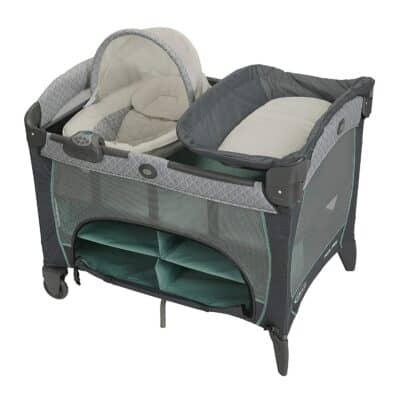 Why we like it:
The changing table and bassinet attachment make this an ideal 'second crib' for your baby. This pack 'n play has every feature you could ever want.
Editor's Rating:
For parents who want a pack 'n play that will serve multiple crucial functions in the first few months of the baby's life, this Graco model is as deluxe as they come. Instead of just using this pack 'n play for an on-the-go sleep station, the accessories allow it to become an everyday tool that can be set up throughout the newborn days. It has a changing table attachment to create an additional changing station in any convenient place in your home.
It also has built-in storage to keep changing essentials at your fingertips with plenty of room for diapers, wipes, and creams. The changing station is safe for babies up to 30 pounds. While your newborn is still small, he will enjoy the snuggly, soft bassinet attachment before graduating into the full-sized playard. This attachment is lined with extra soft fabric and is covered with a canopy to shield your resting baby from harmful sunlight pouring through windows.
Another feature of this deluxe pack 'n play is its electronic hub, which offers five classical songs and five sounds of nature. It also has a two-speed vibration setting to help soothe the baby.
All of these convenient features are terrific for the newborn days, giving you an easy and convenient place to lay baby down for a nap or change his diaper, but its use doesn't end there. As the baby grows, this converts to what you more typically think of as a playard, where it will mostly be used for your toddler to sleep while traveling. It folds up easily when the attachments are removed. All these great features do come with a price tag that is on the more expensive side, and the initial setup can take a little time.
Pros
Removable storage shelves for diapering essentials

Convenient bassinet and changing station

Large selection means parents will not be driven to crazy with the same song on repeat
Cons
Some customers report that assembly takes longer than expected

One of the more expensive pack 'n plays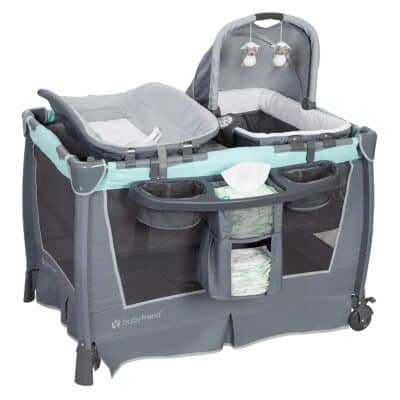 Why we like it:
The various components of this pack 'n play can easily be separated and used on their own for ultimate convenience.
Editor's Rating:
For a product that will give you a whole lot of use, consider the Baby Trend Retreat Nursery Center model of playard. This all-in-one playard offers supreme convenience for families with newborns all the way up until they are toddlers. Like some other models of pack 'n play, this one comes with two attachment features: a changing table and a bassinet. The changing table is sturdy and safe with high walls on either side and an adjustable buckle for extra safety.
The real treasure of this model, though, is the bassinet attachment. It is a comfortable, plush place to safely lay your down for a nap with a canopy for blocking direct light. The canopy also features cute animal ornaments for your little one to look at.
There is an electric hub attached to the bassinet which offers the soothing features of music, nature sounds, vibration, and even a nightlight. Just make sure to remember to switch it off when done because there is no auto-shutoff timer. What makes this bassinet attachment truly unique is that it's removable and can function as a small cradle on the floor.
Small feet can be folded out from the frame to make it a stable spot to lay the baby no matter if it is attached to the rest of the playard or not. When the feet are folded into the frame, the basinet can be gently rocked to soothe the baby. This style of pack 'n play also includes a parent center that is attached to the outside and gives ample storage space for diapering essentials. Of course, as your infant grows, these accessories can be stored away, and the playard can be used for a great spot to sleep while traveling all the way up to toddlerhood.
Pros
Sturdy changing table with safe, high walls

Comfortable bassinet attachment can be taken out and used as a floor cradle

Has a dust ruffle along the bottom for added visual appeal
Cons
The sound and vibration features cannot be put on a timer, so the parent must remember to turn them off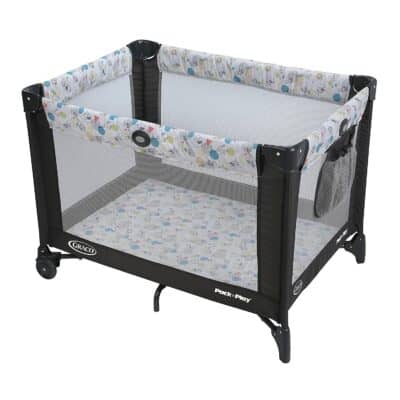 Why we like it:
This is a very affordable pack 'n play but it is still very durable and easy to use.
Editor's Rating:
For a straightforward, basic yet reliable pack 'n play, look no further than the Graco Portable Playard. From a trusted brand that makes great quality baby products, this playard will get years of use. The legs and wheels of this model automatically collapse inward as the playard is closed, making it a very compact, easy-to-transport style of pack 'n play. While some pack 'n plays are quite heavy when collapsed, this one can be carried easily by most adults.
Many parents enjoy using it for their baby to sleep in next to their own bed at night as it is easy to move with its wheels and not overly clunky or bulky with a bunch of accessories. Its simplicity and ease of use also makes it easy to put up and take down as needed. For example, if parents need a safe place for their baby to play while they make dinner or do some cleaning, it is a cinch to open up and put the baby in to play in a safe place. We also love the variety of design styles available for this model. Graco also updates styles with some frequency to keep their products on trend. There are numerous color palettes and patterns available to fit your style preference. You can also choose a version of this model that includes the bassinet insert.
Pros
An excellent option for a dependable, sturdy pack 'n play that will last for years

It is small and on the lightweight side when collapsed making it ideal for traveling

The perfect choice for parents who wants a playard without the worry of having to store numerous accessories

There is an available style that includes the bassinet insert for when the baby is young
Cons
This model does not have accessories such as a changing table attachment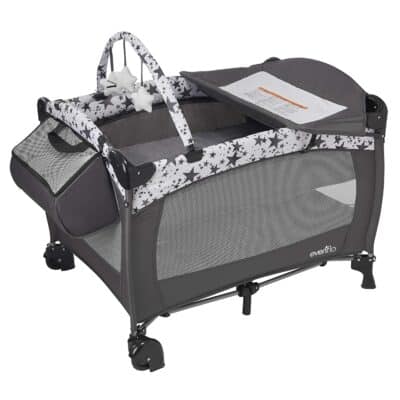 Why we like it:
This pack 'n play can be easily adjusted as the needs of your baby grow and change.
Editor's Rating:
Parents who want to get a lot of bang for their buck will appreciate this Evenflow DLX Playard as it can be used in four different modes depending on your needs. First, it can be used set up as a pack 'n play but with the sleep pad on the higher, bassinet level for naps while your baby is still little. Second, the padded insert can be used in conjunction with the included mobile arch as a floor play mat. Third, this station can be used as a place to change the baby's diaper using the attached diapering pad. Fourth, as your baby grows, the bassinet setting can be lowered to the standard playard level for a safe place to sleep or play.
Apart from the unique floor play mat option, this model also featured another thoughtful aspect; the changing table part of the playard folds over to the size of the playard when it isn't needed. This makes spawning between "modes" a breeze and does not require parents to find a place to constantly store away an extra bulk accessory.
We are also excited about how sturdy this changing station is despite its ease of folding it away. Another convenience found on this model of playard is the attached storage organizer with individual pockets for keeping diapering or other baby essentials. This storage spot also zips closed with a mesh covering to keep out curious baby and toddler hands.
The overall construction of this pack 'n play is quite impressive, especially for the price. While certainly not the lowest cost option on the market, we expected it to be much more expensive with all these features and quality materials. One potential obstacle is when you are taking it down for travel, it can take a lot of strength. The sidebars are locked securely in place, so you really need to squeeze to get them to fold in.
Pros
The changing table's ability to fold over to the side when not in use

The storage organizer attachment has a zippable cover to keep kids from removing items

The mat can be used with the mobile arch as a floor play mat
Cons
Some parents have reported that collapsing this playard down to store it away is more difficult than other models because it holds the tension so tight while set up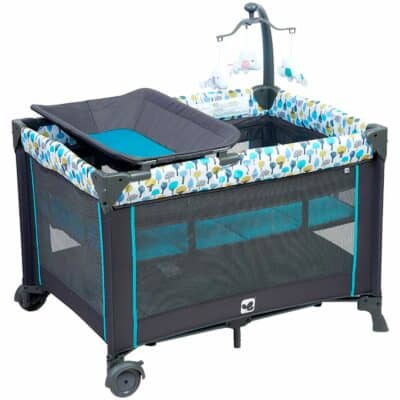 Why we like it:
The excellent balance of great features at a low price makes this pack 'n play a wonderful option for many parents.
Editor's Rating:
This cute and sturdy pack 'n play is a great option because of how convenient it is when opening and collapsing it as well as for its quality stability. It is able to be used as usual for a portable crib on the lower setting. For younger babies, you can also secure the sleeping pad higher up to make it into a bassinet. It comes with a changing station attachment for a convenient place to change your newborn, whether you are in the living room or on the go.
The changing station is also made using a fabric that is both soft and easy to wipe clean if any messes occur. This playard also comes with a very cute mobile attachment with three little toys on it that will mesmerize your little one as he falls asleep.
This may also be removed for collapsing down and traveling. We also really love the softness of the sleeping pad. It is a good balance of firm for safety and plush for comfort. This is a terrific, simple playard for a reasonable price. The fact that it is priced very reasonably is made possible by the fact that it has fewer accessories. One thing parents may miss on this model is a storage attachment for keeping diapering essentials at arm's reach.
Pros
Accessories include a sturdy changing table and mobile

Can be used on the bassinet height setting

Easy to collapse and set up
Cons
Does not come with a storage accessory for keeping diapering essentials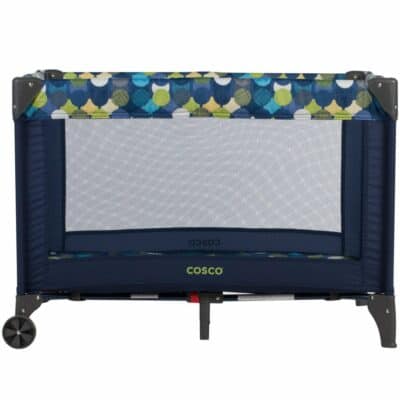 Why we like it:
The small size and easy setup and stowing make this a great option for traveling.
Editor's Rating:
The Cosco Funsport Playard comes from a trusted baby brand that understands the importance of storage size for their products. That is why this playard is easy to collapse and store away without it taking up much space or being too heavy. With the included travel bag, it's an ideal pack 'n play for a family who is on the go a lot.
We love this product for its ease of use and durability over years of use, especially considering it is on the lower end of the price scale. We found that it is far less clunky than other brands' more deluxe playard models. Another great thing about this model is that Cosco offers it in a variety of color/style schemes to match your space or personality. You will be excited for this option that is a good value and does not come with the bells and whistles which some people do not want.
One downside for this pack 'n play is that the sleeping pad is not very thick. While this is important for making it lightweight and easy to carry, it also means that it is not as comfortable as some of the plush options. It will be just fine for naps or play time, but a baby might not enjoy sleeping on it all night.
Pros
It is a full size playard, but it light and relatively small when collapsed

This model comes in a variety of cute color schemes to choose from

Parents who do not want numerous attachments/accessories appreciate this option
Cons
There is only one low level to this model. It does not have that bassinet level option.

The sleeping pad is not as soft as we would like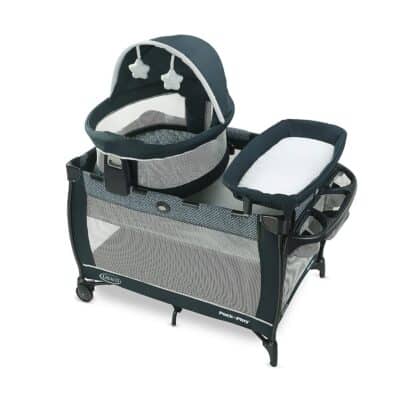 Why we like it:
You can use this pack 'n play in five different ways, making it a very versatile option that you will love.
Editor's Rating:
This Travel Dome playard from the trusted Graco brand has five different modes in which is can be used for your little one. First, there is a "dome" bassinet, meaning it's round in shape and covered with a semi-dome canopy for protecting the baby from direct sunlight with UV 50 protection. The canopy also has cute, soft toy ornaments hanging for the baby to look at. This bassinet can be used attached to the pack 'n play for a convenient height for parents' access.
Second, this dome bassinet can be removed from the unit and used on the floor wherever you need to provide your baby with a safe place to lay down. The dome bassinet also collapses down compactly and has its own carrying bag for easy travel. Third, this pack 'n play comes with a changing station attachment to be used on top of the pack 'n play while assembled. The attached storage compartment makes it easy to keep the diapering supplies close at hand while changing.
Fourth, the pack 'n play offers the bassinet level of the sleeping mat to be easier on the parents' backs while the baby is still little. Finally, it can also be used just like any other standard playard with the bottom level sleeping mat for a spacious place to play or sleep for the baby all the way up through toddlerhood. The only real complaint we had about this pack 'n play is that the walls of the changing station are not very high, so you need to be careful that your baby doesn't fall out.
Pros
Numerous modes in which to use this product to grow with the baby

Detachable napper bassinet makes for a portable, safe sleeping place to bring baby

The quality of the fabric and frame is durable and long-lasting to be used for years to come
Cons
The walls of the changing station are not very high, so this attachment is most useful while the baby is still quite young.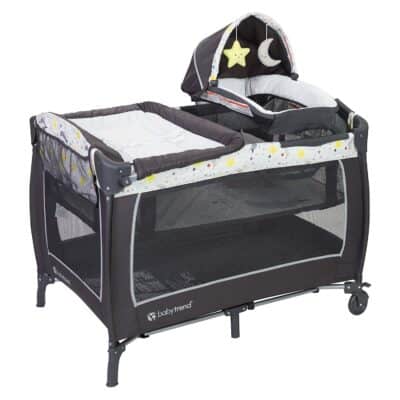 Why we like it:
The pack 'n play itself as well as all the attachments are easy to set up, take down, and store away.
Editor's Rating:
Here is a pack 'n play with two straightforward attachments to help make those newborn days easier. The Baby Trend Lil Snooze Deluxe playard comes with a cute and cozy bassinet napper attachment lined with plush, soft fabric for comfort. The sides of this bassinet are made of mesh material for breathability. It has a canopy for shielding your baby's eyes from direct light, and on that canopy are two soft, pillowy toys.
Make sure to note that the lining of the napper is not machine washable, which means it has to be spot cleaned by hand only. When the baby grows out of it, or it no longer needs to be used, this bassinet attachment is easy to remove and store away. The other included convenience feature of this playard is the "fold-away" changing station. The changer has a safety buckle, which is good because the walls of the changer are not very high at all, so the strap will keep your little one in place.
You will love that the changing station can simply be folded away over the side of the playard when not in use. This also comes with a handy storage organizer that attaches to the side to keep stocked with changing supplies. This model does allow for the shallower bassinet level of the sleeping mat for when the baby is young, and also drops down to the standard level for playing and sleeping when he gets a little older.
Pros
The ability to flip the changing station away is far more convenient than attaching and removing each time you would like it out of the way

The bassinet attachment is very sturdy

It grows with the baby, becoming a standard, spacious playard as needed
Cons
The material covering the changing station is not too easy to clean. You may want to use a blanket or changing pad on top of it in case of any messes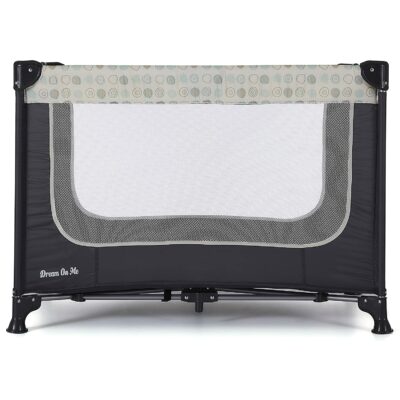 Why we like it:
If you just need a basic pack 'n play that is durable yet lightweight, this is an excellent option.
Editor's Rating:
This Zodiak Playard may look like any other playard at first glance, but what makes this one most unique is its lightweight design. The aluminum frame is made to be lightweight and fold down easily to make it the perfect baby essential while traveling. Once folded into its travel bag, nearly anyone can carry it with ease. The mesh siding of this pack 'n play is light in color and very breathable to keep your little one comfortable and make it easy to keep an eye on him through the sides.
The aesthetics of this playard has been prioritized by the company, ensuring you find one that you like. There are seven stylish finishes to choose from to blend into your decor. Though this model does not have wheels, its locking castors on the bottom provide extra stability so it can still be picked up and moved with ease if you need to adjust the location. It does not come with any attachments or accessories, nor does it allow for the higher, bassinet level of the sleeping pad, but for parents looking for a cute, affordable, basic playard, this is a great option.
Pros
The lightweight frame makes this an ideal playard for families who travel regularly

The offered design styles are modern looking and come in a variety

It is a safe, basic playard that will get years of use
Cons
This playard does not have the two wheels at one end which many models offer
Your Complete Guide to Purchasing a Pack 'n Play for Your Baby
It becomes easily overwhelming to choose a pack 'n play in a market that is saturated with hundreds of options, all claiming to be the very best choice for you and your baby. To begin narrowing down the options, we're offering these important considerations to think about before selecting a pack n' play. We hope this will help you prioritize what is most important in a playard and choose the most fitting option for your family.
Consider How You Will Use It
When browsing through pack n' plays, you will quickly notice two main categories emerge. First is the more basic models. These are straightforward playards that do not have a lot of bells and whistles but are quite a bit less expensive. Then the other option is the ones that are often called "nursery centers," which are like mini nurseries with useful attachments.
Are you just looking for a pack n' play that will stay in storage except for when you travel somewhere? Then a nursery center is unnecessary and a basic pack n' play will do the trick for you. If, on the other hand, you are looking for more convenience and greater features, a nursery center style, such as the Graco DLX Pack 'n Play may be more your speed.
Parents often like to set these up in the living room or some other common area of the home to provide an additional place to change diapers and set the baby down for a nap outside of their nursery. This is especially helpful if the baby's room is on the second floor or another distant area.
Having a convenient "center" on the main floor for easy access makes life much easier. These nursery centers come in a large spectrum from very deluxe with all attachments imaginable down to more simplified versions. Below are things to consider when choosing which features are important to you.
Which Features Matter Most To You?
Pack n' plays run from extravagantly deluxe (and expensive) down to more affordable and basic units. A main price factor is the features or attachments that it comes with. Here we will describe some of the common attachments and characteristics of playards to help you decide which of these are important to you as parents.
Changing Station
Numerous pack n' plays now comes with attachments that serve as a convenient place to change the baby's diaper. Parents know that babies go through a lot of diapers, especially in those early months, so having an extra station for diapers in very handy in many circumstances. When looking at changing stations, take note of how high the walls are for safety. Also, pay attention to whether it has an adjustable buckle for safety in case your baby rolls.
Another consideration is the style of fabric on the lining. Of course, you want the baby to be comfortable, but diaper changes can get messy, and having a surface that is easy-to-clean is crucial. While most changing stations are removable attachments that clip onto the top of playards, there are also some models of "fold away" changing pads that flip over the side of the playard when not being used, making for quick transitions, which may be an attractive option for some parents.
Bassinet Attachment
The next most common attachment that often comes with pack 'n plays these days is the bassinet attachment. These come in a large variety of shapes and sizes. Some are simple, soft, slightly dipped surfaces to place baby, and some are fancy, plush bassinets with canopies over top of them and attached mobiles. Consider how you would use the bassinet attachment. If you'd use it in your room while the baby is a newborn for overnight sleep, make sure you find one that is safe for overnight sleep and not just a "napper" attachment, which may not offer the same level of support.
Many bassinet attachments come with an electronic hub, such as the Baby Trend Retreat Nursery Center Playard where you can select songs, nature sounds, and vibration comfort settings.
An additional important characteristic of the bassinet attachments is whether or not it can be removed and used as a portable bassinet or little cradle on the floor. Some parents enjoy being able to bring the bassinet to another room for a cozy little place on the floor for the baby to safely nap.
Bassinet Level Setting
Most pack 'n plays, including the Pamobabe Portable Playard, give you the ability to adjust the height of the sleeping pad between two heights: the bottom, lowest setting and the mid/upper "bassinet" height. The Bassinet height of the sleeping pad is convenient for smaller babies who cannot yet pull themselves up. It provides the same spacious sleeping area but at a slightly taller height, so parents don't have to bend all the way over to the bottom for placing and picking up the baby.
It also makes it a little easier to transfer a sleeping baby from your arms to the sleep surface! If you only plan to use the pack 'n play for occasional trips, this might not be a feature to prioritize as much. On the other hand, if you plan to use the pack 'n play in your own home with frequency, it is certainly a nice feature.
Also, if you choose a pack 'n play which does not have a changing station attachment, the bassinet level makes for a comfortable place for occasional diaper changes, though it's not ideal to use as the exclusive diapering station, nor is it going to be a long-term solution for taller parents.
Storage Organizer
Storage compartments are normally accessories which can be clipped to the side of the pack 'n play. Many functions on both the longer or shorter sides of the playard depending on preference. Some pack 'n plays have storage shelves built into the side of the playard, but this isn't as common as the clip-on. If you plan to use the playard nursery center as your main changing station, you should consider a storage unit with a large capacity for keeping plenty of clean diapers, creams, and the like close at hand. There are some storage organizers, such as the Evenflo BabySuite DLX Playard, that also come with an extremely useful mesh cover that can zip closed to keep your little one's hands from grabbing out whatever is inside.
Other Considerations
Apart from these key features of playards, there are other aspects to think about before making a purchase. One key consideration is the way it looks. Playards come in a variety of colors and style schemes; if your pack n' play is going to be set up regularly, you should certainly get one that you actually like to look at. If you plan to use it for multiple kids to come, it may be wise to opt for a gender-neutral color scheme.
Another aspect to look into before buying is the weight of the unit. If you will be hauling this between houses and loading it into cars regularly, a lighter option may make sense depending on the ability of the person who will be responsible for collapsing it and moving it regularly.
Playards can be found in a range from heavy and clunky to lightweight and very slim when folded down. Parents also should consider the washability of the unit. If there are attachments like a bassinet, is the liner machine washable? Does the sleeping pad come with a sheet or cover that can be washed? There is no denying that babies are good at making messes between spit-up and diaper blowouts. You will want something that you are comfortable cleaning with frequency.
Have Fun Picking a Pack n' Play!
Playards vary in price based on the quality, brand reputation, and included convenience features. Often a middle ground with some conveniences but not every accessory imaginable is what parents opt for. Your investment will be contingent on how you plan to use the pack 'n play and making sure you get your money's worth.