Top 10 Best Bike Helmets for Kids 2023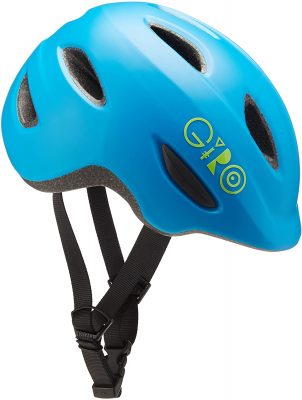 Build
The dial-adjust system on the rear of the helmet is perfect for getting an excellent fit, so you can ensure the helmet is tight and secure without being uncomfortable.Though not built with specific anti-pinching technology, the strap buckle is well-built, so it shouldn't pinch against your child's skin.
Adjusting the straps is also super easy and simple, with the use of a small black plug in the back of the helmet. The helmet has a flat back, and even comes with an added vent at the back for poking a ponytail through.
Really the only drawback with the Giro Scamp is its fairly plain aesthetic.
Comfort
If you want to prioritize comfort, this is one of the best on this list. The fit is great, and it feels super lightweight on the head, so your child will forget that it's even there.
The in-mold polycarbonate shell makes the helmet breathable and lightweight without sacrificing safety and support. With 8 vents across the top, it's great for avoiding sweaty heads on long rides.
Safety
Giro is known for creating super-safe helmets. The polycarbonate build on this one is rugged and robust, and the excellent fitting system makes the helmet particularly safe.
For those seeking even more security, you can buy a sightly-more expensive version with added MIPS technology. Below, we've outlined what MIPS is, and why it offers lots of extra protection. In short, it's a design inspired by the shape of the human skull, which helps to prevent head injuries no matter the direction and location of the impact.
Durability
Excellent durability. This helmet is rugged, robust and built with real quality. If durability is your concern, this is a truly fantastic option.
Size
The sizing is excellent. This one is only available as a small, which fits heads from 49-53cm, but there's also an extra small version, from 45-49cm.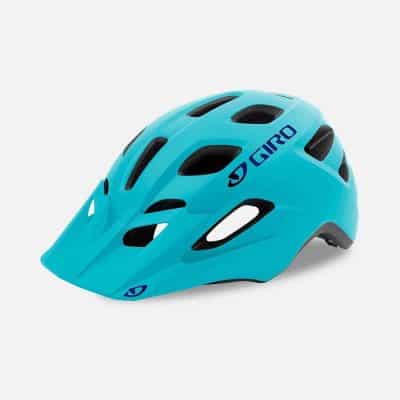 Build
The dial adjust system is incredible for getting a perfect fit without any tightness or discomfort. And the dial itself is covered in rubber, so it's very easy to adjust on the go.
The soft side straps are comfortable against the skin, and don't even need adjusting, so it's easy to get this on and get cycling straight away. These straps also look great, with a sleek fit and a sleek design. The chin buckle is easy to use, and the slightly-large built makes it quick to clip and unclip.
If your kid does a lot of cycling in the sun, this is a great pick – the visor is bigger than most other cycling helmet visors, offering plenty of shade.
Comfort
This is one of the most comfortable helmets on the market. Lots of older kids don't like to be seen wearing helmets. In their quest to ride bare-headed, they often claim that helmets are uncomfortable. With this one, there can be absolutely no complaints. It's very lightweight, the whole helmet feels great against the head and it's extremely breathable.
Safety
With a great deal of head coverage, an excellent fit and the inclusion of MIPS technology, helmets don't get much safer than this.
Durability
For such a lightweight helmet, the durability is great. The in-mold technology is built to provide good durability and protection without too much bulk – and it does the job perfectly.
Size
The helmet adjusts between 50 and 57 cm, making it perfect for many kids. The sizing is very adjustable, so you can always get a perfect fit.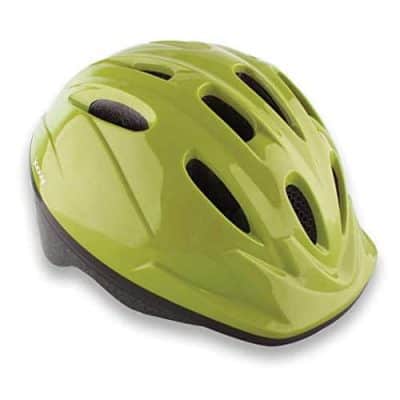 Build
This doesn't quite have the comfort or high-tech design of the most expensive options on the market, but for its price, it's built with great structure and safety. The pinch-guard chin strap prevents tears, while the 14 air vents provide great breathability. The adjustable dial on the back of the helmet makes getting a good fit quick and easy. The hard shell doesn't have the same quality as more expensive in-mold models, but it's absolutely sturdy, safe and secure.
The helmet is available in many different colors, so it should satisfy the style needs of even the most fashion-conscious of kids.
Comfort
Very lightweight, very breathable and with a great fit, this is comfortable for all ages.
Safety
There's an extended visor for maximum protection, while the hard shell provides excellent security against impact and injury. This doesn't have MIPS, but for a basic helmet, this is as safe as you can get—if you want to go above and beyond, you'll need to look in another price range.
Durability
Not as good as some other options, but given its price point, this should provide plenty of protection for many rides to come.
Size
Available in two sizes – XS/S, suitable for heads from 47 to 52 cm, and M/L, for sizes 52 to 56 cm. The sizes run accurate, so you can trust the fit.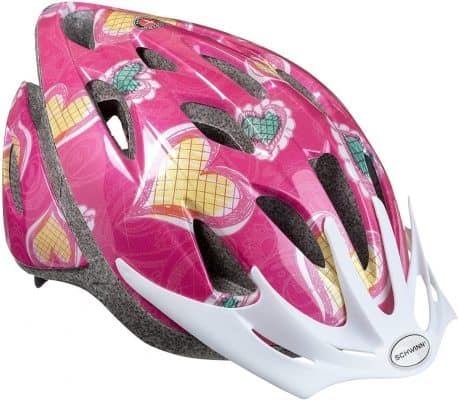 Build
The adjustable fit dial knob makes for a comfortable and protective fit no matter the size of your kid's head. There's full shell coverage for the head, with a three-piece microshell design. Though it's a more basic, more affordable option, it's built with EPS, for excellent protection in spite of the lightweight build.
The helmet comes with a removable visor. There are a huge amount of excellent color options and style options. No matter your mini-fashionista's sense of style, there'll be something here that they'll love.
Comfort
It's very lightweight, very comfortable against the head, and comes with an impressive 20 air vents for maximum ventilation and breathability.
Overall, the comfort here is great.
Safety
For a good basic helmet without MIPS and without the super-sturdy build of a multi-purpose helmet, this is as good as it gets.
The intelligent design offers full range padding around the entire head without a clunky fit.
Durability
Not the best on this list, but it's certainly still pretty good.
Size
This is available in two sizes for kids: 50 to 56 cm for children and 55 to 58 cm for youths. Both of the sizes fit well, and they're very easy to adjust.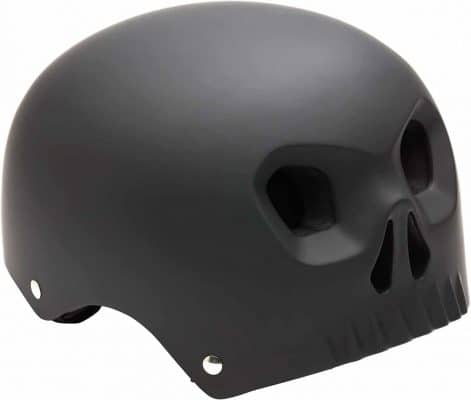 Build
Very tough, very study and very robust, this is the archetypal multi-sport helmet. It doesn't have the lightweight look or feel of a cycling-only helmet, but it's very good at what it does, with all-over support and safety.
The outer shell is very tough, more so than the vast majority of bicycle helmets. There's a 360-internal pad system to keep the helmet comfortable despite the extensive coverage.
The helmet is available in two colors – black and matt black. The tough build is matched by a tough design, with a skull motif. Though it's marketed as a boy's helmet, there's no reason at all why girls might not also like this. That said, if you want something a little more 'girly', the Bell Multisport is an excellent option.
Comfort
Though it looks like it might be a little uncomfortable, it isn't at all. The internal pads keep the head feeling comfortable, while the big vents provide surprisingly good breathability. It's a bit heavier and bulkier than most bike helmets for kids, but not to the extent that they'll hate wearing it.
Safety
Safety is where this helmet excels. It's hard to find a good helmet which is suitable for all wheeled hobbies. But this is a great example of a helmet which is very protective for any and all wheel-based adventures. It doesn't have any intelligent tricks or technology, but it's very sturdy and very rugged.
Durability
Because of the hard outer shell, this should last a long while. Given the excellent price point, this is a great investment if you want something which will keep your kid protected for many years to come.
Size
Runs in only one size, from 50 to 56 cm.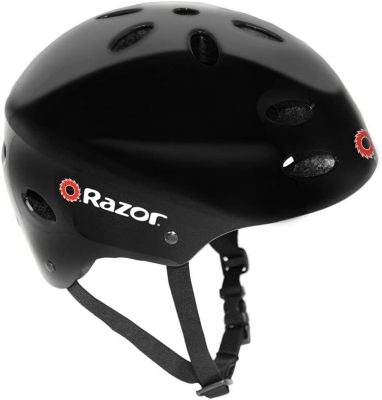 Build
Built with ergonomic padding, this provides an excellent fit and feel despite the very robust protection. The side release buckles are intelligently designed to prevent pinching, and to make adjustments fast and easy, even on the go. It's easy for your child to adjust the helmet if they'd like to.
Comfort
The inside padding is very comfortable, and the 17 vents provide lots of breathability, particularly for a multi-sport helmet. Multi-sport helmets can sometimes be a little heavy, clunky and uncomfortable, but that's not at all the case here.
Safety
Like many multi-purpose helmets, this is strong and sturdy. But it performs even better than most others, with a very hard, very robust surface.
Durability
Like most multi-purpose helmets, this provides excellent durability. If you want a helmet which comes with a guarantee of longevity, this is a great choice.
Size
This helmet is offered in one size to fit heads between 55 and 57 cm, but there's also a version from 56-59.5cm. There's no adjustable element to these helmets, which isn't great for getting a perfect bespoke fit, but the comfortable padding inside makes for a good snug fit.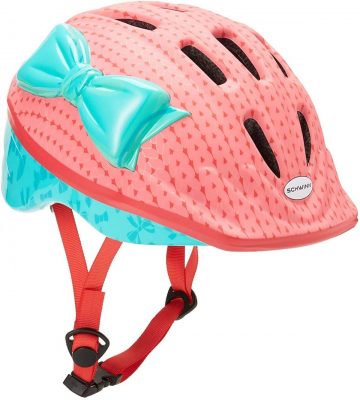 Build
The standout feature here is of course the quirky, fun designs which your young kids will absolutely love. The styles include a firefighter helmet, a panda bear helmet and a ribboned helmet.
If you're struggling to get your kid voluntarily wearing a helmet, this will likely be the perfect remedy. But despite the fun build, these helmets are still very safe. The dial fit offers complete adjustability for the perfect combo of security and comfort, while the molded shell has an extra lower section for added safety.
Comfort
The adjustability offers great comfort, while there's decent breathability offered through small vents. The breathability isn't the best, but because this helmet is designed for young kids, they won't be doing anything intense or strenuous to require more ventilation than this helmet offers. It's a very comfortable helmet, and very easy to adjust.
Safety
Though this might not look like the most safe helmet on the market, don't let the cute designs fool you. There's still plenty of protection on offer here. Yes, the added features are flimsy, but the actual helmet isn't.
Durability
The durability here isn't the best. The build of the helmet is good quality, but the added quirky, cute features don't have the same robust build of the helmet proper.
Size
Able to fit heads between 48 and 52 cm, the fit is really great thanks to the adjustability inside the helmet.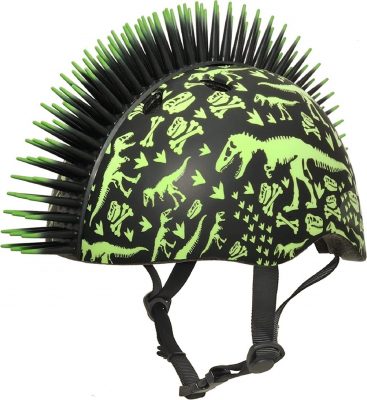 Build
With a PVC shell and an EPS interior, these are built to provide excellent safety. The standout feature here is the aesthetics of the design. Some kids absolutely love these, with their bendable mohawks and bright, brash designs. And there's more – some of the helmets have glow in the dark features or LED lights.
Because they're an all-over helmet, these are suitable for all wheeled sports, including skateboarding, rollerblading and scooting.
Comfort
They might look radical and edgy, but they're still super comfortable. There are soft pads inside the shell for a great feel. These helmets aren't the most breathable, but they still do a pretty good job of keeping the head cool, and the straps are very comfortable against the skin.
Safety
Again, these are very safe and secure, perfect for protecting the entire head for any sports. They don't have a dial to adjust the helmet, so make sure you measure your kid's head before you buy.
Durability
Because of the tough outer core, the durability of the helmet itself is great. The durability of the added aesthetic features is typically pretty good, but some of the added appendages might become damaged over time. The LED lights in particular may not last for too much time.
Size
There are sizes for all age groups, so this is a great pick regardless of your child's age. As above, make sure you measure before you buy. But when you have measured, you'll find a great, funky solution. The cushioning inside the helmet makes for a good fit.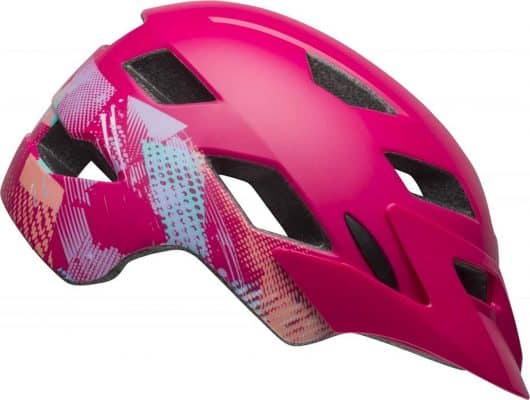 Build
Most of the helmets we've featured have good adjusters. But this one takes it up a notch – the adjuster in this helmet is attached to a cage which covers the entirety of the helmet's inside. Adjusting the helmet therefore makes changes to how the helmet fits and feels across the full head, making for a very comfortable, very bespoke fit.
The side straps are built to stay in place and battle twisting. They do both of these things very effectively. The buckle is marketed as pinch-free but it's a little cumbersome. It takes a little while to get used to, so your child might struggle with it at first.
Comfort
The mega-adjustable inner cage is excellent for comfort. The in-mold construction has created a helmet which is fairly lightweight but still very protective. There are 15 vents, for excellent breathability, along with a removable visor for shielding against the sun.
Safety
It provides good cover for the back of the head, but there's surprisingly no MIPS here, despite the high price. If you want MIPS, go for the Giro Tremor MIPS.
In spite of the lack of MIPS, this is otherwise a very safe, very protective helmet. The adjustable build of this helmet means that you can get the helmet to offer a perfect fit. And as is always the case with helmets – the better the fit, the safer the ride.
Durability
This premium helmet is built to last, so it should last you a long while.
Size
There are two sizes available – 47 to 54cm and 50 to 57cm. But beyond that, the sizing is one of the best features here. We've mentioned it over and over again, but the adjustable system is excellent.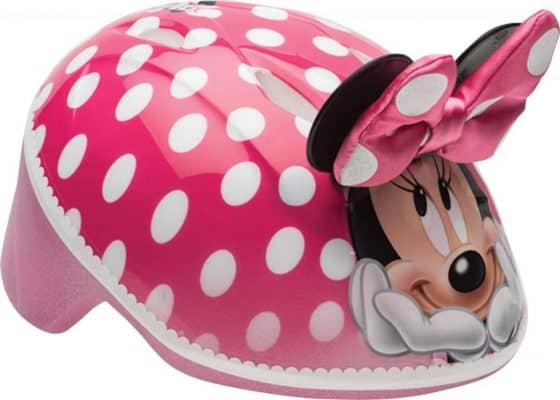 Build
With lots of cute pink Minnie Mouse designs – and one featuring Daisy Duck – these helmets are popular with lots of young girls. Some of the helmets have 3D features. The 3D pieces are removable, so you can take them off if they're too much of a distraction.
Because of the all-over build, these helmets are suitable for skateboarding, rollerblading and all other wheeled activities too. The buckle is easy to use, so it offers easy adjustment, even for young kids. And it's anti-pinch!
Comfort
With plenty of ventilation, and a good lightweight build, this is very comfortable. These helmets don't have the bespoke fitting capabilities of helmets such as the Bell Sidetrack, but they're still comfortable enough.
Safety
With all-over head coverage and an excellent robust outer layer, this is very safe and secure.
Durability
The durability of the actual helmet is great, but some of the fashionable fabric add-ons can wear away a little over time. But since the most important thing is safety, this isn't too much of a problem.
Size
Suitable for kids with a head size of 50 to 54cm. There's lots of cushioning inside for a nice fit.