Top 10 Best Bike Helmets for Toddlers 2023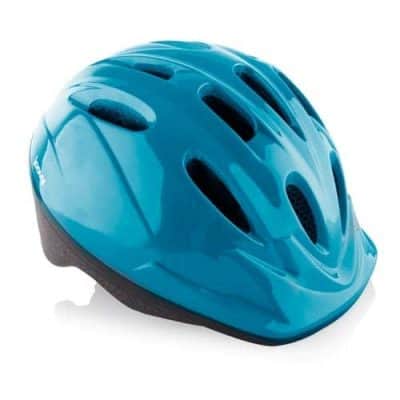 Quick Facts:
MIPS: No
Magnetic Buckle: No
Flatback: Yes
Sizes: X-Small – Small (18.5 – 20.5 inches), Small – Medium (20.5 – 22 inches)
Weight: 8 ounces
Adjustable Fit Dial: Yes
Possibly the best-selling toddler's helmet on the market, the groovy Joovy Noodle gives you all the essential features for a very reasonable rate. The lightweight helmet comes in at only 0.5 lbs and fits snuggly over most kids' heads, despite coming in just two different sizing options. The secret to the Noodle's well-fitting success is the adjustable fit dial, which parents can loosen up as their toddler's head grows.
There's ample ventilation over the top of the helmet to keep your child cool as they careen down the street at breakneck speed. And unlike other brands out there, all 14 vents are covered in a fine layer of mesh to keep the bugs at bay—a godsend when you're tugging your little one through an insect swarm (it happens, okay). Toddlers on the tow will also appreciate the flatback design, which offers ample padding to rest their weary heads.
Although it lacks magnetic buckles (hardly a surprise at this price range), the Joovy Noodle does have separated straps and a dual-color, non-pinch chin buckle at the front (red on one side and black on the other). All this makes it a cinch to strap on a wriggling toddler's head. There's no MIPS feature here, but the helmet is safe and protective.
And for little dudes and dudettes who aren't into showy patterns, the Joovy Noodle comes in a wide selection of plain color designs. There are seven different colors to choose from, with options ranging from bright and vibrant to dark and understated.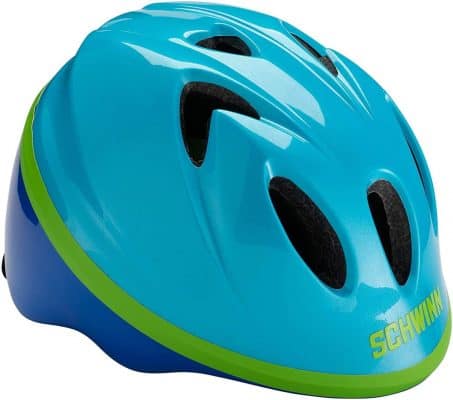 Quick Facts:
MIPS: No
Magnetic Buckle: No
Flatback: Yes
Adjustable Fit Dial: Yes
Sizes: One-size only, up to 20 inches
Weight: 8 ounces
Parents on a budget love shopping with Schwinn, a Chicago-born brand who's been in the bicycle business since 1895. And as one of America's oldest and most beloved bike brands, Schwinn has built a cult following for pumping out high-quality products on the cheap.
How cheap, you ask?
Well, this particular model provides all the protection a little toddler could need for just under 20 bucks—you'll be hard-pressed to find a functional helmet for less.
Of course, at that kind of bargain-basement price, you won't get any cool bells and whistles—except for the handy adjustable fit dial that does a decent job of setting the size right. Incidentally, however, the fit is also where the Schwinn fails to shine, as the manufacturer doesn't even provide sizing guidelines. For the record, we checked, and this thing is good for heads up to about 20 inches. But be aware the helmet is deeper than most, so it tends to fit kids with longer rather than shorter foreheads.
Nonetheless, it's still a solid choice for the price. The lightweight 8-ounce helmet is adequately durable and offers ample padding to keep your little one comfortable at all times. Up top, a vented design brings in much-needed airflow for those hot summer days. There's also a flatback behind to cushion your toddler's head while they're being towed.
Although a tad simplistic, we do love the designs on offer here. Choose from a cartoon knight battling it out with a dragon or opt for a basic dark and light blue blend.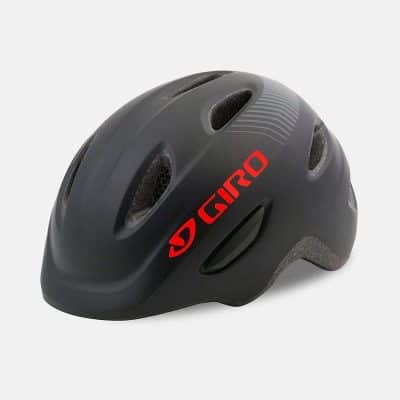 Quick Facts:
MIPS: Yes
Magnetic Buckle: No
Adjustable Fit Dial: Yes
Flatback: Yes
Sizes: XS (17.75"–19.25" / 45–49cm), S (19.25"–20.75" / 49–53cm)
Weight: 14.4 ounces
Safety is the most important thing to consider in a helmet, and the safest helmets on the market come with a Multi-directional Impact Protection System (MIPS).
If you've never heard of MIPS, it's a revolutionary safety system designed to protect against "rotational violence" in an accident, which occurs when you land at a funny angle and mangle your neck. In most accidents, a standard non-MIPS helmet will safeguard the rider just fine. But in those nasty stacks that involve significant rotational violence, these helmets can make a huge difference.
Very few toddler helmets out there have the feature, so if it sounds essential for you, then you can't go wrong with Giro. The California-based brand is at the forefront of bike safety technology and has rigorously tested MIPS on its state-of-the-art Scamp helmet—the bottom line? It really works!
Rest assured, the Scamp is a pretty nifty toddler helmet even without MIPS (you can save about 20 bucks by buying the non-MIPS version if you prefer). One of the things we love most is how well it fits tiny heads; don't be surprised to see it slide right on your 18-month-old. The fact that it's got a flat back makes it ideal for carting your little one along on a trailer. You also get an adjustable fit dial, a no-pinch buckle (though its not magnetic), and a funky visor on the front as part of the package.
Style-wise, it looks more like a stack hat for adults than a goofy toddler's helmet, which the extreme sports kiddies out there will adore.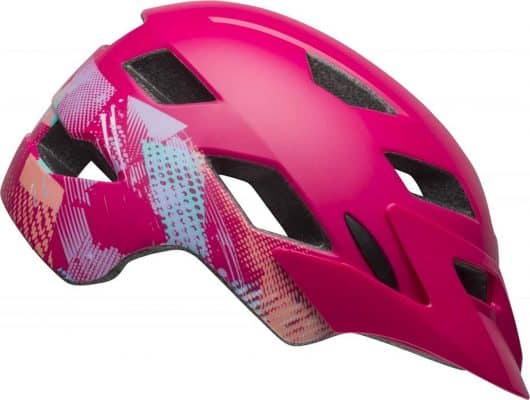 Quick Facts:
MIPS: No, but MIPS is available on the Bell Sidetrack II.
Magnetic Buckle: No
Flatback: Yes
Sizes: 47-54cm / 18.5-21.2″
Weight: 10.5 ounces
Adjustable Fit Dial: Yes
It doesn't come cheap, but if you've got a budding little mountain biker in the family, the Sidetrack from Bell will have them shredding with the big kids in no time. This all-terrain toddler's helmet mimics the style of a hardcore downhill biker, letting your little one feel just like the pros.
But unlike an adult's mountain biking helmet, the Sidetrack has a cushioned flatback so your tot can rest comfortably while being taken around on a trailer bike. You'll also find an ErgoFit Adjuster System (a fancy name for their adjustable fit dial) on the toddler's version, letting it slip snugly onto any youngsters head that measures between 18.5 and 21.2 inches.
Parents looking to up the safety ante can invest in the MIPS-enabled Sidetrack II, although this only comes in the "youth" size so it'll be a bit too big for most toddlers.
As much as we love the look and feel of this helmet, the buckle is a bit of a hassle. The problem is the helmet has stacks of excess straps, which get in the way when you're trying to click-in the buckle—the last thing you want when you've got an excitable tot. It's probably not a deal-breaker, but it's certainly something to consider.
At present, the helmet only comes in two colors: a matte green for boys and a matte pink for girls.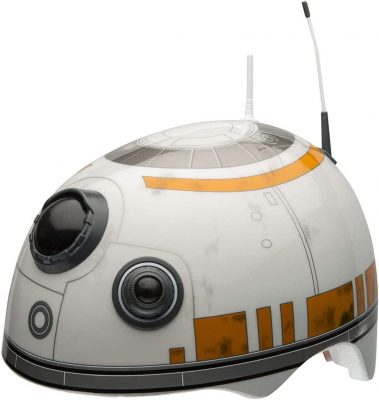 Quick Facts:
MIPS: No
Magnetic Buckle: No
Flatback: Yes
Sizes: 48-52cm / 18.9"-20.4"
Weight: 10.1 ounces
Adjustable Fit Dial: No
For fans of the Star Wars franchise, this beautiful BB8 helmet can't be beat (we're tempted to pick up one in the adult size for ourselves). And it's more than a tacky decal stuck on an ordinary helmet; this comes complete with a life-like antenna and two rubber sensor bobbles, so it feels like the real thing.
If your toddler is into the films but doesn't adore BB8 (if that's even possible), then there are a few other cool Star Wars designs on offer like the classic R2D2 and stormtrooper. These don't have the same level of detail, however, so the BB8 is the winner in our book.
Truth be told, the great thing about this helmet is its aesthetics—your tiny tot will feel like an intergalactic superstar while cruising around the cul de sac with this stuck on their head. But in terms of functionality, it's lacking a bit compare to something like the Giro Scamp.
The biggest issue is the fit as the helmet comes smaller than expected (it's closer to 48-51cm). And there's no adjustable fit dial either, which means you'll have to rely on extra foam padding if you go for the bigger "child" size. Most models don't have any vents, so the helmet is going to get uncomfortably hot during the height of summer. Of course, at this price point, you won't get any fancy add-ons like MIPS or magnetic buckles, either.
Nonetheless, the cool-factor alone is enough for your child to become the envy of the entire neighborhood, and that's reason enough to grab this adorable Star Wars helm.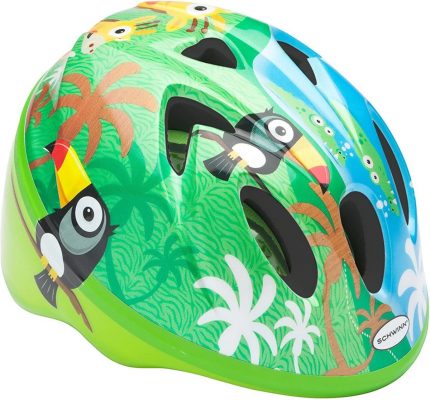 Quick Facts:
MIPS: No
Magnetic Buckle: No
Flatback: Yes
Sizes: 47cm – 51cm
Weight: 8.2 ounces
Adjustable Fit Dial: Yes
Finding a nice snug fit for a teeny weeny infant is a challenge, and the Schwinn steps up to the plate. As the All-American brand also makes our favorite budget helmet for toddlers, it should come as no surprise to learn this wonderful option is also incredibly cheap.
The highlight here is the helmet fits snugly into tiny heads between 12 months and three years old. And if you do find it a little bit too big or small, simply tighten or loosen the adjustable dial until it sits firmly in place. The model comes in three adorable patterns that are perfect for children this age. Also, plenty of padding underneath keeps the rider feeling cushioned at all times.
Although it's sturdy and comfy enough to offer adequate protection, it's important to note the straps and Velcro are a little on the flimsy side. Keep an eye on your kid because hyperactive tots may succeed at tugging the straps loose.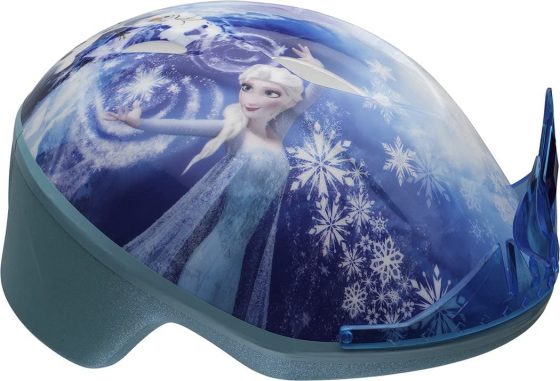 Quick Facts:
MIPS: No
Magnetic Buckle: No
Flatback: Yes
Sizes: 48-52 cm
Weight: 11.2 ounces
Adjustable Fit Dial: No
Little girls love Frozen as much as boys adore dinosaurs (probably more judging by the number of times we've heard "Let It Go"). And by that logic, it's a pretty safe bet your little girl will love this gorgeous Frozen-themed helmet, not least for the cute 3D tiara that fills in for the visor (who cares if it won't keep the sun out of her eyes?).
Much like our top pick for little boys, this fun themed option is on the lower end of the price spectrum so don't expect fancy things like magnetic buckles or MIPS. The rock bottom MSRP also means it's rather flimsy; thus you shouldn't expect it to last all that long. Worst of all, though, is the sizing is way off, and it lacks an adjustable fit dial, so there's no guarantee it'll sit properly on your little girl's noggin.
Nonetheless, your daughter will feel like a real-life snow princess in this lovely looking helmet, which makes it worth the risk for most moms.  And although it might not last forever, it's safe and comfortable.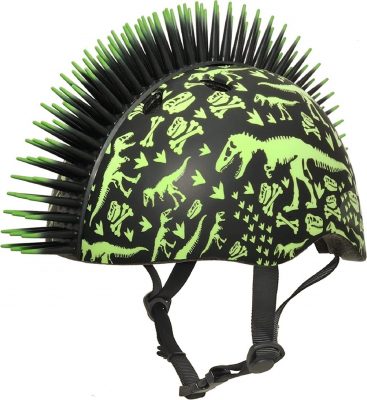 Quick Facts:
MIPS: No
Magnetic Buckle: No
Flatback: No
Sizes: 48-52cm
Weight: 13.6 ounces
Adjustable Fit Dial: No
You could argue this awesome option from Raskullz is even cooler than our top choice for little boys. After all, we're talking glow-in-the-dark dinosaurs AND a bad boy Mohawk here—toddler tastes don't get much more epic than that.
So why didn't this widely popular model get our top prize for boys? Well, it's just not as good of a helmet.
It may look amazing, but the bendable 3D Mohawk has a habit of melting in the extreme heat. Also, the straps are fiddly, and the lack of an adjustable dial makes the helmet hard to fit.
A wide range of alternative designs is available for kids aged five and up (the product listed is suitable for ages three onwards), which come with inbuilt LEDs to light the helmet up at night. But infuriatingly, the lights automatically turn themselves off after a minute, and the batteries are impossible to change once they run out.
Still, the helmet's shock-absorbing EPS shell passes all the relevant government regulations, so it'll undoubtedly provide adequate protection in a crash. And there's no denying toddlers will find this glow-in-the-dark dinosaur Mohawk to be indescribably cool.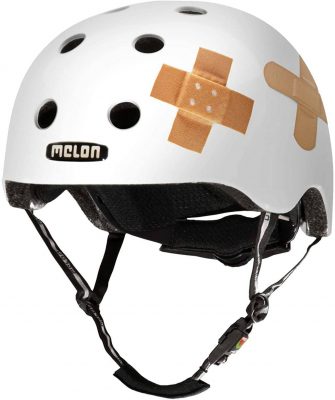 Quick Facts:
MIPS: No
Magnetic Buckle: Yes
Flatback: No
Sizes: 5″-22.75″
Weight: 9.9 ounces
Adjustable Fit Dial: No.
Instead, the helmet has adjustable settings on the foam padding instead to cater to different sized heads.
Proud parents of the next Lance Armstrong will want to spend big to give their budding prodigy the best chance of making it on the cycling scene. And no other toddler helmets on the market offer as much raw functionality and unbridled cachet is this neat little number from Melon.
Firstly, a word of warning: with zero change from a Benjamin, this helmet does not come cheap. But if you're flush with cash and only want the best for your grommet skater superstar, you won't find a better option out there.
So what makes Melon so awesome, then?
The first thing you'll notice is how light and comfortable it is for a high-performance helmet. Boasting up to 30% less weight than a comparable hard shell helmet, your little legend will be able to twist their head with ease and pull off the gnarliest of tricks.  Layers and layers of cushy foam padding underneath provide optimal comfort and are adjustable to help you pinpoint the perfect fit.
It's also one of the few toddler helmets to boast a magnetic buckle, which lets them slip in and out of the thing without the risk of pinching their neck.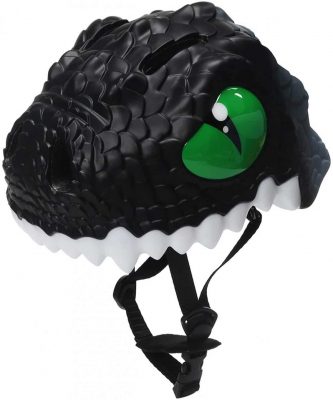 Quick Facts:
MIPS: No
Magnetic Buckle: No
Flatback: Yes
Sizes: 19.29″-21.65″
Weight: 8.8 ounces
Adjustable Fit Dial: Yes
The best way to get a little boy into the habit of wearing a helmet is by providing something he wants to wear. And what teeny male toddler wouldn't want to rock a roaring dinosaur headdress?
This thing looks so cool the biggest issue is he might not want to take it off again. And it's not just some cheapo gimmick, either: the outer shell is made from super-smooth PC material with 3D embossing, while the inside is fitted out with shock-absorbent foam—everything you need to keep your child's head safe from harm.
It's super lightweight as well, weighing in at just under 9 ounces. Another neat perk is the helmet fits riders of a wide age range thanks to the highly-functional adjustable fit dial on the back. Ample interior padding keeps things comfortable, and there are half a dozen air vents to cool overheating heads. The strap mechanisms also work quite well and don't tend to pinch the child in the neck.
On the downside, kids who aren't in love with dinosaurs are going to loathe this outrageous design. Plus, it's a low-end model, so don't expect fancy extras like MIPS or magnetic buckles.