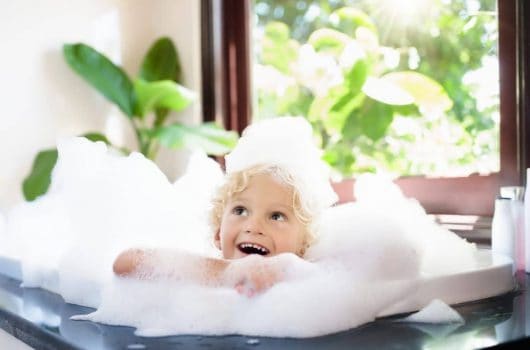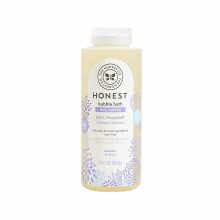 The Honest Company Truly Calming Lavender Bubble Bath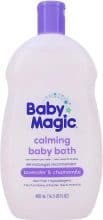 Baby Magic Calming Bubble Bath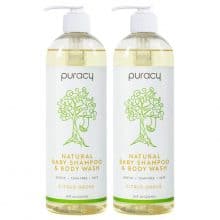 Puracy Baby Shampoo & Natural Body Wash
Previous
Next
Sometimes our little ones are too young to take a shower, and while a regular bath helps them stay clean, there is nothing more satisfying than seeing your child smile as they're playing in bubbles. Bubble baths can be an excellent time for you and your child, but you need to make sure you have a soap that's both safe and effective. A baby's skin is 30% softer than an adult's, which means that any harmful chemicals in traditional bath soaps can be too much for their sensitive skin.
It's not always easy to separate the good, safe options from the rest, so let us help! We've compiled a list of the ten best baby bubble baths to make shopping a piece of cake. We know that some products may work well for different parents, which is why we'll be guiding you along the way.
What to Consider When Shopping for Bubble Baths
Gentle and effective formula
First and foremost, the one thing you'll want to look out for above all else is a bubble bath that performs well and isn't filled with harmful ingredients. Whether or not you need a hypoallergenic baby bubble bath depends on your child. For children with sensitive skin, we always recommend using a hypoallergenic brand. In doing so, you'll be ensuring that no potential allergens can trigger a response from your child's skin. For children that are under a year old, you'll always want to go with a hypoallergenic option. For older children, the choice is dependent on your child's preferences and their skin.
Fragrances
The fragrance of a bubble bath is vital for a few reasons. The main reason is that some fragrances are made with additives, so if you are choosing a scented product, you'll want to choose one that's skin-safe. Secondly, if you'll be using the bubble bath as a body wash and shampoo, you'll want a scent that will have your child smelling fresh once the bath is over. We'll make a note of which products contain fragrances, and explain any potential risks that might accompany them.
pH levels
While the pH levels of various products don't impact adult skin too much, a pH imbalance can cause irritations and rashes on your child's skin. Alkaline bubble bath soap that has a high pH rating might be damaging to your child's skin. Likewise, if the pH level is too low, the acid content will be too high for your child. A neutral pH of 7 is best, but minor variations from this are fine. In general, a pH below 5 or above 9 should be avoided, and all of the products on this list are within that range—babies with particularly sensitive skin should stick to truly pH-neutral products, though.
Top 10 Best Bubble Baths for Babies & Kids 2020
Everything There Is To Know About Baby Bubble Baths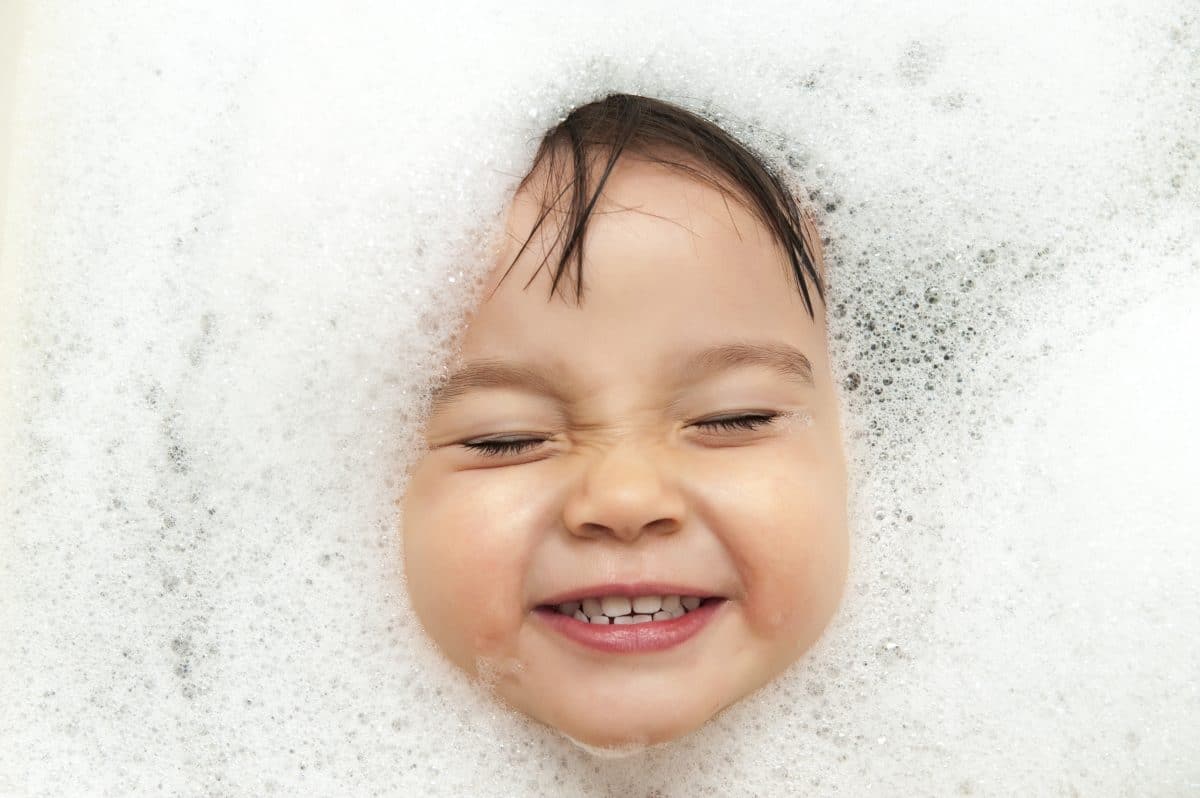 Shopping for the best baby bubble bath is easy when you have quality products in front of you, but how do you know which bubble bath is right for you? If you're curious about which products fit your needs, you'll want to stick around for this brief guide. We'll be breaking down specific considerations that apply to each product, and you'll be able to see which bubble bath is right for you.
Formula and Ingredients
When shopping for a baby bubble bath, you'll come across a few different soap options. Each soap type has different formulas and attributes that make them unique. While each option is viable, some soaps excel in different ways. So, to know which soap you need for your child's bubble bath, you'll need to familiarize yourself with what sets them apart.
Plant-based bubble baths
Plant-based soaps are the most common baby bubble bath products that you'll come across. Plant-based formulas are typically natural, and combine different plants to improve the quality. Some common ingredients that you'll find in plant-based bubble baths include aloe vera leaves, coconut extract, calendula, lavender, and other plants with moisturizing and skin-replenishing properties.
Plant-based soaps tend to provide a decent amount of bubbles for a bubble bath, and a lot of plant-based soaps can be used as a shampoo and body wash as well. While plant-based soaps excel at providing a safe and eco-friendly bath, their cleaning power is not as strong. Compared to chemical soaps, plant-based soaps are safe but a bit less effective. For children, though, this shouldn't be an issue. A great plant-based soap for you to try is The Honest Company Truly Calming Lavender Bubble Bath .
Oat-based bubble baths
Oat-based bubble baths have fewer bubbles than plant and chemical soaps, but the washing power of oat-based bathing products is superior to both. While standard soap does a great job, natural oat-extracts can moisturize, clean, and care for sensitive skin. For infants and newborns, oat-based bathing products are a great way to reduce possible adverse reactions to soap. If you want to try out an oat-based product, you'll want to consider Aveeno Baby Calming Comfort Bath .
Chemical-based bubble baths
Chemical bubble baths are soaps that include additives and manufactured ingredients. For children, we always recommend avoiding these soaps, but most chemical-based soaps are safe for use in adults. We've kept chemical-based soaps off of the list due to their potentially harmful nature on children's skin.
Suitability for Sensitive Skin
All of the bubble baths on this list are suitable for most babies, but those with particularly sensitive skin will want to look for products specifically designed to reduce irritation. In most cases, tear-free and hypoallergenic soaps are safe for any infant's soft skin.The best baby bubble baths have them both, but any product that's either tear-free or hypoallergenic is an excellent choice.
Children have soft and gentle skin that requires a delicate approach. Organic soaps are the best way to approach infant bubble baths because the mixture of plant or oat-based ingredients is superior to chemical soaps. If you want a soap that's gentle enough for newborns or children with sensitive skin, Johnson's Head-To-Toe Gentle Baby Wash & Shampoo is the right choice.
Hypoallergenic
Hypoallergenic soaps are made with ingredients that have no known allergens. For your child, this means that the soap has a low chance of causing skin irritations or rashes. Keep in mind that each product is made with different ingredients, so experimenting with different products is always helpful. To point you in the right direction, one of the best hypoallergenic products you can buy is The Honest Company Truly Calming Lavender Bubble Bath .
Tear-free
Tear-free bubble baths use soap that doesn't irritate your child's eyes. Choosing a tear-free product is an excellent idea if you have newborns, babies, and toddlers. The sensitive nature of a baby's eyes makes them susceptible to the burning sensation that soap creates when it meets your child's face. Even in adults, this can turn a great bubble bath into a nightmare filled with tears and discomfort. To avoid this issue, consider a tear-free product like  Puracy Baby Shampoo & Natural Body Wash .
Fragrances
The fragrance of a bubble bath is only a serious problem when it uses harmful chemicals, which none of the products we recommend contain. But for some children and adults, the fresh smell of a clean wash is essential. Aromas depend on what you're looking for, and some products even have multiple choices.
If you're looking for a great smelling bubble bath that's safe for your child, TruKid Yumberry Bubble Podz is a great choice, though some might prefer the more muted scent of the Puracy Baby Shampoo & Natural Body Wash . If you want to avoid fragrances entirely, the unscented would be your best bet.
Why you should consider natural products
We're sure that you've noticed a common theme within this guide, and if you haven't, that theme is natural. Most of the products on our list incorporate blends of natural ingredients to create their soap. While natural sounds appealing without an explanation, we would love to show you why it is the right choice for newborns, babies, and toddlers. Plus, even as parents, you can benefit from an all-natural bubble bath.
A lack of harmful chemicals
Natural products pride themselves on being free of harmful dyes, fragrances, and chemical enhancements. Chemicals like parabens, phosphates, sulfates, alcohol, and nitrates, can be harmful to a child's delicate skin. Keeping these chemicals out of your child's bubble bath should be a priority, and the good news is that all of the products you've seen here are primarily made of natural ingredients. There are a ton of chemicals to keep an eye on, and you can find out more about each chemical here.
If avoiding any and all artificial ingredients is important to you, Alaffia Everyday Coconut Bubble Bath is the bubble bath you need.
They're great for the environment
Using natural brands will reduce your carbon footprint, and some products follow through with minimalistic designs. Eco-friendly soaps won't hurt your child's bubble bath, but they can help reduce waste and make the world a better place. If you're a strong supporter of eco-friendly products, Puracy Baby Shampoo & Natural Body Wash is the best choice.
Special Bubble Baths
Bubble baths are great for both you and your child, but sometimes you want your soap to serve more than one purpose. Luckily, a lot of baby bubble products can be used to put your child to sleep or act as a shampoo and body wash too.
Bedtime bubble baths
Bedtime bubble baths usually have essential oils layered into their soap formula, and these oils can help your child relax and prepare for bed. These soaps are great for parents that want to get their children to bed on time or parents that want to set a sleep schedule for their child. The best bubble bath for this purpose is the Johnson's Bedtime Baby Bubble Bath .
Pro Tip: To make bedtime baths even more relaxing, try singing lullabies or quietly playing some music.
3-in-1 bubble baths
3-in-1 bubble bath products provide a comprehensive bathing experience for your child. Instead of only being used as a bubble bath, 3-in-1 products will clean your child from their hair down to their toes. There are plenty of great 3-in-1 bubble baths, but the best is Everyone 3-in-1 Soap. Not only can Everyone's 3-in-1 Soap be used for all of your baby bathing needs, but it works well for adults too.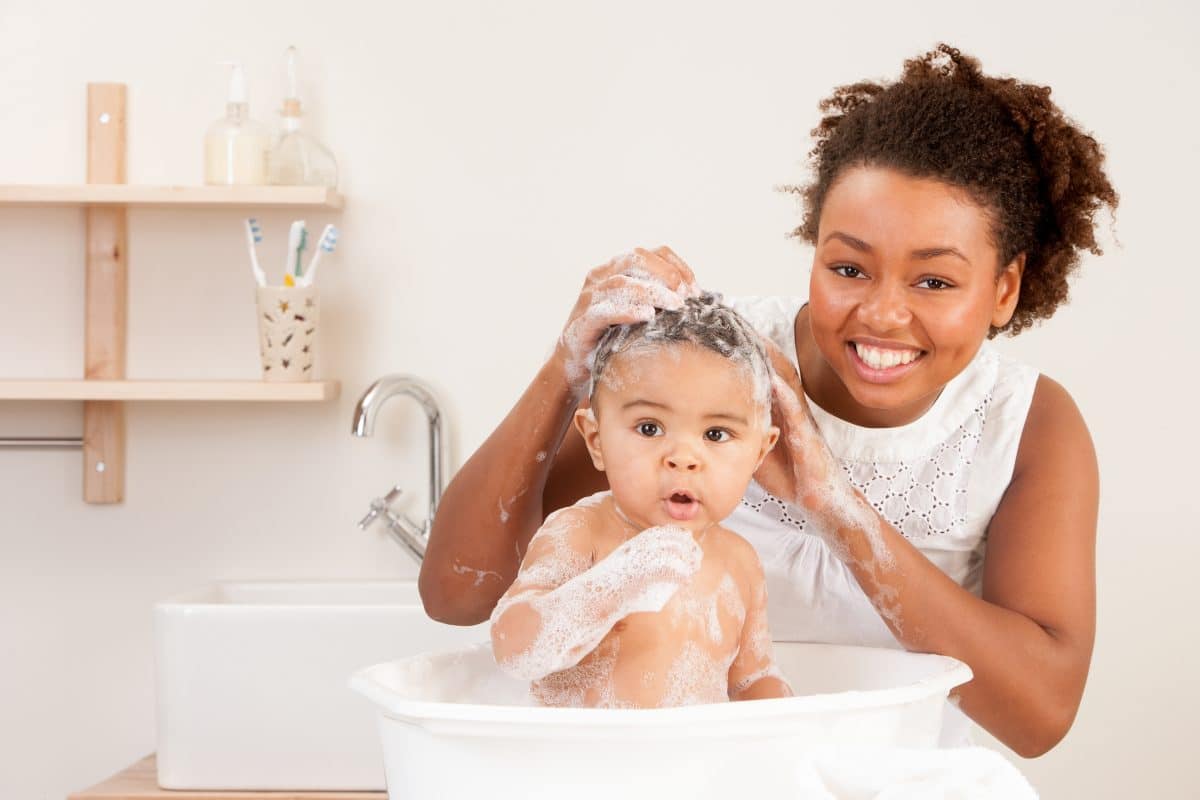 FAQ
Are bubble baths safe for babies?
Bubble baths are safe for most babies, but there is one exception. If your child is under the age of 3 years, it's best to avoid bubble baths if possible, as they might increase the risk of your child developing a UTI.
Can I use dish soap for a bubble bath?
You can use dish soap as the base for a bubble bath, but it won't be as effective as specific bubble bath products. Dish soap may also have potential additives that can be rough on your child's sensitive skin. Dish soap should only be used as a last resort option in baby bubble baths.
Can I add Epsom salts in a baby bubble bath?
Epsom salts are safe for both children and adults, and they can make a bubble bath more enjoyable. For children, try to keep the level of Epsom salts below two cups, and stick to plain, pure salts. Too much of this salt can cause skin rashes and irritations.
How long should a baby bubble bath be?
Baby bubble baths shouldn't run for the same length as an adult bubble bath. Spend the first portion of the bubble bath playing with your child, but make sure that you transition to the washing portion of the bath quickly. For best results, and your child's safety, keep the bubble bath under thirty minutes.
Final Thoughts
You should always be careful when choosing a baby bubble bath. While many of them may be safe, always be vigilant when looking at the ingredients. Make sure that pH levels are close to neutral or balanced, and there are no parabens, phosphates, sulfates, alcohol, and other chemicals that can harm your child. Also, while your child may be having a blast in the tub, make sure that you don't leave them in there for too long, or it can prune their fragile skin.
There is a lot to look for in a baby bubble bath, and we know that it can feel overwhelming, but you can take comfort in knowing that any of the ten products we've displayed are a safe and effective choice for any child. Take some time to look into each product and see which one makes the most sense. If possible, try out a few different brands to see which bubble bath your child loves!