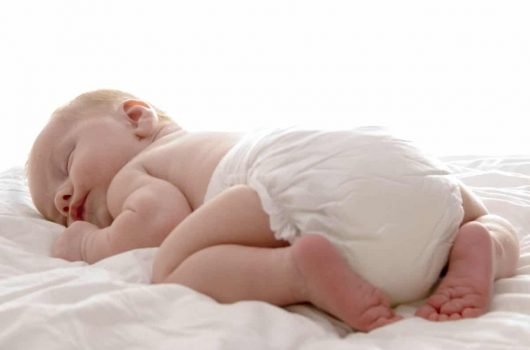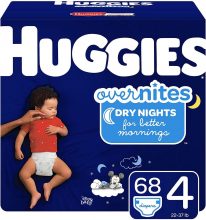 Huggies Overnites Nighttime Diapers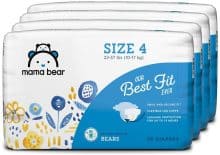 Mama Bear Best Fit Diapers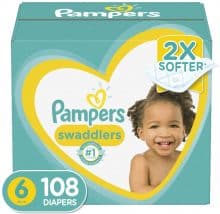 Pampers Swaddlers Baby Diapers
Previous
Next
Having a newborn is enough work as it is. Add in a grumpy, crying baby that needs to have their diapers changed throughout the night, and it's no wonder why so many parents are running on little to no sleep.
Overnight diapers can turn this nightmare into a dream. They are designed to keep your baby dry for up to 12 hours, and are usually 20 to 25% more absorbent than regular diapers. They'll keep your baby's bottom dry throughout the night, so you can get a good night's rest in preparation for the day ahead.
How To Choose an Overnight Diaper
Finding the right overnight diapers for your little bundle of joy may not always be easy. There may be specific things that they need in a diaper. With all of the different brands and types of overnight diapers on the market, it can be difficult to narrow down your shopping options to the right one. Here's everything that you need to look at and consider.
Material and Absorbency
Parents should take a close look at the materials that make up the three different layers — the inner layer, the absorbent core and the waterproof or outer layer. The inner layer comes into contact with your baby's skin and should ideally be free of harmful chemicals, fragrances and phthalates. The absorbent core is responsible for how effective the overnight diaper will be in preventing leakage, and the outer layer should contain a waterproof material, like a petroleum-based plastic, to prevent leakages and messes.
Most parents are particularly concerned about leakage when it comes to overnight diapers. To enhance overall absorbency, the absorbent core of all overnight diapers will have some type of matrix that's made up of a fluffy material that distributes fluid across the diaper's surface and chemical crystals that absorb liquid messes. The most popular chemical crystals used are known as Super Absorbent Polymer (SAP). The combination of type and quantity of chemical crystals and fluff materials used will determine overall absorbency.
When purchasing overnight diapers, look for a product that can hold liquid that is several times its own weight.
Fit and Overall Comfort
Make sure that your baby is comfortable in their diapers. Otherwise, you're going to get a lot of fuss from them throughout the night that will keep you up. The overnight diapers you choose need to fit comfortably around the legs and the waist, which means that they should ideally have features like:
Adjustable fasteners. Some overnight diapers use rows of snaps to stay in place, while others have elastic materials that fit the legs. Both have their pros and cons. Many parents prefer velcro fasteners over tape ones, as these tend to maintain their sticking power even when they come in contact with baby powder.
Seamless edges. Tabs that are rounded or soft are less likely to irritate your baby's skin.
Stretchable sides. Overnight diapers with stretchable sides tend to offer a more customized fit. Stretchable sides mold to your baby's unique body shape.
Navel notches. Some overnight diapers have navel notches that provide some space for umbilical cords that haven't fallen off yet. These are perfect for newborns.
Sizing. No diaper, no matter how comfortable, will be suitable for your little one if it doesn't fit well. We'll point out every size option for each of our recommendations. If you're not sure what they mean, read our Diaper Sizing Guide to help you make sense of these numbers.
A good fit can make a whole world of a difference. A well-fitted diaper is also less likely to leak throughout the night.
Skin Protecting Features
Babies have incredibly sensitive skin. Some babies are more prone to developing diaper rash than others. Look for overnight diapers with hypoallergenic features. These diapers tend to have no fragrances, bleach, latex or chemicals within them, and may have different types of lotions and extracts on the inside to moisturize your baby's skin.
In general, we also want to look for overnight diapers that are also chlorine-free, phthalate-free and dye-free. While these chemicals are not present in toxic amounts, it is always better to be safe than sorry.
Top 10 Best Overnight Diapers 2020
The Complete Guide to Overnight Diapers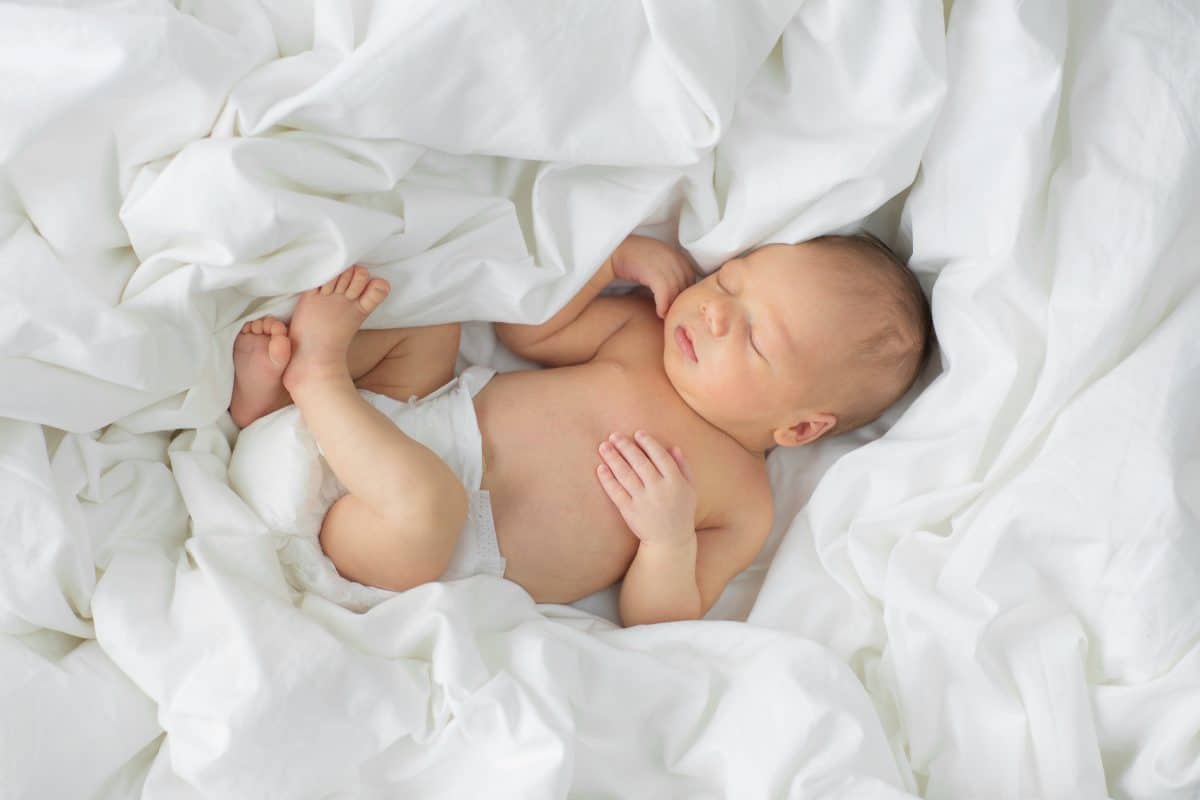 New parents often find it difficult to gauge when it's time to switch over to overnight diapers. This all depends on your little bundle of joy. In general, most parents will start to notice leakages at night by the 6 month stage. This is also usually the time when most babies will be ingesting more solids or getting more formula or breast milk, which means that they'll naturally be excreting more throughout the night.
Not all babies will need to switch to overnight diapers. It all depends on how much your baby urinates throughout the night. Some babies are able to get away with using regular diapers that offer 12 hours of protection or more. If you are constantly being woken up by your baby's cries, it might be a good idea to switch to an overnight diaper to see if it helps keep them more comfortable throughout the night.
Overnight diapers are just as easy to put on as regular diapers. If you need a refresher, take a look at the video below.

Diaper Sizing Guide
Before we get into the details about how to choose the perfect overnight diaper, it's important to understand what sizes you need to look for. Though there is a bit of wiggle room thanks to adjusabiltiy and elasticity of many overnight diapers, for the best fit you'll want to choose a size based on the following table:
Newborn diapers: Less than 10 lbs
Size 1: 8 to 14 lbs
Size 2: 12 to 18 lbs
Size 3: 16 to 21 lbs
Size 4: 20 to 32 lbs
Size 5: 27 to 35 lbs
Size 6: More than 35 lbs
In addition, some brands, such as Goodnites Bedwetting Underwear for Boys offer overnight pull-up-style diapers that can accommodate even larger children.
Additional Factors to Consider When Choosing an Overnight Diaper
There are so many different types of overnight diapers out there that it can be difficult to figure out which one to try. Here are some factors that you should consider when purchasing overnight diapers:
Boy vs Girl diapers. Different genders have different 'pee points'. Boys typically need more protection in the front, which means that boys and girls will need different wetness patterns and indicators and different types of absorbent layers. Experiment with a few different brands to see what works for you. Some brands may not necessarily market their diapers for a specific gender, so be mindful of the pattern and the location of the absorbent core.
Size. If your baby is constantly leaking, it may mean that you need to go a size up. Many overnight diapers have features like a size-up indicator that will let you know when it's time to move onto another size. A size up may also give you an extra boost of absorbency.
A place to add an extra pad. Some overnight diapers have a spot for you to add an extra booster pad. This feature can come in handy for extra heavy wetters.
Cloth vs. Disposable. Some parents may be more comfortable using cloth diapers that are reusable. It's better for the environment. These diapers usually don't come with overnight absorbent abilities, so they'll have an extra spot for you to add a booster pad.
Designs. When your baby becomes a toddler, designs can make potty time fun; however, the ink used in designs are made from some type of dye or chemical, which is why some parents prefer getting plain overnight diapers for babies (who won't notice the difference!).
There are many different brands on the market, and what works for some babies may not necessarily work for yours. Try out different types of overnight diapers to find one that will keep your baby dry and happy throughout the night.
The Different Types of Overnight Diapers
Pampers, Huggies, OverNites and many other brands will have different types of overnight diapers for you to choose from. Selecting the right diaper for your baby can also make a huge difference to whether there'll be any leaks in the morning and whether the diapers are reusable. Let's take a look at some of the different types below.
Disposable Diapers
Almost all of the recommendations on our list are disposable diapers. These types of diapers are generally considered to be the best overnight diapers. They contain multiple layers that absorb and wick away moisture from the skin, and some of these diapers can hold several hundred times their own weight. They have many features that help guarantee a good night's sleep. These diapers are easy to use; however, they are more expensive than reusable diapers.
Pull-Ups
These diapers are most ideal for children who are potty training. They are a great substitute for underwear and can be easily slid on and off. These diapers are easy for your child to change themselves, so they'll be able to learn when it's time to go to the washroom. Last but not least, these overnight diapers tend to have absorbent cores in different areas of the diaper depending on whether the diaper is for a boy or a girl. The different design gives these overnight diapers the extra boost needed to prevent leaks at night. If you want a pull-up diaper for your little boy you can't beat the Goodnites Bedwetting Underwear for Boys , while parents of girls should check out the Huggies Pull-Ups Training Pants for Girls .
Contour Diapers
Many overnight diapers have a contoured design now. These diapers are usually the best fitted and will have wider wings and more narrow crotches. They're great for active babies. Most of the choices on our list, including our top overall pick are contour diapers.
Cloth Diapers
Cloth diapers tend to be reusable. There are many different types of fabric to choose from. The most popular ones are flannel, terry, wool, unbleached hemp, bamboo or some type of cotton fleece material. Flannel is the softest and most absorbent fabric out of all of them while bamboo diapers are generally considered to be the most eco-friendly. Cloth diapers are a great choice for those who are concerned about the environment and want to do their best in limiting their contribution to local landfills. Cloth diapers will usually require some type of insert or booster pad like the
The main issue with cloth diapers is that they tend to not have a very absorbent core. They also lack any type of lotion on them that may prevent diaper rashes. If this is something you're concerned with, you can try several home remedies for preventing diaper rashes, like making your own diaper rash cream, applying coconut oil to the bottoms or using olive oil to wipe bottoms when changing the diapers.
Though the best overnight diapers are always disposable, since cloth diapers lack an absorbant core, those who do want to invest in a cloth diaper for daytime use should check out our guide to the Best Cloth Diapers.
Finding the Right Diapers Can Make All the Difference for a Good Night's Sleep
When you've found the perfect overnight diaper, you'll find that your baby will have a much better sleep. They're less likely to start crying in the middle of the night or to wake up cranky thanks to the discomfort of a wet diaper. This also translates to better sleep for you as well. With the right overnight diaper, you also won't have to worry about leaks and messes any more. They're an essential tool in every parent's arsenal.