Top 30 Best Birthday Gifts & Toys – for Kids 2023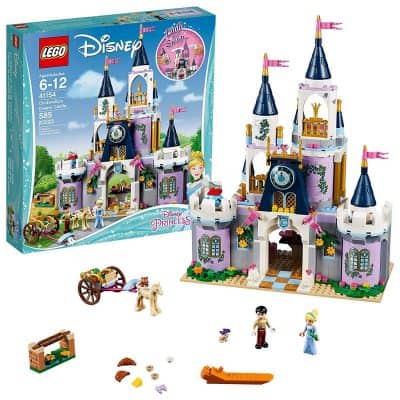 This LEGO Playset is the perfect toy to recreate the magic of the Disney classic.
Girls will have fun building and re-building the iconic castle from Cinderella. The modular nature of this LEGO set means your kids can rearrange the layout of the castle to their liking. It's also compatible with parts from other LEGO Disney sets for the ultimate mix and match.
The castle has many different rooms, including a grand dining room and kitchen, complete with secret rooms and compartments. And to complete the pretend play, it also includes Cinderella and Prince Charming figurines.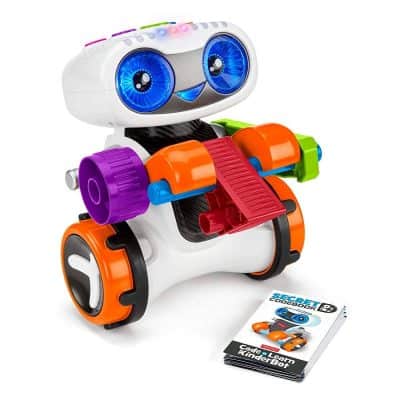 Learning how to program is quickly becoming a core skill that every kid must learn early on. However, teaching can be complicated and intimidating.
That's why the Code n' Learn Kinderbot is such a great toy. It teaches foundations like coding and basic maths in an easy and fun way.
The robot can accept directions to move in any of the four directions. Your kid codes these using the arrow buttons on the top of the robot. They then press the "Play" button and watch as the robot performs the moves.
Kinderbot also gives your kids Learning Challenges and a Secret Code Book. These give your kid problems to solve that increase in difficulty. It's great for honing your child's problem-solving skills.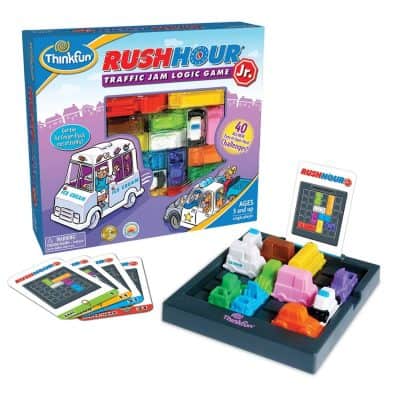 Rush Hour Jr is a kids version of the famous Rush Hour game. The aim is to help the ice cream truck get out of the parking lot by clearing a path for it. You do this by sliding the cars back and forth.
It sounds easy. But ask any adult, and this is a challenge even for them. It's because you'll have limited space to move the cars around.
The Rush Hour Jr. Game is perfect for kids who want a challenge. It helps them build critical thinking and problem-solving skills while having fun at the same time.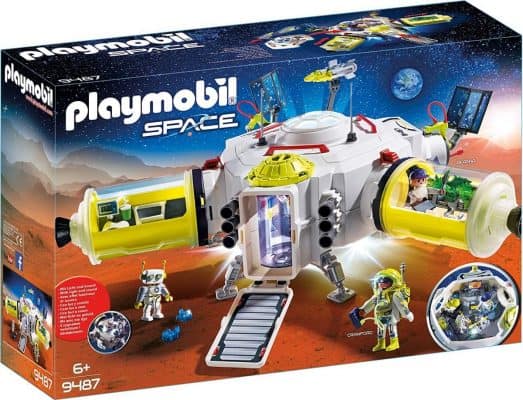 The Playmobil Mars Space Station is everything your kids will ever need to become a space explorer.
The space station is super detailed with all the panels and buttons to make it look realistic. It includes hubs and modules, just like in real life. Each is detachable, so the entire station's layout can be completely customized.
Your kids will also get plenty of accessories, including two astronaut figurine and a robot figurine. There's also equipment like a microscope and a laptop, as well as tools like a wrench and drill. It even has a laser that shoots out projectiles.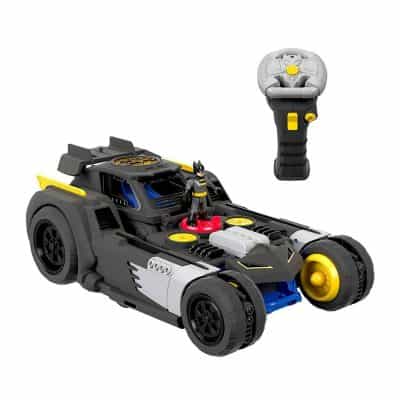 For kids that are big Batman fans, the Transforming Batmobile RC car is a real treat.
Just like your ordinary RC car, you can use the included remote control to zoom and turn the Batmobile forwards and backward. It can even do 360-degree spins!
But unlike your ordinary RC car, the Batmobile can transform into Battle Mode. In Battle Mode, it becomes a raised platform that shoots disc projectiles at the push of a button.
The transition from Batmobile to Battle Mode is smooth and well-done. There are also lights and sounds to make the transformation much more epic.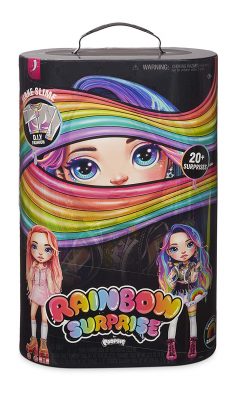 The Poopsie Rainbow Surprise Doll is another one of those "surprise" toys wherein you won't know what type you'll get before you open it.
If your kids love the thrill (and can handle the disappointment of not getting what they want), this Poopsie doll is an absolute gem.
Each box you unroll will give your little girl a 14″ doll to play with, and a set of transparent outfits. But the highlight is the gel powder, which they can use to make DIY slime. Your child can then spread the slime on the doll's transparent outfit to create personalized designs.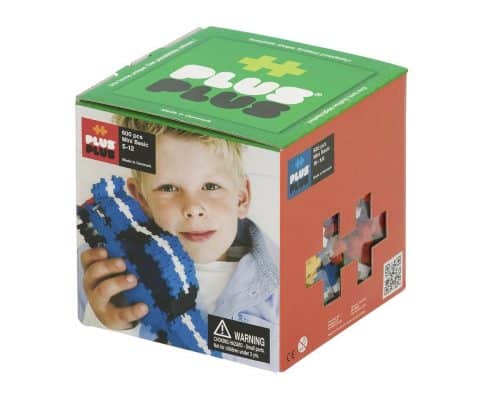 Constructing things is one of the best ways to enhance a kid's development. Not only does it refine motor skills, but it also boosts their creativity and imagination.
The PLUS PLUS toy is composed of individual shapes that can combine with each other in multiple directions. This toy allows your kids to build both in 2D or 3D.
This Open Play Set package includes 600 PLUS PLUS pieces. They come in over seven basic colors, such as red and brown. PLUS PLUS gives kids an infinite variety to bring their creations to life.
The pieces are all BPA and Phthalate-free, making them safe for kids to play.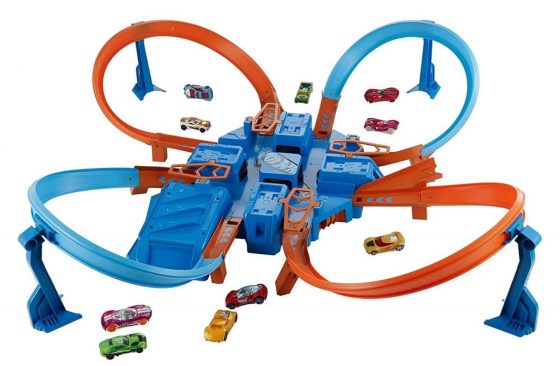 The Hot Wheels Criss Cross Crash Track Set revs up the excitement for your car-loving boy. It's perfect for satisfying a boy's need to crash things in a safe and controlled manner.
This set features up to 16 feet of track and loops, arranged in a clover pattern. All of it meets in the center intersection, where crashes are bound to happen. Cars enter the track through a feeder.
This Criss Cross Crash Track gives the thrill of crash racing and near misses. Your boy can time the entry of his car just right to avoid crashing with the other cars. Or he can do the opposite to knock a car off the track deliberately.
Either way, it involves your boy's experimentation and hand-eye coordination.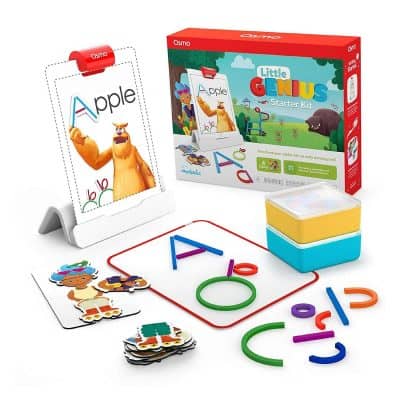 The Little Genius Starter Kit is a fun new way for kids to learn that blends technology with traditional play.
At the center of the technology is the Osmo Base. You fit this over your tablet (both iOS and Android supported), and it can magically detect the included silicone shapes and pieces.
Playing it requires your child to rearrange the pieces to form a letter, number, or picture. For example, they can use the silicone shapes to form the letter "A" in the mat, and the tablet app can detect it as the letter "A."
Aside from forming letters and numbers, it can also detect "drawings" made with the silicone pieces as well. Then the kids can watch their creations come to life on the screen.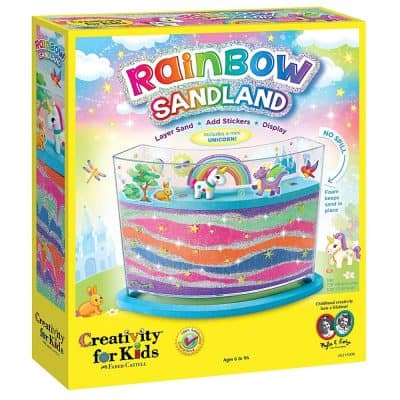 Sand art used to be all the rage when we were kids but has sadly now gone out of fashion. However, it's making a revival thanks to this Rainbow Sandland toy.
The kit has everything your kid needs to create her own sand art. It includes five different colored sand and glitter for that extra sparkle. It also has tools like a funnel for more precise layering of sand in the display stand.
Afterward, your child can then decorate it further with stickers and unicorn figurines.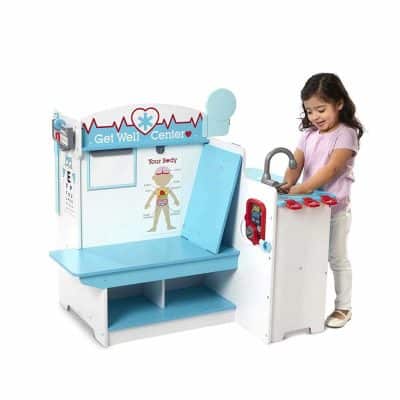 This Doctor Activity Center Set is one of the best ways to encourage interactive play with your kids. It's made by Melissa and Doug, who are known for creating quality wooden toys for preschoolers.
This activity center is no different. It's made of high-quality wooden components. The finishes and details are spot-on as well.
It's a complete doctor's center with a wooden rest where a "patient" can sit. It also has a sink area and waiting area to simulate what a real clinic looks like.
The accessories and equipment are also well-crafted. They include the standard doctor's stuff like X-ray, blood pressure monitor, and adjustable height bar.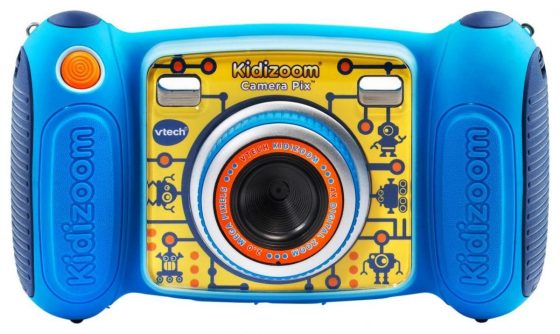 I'm sure we've all experienced our kids playing around with our smartphones and taking all sorts of random photos. While using a phone all the time is bad for kids, using a camera shouldn't be.
The solution is the Kidizoom Camera. This toy from VTech features a real 2.0-megapixel camera with up to 4x zoom. So this one goes beyond pretend play and makes your kid practice with actual photography.
It also has cool features like automatically detecting your kid's face in Selfie Mode. Your kid can also play around with 35 photo effects to add some artistry into their shots.
All in all, this is a great toy for your budding photographer.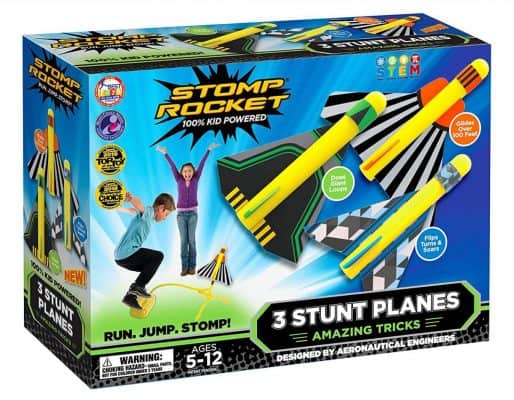 The Stomp Rocket takes flying planes to a whole new level. Each of the three planes in the set performs their stunts and aerial tricks. The planes themselves use aerodynamic principles, so expect well-executed stunts.
Launching these plans is as fun as seeing them fly. Kids fly these planes by running and then stomping on the launch pad. They can adjust the angle of the launcher to account for wind direction and speed.
The Stomp Rocket is completely "kid-powered" – no batteries needed.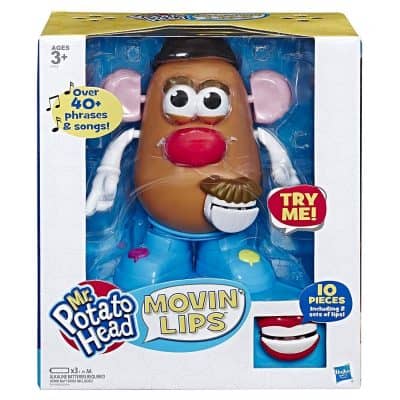 Lots of parents will have memories growing up with this classic toy. Now, they can pass it along to their kids – with some modern features to boot.
There's still the classic feature of allowing your kids to remove every part of Mr. Potato Head's face. This time around, though, he's able to move his lips. He can say and sing up to 40 phrases and songs. That's enough variety to keep any kid entertained for hours.
The toy includes two sets of lips, so kids will have fun mixing and matching it to a hilarious effect. The parts are also compatible with other Mr. Potato Head toys if you have them.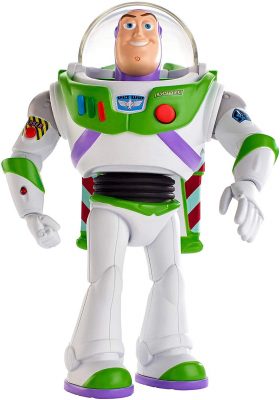 If your kid loved the Toy Story movies, this would be a no-brainer purchase for them.
The Ultimate Walking Buzz Lightyear behaves just like he does in the films. He is capable of walking forwards and backward, complete with a swivel. Then there's the iconic laser blasters and wings that pop-out when he's ready for action.
The best thing about this figure, however, is the phrases he says. With the push of a button, he will recreate his famous lines from the movie.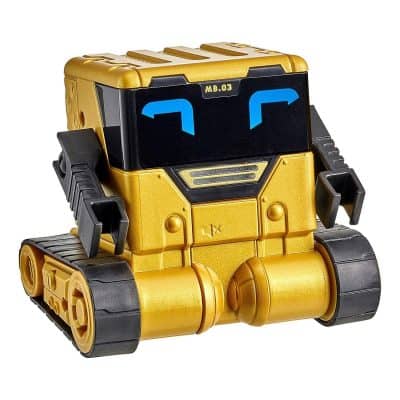 The MiBro is your kid's mini robotic friend. It's an RC robot that your kid can command to do a lot of useful stuff. And by "useful," it mostly involves pranks!
This robot is a tiny and super silent RC robot that's controlled using the remote control. It's pretty easy to maneuver around in our experience. You can also talk to it, and it will repeat what you say in a funny tone.
Kids can use the MiBro as a "spy" bot. It can sneak around and record sounds using its built-in microphone. The bot also has over 50 built-in sounds and effects that kids can use to prank others.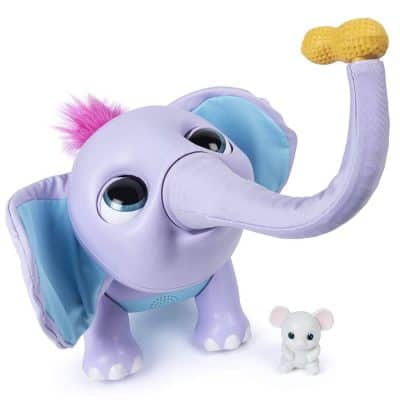 Juno is one of the most realistic toy animals your kids will ever play with. It's an interactive smart pet and one that your children can grow to adore.
The best feature of Juno is her lifelike trunk. It can respond to your touch, pick up objects like her peanut, and even pet you back. She can use it to make trumpet sounds as well.
This little elephant also has her personality. When your kid first gets her, she'll be shy and hide behind her ears. But if your kid pets and shows her attention over time, she'll warm up and begin to cuddle and play with them.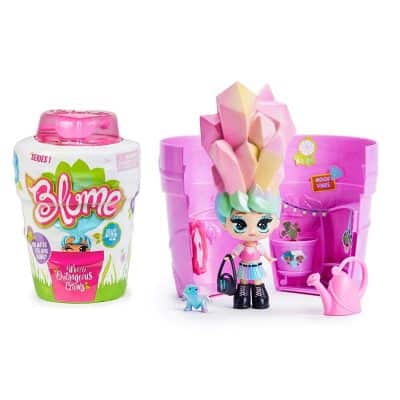 The Blume Doll is like a cross between a doll and a flower pot, and it works roughly the same way. Your kid simply adds water and wait for a Blume Doll to emerge from the pot
Unlike a real flower pot, however, your kid doesn't need to wait weeks or days. She'll get one a few moments after watering the pot.
Now, the exciting part is that you won't know what type of Blume Doll will emerge! There are 22 different kinds, each with its hairstyle and outfit. As you can imagine, it takes some time for your kid to collect all of them so it can become a hobby.
Each pot is a complete playset, with surprises like outfits and accessories. You can mix and match these with other Blume Dolls, so there's an incentive to collect as many as your kid can.
If your kids are into art (like ours is), then this Crayola Spin and Spiral Art Station will be much appreciated. It allows budding artists to create mesmerizing and abstract art in an easy, mess-free manner.
This mobile art station gives your kids two unique ways to create.
One is using Spiral Art, which uses interchangeable rotary stencils. Kids can then attach a marker into one of them and spin it around to create beautiful patterns.
The other is the Spin Art. It involves putting in drops of ink included in the kit. Kids can then spin it around to produce abstract paintings.
The real beauty comes when you combine both Spiral and Spin Art to create unique masterpieces.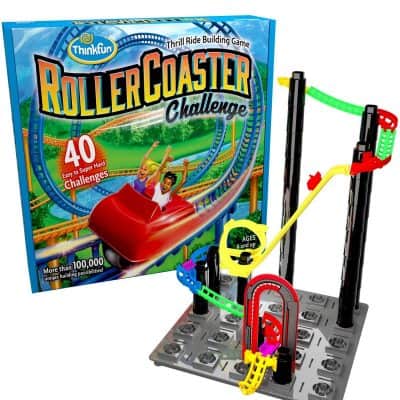 The Roller Coaster Challenge is part game, part education. Here, your kids will need to build a roller coaster to take the car from point A to B. On its own, kids will have fun trying to build the most outrageous and zany roller coaster they can.
The fun starts, however, when they try to do the Challenge Cards. Here you need to complete the roller coaster given a set of constraints. The difficulty ranges from beginner to expert.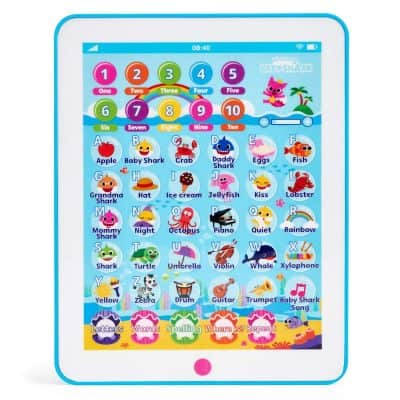 If your kids love Baby Shark (and which kid doesn't?), then this will instantly appeal to them. The education tablet teaches your kids the basics of ABCs and numbers while listening to the hit viral song.
Pressing the letters and numbers will make Baby Shark say them out loud. It's great to reinforce them into your child's mind. It includes a "Where Is?" mode as well, which tests your kids using a fun game.
In our experience, the Baby Shark song and characters made our toddlers want to play with this tablet. This tablet not only teaches important concepts, but it also develops hand-eye coordination.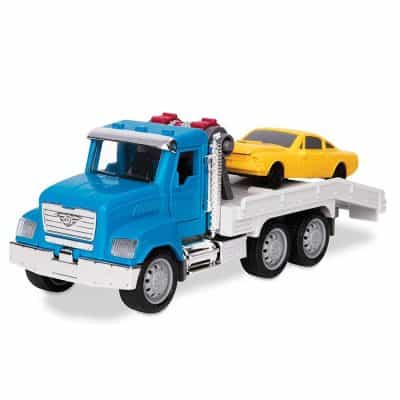 The Driven Micro Tow Truck is one of the more accurate tow truck toys we've ever seen. It's because this truck has a lot of movable parts that make for great pretend play.
First, the ramp can extend down to prepare to load a car. A retractable chain pulley then attaches into a car and can be pulled up or down just like in real life.
Lights and sounds complete the whole experience.
The tow truck's hood can even open to reveal a metallic engine underneath. The front doors can also open and close.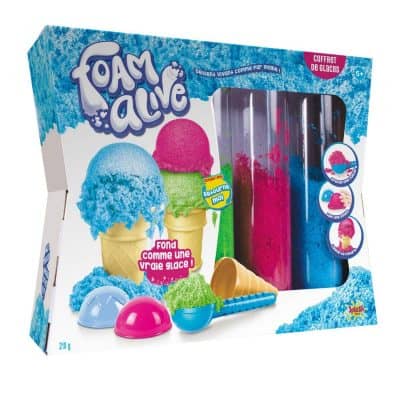 Kids have always loved ice cream. That's why ice cream makers are always a great choice for kids. Most are messy, however.
This Foam Alive Make N' Melt Ice Cream Kit uses a special kind of fluffy "foam" to simulate ice cream. Kids will have fun forming it then scooping it onto the cone. Then, like real ice cream, it will magically melt before their eyes.
The foam comes in three different colors (green, fuchsia, and blue) to simulate a wide range of flavors. The foam is addicting to the touch with its soft and squishy texture. Adults will have as much fun handling it as the kids do!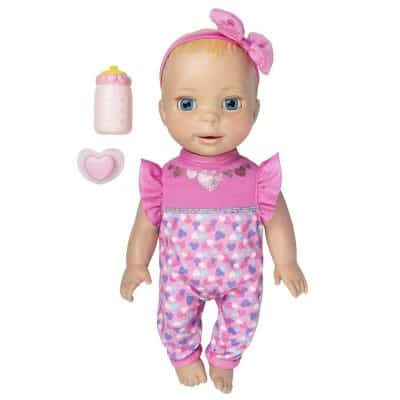 Luvabella gives your children the unique experience of taking care of a baby. She has realistic sounds and facial expressions, so kids will think they're taking care of a real baby.
And like any baby, she needs to sleep and be fed!
Kids can lull her to sleep, and her eyes close when she does. The newborn doll even has a heartbeat, and her tummy rises and falls as if she's breathing.
Your kids can also feed Luvabella with the included bottle, and she will suckle on it realistically.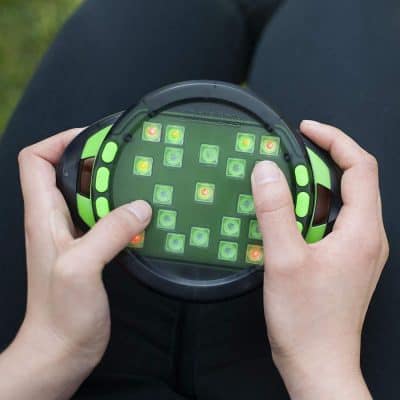 This is an interactive, portable version of the famous memory game. The game requires your kid to memorize the light pattern and repeat it from memory. The longer you play, the longer and harder the sequences get.
Brainbolt can be played solo or versus another player to see who can memorize the most sequences.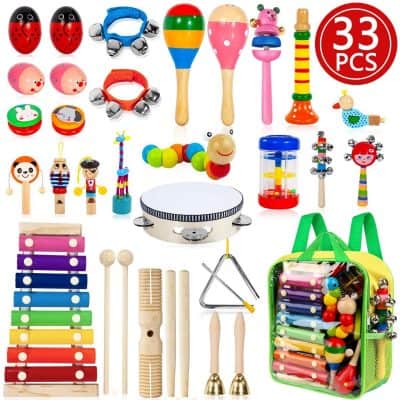 This toy set is a great way to introduce your toddlers to musical instruments. You also encourage your little one to explore the world of music, and maybe even help them pick the instruments they like the best.
It includes over 25 different instruments, like maracas, xylophone, and drums. It's made of safe, non-toxic material, so it's completely safe for children.
Then after play, everything can be packed away conveniently with the included backpack.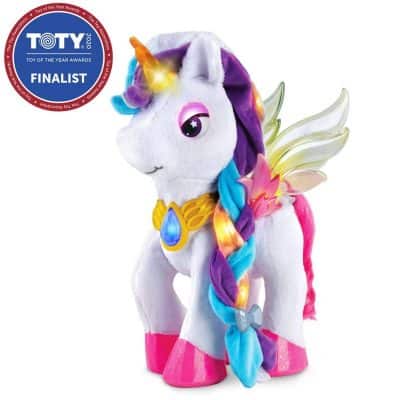 Myla is a unicorn that allows your kid to customize her look. The included magic brush gives them the ability to change the color of Myla's horn, eyes, or wings using the butterfly palette. Girls will also have fun fixing the unicorn's hair.
After fixing her look, girls can then do six fun activities with Myla, including singing a duet. Simply put, the included microphone near her mouth, and she will start singing. She's also interactive so that little girls can talk with her.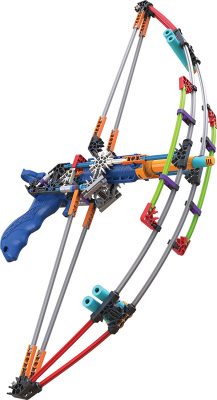 Remember how you used to love building makeshift bows and arrows as a kid? Well, this K-FORCE Battle Bow Build and Blast Set gives kids the same experience, but with a modern twist.
The Battle Bow Set is composed of 165 pieces of durable plastic that connects with each other. It allows your kids to build any one of the four different blaster designs. Patented rod locks ensure the pieces stay connected even with rigorous use.
The package also includes five foam darts and two holders. It gives your kids lots of options in creating various bow designs and targets.
Performance-wise, this K-FORCE bow is capable of launching darts up to 75 ft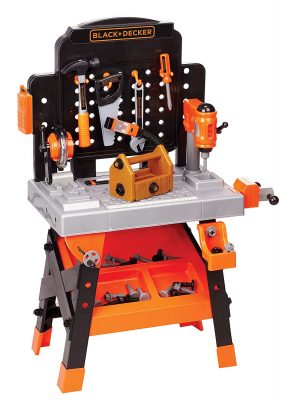 If you've ever had a curious 3-year old take a peek while you were fixing something in the garage, then this toy is perfect. The Black and Decker Junior Power Tool Workbench is great for teaching your work tools in a safe manner.
This set comes with 75 different tools a real handyman would use. It included everything from drills to saws. It even has a miniature tool caddy. Some tools have realistic lights and sound to enhance your kid's pretend play.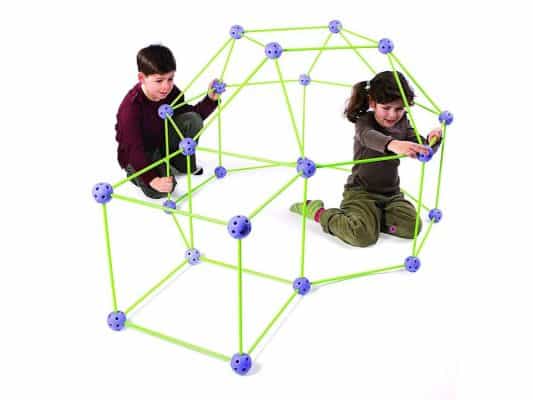 One of the things kids love building is forts. Our children would take pillows and boxes – literally anything in the house – and stack them all to build their very own mini castles.
If this sounds just like your kid, then they will certainly enjoy this Fort Kit by Crazy Forts. This system of construction play has two parts – toggles and rods.
By connecting rods and toggles together, kids can build a frame for their fort. Then it's just a matter of draping a bed sheet on it to complete their creations.