Top 30 Best Horse Toys for Kids 2022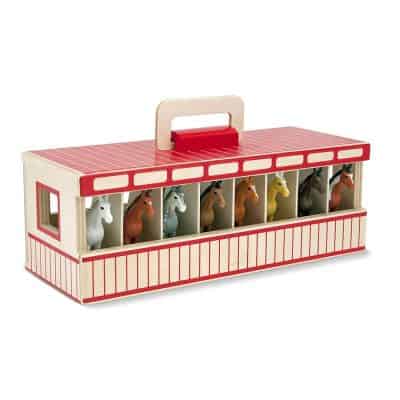 This Melissa & Doug Take-along Horse Stable Set comes with eight toy horses. It's useful for developing the child's creative thinking.
Ideal for kids aged 3 to 7 years, this toy set also includes a beautiful stable crafted from high-quality, durable materials. The stable doors open up, allowing easy access to the eight stalls.
The stable features a handy carry handle, making it portable and easy to transport wherever you go. What's more, each toy horse represents a different horse breed.
It includes an informative guide on each breed. It is possible to customize this toy with tags. Hence, your child can label each stall and name each horse.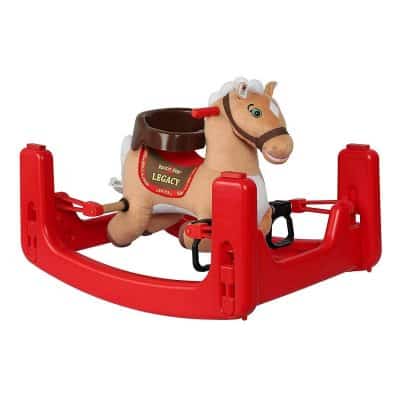 If you're looking for a versatile horse toy, Rockin' Rider Grow-with-Me Horse Toy is an ideal choice. As the name suggests, this adjustable rocking horse will grow as your child does.
The toy starts out as a kid's bouncer. Then it effortlessly transforms into a horse rocker. Lastly, it converts into a fully functional spring horse.
In the horse's fluffy ears, there's a button that triggers six unique horse sound effects. The button also triggers talking phrases and a unique 'I'm a Little Pony' song.
The horse talks and sings with a moving mouth when playing the unique sound effects. This gives your child a realistic experience they may not find in other toys. The horse boasts durable construction with sturdy materials.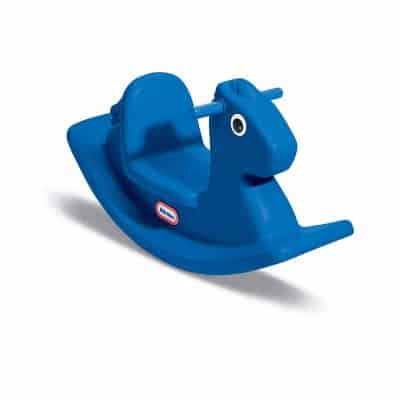 Little Tikes Rocking Horse is a fantastic first rocker for a young toddler. It is ideal for kids aged 12 months to 3 years. This horse toy features a supportive seat, which prevents children from falling backward or forward.
Its low height ensures a young toddler can independently get on and off the toy. This toy is sturdy and virtually indestructible, thanks to its single-bloc plastic construction.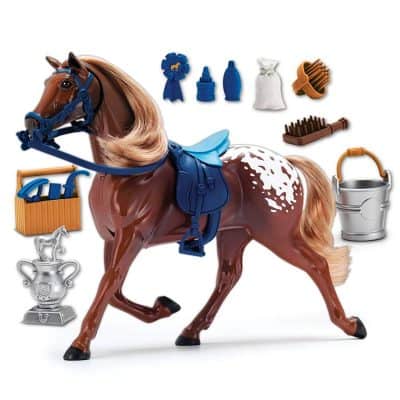 If you are looking for a horse toy that promotes pretend play, you can't go wrong with this Sunny Days Quarter Horse Toy. This toy features a well-made saddle and meticulously molded mane. It comes with nine different accessories, which help your child play and interact with the horse.
The accessories include a detachable saddle, cup, and hop-pocket. The toy also comes with a grooming brush. Your child can use this brush to groom the horse's tail and mane.
The toy makes realistic horse sounds when you push its head down. It is ideal for kids aged 4 to 12 years.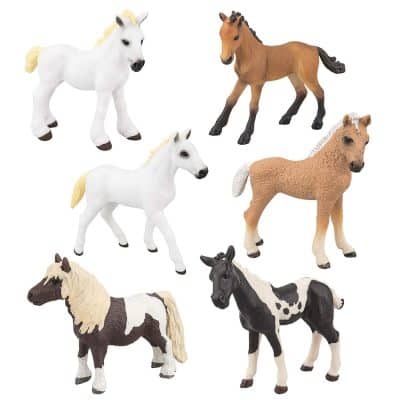 Toymany's Realistic Horse Pony Figurines are some of the most affordable horse toys to buy in 2021. The hand-painted toy set looks realistic. It encompasses six different horse breeds.
The horses come in different colors, which your child will have fun playing with. Each horse has unique features and stands in a unique position. However, they all have a cute face and childish eyes.
This also means you get six different horse toys for a much lower price compared to other brands. The toy set is made from high-quality, durable ABS plastic. This material is odorless and non-toxic. It is ideal for kids who are 3 years old and up.
What's more, this horse toy set is versatile. You can use it to decorate your child's room, desk, or bookcase. The horses can also make incredible cake toppers for your kid's birthday.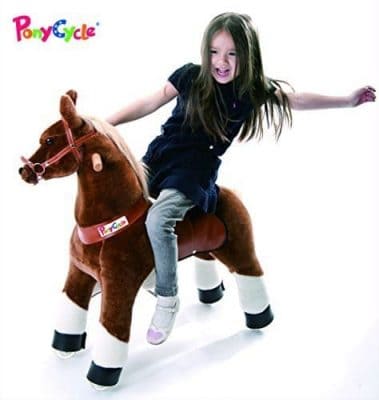 The Smart Great Pony Cycle is exciting for children to play with. Thanks to its ability to move, this toy lets your child experience what it feels like to ride a real horse. The toy is ideal for kids age three to ten years.
It is a superb simulation toy, which your child can use to steer left and right. This makes it highly interactive and exciting, allowing your kid to have a similar experience to horse riding.
Your child can use this toy both indoors and outdoors. The toy is not electric, so you don't need batteries to run it. The wheels have a design that ensures the toy can't roll backward.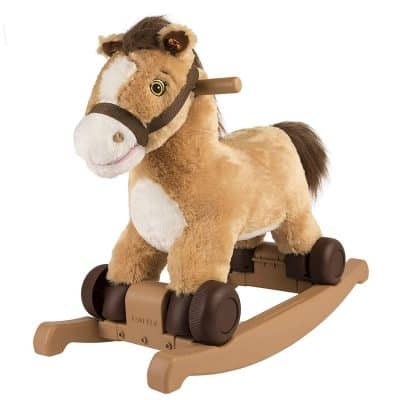 Rockin' Rider Pony Kids' riding horse toy is ideal for kids aged one to twelve years. It comes with a variety of sound effects, songs, and talking phrases. These are beneficial for your child's auditory learning senses.
To activate these features, you simply press on the horse's right ear. The mouth of the horse moves when the songs and phrases are playing. This can be exciting for kids to watch. It makes the toy more interactive. The pony ride-on toy features a soft design, which makes it safe for kids.
What's more, it can transform from a rocking horse to a roller without any tools. That means you get a 2-in-1 horse toy, which your child can play with in various ways.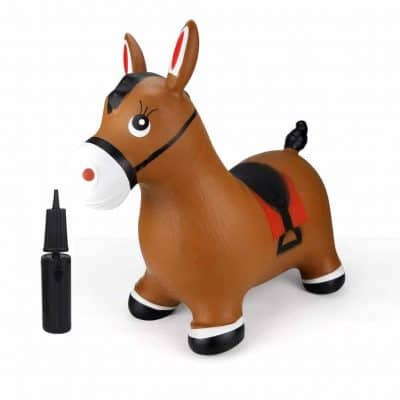 Impany Bouncy Horse Hopper is made from high-quality materials. It's extraordinarily durable and boasts a maximum weight of 220 pounds.
Whether you have a boy or a girl, this is an excellent toy to buy. It offers kids an exciting way of developing their balance and coordination. The toy is ideal for kids aged at least two years.
Thanks to its inflated design, this horse is easy to set up. The manufacturer provides you with a pump to ensure you can inflate the toy wherever you are.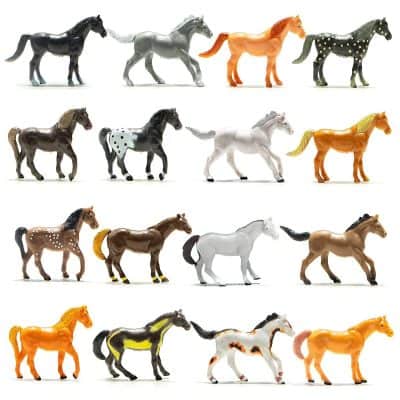 If you're looking for the best party gifts for an animal party, you can't go wrong with these Prextex Plastic Horses. These miniature horses also make a great set of horses for kids who are passionate about them.
A single pack comes with 16 unique horses. Each horse has a different color and represents a different breed.
Each horse measures about three inches when standing on its feet. These horses are great for both girls and boys. Thanks to their artistic design and different poses, they can make awesome cupcake toppers if you press the legs deep enough into the frosting.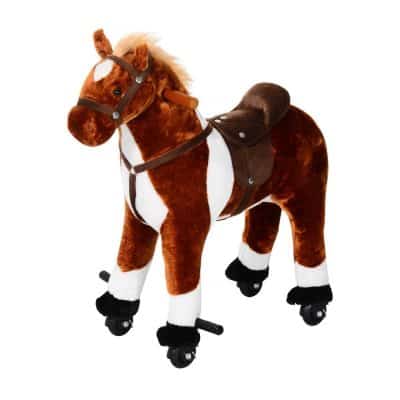 This Qaba Ride On Horse Toy is excellent for inspiring children to play with more imagination, thanks to its realistic sound effects. To activate these sounds, kids simply press the ears.
Moreover, it is useful for stimulating the kids' auditory learning senses. This toy features four wheels on the bottom of the legs, allowing for easy movement. It has a sturdy design and lets your child roll around smoothly.
Thanks to the heavy-duty materials that make the frame, you can expect your child to enjoy this toy for several years to come. It is ideal for kids aged two to four years.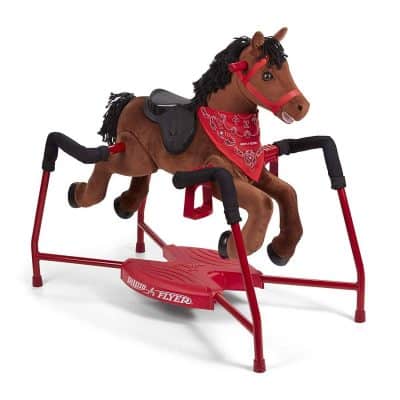 Radio Flyer Plush Interactive Riding Horse is a uniquely designed horse, offering a realistic riding experience. It offers three different levels of riding – gallop, trot, and walk. Your child can choose their preferred level of riding.
It delivers an immersive experience, making your child feel like he is riding a real horse. The plush, huggable toy offers optimum comfort for your child.
It features a four-stand design made of steel. This makes it sturdy and durable. It also ensures maximum stability for all levels of riding.
What's more, even climbing the horse feels realistic. It encourages creative thinking, as your child will have fun with make-believe scenarios.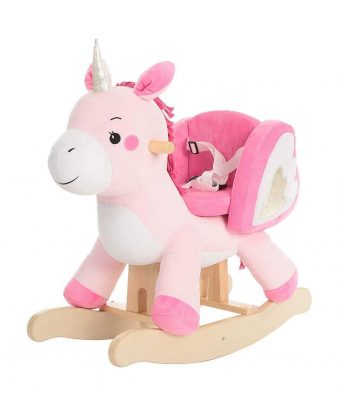 The Labebe Child Rocking Horse is a dynamic toy ideal for kids between one and three years old. The design of the unicorn style rocking horse makes it easier for your child to move back and forth.
The non-slip surface ensures it remains in place. Additionally, the horse features a chair design that makes your child more comfortable.
Made of wood, plywood, and plush, the toy is safe for kids. In fact, the seat has a belt strap to prevent kids from tumbling over when the toy is moving back and forth.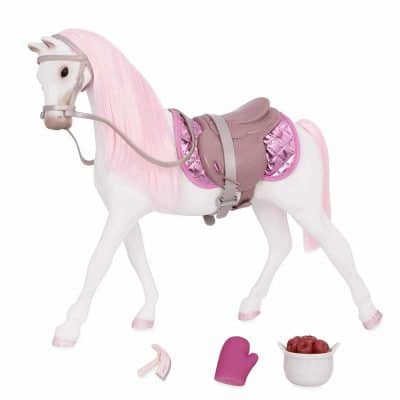 If you are looking for the best horse toy for girls, Battat Shimmers Norwegian Horse is an ideal choice. Glitter Girls designed this horse toy to be used with Glitter Girl dolls.
If your child owns a glitter doll, she will love letting it ride around on this stunning horse. Besides the 14-inch horse with a pink tail and mane, the toy set also includes a saddle with pad, bridle with reins, and a horse scraper.
It also comes with a grooming mitt. Your child can use the accessories to enhance her pretend playtime with the horse. The toy is ideal for kids between three and twelve years old.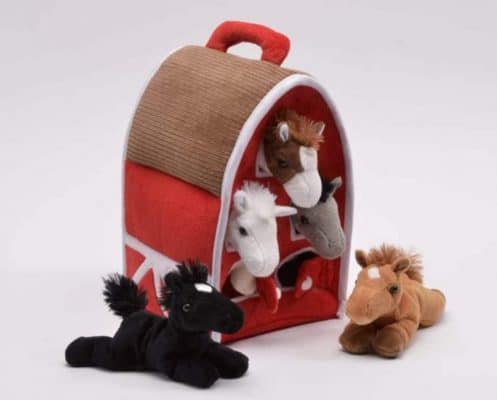 If you are looking for plush horse toys for your child, consider buying the Plush Horse Barn With Horses. This toy set comes with five stuffed, soft, and cute horses in a play carrying barn case. Each horse is completely different from the others.
While the horses are quite small, they are exciting to play with. The barn carrying case helps to keep the horses organized during storage. It also comes in handy during travel.
You can safely wash the horses in a washing machine. The toy set is ideal for kids above three years old.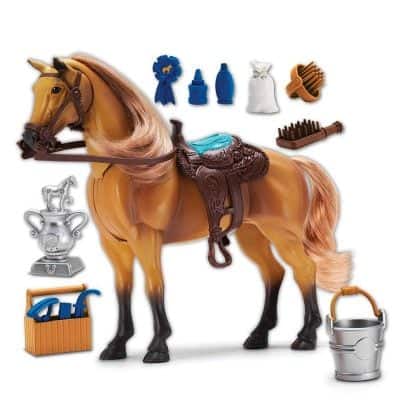 If you're looking for an individual horse toy that your child can call his own, the Sunny Days Entertainment Deluxe Horse is a perfect choice. The horse is available in four different breeds.
Each breed has its own unique style and design. This high-quality toy offers your child an authentic, customizable playing experience.
The horse features a movable head, great for simulating a trotting movement. When you push the head down, the toy makes realistic horse sounds. What's more, the toy has a beautiful tail and mane that your child can have fun grooming.
The toy comes with a grooming brush. It also includes other accessories to enhance your child's experience. These include a trophy, a detachable saddle, and rosettes.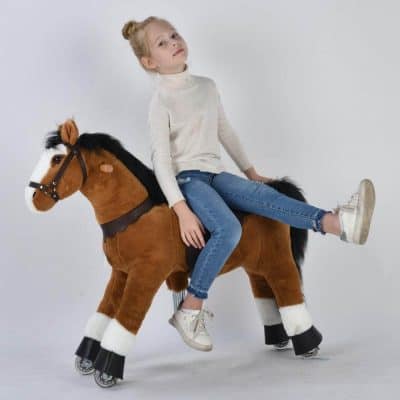 This mechanical rocking horse features high-quality soft plush fur and leather for optimum comfort. It boasts a sturdy steel frame construction, which makes it durable.
The toy's high-tech drive system makes it run like a real horse. Your child can make it bounce up and down by pressing the saddle continuously. The saddle isn't raised, making it comfortable to ride and minimizing the risk of slipping.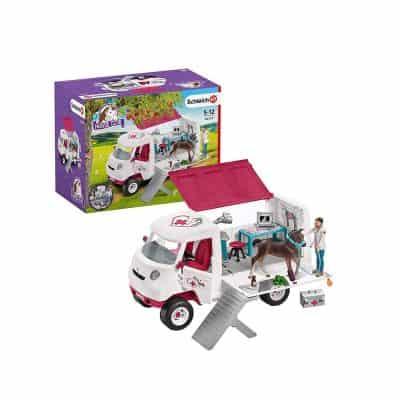 If your child loves to take care of horses, Schleich Horse Club Mobile Vet can be a great toy for them. Schleich designed this realistic toy set to address the challenges and joy that come with horse ownership.
The clinic opens up to a furnished interior of a mobile vet office. Inside the clinic is a small patient in the form of a Hanoverian foal.
Besides the doors that can open and close, the clinic also has a removable roof. This enhances creative playtime for the little horse enthusiasts. The toy set includes a mobile clinic vehicle, a veterinarian figure with moveable legs, office furnishings, and medical equipment.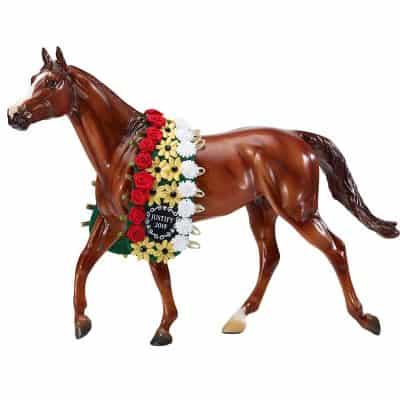 If you're looking for a horse toy that tickles the fancy of both children and adults, you can't go wrong with this horse toy. This hand-painted toy represents the 2018 Triple Crown Winner. The toy is impressively sculptured and finished with stunning detail.
It is ideal for kids aged at least eight years. Nonetheless, adults can also treasure it as a collectible. This makes it an excellent gift for any horse enthusiast. It is so durable that it assures your child a lifetime of imaginative play.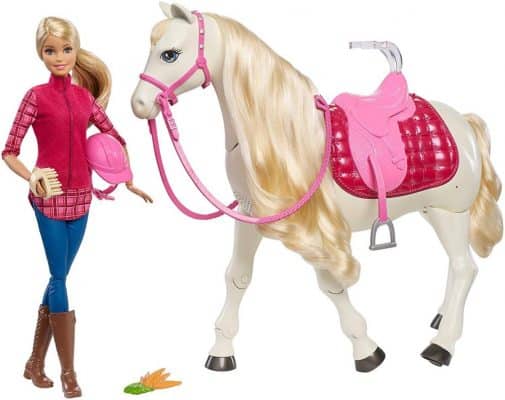 This Barbie Dreamhorse Doll Playset is one of the most interactive horse toys on the market. It features more than 30 actions and sounds.
The toy set includes a Barbie in a helmet and pink boots, ready for an afternoon of riding. After the riding session, Barbie can reward the horse with a bunch of carrots.
The horse, in turn, gives the Barbie a light nuzzle as a thank you. The toy also features a comfortable saddle for the Barbie to sit on. It can walk forward and turn in a circle.
What's more, it can nod 'yes' or 'no' when you ask a question. This keeps your child entertained and engaged.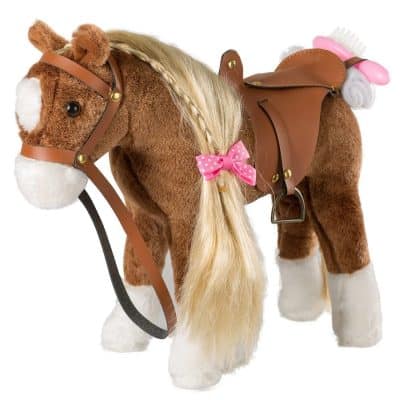 HollyHome Horse Pretty Plush Toy is realistic enough to excite older kids and still soft and comfortable for the younger ones. The handcrafted 11-inch tall toy is made of high-quality plush materials.
It has a golden mane and tail and soft brown coat, which match the leather saddle. The saddle serves to enhance the imagination of an aspiring rider. The toy set includes a cotton cloth, which your child can use to wipe down the mane and tail.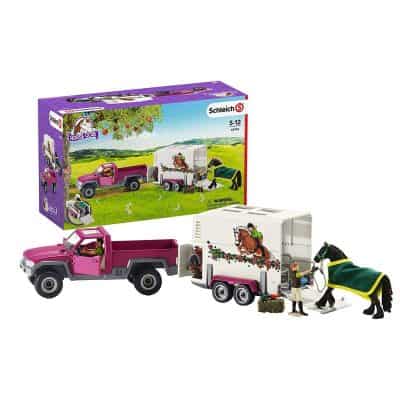 If you want to give your child real-life horse ownership experience, this Schleich horse toy playset is a great choice.
This hand-painted and detailed set includes a pickup truck, horse trailer, driver, horse, and several accessories. The accessories include bale of hay, groom, as well as feeding and grooming equipment.
With this toy set, your child gets to feel the practical aspect of horse ownership. Each component is made of high-quality plastic.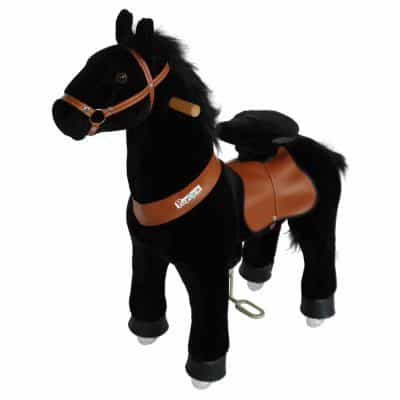 PonyCycle Mechanical Walking Horse is made from high-quality, huggable material. Hence, it delivers optimum comfort. It will inspire your child's creativity, helping to keep him off smartphones and other devices.
Weighing only 18 pounds, this toy is ideal for kids aged three to five years. Its sturdy construction can handle up to 55 pounds.
The toy helps to improve your child's coordination and balance while playing. It is great for both indoor and outdoor use.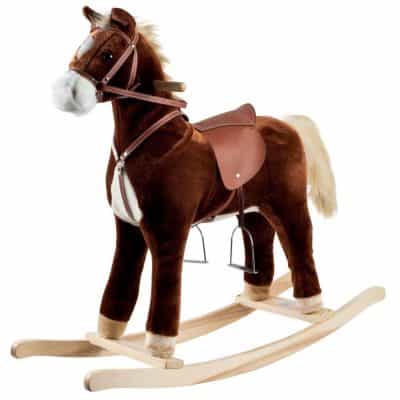 If you're looking for a high-quality wooden rocking horse, Happy Trails Rocking Horse can be a great choice. Its construction includes solid wood and plush materials. This makes it sturdy and comfortable.
The toy features a classic rocking chair base with an attractive horse mounted on it. It also features all the necessary accessories, including the seat, saddle, and ropes.
This makes rocking feel realistic, enhancing your child's fun and their make-believe adventure. The toy is ideal for ages three to four years.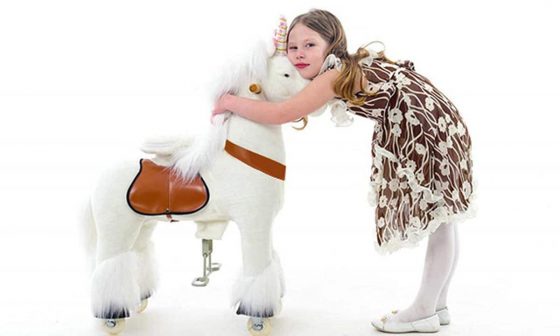 Smart Gear Pony Cycle features a fantastic white design, giving it a stunning look. Its galloping feature allows kids to steer in different directions.
This horse toy is highly interactive, making your child feel like he is on a real horse. This helps in the development of their creative thinking skills.
The wheels don't roll backward, enhancing the safety of kids while playing. Your child can ride this horse both indoors and outdoors.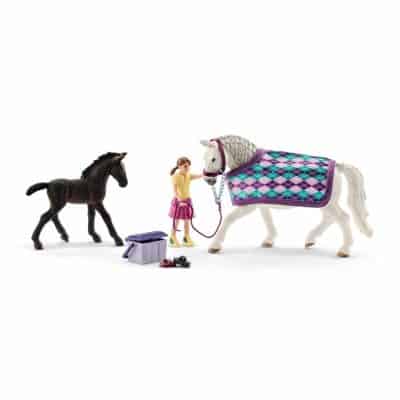 The Lipizzaner Care Set is another great toy set to buy if your child loves to take care of horses. The toy set includes a Lipizzaner mare, foal, and girl figurines. Each horse is hand-painted with impressive attention to detail.
The girl figurines have movable arms, enhancing the kids' play experience. The toy set also includes several accessories, such as a blanket, comb and brush, halter, and grooming box. Your child can care for the toy horses like real horses. This provides imaginative and educational play.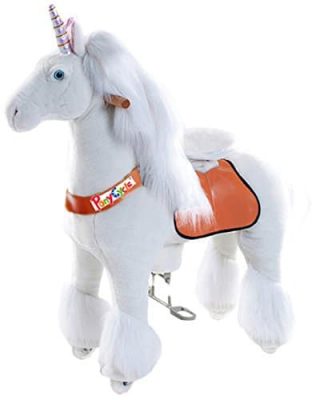 The Vroom Rider X Ponycycle is a thrilling ride-on toy for kids to play with for hours on end. It bounces your child up and down when he sits on the saddle. This gives your child the feeling of riding a real horse.
It makes role-playing considerably more exciting. This is an excellent way to promote the development of your child's creative thinking abilities. Also, while riding on the pony cycle, the child is able to develop his coordination and balance.
What's more, your child can activate several movement features. He can make the horse's legs and head to move. This can be very exciting. The toy is ideal for kids aged three to five years.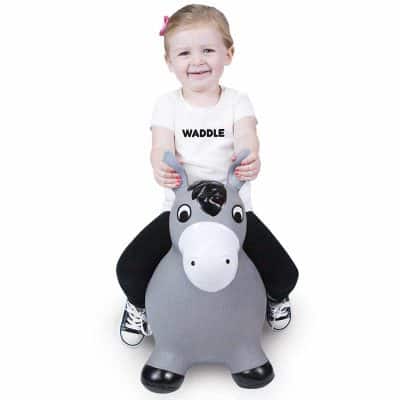 Waddle Inflatable Hopper Toy Horse is exceptionally easy to set up. It is exciting for toddlers and slightly older children to play with.
The toy allows kids to bounce up and down, developing their coordination and balance. This also helps your child develop their leg strength.
It is made of soft materials, ensuring your child's comfort. The toy can handle a weight of up to 110 pounds.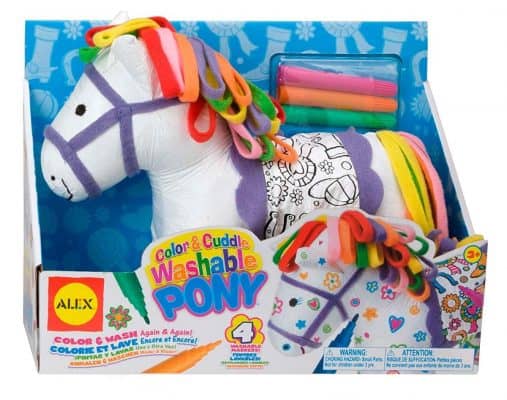 Craft Color and Cuddle Washable Pony toy set include a horse plush, four colorful markers, and removable clothing. Your child can use the markers to color both the horse and the clothing.
What's more, he can wash the color off and color everything in again. With this unique toy, your child can enjoy hours of creative play and artistic fun. It is ideal for kids aged at least three years.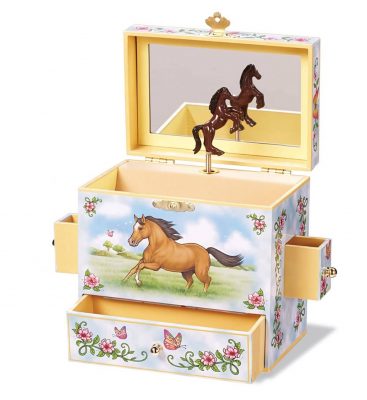 If you're looking for a decorative gift for your horse-loving daughter, Enchantmints Wild Free Music Box can be a great choice. This beautiful wooden music box features a spinning horse when the lid opens.
The horse appears to be running in a field against a crisp blue sky. With one large compartment and three small drawers, the music well can be an excellent jewelry box for your little girl. It is ideal for ages three to fifteen years.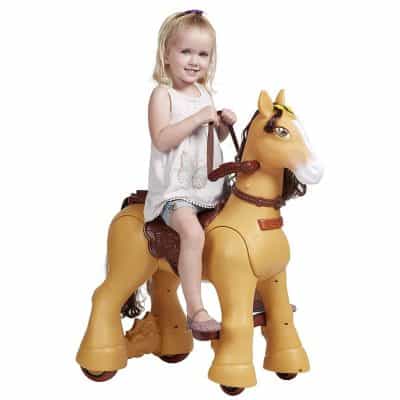 If you're looking for a battery-powered ride-on toy horse for a child of age three years and above, this ECR4Kids horse toy is an ideal choice. The mechanical toy runs on a 12-volt battery.
It has wheels, allowing your child to ride it both indoors and outdoors on a smooth surface. The toy can handle a maximum weight of 66 pounds. It can reach a maximum speed of 1.86 mph.
When you pet its head, the horse makes realistic galloping and neighing sounds. This gives your child a realistic horse-riding experience. The toy comes with a hairbrush and other accessories to groom the long tail and mane.