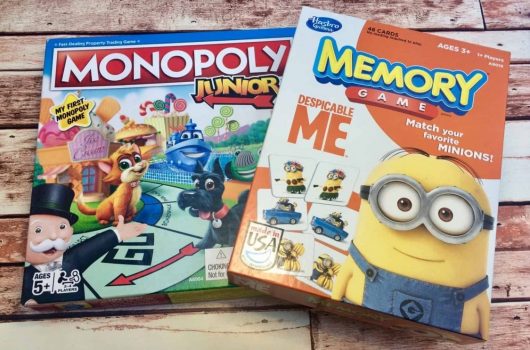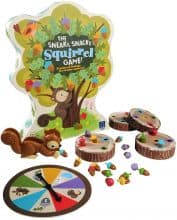 The Sneaky, Snacky Squirrel Game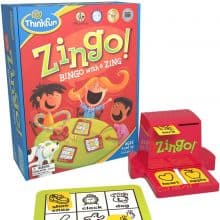 Zingo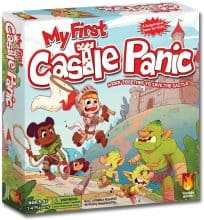 My First Castle Panic
Previous
Next
Teaching your toddlers to play board games early in life has a lot of rewards. Board games are not only a fun way to spend time together, but they also can teach your toddler a wide variety of skills that they will use their entire life. We tested all kinds of board games for toddlers and have gathered our favorites in each category for you below.
Features to Consider in Good Board Games for Toddlers
Picking the Best Board Game for Your Toddler
Young children learn best through play. When a toddler plays a game, they are only concentrating on the fun they are having, not the lessons that the game is teaching them. Because they naturally teach skills like reading, math, and logic, board games are a particularly powerful tool for early development. This is why we suggest parents surround their toddlers with interesting games spanning a wide variety of skills and concepts.
What to Look for in a Toddler Board Game
There are a bunch of board games for parents of toddlers to choose from. To help you decide which one is right for your little ones, we looked at several aspects of each game. Here are the criteria we used to review the games:
Skills Required: Rather than looking at the recommended ages on the box, we suggest parents choose board games for their toddlers based on their skills. Early childhood development can follow many paths, so you should pick games that suit your child's individual skills.
What They Will Learn: For most parents, the most important part of choosing a board game for their toddler is what skills they will learn by playing.
Competitive or Cooperative: Board games where kids compete against each other are good for developing sportsmanship and fair play while cooperative games help develop communication and teamwork. Toddlers should be exposed to a mix of both kinds of games.
Duration: Most toddler games are made to be played quickly. Parents should make sure they choose a game that matches their toddler's attention span.
Number of Players: Unlike board games for older kids, all the board games on this list can be played with only two people. Parents with larger groups of children will want to check out games with a higher player count.
Is it Fun?: A board game can be very educational, but it's not going to teach anything if it's sitting in the closet. In order to make our list of best board games for toddlers, a game needs to be fun to play.
Choking Hazards: Some games have pieces that could be dangerous for toddlers who are prone to putting things in their mouths. We've made sure to indicate which games are safe for unsupervised play for these little ones.
Top 14 Best Board Games for Toddlers 2020
The Verdict
As you can see, there is a huge selection of great toddler-friendly board games for toddlers to choose from. We had a great time revisiting some old favorites and discovering the next generation of board games for young kids.
We firmly believe that every young child should have access to a wide variety of games designed to teach them different skills. Playing games with your toddlers is a great way to interact and connect with them in unique ways. Not only will you have fun together, but studies show that families that play games together are happier and communicate better.