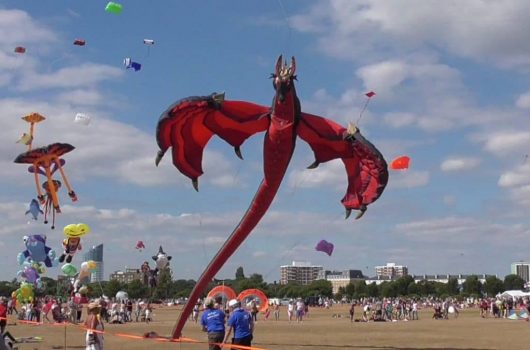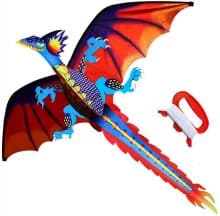 Hengda Kite Classical Dragon Kite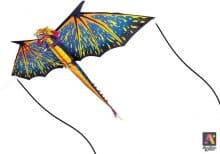 AmaZing Kites 3D Nylon Dragon Kite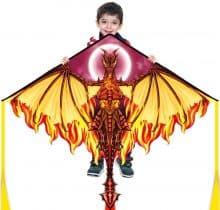 Mint's Colorful Life Dragon Kite
Previous
Next
What's that in the sky? Is it a bird, or a plane? Is it Superman? No, wait – it's a dragon kite!
Dragon kites are definitely among the most interesting gifts to give a child, combining the enjoyment of flying a kite with the mythical fantasy of hanging out with a dragon. For a young, imaginative dragon tamer, there's no better way to spend a windy day.
Like the beasts they were inspired by, dragon kites come in a variety of shapes and sizes, each bringing their own attributes to the table. Choose the right one for your child, and they'll form a bond with their legendary creature that will last for years to come.
To help out with the shopping experience, we've put together 15 of the best dragon kites available. First, let's break down the basics.
Features to Consider in Good Dragon Kites
Functionality
Performance is definitely the top consideration when purchasing a dragon kite. This isn't to say that a kite must be competition-quality—only that it should be built to fly in a solid range of wind speeds.
The ideal dragon kite won't buckle or fold in winds exceeding 12 miles per hour. Additionally, it should be airy enough to hover in winds ranging 7 miles per hour.
Mythical design is definitely a factor when choosing a dragon kite—however, even the most aesthetically appealing kites aren't worth considering if they won't fly properly.
Practicality
It's also important to factor how easy the kite is to assemble and disassemble into your decision. No one wants to spend a lot of time setting their kite up to fly. If enough time goes by, you might even miss out on the ideal wind conditions.
Several entries in our list have been designed to be easily put together and made ready for flight. Likewise, these models are also made to fold and pack away with no frills. Take this into account when shopping around, and you'll land a kite that's a breeze to use.
Design
Now it's time for the fun part. Each of the dragons exemplified in these kites have their own legendary heritage. Some have been the bane of kingdoms from times long past—others are extra-dimensional, mysterious beings.
Browse through these potential candidates with your child, and see which design catches their eye. As they learn to master the art of kite flying, they're sure to build a close bond with the dragon of their choice.
Size
Some dragon kites are built in a relatively modest size, while others come with enormous wingspans. The largest entry in our list is over 22 feet long, making it a sight and a half to behold as it soars through the open air.
Some of these larger models aren't the best fit for children under 8 years old, but we've included a number of entries for that age bracket as well.
Line length
How high a dragon kite can fly depends entirely on the length of the line that holds it. Line lengths within the 250-foot range allow for a great amount of freedom in flight.
Some of our entries have even greater line lengths, while others are in the 150-foot range, making them a better fit for younger children.
Value
Of course, budget is a factor in any purchase. Buying a dragon kite is no exception—however, price is relatively less of a concern in this case. Most models can be purchased for under 30 dollars, with few exceeding that price point. In this case, even a high-quality dragon kite can be acquired with little investment.
With all of that out of the way, let's soar toward our dragon kite models.
Top 15 Best Dragon Kites for Kids 2020