Top 15 Best Dragon Kites for Kids 2023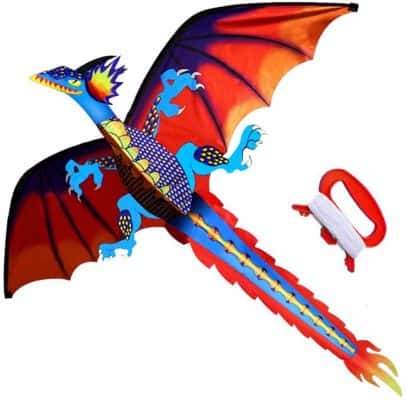 Being from one of the most reputable brands in the kite industry, it's no surprise that Hengda's classical dragon kite comprises the top spot on our list. The company recently gave this model a redesign to improve its structure, granting it increased stability while in the air. Whether you're on the beach or in a park, simply catch the right gust of wind and watch this dragon soar through the open sky.
With such an easy flying experience, the whole family can take turns controlling the reigns of the kite. Aside from its reliable functionality, we're really impressed by this dragon's design. The beast is represented in its full, mythical glory here, with vivid colors and sharp detail. All in all, this is a prime dragon kite that's definitely worth taking for a spin.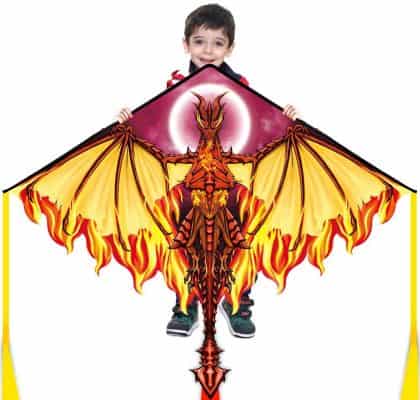 Mint's Colorful Life Dragon Kite has been given a recent redesign to make it both easier on the flier's eyes and the dragon's wings. The color scheme is quite attractive, and the form is functional. With its birdlike shape, you can count on a stable flight from this dragon even in lackluster wind conditions.
The string is 300 feet long, so this kite flies quite high. Indeed, this model is so fun to fly that you'll likely want to use it as much as your child does. Just remember, sharing is caring! Whenever kite season inevitably ends, you'll be able to pack it away easily thanks to its fully foldable construction.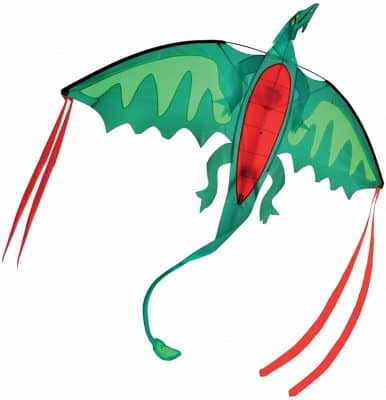 Melissa & Doug's Winged Dragon Kite is a much more docile dragon, so your child is sure to get along with it right from the get-go. This is a gentle giant, with a 62-inch wingspan that's a true joy to behold as it soars. We love the quality build of this kite, with its stitched, reinforced seams and heavy-duty rip-stop nylon.
It's also built to be easily assembled and disassembled, so there's little to no hassle required here. The only aspect preventing us from placing it higher in our list is the 164-foot kite line, which prevents the dragon from soaring as high as it wants to. Aside from that, though, there's definitely a lot to love about Melissa & Doug's Winged Dragon Kite.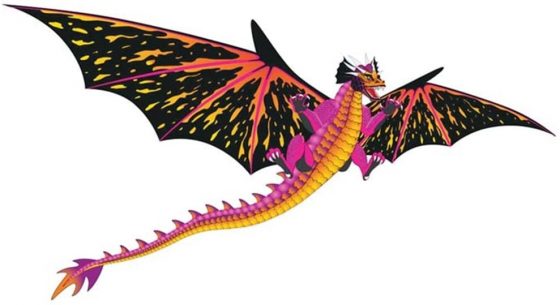 Don't be frightened once WindnSun's Fantasy Fliers Dragon Kite takes flight. This creature might look menacing, but let's remember that it's only a kite in the end. Once your child takes its reigns, they'll be in total control as it soars through the sky. If the weather is right and the flier is patient enough, they'll be able to tame this mythical beast.
Thanks to its solid fiberglass frame, this dragon kite won't bend even in heavy wind conditions. Though, not too heavy of course—when flying any kite, ideal winds are definitely preferred. That said, this model is still among the sturdiest in our list, and it's definitely worth taking a good look at.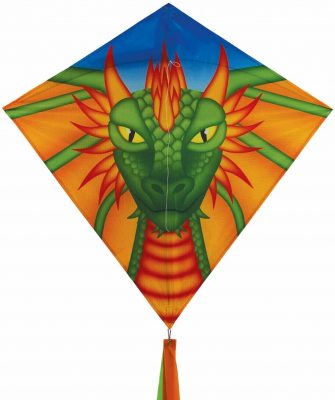 In the Breeze is another reputable kite brand, and their Dragon Diamond Kite is among their top models. It's shaped like a traditional kite, so it lacks the realism of most other entries in this list. However, this comes with the advantage of increased functionality, since the shape is optimal for proper flight.
Also, the design itself is quite attractive, displaying a legendary dragon calmly waiting for its master to take the reigns. Your child is sure to bond with the creature as they learn the ins and outs of kite flight.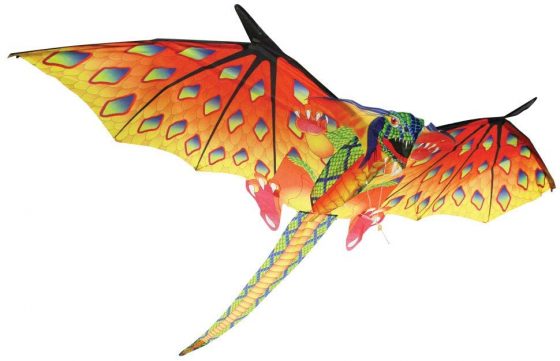 Brainstorm's Yellow and Green Dragon Kite is definitely one of the most eye-catching models in our list. With its huge wingspan and dazzling visual elements, we wouldn't be surprised if this dragon's flight session ends up making the news.
Aside from a 3D design that demands attention, this dragon kite's solid construction ensures countless flight sessions. It's made to withstand all types of impact that a kite might run into, like plummeting into the ground or getting stuck in a tree. Because this dragon is a hardy one, it's able to shake off minor damage to fly another day.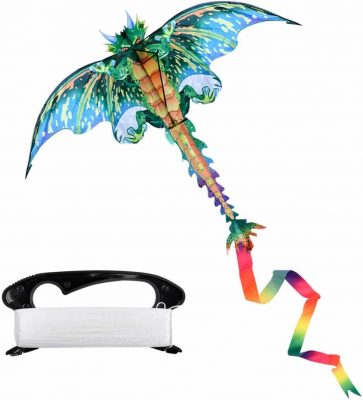 When the weather is right, and your local park is inhabited by lots of kite fliers, your child's new Milky House Dragon Kite is sure to make an impression. Dragons generally make for an interesting kite form, but this model's magical design makes it stand out among the rest.
This dragon kite's impressive attributes extend beyond its aesthetics. Its materials are of premium quality, with 210 polyester plaid fabric and durable, lightweight fiber-reinforced polymer rods. It's been cut and sewn with extreme precision, so we're very impressed by the attention to detail shown here. Ultimately, there's little reason not to take this dragon up for a ride.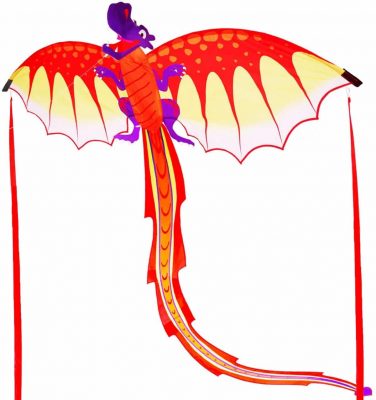 Although this dragon might seem a little goofier than the rest, don't let that fool you. Once it catches its rhythm up in the air, the Zhuoyue Supersize 3D Dragon Kite is a majestic sight to behold. The manufacturers paid close attention to functionality when designing it, ensuring that even younger children can get the kite going with a bit of practice.
We appreciate that Zhuoyue's kit is entirely portable, including a durable nylon bag. Along with the dragon kite's fold-and-pack assembly process, this makes slinging it around town a total breeze. While there's some stiff competition in our list, this 3D kite is definitely worth giving a shot.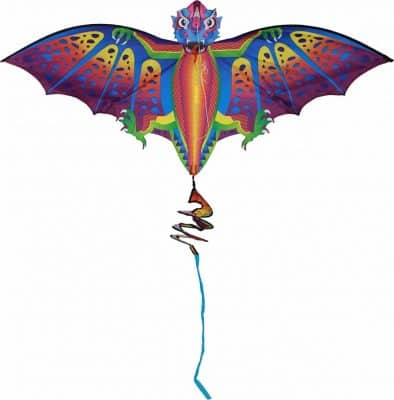 The X-Kites Nylon Dragon Kite is a reliable model made with modern rip-stop nylon sails. Additionally, its fiberglass airframe makes it especially durable. When used in appropriate weather, the dragon virtually pilots itself as it oversees the environment from its place up above. Bystanders will surely admire the detail used in its graphics, which are apparent even from a great distance away.
This model offers great practicality as well. Its quick-clip system allows fliers to easily attach the string's tip to the kite, which helps avoid entanglement when tying and untying. It's also quite easy to assemble—even young children can pull it off with a bit of prior guidance. The only downside is that older children might find the 120-foot kite line to be a little short.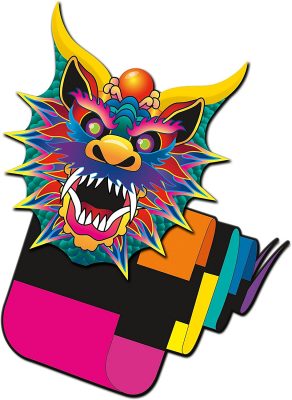 WindnSun's Nylon Dragon Kite features a unique design that makes it stand out among other models. On top of that, the design is actually quite optimal for kite flight, allowing the dragon to soar energetically even in higher wind conditions.
Because of how powerfully this dragon flies, it's best controlled by fliers who are at least 8 years old. Younger age brackets will likely lose control of their handle if the winds are high enough, and who knows where the legendary beast would end up then? Since it doesn't exactly come cheap, it's best not to let this dragon roam too far away.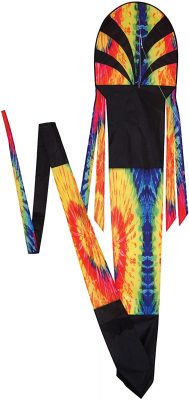 What extra-dimensional creature do we have here? Because of the unusual nature of this dragon, it's easy to imagine it coming from a distant, much more abstract realm of existence. If you plan on taking it for a spin in this world, be prepared for a potential UFO news story to follow.
Its mysterious design aside, this model features a surprisingly resistant build. Its rip-stop fabric is weather-resistant, allowing fliers to take it out for a spin in winds of up to 20 miles per hour. This makes it much more resilient than the average dragon kite. On top of that, there's no assembly required—simply connect the kite line and you can fly to your heart's content.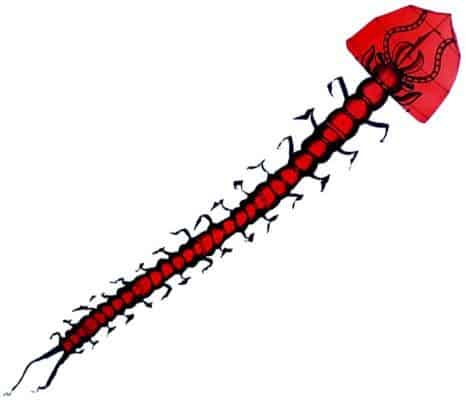 A centipede dragon! This creature might appear to be more centipede than dragon, but let's not forget that dragons come in many shapes and sizes—as do dragon kites. Speaking of sizes, your child is sure to be impressed by this model's whopping 22-foot length. Once it catches the right wind, its soaring tail is sure to be the talk of the park.
Aside from being a dynamic sight to behold in the sky, Besra's Centipede Dragon Kite is easy to assemble and pack away on the ground, which is great news for parents. Although it's definitely far from the typical dragon kite, the fun flying experience offered here is tough to pass up.

Of course, the lack of string and handle in Dreamworks Dragons' Soaring Toothless makes it clear that it isn't really a kite. However, since it's a soaring dragon toy, we've decided to include it as a potential pick. Kite or not, kids who love dragons will surely enjoy tossing Toothless around and watching him catch the wind.
Launching Toothless is quite straightforward—simply get a grip on the ring in front of the dragon and pull back on his tail. Before you know it, this beloved beast will emit a roaring sound effect as he scales the area with his wings. If you're open to a more alternative flying toy, consider taking Toothless home.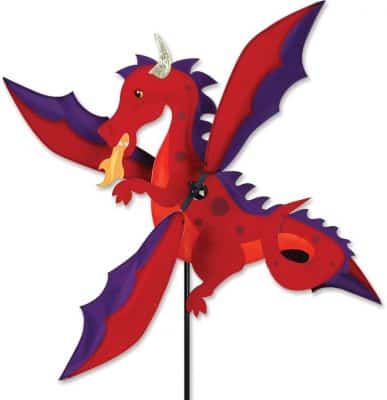 Last on our list is Premier Kites' Whirligig Dragon Spinner. This is another model that is far from a typical dragon kite — indeed, it's not technically a kite at all — but we've included it here as a fun alternative to keep in the backyard for kids that are a little too young to start flying kites. Within that age bracket, watching this red and purple dragon's wings rotate on a windy day is a fun, relaxing experience.
Additionally, we're quite impressed by build quality exemplified here. The kit includes a sturdy support pole and ground stake, allowing this dragon to stand tall even in stormy weather. As a practical bonus, its dynamic motion makes it a great garden guardian, ensuring that birds and squirrels don't affect your harvest. All in all, this spinner is a great addition to the family.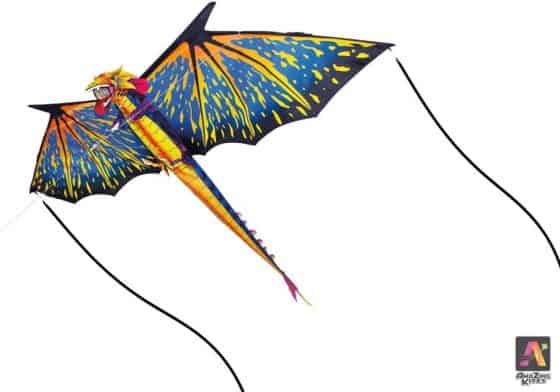 Another worthy pick, AmaZing Kites 3D Nylon Dragon Kite features an easy assembly system that allows you to put the kit together in a matter of minutes. Disassembly is also a straightforward process, so you can pack it away in no time at all when kite-flying season is over. This is a much appreciated feature, since some entries in our list have proven difficult to assemble.
Of course, practicality isn't the only reason why we love this dragon kite. With its 80-inch wingspan and realistic design, this kite seems like a living, breathing dragon once it begins to stabilize overhead. It's easy to imagine it being able to breathe fire, though we assure you that there's no fire hazard to be found here—only a smooth, fun kite flying experience.