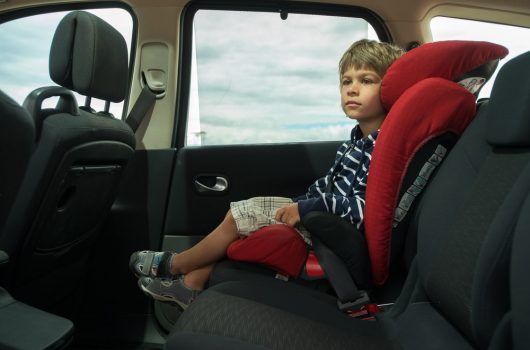 O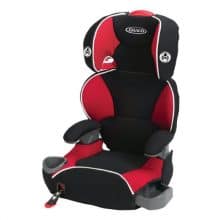 Graco Affix Youth Booster Seat
B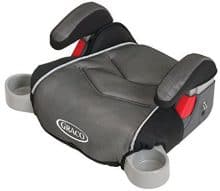 Graco TurboBooster Car Seat, Backless
P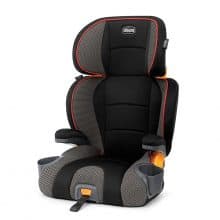 Chicco KidFit Belt-Positioning Booster
Previous
Next
For the first several years of their life, your child will need a protective seat for riding in the car. When they are infants, they'll need a child safety seat. Then, the final stage before they are ready to sit normally is a booster car seat. Suitable for kids between the ages of 4 and 12, your child should use a booster seat while riding in the car until they are at least 4 feet 9 inches. In addition to keeping your little one safe, booster seats also come will all sorts of additional convenience and comfort features. To help you find the perfect booster seat for you and your family, we compiled a list of the 10 best booster car seats for 2020.
Features to Consider in Good Booster Car Seats
A booster seat is for the period of time where your child is too big for a front-facing car seat, but still too short for the seat belt to be properly positioned while sitting directly on the seat. According to the American Academy of Pediatrics' recommendations on car seats, children should move to a booster seat once they reach the maximum weight for their existing car seats. This usually happens around a child's 4th birthday.
There are plenty of excellent choices on the market for a good car booster seat. Here are the factors we considered when deciding which booster seats are worth buying.
Safety
We understand the safety of your child is non-negotiable. That's why we'll highlight the safety features of each seat we review. While they all have different features and options, every seat on our list offers your child top-notch protection.
Convenience
Ease of use is a big concern when selecting a booster seat. The belt adjustment system should make it easy to loosen and tighten the belts on the seat quickly and easily. Also, families with multiple vehicles may want to consider straps and adjustment harnesses that are designed to be moved from one car to another.
Comfort
Keeping your child comfortable throughout your travels will also make them calm. Comfort features like thick padding and energy-absorbing foam liners keep your child feeling snug and cozy in their seat. Adjustable armrests and backrests also add more comfort.
Value
For parents shopping for booster seats, there are many options that suit a wide range of budgets. Some parents are willing to spend extra for additional comfort and convenience features. It is important to set aside a budget for what you want to buy for your child. This makes your decisions easier and faster to make. You will need to choose a booster car seat that provides the best service to your child but still falls within your set budget.
Backless Booster Car Seat vs. High Back Booster Seats
You will have two choices:
High-backs: These booster seats feature a bottom and back just like a vehicle's seat. Most high back booster seats come with a padded headrest and some even allow the backrest to be adjusted to fit the height of your child.
Backless boosters: These booster seats are less expensive than high-backs. Their main function is to elevate your child's body so that their seat belt can be secured appropriately across their body.
Top 10 Best Booster Car Seats 2020
Guide to Buying the Best Booster Car Seat
You need to answer a few questions before beginning your journey to get your kid a booster car seat. Some of the questions include:
What do you need the booster car seat for?
What stage of development is your child?
What is the size of your car and the car seat?
How often will you be using the booster car seat?
What's your budget?
What else comes with the seat?
Booster Seat Safety
Sadly, traffic accidents are the leading cause of death for children between 4 and 12 years. A statistic made more heartbreaking when you learn that a large portion of these deaths would be preventable if the child were riding in a properly installed safety seat.
When a child is too big for a rear-facing child safety car seat, they will still be too short for a seat belt to be properly positioned across the chest, making the seat belt into a safety hazard instead of protecting your child. Children should not ride in a car without an approved booster seat until they:
Weigh at least 80 lbs.
Are 8 years of age
Can sit with their back straight against the vehicle's set back with their knees bent over the edge of the seat
Installing Your Booster Seat
Read the instructions included with your booster seat before installing it in the back seat of your car. Many newer booster seats offer the LATCH install system, allowing the seat to be securely installed in a single step.
Booster Car Seats for Travel
Traveling with your child? A booster car seat for travel should have great safety features because you might end up driving on rough terrain, and you want to make sure that your little one will be secure through it all.
Again, it should be super-comfortable. Some of the features that make a booster car seat comfortable include having the ideal height, a comfortable backrest, adjustable headrest, comfortable harnesses, and it should be well padded.
Know Your Kid
Booster car seats have varying features to fit different weights and heights. Knowing your child's weight and height will not only give you an easy time choosing a booster car seat for them but will also ensure you choose a seat that will keep them safe and secure while transporting them.
Again, know when your kid has outgrown their booster car seat and find a better replacement. But, you can avoid this by getting one that will serve them for several years, such as the Graco Tranzitions until their bodies are big enough to fit in a car seat comfortably without the need for a booster seat.
And, booster car seats can also provide protection for older kids as well.
Portability
Some booster seats are extremely portable and will fit perfectly in your bag while others are heavy and not ideal for carrying. For traveling families on the go, booster seats such as the mifold Grab-and-Go is most ideal thanks to their ability to fold up and can fit almost anywhere.
Your Budget
Are you working with a limited budget? Spending a lot on a booster car seat does not guarantee you quality. We have put together a list of 10 best booster car seat above that can guide you on what to choose at what price.
Size of Your Car
Choose a booster seat that will best fit your car seat for the maximum comfort of your child. Some will be best for small cars as they are small enough to fit three-in-a-row at the back of the car while some will not adjust to fit most vehicles. Thus, make sure to confirm that the booster car seat you are about to order is the best for your car. Measure your backseat and check the dimensions of the seat in our review so you can be comfortable.
Additional Features
Always get as much value as you can with the price you pay for your booster car seat. Features such as cup holders and padded headrests will give your kid comfort throughout the travel.
Easy to Clean
We all appreciate an easy time while cleaning. Consider easy to clean booster car seats with probably hand washable or machine washable material to make your cleaning easy and fast.
Final Words
Whether you are getting a booster car seat for the first time or you have done it before, having a variety of choices to select from with interesting different features can make your selection difficult. One thing to put in mind always is the purpose of the car seat to enable you to choose the best booster seat that will fit your needs.
Again, if you have two or three kids that need booster car seats, ensure that the type you choose is ideal for your car and that they will use them for a long time because you don't want to keep repurchasing them.