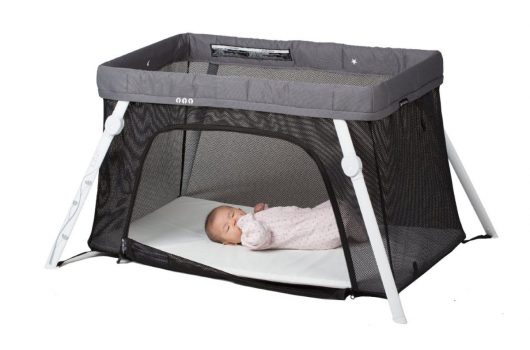 1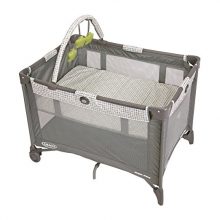 Graco Pack 'n Play On the Go Playard
2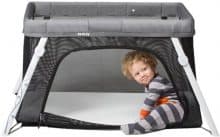 Lotus Travel Crib and Portable Baby Playard
3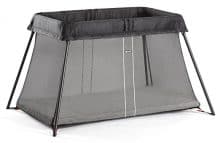 BABYBJORN Travel Crib
Previous
Next
We all love vacations. We love our babies too. Giving your baby a comfortable sleep while on an overnight away from home is important the reason we have reviewed in this article a list of best travel cribs to consider while away from your home. A travel crib is essentially a travel crib that folds up and is lightweight hence perfect for your travel. The market offers a lot of travel cribs with different features and costs. We have selected top 10 best travel cribs in 2018 to make your shopping experience fun and easier.
If you haven't travelled with your little before, you might want to look at some of the travel safety tips to help you travel like a pro.
Features to Consider in Good Travel Cribs
For you to get an awesome travel crib that will work for you and your baby, you will have to consider a number of features;
Lightweight
The main aim of getting a travel crib is to use it while travel so you are definitely going to carry around the travel crib on your journey. To make this stress-free, you will need a very lightweight crib and one that can become ultra-compact thus simple to carry from place to place.
How easy is it to set up?
No one wants to spend so much time to get their baby's crib standing and functional. Make owning a travel crib fun by getting one that is easy to set up no matter how you intend to use it.
Safe
Your baby's safety is important and should be a top concern when buying a travel crib. Getting one with high safety review might be the best way to ensure your baby is safe while in it. Safe sleep is a huge concern when dealing with babies and that's why even choosing a travel crib should be done with care.
Carrying case
Get a travel crib that folds up with ease and can be popped with a carrying case that can be slanged on your shoulder letting you walk around hands-free.
Comfort
For your baby to sleep soundly, they need to be comfortable and cozy. Consider the padding and softness of a travel crib before getting for your child.
Cost
You don't need to break a bank on a travel crib. The market offers a lot cost friendly cribs that are safe and comfortable. Having a budget for a crib prior to your shopping will give you an easy time selecting one.
Top 10 Best Travel Cribs 2020
Guide to Buying the Best Travel Cribs
You don't need to be an expert to get your baby the perfect travel crib. All you need is consider the following factors then you will be good to shop for one.
Why should you get a travel crib?
Portable beds
Changing the surrounding for your toddler every time you travel can cause lack of sleep for them. Owning a reliable travel crib ensures your child sleeps in a familiar place even when away from home.
Traveling can also be stressful when you are not sure whether the hotel you will check in has a baby cot or not which can be easily fixed with a travel crib.
Economical
Buying a travel crib that has a comfortable mattress is cheaper than acquiring a full-sized crib which needs extra costs for bedding.
Serves as a playpen
Convert your travel crib to a playing space for your child. This enables you to work on other chores in the house without worrying where your toddler can crawl to.
Safer
Whether sleeping or playing, your baby is secured with the mesh sides on a travel crib as opposed to them playing on unsecured places such as on top of your bed. Here are some tips on how to keep your sleeping baby safe.
Questions to answer before settling on a particular travel crib:
What is your budget?
Your child's safety and comfort while traveling are non-negotiable. Whether on a limited budget or willing to go all the way, the market will have a choice for you. Our list above of best travel cribs in 2018 will help you make this decision.
How old is your child?
Travel cribs are not universal. Their features vary to accommodate children of different height, weight, and age. Knowing your kid's age and weight will not only give you an ample time selecting a travel crib for them but also ensures you select the right crib for your baby for their safety and comfort.
How easy is it to carry?
Choose a portable travel crib as this is one item you won't afford to leave behind if your baby will be part of your trip. Whereas most cribs are light thus portable, we have cribs that are bulky and will make your travel hectic. If you can get a super light one, the better.
Does the travel crib come with a travel bag?
Make your trips manageable by getting travel cribs that have carrying bags. This way, they easily fit into small spaces while storing them.
Ensure the bag comes with straps to let you carry the bag on your shoulder or back as you make your hands useful by carrying other luggage or your baby.
Purpose
Travel crib for 1-year-old
When buying a travel crib for your 1-year-old toddler, it is important to consider a crib that will restrain the child so they don't get out to keep them safe.
The mattress also needs to hook on to the crib without leaving any space to prevent your baby from sliding out at the bottom.
Travel crib for toddlers
Toddlers are naturally playful and will easily mess their cribs. Get a crib that is easy to clean to ensure you can easily wipe in case your toddler messes. Their playful nature will also need a spacious crib that can take up their toys to keep them busy when you decide to restrain them to their crib. It is also important to ensure that the crib's side is well ventilated to allow free flow of air into the crib to avoid suffocating your child.
Travel cribs for twins
You don't want your babies squeezed in a crib as this will make them feel prisoned and can suffocate them. Travel cribs for twins need to be spacious to give them the feel of a room when they are in it. It also has to be super steady to hold the weight of the twins so they do not tumble over.
Travel crib for flying
How often do you take trips with your child on a flight? Consider a travel crib suited for flying. The crib should be light that can be easily carried to make it possible for you to carry in your handbag alongside other items.
In case the crib is not foldable enough to fit in your bag, then it should not take up a lot of space when put in its carrying case to be able to fit in the plane's overhead storage.
Additional features
Consider travel cribs that have additional features that will make your life easy. Such features may include; a mosquito net, shade to shelter from sun, rain cover, breathable mesh, toy bar to keep your baby engaged, removable mattress or mattress cover for easy washing, with wheels to stroll around in your house, elevated to keep it from dirt or a 2-in-1 that can function as a cot and a playpen.
Types of travel cribs
We have two major types of travel cribs that are differentiated entirely with how they fold;
Those that fold out mimicking a portable crib
Restricts the baby inside the crib hence best for them when you are out of sight. The shortcoming is they are bulky and a little bigger when folded.
Those that form a cocoon
Unlike the above crib, this offers your child freedom to move in and get out when the zip is open hence works best when you are around watching them play. The advantage is that the crib folds up easily enhancing their portability.
Final Words
An ideal travel crib saves you the anxiety that comes with taking your child with you on a trip. They will also give you the convenience you deserve both indoors and outdoors. Whether looking to buy a travel crib for toddlers, for flying, or for twins, look no further than the above list of best travel cribs 2018.