Top 15 Best Bounce Houses for Kids & Toddlers 2022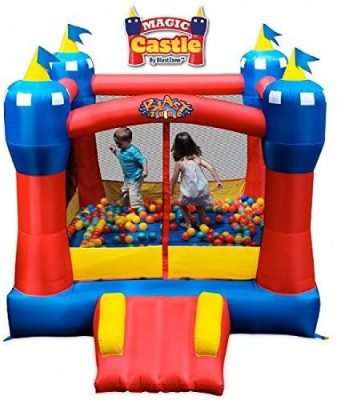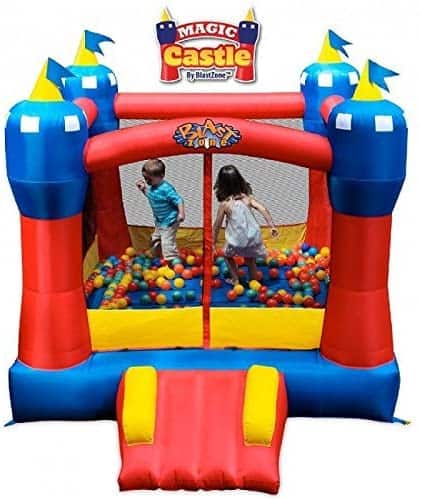 Review
The Blast Zone brand is an excellent mark of quality when it comes to choosing a bounce house. Unlike some competitors, Blast Zone uses strong PVC material, meaning their products are less likely to suffer from wear and tear over time, break from a particularly enthusiastic jump, or get damaged in inclement weather if left outside. The Blast Zone Magic Castle is their number one product, and for good reason. It claims a max occupancy of 3, which you should try and stick to, but the build-quality and load-size of 300 pounds means many report comfortably getting four or five children (or one adult!) inside without too much worry. That makes it a superb choice not only for your own family but for kids parties.
In terms of size, it's 8.5 by 11 by 8 feet—small enough to fit inside a small backyard or even a large garage. It's slightly bigger than its main competitors, which might make it unsuitable for one small child and probably not suitable for toddlers. It also maximizes the play area, with an 84 by 84 inch space available to bounce on. This size means it has a longer usage life as it will accommodate children for longer as they grow up.
It only takes a few minutes to inflate using the supplied blower. Lastly, it has mesh walls on each of its four sides, which means it's great for safety purposes as there isn't an open side your child could fall out of. This is a superb all-around premium bounce house that you simply can't go wrong with, and that's why it's our number one pick.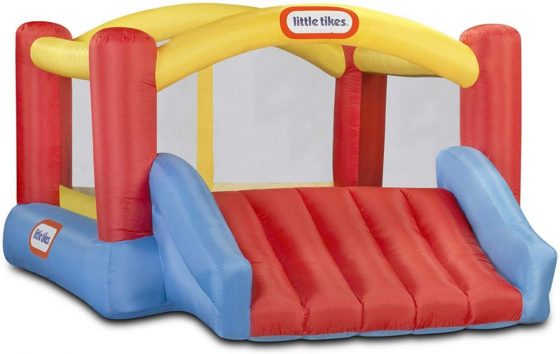 Review
Little Tikes make great bounce houses, and this is their number one offering. The Jump'n'Slide, as its name implies, is not only a great bounce house, but has a fantastic wide slide built into the front which gives kids plenty of fun sliding to break up the jumping action. It's perfect for mini-races, and gives this bounce house a nice extra feature that doesn't feel like an afterthought.
In terms of size, it's 12 by 9 by 7 feet. This makes it significantly shorter than its main competitor, the Blast Zone Magic Castle. However, this smaller size may be perfect for your needs—particularly if you're looking to set this up inside a house or low-roof garage. Bear in mind this means it won't accommodate bigger children or a supervising adult that easily, and this is reflected in its load-bearing capacity of no more than 250 pounds max. This makes it marginally less suitable for parties and better for family use. Of course, that all depends how large the party is! It has an impressively large bounce area that makes the most of the available space.
A three-sided mesh means children are safe and observable from the outside, but particularly safety-conscious parents could be concerned the child may fall out. That said, the large slide area acts as its own buffer and is good at keeping the playtime where it's supposed to be! This product also comes with all the required anchors, a blower and a storage bag, making it usable straight out of the box. The blower is also quieter than competitors. Overall, this is a fantastic bounce house, especially for slightly younger families.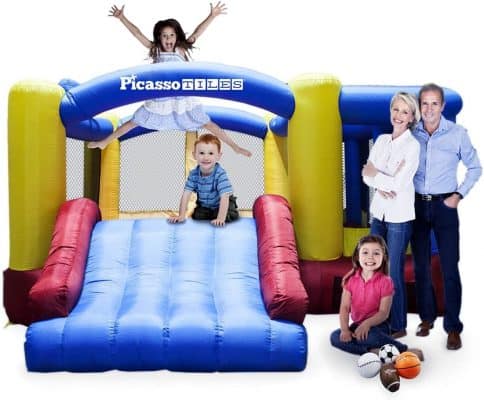 Review
Rounding out our top three best bounce houses is this beautiful creation by Picasso Tiles. Picasso Tiles has an edge on the competition by having multiple additional features that really make it a worthwhile investment for your family. There is a basketball rim built into the structure (so there's no need to it attach with Velcro), and it even comes with four sports balls as part of the package. It's great for your young Lebron James, Megan Rapinoe or Tom Brady to practice their skills.
The features don't stop there, and it includes a retractable shaded cover area to ward off the chance of sunburn on a hot summer's day, but the retractability of the cover means you can open it out to let the sun in when desired. This shaded area also creates a nice division in the overall play area.
In terms of size and load-bearing, it's 12 by 10 by 7 feet, meaning it'll take a greater amount of floor space than your average bounce house. Despite that larger size, it still only supports 250 pounds, so keeping to the stated max occupancy of 3 is probably for the best. Keep that in mind when deciding if this is the right one for you. Finally, it includes a 580W blower to inflate the house. Overall, the Picasso bounce house a brilliant product and a worthy member of our top three bounce houses for kids and toddlers.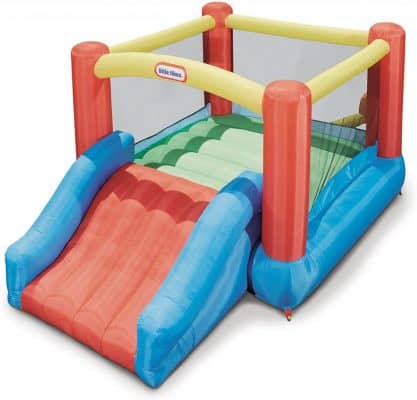 Review
If you liked the look of the Little Tikes Jump'n'Slide at the top of this article, but are worried that your little one is still too small, or maybe you're not expecting to be having many parties or play dates anytime soon, then this is the bounce house for you.
This is a miniaturized version of Little Tikes market-leading Jump'n'Slide bouncer. It has a total size of 10 by 7 by 5 feet, making it less overwhelming for a little one and easier to set up in a smaller space. It still has an excellent slide for your child to clamber over and zoom down, and its load-bearing weight of 160 pounds means it can handle two small children effectively, which is impressive.
The major drawback is the same as all the bounce houses in this section. You will need to upgrade as they grow, especially if they really enjoy the experience of using it! Therefore, choose this one over the larger Little Tikes offering only if you're seeking a more compact experience for your child.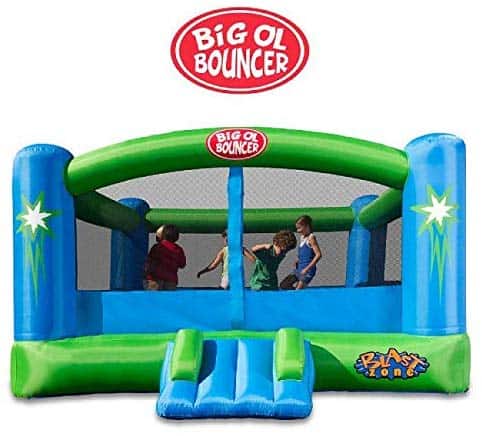 Review
If you want to throw a big party then there's one easy choice for which bounce house to buy, and that's Blast Zone's Big Ol' Bouncer. As the name implies, this thing is pretty huge, with dimensions of 12 by 15 by 7 feet. It easily fits 6 kids, and with a load-bearing weight of 600 pounds you shouldn't be too concerned if that number reaches 7 or 8, particularly if a few of the participants are smaller. Its surrounding safety-mesh means children aren't going to fall or push each other out and can be observed easily.
Like the Blast Zone Magic Castle, this bounce house is made of the best quality materials on the market and is highly resistant to wear and tear or even weather damage. The size means that you're probably going to need to set this thing up outdoors, but this bounce house comes with all the equipment required to do that. It has an amazing set-up time for its size, taking only two minutes to get up and running. Despite its size, if you're blessed with a large yard then there is no reason that this couldn't function as a bounce house for just one or two children. This house is perhaps something to look into even for small families if you already know your children will get a lot out of their new inflatable.
The only drawback is its lack of features. The slide is minimal, and there is nothing else this bounce house provides except premium bouncing. For most of us, though, that will be enough.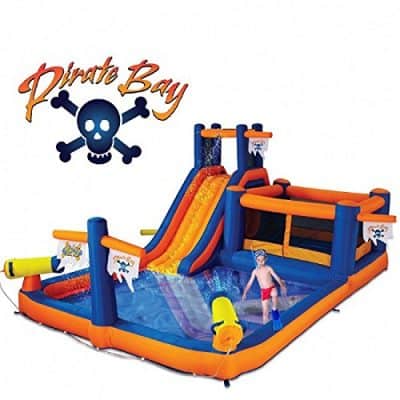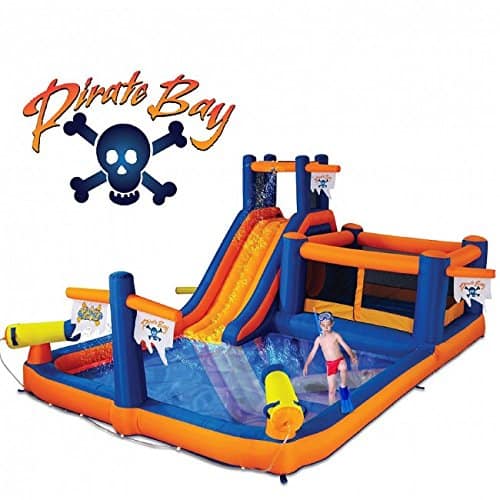 Review
If you want to stretch the purpose of your bounce house and include some water in the fun, then the Pirate Bay from Blast zone is the ultimate choice. Although the bouncing area is small and can only fit two average-sized children at most, it more than makes up for it by having a slide and massive water area to play in. It's perfect for super-hot sunny days where you might need to cool off and don't mind the party getting wet.
It's also made by Blast Zone, who uses the best materials on the market. This can take a beating even if many kids are using it. Its overall dimensions are 20 by 12 by 8 feet, so you'll need a big available space in order to set this up. Still, considering it's good for five children and has a water-park built into the inflatable, it's a reasonable size. Since it includes a slide to enter into the water, it's a superb alternative to a paddling pool for young kids that really mixes up the fun. To top it all off, it looks beautiful with a pirate aesthetic that'll fire up the kids' imaginations and give them the best party possible.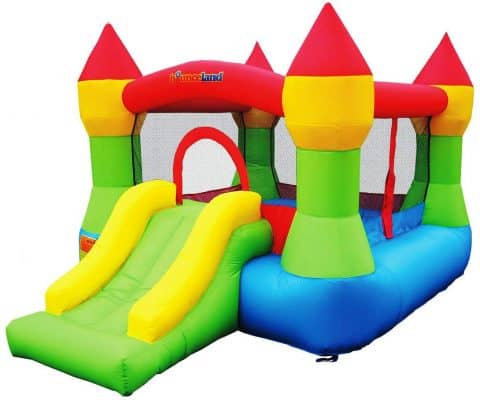 Review
Next up we have this bounce house from Bounceland. It is made from high-quality PVC materials, meaning it's more resistant to wear and tear than other bounce houses. It's a great choice if you have kids who you expect to be slamming their bodies into the canvas, and makes it a little more resistant to the elements if left outside for extended periods.
It also looks great. The product calls itself a castle, and the four spires at the corners of the bounce house make it wonderful for firing up your children's imagination and letting them pretend they are medieval knights or noble princesses overlooking the kingdom of the yard. It also has a slide for those heroic dismounts, and includes a Velcro-attached basketball rim for airborne slam dunks.
The bounce house is a larger size than others in its category, although it still states that 3 children are its max occupancy. This is because much of the ground-space taken up by this castle doesn't translate into a larger play area. The size of the castle is 12 by 9 by 7 feet, but the play area is only 64 by 64 by 64 inches. This is a slight disappointment, as much of the potential play area size is wasted. Nevertheless, it can still comfortably fit several children. Overall, this is a great bounce house and a great purchase for your imaginative young-ones.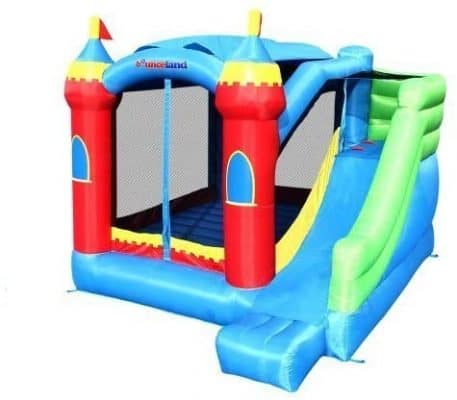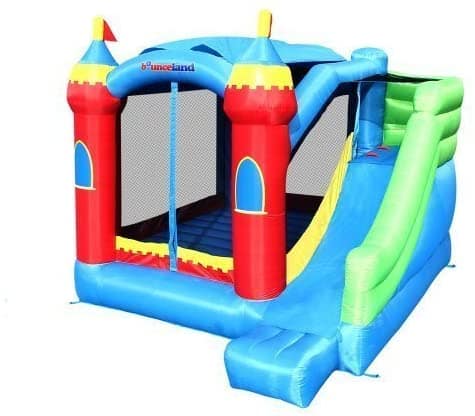 Review
Next up we have another offering from Bounceland. Royal by name and royal by nature, this pricey bounce house comes with a wealth of awesome features that make it a superb treat for any child lucky enough to get treated like a king.
It's certainly larger than most of its competitors, coming in at 13 by 12 by 9 feet, so you'll need a larger area to put this palace up for your little one. The extra space is used well, however. It incorporates the best quality slide you can find on a bounce house, as it has a seating area at the top (for those pre-descent photographs!) Because the slide extends down most of its 9-foot height, it's as close as you can get to a playground slide on a bounce house. Add in a retractable sun-roof for those sunny days, an inflatable hoop as part of the build, and a four-sided safety mesh alongside a high build quality using PVC materials, and you've got a very impressive bounce house.
The drawback? The price. It's nearly twice as much as its competitors, and that can be hard to stomach given that its rivals are so close in quality to this product. But if you want to splash out and give your children a bounce house they'll never forget, this is a great choice.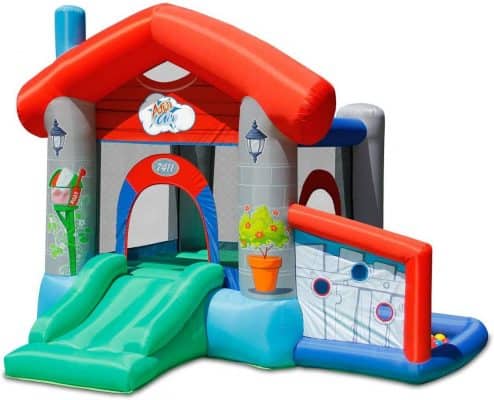 Review
Action Air weighs in on the bounce house action with this cutesy-looking bounce house that has a charming and unique aesthetic. Put simply, it looks a lot more like a house! Whereas many other bounce houses go for a castle or boxing-ring look, this inflatable has a triangular sloped roof at the front making it feel like home. It's perfect for giving your little one their first step on the property ladder. Better still, it has a ball-pit garden built into the side, which is a superb addition. Action Air also provides the balls as part of the package, so you don't need to order extra to make the most out of your bounce house.
Size-wise, however, it's smaller than many on the list, coming in at 9.8 by 9.2 by 7 feet. Furthermore, the ball-pit garden puts a constraint on the available bounce space. This is a good option for one smaller child or two to share, but beyond that it'll start getting crowded in there. Parents probably can't join in the fun, despite the fact this has an impressive load-bearing weight of 300 pounds.
In short, this is a great little bounce house, with the emphasis on little. With its side ball-pit to relax in, it's ideal for those who want something a little more serene both in terms of its appearance and the fact its size puts a limit on over-enthusiastic children, even though it won't scale up particularly well as they grow.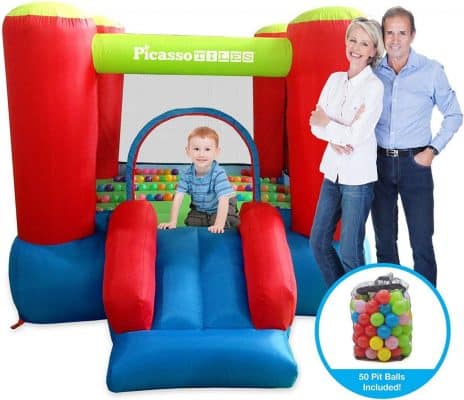 Review
Another choice for a great bounce house for a small child is the Picasso Tiles Junior Bouncer. Similar to its bigger sibling, this is a high-quality bounce house with a host of extra features. The biggest one being the ball-pit and the 50 balls included in the price. As noted, balls are particularly good for children under six, and the fact this comes with them is a lovely plus. It also comes with a small basketball hoop to play with and a slide that is longer—although thinner—than its competitors.
In terms of size, it clocks in at 8 by 7 by 5.5 feet, and claims a 7 by 7 foot bounce area. This is an impressive use of the available space and means the area will comfortably fit two small children or be a great size for one child playing alone. What's more, it only takes a minute to set up. If you like the idea of the extra features and longer slide, then this bounce house is a great alternative to Little Tikes' offering.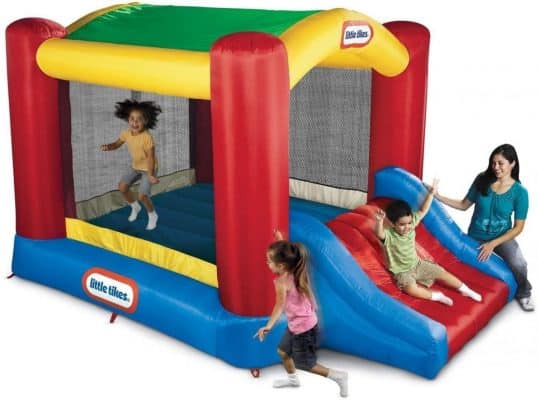 Review
Like the Little Tikes Jump'n'Slide Bounce house, this is another bounce house from the same company but this one is excellent if you are lucky enough to live somewhere where the sun is constantly shining. The shaded canopy over the top of the bounce house will keep the sun out and let your kids play outside for hours. It also includes a great slide.
However, the canopy is not retractable as it's entirely one piece. Although less fiddly to set up, it also means that if your children could do with some vitamin D or the sun is not particularly bright, the enclosed space can be a little dark and not as inviting to play in. The build quality, although good, is not as top-notch as other bounce houses, and it will suffer if left outside in the rain or under a consistent assault from overly enthusiastic children.
As usual, the product comes with the anchors, tarp and blower all included. The blower is pleasingly quiet compared to other bounce houses. Overall, like the other Jump'n'Slide product on this list, this is a fantastic starter bounce house for your children to play in throughout the day while keeping them safe from the ravages of the merciless sun.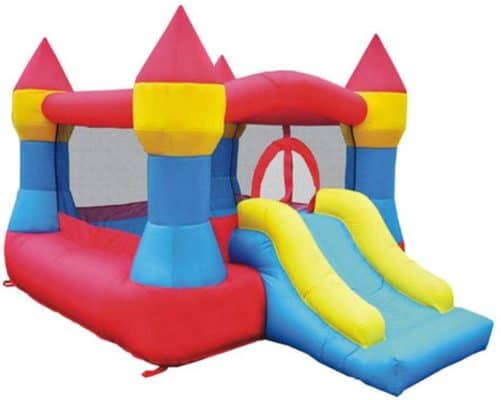 Review
Our next pick for best bounce house is this option from Happy Hop. It's a great alternative to the Blast Zone Magic Castle which is its direct competition. It is built of excellent materials and has great stitching, and what's more it includes some repair patches should anything go wrong. It has a very wide slide compared to other castle-like bounce houses, ideal if you have a few children. The reinforced nylon on the slide means it can handle kids tumbling over it to get inside before hurling themselves off it to get out. Most users report the slide as this bounce house's best feature.
When it comes to size, it's 12 by 9 by 6 feet. The 6 foot height means it can more comfortably fit inside a garage or living room if you wish to use it inside. The overall play area is comparable to its rivals, coming in at 6.9 by 6.7 feet. As such, there is easily enough space for several children to play in.
However, there are reports that despite its high-quality materials it does get beaten up fairly easily and can suffer from excessive use. This is aslight shame, especially if you have children who want to be bouncing all day every day. In short, this is a great bounce house at a reasonable price, even if it doesn't quite have the wow-factor of other bounce houses on this list.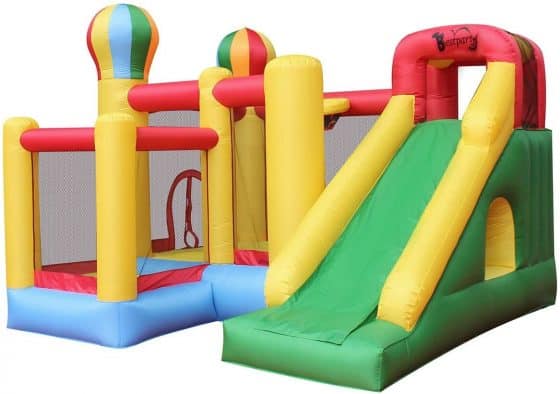 Review
This bounce house from BestParty certainly boasts an impressive feature-rich design. Within its 10.2 by 10.2 by 7.2 foot floor space it contains a high slide, a ball-pit, tunnel, climbing wall and standard bouncing area. What's more, it throws in a basketball hoop and two basketballs so your little ones can practice their layups from a young age. Its multi-section design means children can take turns in different areas and get different play experiences all from one product.
However, the amount of features means the core bouncing area is quite small, which can be a drawback for some and might mean children will have to take turns using each space. What's more, despite its stated dimensions, it does take up more space than it suggests, meaning you'll need a bigger room or yard than you might think. Leave a buffer when considering if you can fit this in your house or yard. You don't want to blow up your new bounce house only to find it doesn't fit. Another drawback is that it's harder to monitor kids as they play in different areas, so while watching one of them in the ball-pit another might fall off the slide when you're not looking.
Despite these drawbacks, this is a great multi-feature bounce house that's fantastic fun. Its great load-bearing weight and occupancy of 4 means it'll be good enough for a small party too!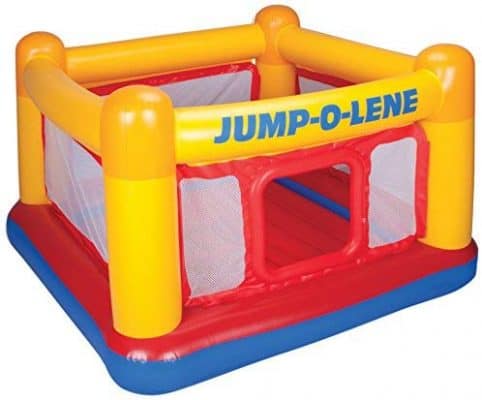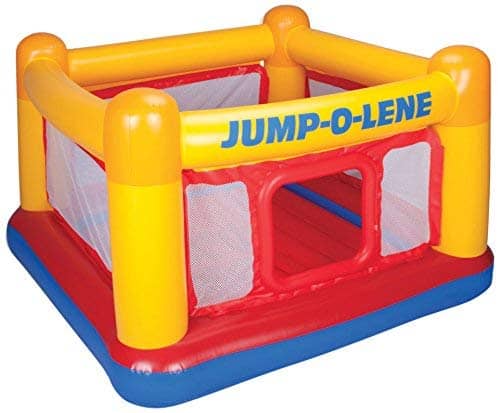 Review
On a budget? Or just want a bounce house that's cheap and cheerful so your gorgeous little angel of chaos can destroy their new toy and you don't need to sweat too much about it? This bounce house from Interex is the choice for you. It's significantly cheaper than the other bounce houses on this list, including the options for juniors, which makes it very tempting as a first foray into the world of bounce houses. Due to its small size, this product doesn't need continuous airflow to keep inflated.
However, there are some drawbacks to the price. The biggest of these is the lack of an electric air pump in the box, so you'll have to buy one separately. Don't fear, though, after purchasing a cheap pump this works out significantly cheaper than any of its competitors. The other thing to note is the build quality is lower than its competitors, which is only to be expected for the price. The lack of continuous airflow means that it provides a less thrilling bouncing experience, too—but the added safety that provides may be what you're looking for.
Finally, its size of 5.75 by 5.75 by 4 feet and low load-bearing weight means it's going to be a stretch to even get two children inside this bounce house. We recommend this as only suitable for one child.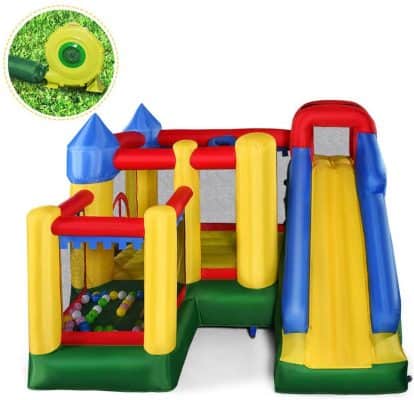 Review
This gem from Giantex is one of the most feature-filled bounce houses on our list. Like the BestParty bounce house, this product has many play areas all in one product. Combining a ball pit, slide, climbing wall, tunnel and bounce area in a 10 by 10 by 7 foot area is an impressive feat. It gives children an excellent variety of play that goes over and above the standard bounce house.
However, the same problems exist as with the Best Party bounce house. Its dimensions are larger than stated, and it can be harder to monitor kids as they play in separate areas. The actual bounce area is also necessarily smaller than you might think. What's more, by not using high-quality PVC materials, this bounce house is theoretically weaker against excitable kids. It's got a lower load-bearing capacity than the BestParty model above, too.
It does have a bunch of extras. The blower is included as usual, as are the balls and repairs kits. Yet balls alone aren't quite enough to put it above its main rival. Our best advice if you want a multi-room bounce house is to compare the aesthetics between this and the BestParty bounce house and go for the one you like best, as there isn't much else for you to choose between them.