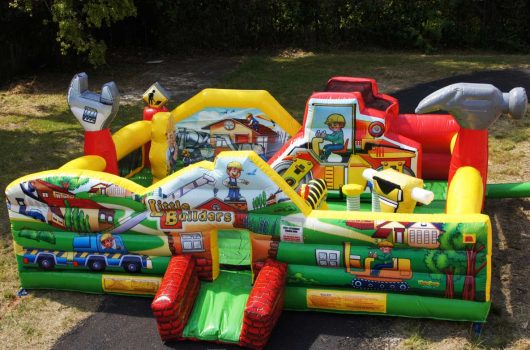 1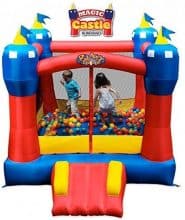 Blast Zone Magic Castle
2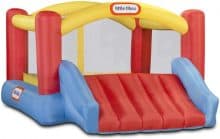 Little Tikes Jump'n'Slide Bounce House
3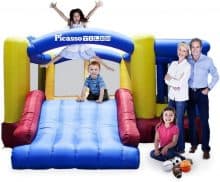 Picasso Tiles Bounce House
Previous
Next
The joy of watching your little one step into their first bounce house is something every parent remembers. Their smile as they go airborne, reaching ever higher, their laugh as they fling themselves against the soft walls without a scratch, and the relief on their face as they take their first tumble on the surface and find themselves unharmed, sprawled comfortably on the cushioned canvas.
Perhaps you even remember your own first giddy moments in these joyful arenas and you now want to replicate it for your children, or maybe you or your children have never experienced a bounce house and you're not sure what you're looking for or what would suit your family best.
Well, you're in the right place. This guide will take you through everything you need to know about buying the best bounce house for your child. We'll also show you some wonderful products to help you choose your first bounce house, or perhaps upgrade your tatty and ancient model to something that will bring joy to all the family for years to come.
Features to Consider in Good Bounce Houses
The Benefits of Buying a Bounce House
Bounce houses are fun! For most of us, that is reason enough to buy one. Children will have a fantastic time playing on it. However, bounce houses do have some other important benefits.
Exercise
All the bouncing up and down is a great form of aerobic exercise for children. If your child is an energetic sort, then a bounce house is a great way to tire him or her out and let them release their excess energy, especially if they've been stuck behind a desk at school all day. Conversely, if your child is naturally more relaxed and doesn't enjoy physical activity, then a bounce house is a great way to get their body moving!
Motor Skills
Bounce houses have a further physical benefit of developing coordination and motor skills in young kids. This is especially true for toddlers who are still figuring out all the ways their body works. The constant need to balance, jump and slide as they play is a great way for them to become more confident in the motions of their body.
Bounce Houses Are Safer Than Trampolines
Trampolines offer a similar experience for children—but are a lot more dangerous than bounce houses. While trampolines allow children to gain more "air-time," this invariably means there's more risk as they come back down to earth. With bounce houses, you don't have to worry about your young one hurling themselves off the side of the trampoline with an overenthusiastic jump. Bounce houses also have more "give" when the child lands, so an awkward fall doesn't result in a need to get the ice cubes out of the freezer to treat their injuries.
What Do I Need to Consider When Buying a Bounce House?
There are a few crucial things to take into account when buying a bounce house. You need to think about the size that would be most suitable for you. Bounce houses also vary in how easy they are to set up, take down and store. You will also want to check if it has any special features. Finally, you should think about the electricity requirements required, and if there are any accessories you might need—we'll cover those last two points at the end of this article.
Size
The first and most important thing to consider when choosing a bounce house is the size. Firstly, how many children are using it? If you have one or two children, a small bounce house may fit your needs perfectly. Yet you may have three or four children, or perhaps you are expecting their friends or guests to turn up with enough regularity that it may be worth investing in something bigger. A big bounce house is great for kids parties, so if that is something you expect to happen with some regularity, consider trading up so their friends can join in the fun.
Another factor to keep in mind is that a larger bounce house may not be suitable for small children or toddlers. Although there is no reason a small child can't use all of the bounce houses on our main list, and many parents report their children doing so, the elasticity or buoyancy of a large bounce house might overwhelm children who are smaller. As such, they won't be able to make the most of their new toy.
Finally, think about whether you have sufficient space either outside or inside your house to accommodate your chosen bounce house's size. A small bounce house may fit inside a garage, or even a living room, yet the larger models may take up too much space for indoor use.
We'll note in each review how large each bounce house is, so you can check if it will fit your available space and meet your children's needs.
Ease of Setup, Take Down and Storage
Bounce houses are made out of nylon and/or PVC (a strong, durable plastic). This means they are more than capable of handling minor elements if left outside for a short time. However, mostly you'll want to be packing up your bounce house after the kids have finished playing with it, and will have to set it back up again the next time you want to use it. Most bounce houses on our list include a blower, but some don't. We'll be sure to highlight if you need that additional accessory.
Special Features
Do your kids love slip slidin' away? Perhaps they have always loved ball-pits and they'd benefit from a dedicated ball-pit as part of their bounce house. Maybe they love sports and would enjoy an inflatable basketball hoop as part of their bounce house? Each of the bounce houses on the list has their own special features—and we'll be sure to point them out in each review.
Read on to find out about our picks for best bounce houses.
Top 15 Best Bounce Houses for Kids & Toddlers 2020
Guide to Buying the Best Bounce Houses for Kids and Toddlers
Before we go, there are a few final things to consider when buying your bounce house.
Indoor/Outdoor
All the bounce houses listed can be set up indoors or outdoors. However, if you are setting it up outdoors, remember that lower quality bounce house builds will suffer if left out in the rain or even if set up on dewy grass. It's worth taking your bounce house down at the end of each use in case the weather ends up damaging it. Furthermore, if setting up outdoors, you may want to consider laying a tarp down on the grass so as not to get the underside wet.
Accessories
There are a few things you might want to add to your bounce house order. None of these are necessities but might help you get the most out of your bounce house.
Pit-Balls
The first of these is pit-balls. Balls are an excellent addition to your bounce house purchase, so much so that many of our recommended products include them already. If they don't, we recommend purchasing balls made from high-quality materials that come with their own storage mesh, so that they don't break down or get lost easily.
Extension Cord
If setting up your bounce house outside, you might find that even if the cord provided with the packaged blower is good, it might not be good (or long) enough. Consider purchasing a heavy-duty, long, weather-resistant extension cord alongside your purchase.
Tarp
A tarpaulin laid underneath your bounce house will aid against wear and tear from water on the ground. If you don't have one lying about, any tarp from a reputable company with a size exceeding that of your bounce house's footprint should do.
Final Words
You've now read everything you need to know when it comes to buying your bounce house. The list above contains all the best quality bounce houses on the market today, so you can be confident you're getting what your child deserves. Any of the bounce houses listed will give you and your kids a fantastic time while providing them with a great way to get rid of excess energy and get them away from their screens. Happy bouncing!