It might seem strange at first glance, but boxing toys for kids and toddlers don't have to be seen as promoting violence, necessarily. Consider this; combat sports can be extremely beneficial for not only a child's physical health but also their mental health as well. Instead of taking out the stresses of youth on sensitive objects such as furniture, their toys, or even other kids, they can safely let off some steam on an item that is built specifically for taking punishment. With that being said, what are some good-quality, absolutely safe boxing toys that would be perfect for the child in your life? Look no further!
With no further ado, let's jump right into the best boxing toys for kids and toddlers!
Top 15 Best Boxing Toys for Kids & Toddlers 2020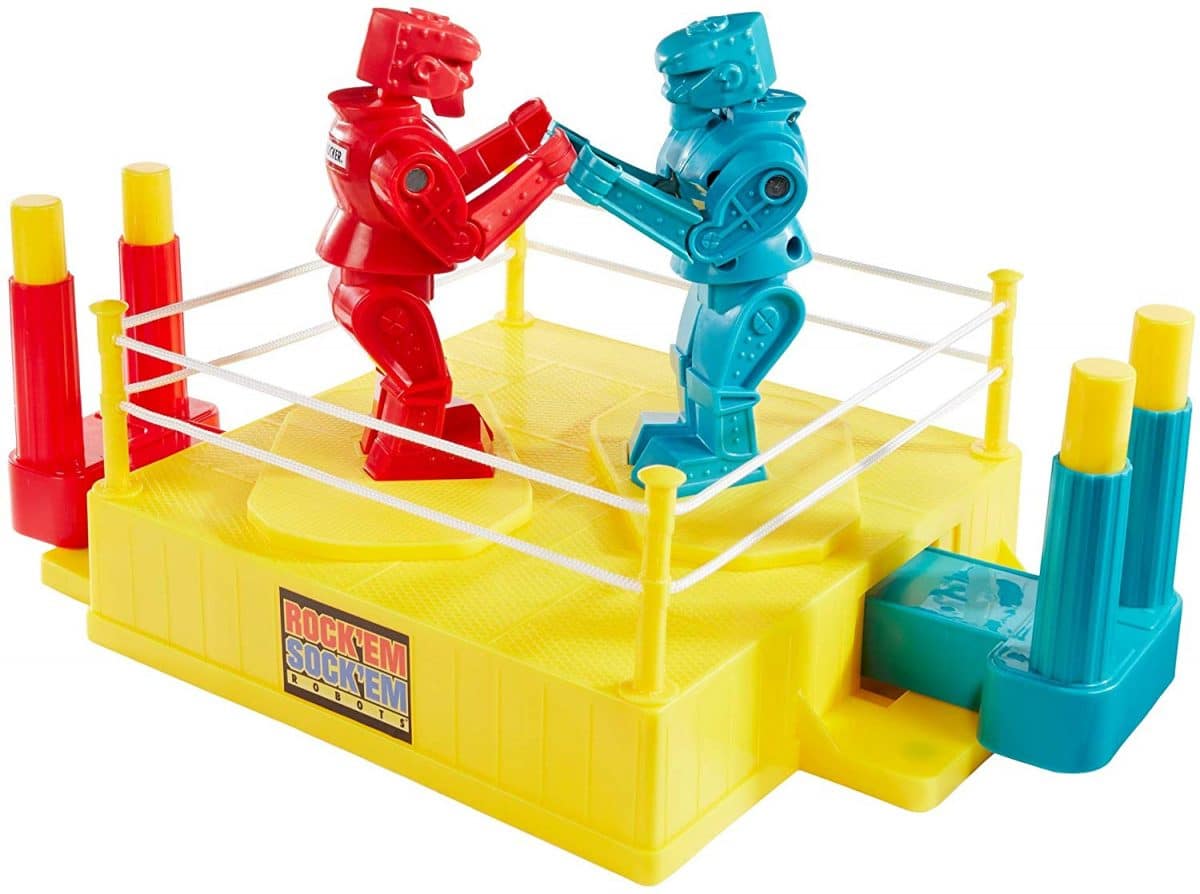 Recommended Age
Mattel recommends that this toy is for children ages three and up, due to a choking hazard with some of the moving parts.
Review
This is an absolutely classic toy that even your parents knew and loved back in the day! It's a really simple premise: one ring, one red and one blue robot, and a whole lot of aggression ready to take place! Something to consider is this is a game that's only for two players, so there's no real chance for solo play here. However, this makes a great parent and child game that's easy to set up and play almost immediately.
In an age where video games are taking place as a predominant force when it comes to keeping children entertained, the Mattel Games Rock 'Em Sock 'Em Robots Game is a great alternative for something with a similar nature to a video game (it uses joysticks in order to control the robots) but requiring the added benefit of human interaction along with it. This is the perfect sort of game to get your kid off the couch and pairing up with another peer or parent for the purposes of having fun without needing a fancy modern gaming console!
This set is primarily meant for children above the age of three, and because there's some assembly required with individualized pieces, there's a risk of choking hazard for little ones under the advised age limit.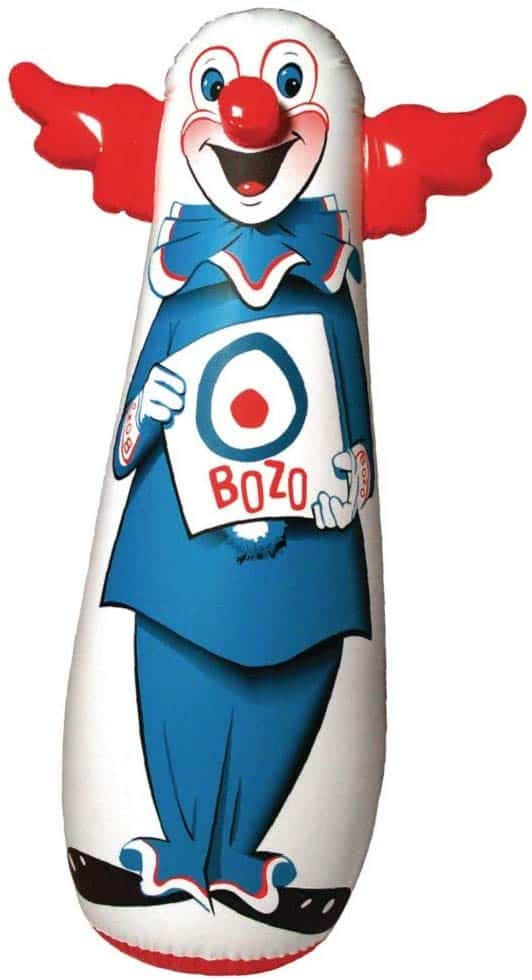 Recommended Age
This product is for children that are at least four years old.
Review
Everyone likes clowns, right? Yeah… we realize that's a bit of a stretch to claim, however at least with the Bozo 3-D Bop Bag your child can take out any aggression they may have on this adorable toy boxing bag. With any luck, your kid will grow up never being afraid of clowns!
At 8.6 by 9.2 by 2.7 inches and weighing just a little over 4 pounds, this isn't really going to cause you any hassle with space in your home. Just be aware that your child needs a certain amount of room in order to give Bozo an adequate beating.
This bop bag is made with durable yet still soft vinyl material, which won't tear up or hurt your little one's hands. The Bozo bop bag is full of sand at the base of the bag, which allows it to be smacked with impunity without going too far, potentially knocking things over in a crowded room… but it really all depends on just how hard your child hits.
The safety of this bop bag seems pretty standard. The biggest risk is with the bag tearing in the bottom of the base where all of the sand is located… but that's mostly a cleanup issue and not really a safety concern.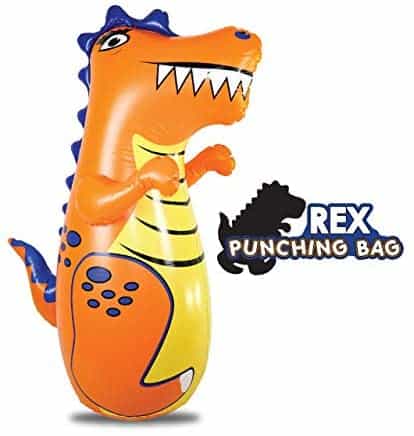 Recommended Age
The manufacturer recommends that this product is for children ages three and older, and it's big enough that even much older kids should enjoy it.
Review
This huge dinosaur is just asking for it! This product is 47 inches tall and weighs close to 8lbs. So, this is a heavier bop bag. However, the heaviness is a good thing here, as it always bounces back at the ready.
Setup is relatively simple: just inflate the bop bog, and your kid does the rest. It doesn't matter what kind of potent haymaker your child delivers to this adorable ancient lizard… it will keep springing back upright, absolutely ready for more!
Like the other bop bags on this list, there's no real safety issue or concern that's present other than the sand leaking out from a tear at the bottom of the bag.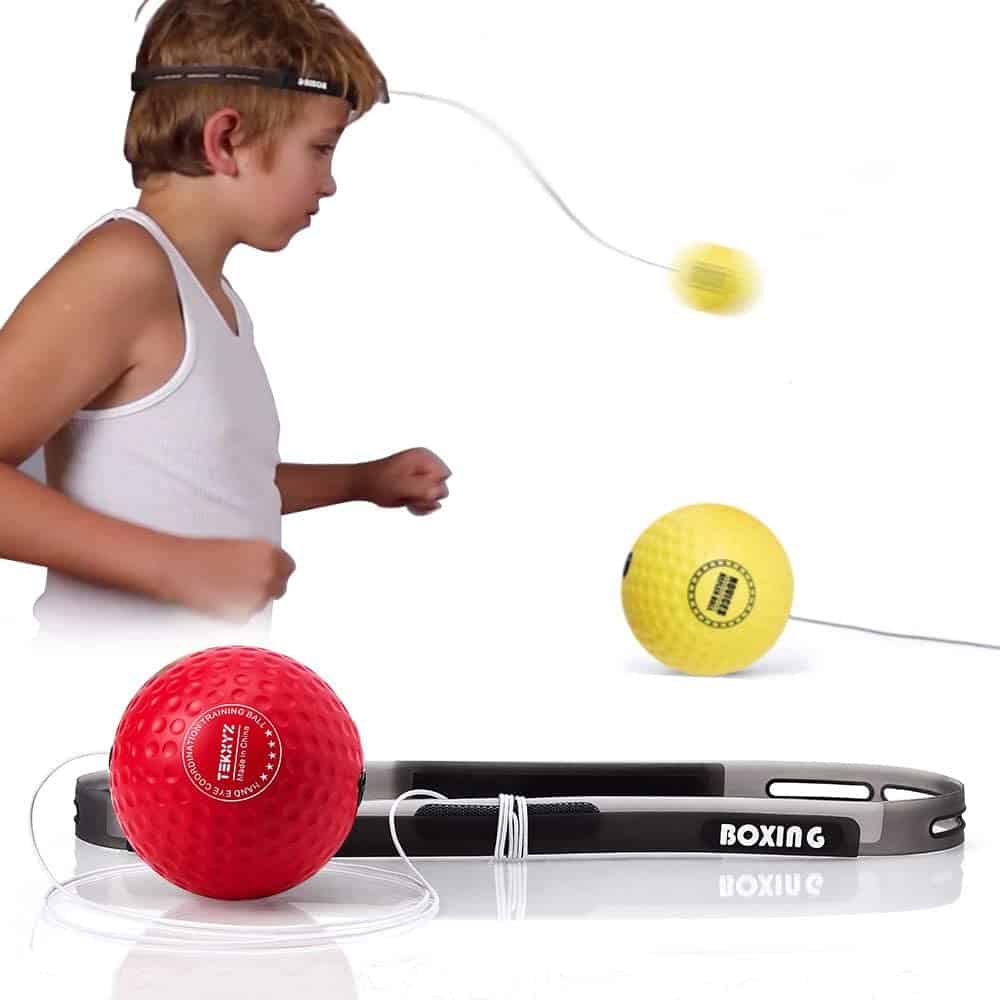 Recommended Age
This product is for children as young as eight years of age, but even adults might get a kick out of this.
Review
The TEKXYZ Boxing Reflex Ball comes off as a really simple concept, sort of like the ball and paddle toys of yesteryear. You basically mount it on the forehead and proceed to strike the ball tethered on the end of an elastic cord… that's it! It comes across as deceptively simple, but it seriously tests one's hand-eye coordination. It's also great for getting the heart pumping for some cardiovascular endurance gains. With obesity being such a crisis nowadays in America, children of all ages could use a little more of that nowadays, couldn't they?
Overall Safety
The balls on this product are extremely safe. Your child could accidentally whip one of them back onto their face, but the padded ball will simply bounce off, causing no pain. This is a pretty impressive trait for them to have considering their density! Rest assured, this is a very safe product for any kid.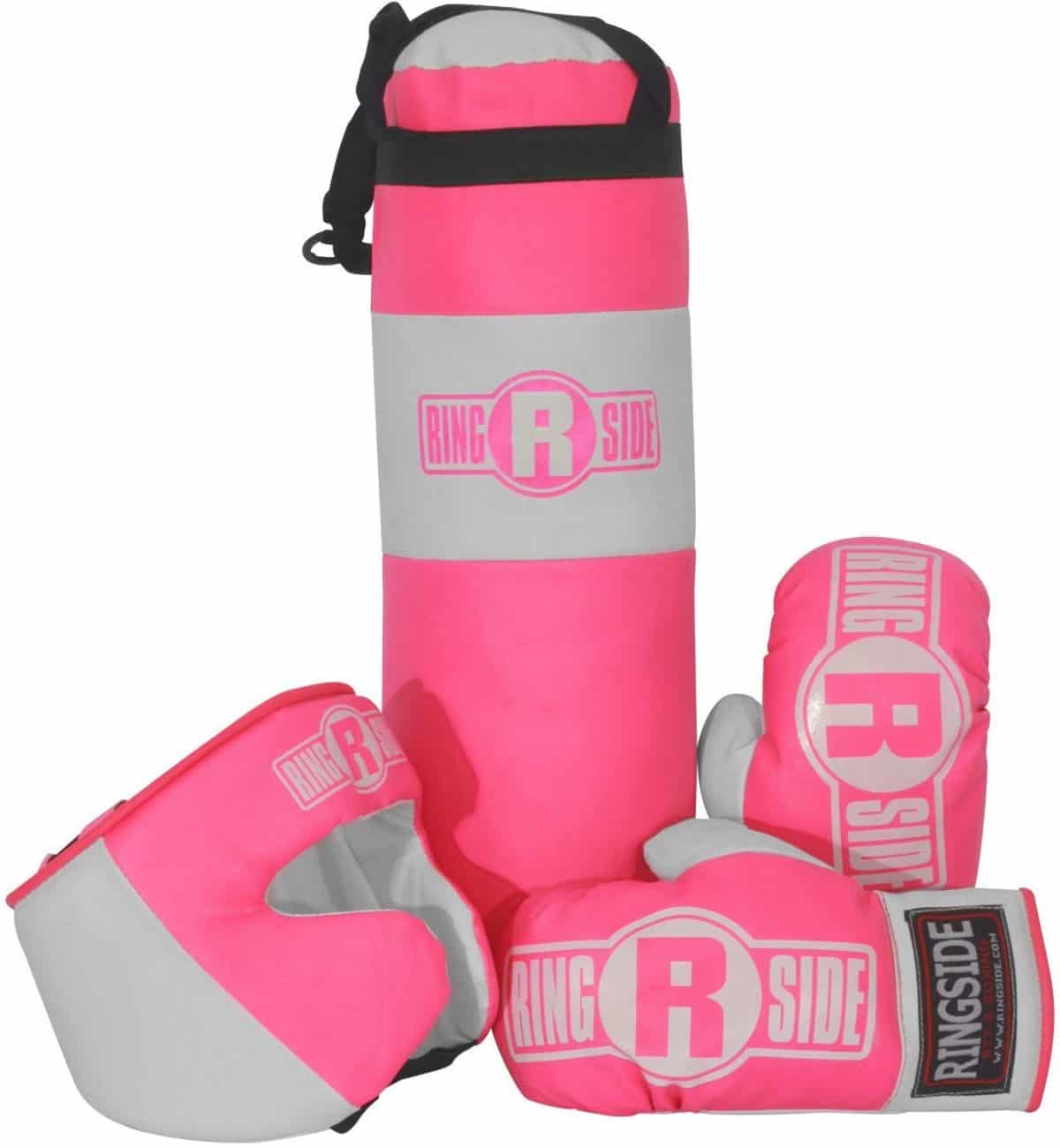 Recommended Age
This product is specifically meant for children 2-5 years of age, though kids a bit older should enjoy it, too.
Review
This is possibly one of the best products on this list for introducing your child to the wide world of boxing. The set comes with literally everything your kid needs, including boxing gloves, protective headgear, and a punching bag. This set comes in a choice of three different colors (black, red, and pink) so that you can make sure that your kid gets the set that best represents them and their color preference. All in all, this is a low-cost package that will be of interest to aspiring boxing pros everywhere!
Safety with this product is mostly determined by how much supervision you, as the parent, provide your child when they are playing with the set. However, the punching bag that comes with the kit weighs a fairly light 2 pounds. On the off-chance that the punching bag rebounds towards your child after a well-placed strike, there's a slim-to-none chance that it would cause any kind of serious injury, if at all. Younger children might need to be watched over while using this toy, but older kids should be fine unsupervised.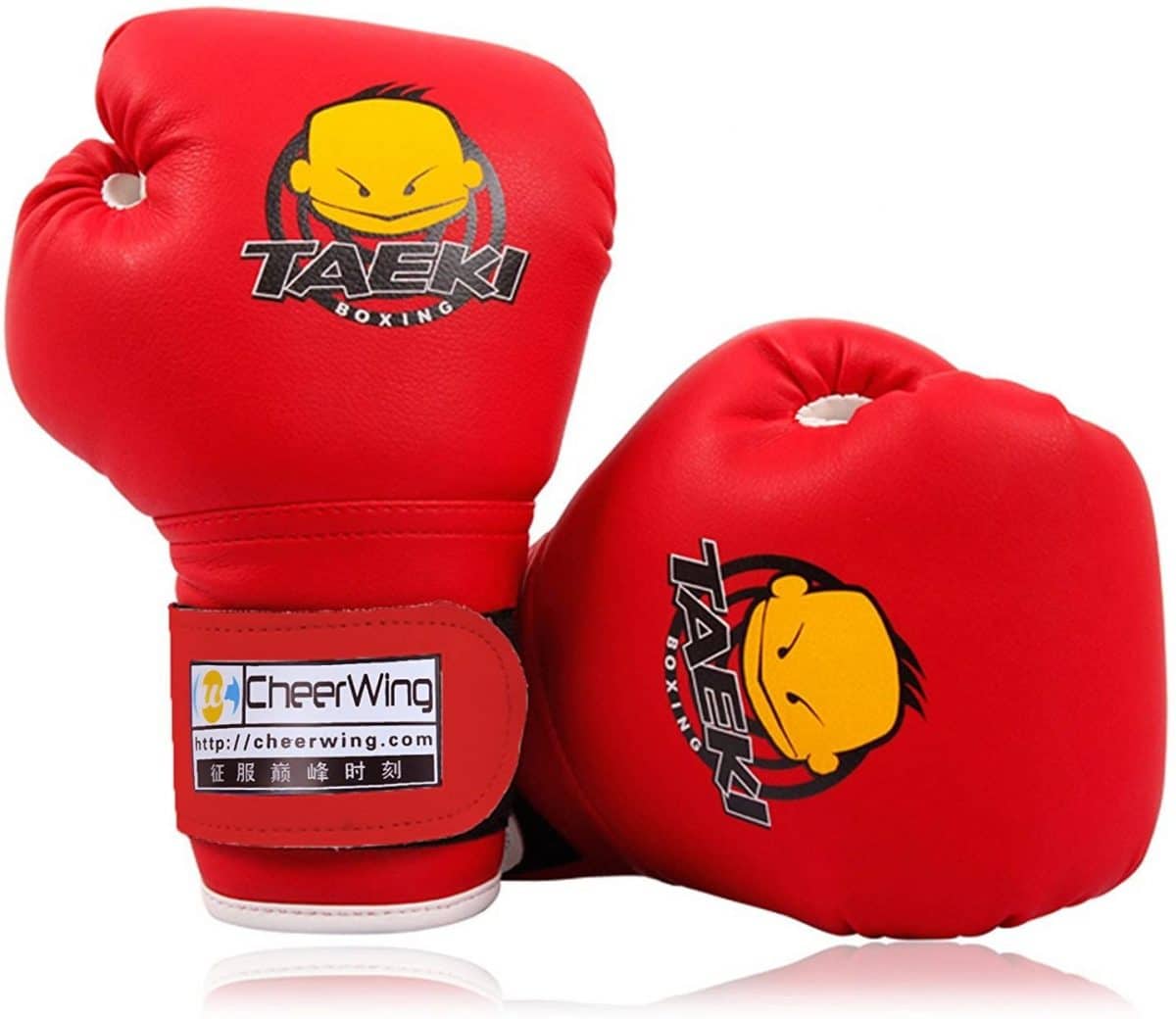 Recommended Age
These boxing gloves are best used by children between the ages of 5-10.
Review
These boxing gloves come in black, blue, red, and gorgeous pink. These gloves are made primarily for children to learn martial arts, boxing, or grappling in, but they also make really fun "play" boxing gloves for at-home use as well! Your child's bop bag won't be safe from these monsters once they are firmly on their capable hands! Durable and affordable… that's the name of the game here.
These gloves are made from tough leather and have padded foam on the inside, protecting your child's hands. Also, each glove contains an attached wrist strap made of elastic, which helps to brace your little one's wrist, preventing any sort of fracture or overt bending of the wrist which could potentially cause injury or pain.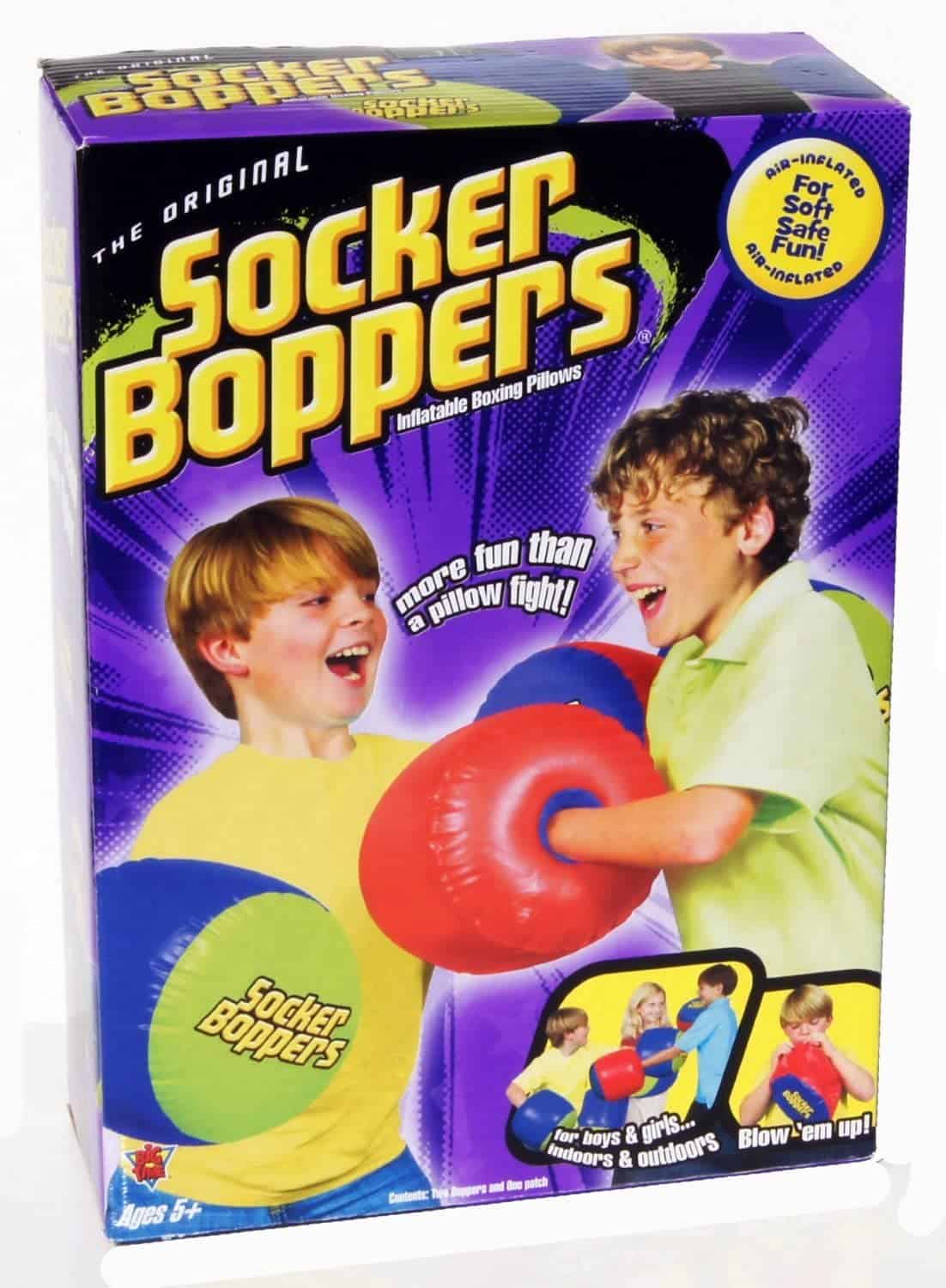 Recommended Age
The manufacturer states that this product is for children five years of age and older.
Review
You might be thinking about a way to get your young child interested in boxing or some other kind of martial art… but you want them to be safe and secure while seeing if they have an interest in pursuing such a thing.
If so, these Socker Bopper inflatable boxing pillows are a perfect choice for your little one. They are great for getting your kids up and about in the backyard, allowing them to rumble with each other in a comfortable and absolutely fun manner. Do you have really rowdy kids that are constantly breaking their toys? Well, the Socker Bopper gloves are made of durable 12-gauge vinyl… good luck tearing these bad boys up!
Safety is key with this particular product. There's a double-cavity chamber in each Socker Bopper glove that isolates the wrists as well as the hands. While each child has a different strength factor when it comes to their individual blows, it's a pretty safe bet that this product will keep each and every child safe from pain and injury.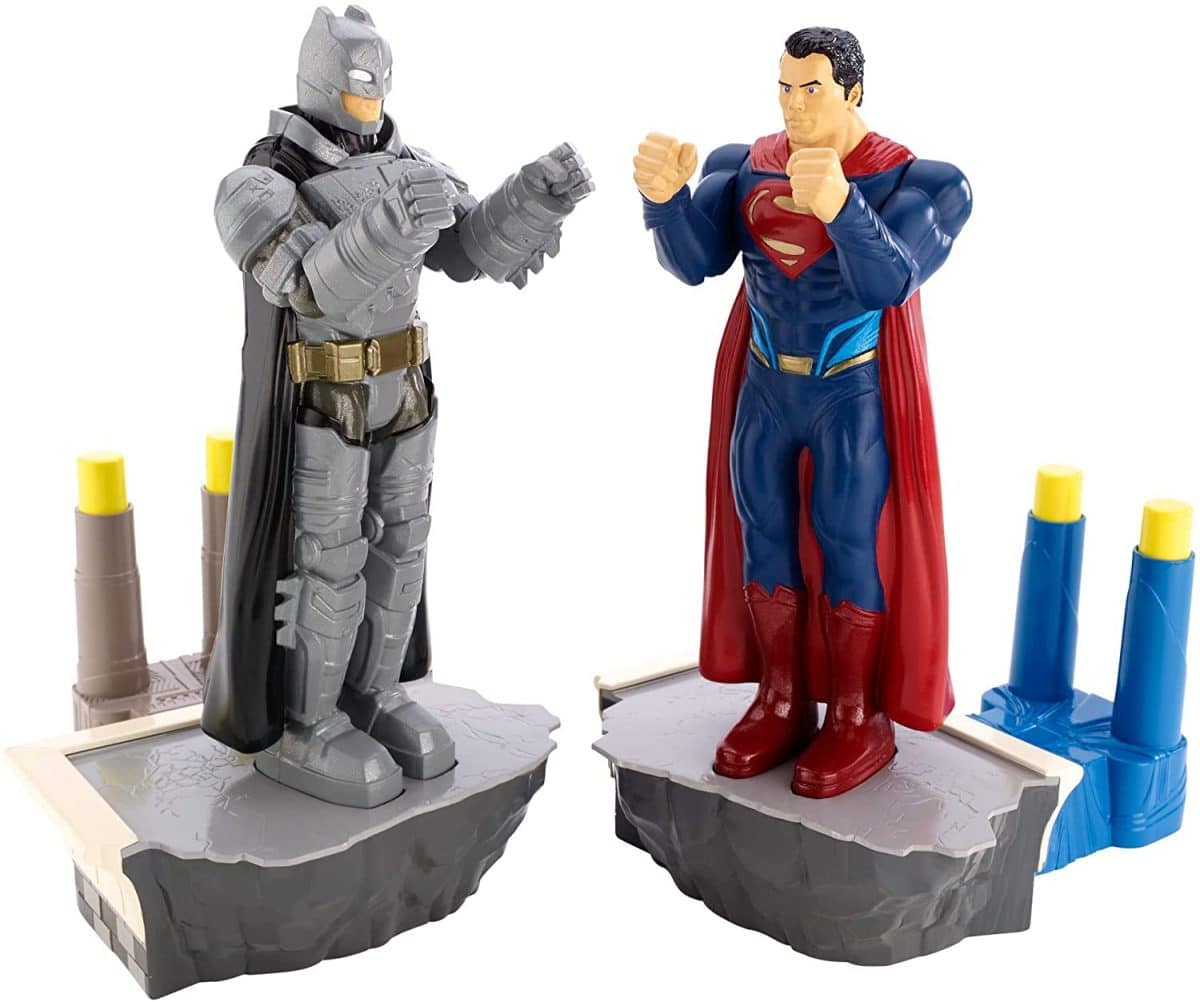 Recommended Age
This toy is recommended for children between the ages of 6 through 15.
Review
The basic premise behind this toy is extremely similar to the Mattel Rock 'Em Sock 'Em Robots mentioned earlier in this very article, except it's Batman and Superman duking it out instead of two random robots.
One neat thing about this version, however, is that both of the combatants are way more mobile than in Mattel's better-known playset. Neither figurine is limited to a boxing ring, so your child's imagination can take over and help to create all sorts of interesting battle scenarios for these two iconic figures to get themselves into.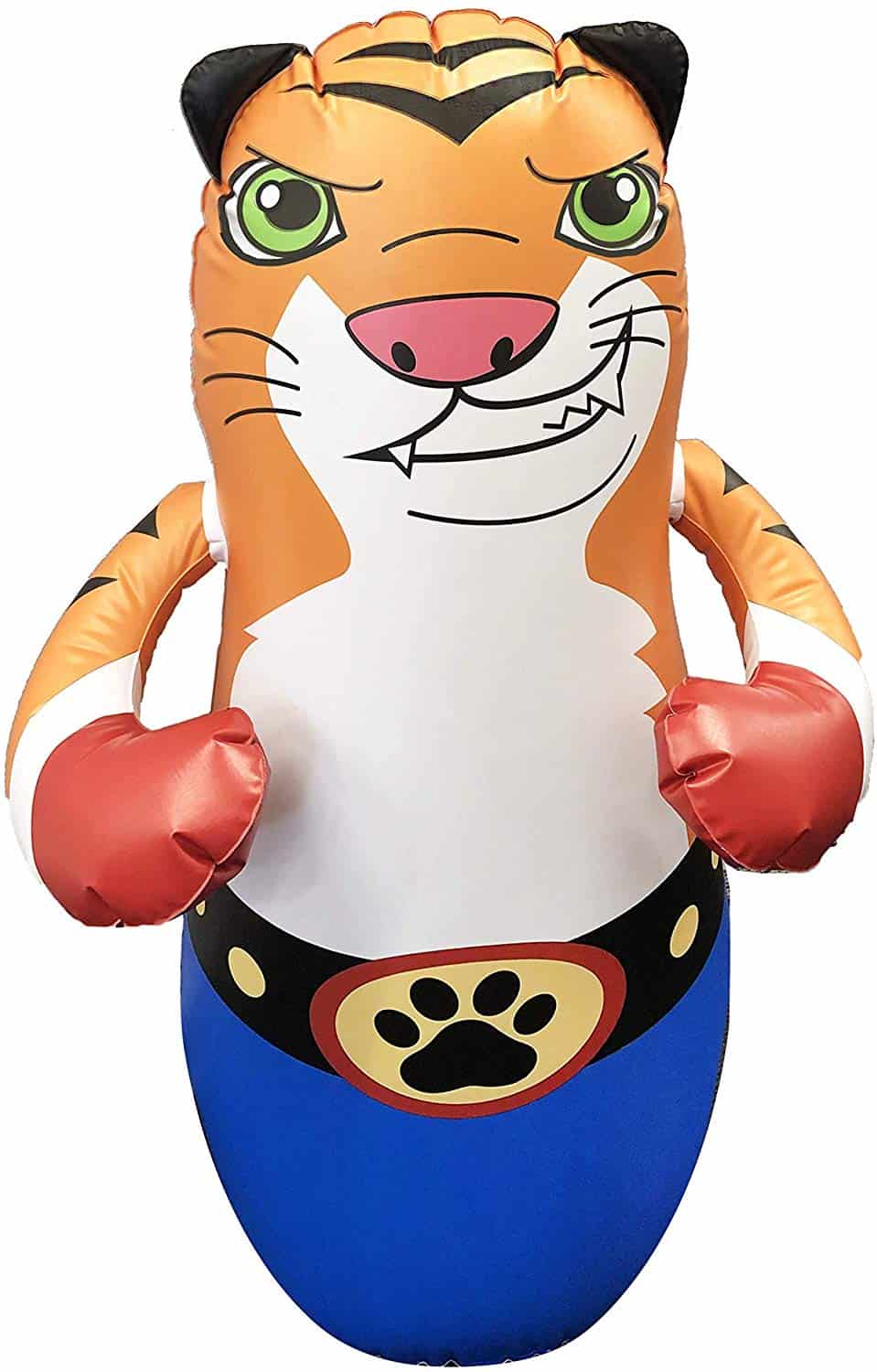 Recommended Age
The manufacturer doesn't specify any specific age group, however, it seems better suited for younger children below about eight years of age.
Review
Taylor Toy Inflatable Punching Bags are boxing and martial arts-themed bop bags with some variety when it comes to the animal represented on the bag itself. You can choose between a dog, a tiger, or a panda… each one looking eager for a fair fight!
At 44 inches tall and weight just a little over 2 pounds (completely empty), this bop bag isn't going to mess you up in terms of physical space. Just be aware to give it room to move when your child decides to start playing with it!
Each bop bag is made with heavy-duty vinyl material, and the base of each bag has a special section where you can insert material such as sand, water, or even small pebbles in order to weigh down the bop bag enough so that it doesn't fly around each time your child smacks it.
The only real potential safety concern with this bop bag is if the base where the filling is held gets torn—but this is more of a cleanup issue than a safety concern. With that being said, make sure the bop bag doesn't have any sort of small items inside it that might entice a toddler to put the filling in their mouth and choke on.
Recommended Age
It depends entirely on the kind of gloves you purchase from Dtown. The 4-ounce gloves are best for 3- to 7-year-olds, while the 6-ounce gloves are recommended for ages 7 to 12.
Review
These fun little gloves have breathable holes built into them to keep your child's hands completely dry. Not only that, but they also come in a variety of colors, including black, blue, red, and pink.
These gloves are made of a kind of synthetic leather. They are tough little gloves that are going to hold up for quite a while. They are also non-toxic and have shock-absorbing capabilities, which means fewer accidents like broken hands or wrists.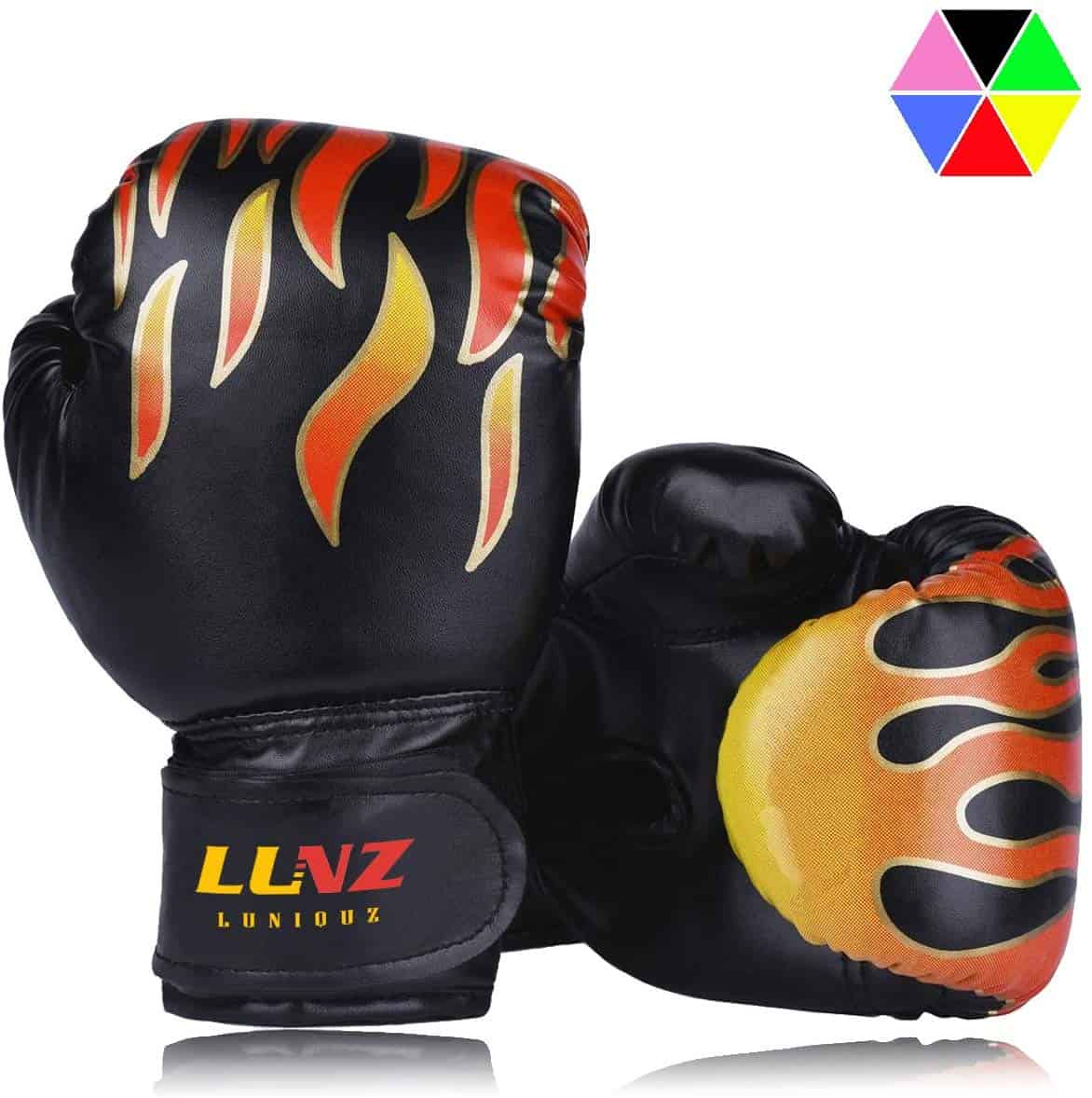 Recommended Age
These 4-ounce children's boxing gloves are made for a multitude of ages… anywhere from between 3 to 14 years of age!
Review
These are some fiery looking kids boxing gloves, indeed! Coming in a variety of colors, including black, blue, neon green, pink, red, and white, your child won't have any difficulty choosing a color that best represents them and their personal style. On top of that, these gloves can be used for a multitude of things, such as full-blown martial arts training or just bopping around in the house on a punching bag for fun.
These gloves are built tough! Not only are they composed of durable synthetic leather, but they also have an internal "grip tube" within the palm of the glove, which gives your child a natural handhold when punching their favorite bop bag buddy! On top of all that, the gloves are properly ventilated, which reduces the chance of sweaty hands and potential bacterial infections.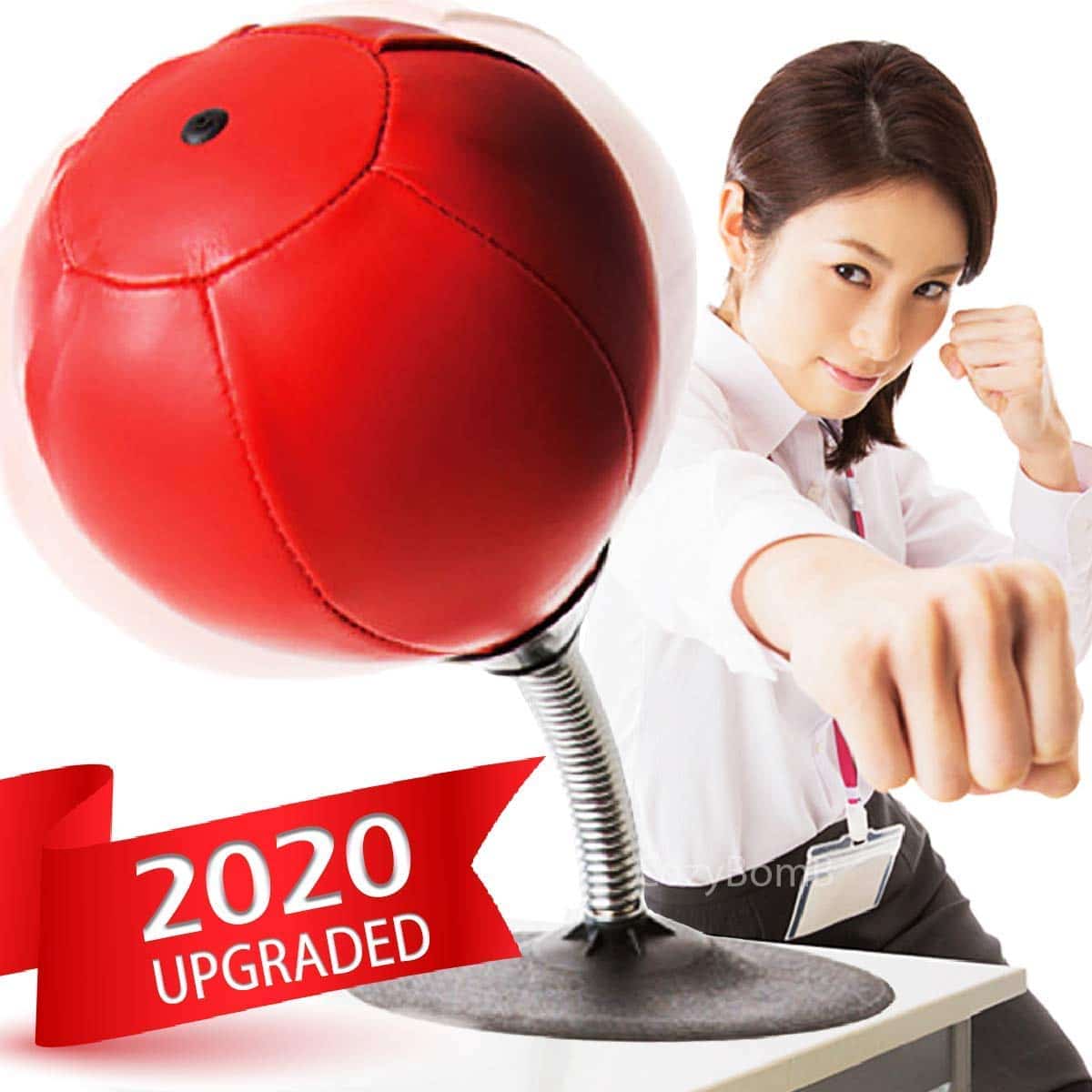 Recommended Age
The manufacturer doesn't specify a minimum age for this product, however, we can safely assume that it's probably not meant for small toddlers or children that would have no reason to sit at a desk. Anyone ages eight and up (including adults!) could enjoy this bag.
Review
When you get right down to it, this is essentially a traditional boxing speed bag that you can fit on most flat surfaces, such as desks or even some kinds of bookshelves. Do you have a kid that gets stressed out easily when studying to study for a test? This product is a perfect way for them to take out their frustrations on something inanimate (that won't hit back!), allowing them to enter back into a calmer state of mind that's perfect for making good grades.
The relatively short extension spring connected to the punching bag ensures that this product won't snap back and hit your young one in the face. On top of that, the punching bag portion screws into the base of the spring, meaning that this product can withstand a tremendous amount of abuse before coming loose—if it even can in the first place.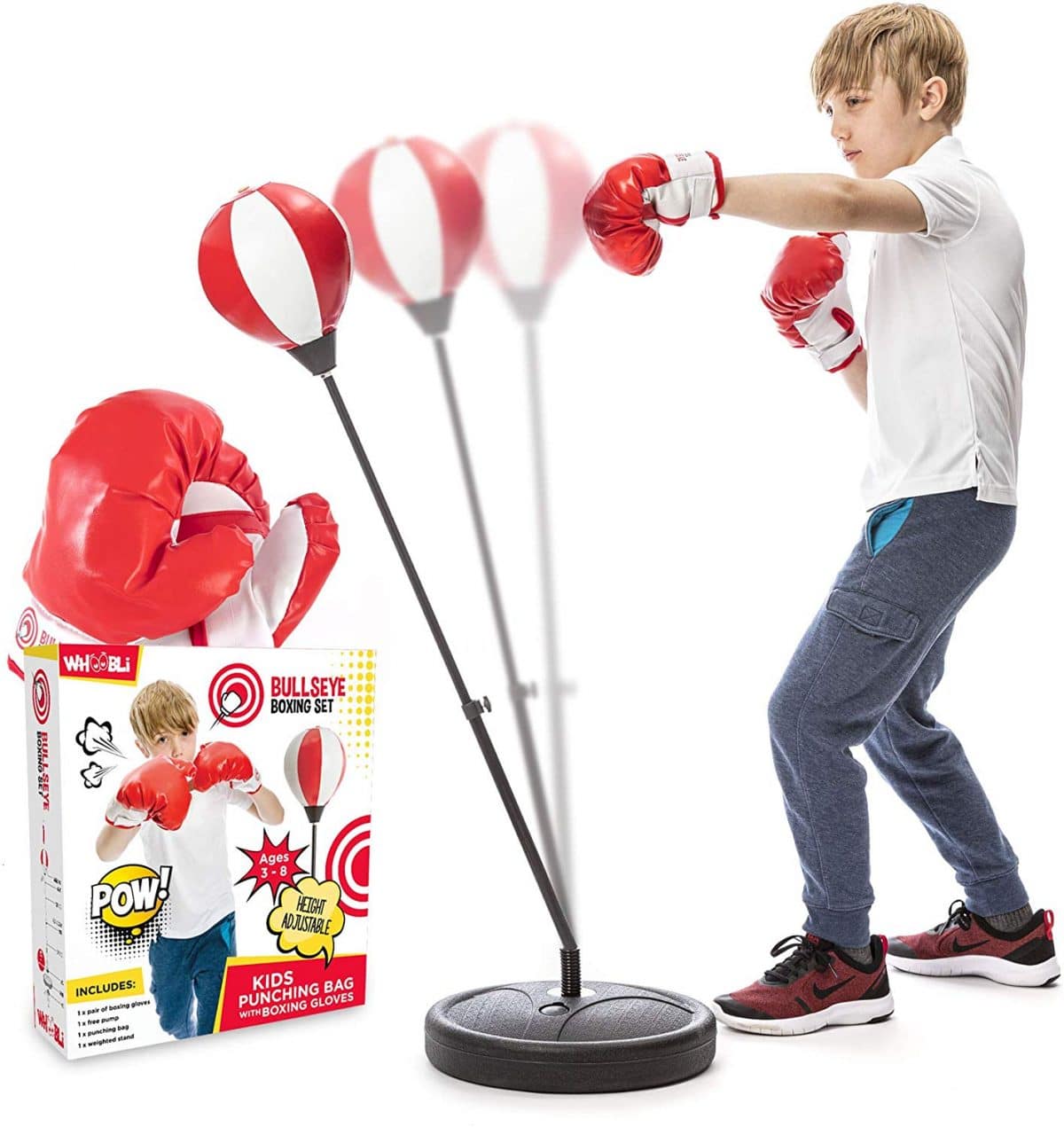 Recommended Age
The manufacturer indicates that this product is perfect for children 3 to 8 years of age.
Review
Made up of strong polyurethane (PU) leather, this punching bag is a great pick for your little boxer in the making. One of the best aspects of this particular product is its adjustable capabilities, which allows the punching back to literally grow in height with your child. To sweeten the deal, this punching bag also comes with a solid spring built into the stand, so it can be attacked in every possible direction, always promptly returning back towards its original starting position. This makes continuous sparring with the bag an easy process… no need to keep adjusting this bag, it always keeps coming back for more!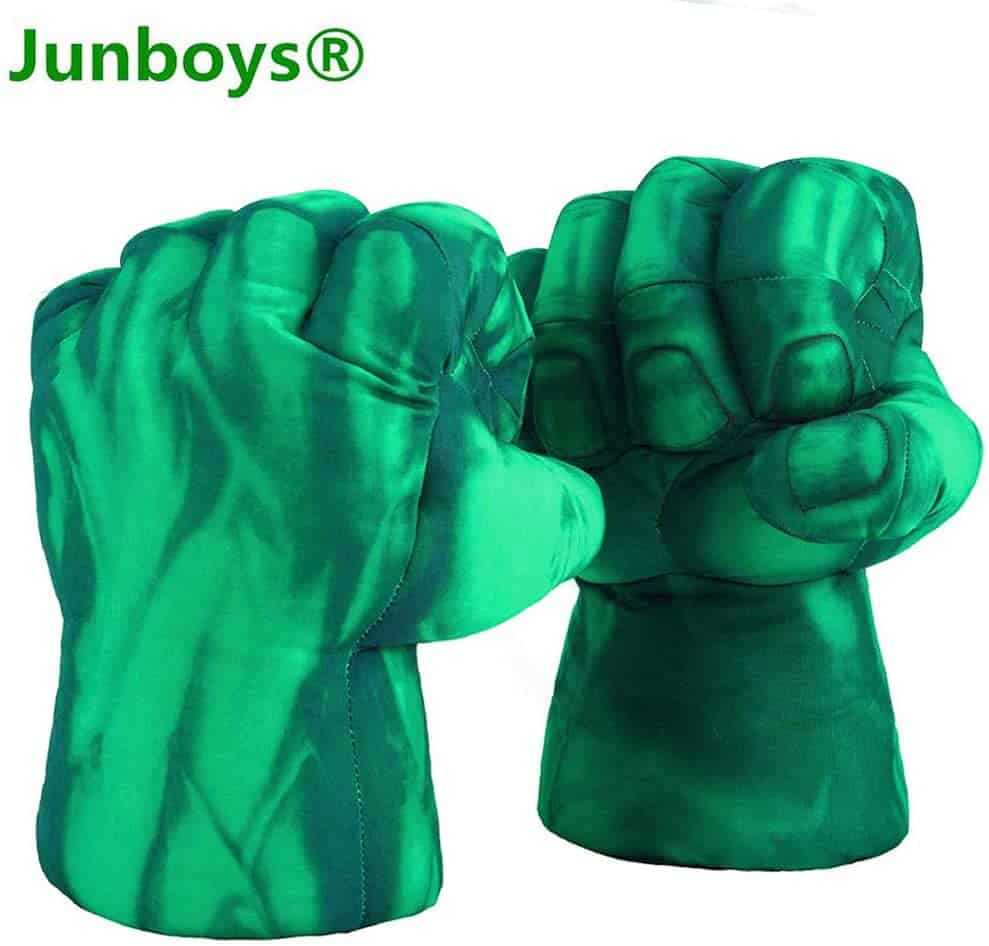 Recommended Age
The manufacturer assures that this product is adequate for children as young as 3, however, they also specify that the children all the way up to 16 can enjoy these gloves. For the most part, this is a one-size-fits-all sort of product.
Review
This big green Marvel superhero lights up the eyes of young children all over the globe. These boxing glove hands are a perfect gift for the small comic book fan in your life. They are great for use in general play, as well as for more direct boxing and punching bag training. They might even make a good entry-level sort of gift for your child who is a bit on the fence when it comes to pursuing boxing or any other kind of martial arts training. So, if you have a kid that needs that little extra nudge when it comes to pursuing those sorts of activities, these Hulk boxing gloves are a fun and funny sort of introduction to those sorts of activities.
This product is made of cotton fabric, with an interior that is composed of 100% cotton. With that being said, kids can wail on each other until the sun goes down, and they still won't suffer any truly serious bodily harm. Of course, it's up to each individual parent to make sure that your children don't go too hard when using these gloves!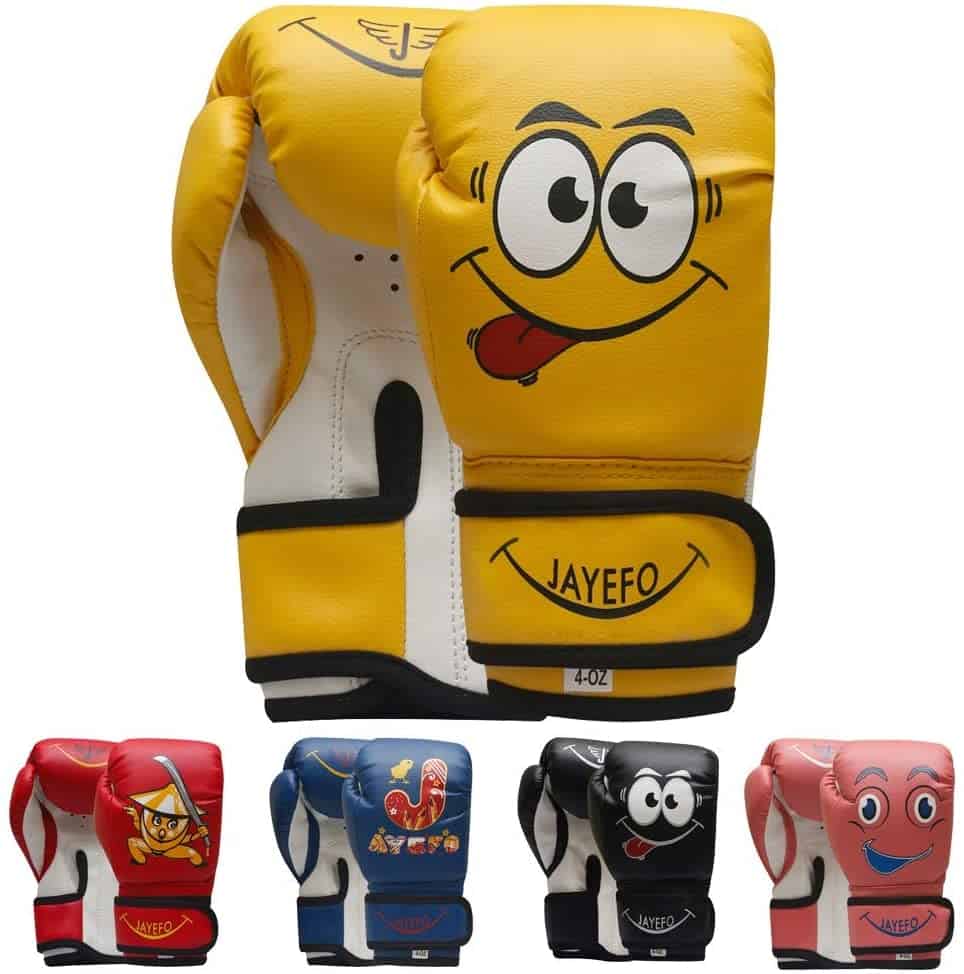 Recommended Age
The manufacturer stipulates that this product is for children ages 5 through 11.
Review
These Jayefo Kids Boxing Gloves are a good choice for the cost-conscious buyer that is looking for a cute, low-cost alternative to some of the more expensive boxing gloves for children. Not only does each glove have a silly-looking face on the exposed part of the glove, but they also come in different colors, such as red, yellow, and pink.
Safety is a big part of these gloves. Not only are the double-padded with foam on the interior, but they also have fairly lengthy wrist supports, which keep your child's wrist straight when punching any sort of solid thing (like a punching bag). On top of that, there's also a thumb lock within the gloves, keeping your kid's thumb firmly in one place so that it can't bend back out of place from a poorly-landed punch.
Final Words
Despite the sometimes negative connotations when it comes to toys and products relating to violent sports, boxing toys are a great way to get young kids and toddlers interested in a fantastic and ancient combat art that can benefit them in numerous ways while allowing them to have loads of fun at the same time. It is our hope that this list of products has helped you to determine the right kind of toy for your child in order to exercise and entertain your little one while piquing their interest in the exciting world of boxing!