People decide to get breast pumps for various reasons such as to feed the baby via a bottle, relieve engorgement, feed twins, boost their milk flow, or for premature babies. Also, a breast pump will help with keeping your milk levels up if your baby is not feeding well because otherwise, your supply will go down with time. And, if your partner wants to "feel useful" by helping with the baby, a breast pump will help you share feeds, and it also enables one continue breastfeeding even after returning to work or when you have to travel without the baby. If you are a new mum and don't know how to go about breastfeeding, check out the AAP recommendation.
Simply put, breast pumps are handy, and any mum will find it useful.
Features to Consider in Good Breast Pump
Each mum has her specific needs, and even though we have many breast pump options, not all will meet the said needs. As such, when buying a breast pump, make sure that you know the factors to consider, based on your needs.
Types of breast pumps
Hospital-grade breast pump
This is the most efficient type of breast pump as it's not only heavy-duty but also sucks faster at a stronger frequency. However, it's the most expensive type out there, but most are available to rent because it features a multi-user pump design. All you need is your own attachments, i.e., tubing, breast shields, and milk containers.
Electric breast pump
This is the most popular breast pump as it is designed to allow one select their preferred suction and speed. There are two types of electric breast pumps: double and single electric breast pump. The double electric breast pump is more efficient as it simultaneously empties both breasts, thus saving time. Electric breast pumps will either run on batteries or plugged in. Some have both options for convenience.
Manual breast pump
This type of breast pump requires you to squeeze the lever by hand repeatedly to create the needed suction to express the milk as it doesn't have a motor. One thing to love about them, despite being manual, is that they are quiet, cheaper and way smaller compared to the electric type. They are also easy to set up and clean. However, they are not as efficient as the electric pumps, hence might only appeal to mums who don't pump often because frequent squeezing can be tiring.
N/B: For convenience purposes, you are better with both manual and electric breast pumps.
How natural you want it to feel
We have two main types of breast pumps, electric and manual. None will fully mimic how your baby feeds, but some electric breast pumps can get pretty close. They feature a two-phase program where the first phase will stimulate the flow while the second phase works on letdown. Again, some breast pumps allow customization to enable you to get as close as possible to natural breastfeeding.
How often you will be pumping
Mostly, manual breast pumps are an excellent choice for occasional pumping or as a backup for an electric pump. However, some manual breast pumps are very advanced and are reliable enough for frequent pumping. And, they are also great for traveling because they are very portable and are even more discreet. The major downside is that they are more labor-intensive and can't compare to electric pumps in terms of efficiency.
Your budget
Baby products can be expensive and so are breast pumps. However, there are some very affordable options, mostly manual pumps, and they just require enough practice and patient to get the job done.
Single vs. double breast pumps
Most moms buy a single breast pump to use on the opposite breast while the baby is feeding on the other one. On the other hand, double breast pumps come in handy for twins or people who will be far from their baby for a more extended period. The best part of using a double breast pump is that it helps stimulate additional milk ejection and prolactin levels. As such, you will not only be able to produce more milk, but the milk will also contain more fat, thus higher energy content for the baby. Double breast pumps are also great for exclusive pumping.
Top 10 Best Breast Pump 2019
Why we like it:
Can be plugged in or use the included rechargeable battery. It's also quieter than most options, and you can actually use it in the same room with your family without creating any disturbance. It's also lightweight and in a compact size for portability. We also like the neat nightlight as it has two levels.
Editor's Rating:
Performance
The Spectra S1 is the best double electric breast pump, and because it maintains your milk supply while also having a 30 minutes timer, it's also the best breast pump for twins. You don't need to use your phone's timer with this one. The Spectra S1 is the improved version of Spectra S2. All the other features are the same except that S2 cannot use a battery. As such, the S2 is cheaper, and it makes a good option for people who don't mind about having to plug in each time they need to pump.
Features
This breast pump mimics how the baby sucks the breast thanks to the pretty nifty massage feature. If you haven't used a similar pump before, you'll notice the almost pulses that this pump makes when creating suction and it might feel weird at first, but you will love it because this makes pumping more comfortable. Thanks to the massage feature, pumping is sped up, and it also simulates letdown. Thus, if you prefer the fastest speed for your pumping, you don't have to switch the feature off, and this is why it's actually the best breast pump for twins.
This pump has a total of twelve levels, and you can choose just any. These levels are designed to meet every mum's pumping needs, even those with inverted nipples. The control for suction strength is separate from that for the suction frequency, thus allowing one to adjust each separately to mimic their baby's nursing pattern.
Setting up is made easy with this breast pump as it has a memory feature that remembers your last "massage" and "normal" settings. It also has a backlit digital readout and a night-light to enable you pump at night without putting the lights on to avoid waking your baby.
Cleaning is super easy as the whole thing comes apart easily and the included collection bottles have wide-mouths thus easy to clean with a bottle brush. Also, it has large silicone membranes and, thus easy to wash.
Portability
The Spectra Baby USA-S1 is also very portable. It is pretty lightweight and small in size, so you can carry it around when you need to get something in the middle of pumping. But, what makes it even more portable is the fact that it can run on a rechargeable battery and the good thing is that it's included. And, since you can alternate plugging in and using the battery, this is also a very versatile and reliable breast pump.
Pros
Comfortable and secure carrying handle, smooth plastic, a round and friendly design

Portable

Lightweight (3.3 pounds)

It's super quiet. You can even answer your phone while pumping

Can be plugged in or use the included rechargeable battery

Easy to set up and use

It's a double electric pump

Highly customizable features to meet your needs

Has an inbuilt stopwatch to track session time
Cons
The battery takes longer to charge fully, but you will get three hours of pumping once full

Pumping with the nightlight feature on will drain the battery faster

It doesn't come with a carrying case, but the pump has a handle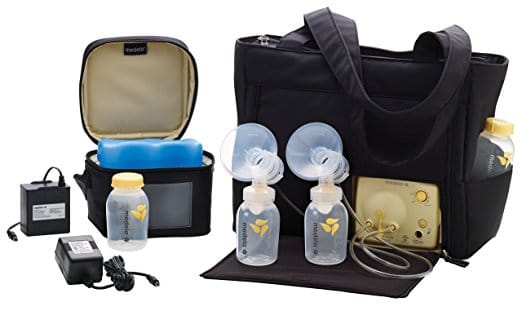 Why we like it:
This is the best portable breast pump, and the design fits moms who pump several times a day. It's the best double electric breastpump, and it comes with 8 AA batteries to give you an easy start of your pumping journey.
Editor's Rating:
Performance
The Medela Pump in Style comes up second because it's a little bit louder than the Spectra S1 and it also doesn't have separate suction speed and strength, but this is almost unique to S1 because most electric breast pumps don't have it. However, when it comes to finding replacement parts or accessories, the Medela Pump in Style Advanced breast pump is better because you can find any of the parts in most stores, unlike with Spectra S1 because you have to order online.
Again, the Medela breast pump is easy to customize with accessories from other companies. And, the S1 doesn't come with a carrying case while else the Medela Pump in Style Advanced comes in three versions: a backpack, the tote, and the metro bag.
If you really want a pump that mimics a baby, the Medela Pump in Style Advanced will do better as it starts with stimulation, unlike the Spectra that starts with the letdown mode.
The two pumps have one thing in common. That is, they either can be plugged in or run on battery. However, the Medela Pump in Style Advanced uses 8 AA batteries, meaning you'll have to replace them from time to time, but the S1 has a built-in rechargeable battery.
Portability
You will be able to keep your stuff organized in the tote because it's big and you don't need to keep readjusting it even though you can't pull the motor out. You will actually have enough room to carry extra items, so you don't really need to carry a pulse. It's also considerable lightweight, thus very portable.
Since the motor stays in the bag and you don't have to pull everything out since they all store nicely in the bag, setting it up and taking it down is pretty easy.
This breast pump's cooler holds up to four bottles, and the ice packs are so superior and they last long enough.
Pros
Great quality and very reliable

Great bag and handy cooler

Simple to use and easy to clean

Helps you maintain your milk supply

Covered by most insurances

Runs on AC power or 8 AA batteries (included)

Very portable
Cons
It's a little loud so pumping might not be that discrete, but not so much to be annoying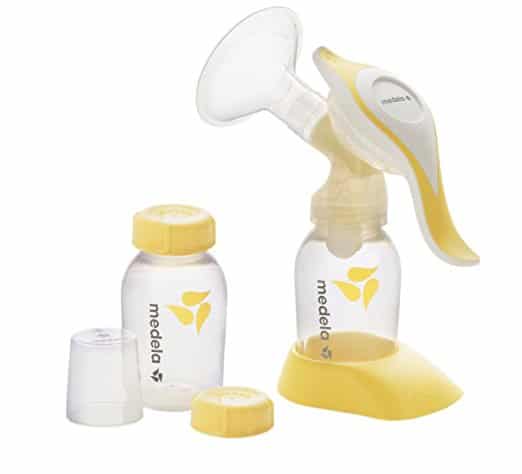 Why we like it:
The Medela Harmony is the best manual breast pump. It's easy to use and very effective. Its handle swivels, thus making it very comfortable to use especially for people who pump more frequently as you can always adjust it to the most comfortable hand position for you.
Editor's Rating:
Performance
The one thing that you should not forget to check when buying a manual breast pump is the handle action. The reason is simple; if the handle action is bad, the pump will be useless. The Medela Harmony manual breast pump's handle swivels a full 180-degrees, thus moving your pump into the stimulation mode. It's also pretty comfortable to use because you can adjust the grip to your best hand position. It actually does an excellent job of triggering the milk letdown.
Generally speaking, Medela Harmony has a smooth handle action and therefore, modulating the suction strength becomes easy.
Features
The pump also has a small divot that's located below the breast shield, and even though it might not seem like much, it not only makes the pump more comfortable but also intuitive to grip.
Again, if you have used manual breast pumps before you're probably aware of how the handle clacking against the bottle can be annoying. Luckily, the Medela Harmony has small bumpers that prevent the handle from reaching the bottle thus no clacking at all.
Portability
The pump is lightweight and small design, thus discrete and portable. Again, the Medela breast pumps have been around for a long time and as such, getting replacement parts and compatible accessories for customization isn't a problem. You will easily get them online or in brick-and-mortar stores. And, if you already own another Medela breast pump, the Medela Harmony manual pump will be a great option because most of the parts are the same such as the membranes, collection bottles, valves, and the breast shields.
Pros
Easy to use

Smooth handle action

Very comfortable manual pumping

Easy to clean-dishwasher safe (top rack)

Very portable
Cons
The pump seems to lose suction with time, and this happens when the rubber O-ring gets ragged, but you can simply replace it and go back to normal suction. And, you don't even have to buy online because they are available in most local stores.
Why we like it:
The one thing that stands out with the Philips Avent Manual Comfort Breast Pump is its breast shield. It comes with a silicone liner, thus feeling more comfortable compared to the plastic option because plastic is more rigid. Plus, the silicone liner is removable, and this is important. And, it's the Newer Model Avent, so definitely more improved.
Editor's Rating:
Performance
The Philips Avent Manual Comfort Breast Pump comes second in our list of the best manual breast pumps, and this is why:
First, despite it being just as effective as the Harmony at extracting milk, it lacks when it comes to customization. It's simply not as customizable.
Second, remember we mentioned that the Medela Harmony pump has a swiveling handle, but this one doesn't swivel so it's automatically not as comfortable. Again, you cannot adjust your grip, and this might be a problem with longer pumping sessions.
Lastly, the Philips Avent Manual pump's handle doesn't have a bumper to keep it from clacking against the collection bottle when you squeeze it all the way. As such, it creates a rather annoying clicking sound, but you can avoid it by not squeezing all the way.
Features
As noted above, this breast pump is just as effective at milk extraction as the Harmony. The few flaws do little to affect its performance and reliability.
Second, it costs just as much as the Harmony and the replacement parts plus accessories are easy to find in most stores.
Third, the Philips Avent Manual Comfort breast pump has larger components. As such, it's not only easy to clean, but also easier to assemble and disassemble. It's actually way better than the Harmony.
Lastly, with the Philips Avent Manual Comfort Breast pump, one can sit in a more reclined position when pumping because of its design. This is more comfortable compared to a hunched forward sitting position, which is the case with the Medela Harmony.
Portability
Hands down Philips Avent Manual breast pump is very portable. It's lightweight and in a compact design, thus enabling you to take it with you wherever. Again, since it's a manual breast pump, you are really not restricted by power outlets or battery power.
Pros
Considerably comfortable to use

Easy to disassemble and clean

Replacement parts and accessories are easy to find

Very effective at milk extraction

Very portable

Not annoyingly loud and definitely quieter than electric pumps

Great suction

Has a removable silicone liner thus more comfortable

BPA-free
Cons
Your hand will probably tire quickly during the first few uses, and this is because this pump's handle does not swivel and you cannot adjust your grip. However, it only takes a few times of pumping sessions to get used to it.
Why we like it:
It has great suction, it's easy to use, super quiet, and easy to clean. We also like the massage mode.
Editor's Rating:
Performance
For mothers who have just delivered, it can be frustrating and sensitive when breastfeeding. It's recommended to use 1-3 suction speed and strength level for pumping.
Moms who breastfeed naturally every day, a 3-6 levels suction mode is recommended since its comfortable and makes you enjoy the pumping process.
For mothers whose breasts are overfull and painful, the 7-9 levels suction mode is recommended as it helps relieve the pain.
Features
The SOMEX Cornetto Single breast pump is safe to use since its parts are made out of edible food Grade silicone and its FDA and BPA free. It also features a closed system design with a backflow protector to keep tubing dry. The closed system ensures that there is no room for bacteria or milk contamination.
The SOMEX Cornetto Single breast pump is super easy to use. It's electric and has great suction, and it's compatible with most cups. It's not hands-free because you have to keep your suction pump pressed against your chest, but this is easy to do. The massage mode comes first, and it prepares your nipple for the suction, and it's also super lightweight and has a built-in rechargeable battery, thus portable.
Adjusting the suction strength is easy, and parts are simple to assemble, sterilize and clean.
Portability
It's not a hands-free breast pump, but it's very portable. It makes discrete pumping possible and you can easily take it with you when traveling. Again, If you like to pump when holding or next to your baby, this breast pump will make it possible because it's not overly loud. The motor operates under 35dB, thus enabling you use the pump in the same room with your sleeping baby or partner.
SOMEX Cornetto Single electric breast pump features 3 main modes; Expression, massage, and auto mode. The Suction mode has 9 suction regulations that imitate baby's sucking, and the massage mode prepares the nipple for suction.
Lastly, you get a 30 days money back guarantee.
Pros
Has extra free valve

Has a USB cable

Has a Nipple with Lid

24mm breast shield

Closed system design

Built-in rechargeable battery

Easy to assemble and use

Has three smart modes

It's considerably quiet
Cons
Comes with no power adapter

It's not hands-free
Why we like it:
Double/Single Electric Breast Pump has two pumping phases; massage and breast-express phase.
Editor's Rating:
Performance
Elfinbaby single/double electric breast pump is a game changer for the busy moms. This double/single electric breast pump helps you express milk at once from both breasts or on one while the baby is feeding on the other. It has express and massage phases where the massage phase has 1 to 5 adjustable frequency levels with 1 being the weakest and acting as the milk production stimulator. The second phase, breast – express, has 1-9 adjustable low-frequency levels where 9 is the strongest level thus providing strong suction for effective breastmilk collection.
Features
This is another reason why we like elfinbaby Double/Single Electric Breast Pump. Some of the electric breast pumps are downright annoying since they are noisy. The last thing you want is to wake up the baby from their beauty sleep or disturb other people while expressing breast milk. For moms who love to have a quiet, nice, relaxing time while pumping breast milk Elfin baby electric is the breast pump for you. This breast pump is designed with a large electric LCD that allows you to see the screen at night clearly.
Elfin baby electric breast pump has tube connectors that are not complicated to use. If you choose to use two pumps to express milk from both breasts at the same time, you will need to switch the tube connector button to a middle position. If you choose to express with either the right or left pump alone, you need to switch the tube connector button to the RIGHT or LEFT position. After you are done expressing the milk, it's easy to clean the pump, and the bottle warmer is a plus as it's convenient and energy- saving. You can put the baby bottles in the warmer immediately after expressing the milk such that when you want to feed the baby, you won't need to re-heat the milk.
Portability
Another reason why we like elfin baby breast pump it's not bulky. You can take it to your workplace as it can either use a USB, AC adapter and the built-in battery can run for 90 minutes when fully charged.
Pros
Has LED with timer

Easy to use

Easy to clean

Very affordable

Comes with a bottle warmer

Very portable

Considerably quiet

Good size nipple cups

Adjustable suction
Cons
The elfinbaby Double/Single Electric Breast Pump has really great features, and very many users are satisfied with it, but it has one major downfall. It uses batteries, but you will have to replace them every so often which will be expensive in the long run. The only option left is to plug it in when pumping (no built-in battery) thus limiting your mobility. Other than that, it's a great breast pump.
Why we like it:
Gland double/single Electric breast pump has effective features which save moms time and stand up to extensive usage. It's the best on the go breast pump, and it's also compact and lightweight with four working modes.
Editor's Rating:
Performance
Gland double/single electric breast pump is comfortable for moms as it has several working modes. The working modes are Expression, Massage, Simulation, and Auto mode. The pump motor has a low noise for quiet pumping sessions even when your baby is around. It also has another important feature, the memory function, which helps to record your most comfortable settings for breast milk expression.
Features
Another reason we love Gland electric double/single breast pump it's because of the soothing suction pattern. For moms who are down for exclusive pumping, this breast pump will serve the course as it mimics baby's way of sucking starting with quick and short sucks to deep sucking patterns. You can easily move from one level to the other until you find the most comfortable and effective for your milk demands.
The Gland double/single Electric breast pump will make you feel safe to use as it's of high quality and the plastics connecting to your breast are covered with silicon which gives it a better suction. It is BPA free, and you can be confident that it doesn't contain any harmful substance. We also liked that it has a backflow protector to prevent moisture and milk from entering the tubing and it's also super easy to clean.
Portability- No limited mobility
Gland electric breast pump is a small and lightweight (2.2 pounds), yet powerful. It has a built-in rechargeable battery, and this adds to its portability. It's a perfect electric breast pump for working moms because the battery can be recharged by a power bank, or a computer even when on the go. And, the battery status show on the screen, so you will know when to recharge it.
Pros
Has a rechargeable battery

Very portable, compact, slim and lightweight

Very comfortable thanks to the four working modes

You can easily switch from double to single pump and vice versa

Easy to assemble, use and clean (has a closed system)

Comes with two milk bottles and a USB cable

Best electric breast pump for exclusive pumping moms

Very quiet
Cons
The Gland double/single Electric breast pump is a really great pump, but the buttons can be so sensitive. Ensure that it won't be brushing against anything because it might change modes.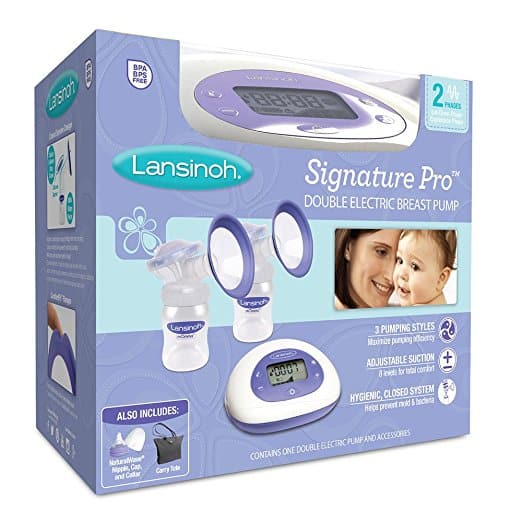 Why we like it:
This is a hospital style breast pump, and it's designed for maximum milk production. It's customizable for better efficiency and has a hygienic design. It's also the best budget-friendly double electric breast pump.
Editor's Rating:
Performance
With three pumping styles, Lansinoh Signature Pro Double Electric Breast pump gives you control over you pumping experience because they each have eight adjustable suction levels. It's a very customizable double electric pump, and this is great because each baby has a different feeding pattern.
Assembling this breast pump is pretty straightforward, and it's also easy to take apart thus easy to clean especially because of the hygienic closed system. If you need to pump frequently, this is the best pump for you.
Features
Everything is controlled is controlled by five simple buttons, and all the information is presented on the backlit LCD screen. And, the LCD screen has a timer to make it easy for you to know how long you have been pumping.
Included in the package is breastmilk storage bottles, two flanges, carrying tote, bottle stands, bottle nipple cap and collar, replacement parts and AC adapter. You pump directly into the Lansinoh breastmilk storage bags thus no milk transfers. It's also a double electric breast pump, so you get to pump both breasts at one, thus saving time.
It's also a comfortable breast pump to use even for inverted nipples thanks to the breast shiled, ComfortFit Flange. It's a 25-mm flange, but you can always go bigger with the Lansinoh's 30.5 mm flange.
Portability
If you'd like to pump on the go, the Lansinoh Signature Pro Double Electric Breast Pump will make it possible as it's not only lightweight but also in a compact design for portability. The pump has been around for many years, and it's a trusted choice by most breastfeeding moms.
Pros
Large backlit LCD Screen

Portable design

Hygienic closed system design

Three pumping styles

Eight adjustable suction levels

Runs on a power cord or six AA batteries

Has a great letdown feature

Best affordable double electric breast pump
Cons
It's noisy, but it's manageable

Doesn't come with a carrying bag
Why we like it:
This is the best single electric breast pump, ideal for traveling and also for new moms. It's so easy to assemble and use, and the LED display shows all the information clearly. It's also the best electric single breast pump for the money, and it has great suction power.
Editor's Rating:
Performance
If you are looking for inexpensive yet functional breast pump, Vakey Single Electric Breast Pump makes a good choice. It's easy and comfortable to use. It's also designed to mimic how babies such, so it's good for use even by new moms.
Features
The design prevents milk reflux thus no contamination, and you can be confident that your baby will be taking pure and clean milk. And, it's good to mention that it's compatible with most bottles so you can easily use the bottle you're familiar with as long as it has a standard mouth. It comes with a USB cable and a nipple with lid.
Portability
The Vakey Single Electric Breast Pump is slim, compact and lightweight. This makes it easy to take with you when traveling as long as you will have power outlet. It's also quiet, so if you need to pump discretely, then this is a good choice.
Pros
USB rechargeable

Very affordable

Great suction

Very compact thus convenient

Easy to use and clean

Very quiet

Portable

Ideal for traveling

Has a back-flow protector
Cons
Doesn't use batteries neither does it have a built-in rechargeable battery, so you have to plug it in when pumping, thus limiting your mobility.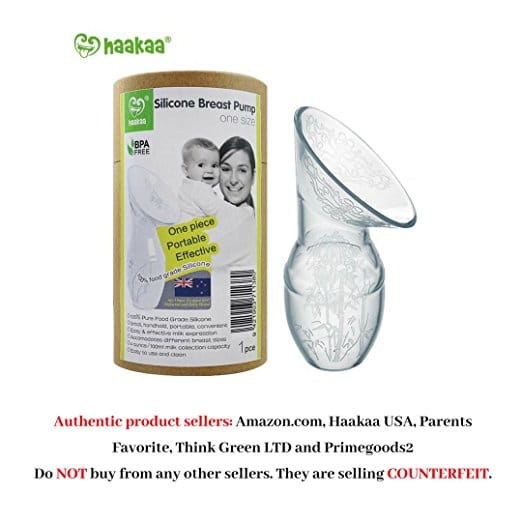 Why we like it:
The Haakaa Silicone Manual Breast Pump is the best affordable manual breast pump. It's very easy to use and clean.
Editor's Rating:
Performance
You know how nursing a baby on one breast or using a single pump always triggers a letdown in the other breast? Well, you don't have to let that milk go to waste thanks to the Haakaa Silicone Breast pump.
The suction is simple. It's a lightweight silicone pump, and all you do is squeeze the collection vessel then position the shield on your nipple and release the base. Even better, when done correctly, this pump can be used hands-free because it can hold itself in place. Once you are done collecting the milk, you can easily pour it in another container.
So, if you don't like milk leaking into your clothes or pads, this pump will help because this happens when you're pumping or nursing the baby one breast. It's also the best option for when you're engorged because you can express for comfort.
Features
The pump features a very simple design, but it's very effective for passive pumping. It doesn't come with a lid because it's not that necessary as you can just empty the milk in your storage container. However, if you really need one, you can just buy it separately.
Portability
The Hakaa manual breast pump is possibly the most portable breast pump out there. It's compact and lightweight and you don't need much space to carry it.
Pros
Very affordable yet effective

Easy to use and clean

Lightweight and compact

Best travel pump

It provides suction as well as acting as a drip catcher
Cons
It comes as a single piece, and it's not customizable.

The silicone knocks over easily, so you have to be careful when using it.
Guide to Buying the Best Breast Pump
What makes up a good breast pump?
Efficiency
The whole point here is to extract milk from your breasts, and the best breast pump should do this effectively.
Painless suction
At first, using any breast pump might feel uncomfortable, but it should be in no way painful. If the process is painful, then get rid of the breast pump.
Adjustable suction
What defines a breast pump suction is its frequency and the strength. The best breast pump pulls out the most milk per suction, and the frequency should be high. Now, owing to the fact that each mum have different preferences when it comes to pump suction, the best breast pump should have adjustable suction.
Quieter
Whether you will be using the pump at home, at work, or when on the go, too much noise will be a deal breaker. Manual pumps are quieter compared to electric types, but there are also many electric pumps with manageable noise. Make sure to confirm this before purchasing.
Reasonable price
A breast pump is important in many ways, but it's only useful for several months before your baby stops depending on breast milk. As such, they should be reasonably priced.
Versatile accessories
Nipples and breast vary. As such, any breast pump should have the necessary accessories to make it fit breasts and nipples of different sizes and elasticity.
Readily available parts
You cannot tell when one of the essential parts of your pump will break or go missing. But, you will feel at ease when you're sure of finding a replacement in your nearest baby products store or pharmacy.
Easy to maintain
There's a lot of cleaning required to ensure that you're giving your child the best milk. And, the many parts involved make the task even more complicated. To make it easy, go for minimal parts and avoid many tiny crevices because that's where bacteria are harbored.
Easy and quick set up
Some designs are too complicated, and they make assembly a nightmare. Go for simple, but functional designs.
Factors to consider when buying a breast pump
Portability features
A portable breast pump should be small, compact and lightweight to enable you travel with it whithout much hassle. Again, to ensure that an electric breast pump won't limit your mobility when pumping, it should have an inbuilt rechargeable battery or should operate on batteries.
Easy to use and clean
Taking care of a little one is work enough, and you definitely don't want to make it worse by getting a complicated breast pump. The best breast pump should be easy to assemble, easy to use and also easy to clean.
Automatic/manual pumping
Depending on how often you will be pumping, you can go with either a manual or electric breast pump.
Single vs. dual pumping
Some people prefer pumping one breast at a time or one while the baby is feeding on the other, while others like to do both simultaneously. If you're a busy mom, an electric double breast pump will come in handy.
BPA and phthalate content
You want to make sure that your kid is having clean milk and so go for BPA free breast pumps. Also, have the milk storage options in mind.
Expression phases
Most best breast pumps have three or four expression phases. Basically, to have an easy time, ensure that the pump can mimic mouth sucking, otherwise, it will feel awkward.
Bottle compatibility
If you prefer certain bottles, ensure that the breast pump you are about to buy is compatible with them. Some pumps will only work with the bottles they come with.
FAQs
Do you need to get a nursing bra?
Nursing bras are more of convenient buys, so it's not a must to get one along with your breast pump. However, they come in handy when you need your hands free when pumping to do some simple tasks.
What's the difference between a multiple user and single user breast pump?
As the names suggest, a single user breast pump is designed for use by just one person, and it should not be borrowed or rented. On the other hand, a multiple use breast pump feature a design that keeps the milk from reaching the pumping mechanism and they are thus safe to share.
Difference between open and closed system pumps
This is where the question of buying and renting question comes in. A closed system pump has a barrier between the milk container and the pump mechanism, thus preventing dirt and bacteria penetration from outside. If you are renting a breast pump, make sure that it has a closed system. The open system pump is okay for single users, but you should be careful to clean it properly.
Note:
For the moms who will be going back to work after a few months from delivery, the federal law clearly states your right to reasonable breaks and a private place to pump. This is good to know because otherwise, you might have a hard time adjusting, so let your employer know. The best breast pump will make things easier and help you enjoy taking care of your little one. Good luck!