Even though there are efforts to improve health care, the bottom line is every person has to do their part. One of the common ways we mistreat our bodies is consuming food that is not good for us.
So what do you do when it comes to the health of your baby? How do you manage a diet for a newborn?
We think it is a good idea to play it as safe as possible. Consequently, we highly recommended an organic baby formula. Organic baby formulas remove the artificial ingredients for a more natural diet.
Are you looking for some helpful advice and even recommended products? We have put together the best organic baby formulas buyer's guide and product reviews for you!
Features to Consider in Good Organic Baby Formulas
There is an increasing number of healthy options available for all people. It doesn't necessarily make them all verifiable and legitimate. Let's examine a few things you need to do to get started shopping for the top organic baby formulas…
Do All Organic Formulas Work?
Let's first clear up confusion. Just because a formula is organic doesn't mean it's safe to use. Organic products aren't cheap and to keep prices low some brands add lower quality ingredients such as canola oil, which isn't as beneficial as coconut oil. As a result, it is important to study the contents of each label closely.
Features You Want in Baby Formulas
The best organic formulas on the market will boldly state these ingredients:
Lactose to improve taste, instead of synthetic variants or real white sugar.
Oils from vegetables or fish; but try to avoid palm oil.
Whey protein rather than synthetic proteins. It digests easier.
Organic milk – usually from cows – which is ideal unless a baby has allergies. If that is the case a soy formula is a good alternative.
The best sign that you're purchasing a safe product is to look for organic certification. The certification is provided by the USDA as proof that no synthetic chemicals or genetically modified seeds were used during production.
What Should You Avoid?
Some ingredients sound good, but they don't benefit the health of your baby. Of course, any non-organic product immediately ruins the entire product. If you find large quantities of these items, it is best to look elsewhere:
Corn sugars.
Canola oil.
Gluten.
GMOs.
Preservatives.
Soy because it is usually modified genetically.
Palm oil or oil which can prevent the absorption of calcium and fat.
Carrageenan, which is a natural product but can cause inflammation.
Synthetic ingredients, even if it's named as a nutrient.
Sugars other than lactose as they are linked to over feeding and obesity.
DHA which can help with development, but are usually extracted through hexane. There is not enough evidence on this type of DHA to understand if it is beneficial or harmful. Some children react negatively to it.
Another helpful piece of advice is to consider your location when purchasing an organic baby formula. Why? A) Even though Europe (namely Germany) is highly regarded for making its own organic baby formulas, not all of them are readily available in other countries. So the demand may be high enough that it is hard to consistently find the product in stock. B) The organic certifications provided in the U.S. have different standards compared to the United Kingdom and other parts of the world. So make sure you investigate further if considering a foreign product.
Now that you have a little background with organic baby formulas let's dive into our top ten favorite selections:
Top 10 Best Organic Baby Formulas 2023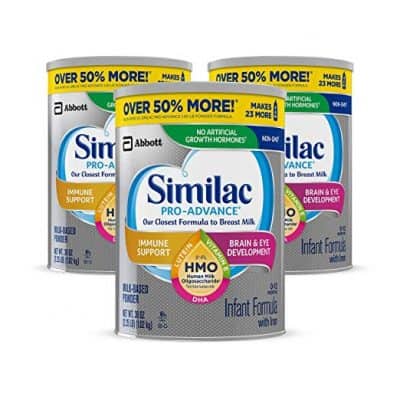 Why we like it:
The Similac Pro-Advance Non-GMO Infant Formula is designed with premium ingredients. The milk delivers immune support while also encouraging immune cells to release protective proteins comparable to natural breast milk. Similac has created a formula that has absolutely zero artificial growth hormones.
Editor's Rating:
The Similac Pro-Advance Non-GMO Infant Formula advertises that parents report a reduction in fussiness, crying, gassiness, spit-up after just one day of using the baby formula. It is a reliable brand as Similac is the number one used baby formula in hospitals.
Ingredients
The organic baby formula is terrific for immune support. If your baby has a sensitive stomach you may want to consider the product. The 2' FL human milk oligosaccharide is one of the closer recreations of actual breast milk that we have ever witnessed.
The product also doesn't contain any artificial growth hormones. Furthermore, it is good for brain and eye development. The ingredients DHA, Lutein, and Vitamin E help with growth and development.
Unique Features
Similac prides itself on creating one of the most natural, and authentic baby formulas similar to actual breast milk. The elimination of artificial growth hormones is another great feature of the product. The formula is also sold in a value size that offers 50% more powder than the standard 1.45 lb. container.
Warning/Side Effects
The baby formula does contain DHA which not every parent supports. The ingredient is a hot button issue in the world of baby formulas. We recommend doing some further research on the subject before making a buying decision.
Will Your Baby Like it?
Similac has attempted to replicate the taste and ingredients of natural breast milk as closely as possible. Though it is unreasonable to find an identical match, most babies can adapt to the new solution over a little time.
Pros
Produced with a milk very comparable to actual breast milk

Contains zero artificial growth hormones

Helps reduce negative symptoms of a baby formula
Cons
Formula does contain controversial DHA

Costly organic baby formula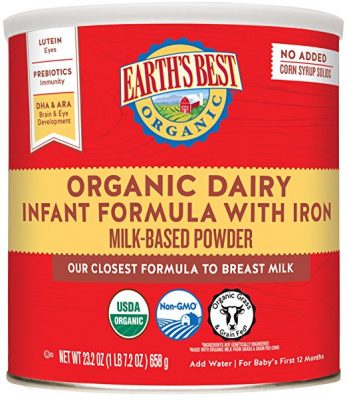 Why we like it:
Earth's Best Organic Infant Powder Formula used to contain corn syrup. However, the brand revisited its ingredients and came up with a solution that is far better for the long-term health of your baby.
Editor's Rating:
If the brightly colored tub catches your attention it's a good thing. This formula contains lactose which is an excellent source of that desired sweet taste as well as necessary carbohydrates. The cows where the milk is sourced from are grain and grass fed.
Ingredients
Another excellent product containing lactose. The formula also provides organic non-fat milk and whey protein concentrate. Do take note of some worrisome ingredients such as:
Palm oil
Synthetic nutrients
Soy
DHA (thought it's water extracted)
Unique Features
This product's claim to fame includes:
The DHA is water extracted.
It's FDA approved as infant (not only toddler) formula.
USDA certified as organic.
Cows where the milk is sourced are fed a natural diet.
Warning/Side Effects
The added iron gives the formula an extremely metal smell and taste. Some parents may notice their children unwilling to taste it. There are also some complaints about constipation.
Will Your Baby Like it?
The protein is fairly easy to digest even if the taste is not all that grand.
Pros
Great prebiotic level for babies with sensitive stomachs (prevents excessive gas)

Contains lactose

Proteins are easy to digest
Cons
A few worrisome ingredients

Contains DHA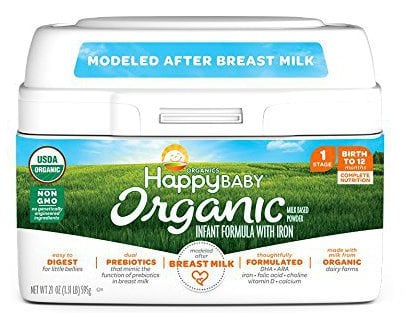 Why we like it:
The product claims that it is modeled after breastmilk. As a result, it makes the Happy Baby Organic Infant Formula an easy transition from natural breastfeeding.
Editor's Rating:
Breast milk was used as inspiration for creating the formula. It resembles breast milk in many ways like the prebiotics it contains. The formula is designed to provide adequate nutrition from birth up to one year of age. It is certified as organic by the USDA. The handy, square container makes packing and storage simple.
Ingredients
You need to decide whether these ingredients are safe for your baby. A few of them are controversial:
The milk is sourced from organic farms.
Delivers prebiotics at the right concentration for a supreme diet.
It contains DHA and ARA which can benefit your baby's development. However, the value of DHA and ARA is debated by industry insiders.
Unique Features
The Happy Baby Organic Infant Formula has one of the highest levels of prebiotics on the market.
Warning/Side Effects
Though a high concentration of prebiotics is healthy, it can also cause excessive gas as well as discomfort. Therefore, it may not suffice for babies with sensitive stomachs.
Will Your Baby Like it?
Since its effects resemble that of breast milk—creating healthy flora in the baby's stomach—your child may absolutely love the formula. However, the resemblances are mostly in ingredients, not texture. It may take some time for the baby to get used to the texture. The thin consistency is unfamiliar at first and requires higher doses to get the proper amount of nutrients.
Pros
No gluten or corn syrup

No GMOs

Designed for easy digestion
Cons
Makes some babies very gassy

Thin consistency not for every baby

Contains DHA which not all parents approve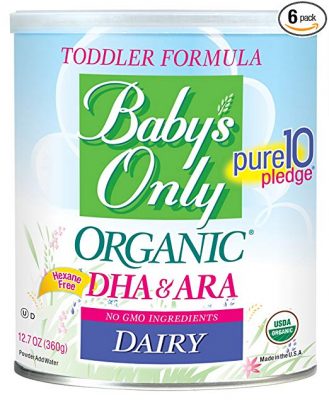 Why we like it:
Baby's Only Dairy with DHA Toddler Formula is sold with some high honors. It is rated "Best in Class" for Purity and Nutritional Superiority by the
CleanLabelProject.org
. It is an applaudable rating consider Clean Label Project tests over 500 different baby formulas and foods. Additionally, the non-GMO baby formula is certified USDA organic.
Editor's Rating:
The highly rated organic baby formula is non-GMO. Additionally, even though the product contains the controversial DHA it is non-hexane processed which makes it safer to most parents. The formula is packaged in 100% BPA free containers and created right here in the United States.
Ingredients
Some consumers may bat an eye when they find out the Baby's Only Dairy Toddler Formula contains DHA. However, the organic DHA is naturally sourced from egg yolks. It is not extracted with hexane which many believe is far healthier. DHA is known to have some benefits for brain and body development.
Additionally, the formula features several other organic ingredients. The balanced nutrition is GMO and gluten free. No hormones or antibiotics are used to treat the cows that produce the dairy. The brand also avoids feeding its milk source with feed that contains pesticides or fertilizer.
Unique Features
Baby's Only has done whatever it takes to create a very natural, safe organic baby formula. The non-hexane approach to processing DHA is considered much healthier. Even special measures are taken to make sure the packaging is safe for your child. The formula is highly rated by the Clean Label Project and USDA.
Warning/Side Effects
Even though the DHA is not extracted with hexane there is still some controversy regarding the ingredients. Some parents prefer to avoid it altogether.
Will Your Baby Like it?
The taste is always acquired by a baby and the transition from breast milk to a formula is not always a quick one. Each baby is different. However, you should start to notice a healthier baby based on the high nutritional value and contents.
Pros
Highly rated organic baby formula by Clean Label Project

Certified organic by the USDA

Container and packaging is 100% BPA

Gluten free

Non-GMO

Specialized process for DHA extraction using natural ingredients
Cons
Contains DHA which is dealbreaker for some parents

Not the cheapest formula available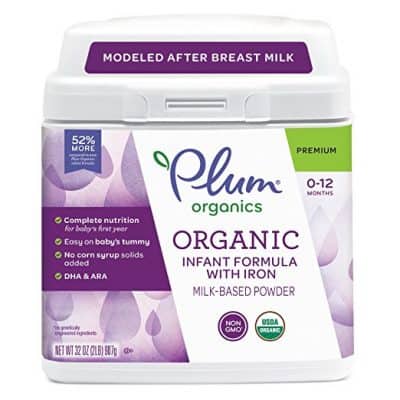 Why we like it:
The Plum Organics Grow Well Organic Infant Formula is certified for infants as well as toddlers, unlike a lot of other products on the market.
Editor's Rating:
The Plum Organics Grow Well Organic Infant Formula is one you can trust because it contains lactose instead of other sweeteners. The formula is also certified safe for both infants and toddlers, where many other products are only certified for toddlers. The product is shipped in a square container that doesn't get beat up in the process.
Ingredients
The formula has the benefit of lactose instead of other sweeteners. Your baby also gets whey protein. You should note these ingredients as some of them are controversial:
Soy oil
DHA
Palm oil
Soy lecithin
Synthetic nutrients
Unique Features
The milk products are sourced from organic farms so you know your child gets the best. The DHA will benefit your baby's brain and eye development, though some consumers prefer to steer clear of these substances. It would have been better if the DHA wasn't extracted through hexane yet some parents are still okay with the ingredients.
Warning/Side Effects
There are some consumer complaints about babies getting constipated.
Will Your Baby Like it?
Your baby will probably take a liking to it because lactose is used to sweeten the formula, However, it is not the best tasting formula on the market.
Pros
Non-GMO ingredients used in formula

Lactose is used to sweeten milk and provide carbs

Safe for newborns and toddlers up to 12 months

Ingredients mostly safe for sensitive stomachs
Cons
Some questionable ingredients

Contains DHA which some parents don't like

Taste is debatable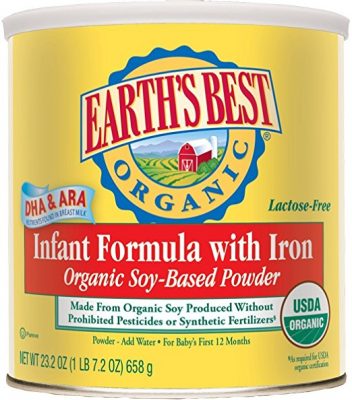 Why we like it:
The combination of ingredients caters to certain niches, especially parents that want to avoid lactose. It is a good solution for folks that want balanced nutrition and all the vital components of a diet for their little one.
Editor's Rating:
Earth's Best Organic Soy Infant Formula is a solid choice for the baby's first year. The balance formula works well if the child is lactose intolerant. The ingredients were carefully selected to closely resemble actual breast milk. It is a good transitionary fluid.
Ingredients
The Earth's Best Organic Soy Infant Formula is soy based. However, it is one of your better options if you have a lactose intolerant baby. The product also contains a large amount of iron and supplements like vitamins.
There are high levels of DHA which is beneficial for baby development though some experts disagree on its range of effectiveness. Parents also feel differently about DHA. Organic glucose syrup is used to sweeten the milk due to the absence of lactose. It is not the most healthy option and can lead to a hyper baby.
Unique Features
The lactose free formula features high iron levels. It also has some of the highest levels of DHA found in baby formulas, making it an ideal option if you trust the substance for its developmental benefits. The product is both Kosher and USDA certified organic.
Warning/Side Effects
The high sugar levels can make a child hyperactive.
Will Your Baby Like it?
The formula tends to get very frothy during mixing. If your baby isn't used to the texture it could prevent the child from wanting to taste it. The foam can also cause more gas than ordinary. There is the ability to adjust the mixing method (stir instead of shake) to try and counter the dilemma.
While the ingredients resemble breast milk the taste is not similar. Your baby may find it too strong as it can smell like metal or fish.
Pros
No lactose

Balanced nutrition for lactose intolerant babies

Organically certified by USDA
Cons
DHA is extracted with hexane

High iron levels create strong smell

Doesn't provide the best taste for a formula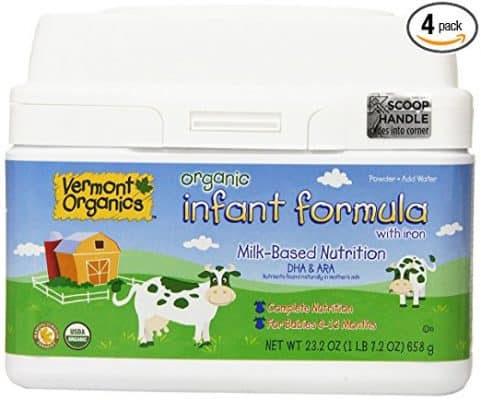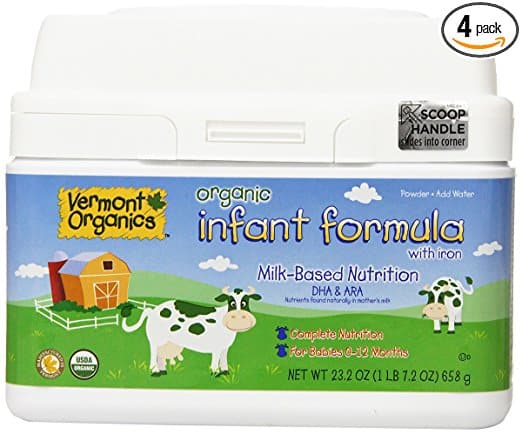 Why we like it:
In addition to practical nutrition, the Vermont Organics Milk-Based Organic Infant Formula is packaged really well. The container provides a convenient scoop handle during feeding and then tucks into a corner for improved storage.
Editor's Rating:
Vermont Organics presents parents with a balanced formula. The ingredients provide all the necessary components a baby needs during its first 12 months.
Ingredients
The Vermont Organics Organic Infant Formula is a milk based substance. The ingredients include both non-fat milk (which contains lactose) and some glucose. Glucose adds sweetness yet isn't the most healthy ingredient.
The oils are organic yet includes palm and soy oil. Both DHA and ARA are present to help with the development of a child. However, some parents are opposed to having the ingredient in a baby formula.
Unique Features
There's a focus on giving you no:
Pesticides
Antibiotics
Growth hormones
It's certified as organic by the USDA and Quality Assurance International 02FTP.
Warning/Side Effects
Look out for signs of constipation. Please discontinue if it occurs. There is also a concern that some of the nutrients are left behind at the bottom of the bottle since the formula doesn't always dissolve correctly.
Will Your Baby Like it?
The added sugar will make it tastier than some other products mentioned on the list. However, it may have a gritty texture to it which some babies won't like.
Pros
Practical container with scoop

Focus on environmental sustainability during manufacturing

Products sourced from free roaming cows

Affordable organic baby formula
Cons
Contains soy products

DHA extracted with hexane

Difficult to dissolve

High sugar levels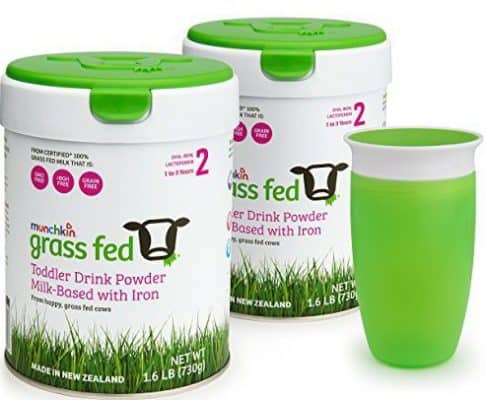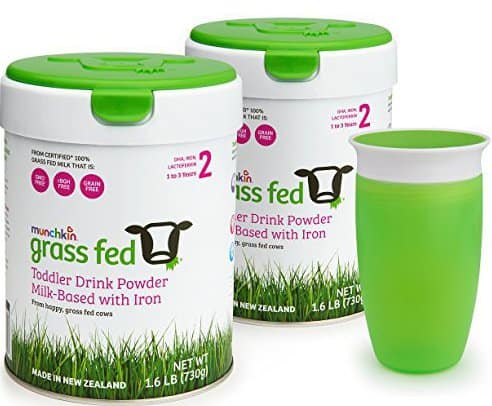 Why we like it:
The Munchkin Grass Fed Toddler Milk Drink is adept at producing extremely healthy ingredients. The milk is only sourced from grass fed cows. The product does not contain any controversial ingredients like maltodextrin.
Editor's Rating:
We should begin by letting you know that the Munchkin Grass Fed Toddler Milk Drink is not a certified organic product. However, it contains many of the substances parents traditionally search for in other verified organic foods. Consequently, if you can make peace with not seeing the certification label than you will likely appreciate the baby formula.
The Munchkin product is GMO free. It is intended for children up to the age of three which makes it a long-term formula. It is not specifically designed for infants so it may lack some vital nutrients necessary for newborns.
Ingredients
The formula contains skim milk from safe sources and also has lactose. The lactose helps with nutrition and also enhances the taste. the product does have some soy ingredients and processed items, so if you know your baby is sensitive to these ingredients you will want to shop elsewhere.
Unique Features
Milk ingredients are sourced from happy, grass fed cows from New Zealand. The brand claims that 100% of the milk is sourced from grass fed cows. Additionally, there is an immunity booster called Lactoferrin in the formula.
Warning/Side Effects
The Munchkin Grass Fed Toddler Milk Drink is not certified as organic by the USDA.
Will Your Baby Like it?
The sweet taste allows most babies to warm up to the formula sooner than others. However, every baby is different so there is no guarantee your baby will like the taste.
Pros
Milk 100% sourced from grass fed cows

No GMOs or antibiotics

DHA and ARA are hexane free
Cons
Skim milk used

Not organic certified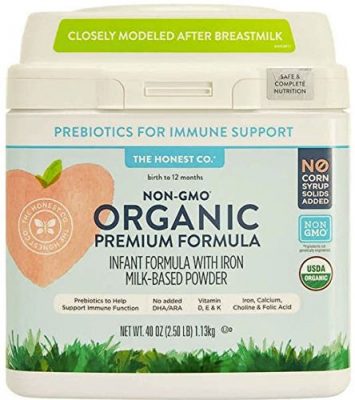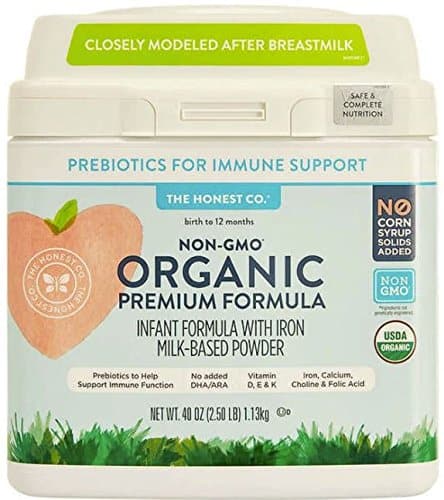 Why we like it:
Honest Company has created a standard formula is impressive in its own right. It provides parents with a healthy alternative if they wish to steer clear of DHA. There is also no corn syrup used in the formula. It is great to see Honest Company live up to its name and offer a fully transparent product.
Editor's Rating:
The Honest Company Organic Non-GMO Premium Formula is all about giving babies the highest quality ingredients. It is refreshing to see that Honesty Company has bypassed DHA and other controversial ingredients. Iron supplements brain development since the product lacks DHA.
Along with a balanced meal for your baby you get additional prebiotics to improve the immune system. The packaging it also resourceful as the contents are shipped in a square container that is easy to hold during feeding times.
Ingredients
The balanced formula is enhanced by:
Iron
Vitamins
Calcium
Choline
Folic Acid
Unique Features
The formula delivers prebiotics meant to support the immune system. It is also easily digestible. The formula contains high amounts of iron.
Warning/Side Effects
It is important to always study the discomfort of your baby when putting them on a new formula. There are a few complaints that the formula may cause constipation.
Will Your Baby Like it?
Since it contains lactose the liquid food should taste sweet enough for babies to love it.
Pros
Helps the immune system

No corn syrup or gluten

No GMO

Milk sourced from grass fed cows
Cons
Expensive option

Contains palm oil

Contains soy ingredients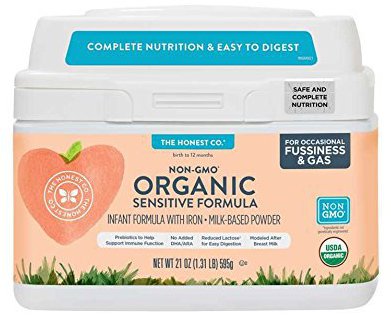 Why we like it:
Another baby formula produced by the Honest Company to make the list. The product rates well for two reasons: A) It offers lower levels of lactose if your baby has trouble digesting it, and B) none of the ingredients are extracted with hexane.
Editor's Rating:
The formula is a reduced lactose product yet not completely free of the ingredient. If your child is fussy at times due to lactose, it is a great alternative since it only contains 26% of lactose compared to other products we have reviewed. The lower lactose levels should also reduce gas. The Non-GMO Sensitive Infant Formula also does not contain DHA.
Ingredients
Organic milk sourced from grass fed cows is used in the product. Additional protein is garnered from whey protein. The carb source is reduced lactose and your baby benefits from added vitamins & minerals. In terms of fat you'll like the organic coconut. However, the formula still includes palm oil and soy.
Unique Features
The content of the formula features 74% reduced lactose. The formula is easy to digest and has fewer clumps compared to other brands.
Warning/Side Effects
The formula will have adverse effects on babies that are completely lactose intolerant. It is a good suggestion to stir the formula well then shake it before feeding. It tends to produce a lot of foam and bubbles which will make the baby gassy. There is also the potential for constipation like most baby formulas that are available. Please make sure you stop using if the formula causes pain or noticeable changes in digestion.
Will Your Baby Like it?
The Honest Co. Non-GMO Infant Formula closely resembles breast milk. It works well as a transition from breastfeeding to the bottle.
Pros
Reduced lactose helps with digestion

Grass fed cows used as milk source

No DHA (which is a drawback if you actually want this for your baby)
Guide to Buying the Best Organic Baby Formula
Now that you have reviewed and considered our ten best organic baby formulas available for 2021, let's get into some more details…
Baby Formulas Encourage Good Health
It is natural to think all is well when a newborn is alive and healthy. How can you possibly think otherwise with such an adorable face? However, the baby is still counting on you in terms of feeding. You need to make sure you supply your little one with the proper nutrients in order to provide the best opportunities for growth and good health.
Do you know about everything that is going into the body of your son or daughter? You should because it is incredibly crucial!
Your baby's health dictates its future:
Organic baby formulas ensure ideal development of bones and muscles. Malnourishment may affect bone strength and even the height of your child.
If your baby experiences adverse health challenges at a young age it will limit development. It could also predispose the child to contract diseases in the future.
Allergies that are activated now may take a long time to counter. Natural ingredients are the best remedy for allergies.
Providing your newborn with a natural diet is a priority for many parents. Organic baby formulas are your best option for transitioning from breastfeeding to the bottle because organic foods are usually produced without substances that could encourage allergies or illness.
Organic Baby Formulas – What makes them the best?
Of course breast milk is best for babies yet it is not always practical for every mother. Regardless, a super healthy alternative is organic baby formulas.
It is important to study every single ingredient involved in the formula. It sounds like a tedious task yet is crucial during the "trial and error" phase of finding the best organic baby formula for your baby. There are side effects to just about every ingredient on earth, even natural ones.
Ingredients to Avoid in Any Baby Formula
Regular formulas as well as organic formulas contain these ingredients which can have adverse effects:
Fatty acids such as DHA/ARA: The controversial ingredient has mixed reactions. Though it can help with baby development it also has the potential to cause vertigo, anorexia, or diminish the reflexes of a baby.
Carrageenan: In extreme cases carrageenan can cause tumors or ulcers. Inflammation is the most common side effect.
Soy: The ingredient can negatively impact various natural processes such as thyroid functioning, brain development, and immunity.
Palm oil: It is an extremely unhealthy oil which can affect bone density and even turn into a soapy substance in the digestive tract of the child.
All of the above mentioned ingredients are common in regular formulas. Consequently, you should try to avoid them at all costs since the ingredients are deemed unhealthy, especially for a little one. However, it doesn't necessarily mean all organic formulas avoid DHA, ARA, soy, or palm oil too.
Baby Formula Containers
How far are you willing to go to guarantee an absolutely healthy diet? In addition to making yourself aware of baby formula ingredients, parents should also consider how the formula goes from container to bottle to mouth.
The Formula Container
Does the formula container carry any health risks? It was a huge problem a few years ago because the linings of cans contained BPA. Thankfully, the linings are now banned in the United States. So make sure you order from a reputable company that doesn't operate outside the confines of U.S. approval.
The Bottle
You probably know plastic isn't always the best answer. The good news is BPA free plastic is now available and included on some types of baby bottles. It is a good idea to consider investing in one for the safest route possible.
The Water
Even the water going into the containers can carry health risks. Whenever you prepare a new bottle it is wise to depend on filtered water. Tap water and formula are considered safe by most to consume separately. However, fluoridated tap water along with fluoride in the formula enhances fluoride in a baby to above acceptable levels. Filter your water to eliminate one more risk from your baby's diet.
Organic Milk – How is it made sweet?
One dilemma that parents using organic baby formula struggle with is getting the baby to like the taste. Organic products lact the sweetness of regular formulas that are considered less healthy. The alternative is to make the milk sweet like breast milk, yet healthy at the same time.
In the past baby formula brands have attempted to cut corners by increasing sweetness through unhealthy means. You should avoid the following sweeteners in baby formulas, some of which even appear in organic products:
Brown rice syrup which is banned because it may contain arsenic.
Corn syrup which isn't healthy.
Plant based sucrose which can cause obesity.
Acceptable Sweeteners
There are milk sweeteners available that improve the taste yet are deemed healthy:
Lactose: It is the best natural milk sweetener. However, some manufacturers avoid it because of its high costs. If you find lactose in a baby formula you have found a winner!
Maltodextrin: Is extracted from rice, corn, or potatoes. Maltodextrin does have a natural origin. It also helps make the formula dissolve. However, it has few health benefits yet is considered slightly better than sugar.
Tips to Help You Shop for Organic Baby Formula
The ingredients must provide your baby with the necessary components:
Fats
Carbohydrates
Proteins
While not mandatory, these components add to the value of the formula:
Prebiotics
DHA (some argue it is good for babies)
Artificially built nutrients. Another controversial term since some parents seek an all-natural formula.
We're not all trained dieticians. So how will you know what is really inside the formula you use? Let's share a few secrets so you can shop smarter:
Remember milk from cows also contains lactose. A manufacturer may decide to only list milk as an ingredient yet doesn't mean it's lactose free.
Prebiotics always sound great on a list of ingredients. Yet they are only helpful to a certain level. Some babies have digestive systems that react negatively to prebiotics. It doesn't really work for little ones with sensitive stomachs.
Organic Baby Formulas for Premature Babies
A premature infant is generally more sensitive during feeding. It is partly because of their immune systems which are not fully developed at the time of birth.
Unfortunately, a mother with a premature baby has an even harder time shopping for suitable baby formula. There are several products that are not recommended for premature babies. One reason is that the powder is usually not sterile and with an immune system that's not fully functional yet, a premature baby may contract a disease.
Therefore, it is recommended that you discuss a premature newborn's diet with a doctor. The doctor can test for baby deficiencies or other risk factors you need to make yourself aware about. It will help you determine which ingredients are safe for consumption.
Final Words
So have you found the ideal organic baby formula for your baby?
If not, make sure that you are patient. Finding the best organic baby formula is an investment. It requires an investment of your time, energy, and money. However, it does pay dividends when you find the best baby formula and can guarantee the proper diet for a baby.
Organic baby formulas provide the greatest opportunity to ensure long term health, growth, and development.