Thinkbaby Safe Sunscreen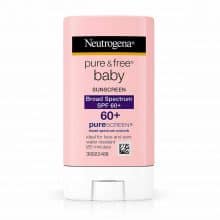 Neutrogena Pure & Free Baby Mineral Sunscreen Stick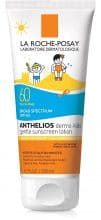 La Roche-Posay Anthelios Dermo-Kids Gentle Sunscreen
Previous
Next
The spring and summer months are always a welcome escape from the cold. You can get back outside, enjoy the beach, relax by the pool, and revel in the pleasure of a more extended day. The only downside to some good old summer fun can be, oddly enough, the sun.
The thing that makes summer feel so rejuvenating is the same thing that can damage your skin and cause burns. As parents, you already know this. While the summer may be tough on your skin, the harsh UV rays that the sun emits can wreak havoc on your baby's skin as well.
A baby's skin is 30% more sensitive than adult skin, which means that the sun can cause more damage than you expect. This is why choosing the best sunscreen for your baby this summer is essential. Don't panic, because we have your back. Today, we'll be showing you the 10 best baby sunscreens and how to find the perfect fit for your child.
Features to Consider in Good Baby Sunscreens
Sun Protection Factor Rating
The sun protection factor (SPF) rating is the first thing you need to look for. The rating is numerical and is an excellent indicator of how much sun will be blocked by the sunscreen. The numbers vary, but for babies, SPF ratings above 50 are generally safe. For adults, the safe numbers are much lower, but remember your child's skin is more sensitive than yours. So, that SPF 30 that you have lying around might not give your baby enough protection.
Application
There are a lot of different ways that sunscreen can be applied to the body. There are spray bottle options, lotion options, and even stick-based options. Each option has its strengths, but for the most part, it comes down to your preference. One thing we will say is that babies tend to respond better to lotion sunscreen because it puts them at ease while you apply it.
Size
Sunscreen, as with any other skincare product, is going to come in different sizes. You'll see plenty of sunscreen options that are between 3 and 6 ounces, and these are the average. If you're not sure how much sunscreen you'll need, always keep in mind that the average adult needs about one fluid ounce of sunscreen per application. Since your baby is smaller than you, about half an ounce is enough to use for a child.
UVB and UVA
There are two different types of ultraviolet rays that the sun emits. UVB rays are the most common for cases of sunburn and skin cancer, while UVA rays tend to penetrate deeper within the skin. When shopping for sunscreen, especially for your baby, you should always make sure that the sunscreen you choose protects against both UVB and UVA rays. We go into more detail about this in our full buyer's guide at the bottom.
Top 10 Best Sunscreens for Babies 2020
Choosing the Right Sunscreen for Your Child
Now that you've seen the products, it's time to go over the actual buying process. We've talked about mineral formulas, oil formulas, UVB and UVA protection, and specific SPF ratings. We know this can all be a bit overwhelming, or even confusing, so let's take a look at what this all means for you and your child.
Broad-Spectrum Protection
We've spoken a lot about UVA and UVB protection, but what does that mean? When looking at sunscreen, labels will typically read "broad-spectrum protection." All this means is that the sunscreen is protecting against both types of dangerous UV rays that the sun emits. For example, UVB rays cause damage beneath the skin, while UVA rays cause common ailments like skin cancer and sunburn.
For your child, you'll always want to use sunscreen that offers broad-spectrum protection. Infants may be resilient, but their young skin comes with an increased risk of developing cancer and burns. Luckily, products like Thinkbaby Safe Sunscreen and Babyganics Sunscreen Lotion come with high SPF ratings and broad-spectrum protection that will keep your child safe. If you would like some more information about SPF ratings, and how they work, you can always check this chart.
Mineral Sunscreen Versus Oil Sunscreen
There are two main types of sunscreens that you'll come across, and both mineral sunscreens and oil sunscreens have their benefits. Mineral sunscreens are derived from vitamins and minerals, and instead of being absorbed by the skin, they act as a barrier between the sun and your skin.
Mineral sunscreens are an excellent choice for children because babies under one year old may reach poorly to certain formulas being absorbed into their skin. So, if you want to go the mineral route, be sure to check products like Australian Gold Sunscreen or Blue Lizard Sensitive Sunscreen.
Oil sunscreens work in a similar way to mineral sunscreens, but the skin absorbs the formula to act as a barrier. Oil sunscreens typically provide better water resistance, but for young children (under six months), it's best to shy away from this formula. If you're shopping for a toddler, a great choice is La Roche-Posay Sunscreen.
Spray-On Versus Lotions Versus Sticks
There are three common application methods, and we've touched on each system briefly, but it's essential to understand how each type works and how they can benefit your child.
Spray-On
Spray-on sunscreen is excellent for portability, and it's hard to use more sunscreen than you need. Spray-on sunscreen offers the same level of protection as lotion sunscreen, but there is one downside you should be aware of. Spray-on sunscreen has a more challenging time being absorbed by your child's skin, and spray-on sunscreen is not the best for water resilience. While this may be the case, spray-on sunscreen shines when using it for quick walks or quick beach trips. Spray-on sunscreen can also offer more than one benefit, like how Babyganics Baby Sunscreen and Bug Spray provides additional protection from insects.
Stick
Stick sunscreen functions the same way that a stick of deodorant does. On the bottle, there will be a small lever at the bottom to raise the rod accordingly. Stick sunscreen is excellent for young children because it can be applied to hard to reach areas with ease. The only downside to the stick design is that it comes with a meager amount of sunscreen. Also, if left in unfavorable conditions, the stick can become obsolete well before you run out of sunscreen. If you like the idea of a stick-based sunscreen, the Neutrogena Water Resistant Sunscreen is a great choice.
Lotion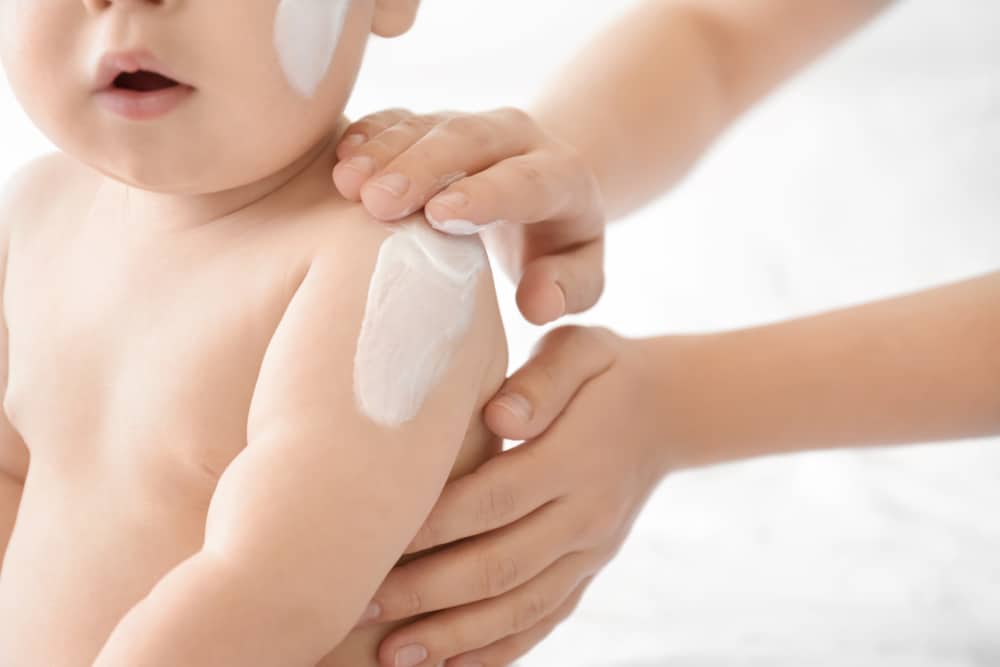 Lotion sunscreens are the most common types of sunscreen that you'll find. Lotions can offer additional benefits like moisturizing, and you usually get a decent amount of sunscreen in the bottle. Lotion sunscreens can also make use of either oil or mineral formulas, and their smooth textures are easy to apply on a baby's skin. When shopping for lotion sunscreen look for tear-free solutions to reduce irritation around your child's eyes. A great tear-free lotion sunscreen is Babyganics Sunscreen Lotion.
Water Resistance
A lot of sunscreen brands go into detail about how their product can handle exposure to water. The main thing you need to know is that no sunscreen is waterproof. Sunscreen can be water-resistant to an extent, but even the best products like Neutrogena Water Resistant Sunscreen only last up to 80 minutes. So, after about 1 hour in the water, you should always consider applying more sunscreen to account for this.
Water-resistance is essential for a few reasons, but the main reason is that being in the water can create more intense sunburn and irritation. While the water may feel like a welcome escape from the hot sun, water's reflective properties can cause more sun damage than being out of the water. So, if you'll be spending time with your child in the water, be sure to choose a product like Thinkbaby Safe Sunscreen to get the broad-spectrum protection and high SPF rating you need.
Quick Tips for Applying Sunscreen on a Baby
Knowing which sunscreen you need is one thing, but getting it on your child without a fuss is another challenge. Luckily, there are a few quick tips that you can follow to make the experience much more manageable. You can watch these tips in action here.
Being Gentle Is Key
On yourself, you may be inclined to press into your skin while rubbing sunscreen in. While this may speed up the process, too much pressure is going to irritate your child. So, it may take longer, but always be gentle when rubbing sunscreen into your child's skin. If you're not sure how much pressure is too much, always look at your baby's face and body language. They'll let you know.
Give Them Options
Sunscreens come with different textures, fragrances, and application methods. If you notice that your child does not like a particular sunscreen, perhaps try another. For example, instead of forcing Thinkbaby Safe Sunscreen on your child, try giving a Babyganics product a shot instead, or even Australian Gold Sunscreen. Sunscreen is generally inexpensive and doesn't come in large amounts, so it might be best for you to pick up a few different options instead of sticking with just one.
Be Careful Around the Eyes and Ears
The eyes and ears of your child are sacred, and when applying sunscreen, these are the most challenging areas to reach. If you're having trouble with spray-on products or even lotion products, we recommend giving a product like Neutrogena Water Resistant Sunscreen a try. The stick design makes it easy to reach these areas. If you are using lotion, just remember to be gentle. We recommend keeping spray-on sunscreen away from your child's face if they're under one year old.
FAQ
Can Babies Use Regular Sunscreen?
Regular sunscreen may work well for adults, but more often than not, the SPF rating is at or below 30. While 30 SPF is not a bad rating, for the delicate skin of a baby, you'll want to seek out sunscreen with the highest amount of protection. Adult sunscreen can also contain harmful chemicals for babies that include parabens and sulfates.
What SPF Rating Is Safe for Babies?
For babies, you'll want to go with an SPF rating at or above 50. Your baby won't be able to get a perfect tan with this rating, but you won't need to worry about being out in the sun for a long time. If possible, always consider getting the most protection you can for your child's sensitive skin.
What Is the Best Type of Sunscreen for Babies?
There are three common ways that sunscreen can be applied, and while they all work, lotion sunscreens tend to have the best results for both babies and adults. The basis for this claim is that lotion sunscreens can be rubbed into and absorbed by the skin better. Also, babies tend to enjoy the rubbing sensation as opposed to being sprayed or irritated by a stick. Your baby may differ, though, and that's why we've included a range of options.
When Is It Safe to Use Sunscreen on a Baby?
As a parent, you may be inclined to protect your child as much as possible. Protecting your child should always be a priority, but using sunscreen on a child before they're six months old can lead to complications with their developing skin. So, we always recommend waiting until your child is at least six months old before using sunscreen.
When Should I Apply Sunscreen on a Baby?
Sunscreen does not work immediately after it's applied, which means that you'll want to give the formula time to be absorbed by your child's skin. For this reason, always be sure to apply sunscreen 20 minutes before your child is exposed to the sun.
Final Thoughts
Choosing the best sunscreens for your baby does not need to be challenging, but we know that there are a lot of different options to consider. As long as you know your baby's skin, and how often you'll be out enjoying the sun, you should be able to find the perfect sunscreen with ease. Keep in mind that each sunscreen may work well for different situations.
To make the right choice, take some time to think about what you'll be needing sunscreen for. If you are hanging around at the beach or by the pool, you should always favor sunscreen brands that are portable and water-resistant with high SPF ratings. On the other hand, if you'll be taking your child for a stroll on a beautiful day, you can be safe with more traditional sunscreens with lower SPF ratings. Get out there and enjoy the sun with your little one with these baby sunscreens.