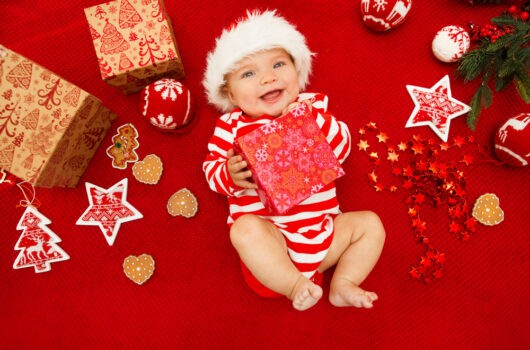 O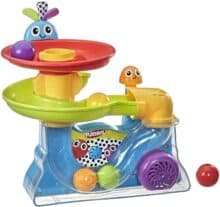 Playskool Explore N' Grow Busy Ball Popper
B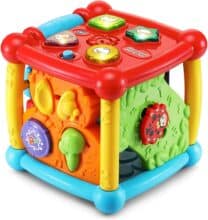 VTech Busy Learners Activity Cube
P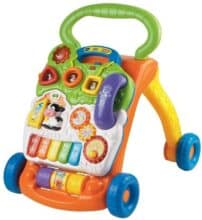 VTech Sit-to-Stand Learning Walker
Previous
Next
For new parents, waking up with your new baby on Christmas morning is magical. Even before they totally understand what is going on, your little one will light up the first time they see a pile of presents underneath the tree.
Of course, Christmas isn't just about the big reveal. As a parent, you should make sure to use Christmas as an opportunity to fill your house with toys that are not only fun but also help your baby learn and develop new skills.
Christmas Gifts Ideas for Babies
Babies can be hard to buy for! Because they are still several years away from being able to put together their own Christmas lists, you're on your own when it comes to picking out the perfect gift. We recommend picking a variety of toys and gifts that will help your baby learn through play and develop new interests. Here are some of the most popular kinds of baby toys.
Stacking Toys
Toys that stack on top of each other help babies develop hand-eye coordination and fine motor skills. Our favorite stacking baby toy for 2020 is The First Years Stack Up Cup Toy.
Walking Toys
These are toys that are made to support your baby's weight as they use it to lean or walk. Walking toys help babies develop the coordination and core strength that is required for them to eventually sit up or walk on their own. The VTech Sit-to-Stand Learning Walker is our top choice for walking toys.
Musical Toys
Toys that play music are not only engaging, but they also help babies develop the basics of rhythm and other musical skills. These toys can be noisy, so they aren't appropriate for bedtime or naptime. Our favorite musical baby toy for 2020 is the VTech KidiBeats Drum Set.
Stuffed Toy
Most of us have fond memories of our favorite stuffed animals growing up. A plush toy can provide comfort and companionship for your baby. Parents looking for an interactive plush toy that their baby will love should look at the Flappy the Elephant Stuffed Animal Plush.
Picking The Best Baby Toys
With so many great baby toys on the market, picking our favorites is no easy task. Here are the criteria we used when deciding which toys made our list and some things you should consider before deciding which gifts to buy your baby.
Age Range
It's important to buy toys that fit your child's age range and abilities. If you buy a toy that is too simple for them, it's likely to be discarded quickly. Likewise, if the toy is too complex, it can lead to frustration or even safety hazards.
Skills Learned
For the first several years of their life, your baby will learn best through play. For each entry on our list, we will give you an idea of how using that toy will benefit your baby's development.
Fun Factor
It does not matter how educational a toy is if your baby refuses to play with it. To make our list, a toy needs to have the right combination of appeal and interactivity to keep your baby enthralled.
Batteries Required
Nothing is more disappointing than receiving the perfect Christmas gift only to learn that you don't have the right batteries and all the stores are closed. Make sure you buy any required batteries before the big day.
To help make this year's shopping easier, we put together a list of our favorite Christmas gifts and toys for babies in 2020. Keep reading to find the perfect gift.
Top 20 Best Christmas Gifts & Toys for Babies 2020
Make Chrismas Last All Year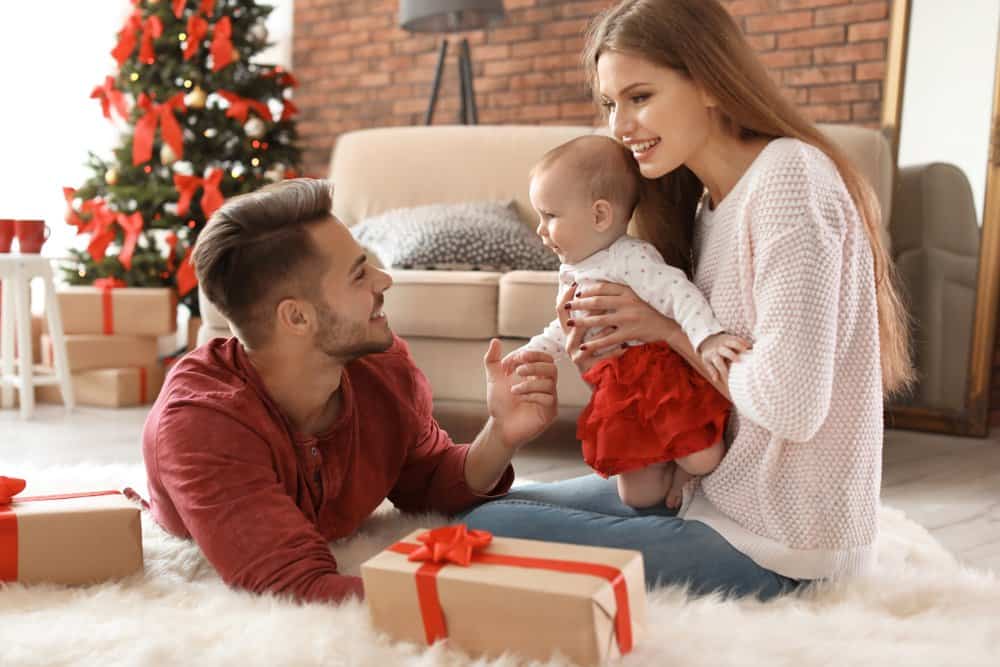 For most kids, Christmas gifts account for a large portion of the toys they receive in a given year. Unfortunately, too many parents still waste money on presents that just end up in the back of the closet or the bottom of the toy box by mid-January. By filling your baby's first few Christmas mornings with quality toys that are likely to stick around, you can be sure your little one has the tools they need to develop during these crucial years.