Top 30 Best Bug Toys for Kids 2022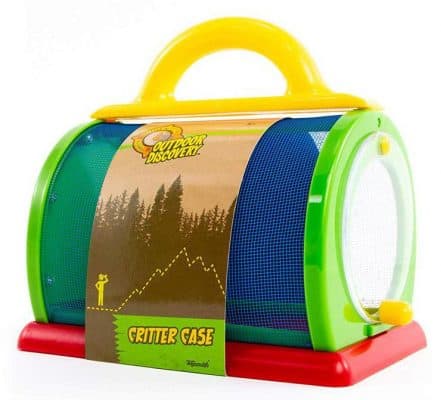 This toy is great for helping improve a child's imagination as they get to collect different bugs and keep them in the critter case while observing them. The critter case is made from a very strong plastic frame with a fabric mesh on the sides that allows kids to observe the insects safely. Plants, branches, and insects can also be removed easily as it contains an easy-open batch. The toy is perfect for displaying on any desk or table. This is because the critter case measures 8.5 inches by 7.5 inches with the flat base preventing it from being easily knocked over.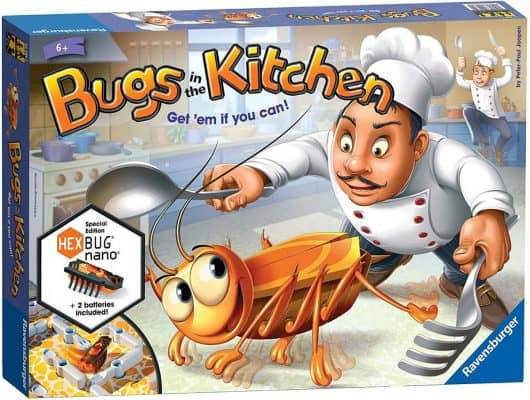 This toy comes with 1 board game, 18 pegs, one special edition hex bug Nano and 18 utensils, 20 bug tokens, 2 trap doors and a set of instructions that are easy to understand. The size of the bug is 4-11/16″ in length. The game aims to get the bug into the four food compartments. A dice is rolled and the player makes sure that the cricket is trapped before it gets into the food. The components of the toy are also made of high-quality material. Aside from being a form of entertainment for the kids, the toy enhances quick decision making in kids because the bug is fast and unpredictable.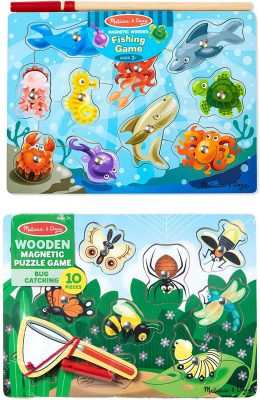 A very entertaining magnetic puzzle game where kids get to use a magnet to capture the magnetic puzzle pieces. With the setting of the puzzle, kids get to expand their vocabulary as they learn the names of insects. This helps improve their language development. Your little one gets to improve on their motor skills, visual coordination and balance. To grow their fine motor skills kids are encouraged to play alone. Their color recognition skills are also reinforced. The toy set is made of high-quality wooden materials and assembled with precision to ensure it lasts longer. The artwork is very great with very bright eye-catching colors and the pictures underneath encourage matching skills. The set also includes a magnetic fishing pole and a bug-catching net to catch magnetic puzzle pieces.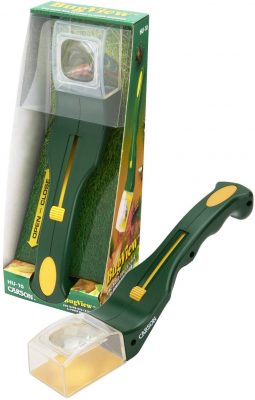 This is a perfect toy for any budding scientist whose coordination skills are very well developed. It contains a viewing window that's used for observing details on all the types of insects. It's very safe for kids to use as they don't have to physically touch the bugs. All they have to do is to ensure the sliding door on the toy captures them safely as well as releases them once they're done. The toy is made of a one-handed bug catching tool that contains a 5X power crystal clear lens used to examine the finer details of the bug. This clear dome magnifies the contents of your bug up to five times. The thumb trapping slider makes it easy to catch the fastest specimen in the most humanely.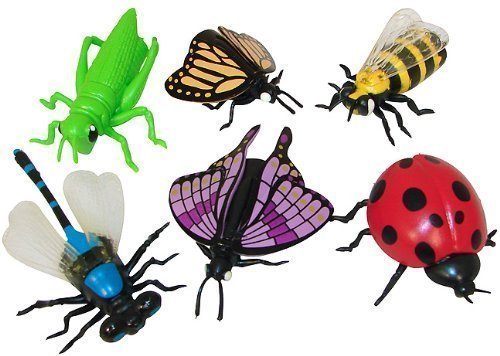 The bugs are a great playtime tool as kids get to fit the bugs in their fingers and run around playing with them. The bugs can be used as puppets. This encourages creative play in kids as it allows them to be imaginative. Their colorful nature makes it easy for kids to recognize colors and sort out the bugs by their different colors. The set comes with a total of twelve pieces of bugs that include grasshoppers, ladybugs, dragonflies, butterflies and so much more. Each puppet measures 1.75 -2.75 inches and the material used is very durable. They're made like this so that they don't slip from the kids' fingers while they're playing. They come in an array of vibrant colors that are painted to look like the real bugs. Lost pieces can be replaced easily as each insect comes in two copies.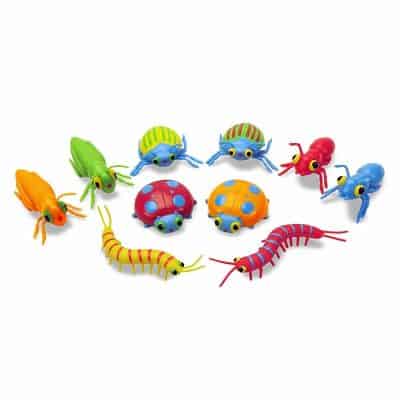 The Sunny Patch Critters is a great toy that encourages the development of hand-eye coordination, color recognition and child's interest in the natural world. Kids will have a wonderful time hiding and hunting the bugs both indoors and outdoors, making them more observant and encouraging them to explore more. The vibrant colors help kids sort out the bugs by color hence develop their color recognition skills. It's great for helping kids to learn how to count, sort and match the crawlies. The toy is made up of plastic material that's very strong and safe and comes with 10 very brightly colored bugs that include centipedes, grasshoppers, June beetle's ants, ladybugs and so much more. The bugs are safe to play with as they're big enough not to fit in your kid's mouth. They fit in your toddler's hands pretty well too.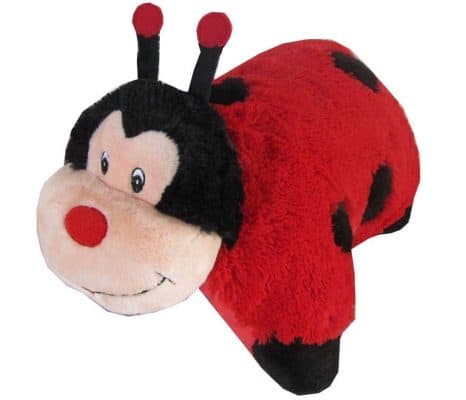 This toy bug has two functions. It acts as an adorable stuffed bug friend as well as a pillow for the toddlers. It also comes in different bug styles. To use the pillow, the hook-n-loop fastener is opened and closed when your toddler isn't sleeping but needs to play with it as a pet. Having a pillow pal gives toddlers a familiar and comforting presence whenever they sleep alone because the ladybug itself is very cute and comfortable. This toy has a strong hook-n-loop fastener that closes up to create an animal buddy and opens up for 19-inch wide flat pillow. It's easy to carry around as both a travel pillow and cuddling buddy. The Stuffed Anima has been made from BPA-free and phthalate-free materials. These materials are also in line with international safety standards. It's also very easy to clean up the ladybug using a washing machine and air dry it.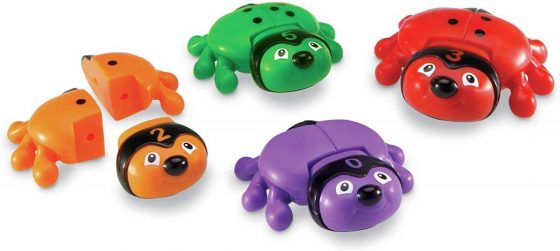 As the name suggests, this toy is a learning resource for kids aged two and over. They learn how to count through the numbers and how to sort the pieces together by color. A great improvement will be seen on the toddler's motor skills, hand-eye coordination, ability to categorize and identify colors as well as counting. Motor skills are reinforced with the cute bright colored bugs. The toy set has 18 pieces, 6 heads and 12 body pieces making 6 complete bugs that are made of different bright colors. The smooth plastic allows toddlers to fit in the pieces together and take them apart very easily. This improves the development of a toddler's hand-eye coordination.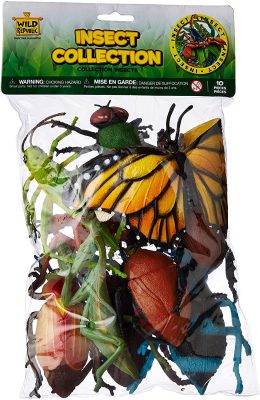 The toy is made up of an 8 x 12-inch bag with ten toy insects that are brightly and accurately colored and highly detailed. They're also made of very durable material. Kids can use these toys at home for hobby projects and also in class as they're educational. Kids from the ages of 3-years and above can have a go at this useful toy. These lifelike bugs are great for educating kids as they get to learn the different bug species. They also get to learn the creature's anatomy and this way, kids get to be more imaginative and creative. Apart from the educational value, the bugs can be used as a great décor for the kid's bedroom.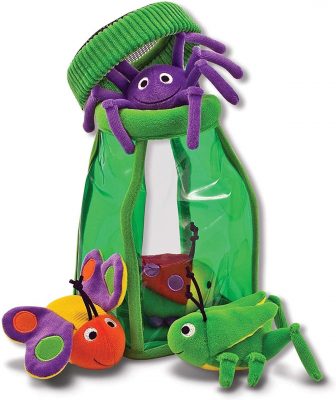 The toy has four adorable bugs that include a butterfly, grasshopper, ladybug and a spider in a see-through jug whose top lid is made of mesh. Kids get to fill the jug up with the bugs and spill them out. The aim of the toy is that the kids get to remove and put them back in the jug. The toys are made of materials that are soft to touch and colors that are lovable to the baby's eyes. As much as it's entertaining for infants, it's a great toy that promotes fine motor skills, hand-eye coordination, and sensory development. There are different rattles, jingles, and crinkles that allows babies to explore and work on their sensory development. The bugs help a baby to optimize his or her brain.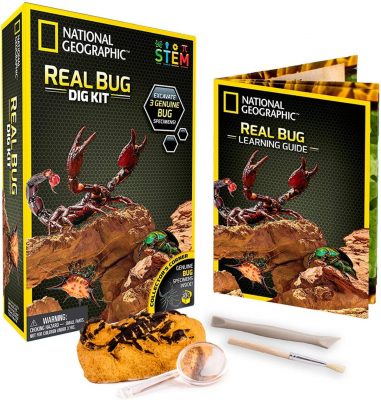 The National Geographic Real Bug Dig Kit toy set is both educational and adventurous. Your children will learn about all the insect specimens. With the National geographic full-color learning guide, your kids will have a fun time getting to know many other arthropods as well. Great for homeschooling, as a parent you get to create an interactive lesson with this kit since it's a hands-on kit. You can have an insect digging activity with your child while creating memories. Your little one will uncover 3 perfectly preserved specimens that include a spiny spider, fortune bee and a scorpion. The kit has bugs that are painted on the sand piece that comes with it. The specimens are enclosed in a clear acrylic like a small rock with each bug having its clear rock. Included also are the magnifying glass, a digging tool, and a brush.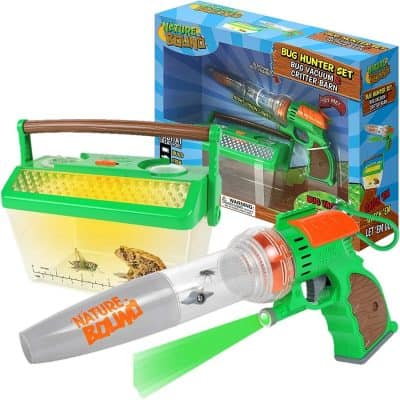 The Nature Bound Bug Catcher Vacuum is such a great toy as it creates a complete catch and release learning experience for kids. Kids get to enjoy nature and learn at the same time. Your kids would love catching, collecting, exploring and studying the crawling creatures at home as well as at school during their science lessons. This great set of bug catcher comes with LED laser light that uses batteries for day and nighttime play. It has a magnifier that's in-built both in the vacuum and habitat, you, therefore, get two toys in one. The kit also has a container for trapping bugs. Kids can then transport them to their habitat without touching them. There's also a beautiful gift box inside with an instruction manual on how to use the toys.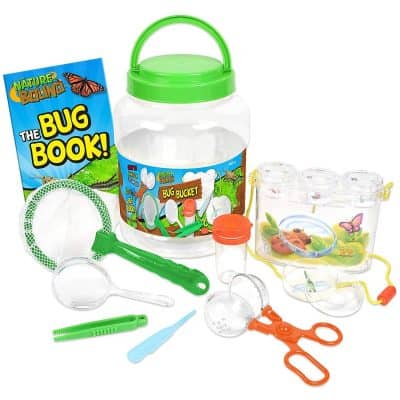 This nature exploration set comes with a set of 7 pieces of bug catching tools with a bonus colorful activity booklet that teaches kids about different kinds of bugs. A storage bucket is also included. Kids use tongs or tweezers to catch the bugs, whereas the magnifier helps them to have an up-close look at the bugs they've collected. This toy set encourages your kids to be more observant and adventurous.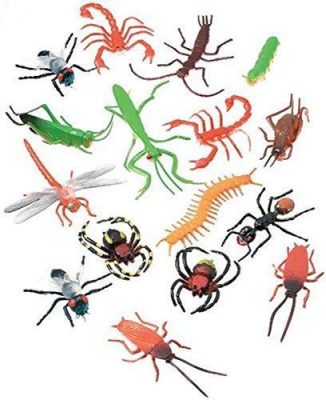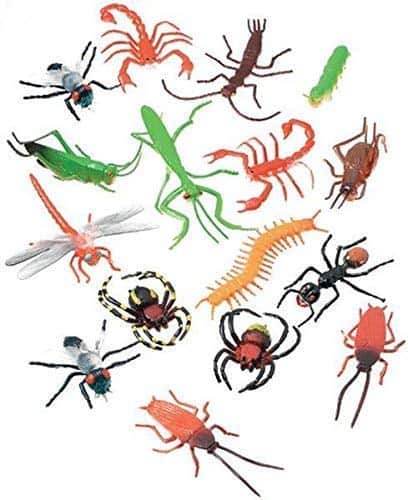 For the kids who love bugs, this is such a great toy set that has plastic insects, the bugs look like the real ones but they're just imitations. Your kid's senses will be enhanced as they get to hold them. The more appealing the insects are to the eye the more your kids would love them and assort the insects with colors. Your kids can use this toy set of colorful insects as they take baths or in a sandbox. It's also recommended for kids under the age of 3. Each bag comes with a colorful assortment of long insects, arachnids that include caterpillars, spiders, ant's scorpions, crickets and grasshoppers. With these insect toys, your kids can combine the plastic bugs with a book on insects and a magnifying glass for hours of exploration and lots of fun.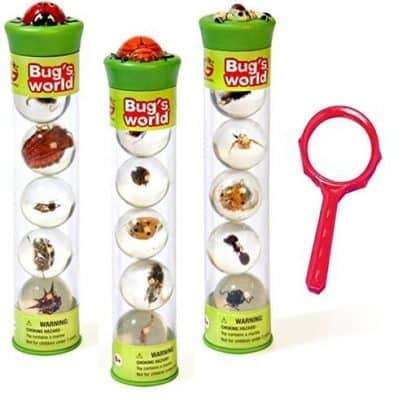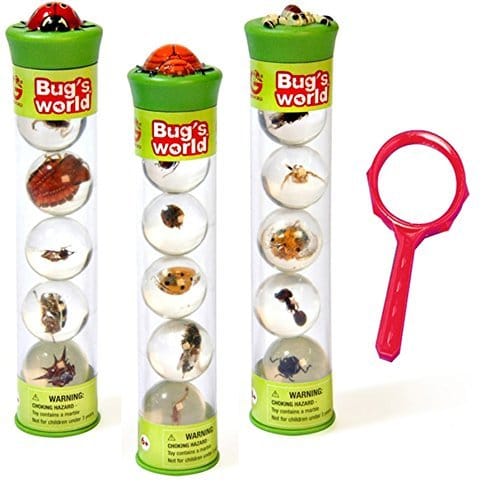 The Bugs World Insect Marbles toy set is fairly simple and educational to young kids. Your kids can learn about the bugs in an easy cute way while having fun. This set includes 15 authentic insects with duplicates encased in clear resin marbles. Kids can also learn about real insects up close with the toy set. Some of the insects that can be found in the resin marbles include bees, beetles, true bugs, stink bug, ladybugs and so many more. A magnifying glass that comes in different colors is included and your kids can use this to explore the marble with real insects encased in the reins.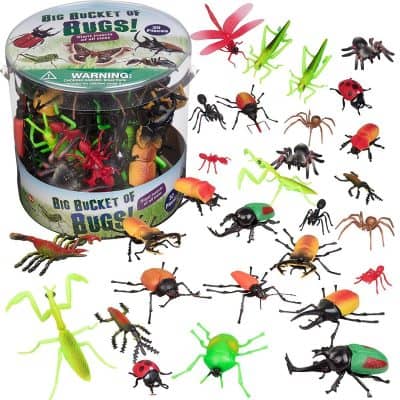 The SCS Direct Bug Action Figure toy helps improves hand-eye coordination in your kids as they get to touch and feel the bugs without the fear of being bitten or stung. They come in bright colors which is very appealing to kids. They'll not only know colors but different insect species. This toy set can be used for storytelling play and learning new insects. Your kids can also pull pranks on their friends. The toy set also comes with 30 giant insects that won't fit in your child's mouth. They can also be held comfortably in a kid's hands.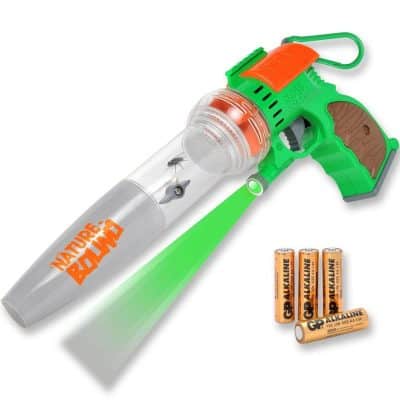 This toy set promotes scientific learning and keen observation skills as kids can inspect their favorite bugs without killing them. The bug vacuum sends each bug gently into the core viewing chamber for easy catch and release. Your kids won't have to touch the bugs while observing but they'll still be engaged. This kit is both educative and fun for kids to use.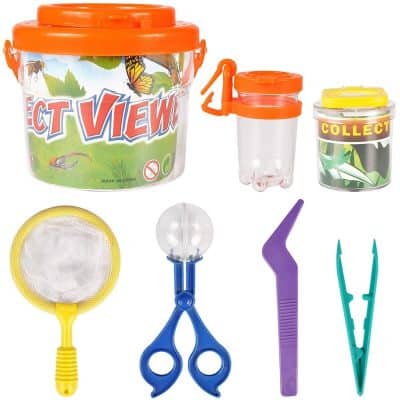 Your kid will love this set of bug toy. They'll become active explorers in your garden, park or beach as they can be carried around anywhere. Your little ones will develop an interest in the little creatures once they get to connect with nature through hands-on outdoor play. It comes with 7 pieces of essential bug viewing kit containing a butterfly net, bug catcher, tweezers, transfer capsule, 2 bug carriers with magnification windows. This is such a great gift pack for your kids who are interested in small creatures. It's a set that inspires your kids to explore.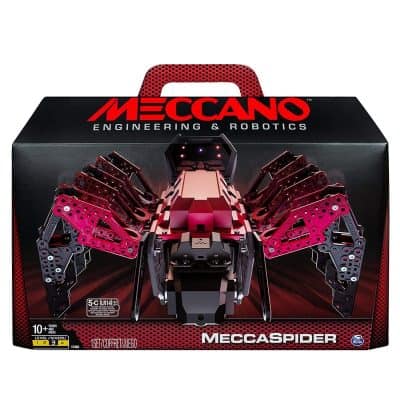 The toy set is both educational and interactive. The robotic kit encourages kids to develop a couple of skills that include science, technology, engineering, and mathematics. Your kids will construct the robot, program it and get to enjoy a variety of built-in, customizable games. The built-in robot is designed for kids aged 10-years and above. The toy comes with 291 parts, 2 hand tools, 1 Decal sheet, 1 instruction sheet for 1 model, a Mecca Spider brain module, an IR sensor, and two smart motor modules.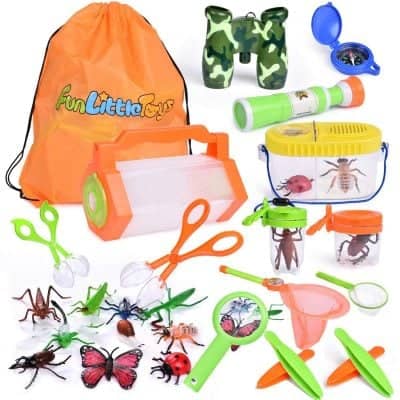 Your kids' natural curiosity will be catered for by the toy set. They'll catch and examine insects while engaging their STEM learning. Your kids will pick up and catch bugs safely like an explorer using the butterfly nets, bug tongs, insect traps, and tweezers. The magnifying glass that's a part of the toy set will help them examine even the smallest details of the insects. Observations are then made through the bug containers, which is a hexagonal bungalow. The toy set also comes with a compass, 10 pretend play bugs and a handy practical backpack with shoulder straps to store them all.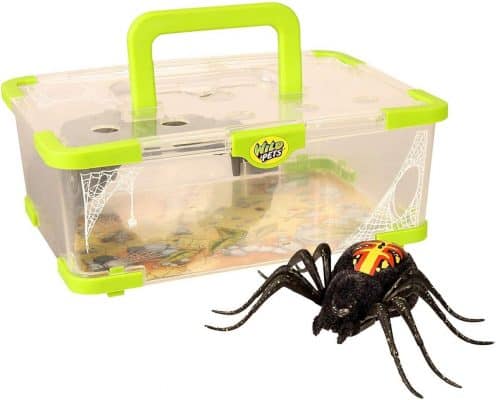 With the Wild Pets Spider Habitat Playset, your kids will get to learn how to care for the life-like spider as this will be their pet. They can control the behavior of the spider by touching it since it moves and feels like a real spider. Your kids can also scare their friends with this life-like spider. The spider looks so real that once it's left alone, it gets to creep around in a small area. The toy set comes with a flip-top lid that kids can open and place the spider inside. It also has a carry handle for easy transportation and a small cave where your spider can hide in. For a more realistic effect, rock and sand graphic details are included with spider webs. The habitat includes an exclusive spider striper.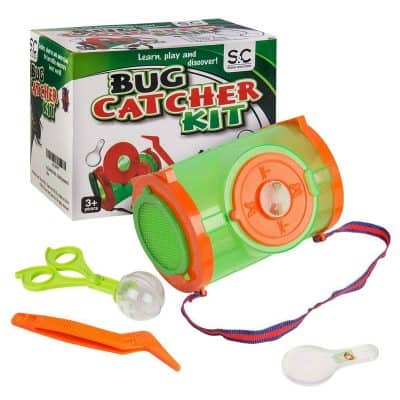 The Stone Clark Backyard Discovery Exploration Kit is such a great toy for broadening children's minds. Once they get to use the catching supplies, your little ones become more observant and get a better understanding of the beautiful world around them. It's a toy that encourages kids to get outside and have fun while catching bugs. This builds healthy habits in your skids as well as promotes an active lifestyle since the toy itself is engaging and interactive. The kit has a plastic critter case, a magnifying glass, tweezers, plastic tongs, and insect viewing card. There's a small plastic bug catcher with breathing holes and a sturdy design. With this, you're assured that the bugs are safe and secure. There's an easy to open hatch that allows you to add and release critters or add leaves to create a perfect natural habitat for the bugs.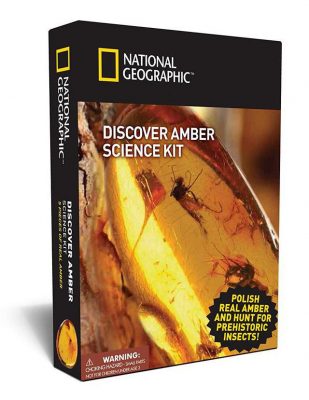 This STEM learning toy set is going to spark your child's interests in both science and technology. Your kids will learn a lot about the tiny historical creatures. It's an exploration kit as much as it's a fun craft project. The toy set comes with an amber-colored keychain with a real scorpion inside because finding bugs inside the real amber isn't guaranteed. The amber also contains rare bugs that are priceless. Such bugs include aphids, leaves or nothing at all. Kids will have to polish each amber to reveal the secrets within.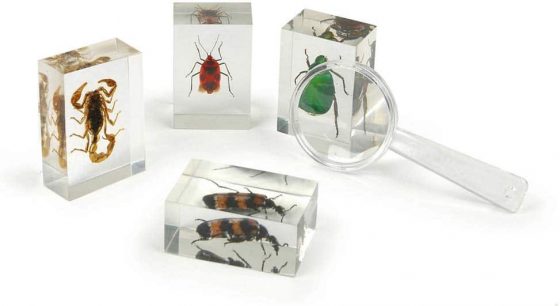 Your kids will have a great time learning about real insects with this bug world collection of 10 real insects from Geoworld. The toy is great for kids aged 6-years and above. They can have an up-close look at the insects and be capable of observing and studying them without having to pick them from your backyard. The toy set comes with a magnifying lens that kids can use to study insects that have been beautifully preserved in the resin block. To guide the child more about the insects, a full-color information booklet that's filled with lots of scientific facts has been included in the kit.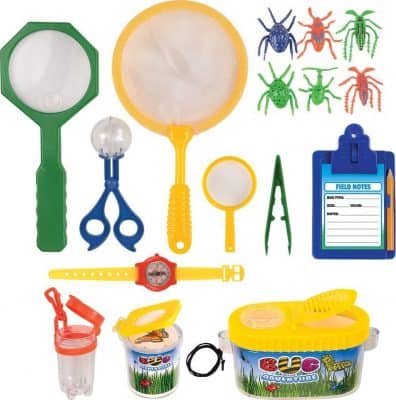 The Kangaroo's Insect Bug Adventure Set has 18 pieces of items that'll get your kid to kick start on their exploration and bug adventure. It comes with a compass that'll help them learn more about planning and organizing their bug catching journey. The kit also comes with a small magnifying glass to help them enlarge the tiny insects to have a better view. Other items found in the kit are tweezers, field collector container that comes with a belt hook and a large bug collection container with a folding magnifying lens. It includes catching nets that come in different shapes and sizes, six unique plastic insects, a kid bug catcher, and bug catcher box is also included.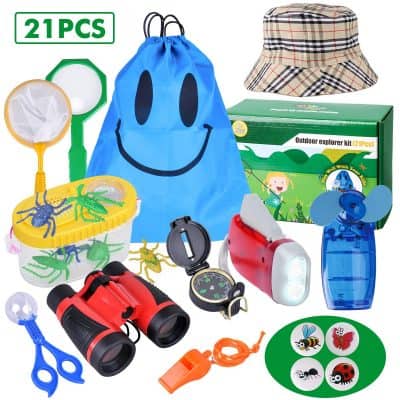 With the many pieces that come with the LOYO Outdoor Explorer kit, your kid is sure going to have such a fun time exploring not only in your backyard but also when they go camping. One of the things your kid will get to learn is the concept of direction as the toy comes with a real working compass. This nature kit will encourage your children to catch and release small creatures around. This is also a way of motivating them to go outside and explore hence evoking their imagination. Each pack comes with 6 fake insects in a portable drawstring bag, an adjustable binocular, a magnifying glass, pocket-size compass, a flashlight, foldable hat, a whistle, a butterfly net, and a bug viewer container. Once the kids have enjoyed enough with it, they can put everything back in the backpack to play again some other time.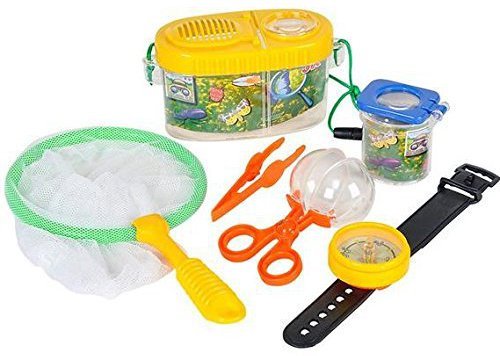 Your kids have a chance of discovering insects in the great outdoors, they can capture bugs and view them to see what they look like. The toy set encourages kids to catch, study and release the small creatures. Get to teach your kids not to be afraid of the little critters while having an awesome and fun way of catching the bugs. Go to the park or beach or in your garden and catch these little critters together with your kids and have fun while at it. It comes with tweezers, a wrist compass, transfer capsule and two bug carriers that have magnification windows.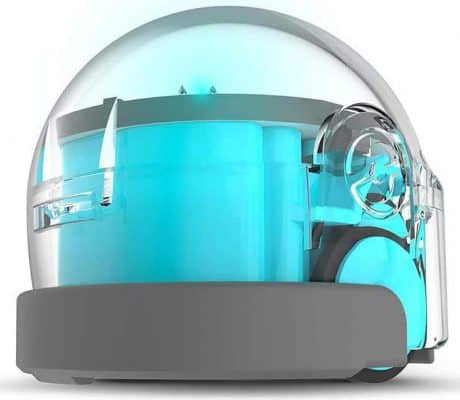 This toy set comes with six pieces that include a net, a viewing box, tweezers, a watch and more. With the toy set, your kids will be encouraged to learn to be gentle with the tiny creatures while working through any fears they might be having. No assembly of items is needed and it's easy to use it. This kit comes ready to use and is just great for kids of all ages. If your little ones want to get up close and personal with the tiny creatures in your backyard, then this toy set is the best for them.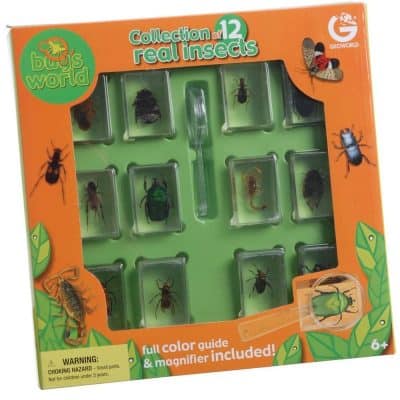 The Constructive Playthings Geoworld toy set serves as a great introduction to tiny creatures that live on this planet and is recommended for kids aged 6-years and above. Your kids will get to learn of the different insect species that live in this world. 12 different insect species come with the toy set to allow your kids to explore more. For kids to have a close-up examination, they get to use a magnifying glass. The insects have been mounted in clear poly-resin blocks to ensure that your little ones have a clear view of the insects. A 24-page booklet full of real STEM learning from Geoworld publishing house is also included in the kit. Besides, the blocks are made up of long-lasting quality material.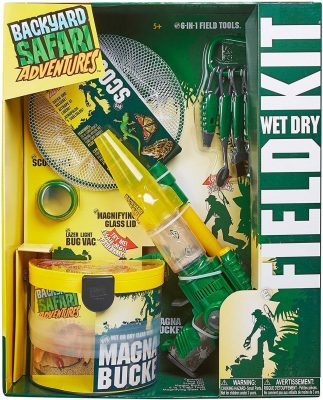 The Backyard Safari Combo Field Kit is a great learning tool as kids catch and observe bugs, as well as have fun while at it. The kit not only helps little ones catch and learn the names of the little crawlies but they also get to learn how to handle such creatures with utmost care. The kit comes with a spade and a brush that children can use to locate the bugs and a net that can be used for catching them. A small mirror is also included; kids will admire the bugs using this mirror. The small bucket and tongs are for gently catching and storing the bugs safely while they learn. The best thing is that this kit comes with a field guide that'll help your kids identify the creatures they find.