Top 30 Best Drum Sets for Toddlers 2021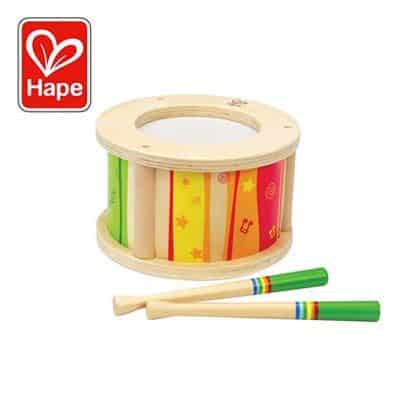 The Hape Little Drummer Kid's Wooden Drum Music Set is an excellent choice for wee beginners. Although it might be as bright as some baby toys, it is a great drum set for promoting eye-hand manipulation and coordination. This drum makes a sound when your baby hits it as it introduces them to the concept of cause and effect. The solid wood construction of this toy makes it very sturdy for babies. The child-safe paints help to eliminate worry when your baby chews on the drumsticks. The drum sticks are easy to control and are the perfect size for your baby's little hands. The drums are not too loud, so your baby can enjoy making music without necessarily disrupting the entire household.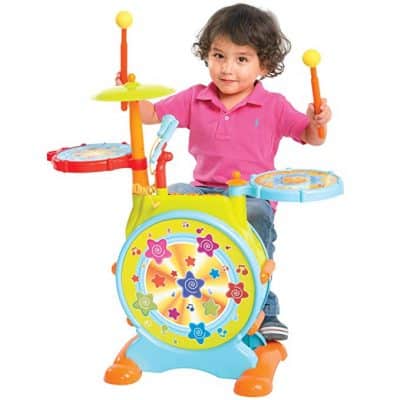 Be ready to sit through many concerts as your child shows off their new skills as they are learning to play. The drum set includes a microphone, cymbal, two snare drums, and a bass drum so your little one can pretend to be in a real band. The Best Choice Products Kids Electronic Drum Set helps to promote your child's cognitive development while they explore their side. It is a great way to introduce your kids to the world of music. This drum set provides different types of songs and beats. The volume control knob allows you to adjust the volume for those times when a loud noise may be detrimental to other people in the house.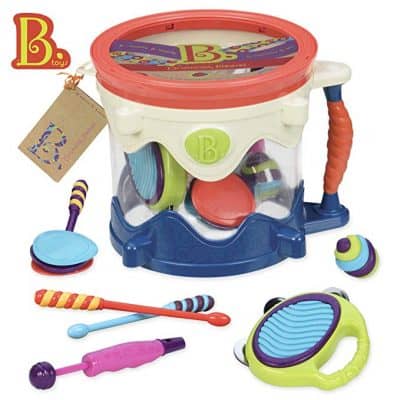 The B. Drumroll Toy Drum Set is a great drum set for children 18 months and older. The 7 instruments that come with the drum set allow your child to explore different sounds. It is equipped with a strap that allows your child to match to their own beat. It also allows them to create their own parade. This drum set is nice for developing creativity and social skills. The included instruments are a drum, whistle, castanets, tambourine, shaka-shaka egg, and 2 drumsticks. For easy portability and storage, you can store the instruments inside the drum.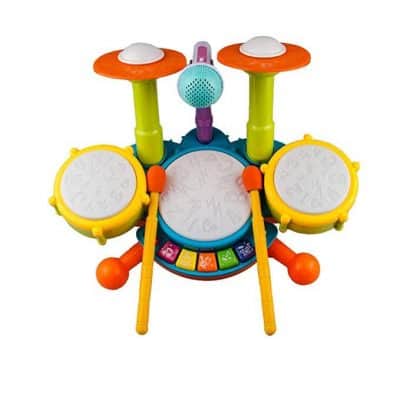 The Rabing Kids Drum Set is a nice drum set for children 4 years and above. The set includes a microphone, drumsticks, 2 cymbals, and 3 drum pads. It is equipped with 5 different play modes, 3 different rhythms, 10 songs, 4 sound effects, 5 light music, and stimulation drums. This budget-friendly drum set is an ideal way to work on your child's hand-eye coordination and build their confidence as they explore the world of sound. The independent switch on the microphone makes it easy to turn off when it is not needed. You can also connect the microphone to a computer so you can record your little one's concerts. Each cymbal and drum pad has its own sound. The pre-recorded songs can help teach your children how to keep rhythm with the song as they sing and drum along.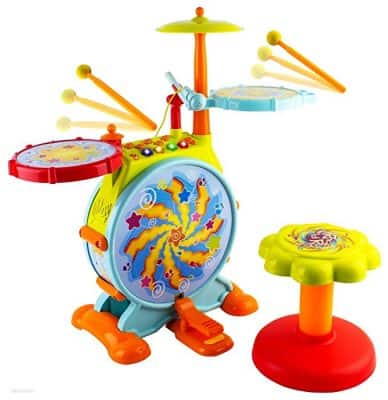 If you are looking for a more realistic drum set for your kid, the WolVol Electric Big Toy Drum Set is a great choice. This very colorful and bright drum set comes with cymbals, snare drums, bass drum, and a seat. Watch in awe as your children imitate their favorite musical group. You can use this drum set with or without the sound effects and musical accompaniments. This gives your kid the opportunity to create their own music. The WolVol Electric Big Toy Drum Set allows your child to learn to use creative thinking, fine motor skills, as well as eye-hand coordination. It is equipped with songs including dance music, melodies, and a variety of drum beats. The bass drum comes with a pedal that allows your child to sit on the stool and play like a professional drummer.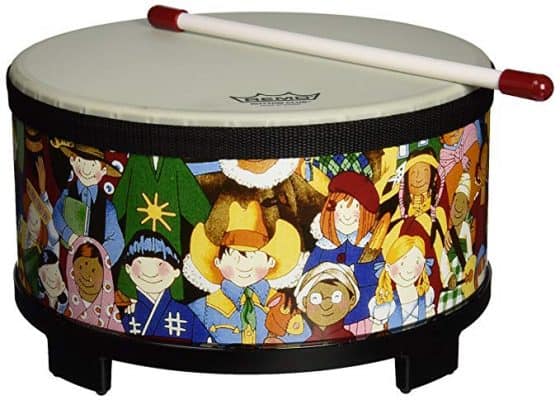 This drum is a great choice for those looking for a drum set that has a kind of rainforest sound to it. The synthetic materials of the Rhythm Club are guaranteed never to fluctuate in pitch no matter the changes in environmental humidity and temperatures. It is a great way to introduce your child to different types of sound. They will learn how to create different sounds just by tapping along. We love this drum set because it allows your little ones to be interactive. It is the perfect gift for an active toddler or a child who wants to learn an instrument.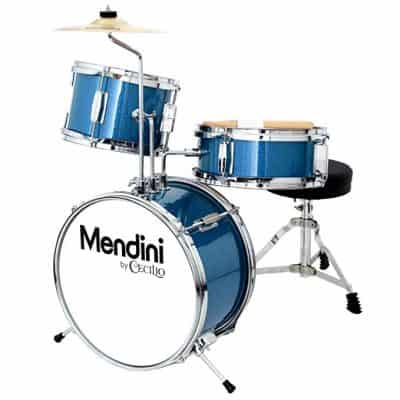 This is a great drum set for aspiring drummers to kick-start their career as it provides everything they need to get started. The hardwood shelled triple-flange hoops that come with this set makes the perfect sound. Mounted in the center is the bass drum, the cymbal is on one side and a smaller drum on the other side. The Mendini by Cecilio Junior Drum Set offers a small footprint perfect for younger players to learn every aspect of playing the drum. It has a compact design, so it doesn't take up much space. It also helps to encourage and promote the development of your child's gross motor skills.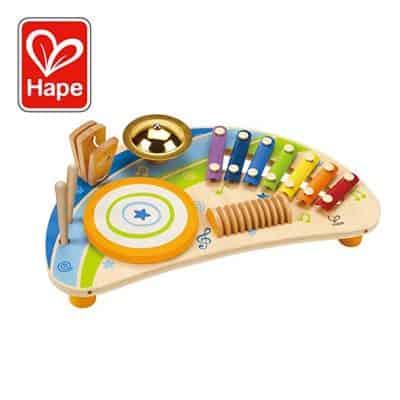 The Hape Mighty Mini Band Wooden Percussion Instrument is made of non-toxic and child-safe material that makes it safe and durable. The wood used to make this drum set is harvested from environmentally sustained forest. This multi-functional drum allows your children to learn and explore a variety of beats and music. The kit includes drumsticks, clapper, cymbal, drum, and xylophone.
The overlays are screen printed for lasting vibrancy and to allow for easy cleanup. There is no way to play this set as there are no pre-programmed functions. They can join up and play along with friends and family or rock out as a solo act. The Hape Mighty Mini Band Wooden Percussion Instrument gives your children the capabilities to play different instruments at basic levels. Your little rockstar is bound to be creative with so much versatility in one place.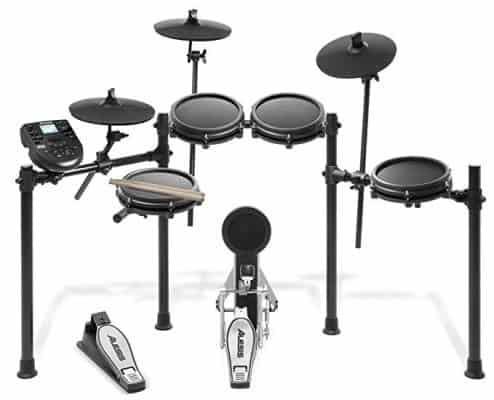 If you want to gift your child a drum set but don't want to hear them pounding away, the Alesis Drums Nitro Mesh Kit is the right choice. It features a drum module that works as the brain of everything. The sets include an amplifier and headphones which allows your child to play along quietly. It comes with three toms, a snare, controller hi-hat, two cymbals, and pedal. The multiple pads and expressive sounds make this set a young drummer's dream. Unleash your child's full potential by gifting them this drum set. Giving your child the ability to express themselves creatively is a nice developmental skill-building exercise that helps to build their self-confidence.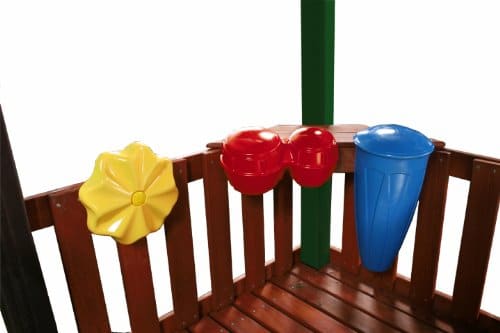 Who says musical instruments only belong indoors. Get outdoor and make some great music if it is a nice day. The Swing-N-Slide Rhythm Band Set is a colorful drum set that you can attach to backyard play structures. This allows you to give your children an elevated stage they can play from. The blue baba baloo offers them a drop drumming quality while the red bingo gives them a lighter percussive element.
The spinning yellow rain wheel help to provide a soothing rainforest sound that is similar to the maraca quality. Allowing your child to use their imagination with free play is a fantastic way to develop their creativity. From playing their favorite simple song to creating rhythms, the Swing-N-Slide Rhythm Band Set provides your little one's hour of endless play.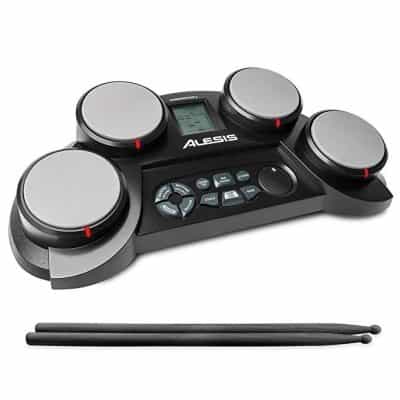 The Alesis Compact Kit 4 is ideal for learning to play music right away as it features built-in rhythms and sounds. The four drum pads that come with this set are velocity-sensitive, giving your children a super real feel. The built-in functions and the LCD screen make it easy for them to learn how to play rhythms.
The music coach not only teaches your kids how to play a song but also helps them build their own. A set of wooden drumsticks come with this drum set. One of the best cognitive building exercises you can give a kid is composing sounds and building rhythms. It helps to build and form connections in the brain that have been proven to help with math skills and problem-solving.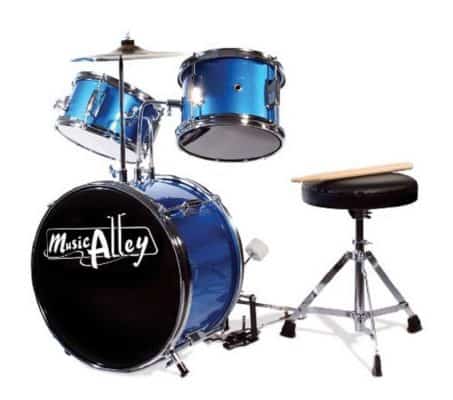 The Music Alley Kids Beginners Drum Kit is very affordable and comes with everything your little drummer needs to get started. It features a great style and is suitable for both experienced and beginner drummers. It is designed for kids from ages 3 to 7 years. The set comes with three drums, two hanging tom-toms, and a bass pedal. It also includes a padded stool and a pair of drumsticks that ensures your kid is comfortable. Both drumsticks are made of kid-safe materials. The lightweight design makes it easy to dismantle for transportation and storage.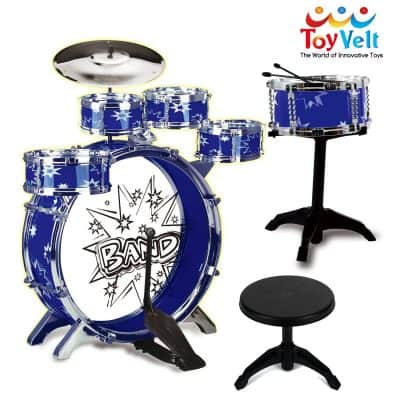 The ToyVelt 12 Piece Jazz Drum Set is the perfect choice for jazz lovers. If your little one loves music and you would like to hone that skill from an early age, this drum set is a good contender. It comes with everything they need to get started and more. The set includes a cymbal, 2 drumsticks, stool, bass drums, a cymbal, and a comfortable kick pedal. It is realistically made with chrome rims, thick hardwood, and durable plastic. This helps to ensure longevity and eliminates the worry of breakage. The kit is lightweight, so it is easy to set up or pack up for transportation and storage. Playing jazz on this 12-piece drum set helps your toddler to enhance creativity, develop motor skills, and improve hand-eye coordination. It can also help to improve cognitive skills and performance. It is designed for kids 3 years and older.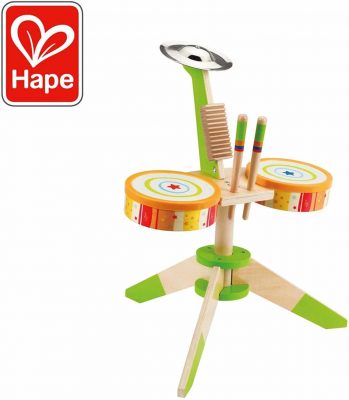 The Hape Rock and Rhythm Wooden Drum Set will help your toddlers take their drumming experience to a new level. It is not battery operated, so it ensures your child indulges in the joy of drumming with no distractions. It doesn't have built-in tunes and melodies and this allows your kids to discover in their own way. The set comes with everything your kid needs to get started including drums and rhyme makers. Besides enhancing their musical skills, the Hape Rock and Rhythm Wooden Drum Set also helps with creativity, dexterity, as well as, hand-eye coordination.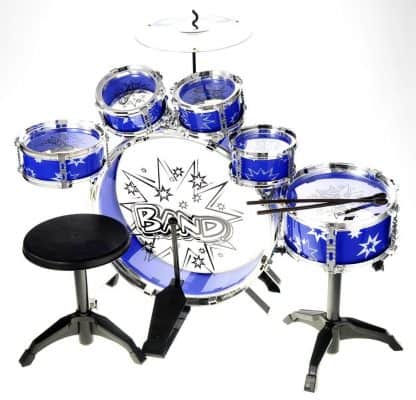 The YMCtoys Drum Set is another great drum set for toddlers. It is available in different color options, including red and blue to suit your child's preference. The kit comes with drumsticks, cymbals, and drums. The metallic hardware of this drum set complements the color nicely. The chair has a 10-inch diameter while the bass drum is 14 inches. This makes it an ideal combination for an average toddler.
The YMCtoys Drum Set includes one bass drum, snare drum, for tom-toms, and one bass drum pedal. You also get a comfortable stool and two drumsticks. It is recommended for kids aged 12 months and above. This drum set is perfect if you don't want too much but want to give your kid the experience because they don't make a too loud noise.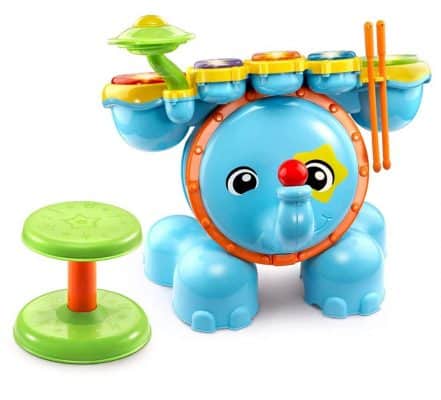 This Vtech Zoo Jamz Stompin' Fun Drums is very popular among many children and it is is for a good reason. It comes with cymbal and drum heads that light up when you tap it. This helps with the development of motor skills while also enhancing pattern recognition. There are four different game modes on this set such as Follow the Leader, Counting, Free Style, and Catch the Lights.
These modes allow your child to explore their creativity while having a good time. Also included are 6 songs and 16 melodies your toddler can sing to. Besides, they can also take advantage of four drum styles or create their own beats. The pair of drumsticks and bass drum are great for improving coordination. It is great for children from 18 months to 4 years.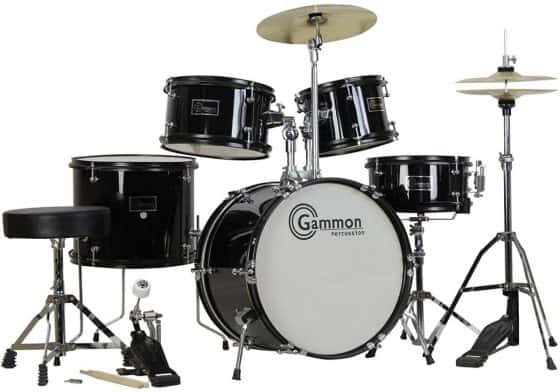 The Gammon Junior Drum Kit is one of the best drum sets for toddlers on the market. This drum set makes it easy and enjoyable to learn the drums. It comes complete with 5 essential pieces for beginners. These essential pieces help to ensure the child properly learns. It is available in 4 color options, allowing you to choose your child preferred color. The drum kit comes with a comfortable stick, a pair of drumsticks, and cymbal stands.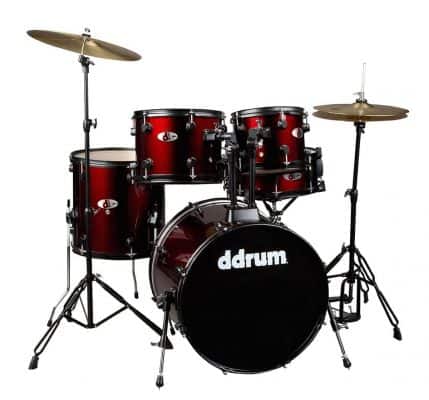 ddrum is a brand known for offering good quality products at a competitive price. Over the years, it has produced many great musical instruments which have made it a popular choice among many consumers. The ddrum D120B MB D Series Drum Set is a fantastic drum designed for aspiring drummers. It is made of basswood which makes it very durable. This drum set will help to enhance your kid's learning experience. The kit comes with a cymbal stand, hi-hat stand, snare stand, and a kick pedal. Apart from all necessary parts your kids need to get started, it is of good quality and sounds great. The look of this drum set is very nice thanks to the black-coated hardware.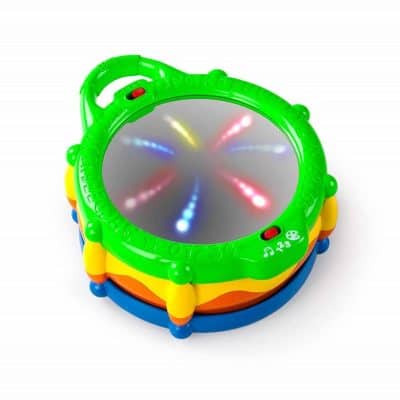 The Bright Starts Light & Learn Drum features a mirrored surface that allows your little one to see themselves as they have fun. Whenever your baby created a beat, it will light up with different colors. It comes with different modes your child can play with: drumming, colors, and numbers. Your baby can count to the heat or learn colors by setting the desired mode. When in the music mode, it will play a tune for your baby while flashing colored lights. The large handle is easy for their small hands to grasp. It comes ready to use as the kit includes two AA batteries you can insert in it.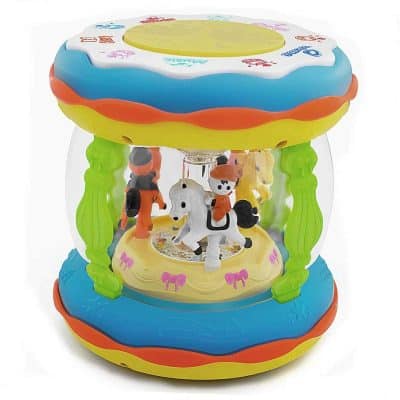 It is important to help your child to improve their hand-eye coordination and fine motor skills. The Rigoo Kids and Baby Musical Drum Toys is one nice way to go about this. Incorporating fun things like lights, colors, number, and animal sounds can help your toddler learn. The shape and size of this drum allow your child to easily play with the drum. It features 5 different drum music, stories, and sounds.
The buttons on the top allows you to select the desired mode and you can turn it down as you would like. This drum set also has a power-saving mode. The merry-go-round in the center is one of the cutest things about the Rigoo Kids and Baby Musical Drum Toys. Your baby can activate it by simply passing the top button on the drum. Once the merry-go-round is activated, bright colored lights will be displayed.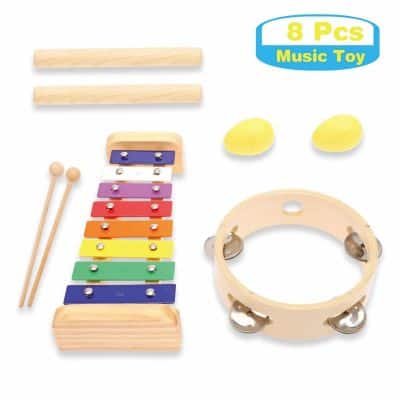 The MUSICUBE Kids Wood Musical Instrument is Mande of sage and reliable materials, so it is healthy for young children from ages 3 and above. The safe and smooth finish, as well as high-quality construction, makes this set a great choice. The set comes with handbell, tambourine, wood maracas, and triangel with a metal beater. Each of the instruments can create an accurate sense of music and pleasant tones for beginners.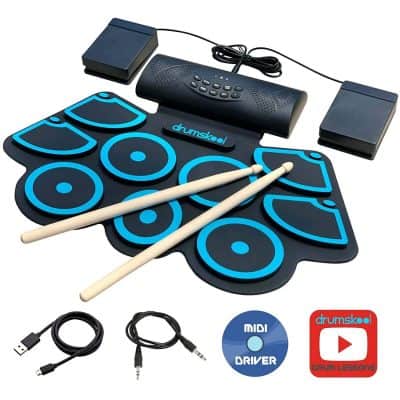 The JEVDES Electronic Drum Set has a realistic drum sound with the response and sound of real drums. It will allow your child to play and enjoy different musical styles. The headphone jack allows them to play drums without bothering your neighbor. The built-in speaker also allows you to play loud music.
The pedal expansion interface and the standard drum settings bring them the real drum experience. It is compatible with PC, tablet, and mobile phones. You can record beats with the drum pad set and upload them to your computer. The drum set also has a powerful USB MIDI function, speed control, and volume control.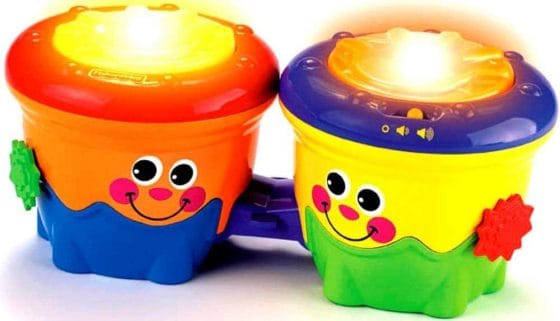 The Fisher-Price Crawl Along Drum Set is designed especially for toddlers and younger children. It is perfect for your babies to sit and play with. This simple yet entertaining and effective design features 2 unique electronic bongo drums that produce high-quality sounds with every touch. This helps to stimulate your baby's mind while promoting increased levels of development. The built-in songs will further your baby's experience. This drum set comes with 2 fun spinners that are colorful and vibrant.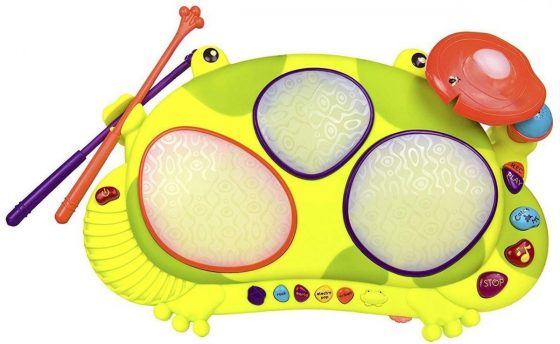 The B. Toys B. Ribbit-Tat-Tat Drum features a unique drum pad design that is very easy to pick up and use, allowing your little one to learn at their own pace. The integrated learning system of this drum set can teach your kid how to play certain beats. It also allows them to choose between popular and familiar nursery rhyme songs. This drum set comes with two drumsticks, so your child can start playing straight away. The B. Toys B. Ribbit-Tat-Tat Drum is made from BPA-Free materials which makes it safe for your child. You can be sure this set will get your child's creative juices flowing.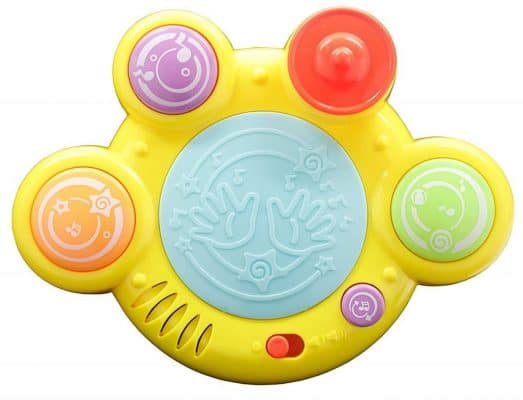 If you are looking for a compact and lightweight drum set that your baby can enjoy, the Techege Toys Learn 'n' Play Fun Drum is a perfect option. It is designed with bright and fun colors that will help engage your child. This will increase their desire to use the drum set. It features a unique set of colorful lights which is activated once your child plays head popping and funky sounds. The multi-touch function of this device allows your child to interact with all the drum pads simultaneously. This gives them unlimited options of beats to play with.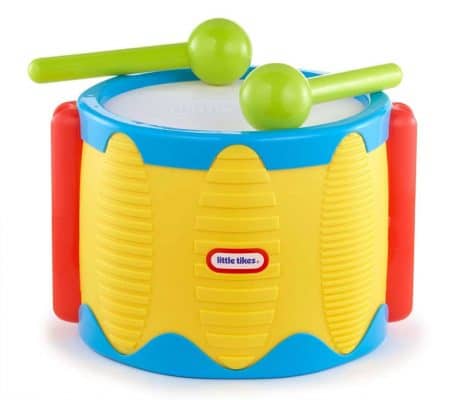 The Little Tikes Tap-a-Tune Play Drum chosen not only for its features but also because of its budget-friendly price tag. When it comes to producing innovative, trendy and colorful baby toys, Little Tikes is at the heart of it all. This can be seen from its Tap-a-Tune Play Drum that gives your kid the liberty to make musical tunes by using their hands or drumsticks to bang on the drum. Better yet, the two drum sticks clip on one another to prevent them from getting lost. We love this classical-style drum set, but we wish that it would produce just a bit more noise.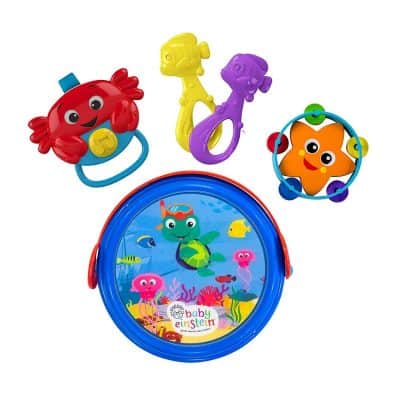 Baby Einstein believes that great minds can be matured at a tender age to spur their creativity to the level of the legendary theoretical physicist Albert Einstein using simple yet innovative baby toys. One of these is the Music of the Seas Drum Set that comes with exciting under the sea instruments such as the starfish tambourine and the fish-shaped maracas that are sure to excite your kid. Also, you can easily pack all these toy parts and conveniently store them inside the drum.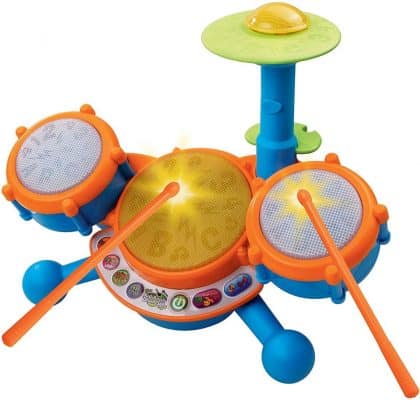 Enriching children's development and creativity is part of the code of VTech and thus the reason it has grown to become one of the world leaders in age-appropriate electronic learning products for kids. Its KidiBeats 9-Melody Drum Set has built-in melodies in a variety of styles and three light-up drum pads to let your kid perform like a star. This is complemented by free play, numbers, letters, and follows along with play modes. The VTech KidiBeats 9-Melody Drum Set comes with durable drumsticks and a set of batteries for easy setup.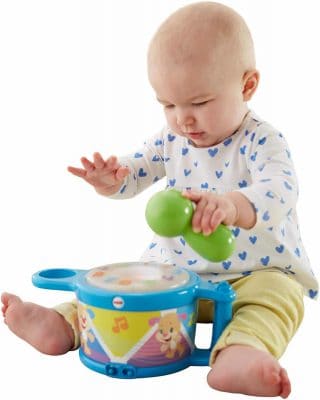 Fisher-Price understands how important it is to spur the creativity of your child at an early age and are dedicated to making this possible through innovative baby playthings. Its Laugh & Learn Tap & Teach Drum is a testament to this considering its baby-activated fun that enables both a learning mode and a music mode. You will love the grab-and-go handle that makes it super easy to carry around. One downside is that the soft volume setting may be inaudible over the tapping when using the drumstick, but this isn't a problem when using your hands to bang away at will.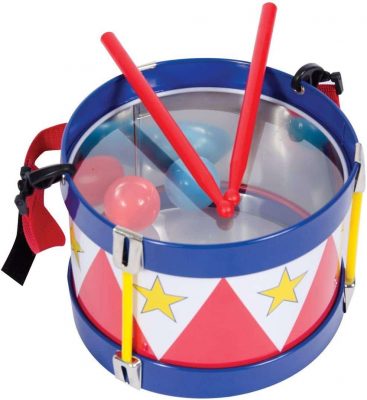 The Schylling TD Tin Drum is designed as a marching band type drum and it features 2 wooden drumsticks and an adjustable neck. This drum set is literarily made of plastic and tin. The detachable neck strap allows your child to use this drum set in different ways. The bouncing pieces inside it help to add a tune to the playing effect. You don't have to worry about your child's safety with this drum set as it doesn't contain any harmful materials.