Top 21 Best Cat Toys for Kids & Toddlers 2021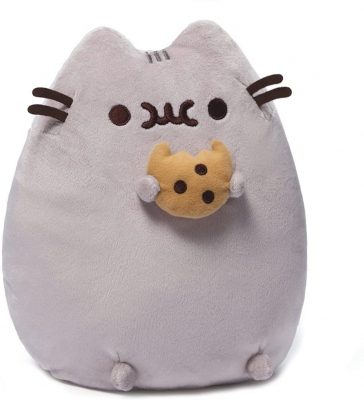 Review
This is a nearly ten-inch tall adorable plush toy that is based on the iconic cat from the Pusheen webcomic. This is one fat cat! The plush comes in different treat varieties, including cookie, cupcake, ice cream, donut and etc. She looks so happy while sitting down and indulging her sweet tooth. This toy is sure to put a smile on your child's face as well.
One of the big appeals of this particular cat toy is that it is really easy to clean. It's made of specific materials that allow it to be surface-washable… meaning you don't have to immediately throw it into the washing machine if your child stains it with some errant food or drink. A quick wipe-off with a moist cloth and a little time in the sun will leave this plush looking as good as new.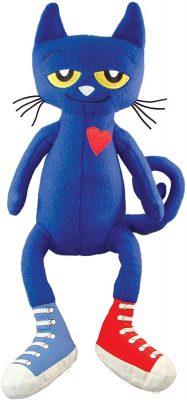 Review
Pete the Cat is a New York Times bestseller series of books based on an actual cat that the artist, James Dean, adopted from a local animal shelter. Apparently the adopted cat's personality inspired the artist enough to create the idea behind the very plush cat toy you see here today.
Pete's made up of a really colorful blue hue that's easily recognizable a mile away. On top of that, he's got an instantly-understood half-smile/smirk on his face that indicates that this cat is cool and laid back – as if the two different colors of sneakers he's wearing didn't tip you off already! Pete's attitude is great for teaching children how to be calm in the face of stress and adversity, no matter what. This plush toy would make a great friend for any child who frets about the little things too much and remind them to take it slow and easy in life.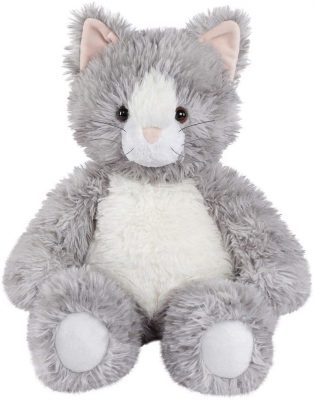 Review
Looks can be deceiving sometimes, can't they? This has the exterior look of a typical teddy bear, but it is very much a cat. It's super cuddly and is sure to give your child plenty of comfort.
This 18-inch plush is made of 100% recycled materials (for the environmentally-conscious buyer) and it's also composed of non-shedding fur, meaning you won't have to clean up cat hairs like you do with a real cat.
Another cool thing about this product is, once it's out of the box, it's guaranteed for life via the Vermont Teddy Bear Hospital. If the plush's damage is too extensive, a new toy will be shipped to the buyer with yet another lifetime guarantee attached to the new product. You can't beat that!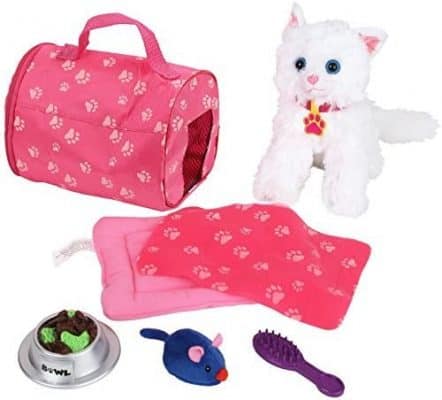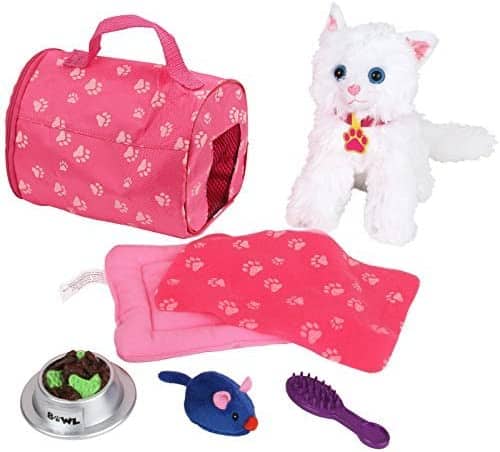 Review
This kitten-themed set comes with everything you need to provide your little one's doll friends an adorable pet of their very own. First things first, the set comes with a Velcro leash that attaches to the cat's collar, perfect for walks around the dollhouse. The set also comes with a bag to carry the kitten around everywhere you can think of. The carrying bag also doubles as a cozy bed that can be stored almost anywhere.
This exciting set is also rounded out more with some interesting accessory items. It comes with a blanket, which is perfect for keeping the cat warm on a cold winter day, a grooming brush (because all beautiful cats need a brush to look their best). There is also a toy mouse for the cat to chase around, and even a small food bowl so the cat can chow down once in a while.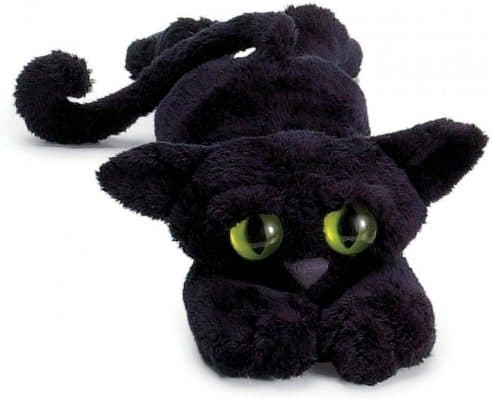 Review
There's a lot of stories surrounding black cats in history and folklore. Some say that they are the familiar spirits of wicked witches. Some say they are bad luck if you cross paths with them on a certain day…but we're pretty convinced that this adorable dark feline plushie is everyone's best friend no matter what.
This sleepy-looking kitty is made of 100% polyester material and its paws are filled to the brim with small, polyethylene pellets that weigh its feet down, allowing the cat to "hang" off of things, such as desks, beds, and even your child's shoulder. Another positive about this plush is that it is made out of easy-to-clean fabric that allows for surface cleaning. There's no need to toss this kitty in the washing machine if milk is spilled on it.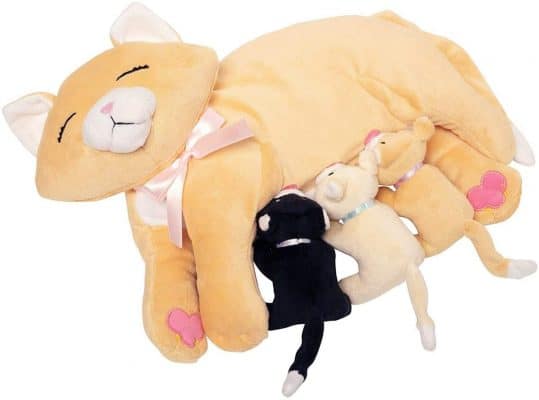 Review
Birth is a part of life. What we know as adults can be a vast and complex thing to teach children. This is a great toy that can showcase what a female animal does to nurture her young while being adorable and not graphic.
This mommy cat is made of extremely soft fabric, and her babies "attach" to magnets underneath in her stomach area. The magnets themselves aren't easily accessible to your child, as they are inside a pouch that sewn into the fabric itself so the child has no chance to put them in their mouth.
On top of that, the little kittens can detach from the mommy cat, so it's almost like there are many different plush toys in one package. To top off this great product, each and every one of the cats is surface washable, so there's no need to throw these cute guys in the washing machine if an accident happens, you can just wipe them with a damp cloth.
Review
This is a super-soft cat plush toy that is suitable for all ages, especially newborns and toddlers, but we can easily see children growing up with this stuffed cat as their endearing little friend. At a mere nine inches tall, this toy isn't going to be taking up much space in your little one's crib or any other sleeping area. On top of that, it's hand-washable, so if your child happens to spill something on it, it can easily be wiped off and be good as new.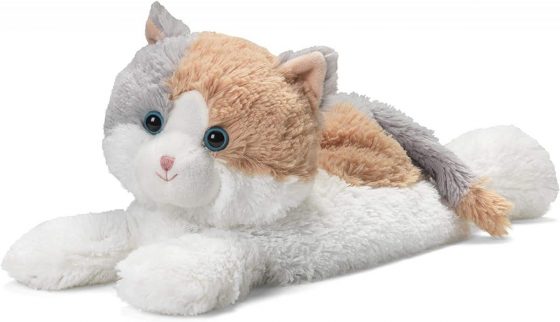 Review
You can throw this little guy in the microwave for a little under sixty seconds to warm it up. The heat of the microwave not only warms up this comfort plush cat but also causes a distinct lavender smell to emit from the toy. Lavender is a natural remedy for anxiety and stress relief. So this toy can be great for calming down anxious toddlers.
But the value of this product doesn't stop there. You can also put this plush inside any kind of freezer for a few hours, and then the toy an adorable cold compress.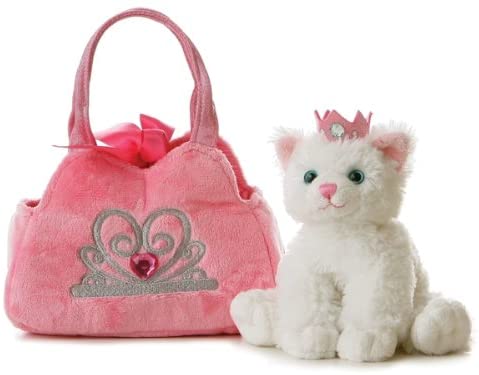 Review
Girls in particular adore this fantastic princess kitty. This is a soft and non-abrasive carry "purse" for the purposes of transporting small bean bag-sized plush toys wherever they happen to go.
This product comes with a cute little cat plush toy that fits snugly within the carrying bag. The bag can double as an alternative of carrying case for other small knick-knacks that your child might find necessary to bring on a trip out and about.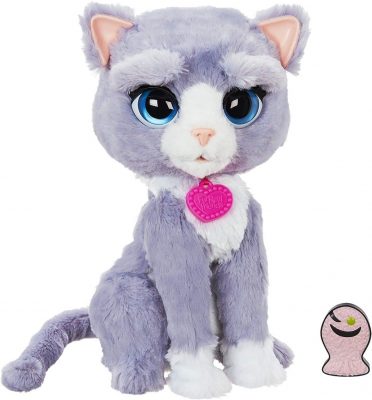 Review
Do you want your child to have the experience of a pet, but without actually owning a real pet? The FurReal Bootsie interactive plush toy here might be your ticket out of that particular conundrum.
Bootsie reacts in different ways depending on how she "feels" at any given moment. Sensors on Bootsie's body give her the ability to respond when your child pets her, tries to give her a treat, and even when she's being waved at. Have your child pick her up and she'll even purr lovingly.
This toy is a great beginner product to see if your child would mesh well with something like a real animal in your household…she's about as random as a real cat can be, that's for sure!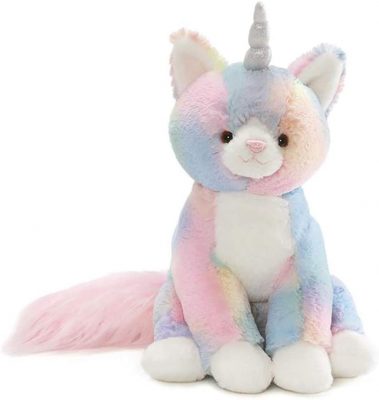 Review
It's a cat, it's a unicorn – it's a Caticorn! This whimsical hybrid creature is the perfect gift for the little one in your life that is absolutely in love with mythical creatures and beautiful pastel colors.
Complete with a super-fluffy tail, a shiny "horn" on the top of its head, and a color scheme that is something reminiscent of a bubblegum factory, this is an unforgettable plush toy that is sure to be the talk of the town, or perhaps the entire floating castle.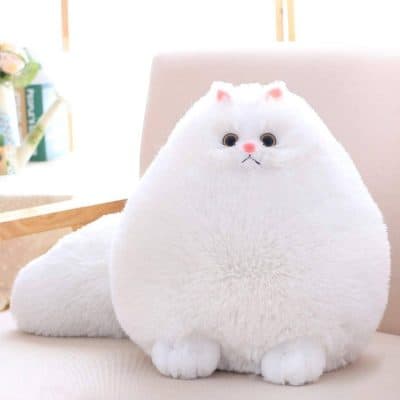 Review
The immediate reaction when one sees this particular plush cat toy is wow…it's big! And indeed it is. This cat is the perfect sort of gift for a child that not only loves obscenely large and cute things but may even need an extra pillow on their bed to boot.
Made out of tough and durable polypropylene cotton, this cat toy is built to last. If you want big and if you want fluffy, the Winsterch stuffed cat is going to be an excellent choice for your kid.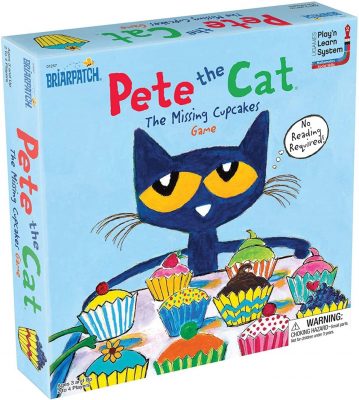 Review
In this interactive board game, kids can take part in Pete the Cat's world and assist him in retaking cupcakes back from his antagonist, Grumpy Toad. This game requires spontaneity as well as creativity in order for kids to help Pete the Cat save the day.
Think of it as a feline-oriented game of charades for small kids. Kids will sing, act and identify favorite things as part of the game. 2-4 players can play and it's simple enough to be played unsupervised except for very young kids.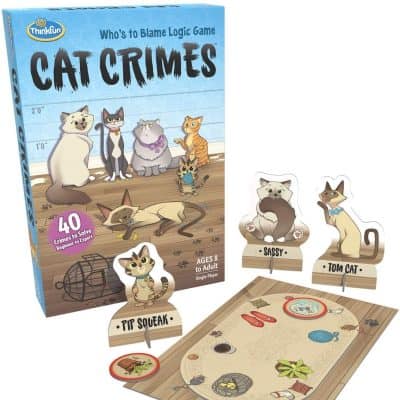 Review
This cat-focused board game is made with the intent of giving your child the mean's to use detective-like logic and reasoning skills in order to solve the various stages to win.
The gameplay is simple. Your child start out with a single challenge card that indicates a crime that's been committed somewhere on the game board. Your child then utilizes this challenge card to figure out where to place all of the different cat tokens on the board. Over time, your child will solve the various clues using their reasoning skills and figure out just which cat is guilty of each "crime".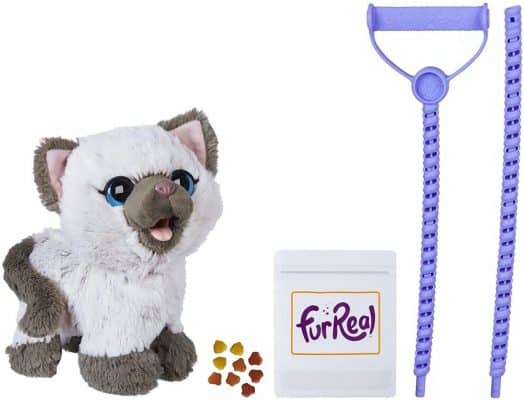 Review
It might seem strange that the least fun aspect of having a pet is considered a fun activity with this product, but try to follow us here. FurReal Friends Kami the Poopin Kitty can teach your children the value of listening to a pet, and noticing patterns.
Like any other animal, Kami needs to be fed appropriately and taken out for a walk every once in a while. Sometimes, she has to use the litter box as well, and alerts your child with different sounds in order to indicate that she has to go to the bathroom.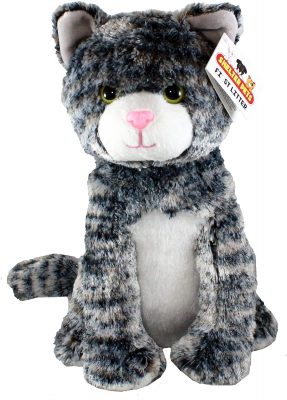 Review
This line of plush cat toys are based on real-world pets that have been adopted from various animal shelters in the United States. Each pet has their story listed on the Shelter Pet's website along with a photograph of the real-world pet the plush model is based off of. Each time one of these Shelter Pet products is purchased, 10% of the sales goes to the shelter the pet came from.
The product itself is of superb quality. Each one is composed of velboa fabric, which mimics the tactile feeling of real fur. Each plush cat is adorable, unforgettable, and life-like.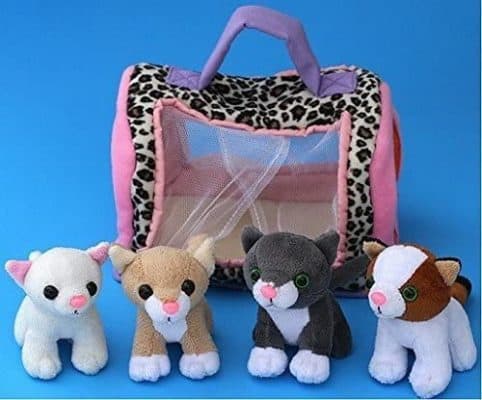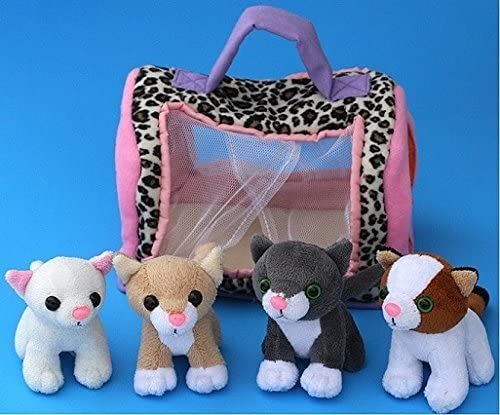 Review
This is a great big bundle of four kittens with their own little carrying "house" to tote them around in. The kittens are all different colored, soft, and meow when squeezed/hugged.
The only real issue with this product is that the batteries in the kittens themselves are sewn into the kittens, and are thus not replaceable after prolonged use causes them to die out. Other than that, this is a solid little tote to keep a child's smaller stuffed animals in.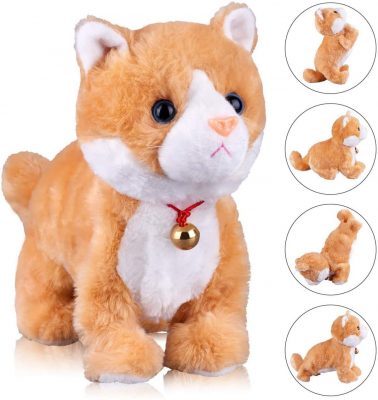 Review
This toy is an absolute delight for young toddlers to behold. As soon as it is turned on, the cat immediately starts doing tricks, like rising on their back legs, meowing, and even doing push-ups. This toy cat even has the ability to walk around on its own as well.
If you purchase this toy, however, be aware that you're probably going to need a fairly big supply of AA batteries, as this product can burn through them quickly. However, with that being said, this cat toy is fun and entertaining and will keep your child engaged for quite a while.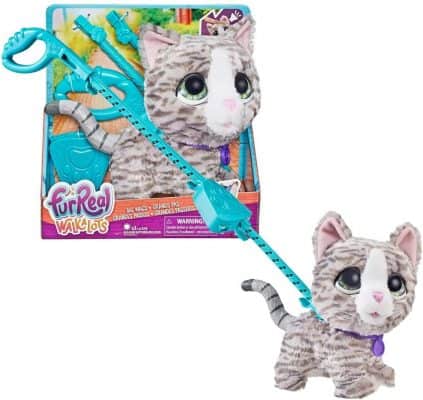 Review
This is, quite simply, an adorable plush toy cat with wheels on the insides of its feet. This allows your child to "walk" the toy on all kinds of surfaces by pushing it with the leash that comes with the package. On top of that, this locomotive kitty cat also bobs its head when it walks, wags its tail and makes a whole host of adorable cat noises. On top of that, you can connect a couple of other FurReal Walkalots toys together via a leash connector so your child can walk a whole party of pets, as opposed to just one!
There is no real way of switching the toy off, however. This can not only burn through battery power but also can potentially be annoying due to the noises the toy cat makes.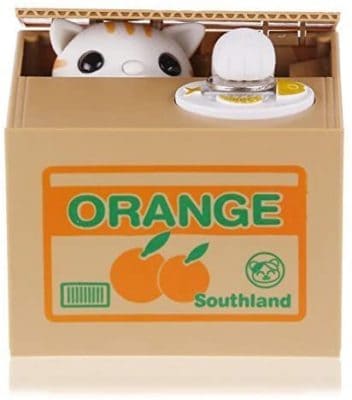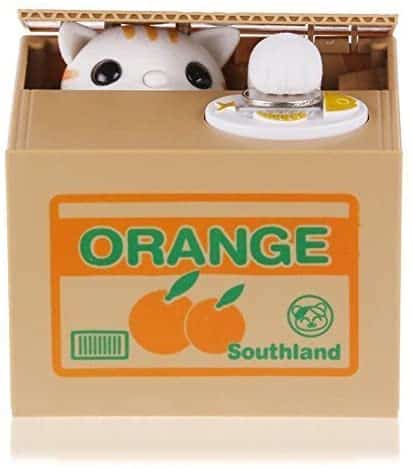 Review
This is a really simple but exceedingly adorable solution when it comes to teaching your child the value of saving their money. All you have to do with this product is put any kind of coin on the "plate" on top of the box the kitty resides in. About a second later, the cat pops its head out of the box, says "hello!" and swipes the coin quickly back into the box… it even says "thank you" after taking your child's coin. What a considerate cat!
This is obviously a great product for not only teaching your child about saving and investing their money for the future, but it also can potentially teach your child manners due to the cat's behavior. This product is fun, educational and useful, and you just can't beat that.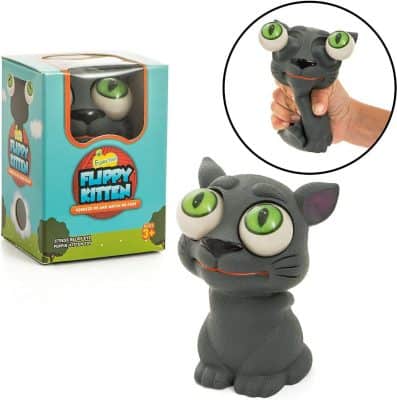 Review
This is a fairly simple toy but you don't need complexity to be cute and hilarious now, do you? The premise is basic: squeeze this overly neurotic-looking cat, and its eyes pop way out. This comical effect is super-funny and can be repeated over and over again.
This is a perfect kind of toy for a child that needs a quick distraction, especially if they are prone to stress or excessive worry often in their lives. Since the product is made of extra-durable ABS plastics, it will last you pretty much forever.