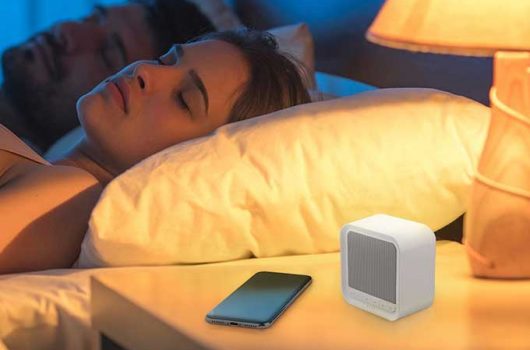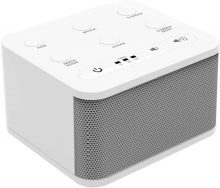 Big Red Rooster White Noise Sound Machine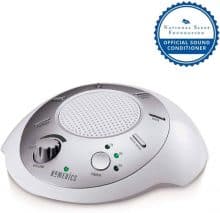 Homedics SoundSpa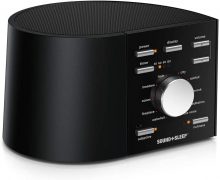 Adaptive Sound Technologies Sound+Sleep Sound Machine
Previous
Next
White noise sound machines are a great way to soothe a child of any age, and even parents can get great sleep benefits when using one. A sound machine is a great product, and there are a ton of different options out there. Each sound machine features different sounds, pitches, technology, and even sound quality. So, when it comes to choosing the right sound machine for the job, we understand how hard it can be.
Luckily, we've done the research for you. We'll be showing you our top 10 picks for the best sound machines, and we'll also provide you with some things to look out for through the buying process. So, if your little one isn't sleeping soundly through the night, take comfort in knowing that we have your back.
We also know that some of you may be sharing a room with your child, and that many of you may have children of different ages. So, we've decided to compile great options for everyone. As a result, some sound machines may be a bit more complex than others.
Features to Consider in Good White Noise Sound Machines
Before we jump right into the 10 best sound machines, it's important to take a look at what you're actually buying. There are a few key features that set sound machines apart, so if you're not too familiar with what to look for, take a glance at some of these features.
The Number of Sounds
The first thing you should consider is how many sounds the machine will have. This is important, because not every child appreciates the same sound. Sound machine sounds can be either fan-based, looped, or recorded. The type of sound that you want is really up to you, and each type of sound has its own benefits. A fan-based sound is being created by the machine there and then, while a looped sound is a repeated recording, and a recorded sound is one track played through.
You don't need a thousand different sounds, but there needs to be some variation. So, when considering a sound machine, be sure to consider how many sounds you want to try with your child. Some babies like the sound of waves crashing against the beach, while others may drift away to the sound of rain tapping on the window. So generally, the more options you have at your disposal, the better.
The Power Source
The power source of a sound machine may seem like something simple, but you'll find a lot of variation. Some sound machines will plug right into the wall, while other sound machines may run on a rechargeable battery or traditional batteries. Finding the right power source that works for you is important, especially if you need a sound machine that's very portable.
The Volume
A sound machine is designed to emit sounds and mask outside noises. This is the main function of the device, so you want to make sure that the sound machine you're looking at actually does its job. Sound is usually measured in decibels, and most sound machines have a few different settings for you to work with.
Another thing to consider with volume is how the volume can be changed or modified. Some sound machines will come with a simple knob to increase or decrease the volume, and other machines take it a step further by adding in customizable pitch settings. This is all about your personal preference, and when shopping for an infant or child, pitch settings don't always have to be a priority.
Timers
Whether you'll be using a sound machine for you or your child, considering whether or not you need a timer is very important. Timers allow you to have the sound machine turn itself off automatically, which can save you some extra money on your electric bill. Timers are also a great way to conserve on the lifespan of a sound machine, because there will be less wear and tear from long operating hours. Finally, and most importantly, some babies and adults like to have the sound as they drift off, but don't want it as they wake up. A sleep-timer ensure you wake up to silence if that's what suits you or your baby best.
While timers may be important, not every machine has one. The sound machines that work by creating natural white noise with an internal fan won't typically have timers, and this is totally normal. It's part of the design. Also, some of the more portable sound machines may lack a timer as well.
Top 10 Best White Noise Sound Machines 2020
Guide to Buying the Best White Noise Sound Machines
What You Can Use a Sound Machine For
A sound machine works by providing your space with noise. This noise is generally referred to as white noise, because it tends to operate in the background on a frequency that masks other noise. This noise is designed to keep other noises blocked out or at least reduced to a minimum to provide you with peace. So, if you want to block out the noise from a busy city block, you can replace the sound of passing cars with the sound of a rainy night or gentle fan.
Meditation
Another benefit to a sound machine is that you can use it to help you meditate. This is more apparent in sound machines with hand crafted nature sounds, because loops can end up breaking your focus. So, if you're looking to use a sound machine to help you meditate, make sure it's one that has a headphone input or noise tracks that don't loop.
Sleeping
Sleeping is precious, and everyone should get the sleep that they deserve. If you have a partner that snores, or if you live in a busy area, a sound machine is a great way to create a great environment so you can get some of that much needed sleep. If this is what you'll be using a sound machine for, we recommend going with an option that has great volume and noise cancelling abilities. For example, the Douni Sleep Sound Machine can be a great cheap option to start with.
Putting Your Child to Sleep
Many parents struggle with getting their baby or toddler to sleep. This can end up keeping both you and your baby up at night, and that's not healthy for either of you. The 4-month sleep regression is an incredibly difficult time to manage with an infant, because they tend to be up and about for what can seem like forever. In this case, a sound machine is a great way to keep your child asleep. Plus, the more you use it, the more accustomed to a sound machine a baby becomes and the easier it will be to get them to sleep.
Some sound machines come with lights that also help feeding, so be sure to shop around for one that fits your needs. You should also know that some sound machines are better fits for babies and children than others. Sound machines that work best for babies include nightlights, portability, and a wide array of sounds. Here is a quick look at the science behind how sound machines interact with children: https://www.healthline.com/health/parenting/white-noise-for-babies.
Reducing Noise at the Office
Portable sound machines are a great way to get peace and quiet at the office or work. If you're having a hard time focusing at your desk or job site, a sound machine can help you drown out distractions. We definitely recommend a portable model for this, and you should always keep the volume low to make sure your co-workers don't mind.
Pets
You may think that a sound machine can only be used for either you or your child. While it may be somewhat true, animals can also benefit from the white noise that a sound machine emits. Dogs and cats have very strong hearing, and become disturbed or distracted by outside noises. So, don't just think about you and your child, but think about other members of the family too. Here's an article which explores this in more detail.
Privacy
Sound machines also work really well for privacy. This is something that not a lot of people look into a sound machine for, so consider it an added bonus. If you're having a conversation, and would prefer to not have others hear it, a sound machine can be a great way to mask that sound.
Single Sound Versus Multiple Sounds
On our list there were both sound machines with multiple sounds and sound machines with single sounds. These machines both have strengths and weaknesses, and it really comes down to preference. So, let's have a look at what makes each one a great option.
Multiple Sound Machines
Multiple sound machines provide you with the ability to truly customize your environment. You can use nature sounds, regular white noise options, and sometimes even music. These sounds tend to work well for both adults and children, but you need to consider if this is right for you.
Multiple sounds are great for people that like a certain atmosphere. Having the soothing sound of rain dripping through a forest can be great for some, but bothersome for others.
Single Sound Machines
Single sound machines work by using a fan. The fan is internal, and spins to create a humming sound. This is then amplified through the speakers on the machine. This is a great sound machine for people that like the sound of a fan, AC unit, or other potent yet simple noises. This isn't designed to be anything fancy, but it will emulate the sound of something comparable to a ceiling fan very well. In other words, if you don't want to deal with nature loops, a single sound machine is better for you.
Sound Quality
The sound quality of a sound machine is one of the most important parts. The whole point of the machine is to create sound, so you want to make sure that the machine you go with does its job well. This comes in various forms, but we have a few great indicators to look out for and consider.
Decibels
Decibels are a measurement of sound, and are used to define how loud a sound is. The higher the decibels, the louder the machine will be. For infants or young children, you don't need to focus on the decibels as much; we even recommend going with softer sounding machines. On the other hand, if you need a sound machine for yourself, look into one that has a wide range of volume options.
Pitch
The pitch of a sound machine is incredibly important. High-end sound machines will allow you to customize the pitch, which can help you keep outside noises down to a minimum. The pitch will also allow you to get more out of each sound you have, because you can listen to them on a different wavelength (literally). This can make certain sounds appear differently, and give them a fresh feeling.
Looping
Sound machines that use recordings of nature sounds can end up being looped. This is a necessary thing, because the sound machine is not creating new sounds. So, when you look for a sound machine, consider how well the sound is put together. If a sound machine does a poor job with a loop, and has pauses, it can disrupt the whole mood.
If this is something that sounds like it may bother you, going with a sound machine that has well put together sounds is very important. Also, if you want to avoid this problem altogether, you can decide to go with a single sound machine that uses an internal fan like the Yogasleep Dohm Sound Machine.
Technology
Technology tends to be hit or miss with sound machines. Each sound machine has different options, but the main function is generally the same across the board. You turn it on, choose a sound, and let it play. Simple and easy.
While there may be basic sound machines on the market that do their job well, you can get your hands on sound machines that have more than one purpose. For example, some sound machines may have nightlights that can put out a fair amount of light.
The technology really depends on what you need the sound machine for, and what you want to get out of it. If you'll be using a sound machine for an infant, and you want it to be an all-in-one sleep aid, we definitely recommend the Hatch Baby Relax Sound Machine with the companion app.
Choosing the Right Sound Machine for You
Now that you've seen some of the best white noise sound machines on the market, and how they work, many of you are probably curious as to which one is the right choice. It may seem like a simple purchase, but you really have to think about what you need it for.
Is It for Your Child?
The first thing that you need to consider when buying a sound machine is who it's for. If you need a sound machine for an infant or newborn, we recommend you look into one that is built for them. A good sound machine for your infant will be portable, feature sounds from the womb, contain lullabies, and may possibly have a nightlight as well. Those should be your parameters for picking up a sound machine for your baby.
If you need a sound machine solely for your child, we definitely recommend going with a product like the Marpac Yogasleep Hushh, or the Hatch Baby Rest. Also, if you prefer the idea of a single sound machine, the Marpac Yogasleep Dohm or Sleep Easy Sound Machine could also work well for your child. These sound machines were all made with your baby in mind.
Is It Also for You?
Now, as a parent, sometimes you'll want to drown out unpleasant sounds yourself. So, if you need a sound machine for yourself, you'll be pleased to hear that there is a bit more flexibility when it comes to buying one. Any of the products that we showed you that aren't baby specific are a great choice.
One word of advice we will give you is to avoid sound machines that have poorly done loops if it's going to be used for you. The loops are less noticeable to infants, but they may make you uncomfortable once you get used to the sounds. You should also consider whether or not you like the idea of a fan sound or nature sounds. Most sound machines like the Big Red Rooster will work well for both you or your child.
If you want a truly comprehensive and advanced sound machine, the Adaptive Sound Technologies Sound+Sleep High Fidelity Sleep Sound Machine is the perfect choice. It may not fit every budget, but it delivers one of the best sound machine experiences that you can find.
FAQ
How Loud Should a Sound Machine Be for a Baby?
Finding the right volume for your sound machine comes down to the baby's preference, and it can change as they grow older. To start, just make sure that you don't blast it, or it can end up adding discomfort instead of soothing. Under 50 decibels is always a great rule to follow when using a sound machine on infants.
What Sound Machine Sounds Do Babies Like?
Babies like all sorts of sleep sounds. It really depends on your child, so be sure to take some time to play around with it and find a sound or pitch they like. If you will be using a sound machine for newborns, we always recommend going with a machine that has lullabies, fetal noises, and fan sounds.
Should I Leave a Sound Machine on All Night?
A sound machine either comes with a timer or it doesn't. The use of one is entirely up to you, and most sound machines are able to handle running all night. It's not a matter of durability, but a matter of what you or your child needs at night.
Final Thoughts
Getting a good night's sleep is one of the best things out there for your health. It doesn't matter how old you are, or who you're using it for, your sleep is important. Plus, not only is sleep important for you, but it's even more important for your growing child. If you want to make sure that everyone gets the sleep they need, investing in a white noise sound machine is definitely a great idea.
There are so many uses for a sound machine, so don't just think of them as sleep aids either. If you need to meditate, find peace at the office, or even cancel out ambient noise or a snoring partner, a sound machine can definitely help. So, before you look into finding the right sound machine, take some time to think about what you need one for. Even if it's primarily for your child, we bet that you may fall in love with it yourself.