Top 28 Best Fidget Cube Toys 2022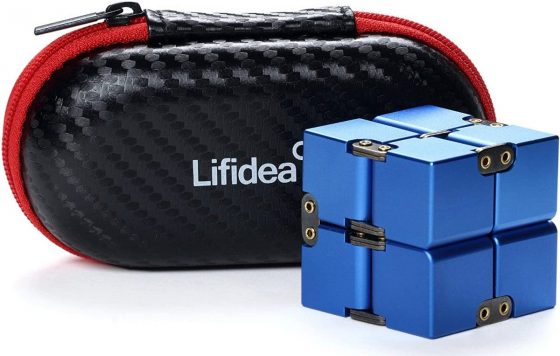 The Lifidea Metal Infinity fidget cube is hands down one of the best metal fidget cubes on the market. The blocks are made of anodized aluminum alloy, which ensures durability and light weight, and have brass pins that prevent the toy from breaking apart from regular use. The cubes are also CNC-machined to precise details, allowing you to smoothly break it apart into different shapes with just one hand.
The Infinity cube also has a unique tactile feel to it thanks to its sandblasted surface treatment. This treatment results in a matte finish that increases grip without adding friction to moving parts. You can also choose from a variety of colors. It comes with bundled with a protective case.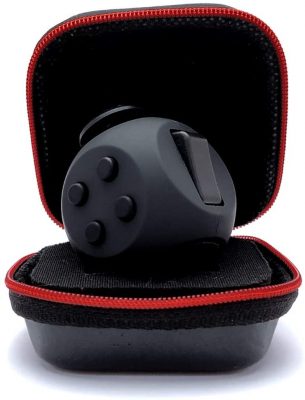 The fidget cube is a bit larger than most cubes and consists of thick plastic and multi-colored rubber. You can also choose from two models: one with the standard cube shape with rounded edges, or a hexagonal design.
The cube also has six sides of fidget surfaces, including buttons, switches, dials, and a thumbstick. The sides split into normal and silent, which allows for more discreet use. It also comes with a protective case that you can use to store the cube when traveling.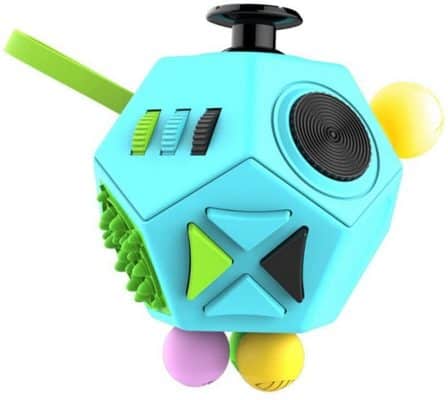 Unlike other fidget cubes that only have six sides, the Minilopa fidget dodecagon has a whopping 12 sides of fidgeting options to choose from. No two sides are alike. The surfaces include switches, sliders, and buttons. The company crafts the Minilopa to generate a tactile click when activated. It consists of ABS plastic and rubber that's durable enough to withstand daily abuse.
Another significant feature of the Minilopa dodecagon is its size. The device takes up half of your hand but can still sit comfortably within your palm. This larger size makes it less likely to slip from your hands, especially if you are walking, although it may prove to be harder to keep in your pocket.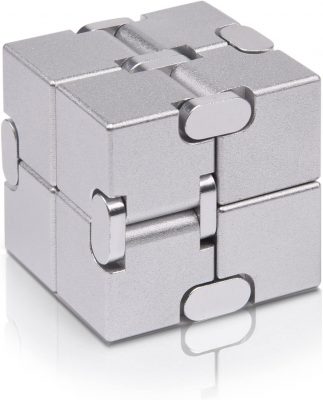 The Joeyank fidget cube is a no-nonsense gadget that prioritizes form over function. The cube features solid anodized aluminum blocks that are resistant to wear and corrosion while still being lightweight. It also has heavy-duty hinges and natural matte finish.
Another feature of the Joeyank cube is its size. With a width of less than 6 inches, this fidget cube can easily fit and be used in one hand. It can also fit into most pockets and, thanks to its rounded edges, will not scratch or tear the fabric of your clothes.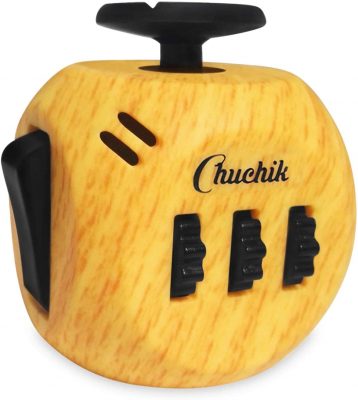 If you're looking for a fidget cube with a bit more elegance, the Chuchik is the best choice for you. The cube has a pattern that imitates the look of real wood, but thanks to its ABS plastic construction, it still retains its light weight without sacrificing durability. The cube comes in 6 and 12 sides and is available in various colors as well.
The Chuchik fidget cube also boasts a variety of fidgeting options, ranging from your typical switches to buttons inspired by traditional worry stones. These are made of thick plastic and covered with silicone for a much softer feel. Also, unlike other fidget cubes, the Chuchik is silent, making it suitable for use during anxiety attacks during meetings or situations where silence is needed.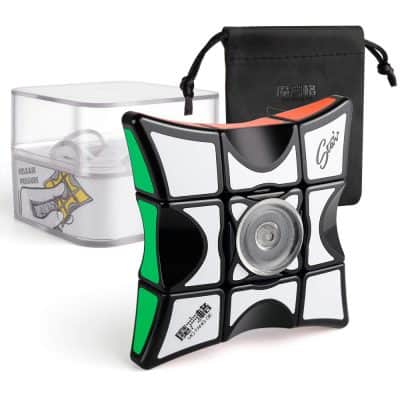 The D-FantiX spinner cube is a 2-in-1 gadget that you can use as a simple speed cube and as a fidget toy. The cube splits into three blocks with different colors on each side that can rotate independently, and it has a heavy-duty bearing in the middle. You can choose to twist the blocks to match the colors or simply spin the entire cube around similar to that of a fidget spinner.
The D-FantiX cube consists of high-quality ABS plastic to ensure durability. It is also fitted with precision-machined steel balls to ensure smooth movement even after countless hours of use. The cube comes with a cloth pouch and a plastic case for convenient storage.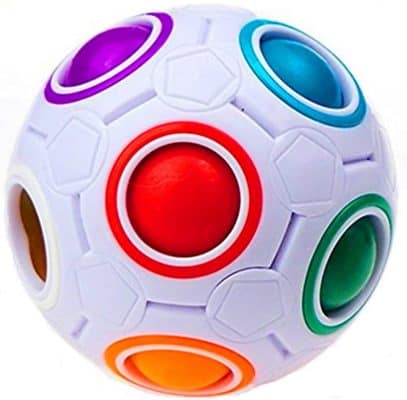 As its name implies, the Cuberspeed Rainbow Ball is a hollow sphere with 12 holes and 11 balls inside. The sphere has differently colored rims on each hole, which you need to match with the corresponding ball. The balls, in turn, can only be moved one by one through the extra hole.
The Cuberspeed consists of thick plastic with foam on the interior to muffle the sound of the balls when moving. The sphere itself also has deep grooves that provide additional grip as well as give it a futuristic look.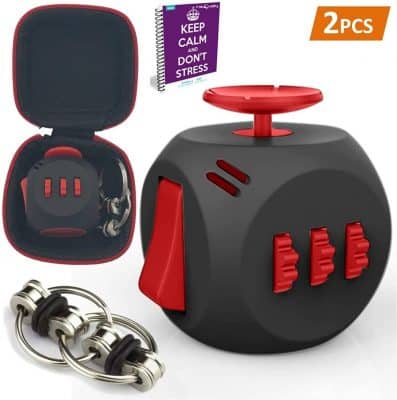 Available in black and crystal colors, the Fabquality fidget toy offers excellent quality at a reasonable price. The cube has six sides of fidgeting options that include the standard switches and dials and has rounded corners for extra comfort, especially when you store it in your pocket. It also comes with a case you can store the cube in when you are not using it.
However, what makes this fidget toy stand out is its flipping chain accessory. Similar in appearance to a bicycle chain, this chain accessory can flip into a soothing repetitive motion. The chain is made of heavy steel and can be stored along with the cube in the provided case.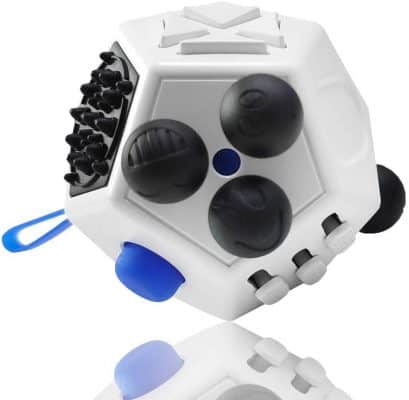 The VCOSTORE 12-sided fidget comes with 12 fidgeting options that include a clicker, switch, silica rope, and gears. It also has worry grooves on several sides, which you can run your fingers across for added stress relief.
At 6 inches in diameter, the VCOSTORE fidget cube is small enough to be held in one hand or comfortably stored in your pocket. The edges of the cube are also round to prevent it from poking the skin. It also comes in various bright and pastel colors to match your personality.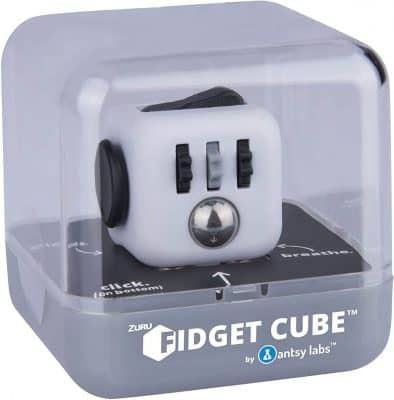 One of the first fidget cubes to arrive in the market, the Zuru fidget cube offers a variety of features to play with. It has six sides of fidget devices to choose from, such as gears, a rolling ball, and assorted buttons. It can also pair with accessories such as the Zuru Prism for added functionality.
The Zuru fidget cube has thick, durable plastic that can withstand daily repetitive use, and it comes in eight colors. The company also tests it to be free of toxic chemicals and safe for use by kids and adults alike. Each cube comes in a sturdy plastic container, which also doubles as a storage unit when you are not using the cube.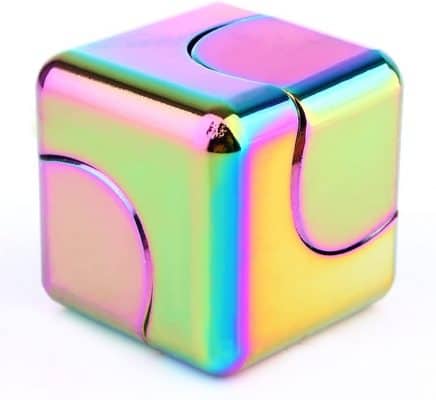 The CXCASE fidget cube spinner is a bit bare-bones compared to your typical fidget cube design. Still, it has more than meets the eye because the cube can spin in four different ways: as a traditional spinning top, held in the fingers in a Z pattern, or both corners detached to spin on their own.
The CXCASE cube consists of 100% metal parts, making it far more durable than conventional plastic fidget cubes. It is also fitted with CNC-machined bearings to ensure seamless, noise-free spinning action. The CXCASE also has a stylish rainbow finish that protects it against corrosion.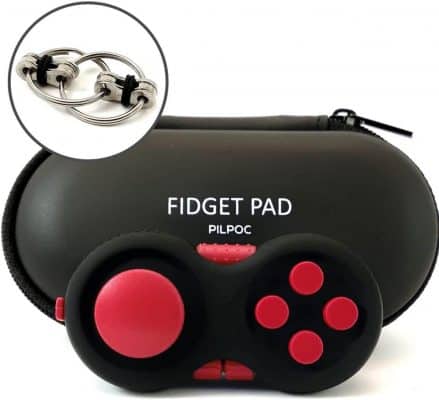 The PILPOC Fidget Controller Pad offers the same features as a fidget cube but in a more compact and familiar design. The device is shaped like a game pad, allowing you to hold it comfortably with either one or both hands. It also has eight fidget functions similar to those found in fidget cubes, including a clicker, button array, and a massage roller.
Because of its design, the PILPOC Fidget is lightweight and quite portable. It also comes with a chain accessory protective case to protect against scratches and dust.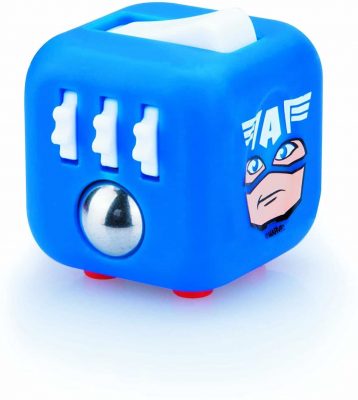 Part of Antsy Lab's line of Marvel fidget toys, the Captain America Fidget Cube shares the vivid blue color scheme and style of Captain America. The fidget cube consists of durable plastic that is free from toxic chemicals and has rounded edges for a more ergonomic feel.
Each Captain America fidget cube also features six sides with distinct fidget functions on each one. These features include a rolling metal ball, a set of gears and buttons, a clicker switch, and a thumbstick. The cube can also store in a protective case that comes in the pack.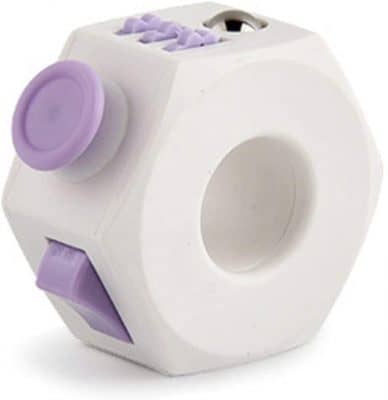 The first thing that catches your eye with the Chemstar fidget ring is its shape. The fidget ring is made of soft ABS plastic and is shaped like a mechanical gear, with each side having a fidget function such as a worry stone, clicker, and a rocking thumbstick. The ring also has a large hole in its center, which, aside from keeping in line with the gear's aesthetic value, allows for a more ergonomic grip.
The Chemstar fidget ring measures 3.5 inches in diameter and can fit in the palm of your hand comfortably. It is also quite light with a weight of just 2 ounces, making it easy to carry during travels.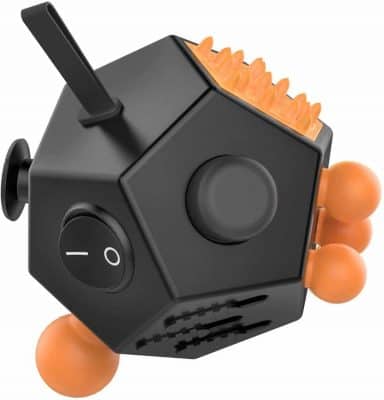 The ATIC 12-sided fidget cube is a dodecagon-type fidget toy with 12 sides having separate functions. Each side has a different way of relieving stress, ranging from mechanical switches to tactile gears. It also has a silicone cord that can also be used to hang or attach the cube to a bag or purse.
For durability and comfort, the ATIC fidget cube consists of sturdy plastic and soft silicone material. It also has rounded corners, so it is less irritating when held or carried in the pocket for long periods.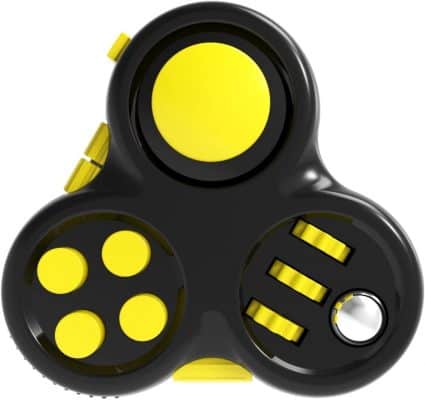 While similar to other game pad-type fidget spinners, the Remokids fidget toy stands out for being triangular. Its three corners have distinct stress-relieving functions, including a rocking joystick, a rolling ball, and a set of clicking gears. Massage rollers are also mounted in between the corners.
While packed with features, the fidget toy is small enough to fit in the palm of your hand. It also has rounded corners and a soft finish for added comfort, particularly when used for prolonged periods.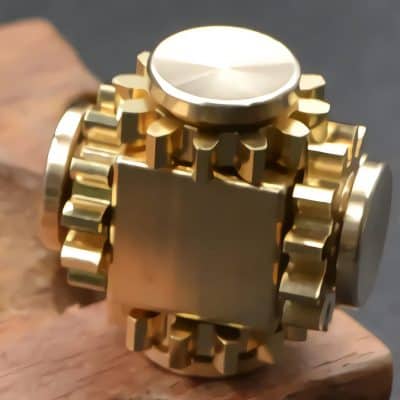 Are you looking for a stress toy that matches your love for industrial design? Or do you want to have something just different? Either way, the Wewinn brass metal fidget cube is right up your alley.
The Wewinn fidget cube consists entirely of a brass alloy and has a thick metal cube surrounded by rotating gears. The gears attach to ball bearings, which allow for smooth, seamless movement even when turned with just one hand. You can also choose to spin only the gears or the entire base to serve as one large fidget spinner.
The Rubik's spin block merges the challenge of the classic speed cube and the anti-stress effects of a fidget cube and spinner. The multi-sided cube is color-coded and can rotate to match its adjacent blocks, while the cube in the middle is fitted with a ball bearing to allow the entire toy to spin in a way that is similar to that of a fidget spinner.
The Rubik's spin block comes in a compact, minimalist design that's easy to play and store. It also comes in various colors and is made with durable plastic for long-lasting use.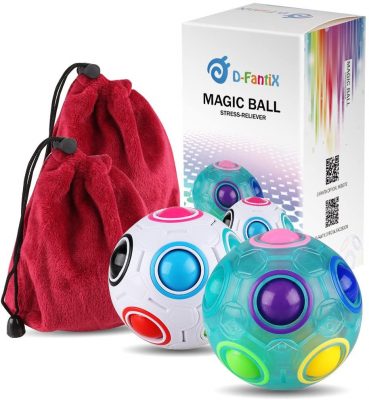 If you are looking to de-stress while keeping your mind focused, the D-FantiX rainbow puzzle ball might help. The D-FantiX rainbow ball is made of non-toxic ABS material and consists of a hollow ball with 11 holes and 10 balls of assorted colors inside its chamber. The balls can match to a hole that matches their color but can only be moved one ball at a time.
The D-FantiX puzzle ball weighs just 9 ounces and is small enough to fit the palm of your hand. It also has a grooved surface for a more comfortable grip and a foam center to reduce the noise of the moving balls. The puzzle ball is also packaged as a pair: in standard white and a glow-in-the-dark version.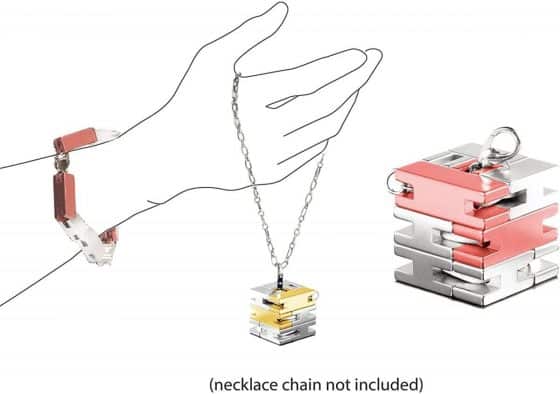 If you want to let off some steam in style, the PLAYABLE ART bracelet cube is a great choice. One of the smallest fidget cubes in the market today, this bracelet cube can be used as a fidget toy or as part of a bracelet or necklace. The cube consists of several metal blocks connected by elastic connectors to bend or extend into several shapes.
Because the company intends for customers to wear it, the PLAYABLE ART bracelet cube consists of lightweight corrosion-resistant aluminum alloy. The cube is available in various colors such as silver, gold, rose gold, and green.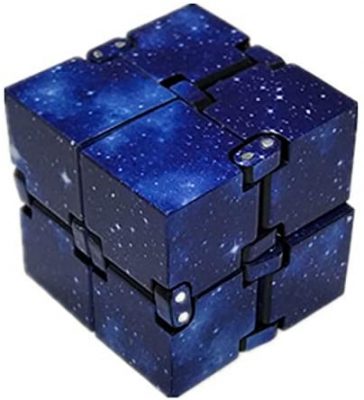 Evermarket kicks up the popular infinity cube toy to another level with this space-themed infinity fidget toy. Compact enough to fit comfortably inside the palm of your hand, the infinity cube consists of several smaller cubes held together by metal hinges. Because of the way the hinges are located, the blocks can fold indefinitely. And to keep with the infinity theme, the fidget cube is covered with a space-themed sticker.
The blocks of the EVERMARKET Infinity Fidget Cube consist of premium ABS plastic that is free of BPA and toxic chemicals. Its links are also made of stainless steel that the company tests to ensure users can constantly flip and fold the toy.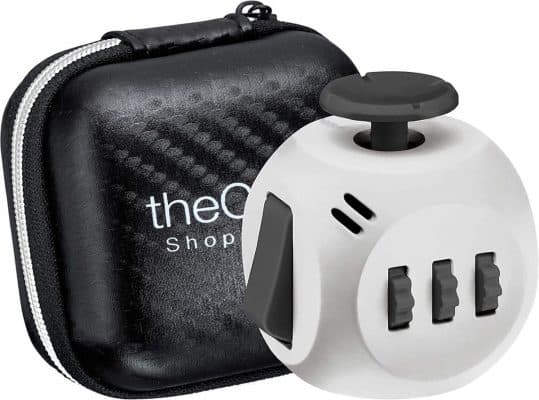 The Shopperals fidget cube promises to be an improvement over the classic fidget cube design. The fidget cube features a large joystick and switch, a deeper and broader worry stone, and smoother rotation for the rocker stick. The company redesigned the toy's switches and buttons to emit a crisp clicking sound.
For added comfort, the cube also has rounded corners to fit in the palm more efficiently. The cube housing withstands drops and dumps more effectively. And to ensure that it remains spotless, the cube comes with a hard storage case.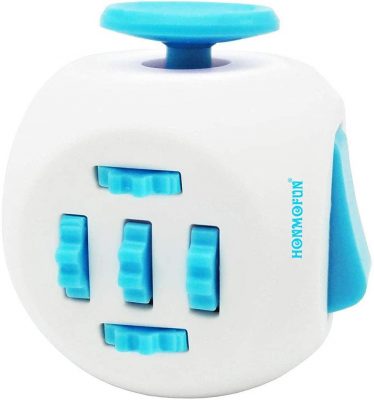 The Honmofun cube comes with six sides of fidget options, with each side having a specific theme. One side, for example, is for breathing with buttons based on traditional worry stones while another side is for gliding with a joystick. The company designed the toy to operate silently or with an audible click.
The fidget cube is also made of lead-free and BPA-free plastic and meets FDA and LFGB requirements. It also comes with a guarantee for a full refund in case you are not satisfied with the product.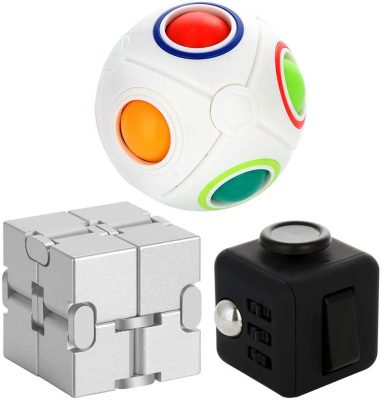 Can't decide on what type of fidget toy to get? You can now pick three with this pack from Mengduo. Each fidget toy bundle comes with a fidget cube, a fidget ball, and an infinity cube.
The fidget toys included in the back are of excellent quality. The toys consists of thick plastic and heavy-duty metal components and can withstand years of fidgeting without wearing out.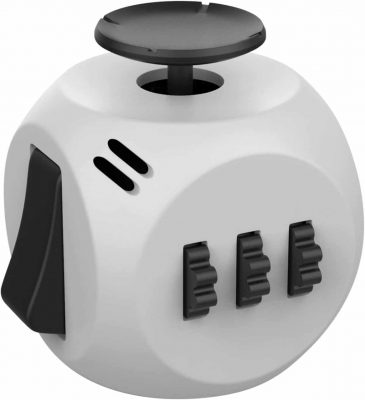 The Helect fidget cube's design helps decrease stress and anxiety while increasing focus in concentration. It has six sides of dials, switches, thumbsticks, and other devices to interact with.
It is ideal for people with autism, ADHD, OCD, and recurring high stress and anxiety levels.
The cube is made of soft ABS plastic and silicone materials to ensure consistent high quality. It also weighs just 1.5 ounces so you can easily carry it in your pocket or purse.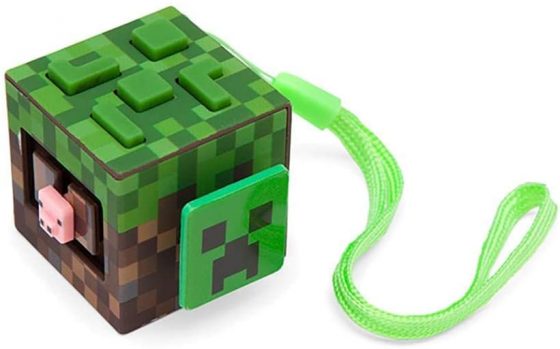 The Minecraft Grass Activity Block is a fidget cube designed with the popular video game Minecraft. The cube looks like one of the Minecraft blocks, while its buttons, thumbstick, and other fidget options recreate the various characters and features of the game.
The company makes the cube of high-quality materials, and it comes in bright pixelated colors. It also comes with a nylon wrist strap.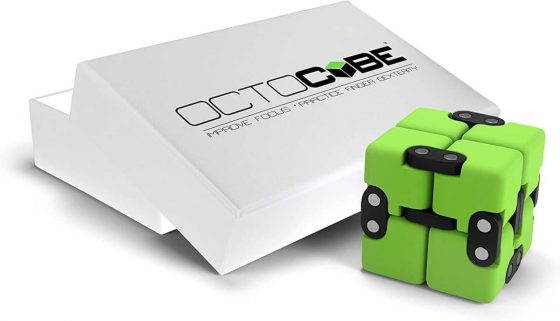 As its name suggests, the Octocube Infinity Cube is a fidget cube that can fold again and again. The company achieves this by including several blocks held together by special hinges in strategic places, causing the block to fold against one another in an infinite loop.
The cubes are lightweight, non-toxic ABS plastic, while the hinges are stainless steel for added strength and durability. The blocks also have a rubberized coating for added grip and comfort. Also, the fidget cube is a compact size for use with just one hand.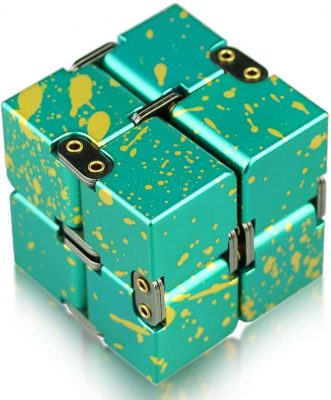 The Helesin infinity cube's design helps alleviate stress and improve concentration. The infinity cube consists of eight aluminum blocks linked together by metal hinges and bearings. The cube has a matte finish and is available in plain black, green, and red with yellow accents.
Because it measures just 4 inches in width and weighs less than 7 ounces, the Helesin infinity cube is compact enough to be operated in one hand. The cube's matte finish also helps you maintain a steady grip, while the heavy-duty stainless steel bearings ensure that the blocks can be folded millions of times without coming apart.