Top 30 Best Cheap Baby Toys 2023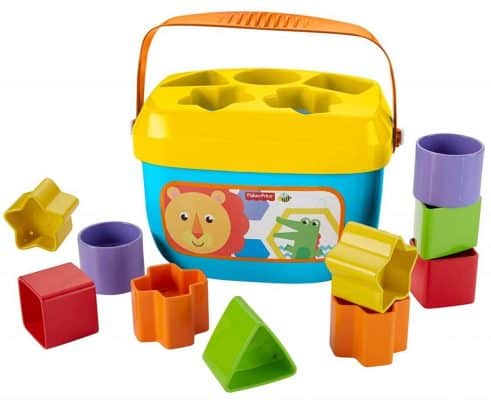 Fisher-Price Baby's First Blocks set comes with 10 colorful blocks for your baby to sort, stack, and drop them. It has a storage bucket to keep all the blocks after play so that your place will remain tidy. The bucket feature has an easy-to-carry handle to enable you to carry it along while traveling. This set is the best one to introduce your toddler to primary colors and shapes. Children will develop problem-solving skills as they try to figure out how to sort and drop the blocks in the right places. It will also help your child to play and explore. The set has five colorful rings for the little ones to grasp, hold, and shake.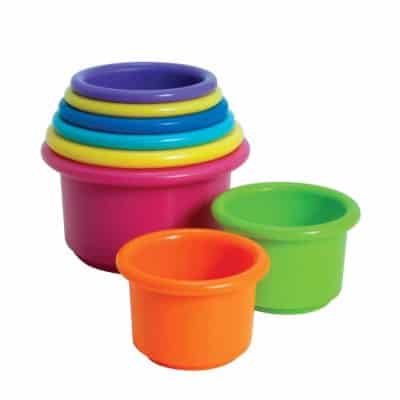 The First Years Stack Up Cups set is comprised of 8 colored cups. The cups feature large numbers written on the base. These numbers will help an older toddler to practice counting and begin recognizing numbers. Babies will love fitting them together or stacking them. They can also turn them over and hide small items underneath. This set is perfect for developing your child's hand-eye coordination and problem-solving skills. These cups are dishwasher-safe to enable you to clean them easily when they are dirty.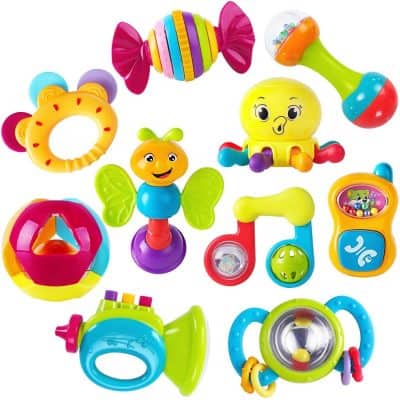 iPlay, iLearn set is made up of 10 pieces which will accommodate different stages of your baby's development. The rattle features various types of grips and shapes for different tasks to enable your baby to develop fine motor skills. They have different textures that will assist your baby in several tactile developments including that of touch, taste, and smell. They come in great sizes to make it easy for small hands to handle. The pieces produce numerous sounds that develop your child's sensory experience as well as color and pattern recognition skills. The toys come with a container for easy storage, and they are easy to clean.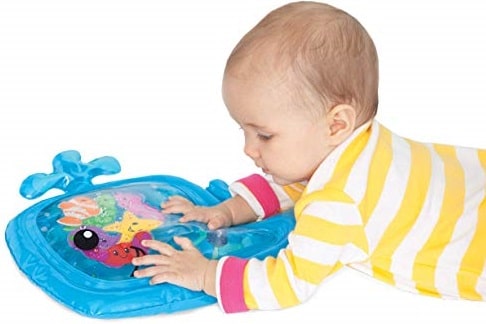 Infantino Pat and Play Mat are ideal for babies aged 3 months and above. It's BPA free, meaning that it's safe for your child. This mat can be used as you're feeding your baby. It can also be filled with water for the child to play to help in muscle development. The mat comes with 6 characters to encourage your toddler to learn cause and effect. Your baby will love to see the characters moving around when they poke the mat.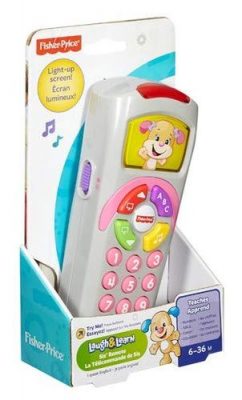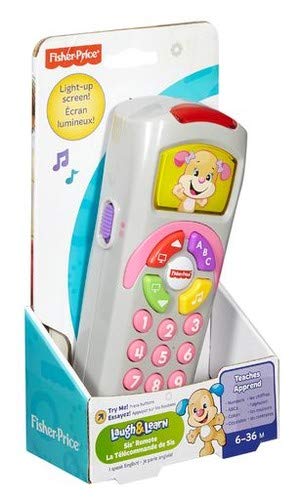 Fisher-Price Laugh and Learn toy features more than thirty-five sing-along songs, tunes, and phrases. The screen lights up to get the attention of your baby. Your child can click away to listen to numbers, alphabet, and greetings. This will help your baby to learn important skills, such as fine motor skills as they have to push in the right direction. By making things happen, it enables toddlers to discover about cause and effect mechanism that will keep them busy for long hours. It comes with a volume control button to keep you in control of the loudness.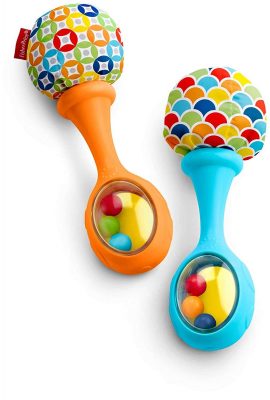 Fisher-Price Rattle and Rock toy come with 2 toy maracas. It's well-designed and has a perfect size for small hands to grasp and shake. The colorful beads produce fun sounds when your baby shakes them. This will keep your baby busy for long hours as they gain gross motor skills. All the grasping and shaking also helps your baby to do some workouts. This toy is ideal for babies aged between 3 months and above. The variety of textures and colors will stimulate your child's senses.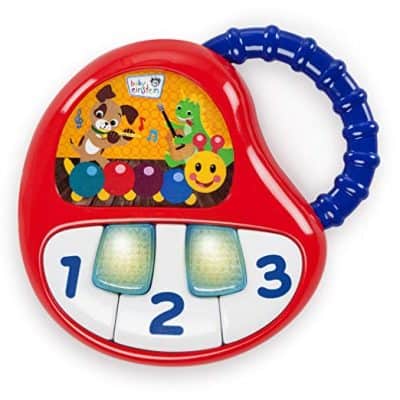 While using the Baby Einstein Keys to Discover Piano Toy, your child will love listening to music and learn to create their songs. This toy can be tuned in various languages to allow your baby to express themselves through music. Your baby will enjoy watching the lights dance while playing the piano. It's small enough to fit in your purse, making it convenient for traveling. As your child listens to the songs, they will develop listening and cognitive skills. They can listen to the counting which comes in different languages such as English, Spanish, and French.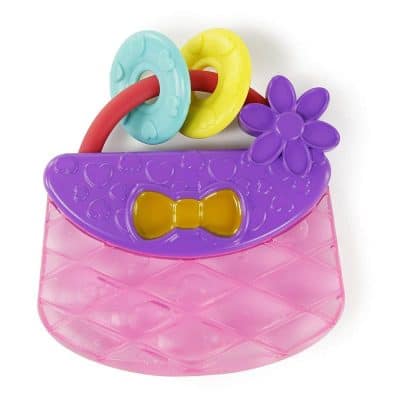 The Bright Starts Pretty Teethe Purse toy is purse-shaped and filled with water to soothe your baby's gums. Babies love to play with it because it's easy for the small hands to hold it. It has a handle bead chaser and colorful lights that flash across the screen to entertain the little ones. The songs play as the lights dance to the tunes. This teether purse toy is suitable for baby girls, but even boys can play with it. It's fashionable and easy to store or you can carry it while traveling.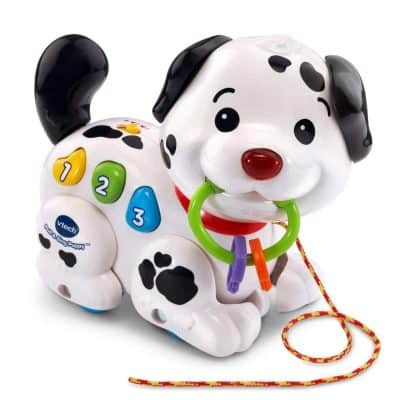 Recommended Age: 6 months – 3 years
Babies anywhere from 6 months to 3 years old will enjoy having a puppy follow them everywhere they go. With every push or pull, the puppy will produce different melodies. It has press buttons on the side to enhance the learning of numbers and sounds. This play toy will interest the kid with its movable legs, melodies that light up the nose and watch the keys swing with every movement. It also encourages your little one to be more active, and you will also love how adorable the two will look as they walk and sing together.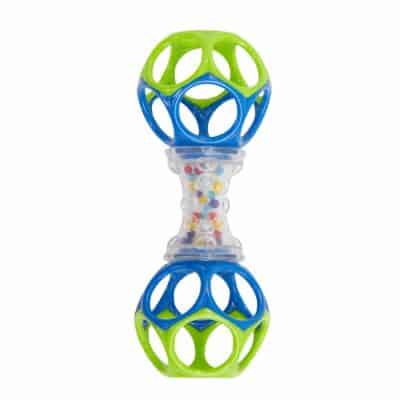 Oball Kids Shaker Toy features 2 teething Oball which are easy for your baby to hold. They have rattle beads to create fun sounds to attract the attention of a toddler. This is an entertaining toy that has a nice texture to encourage kids to explore it and it helps kids to see the colorful beads. It's BPA free, which means it's safe to use for babies who are teething. The toy can easily be wiped with a damp cloth and you can use mild soap.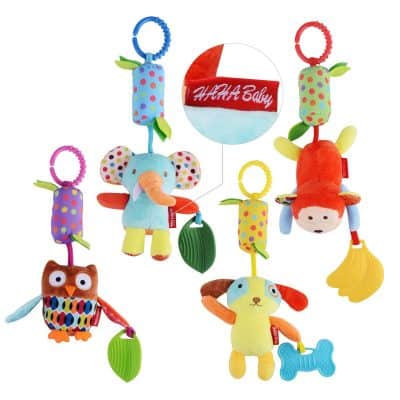 HAHA Baby Toys are suitable for babies aged between 0 and 2 years. They come with 4 various animals such as an elephant, an owl, a dog, and a monkey. The toy has bright colors which is appealing to children. Each of these interactive toys is comprised of a teether which is easy for a child to hold and chew it. This soothes the toothache and develops hand-eye and brain coordination. The toys have built-in wind chime which creates soft and soothing sound by shaking it. The bellies are squeaky, and the ears and wings crinkle to enable your baby to develop auditory senses while playing. You can hang the toys or take them along in the car, strollers, and prams when traveling.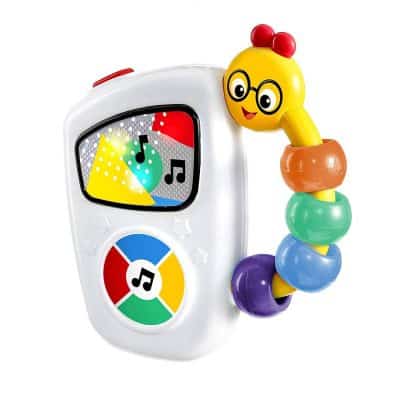 Recommended Age: 3 months – 3 years
Finally, your baby has their own MP3 player where it's only them who can choose their playlist. With 7 different classical music from masterpieces by the likes of Mozart, Vivaldi, Chopin, and Rossini, your baby is able to change genre by pressing the change button. It has dancing lights that appear on the screen that makes it even more entertaining.
It's a light toy with an easy to grasp handle so your baby can enjoy her music everywhere she goes. Again, it helps promote your child's visual perception and auditory development. It also has volume control for quieter playtime.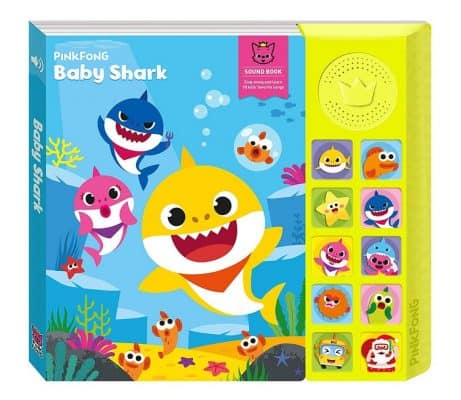 Pinkfong Baby Shark Sound Book is made up of 10 songs that feature colorful illustrations. The songs will inspire curiosity and imagination for babies. The songs include Twinkle, Twinkle, Little Shark and Shark ABC. It has the right size for little hands to hold it. The book comes with an inbuilt speaker that produces great sounds. This book has Pinkfong characters that are on every non-glaring page that is soft to your baby's eyes. These characters encourage your child to touch, press and listen to the sound book. It's safe for kids and it uses AAA batteries which are placed under the cover.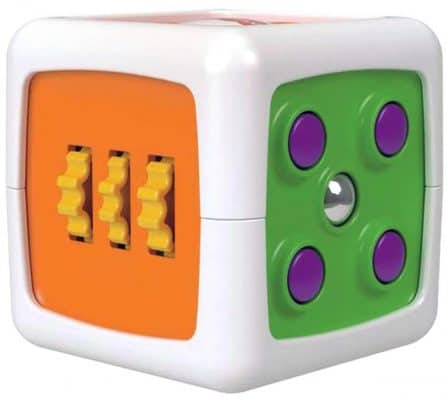 Fisher-Price My First Fidget Cube has 6 sides of play with each side made up of unique activity. While your baby will be toggling and pushing to listen to clicking sounds, they will learn about cause and effect. Spinning and pushing to get to different activities will develop their fine motor skills. This toy has lots of activities for the little ones to explore and discover. Variety of colors and textures will keep the child busy as they enjoy playing. Small hands will strengthen their dexterity through grasping the block and pressing as well as spinning and pushing to get to the different activities.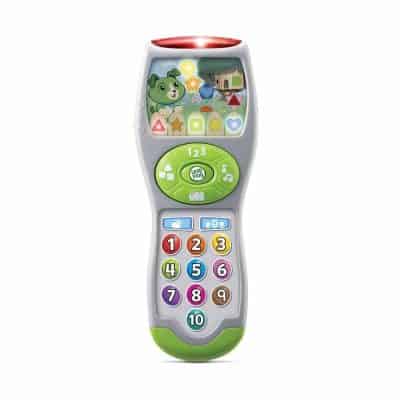 leapFrog Scout's Learning Lights toy has over 65 songs, tunes, and audio messages. This toy will keep your baby engaged and entertained. They will pretend to play with a remote that gives out numbers, shapes and some few words. It has bright colors and lights to encourage babies to explore. It features a weather button that describes what the Scout does to find fun in specific weather conditions. Your baby is going to learn some skills including words and phrases, numbers, and shapes. This toy will provoke your kid's imagination by pretending what their parents are doing. While playing, they will exercise their fine motor skills.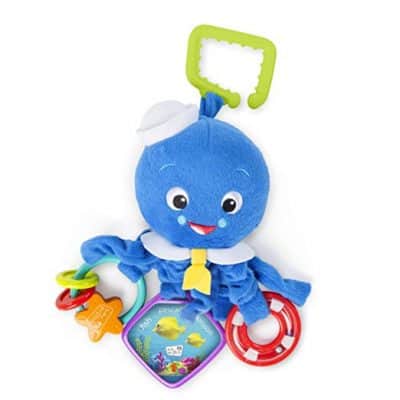 Baby Einstein Activity Arms Toy is a suitable toy for use while traveling or at home. It will keep the little one engaged through its various activities. It's an octopus plush toy for children to enjoy with the legs of the baby octopus. Each leg has an activity that will promote your baby to discover a task. It features a baby-safe mirror that helps babies to explore their sense of sight. It comes with cloth flash cars to enable kids to discover animals and they can enjoy listening to the sounds that this toy makes.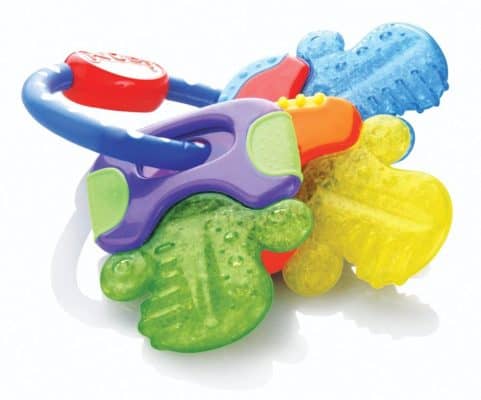 Nuby Ice Gel Teether Keys is made up of a multi-surface to help in stimulating and massaging the gums of your baby. Since this toy is supposed to be stored in the refrigerator, the cooling effect soothes a toddler's gums. It's easy for small hands to hold and it helps with coordination. Both of its surfaces have soft teethers to make it easy for a baby to use. The soft material is well-textured to soothe while aiding the cutting and strengthening the aching gums. This is ideal for babies aged between 3 months and above.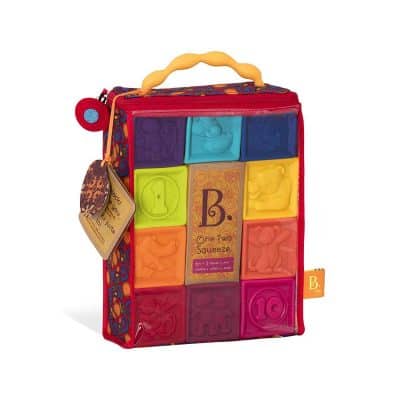 These B. Toys One Two Squeeze Blocks are 10 soft blocks and BPA free suitable for babies and toddlers. Babies can learn to stack the blocks up and begin early learning of colors and numbers. This toy is hand-sculpted and features animal elements and numbers on each side. The set comes with 10 blocks that have 60 images to entertain and educate your child. The blocks are soft but durable and babies can squeeze them, float or chew the toys. It's suitable for babies aged between 6 months and 3 years.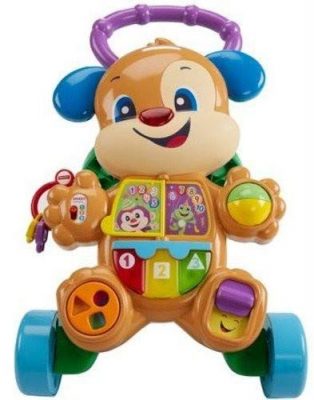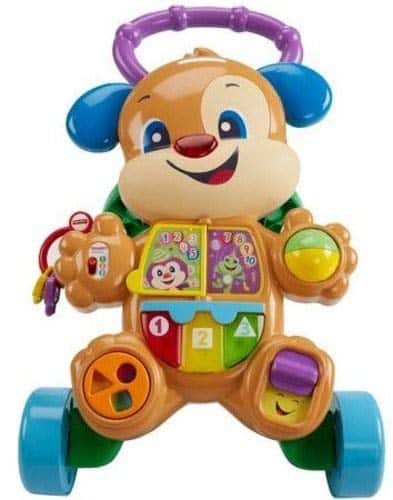 Fisher-Price Laugh and Learn toy provides 2 options for playing, your baby can sit and play or they can stand and walk with the toy. This toy is comprised of Push Puppy along with entertaining music. This promotes your baby to learn phrases and it has even Spanish words. It has several activities including a light-up piano, a roller, and a spinner. With more than 75 songs, sounds, and phrases, your baby will have long hours of play. This toy will grow with your baby because there is a specific activity for every developmental stage. The little one will also develop gross motor skills as they reach for and interact with the toy. There is also cause and effect when babies press the button to discover that fun things happen when they touch the button.
Sassy Wonder Wheel Activity Center is made up of spinning wheel. The spinning wheel will capture your baby's attention to encourage them to reach out for it. This develops hand-eye coordination while they are having fun. It has a suction cup base to attach to solid surfaces such as high chairs for easy play. It has colorful beads that will enable children to connect the sound and sight. The spinning center gives a bigger attraction to help your baby to develop visual tracking which improves fine motor skills. This toy has several textured areas to promote tactile exploration.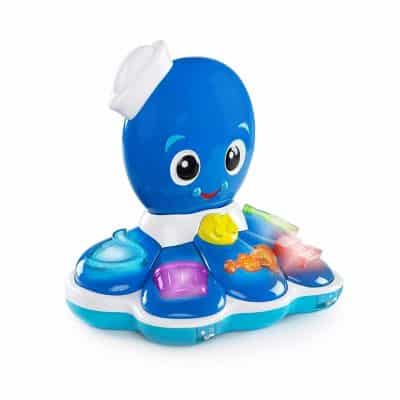 Baby Einstein Octopus Orchestra is made up of lights and music that are appealing to your baby. The large buttons come in perfect sizes for small hands. This toy introduces patterns and encourages creativity. Your child will begin developing listening skills while still at a young age. It also gives you an opportunity to bond with your baby as you listen and sing together the songs. It has two modes of play consisting of musical octopus that assist your baby to discover and make music. The discovery mode introduces your kid to the names of various instruments and sounds that they make.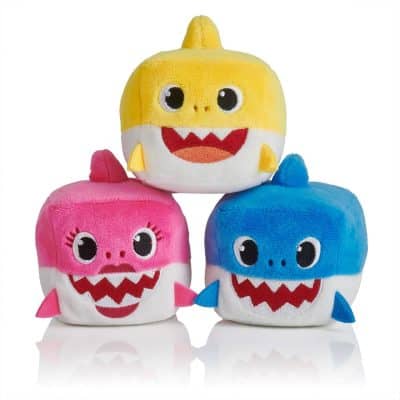 >WowWee Pinkfong toy will engage your baby by squeezing to hear the baby shark song which has four verses. This is a soft stackable plush that will entertain babies for hours. You can collect 3 characters for your baby for fun play. The dolls are in great size which is easy for small hands to squeeze, stack, and carry them around. You can also carry them along when you travel. By interacting with the toys, your child will develop several skills including motor skills. They will also learn creative and imaginative play.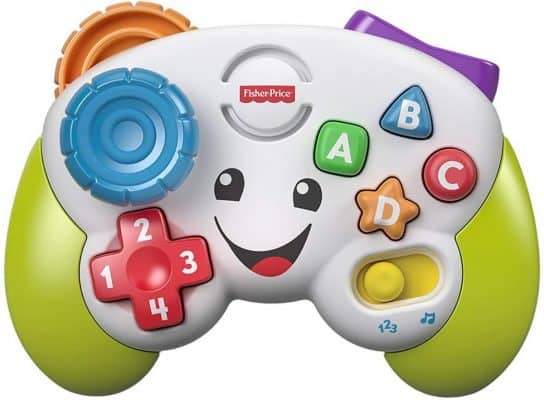 Laugh and Learn Controller toy has 2 gaming modes and plenty of activities that enable your baby to learn and play. By pressing the ABCD-shaped buttons and the directional pad, they activate the toy. It has multi-colors that light up to provide endless fun. While your child is moving the clicker disc and toggling the switch, they will be developing fine motor skills. This has hands-on-activities with a lot of buttons that include fun face buttons. The songs, sounds, and phrases are appealing to keep babies occupied with playing. Your baby will develop creativity and imagination because this toy promotes roleplay. The toy introduces different early learning concepts such as shapes, letters, colors, and numbers.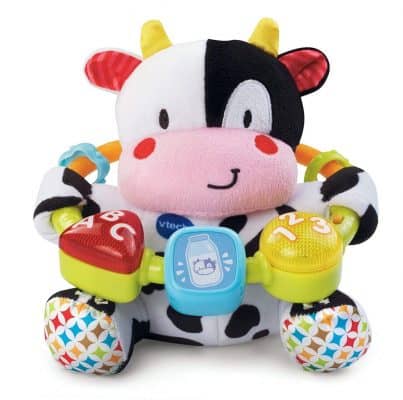 VTech Lil' Critters Toy is made up of a bead ring which is easy to grasp by the little hands. The bead ring comes with light-up buttons and a spinning square to help your baby to develop fine motor skills. Your baby will love to cuddle this stuffed animal cow figure. This toy comes with over 30 playful songs, tunes, phrases, and sounds to assist children to have musical entertainment. The plush has a good size suitable to be a crib toy or parents can use it as a diaper bag toy for their children. The toy is great for babies aged between 0 and 24 months old.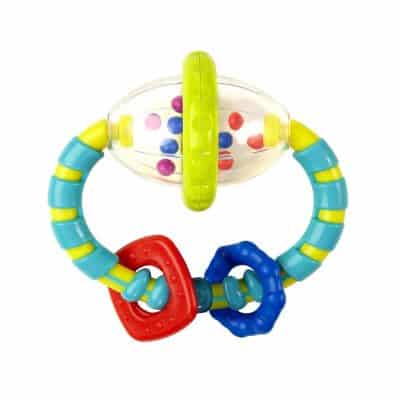 Bright Starts Grab and Spin Rattle has a textured handle that works well as a teether. The material is safe for kids and it will engage with them for hours. It features two sliding pieces to assist in reaching specific teething areas. The textures also help your baby to hold it in their small hands as they get to explore it. Babies just have to shake and spin this toy to get lots of fun. It has a spinning rattle chamber which produces a lot of fun sounds. This chamber will be the center of attraction for your child as they try to spin it to get the sounds. This helps kids to develop hand-eye coordination and fine motor skills.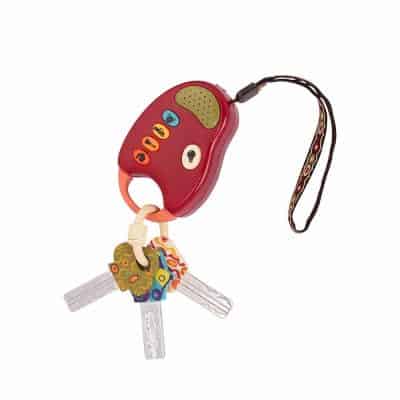 This set has a realistic design and comes with functional remote features including car sounds and a flashlight. The key ring features 3 different keys of various shapes and colors, which helps your child to have early learning concepts. It has 4 fun car sounds that don't bother adults. The working flashlight will keep the little one's fingers occupied as they push a button to get the light. The set is made up of safe materials and is BPA free, safe stainless steel, and non-toxic plastic. It encourages imaginative play while developing fine and gross motor skills. The toy is the great size for small hands and the fun colored buttons improve hand-eye coordination.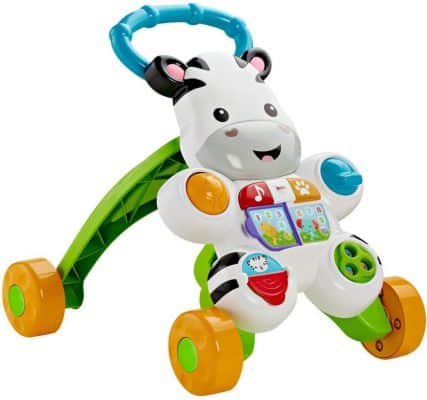 Fisher-Price Learn with Me toy has 2 modes of play. Sit and play mode features a lot of hands-on activities for your baby to explore. It has a book page with turn on buttons for sing-along songs and phrases. On the other hand, stand and walk mode promotes your child to have the first steps. It encourages children to keep on walking through music, sounds, and phrases. This is an easy to grasp toy that has a base with 4 wheels to give stability and support as they take their first steps. This is also an educational toy because it teaches the alphabet and counting. While this toy helps to develop balance and coordination, bright colors, lights, and music boost their sight and hearing.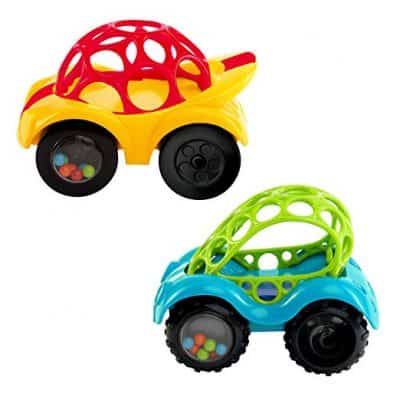 O Ball 1-Piece Rattle and Roll Car has soft and flexible material that makes it suitable for teething babies. It's ideal for babies aged between 3 months and above. It comes with wheels that have fun rattle beads to provide fun sound effects which delights them. The rattle beads also bounce around to catch a baby's attention. As they are checking with the activities, this improves the hand-eye coordination. The toys are geometric-shaped to make it easy for babies to hold and play. They are also squeezable and great for teething babies. Your baby will race across the floor as they are playing, which is a great baby exercise.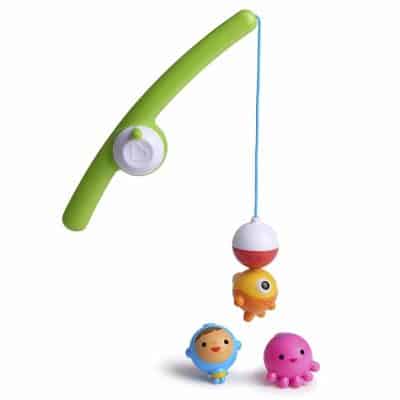 Munchkin Fishin' Bath Toy set comes with a magnetic fishing rod and three underwater bobbing figures. These three characters that have magnets float in water for your baby to easily hook them. The handle is well designed to fit in little hands. The reel produces fun clicking sound to make it sound real. Mold and mildew don't grow on the characters because they are airtight. They are easy to clean as you just have to rinse the characters with warm water or wipe them clean. They can also be hand washed or air dry. Your baby will develop hand-eye coordination, and cause and effect through interaction with the magnetic bobbers. This set is suitable for babies aged between 24 months and above.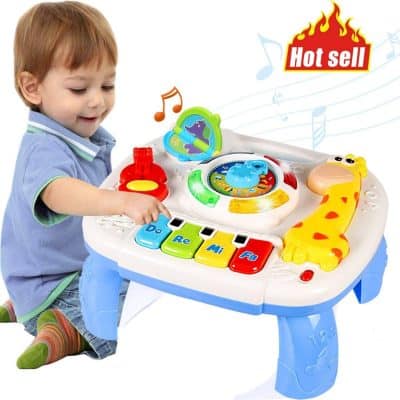 HOMOFY Baby Toys is suitable for babies aged between 6 and 12 months. It has various functions including the music mode, cartoon styles, and music. The music, bright lighting, and animal characters promote your child to have visual and hearing skills. Your baby can engage with this toy on the floor when they are sitting up. Legs can be added to the toy for fun playing. This toy is sturdy, so babies can play with it on the desk or while standing. The learning table is ideal for the development of motor skills and creative play. It has various primary colors, shapes, and animals for early learning of your child. It has removable legs for easy storage and it helps you to carry along the table anywhere you go.