Top 30 Best Crayola Toys for Kids 2022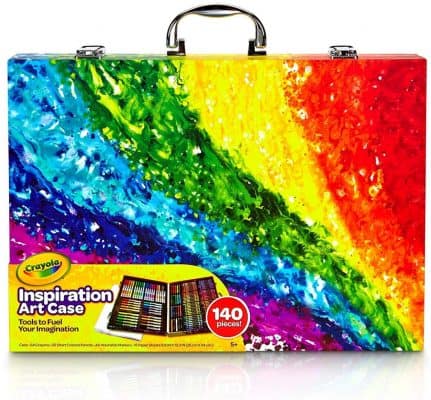 The Crayola Case inspires kids to create their artwork everywhere they go by keeping art supplies in one place. Apart from this convenient rainbow storage case, this set comes with 64 Crayola crayons, 20 short colored pencils, 40 washable markers, and 15 paper sheets. The storage case is perfect for kids as it encourages them to be organized and take care of their art supplies. The set is a must-have for every kid because it helps them to be creative and express themselves by coloring, drawing and even crafting. The items are non-toxic, so they are safe to be used by children.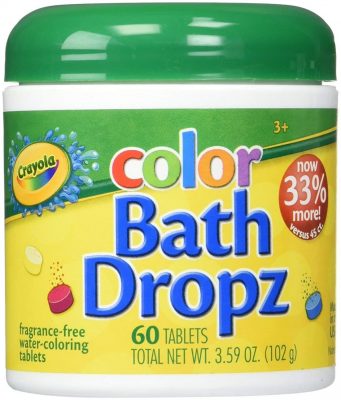 The Crayola Color Bath Dropz has 60 bathtub tints which are free of fragrance. The tablets which dissolve quickly come in a reusable container. Kids will love these tablets because when they are bathing, the color of water changes to bright Crayola colors. One tablet dropped in the bath water will change to the color of your kid's choice. These tablets help children learn the primary colors. The kids can also draw on the tiles or tub walls, and the drawings can be washed with water. These are also perfect for children to learn artwork while having fun playing in the water.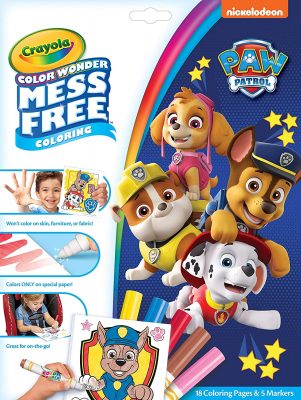 The Crayola Color Wonder Paw Patrol is perfect for kids of ages 3 years and above. This set is made up of 18 Paw Patrol coloring pages to give your child great options for coloring. It also has 5 Color Wonder to enable children to come up with their masterpieces. Kids will not be worried about messing themselves up on their body, clothing or floor because the colors will only be on a special Color Wonder paper. If you're are traveling, this set helps your child to be organized as it has a folder-like packaging to keep coloring pages and markers. It's also reusable meaning that you don't have to replace it for some time. This set is safe and non-toxic to kids.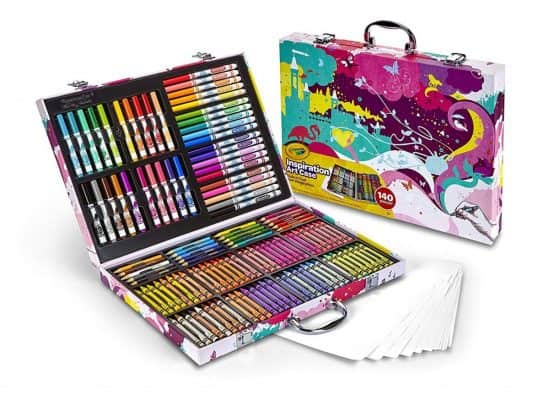 Crayola Inspiration Art Case contains 64 crayons, 20 colored pencils, 20 washable markers and 15 sheets of paper for drawing. This is an ideal case that kids can use in their school's project. Children can also make use of coloring books to color, draw, and scribble. The case helps children to keep their artwork and supplies clean and organized, which keeps both parents and teachers happy. The case which has inspiring pictures such as mermaids and castles also ensures that nothing is misplaced. Through their artwork, kids will have an opportunity to express themselves as they play and explore. This kit can be used by children aged from 4 years and above.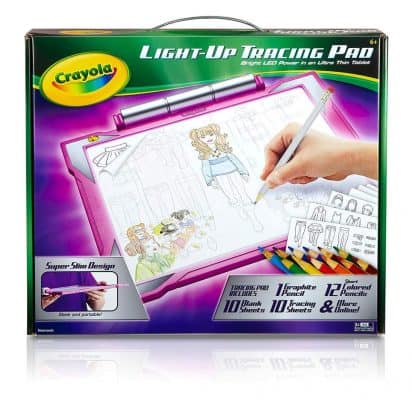 The Crayola Light-Up Tracing Pad is made up of a graphite pencil, 12 colored pencils, and 10 tracing and blank sheets. The package also includes 100 traceable images which are enough for kids to enjoy a long time of the drawing. This is an engaging and exciting tracing pad that can be used by mixing and matching or by tracing a single page. The surface is evenly lit to make it easy to see the tracing lines. Kids will love to draw in the dark because it comes with the LED drawing tablet that lights the tracing sheets. This helps them to be inventive as they express themselves during the day or night. This is a great travel companion to keep kids busy with their artistic work.

Crayola Big Paint Brushes is a set of four brushes that enable kids to make broad strokes for posters and fine lines suitable for artwork and crafts. The four brushes feature fun colored handles. This provides great options for children to choose the appropriate brush for making lines and strokes. They are between 1/2 inch and 1/8 inch, which are perfect sizes for children's small hands. The brushes can be used with different water-based paints including Crayola Washable Paint and Tempera Paint. The colorful paintings will help your child express themselves while having fun.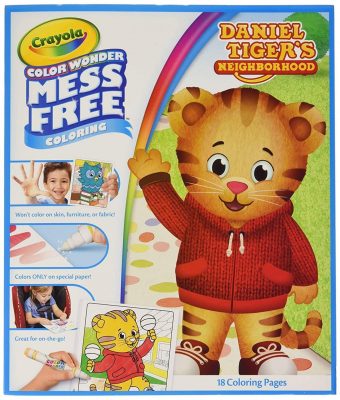 Daniel Tiger comes with 18 mess-free coloring pages which have themes of characters from Daniel Tiger's Neighborhood. This Wonder pad works with all Color Wonder Markers and Paints and will help kids to be creative as they enjoy engaging with the characters. The markers which are sold separately will only show on specifically designed color Wonder paper. This means that your kid's skin or furniture and clothing will be kept clean. This is a great item to take with you as you're traveling on a road trip or flight. Daniel Tiger Color Wonder is non-toxic and safe for kids to use.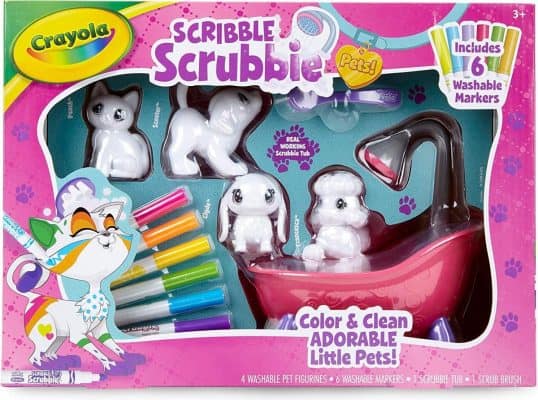 Crayola Scribble Scrubbie helps kids to be responsible and caring by engaging with the 4 little pets that are included in this set. The set also includes a scrub brush, 6 washable markers, and instructions. Kids will color and play with the pets for long hours. After playing, they can wash their little toys and start all over again. It has a variety of pets such as 2 toy dogs, a cat, and a toy rabbit. It takes the creative play to another level because kids can wash the pet and take another pet to color and play with. This is a suitable set for children aged between 6 years and above, who love coloring activities.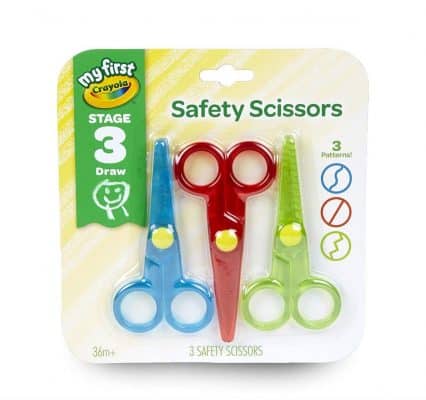 The Safety Scissors set is made up of three scissors for children to cut off the paper. This helps them to have 3 different cut styles to suit the projects they are doing. The set is suitable for preschoolers aged between 36 months and above who desire to develop their art skills. All the scissors are made from plastic featuring plastic blades and they have rounded tips to make it safe for use by children. They are designed with 3 different cutting edges to perform various specific functions. The colorful scissors are easy to handle by little hands while they are cutting the papers. Children will have an opportunity to create artwork of their choice including pictures and objects.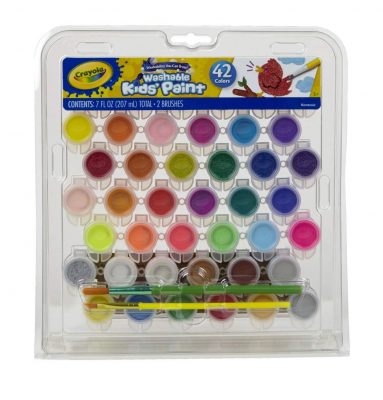 Crayola Washable Paint Set has 42 washable paints and 2 paint brushes. The assortment of paints is ideal for kids to have endless options as they color and draw their artworks. This set comes with its own trays for mixing their own colors to give children more coloring options. The tray can also be used for paint storage to keep things tidy after play. For special effects and creativity, the set has metallic and glitter paints. It also creates excitement and flair for an extraordinary painting experience of your kid. The paints are washable which means you don't have to worry your child messing up. The set is recommended for children of 3 years and above.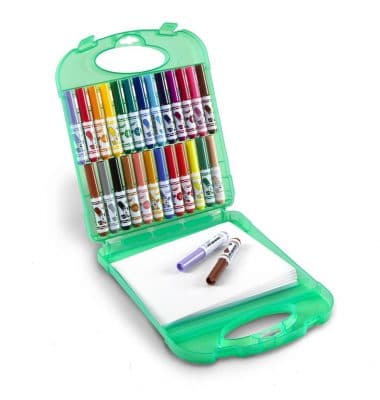 Pip-Squeaks Washable Markers and Paper set is made up of 25 washable markers and 40 paper sheets. They come in a high-quality travel case to encourage your child to carry them while traveling. The mini markers are washable, meaning you can remove them from your child's skin and most of the clothing which is washable. They are also of high-quality which provide bright color lay down. All the art accessories will fit in the art case making it convenient when you're traveling. This allows kids to have fun wherever they go, and the set is non-toxic to children.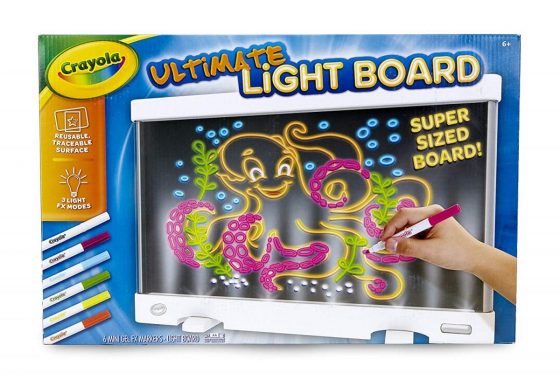 Crayola Ultimate Light Board comes with a LED light board which features a removable back panel. It has 6 gel FX markers to help your child draw their masterpieces. Kids just need to trace and display by removing the back panel and utilizing the light board as a tracing pad. There is great excitement for kids because they just have to light their drawings to see them in the dark. This set includes lightweight marker storage that enables the drawing board to be kept in an organized way. The drawings can easily be wiped off to create new ones. This non-toxic set is suitable for kids aged between 6 years and above.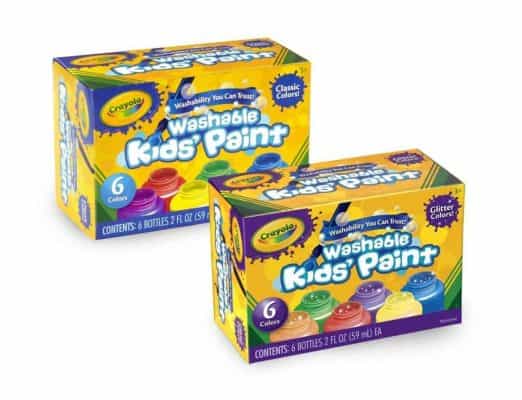 Crayola Washable Kids' Paint is great for children as they can use it to create their arts, crafts, and they can use it in their school projects. This is a non-toxic and washable paint that adds glitter effects to make the kids' creations unique. It comes in six 2-ounce bottles in different colors which gives them various painting options. The colors can be blended to help your child learn about different colors and mixing of secondary colors. The colored paints can be washed from your kid's skin to ensure that they are clean. The paints can be used in the comfort of your home or in the classrooms. This paint which is available in different colors such as tempera, glitter, and neon can be used by children of all ages.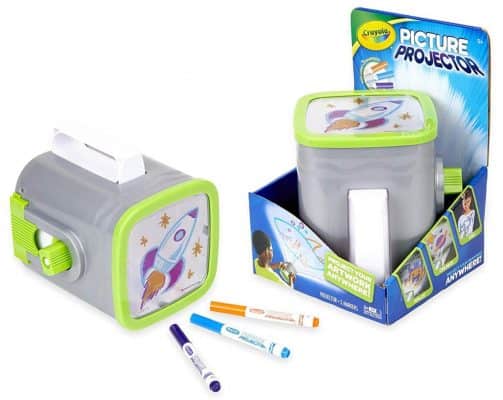 Crayola Picture Projector has a kids' projector with 3 wet erase markers. This is a great item as it creates extra fun for children. Kids can draw and color their pictures on the surface of the projector to project them onto the wall. This can be used at night as children use their imaginations to create nightlight designs before they go to sleep. It features in-built marker storage to make it easy for taking it when you're traveling including when the kid is going for camping trips and sleepovers. The light for the projector can also be used as a night light. You can keep the surface of the projector clean by wiping with any of the wet-erase markers.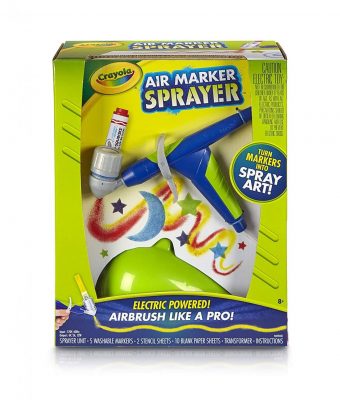 Crayola Air Marker Sprayer Set is a perfect toy for kids who can use it for spray art or airbrushing. This sprayer transforms ordinary markers into unique ink. The set includes 5 Pip-Squeaks washable markers, 2 sheets of stencils, and 10 sheets of paper. Kids can use it on its own or they can use it along with stencils to have accurate designs. It's ideal for making graffiti-like drawings o paper and decorating flower vases. The sprayer is motorized and electric-powered which gives kids long hours of fun by giving consistency spray and uninterrupted airbrushing. It's easy to use and it's perfect for kids to experiment with the art of spraying. It comes with a nozzle which fits well in children's hands ensuring that they are in control.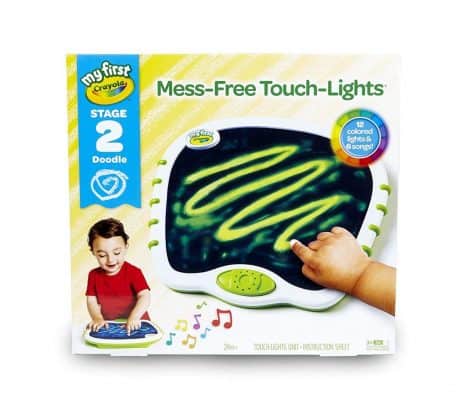 My First Crayola Touch Lights has 6 songs, 12 light colors, and it comes with easy to follow instructions. This toy prevents kids from messing as they are playing. It comes with a lightweight doodle board that emits light and plays music. It requires 3 AA batteries to operate. The sealed gel surface ensures that children are safe as they are doodling with their fingers. The toy will encourage your child to play long hours of doodling while getting entertained to the lights and music. This is a non-toxic toy which makes it safe for kids aged between 24 months and above to play with.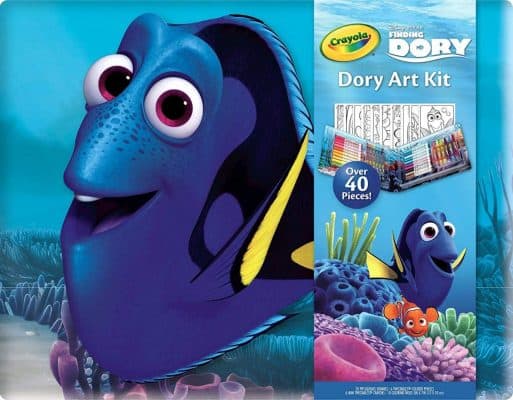 Crayola Finding Dory Art Kit includes a variety of colors and tools for children. It comes with 20 washable Pip-Squeaks markers, 6 crayons, and 6 colored pencils. The kit has 10 themed coloring sheets of Finding Dory. This is an engaging kit which stimulates the children's imagination as they color their cute characters which include Whether Disney, Nickelodeon, and Pixar. This kit is versatile and comes in a portable storage case which is suitable for carrying when you travel. Pip-Squeaks markers can be washed and the twist-up tips of crayons and colored pencils don't require sharpening.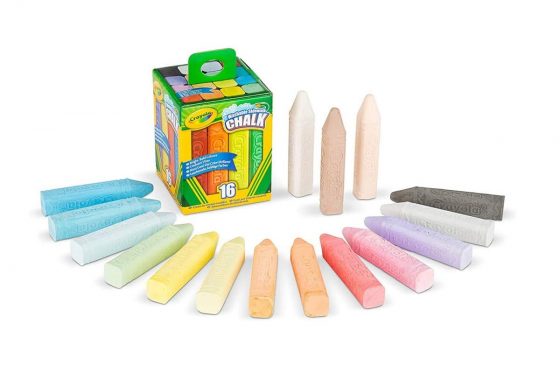 Crayola Washable Sidewalk Chalk set comes with 16 sticks which are in assorted colors to give extra coloring and drawing options. This chalk is washable, so you don't have to worry about the kids messing your driveway and sidewalks. It can be cleaned by rainfall or simply use a garden hose. This chalk was designed not to roll, meaning children and parents don't have to chase them down on the sidewalks. The chalk can be used outdoors, which helps kids to take time off from watching TV and play outside.  This is non-toxic chalk which can be used by kids aged between 4 years and above.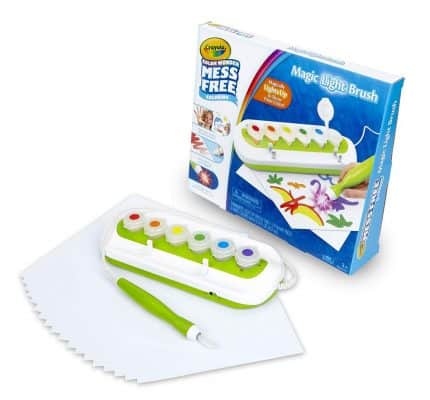 Crayola Color Wonder Magic Light Brush is ideal for all kids including the toddlers from ages between 3 years and above. The set includes a magic brush kit, 6 color Wonder paints, and 18 paper sheets which are blank colored. The paintbrush lights up to show the paint colors, creating long hours of exciting play. It changes colors from blue, green to red once kids use a different pain. The Color Wonder paints cannot be seen anywhere else such as on skin and clothing because it appears on Wonder papers only.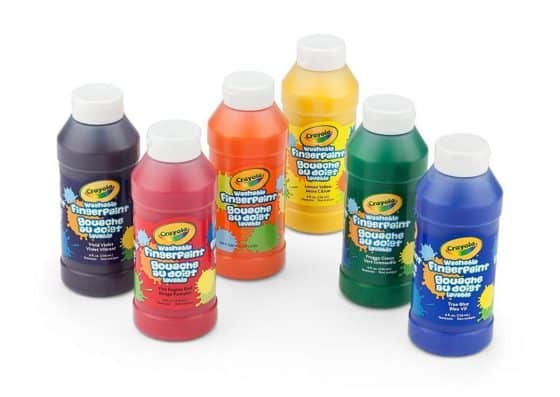 Crayola Washable Finger Paints set is made up of 8 once bottles containing different colors including blue, yellow, orange, and green. The colors are also mixable to encourage children to come up with their own favorite colors. The bottles are squeezable to promote kids to use the paint without encountering messing problems. They have also flip-top caps to prevent the paint from spilling. You don't have to worry about the painting activities because the paints are washable. If the paint is on the skin or clothing, you can easily wash it off with water. These non-toxic paints are great for kids from ages of 4 years and above.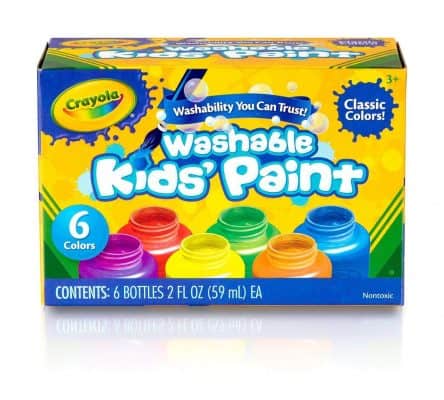 Crayola Washable Kids Paint comes in 6 different colors giving a great selection choice for kids. The colors include blue, violet, green, and red. These paints are washable from the skin and clothing. The paint doesn't drip or separate from the paint brushes, which makes messing most unlikely. The paint is freeze-thaw stable giving you the confidence that the artwork will have a great outcome because of its consistent performance. This is the best way to introduce your kids to the art of painting. In the process, children can develop fine motor skills and learn different colors. The paints can be used for artworks and crafts, and they can be easily applied using several tools including brushes, sponges, and stamps.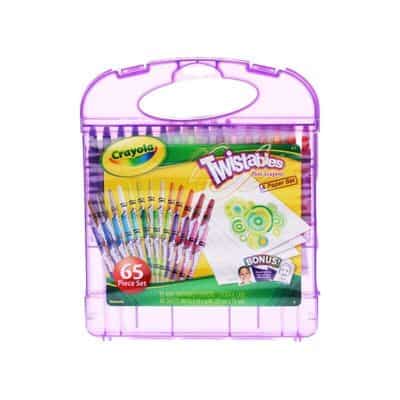 Crayola Mini Twistable Crayons and Paper set comes with 25 mini Crayons and 40 paper sheets. It has a durable and portable storage case that is easy to carry as you're traveling for your child to color and draw anywhere. The case unfolds to become an easy lap desk feature. This set will stimulate your child to have imaginative play as they learn to color and draw their masterpieces. This will also make a great present for children who are passionate about taking their art skills to the next level.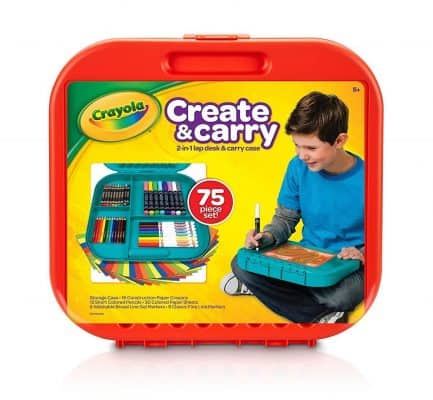 This set is made up of a variety of art tools including 16 Paper Crayons, 8 washable Gel-FX makers, 8 fine line markers, 12 mini colored pencils, and 30 paper sheets. Children will easily fall in love with this set as they will have all the necessary tools for making great artworks. The tools come in a lightweight art case which is convenient to take with them while traveling. Apart from being used for storage, the case unfolds to become an ideal lap desk. The Crayola Gel-FX Markers will create eye-catching effects on various items such as a dark paper, a poster board, and a plastic. The markers have attracted many fans over the years for having vibrant colors and they don't bleed through most of the papers.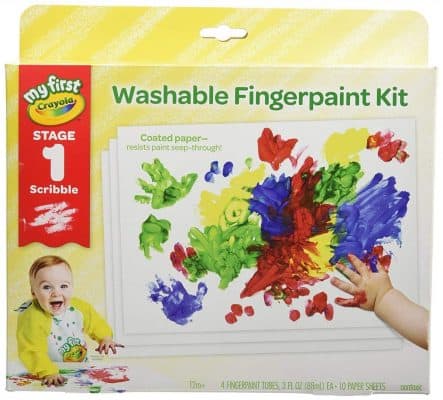 Crayola My First Finger Paint set includes 10 paper painting sheets and 4 Crayola washable finger paint tubes. The paint comes in colors of red, blue, green, and yellow. Kids will have a lot of fun experimenting their painting skills as they mix colors and create their own art. This is washable paint which will make you feel comfortable while the kids play. The paint comes in squeezable tubes to make it simple to get the paint out. This is non-toxic finger paint which is suitable for children aged from 12 months and above.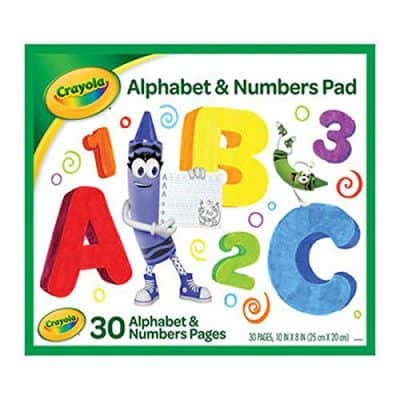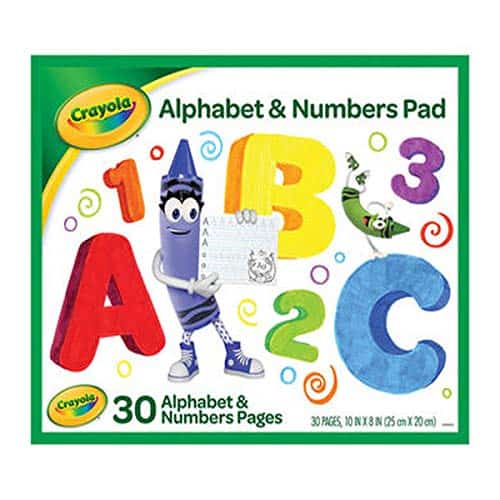 Crayola Alphabet and Number Pad is a wonderful educational tool for children. Kids will be encouraged to learn the upper and lower case letters while playing. It comes with guides on each page to make it easy for children to practice on their own. It includes project ideas which children can do whether at home or in classrooms. The tablet features 30 pages of drawing and ruled paper to make it easy for kids to draw anywhere. This is a perfect writing tool for early learners who are yet to master the art of writing and drawing.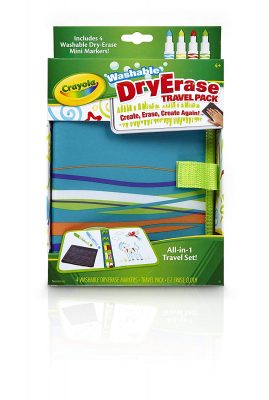 Crayola Washable Dry-Erase Travel Pack gives an easy way for kids to create their coloring and drawings. If they are not satisfied, they can erase and create again. The travel pack comes with 2 reusable drawing surfaces that they can fold up to make a single lightweight pack. It also includes four washable Dry-Erase Markers and one E-Z Erase Cloth for cleaning the drawing surface. The double-sided drawing surfaces gives a chance to have a lot of space for their creations. The folding case can store four markers, making it convenient to pack it in a backpack and a purse.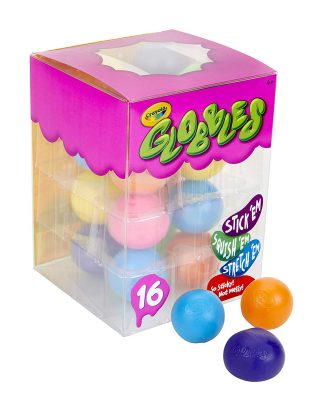 Crayola Globbles has 16 bright colors and they are suitable for sticking, stacking, slinging, and even squishing. Parents will feel relaxed because Squish toys will not leave behind any sticky residue. They are still sticky after washing them, so there is no need for replacing them. You can wash these toys with soap and water. These toys are great to take when you're traveling as they are portable. Apart from kids playing with them, adults too can use toys like stress balls for the office.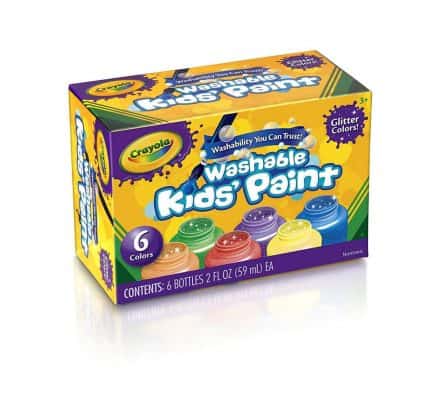 Crayola Washable Glitter Paint is non-toxic water-based paint suitable for kids. Children can use this paint for arts, crafts, and school projects. It comes in six different colors filled in 2-ounce bottles. Young kids can learn to paint while having fun by blending colors. It's washable paint, meaning that you don't have to worry about any stains being left behind. This Tempera pain absorbs well on many painting surfaces such as construction paper and cardboard paper. You can use it for projects including decorative boxes and wrapping paper. It's great for kids aged three years and above.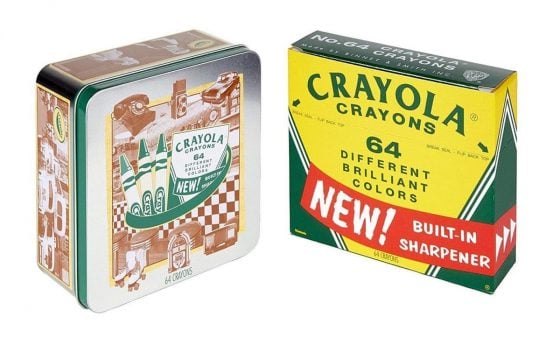 Crayola 60 th Anniversary 64 Count Crayon set comes with a decorative tin which kids can love to collect. This set is suitable for kids and adults who will have various Crayon colors that they know and love. The set can be used as a birthday gift or it can be presented as a gift during special celebrations. It features a storage box to keep the 64 Crayola crayons neat and organized. This set has a historical aspect that will stay in the family for many years.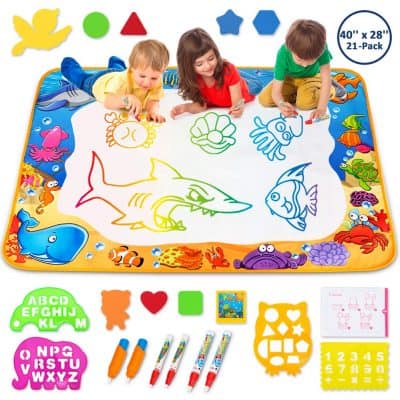 Toyk Aqua Magic Mat can be folded to a smaller size and is portable to make it easy to take with you outdoors and when you are traveling. This is a great learning toy for children who can fill in water in the magic pen to draw on the magic mat. After 3 to 10 minutes, the drawings disappear and kids can draw again on the mat. This mat is non-toxic and doesn't require ink or paint to use. The back of the mat is made up of water-resistant fabric to keep it clean and safe for kids. The mat encourages kids to play together for fun. While playing, your child will improve hand-eye coordination and color perception. The mat will also help your kid to develop creative skills.