A child's freedom to play and explore is essential to their healthy development and building their understanding of the world. As a parent, you know it's important to give your child independent play time. You also know you can't spend each second of the day carefully monitoring your child's every move. Yet all it takes for an accident or mess is your child making it out of your sight for a few brief moments.
Fortunately, it's pretty easy to mitigate the potential disaster hiding under the kitchen sink or in the hallway closet. You'll find a good childproofing kit – to cover a myriad of possible common household hazards – will prove beneficial sooner or later.
Factors to Consider in a Childproofing Kit
By childproofing common problem areas, you can spend less time worrying and more time doing what's important to you. When you sit down to choose the perfect childproofing kit to keep your little one safe, keep the following in mind.
What's Included
When looking for a childproofing kit, you want something that covers as many bases as possible. It's important to secure problem areas, such as kitchen cabinets, drawers, and doors. You also want to consider other common hazards, such as sharp table corners and easily accessible electrical outlets.
Cabinet and Drawer Locks
One of the worst places for your child to end up is under the kitchen sink where you store dangerous household cleaning products and chemicals. Whether you're preventing a life-threatening disaster, or simply trying to keep your walls free of your child's creative crayon art, cabinet and drawer locks (also known as invisible locks) are a must for any home.
When choosing appropriate locks there are generally two types to consider: magnetic locks and push locks. Magnetic locks open by using magnets to release the latching mechanism, while push locks require physically pushing the lock down past the latch.
For more information on these locking mechanisms, check out our choosing cabinet and drawer locks section in the full buyer guide at the bottom.
Corner Guards
Sharp table, counter and cabinet corners are a common play hazard. Round them off with plastic corner guards that adhere with pre-applied adhesive strips. This will prevent eye and skin-puncturing injuries.
Door Knob Covers
When your child is old enough to start opening doors, you've got a problem. Keep your kids out of bathrooms, closets, and the front yard with door knob covers that prevent your child from turning door knobs and finding their way into trouble.
Door Pinch Guards
Pinched fingers are no fun for anyone. You can protect against injuries with door pinch guards, small foam pieces that easily slip on to most doors that prevent them from closing on small fingers. This makes for excellent protection against finger injuries, and are especially useful in homes with multiple small children who are prone to playing with bedroom and closet doors.
Outlet Socket Covers
Keep your child safe from electrocution with little plastic plugs that cover exposed electrical outlet sockets. Also keep size in mind – some 2-prong outlet covers may leave grounding plugs exposed on 3-prong sockets.
Strap Latches
Strap latches are especially useful for drawers and doors that you can't affix locks and latches to. Think refrigerator, oven and entertainment center doors. They also work for cupboards and drawers when locks simply aren't an option.
TV Straps
Modern televisions are thin, lightweight, and typically expensive. They're great compared to their bulky ancestors, at least in terms of their weight and size. But if you can't afford to mount your TV to the wall, it presents a big problem when it comes to little ones: modern TVs are easy to move and tip.
With TV straps, which connect to the back of your TV and entertainment center, you can keep your child safe from a falling television while also protecting your investment from the destructive force of a toddler.
Only one kit on our list, the extensive Baby Defence Child Proofing Starter Kit contains this relatively rare component, but you can also purchase them separatelyif you prefer a different kit.
Installation Method
Since cabinet and drawer locks are essential in childproofing your home, it's important to choose the right method of installation. Many kits in our list are adhesive-based, which is great for renters and people who want to avoid permanent damage to cupboards and furniture.
However, there are drawbacks to adhesive installation and other considerations, which you can find here.
If you're looking for a good screw-based kit, you might consider this excellet option.
Durability
It's important to pay attention to the type of materials that comprise a childproofing kit. You should consider the amount of punishment the various components within a kit are capable of withstanding. It's also important to remember that screw-based locks will typically provide greater durability than adhesive-based ones.
Important: When using adhesive-backed parts, always be sure to thoroughly clean and dry the surface of the objects you plan to affix them to. Not doing so could cause premature failure of the adhesive and reduce the durability of the safety mechanism.
Value
You'll find that proper childproofing entails more than simply covering open electrical outlets and locking drawers. But let's face it – nobody wants to break the bank trying to childproof their home, especially with so many things to childproof.
Safety and reliability are certainly the most important factors in deciding on what products to buy. But kids are expensive as it is.
You don't want to spend too little and end up with an inferior product that will break in a week. However, adhering to a budget is often necessary, so it's ideal to balance the trade-offs between safety and durability with budget and cost-efficiency.
Many kits provide adequate protection to safeguard against many common dangers inside your home. But if you're really serious about child safety, consider checking out our additional childproofing considerations.
Now let's take a look at some of the best childproofing kits on the market.
Top 10 Best Childproofing Kits 2023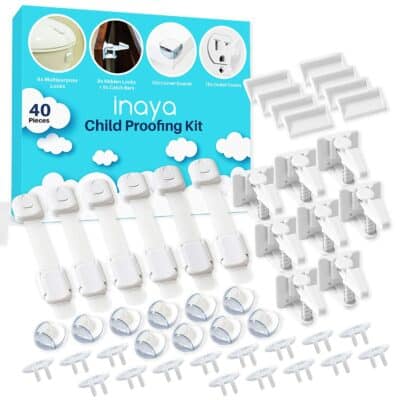 Why we like it:
You get enough of each item in the kit to cover most of your home. Spring-loaded locks are effective for prolonging the longevity of the adhesive backing, and a 1-year warranty makes it stand out as a durable product.
Editor's Rating:
At a Glance:
What's included: 8 invisible spring-loaded push locks, 6 adjustable strap latches, 10 corner guards and 16 outlet socket covers
Installation: Adhesive
Lock Type: Push locks
The Inaya Child Proofing Kit is one of the best childproofing kits around. It features enough components for sufficient coverage throughout most homes. Its mid-range price point also makes it suitable for almost any budget.
The kit's inclusion of spring-loaded locks really help it stand out above other adhesive-based locks found in other kits. By reducing the amount of opposing force placed on the base of the lock when opening it, it protects the adhesive from failing.
The components in this kit are made with durable plastic, meant to withstand the force of most children up to 5 years old. And to support this claim, the kit comes with a 1-year warranty – something few other kits on this list provide.
Of course, it's not without its flaws. For larger homes, it might not include enough parts for full-home coverage. For a larger or more furnished home, you might want to consider a larger kit like the Baitiny Child Safety Kit – though, keep in mind, that as a trade-off, the Baitiny kit doesn't have a 1-year warranty like this one does.
Pros
1-year warranty

Spring-loaded push locks mean less wear on the adhesive

Durable pieces meant to withstand the force from children up to 5 years of age
Cons
Not as extensive as other kits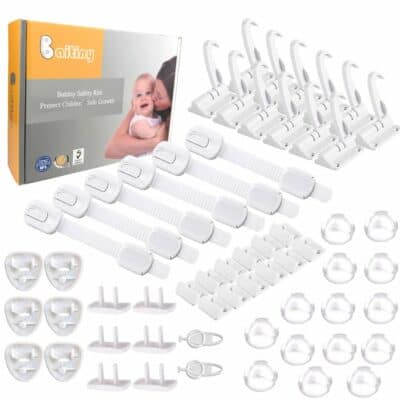 Why we like it:
This kit is the most substantial we've found, perfect for large homes with lots of cabinets, tables, and open plugs.
Editor's Rating:
At a Glance:
What's included: 12 invisible push locks, 6 strap latches, 14 corner guards, 12 socket covers and 2 keys
Installation: Adhesive
Lock Type: Push locks
The Baitiny Child Safety Kit provides an abundance of different safety apparatuses that are perfect for large homes. At its mid-range price, it's perhaps the most economical kit on the list.
The locks in this kit are perhaps some of the best among all the kits on this list. The locks, which swivel, are especially useful for drawers, since it means you can move them to avoid maneuvering around them. These locks also have large hooks, which means they're sturdy and should hold onto their corresponding latches well.
The bases of the locks and latches are also equipped with pre-drilled holes for screw installation. This is beneficial if you find that the adhesive backing can't withstand your child's efforts to invade closed off cabinets and drawers. Unfortunately, the kit doesn't come with screws, meaning you'll have to source screws from somewhere else, such as your local hardware store.
This kit includes a variety of outlet covers. The 3-prong covers fit snugly in electrical sockets and are difficult to remove without the included keys. The 2-prong covers, on the other hand, aren't very useful for 3-prong outlets, since they are small enough that they won't cover the grounding plug hole, which means you might have to purchase additional outlet covers separately.
Pros
An economical kit that's great for large homes

Flexible lock installation with pre-drilled holes for optional screws

Swiveling lock arms that are great for drawers as well as cabinets

3-prong outlet covers that are hard to remove without a key
Cons
Optional screws aren't included in the kit

The 2-prong outlet covers have limited usefulness for most homes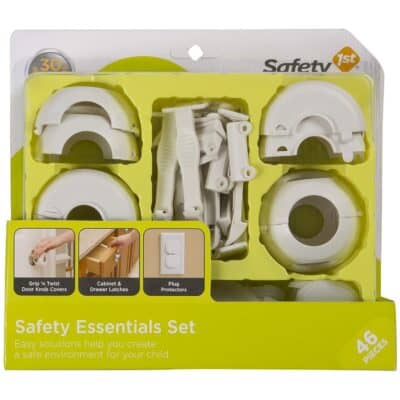 Why we like it:
From a trusted brand, this kit is budget-friendly and features screw-based installation for added assurance and durability.
Editor's Rating:
At a Glance:
What's included: 12 invisible push locks, 30 outlet covers and 4 door knob covers
Installation: Screws
Lock Type: Push locks
Coming from a reputable brand that's been around for over 30 years, the Safety 1st Safety Essentials Kit is a no-frills kit at a low price.
The locks and latches in the kit are use screws instead of adhesive, which is rather rare for most good childproofing kits. This means that installing them will take more time than adhesive locks, and could prove troublesome for use on drawers.
Conversely, screws are significantly more durable than adhesive. If you've got older children or have had bad luck with adhesive cabinet locks, this is a sensible choice if you can afford to drill holes in your cabinets.
This kit comes with the smallest diversity of safety applications on the list. On its own, this kit is a decent starter, but it only covers the most basic aspects of childproofing and leaves a lot to be desired. However, its low price means you can make this a supplemental purchase with another kit.
A great complimentary kit to this one would be the Cradle Plus Child Proofing Safety Kit. The Cradle Plus and Safety 1st kits work in synergy with one another, with each kit making up for the other's weaknesses for truly complete childproofing around the home.
Pros
From a reputable brand with decades of experience

Very cheap, great for any budget

Screw-based cabinet locks for greater durability than adhesive locks

Great kit to supplement other kits with
Cons
Not a great stand-alone kit with very basic protection

Requires tools to install cabinet locks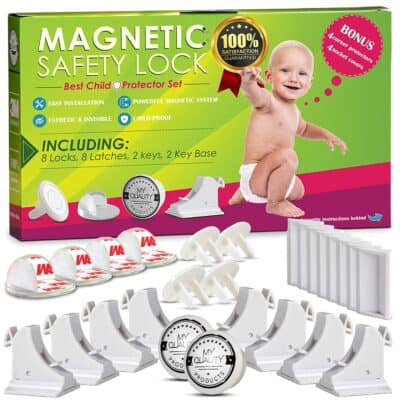 Why we like it:
Strong magnetic locks, simple installation and adequate coverage for small areas or as a supplemental kit.
Editor's Rating:
At a Glance:
What's included: 8 invisible magnetic locks, 2 magnetic keys and key bases, 4 corner guards, and 4 outlet socket covers
Installation: Adhesive
Lock Type: Magnetic locks
The MQP Magnetic Safety Lock Kit is a small but effective kit with strong magnetic locks. The company even offers a lifetime guarantee on its locks.
This kit includes a little bit of the most essential components necessary to start childproofing your home. It also comes at an affordable price, and it's a great way to get started with childproofing your home. However, it certainly does not offer the best value compared to other kits within the same price range, with only enough corner guards to cover a single table and a small number of outlet covers.
By itself, this kit might be a good choice for single-room childproofing, such as for small kitchens or bathrooms. However, if you combined this kit with another kit that lacks invisible cabinet locks, such as the Baby Defence Child Proofing Starter Kit, then you'd have a very expansive set of childproofing mechanisms for a safe home. But if you're looking for a more complete kit so you aren't making multiple purchases, you might want to consider another kit on the list.
Pros
Trades in quantity for quality

Strong magnetic locks with a lifetime guarantee

Good for small homes or as a supplemental kit
Cons
Small quantity of corner guards and outlet covers

Expense is comparable to other larger kits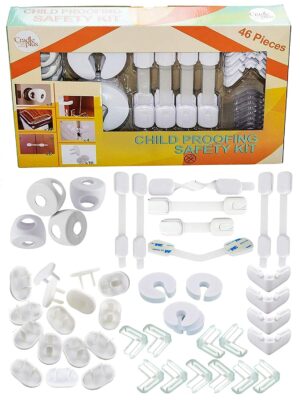 Why we like it:
This kit comes with a little bit of everything except locks. The inclusion of door knob covers and pinch guards are features missing from many other kits.
Editor's Rating:
At a Glance:
What's included: 8 strap latches, 4 angle drawer locks, 4 round door knob covers, 4 door pinch guards, 10 corner guards and 16 outlet socket covers
Installation: Adhesive
Lock Type: None
The Cradle Plus Child Proofing Safety Kit offers protection from many dangers. Thanks to its inclusion of items rarely found in other kits, such as door pinch guards and door knob covers, it's a great choice if you have older toddlers in the home who like to play with doors.
The angle locks serve as an alternative to strap latches, and are a good way to prevent your child from accessing dresser drawers. This makes them especially important in preventing your children from tipping dressers if furniture anchors are not an option.
One concerning aspect of this kit lies in its included outlet covers. The 2-prong outlet covers in this kit do not fully cover standard 3-prong electrical outlets, leaving the grounding plug exposed.
Another drawback of this kit is its lack of invisible cabinet and drawer locks. This is fine if your home is already equipped with them and you're simply looking to childproof other parts of your home. But if you're looking for a starter kit with cabinet locks, you might want to consider another kit such as Babee Base Baby Proofing Kit, which isn't as feature-rich as this kit, but does have invisible locks.
This kit is one of the most expensive on the list. This means it's not the best choice if you're on a tight budget. Still, for the convenience of having a wide spectrum of protections together in one kit, it's certainly worthy of consideration.
Pros
Contains a large variety of protection mechanisms

Good for homes with kids that like to play with doors

Angle locks are good for dresser drawers as an alternative to furniture anchors
Cons
No invisible cabinet and drawer locks

Outlet covers do not fully cover 3-prong outlets

Not a good choice for low budgets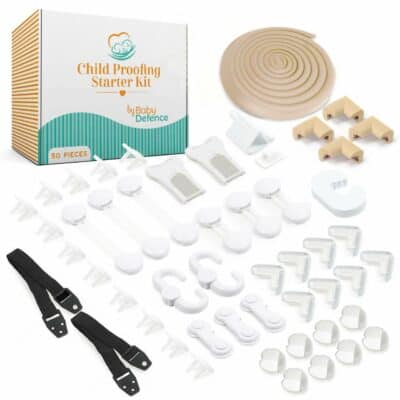 Why we like it:
This kit comes with a lot of different components, including some that few other kits include.
Editor's Rating:
At a Glance:
What's included: 3 exterior cabinet locks, 2 sliding cupboard locks, 3 short latch straps, 3 long latch straps, 2 door finger guards, 2 window locks, 20 corner guards, 12 outlet socket covers, 2 TV straps and a 6.5-foot edge protector
Installation: Adhesive
Lock Type: None
The Baby Defence Child Proofing Starter Kit brands itself as an "all-in-one childproof solution", and it's easy to see why. Rivaling the Cradle Plus kit in terms of total home protection, it comes with many different safety mechanisms that other kits don't. It's also made with durable BPA-free plastic, and comes with a 30-day money back guarantee.
A couple things that really stand out in this kit is its inclusion of anti-tip TV straps, window locks, and an edge protector. No other kit on this list comes with these components, and even if you decide this kit isn't right for you, these items are great considerations for further childproofing.
The number of corner guards makes for great protection throughout your home, but the 3 different styles of guards are concerning if aesthetics are important to you. There's also 2 types of door finger guards, which is rather confusing, as it seems that one is plastic and adheres to doors, while the other is akin to foam slip-on guards.
The kit does not come with instructions, and given the kit's different styles of locks and mechanisms, this is especially troublesome. Speaking of locks, the kit does not include any invisible cabinet locks, as the included cabinet locks attach to the exterior, similar to most latch straps.
It's a worthy contender at its mid-range price. With its large quantity and unique safety mechanisms, it's a good starter kit if you don't mind spending some time trying to figure out what some of the anomalous pieces are and where they go.
Pros
Another kit with a greater variety than many other kits

Comes with some key safety components that other kits don't

A great kit for large homes

Great price given the variety and quantity of items
Cons
Different styles of similar components can clash with your home's interior design

Some parts are confusing and no instructions

Some parts are confusing and no instructions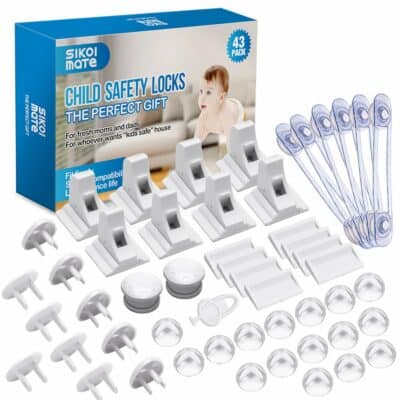 Why we like it:
Another magnetic kit that features a variety of child safety devices made of PVC plastic at a reasonable price.
Editor's Rating:
At a Glance:
What's included: 8 invisible magnetic locks, 2 magnetic keys, 6 latch straps, 16 corner guards, 10 outlet socket covers and 1 outlet cover key
Installation: Adhesive
Lock Type: Magnetic locks
The Sikoimate Child Safety Locks Kit promises to deliver an effective product with safety in mind. The kit comes with an assortment of safety mechanisms that are made from durable medical-grade PVC. It's also comparable to other adhesive-based magnetic kits on the list, not only in terms of variety and size, but price as well.
The kit comes with a 120-day money back guarantee, which is a testament to its durability, providing a satisfactory time-frame to gauge its effectiveness and durability. However, the kit would really benefit from including additional adhesive strips like other kits such as the Babylyzz kit. While a good warranty program is highly beneficial, replacement strips would save you the time and hassle of ordering replacement parts from the company.
Pros
120-day money back guarantee

Good quantity of components for coverage throughout your home

Components made of durable medical-grade PVC
Cons
No additional adhesive strips means waiting for replacement parts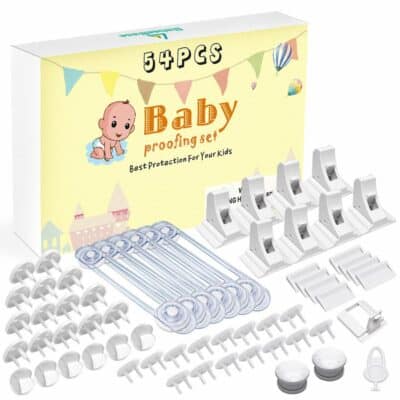 Why we like it:
Not only is it one of the larger magnetic lock kits on the market, but it also comes with a convenient installation cradle to expedite the installation of its locks and latches.
Editor's Rating:
At a Glance:
What's included: 8 magnetic locks, 2 magnetic keys, 6 adjustable straps, 6 corner guards, 30 outlet covers, 1 outlet cover key, and 1 installation cradle
Installation: Adhesive
Lock Type: Magnetic locks
Quick and convenient installation are characteristics of the Babee Base Baby Proofing Set. This kit comes with an installation cradle that allows you to easily line up the locks and latches to ensure a consistent installation of each of the magnetic locks.
The components in this kit are durable and non-toxic, made of medical-grade PVC. To ensure you're happy with this kit, the company offers a 180-day warranty, in which Babee Base will refund or replace your kit, no questions asked.
If you're looking for a kit with lots of outlet covers, then this kit is worth considering. However, while the large number of plug covers are great for homes that need the extra protection, it honestly feels like this many plug covers are an unnecessary inclusion to add to the total piece count and appeal to value shoppers.
For bargain hunters, you might want to consider the Baitiny Child Safety Kit, which offers a great value, albeit at a higher price than this kit.
Pros
180-day warranty

Comes with installation cradle for quick and convenient installation

Lots of plug covers for homes that need them
Cons
The number of plug covers feels like filler to increase piece count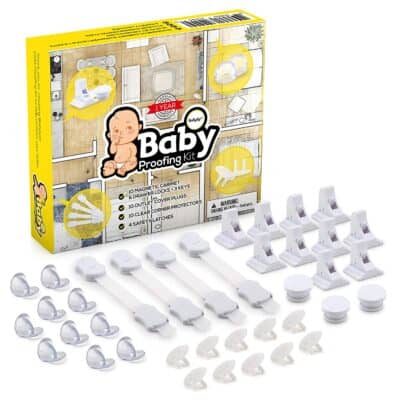 Why we like it:
Another kit with a 1-year warranty and bonus adhesive tapes to replace failing adhesive parts.
Editor's Rating:
At a Glance:
What's included: 10 invisible magnetic locks, 3 magnetic keys, 4 adjustable latch straps, 10 corner guards, 10 outlet socket covers and 8 bonus adhesive tapes
Installation: Adhesive
Lock Type: Magnetic locks
The Babylyzz Child Safety Kit is another good adhesive-based starter kit. Each of the components in this kit are made from a strong, non-toxic ABS plastic. This kit strongly balances value with safety, durability and variety, and is backed by a 1-year warranty, which is always a plus when considering adhesive kits.
One of the main advantages of this kit is its inclusion of extra adhesive strips. Adhesive components in childproofing kits suffer from a limited lifespan, and this helps extend it without having to resort to aftermarket strips. It's also an extra that not many other adhesive kits include, so you should keep this in mind if you're looking at comparable adhesive kits.
Since this kit includes magnetic locks, it means you won't have to apply force to release the locking mechanism from the latch. However, the fact that the hooks within the locks in this kit could be prone to failure, you might want to consider another even better magnetic lock kit, such as the Babee Base Baby Proofing Set.
Pros
1-year warranty

Comes with extra adhesive strips

Nice mix of protection mechanisms
Cons
Hooks within the locks could be prone to failure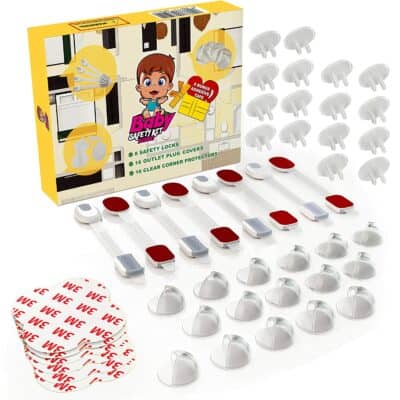 Why we like it:
A good kit for starters with a large amount of extra adhesive strips to replace failing adhesive components.
Editor's Rating:
At a Glance:
What's included: 8 adjustable latch straps, 16 corner guards, 16 outlet socket covers and 24 bonus adhesive tapes
Installation: Adhesive
Lock Type: None
The Denno Baby Safety Kit is another good choice in childproofing kits. The components in this kit are made with medical-grade PVC and ABS plastic, meaning they're both durable and non-toxic. It's also one of the cheapest mid-range kits available, with a good amount of each of the included components, including the massive amount of bonus adhesive tapes.
This kit lacks invisible locks for cabinets and drawers, and there's not much in the way of variety. Just as some of the other kits on this list, it serves as a good choice for smaller homes or as a supplemental purchase to larger and more inclusive kits. Otherwise, it simply comes down to personal preference.
A great choice to supplement this kit would be the Safety 1st kit if you're on a tight budget and aiming for screw-based cabinet locks. If you'd rather go with adhesive-based cabinet locks, the MQP Magnetic Safety Lock Kit is a good choice for magnetic cabinet locks, or the Inaya Child Proofing Kit if push-locks would better suit your needs.
Pros
Made of non-toxic and durable ABS plastic and medical-grade PVC

Lots of backup adhesive tapes

Sufficient quantity of included components
Cons
Lackluster variety

Does not come with invisible cabinet locks
Everything You Need to Know About Childproofing Kits
As you consider a childproofing kit, there are some things you should know. Here we discuss some things to contemplate as you search for the right kit for you.
When Should I Start Childproofing My Home?
All children develop differently, but you typically should have any areas that your little one will have access to childproofed as soon as they're able to crawl. It's a lot easier to keep them safe before they can start moving around, so we recommend taking advantage of that time to baby proof your home.
Lock Types
There are two types of locks to consider: magnet locks and push locks, each of which have their own advantages and disadvantages.
Magnetic Locks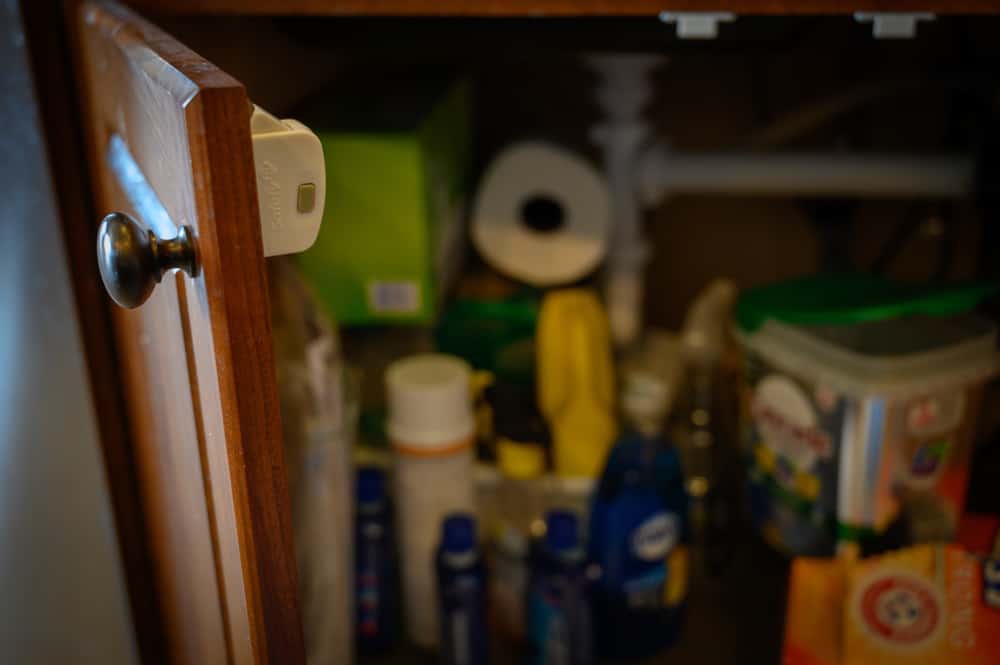 Magnetic locks like those in the MQP Magnetic Safety Lock Kit are a great way to secure cupboards and drawers in a discrete way. Unlike traditional cabinet locks, doors will remain securely closed in the absence of the magnetic key. This means there's no worry of little hands reaching blindly into a cabinet full of harsh chemicals.
The requirement of the magnetic key could prove inconvenient since it means using an external device to open the locks. For kitchen use, you can easily remedy this issue by sticking it to the refrigerator in a place out of the reach of children, just as you normally would with a regular fridge magnet.
If you plan to use them to secure dresser drawers or entertainment center doors, these might prove to be more inconvenient than they're worth, especially if you're prone to misplacing things. You also need to be wary of accidentally locking the magnetic keys inside the cabinets or drawers they're meant to protect.
One last consideration when deciding whether or not magnetic locks are right for you: the magnetic locks included in a given kit are not solely limited to being opened with their respective magnetic keys. Any strong magnet can open these locks, meaning you should consider testing the locks with any existing fridge magnets you may have.
If you own strong fridge magnets, consider keeping them out of reach of your children, or foregoing a magnetic kit in lieu of a push lock kit, especially if your child is particularly intuitive.
Push Locks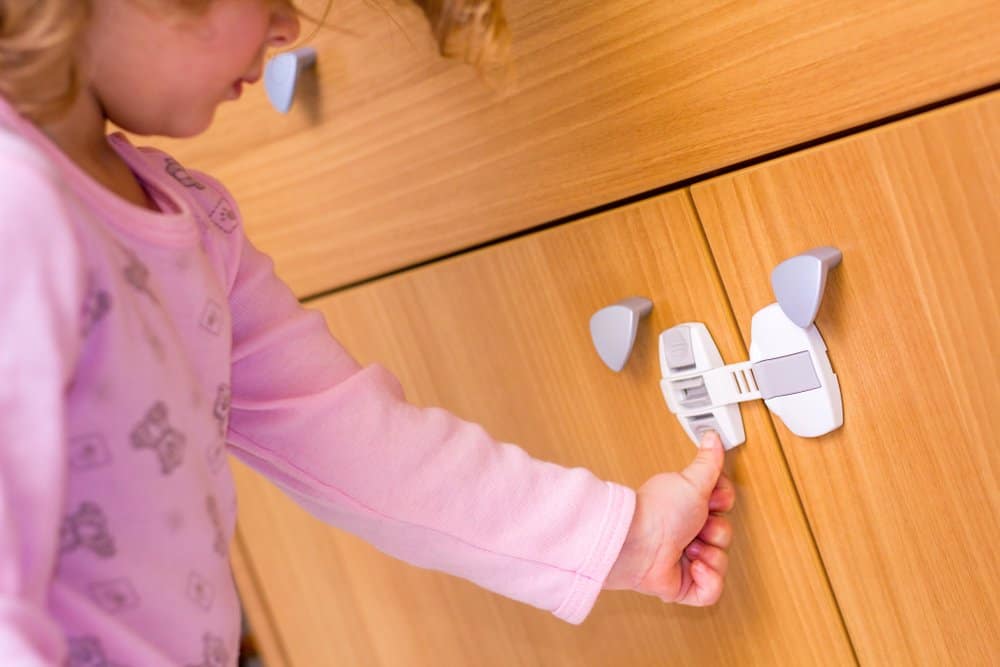 Push locks, which are more common and included in most of our choices including the best overall childproofing kit are more traditional cabinet and drawer locks that you might remember from your own childhood.
They are made of thick sturdy plastic which sits flush with the top backside of their respective latch, and have a hook design to prevent cabinet doors and drawers from fully opening. This requires you to push the hook down below the latch to open them.
Typically, there are two different designs for push locks: spring-loaded hooks, and more traditional single-piece plastic hooks. Spring-loaded hooks are a modern take on push locks, requiring less force for easier opening, and are commonly found in non-magnetic adhesive-based kits.
On the other hand, more traditional single-piece hooks, which are often found in screw-based lock kits, have a thicker plastic hook and feature no moving parts, making them more durable and long-lasting.
One advantage push locks have over their magnetic counterparts is they are simple and don't require the use of another device to open them. This means you can easily push down the lock to open and there's no worry about forgetting, misplacing, or accidentally locking in a key to get into cabinets and drawers.
Conversely, the main disadvantage of push locks mean that cupboards and drawers equipped with these types of locks will open slightly. This presents both a danger and an inconvenience to you and your child. It opens up the possibility of pinched fingers and small hands reaching into restricted cabinets and drawers.
It also transforms your cabinets and drawers into headache-inducing instruments that your child will eventually discover, possibly leading to regret and potential damage to the hooks or cabinets they're installed on.
Installation Methods
When choosing how you'll install your child safety locks, the two options are adhesives and screws.
Adhesive
Many components of most childproofing kits come with pre-applied adhesive strips. Regarding cabinet and drawer locks, this is an ideal solution for renters and homeowners who don't like the idea of drilling holes. Adhesive makes for quick and easy installation, as well as providing necessary versatility among surfaces on which childproof products are installed.
Adhesive-backed parts that feature 3M adhesive strips, like our premium pick, are rather similar in adhesion and tensile strength, making the construction of the parts themselves the most significant difference between various similarly designed kits.
The main drawback to adhesive is that it wears out over time, and isn't the most reliable method of installation for long-term use and heavy abuse.
When installing adhesive-backed parts, it's important to clean the surface of the object the adhesive is being affixed to. This ensures dust and debris does not hinder the effectiveness of the adhesive, and provides greater total surface area for the adhesive to take hold.
If you don't mind a permanent fixture of an adhesive part, you can preemptively super glue parts prior to installation, or apply it to failing adhesive parts, for greater strength. For a less permanent fix, aftermarket adhesive strips or a strong double-sided tape – such as duct tape – will breathe new life into parts with worn adhesive.
Screws
Cabinet and drawer locks which are secured by screws, like our best budget kit are more affordable, traditional, and offer their own range of drawbacks and benefits. Screws are more secure than adhesive as they don't wear out as easily, making them the superior choice for long-term use. Screws can withstand more abuse than adhesive-backed locks and latches, which is especially beneficial for multi-child households.
Consequently, the caveats are their longer and more difficult means of installation and the requirement to drill holes. This means they're less versatile in terms of where they can be installed, proving typically unsuitable for plastic, metal, and softwood cabinets and drawers. They take longer to install, require tools, and leave holes behind when they're eventually uninstalled.
Additional Childproofing Considerations
Childproofing kits are a great start to securing your home and protecting your child from common household dangers, but none of them offer truly complete coverage for your home. There are many other things you should consider when childproofing your home for exceptional protection.
Although these aren't included in any of the above kits, we've provided product recommendations for each one.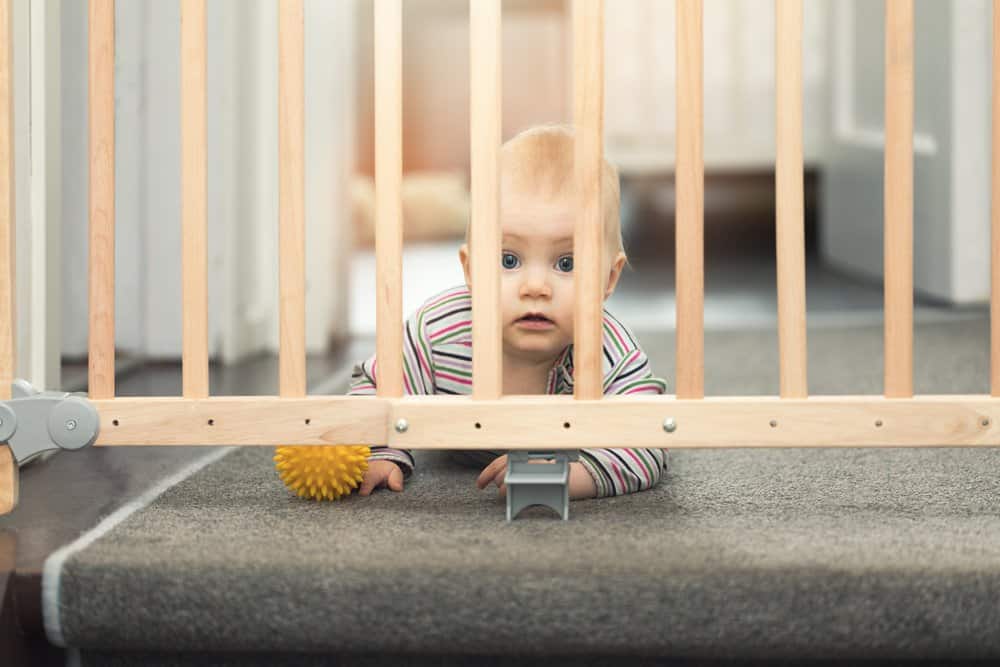 Baby Gates
Baby gates are an integral part of childproofing, keeping children from restricted spaces that otherwise can't simply be closed off (think stairways and door-less entrances). Baby gates also come in many different forms, from simple plastic gates that fit in doorways to large free-standing gates that can act as a corral.
A baby gate is probably the most important childproofing item you won't find in a kit, so we recommend taking a look at our roundup of the best baby gates available.
Power Strip and Outlet Cover Boxes
Outlet and plug protectors are a common product in childproofing kits, and are a great way to prevent electrocution from open outlets. But what about occupied outlets and power strips?
If you have occupied outlets and power strips that are accessible, then all it takes for a shocking accident to happen is your child unplugging the cord to expose a newly unprotected outlet. That's where power strip and outlet cover boxes come in.
Outlet cover boxes are boxes that you install around an outlet and work with occupied sockets, with a hole for cords to run out from. Power strip cover boxes are similar, with installation occurring around a power strip. Both prevent your child from accessing and unplugging wires and exposed outlets.
Since unprotected electrical outlets can have disasterous consequences, we suggest looking at our list of the best outlet covers and choosing an option that fits you and your home.
Door Lever Locks
Door lever locksare preventative mechanisms that keep children from opening doors that have lever handles instead of traditional round knobs. Lever locks sit below door levers (most commonly found on front and back doors) to prevent them from being pushed down enough for the door to open.
Balcony Stair Rail Safety Nets
For multi-story homes that feature a balcony on the second level,a stair rail safety net is a potentially life-saving child safety product. Children who are small enough to fit between the columns that hold the balcony rail may get curious and try to squeeze between them – this type of product prevents this.
Typically, these safety nets are mesh nets that sit between the open floor and the balcony columns to keep children from playing around the columns.
Furniture Anchors
You might not realize it, but dressers are actually quite dangerous for small children. Children like to play with dresser drawers and climb in them, which poses a serious threat to their safety, as it can cause the dresser to tip and fall on them. Strategically placed drawer locks will help prevent them from opening the drawers and abate the immediate risk of tipping furniture.
Yet dressers and other furniture prone to tipping still present a danger that's easily preventable. Even with drawer locks, all it takes for serious injury is someone forgetting to lock the drawer and a curious child deciding to climb the dresser.
That's why it's important to consider utilizing furniture anchors, which as the name suggests, are anchors you install in your wall and furniture to anchor them in place and prevent tipping accidents. Furniture anchors typically feature a highly durable plastic or metal strips or wires that connect the wall and furniture hardware together.
The main drawback with furniture anchors is that they require you to install wall anchors to attach the furniture to. If you own your own home, this likely isn't an issue, but renters and people who often change their furniture layout may find that furniture anchors simply aren't an option. Still, you should really consider furniture anchors if there's any chance your child may have a chance to play around heavy furniture like dressers unsupervised.
Whether you live in an area that is prone to earthquakes, or you just want to add a layer of protection from a potential accident, furniture anchors are a worthwhile investment and are highly recommended in households with small children.
Stove Knob Covers and Oven Locks
The kitchen is one of the most dangerous places for a child, with potential minor and major accidents lurking everywhere. Your oven is perhaps the most dangerous item in the kitchen, not only for your child directly, but also for your entire family and your home itself.
Unless you have a stove where the burner knobs are located near the top of the stove, out of the reach of your children, then your child can easily walk up to the stove and twist the burner knobs. This is not only a burn hazard for your little one, but it is also a potential fire and gas hazard that could easily see your kitchen or entire home up in flames in a matter of minutes. Stove knob coversare a great way to mitigate this risk and are typically easy to install and use.
Heat-resistant oven locksare also a great way to prevent your child from playing with your oven door. This will save you from the issue of unknowingly melting toys to the bottom of your oven, as well as preventing your child from being burned by a hot unguarded oven. And just as their stove knob counterparts, they are effective and easy to install.
Blind Cord Wraps
Blinds are a common affair in most homes, and are convenient in providing optional shade while offering a way to keep children from playing with them. The biggest problem with blinds, however, is that the pull cords are extremely hazardous to small children and unfortunately can lead to a child accidentally strangling themselves.
Rather than opting out of blinds completely, you can choose to install blind cord wraps, which provide a place to easily wrap excess blind cords. This means you still retain the benefits of convenience that blinds offer for quick adjustment, without the hazard. Simply adjust the blinds and wrap the cord.
Window Guards
For homes that have low windows on upper floor areas and apartments,window guardsare a great protection against serious injury and death. Essentially, window guards are bars that you screw into the window frame to prevent your child from falling through an open window without having to necessitate keeping the window closed all the time. It means you can keep your home breezy and cool when it's warm while also affording protection from fall accidents.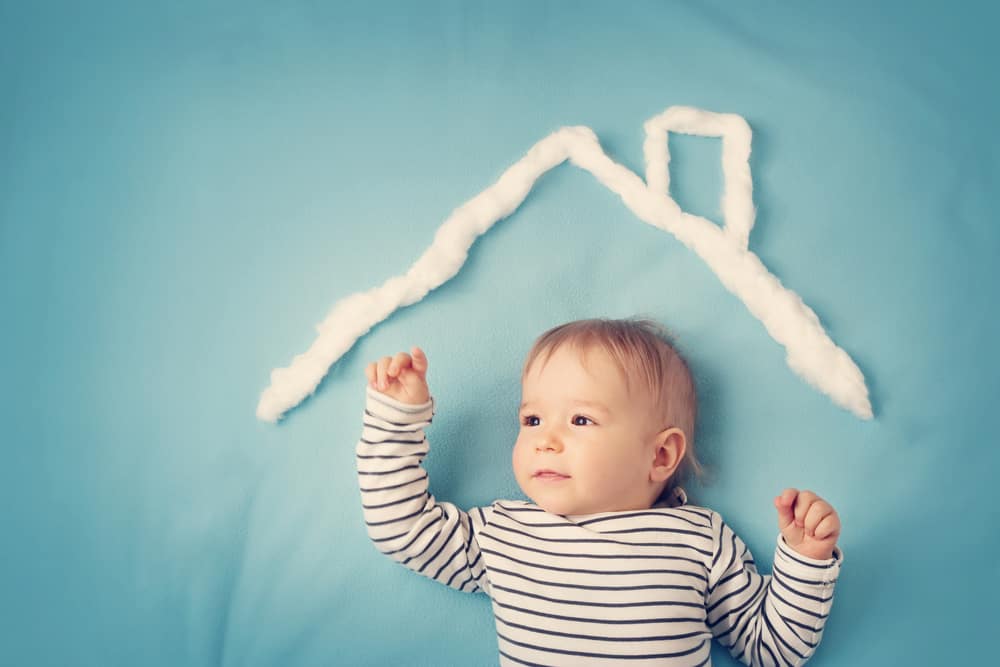 Wrapping Up
Childproofing your home is a great way to protect your children and home. There are a lot of areas to cover, and even though childproofing kits don't cover all of them, they are a great place to start. Educating your child on the various dangers around the home is the best deterrent, but kids don't always learn quickly, and it's best to have a barrier between them and unnecessary danger until they do.