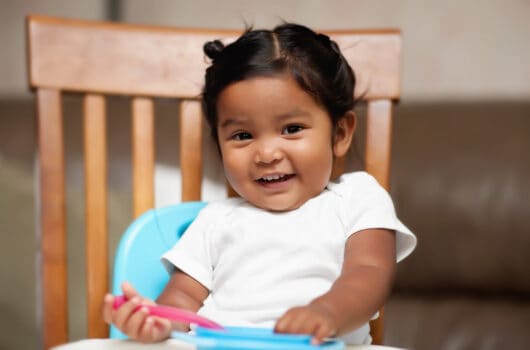 O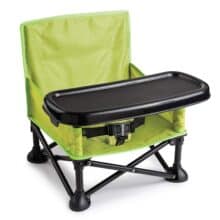 Summer Pop and Sit Portable Booster
B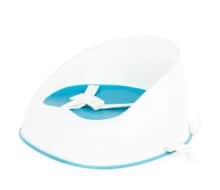 Prince Lionheart Squish Booster Seat
P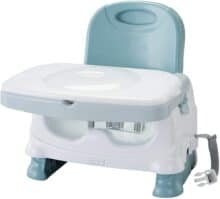 Fisher-Price Healthy Care Deluxe Booster Set
Previous
Next
While many parents are quick to shop for high chairs, booster seats tend to get left behind. Even when you consider a booster seat, they're mostly associated with cars. Booster seats can be useful for vehicles, sure, but they're also more versatile when used as a substitute for a high chair. In fact, booster seats can function as standalone chairs and tables for babies.
Booster seats can be used indoors, outdoors, and even in places like restaurants. Plus, in some cases, booster seats provide more stability and safety than your average high chair. But to choose the right booster seat, you'll need to keep a find things in mind.
Factors to Consider When Shopping for Booster Seats for Eating
The Age of Your Child
First and foremost, you need to consider the age of your child. Some booster seats are bigger than others, which can be uncomfortable for smaller children. When you're shopping for a booster seat, and one that you'll be using often, always make sure it's age-appropriate or you'll be left with one unhappy child. Keep in mind, some booster seats are adaptable, and fit a wide range of ages.
Material
Booster seats for eating are generally made with one of two materials, nylon and plastic. While both materials work well, each one has strengths and weaknesses.
Plastic Booster Seats
Plastic booster seats are great for indoor usage, and they tend to be more versatile than nylon booster seats. For example, plastic booster seats can be turned into high chairs and set up in different ways. Plus, some of them include removable pieces you can take with you to restaurants. Plastic booster seats are also easier to clean because most of them come with dishwasher-safe parts.
Nylon Booster Seats
Nylon booster seats are better suited for outdoor usage. If you're looking to have some fun in the sun down by the beach, taking a nylon booster seat with you is the best way to go. Nylon booster seats also use less space because you can fold them easier. The only downside to nylon booster seats is that they're less effective when used with regular chairs.
The Weight of Your Child
While most booster seats can handle upwards of fifty or sixty pounds, not every booster seat is sturdy enough for large children. When you're considering a booster seat, especially if you'll be attaching one to a chair, you want to make sure it can handle your child's weight. Unfortunately, if your child is too heavy, it can lead to instability and slippage.
Price
Booster seats are similar in price to high chairs. While they're not expensive, there is a lot of price variation depending on the product you're looking at. There is a lot that factors into the price, including features and the material it's made out of. After reviewing each product, we've grouped each booster seat into three different categories:
$: Around $20
$$: Around $30
$$$: Around $40
So, if booster seats for eating have been on your mind, read on. We're going to take you through the ten best booster seats for eating and provide you with shopping tips along the way.
Top 10 Booster Seats for Eating 2020
Everything You Need To Know About Portable High Chairs and Booster Seats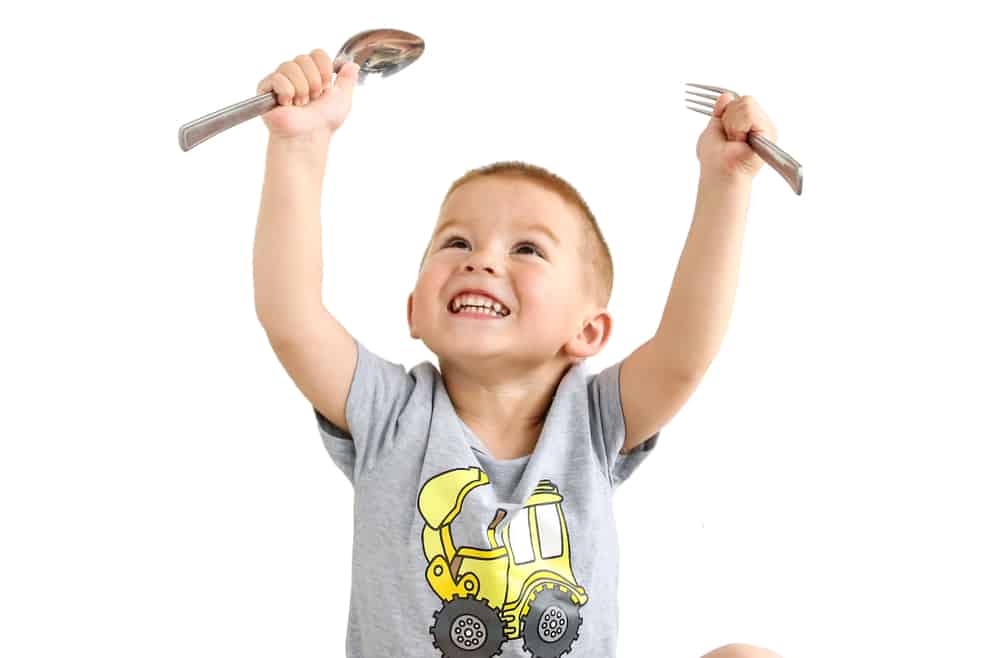 Shopping for booster seats can be challenging, but if you know what you need, the process can be straightforward. You've seen the ten best booster seats for mealtime, but how do you know which one is right for you? We're going to take you through everything you need to know, so you make the right choice.
How Age Impacts Booster Seats
First and foremost, you need to shop for an age-appropriate booster seat. Infants need a different style booster seat than toddlers, which can make it tricky to find the right chair. While booster seats are generally used for toddlers, that doesn't mean babies can't share in the fun too.
Babies (Up to 1 Year)
If you're shopping for a baby, you need to find a booster seat that's similar to a high chair. You should be on the lookout for booster seats that include features like food trays, back pieces, cup holders, and the ability to stand on their own. These features will keep messes to a minimum, and they're easy to clean.
There are a handful of different booster seats available on our list, but our favorite booster seat for children under a year old is the Fisher-Price Healthy Care Booster Seat. The product includes BPA-free plastic, straps to hook on a chair, and a removable back piece.
Young Toddlers (1-2 Years)
If you have an older child, over a year old, you should consider a booster seat that has fewer features. It might seem like a good idea to load a seat up with features, but toddlers should be learning to eat on their own. Booster seats for toddlers are typically simple products that provide your child with a slight boost, and that's all there is to it.
An excellent product for toddlers is the Prince Lionheart Squish Booster Seat. The booster seat works best for children over the age of eighteen months and can last you a year or two.
Older Toddlers (2-4 Years)
If you have an older toddler, getting them to sit in a booster seat can be difficult. They might think they're old enough to sit on a regular chair, and while some children can, they might not be tall enough to reach the table. Booster seats for older toddlers need to have a high weight limit, and you might want to find one that doesn't have a harness.
If you find yourself in this situation, there is no need to panic. The Kaboost Booster Seat is a great product that can make your child comfortable at the table. The product works by raising the legs of the chair, so your child can start getting used to ordinary chairs sooner.
Choosing the Right Material
Nylon and plastic both have their advantages and disadvantages, and the right choice for you and your family will depend on how you'll be using the booster seat. Choosing the wrong material can leave you and your child dissatisfied, so be sure to look over both materials carefully.
Nylon Booster Seats
Nylon booster seats offer stability and portability. These booster seats can be folded down and taken with you on the go, and they provide a lot of comfort for your child. If you need a booster seat for outdoor use, nylon is the material you need. Aside from being portable, they hold up well against the elements, and they're more stable than plastic chairs when used on uneven surfaces.
Nylon booster seats are similar when you compare them, but some are better than others. If you need a portable booster seat that works for most outdoor situations, the Summer Pop and Sit Portable Booster is a great choice.
Plastic Booster Seats
Plastic booster seats are better for indoor use, and they're easier to work with. Many plastic booster seats come with pieces that you can remove as your child grows older, and they can be just as compact as nylon booster seats. For indoor use and restaurant situations, a plastic booster seat is your best choice.
Unlike nylon booster seats, plastic products have a lot of variation. Choosing a plastic booster seat is more about your personal preference. That said, our favorite choice is the Fisher-Price Healthy Care Deluxe Booster Set. With a ton of removable parts, it's hard to find a booster seat that works in more situations.
Choosing the Right Booster Seat for the Right Situation
When you have a child, you're going to find yourself in a handful of situations where you need a booster seat. They might not show themselves all at once, but if you don't have the right one, you'll figure it out when you least expect it. Take some time to look over a few situations where booster seats come in handy to help you determine which product you need.
Around the House
High chairs are a popular product to keep around the house, especially when your child is transitioning from nursing. While high chairs serve their purpose, parents are shifting their attention to booster seats. Booster seats offer portability, similar features to high chairs, and they're easier to store.
If you need a booster seat to use around the house, the Graco Simple Switch Portable High Chair and Booster is a great choice. It provides you with the features of a high chair, but the versatility of a booster seat.
For a Day at the Beach
The beach is a great place to spend the day with your child. Watching your child play in the sand or dip their toes in the water is a great way to bond and build memories. While babies have sensitive skin, if you apply the right amount of baby sunscreen, vitamin D from the sun can boost your child's immune system.
If a day at the beach sounds like a much-needed escape from being cooped up in the house, make sure you take the right Booster seat with you. Sand can be a rough terrain, so a chair that has a low center of gravity like the Hiccapop Omniboost Travel Booster Seat is the best product to take with you.
For Having a Picnic at the Park
Many parents are protective of their babies. Being safe is essential, but making sure your child gets enough fresh air is vital for their development. Every parent wants their child to grow, but exposing your child to the great outdoors can be beneficial for you too. According to the Journal of Sleep Research, infants that sleep well at night are outside twice as much as children who don't get fresh air.
So, that day at the park might lead to a good night's sleep for you and your child. If you plan on spending time at the park, you should make sure your child is safe and secure. The Summer Infant Pop and Sit Portable Booster Seat is the perfect chair to take with you, and it's even useful for a picnic.
For the Restaurant
When you have a newborn, the joy of dining out can seem like a distant memory. The good news is that this doesn't have to be the case. Even if your child is still under a year old, there are booster seats that can make them feel welcome at the table. In fact, the Bumbo Baby Multi-Function Seat is a great product to keep young children comfortable at the table.
While babies can be taken to restaurants, dining out becomes more popular once your child hits the eighteen-month mark. At this point, your child can enjoy some of the food and participate in the experience. If you have an older toddler that's getting used to adult chairs, the Kaboost Booster Seat can give them the boost they need without making them feel like a baby.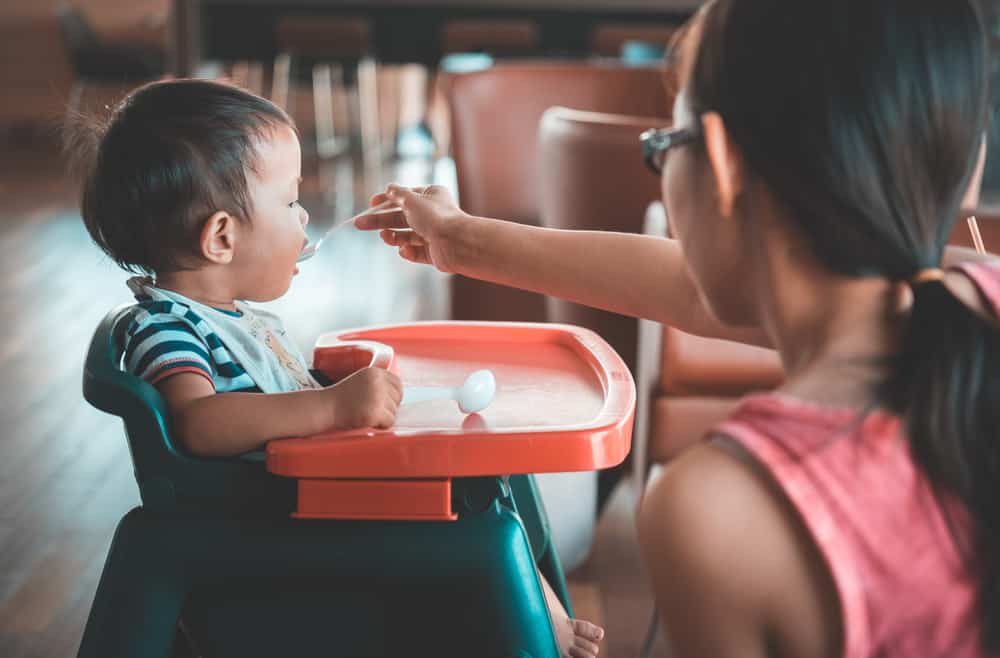 Booster Seat for Eating FAQ
What's the Difference Between a High Chair and a Booster Seat for Eating?
The differences between a high chair and booster seat are obvious if we're talking about the ones you put in the backseat of your car. It becomes more complicated when you compare booster seats for eating with high chairs because they offer the same benefits. The most significant difference is that high chairs are for younger children and sit at table height, while booster seats can support most ages but need to be used with a regular chair to work.
Do I Need a Booster Seat for Eating?
Whether or not you need a booster seat is up to you. We've noticed that high chairs and booster seats can work the same way, so it comes down to your preferences. While they're similar, we prefer booster seats because they're more versatile. Instead of being limited to household use, booster seats are more portable.
When Should I Use a Booster Seat?
Booster seats for eating are commonly used for toddlers. While there are a handful of booster seats that work for babies, we always recommend waiting until your child is at least six months old. If they're any younger, you might have trouble keeping them safe with the harness.
Do I Need to Keep the Harness On?
Harnesses are designed to keep your child secured to the booster seat. In most cases, they're comfortable and add a layer of safety, so we always recommend strapping your child in. On the other hand, if your child is around two years old, you can start to shy away from the harness.
Final Thoughts
Booster seats are underrated when it comes to eating. High chairs are great products, but they're cumbersome. Choosing to use a booster seat instead can save you a lot of space and make life easier if you plan on eating while you're out. While booster seats are standard for toddlers, even babies can benefit from a high-quality booster seat.
When you shop for a booster seat, make sure you consider your needs. Some products work better than others, and the best booster seat for someone else might be the worst one for you. Luckily, booster seats aren't an expensive item, so feel free to try a few before settling on one.