Top 20 Best Christmas Toys & Gifts for Boys 2023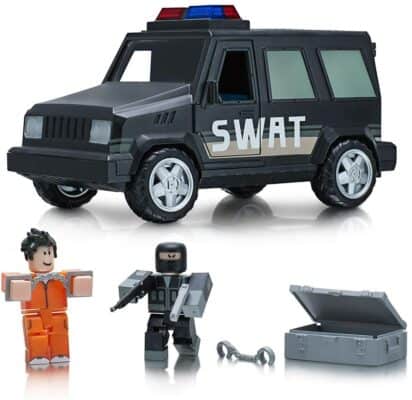 What It Does
This is an officially licensed playset for the immensely popular Roblox video game that kids can't seem to get enough of lately. This particular set is made for the Jailbreak game-mode fans. The playset also comes with a bonus digital item in the form of a code that a Roblox player can enter in order to receive an in-game cosmetic item that they can show off to their friends next time they log on to the game.
Quality
The build quality on the truck and figurines is excellent. Both figures can be posed in various positions, and the SWAT vehicle includes doors that can be opened and closed as well as a removable rooftop for easier access to the inside of the vehicle.
There are little accessories that can be attached to the figures for playing out different imaginary scenarios. The lights on the roof are also functional thanks to the included batteries, but this toy doesn't make any noises which may be considered a huge plus for the adults in the room.
Who It's Best For
Clearly this is a gift meant for fans of Roblox (which is basically every kid these days, it seems.) The nature of this toy makes it ideal for younger kids between the ages of 3-10. If your kid is a Roblox fan, this is an easy buy thanks to its affordability and the overall quality of the product. The Roblox Action Collection has a ton of different playsets so big Roblox fans may enjoy collecting the various sets and having them interact with each other.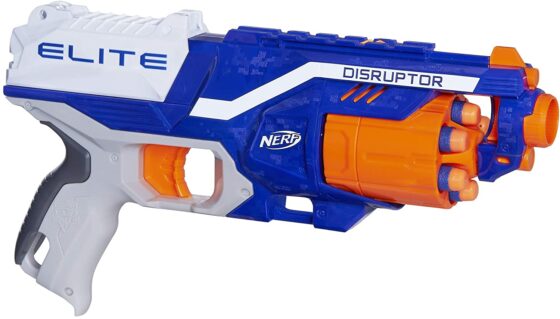 What It Does
Nerf toys are great because they encourage active and imaginative play while posing very little to zero risk of causing injury or damage to property. The nerf bullets are specially designed to fly across a room quickly without threatening to do any harm.
The Nerf N-Strike Elite Disruptor is an entry-level nerf gun that has all the features your little tyke will love. The rotating drum allows up to six darts to be loaded at once with the drum automatically chambering the next round after each dart is fired.
Quality
Nerf has been making toy guns like these for a long time and they've really nailed the execution on most of them. The Nerf N-Strike Elite Disruptor is made from sturdy yet lightweight plastic that protects the moving parts from getting damaged without making the gun so heavy that it becomes awkward or dangerous to use.
This revolver-style Nerf gun is capable of firing darts up to 90 feet which makes these great for indoor or outdoor play alike.
Who It's Best For
Firing a Nerf gun is its own brand of satisfying and we think you'd be hard pressed to find a kid that couldn't get some enjoyment out of owning one of these Nerf Elite Disruptors. Having said that, we think this toy is a particularly great gift for children who are more active and energetic.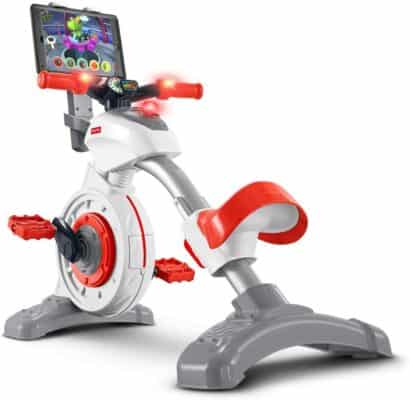 What It Does
This stationary cycle is designed to connect to a smart TV or tablet device that translates the child's pedaling and turning into the digital world inside the included app. Kids can pedal away to their heart's content and combine learning and exercise into a single, stationary experience in any room of the house.
Quality
At this price, you should expect that this toy is equal parts fun and durable, and it is both of those things. If you're looking for something more budget-friendly, consider the Nerf Elite Disruptor instead. This Think & Learn Smart Cycle is designed for children between the ages of 3-6 with a maximum weight capacity of 75 pounds.
With a steel construction and an adjustable seat, the Think & Learn Smart Cycle is built to last through the punishment preschoolers are known for dishing out.
Who It's Best For
This is a fantastic gift to get preschoolers active and learning while at home. This is a video game you'll want your kids to get addicted to.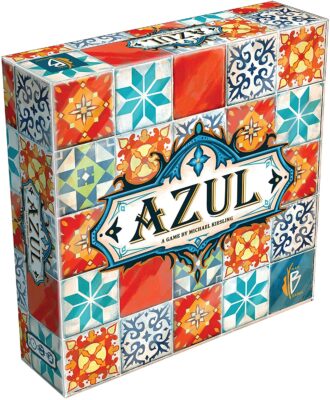 What It Does
Azul has earned its place among the all-time greats since its release in 2017 with board gaming communities praising it with excellent scores. Intended for children age 8+, this strategy game for 2-4 players takes about 30-45 minutes to complete a play session. Learning and playing games with your children is a fantastic way to bond while broadening their horizons.
Quality
Azul is an approachable and fun game filled with beautiful artwork. The pieces and components are all beautifully illustrated and built to stand against the test of time. Azul has won a long list of awards since its release and it continues to top lists of the best board games on the market.
Who It's Best For
This game is simple enough for quick pick up and play sessions while still having enough complexity to remain interesting after hundreds of games. Azul is particularly great for young children due to its colorful art and engaging visuals. If you're looking for a board game that's great for older children, consider the Funkoverse: DC Comics Strategy Board Game. Board games have been surging back into popularity over the past few years because they are such a fun and wholesome way to interact with your family.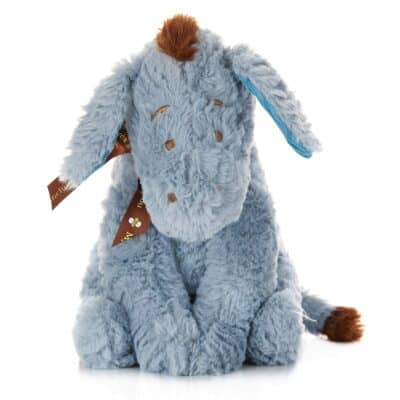 What It Does
Designed for kids of any age, these plush toys are built to provide long-lasting comfort and joy. Most kids have a favorite stuffed animal and these Winnie the Pooh friend plush toys are perfect for just that thanks to their adorable design and cozy materials. Eeyore, Piglet, and Tigger are classic favorites of children and Disney fans all across the world.
Quality
Made from plush with embroidered detailing for the eyes and snout, this is baby-safe with no buttons or other choking hazards. The Eeyore and Piglet versions are particularly adorable, but Tigger could be nicer. It's unfortunate that Tigger's stripes are painted on as it negatively impacts the soft texture of the plush, but Eeyore and Piglet don't have that issue and are simply adorable.
Who It's Best For
This is a perfect gift for adding to a young child's collection of stuffed animals or for getting them started. These guys are soft and cuddly and make excellent bedmates and travel companions for the little ones to carry around with them wherever they go.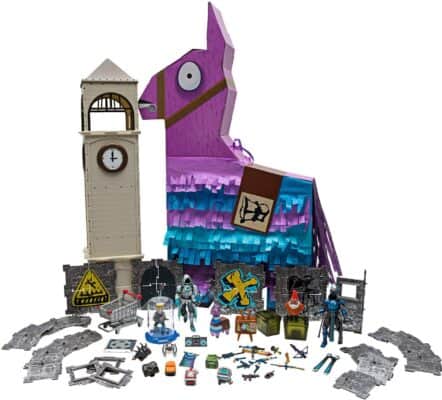 What It Does
If you don't live under a rock, you've probably heard of Fortnite by now. Kids can't seem to get enough of the action-packed video game, which the success of their merchandising efforts can attest to.
Intended for ages 6+, this set includes 100 separate pieces packaged inside of the famous Llama Loot Piñata from the Fortnite video game. Unboxing this cleverly designed set is a treat all on its own as the Jumbo Llama Piñata is filled with confetti that you get to dig through to find your prizes.
Quality
With its clever packaging, this Fortnite Jumbo Llama Loot Piñata offers an experience sure to be remembered by young ones for some time to come. Aside from the fun that comes with unboxing this, the figures and toys within are very well-made and surprisingly detailed with lots of great accents and colors.
Who It's Best For
This is another gift that is best for people who are fans of the game the toy is based off of—and Fortnite seems to have an endless supply of fans. Young fans of Fortnite will get a kick out of this, but we think this is an especially great present for those kids who can't get enough of the "unboxing" fad sweeping the internet lately.
Thanks to the literal 100 separate pieces and the confetti stuffed inside of the clever Llama pinata packaging, opening this up is a joyful experience unto itself.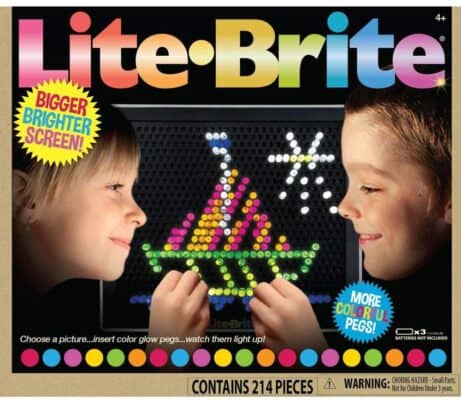 What It Does
Designed for children age 3 and up, the classic Lite Brite toy is a fantastic tool with which kids can express their creative side. The light up pegboard and translucent, colored pegs are a great, mess-free way to introduce your young one to their artistic and creative side.
Quality
Lite Brites are built from solid plastic that is virtually indestructible. The small pegs can be a pain if they get scattered everywhere and it would be nice if it included a storage solution for them, but a plastic bag or container does the trick just fine. The backlighting offers just the right amount of light to create vibrant colors with the use of 2 AA batteries.
Who It's Best For
This classic toy is great for children that are old enough to have mastered the manual dexterity necessary for using a Lite Brite without too much frustration. We love that this toy teaches creative thinking and the mastery of manual dexterity at the same time, but clumsier fingered kids might become too frustrated with the small pegs to get much out of this present.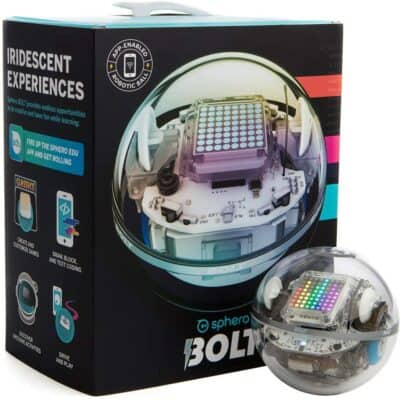 What It Does
Intended for children aged 8 or older, the Sphero BOLT is a super fun and engaging way to learn how much fun programming and robotics can be at an early age. This little robot ball can be controlled and coded to achieve various tasks via the included Sphero EDU app that teaches early coding techniques and ideas. It can also be used with the Sphero PLAY app that allows users to control the robot remotely via their mobile devices.
Quality
The app is intelligently designed for fun and learning to come together and the little Sphere BOLT robot ball is built to last. The ball itself is durable and even waterproof so you don't have to worry about it getting wet.
The Sphero BOLT sports sensors such as a compass, a gyroscope, and a light sensor. These sensors can be used by the person coding the little robot to do different things based on the data received by the sensors.
Who It's Best For
The Sphere BOLT is the perfect gift for young kids who have begun to express an interest in coding or robotics. It's also a fantastic way to spark that interest in young and old minds alike. One of the awesome benefits of the Sphero toys is they can even interact with each other so you can slowly add more devices to your collection over time.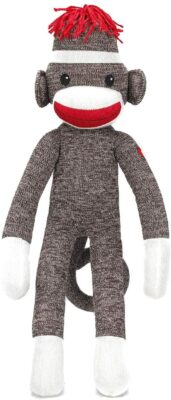 What It Does
This super adorable and safe-for–all-ages knitted Sock Monkey toy makes for a fantastic companion for the little ones and is sure to delight on Christmas morning.
Quality
The knitted fabric is soft, and its filling is squeezably huggable. The seams are solid and hold up well to the constant dragging and pulling this guy is sure to experience. The polyester material is soft, lightweight, and machine washable so you can keep your little buddy's little buddy soft and cuddly for a long time to come.
Who It's Best For
This is a fantastic gift for young boys of all ages who like some gentle companionship. The Plushland Sock Monkey also comes in a variety of colors so you can pick the one that best suits your little tyke. If your little boy would prefer a Disney character plush, check out the Disney Baby Classic Eeyore Stuffed Animal Plush Toy.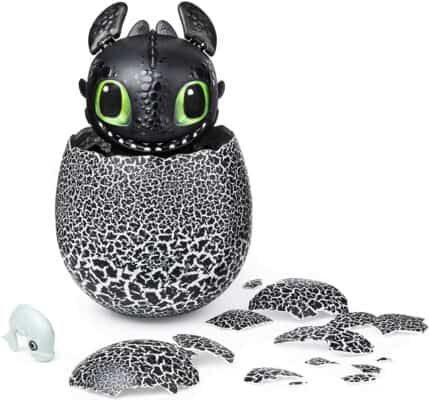 What It Does
Great for kids aged 5 and older, this interactive toy is fun from the start as the child can poke and prod it and hear the tiny baby dragon inside tap back. This interactive dragon toy can be used to play a variety of games, and he also responds to questions and physical interactions with movement and sound.
Quality
The build quality on this little guy is great and the small detailing on him is adorable. The toy has a lot of different interactions that are sure to keep the interest of the little guy in your life for some time. The novel process of interacting with the dragon as he hatches is likely to form a deep bond in a short amount of time.
Who It's Best For
As this is another licensed product on our list, this Hatching Toothless Interactive Toy will be especially well-liked by fans of the DreamWorks Dragons franchise. We think this toy is novel and interactive enough to be enjoyed by young ones who aren't fans of DreamWorks Dragons yet too and it is likely going to make them want to watch the series if they haven't seen them already.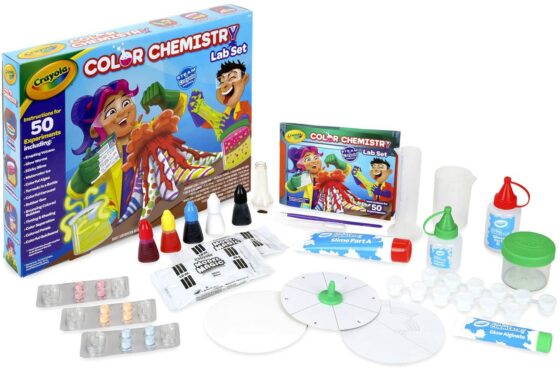 What It Does
A fun and colorful tool for performing various science experiments with your child, this Crayola Color Chemistry Set is a perfect hands-on toy for the curious tykes in your life. The vibrant colors make the experiments more engaging and entertaining.
Quality
Packed with 16 different experiments and instructions for a boatload more, this Crayola Color Chemistry Set is perfect for exploring the world of science with your kids. The experiments provided are a ton of fun; Crayola put their spin on a lot of classic experiments by adding a splash of color to each one. This makes sure that each experiment will delight your boy.
Who It's Best For
This is the perfect gift for children of parents who want to take a hands-on approach to combining playtime and learning into unforgettable experiences. Designed for parents to do alongside their child of 7 or older, the Crayola Color Chemistry Set is a great way to get your kids an early start on their STEAM career.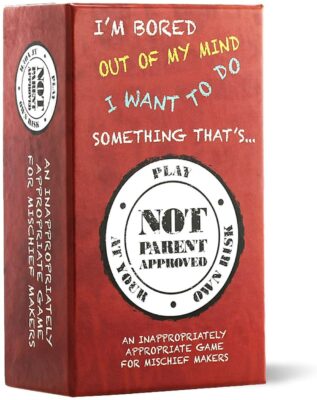 What It Does
Getting the kids to unplug and spend quality time with the family can be difficult for a lot of parents, but having the right tools for the job makes it that much easier. Not Parent Approved does a great job of appealing to the younger generation while still being fun for the entire family to enjoy. Not Parent Approved is basically a family-friendly version of Cards Against Humanity.
Quality
Not Parent Approved has garnered a lot of praise thanks to the clever design of the game and the intelligent packaging decisions that make it easy to bring on the go. It's also inexpensive and doesn't take up a lot of space. If your family enjoys it a lot, Not Parent Approved has multiple expansion packs to increase the staying power of this game for some time to come.
Who It's Best For
Board game and card game fans love adding to their collection, and this is the perfect family game for people who like to laugh (which is everyone, last time we checked.) This is a great way to start doing weekly family game nights that add enrichment and joy to everyone's life.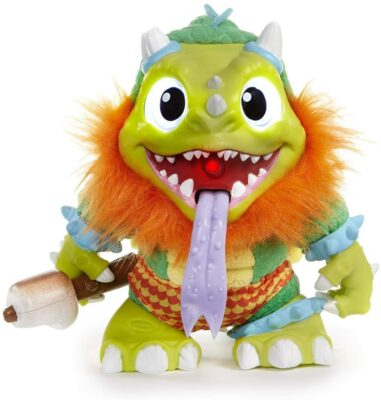 What It Does
This is another toy that understands the current "unboxing" trend and uses that to its full advantage by making the container and the process of revealing the toy inside an event unto itself. The entire presentation is great and the interactivity from this toy is sure to dazzle the little tyke in your life.
Quality
The attention to detail on the Sizzle Crate Creature is great as all the details and vibrant colors really pop. This cute little monster has loads of interactivity: it reacts to being touched in certain ways, knocked over, or held upside down, and it can record your child speaking and repeat their words back in a monster voice. It even comes with a little mini crowbar that is used to pry open the crate he's stored in.
Who It's Best For
While some of this toy's features might be more appreciated by a slightly older child, we think this is a great toy for boys aged 4 and older. This might not be the best gift for kids who are easily scared as the monster design might intimidate them.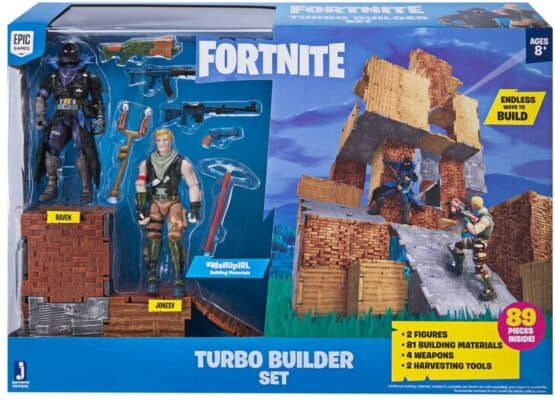 What It Does
The Fortnite Turbo Builder Set encourages creative play and is a great way for you to connect with your son over his hobbies and interests. Bringing the digital world of Fortnite to life is sure to delight and entertain the little tyke in your life for some time to come.
Quality
This figurine and wall set is a great gift set with lots of detailing and quality construction. With a total of 89 pieces, this Fortnite Turbo Builder Set will allow your little one to #WallUpIRL. This set offers hours of fun with enough building materials to erect all kinds of creative and fun structures for the figurines to battle over.
Who It's Best For
Young Fortnite fans are sure to get a real kick out of this Fortnite Turbo Builder Set. This is also a great toy for engaging in cooperative play with your child and to help you express an interest in their life. Bridging the digital and physical world gap is a great way to connect with your little ones.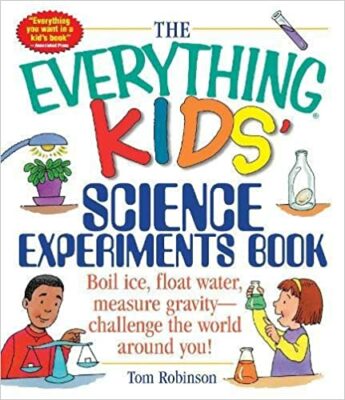 What It Does
This book includes a ton of different science experiments you and your child can easily conduct at home. This is a great way to spend quality time with your kids while instilling an early love for science and encouraging their natural curiosity at a young age.
Quality
The Everything Kids' Science Experiments book doesn't come with any materials or supplies, but the experiment ideas within are all fantastic ways to interact with your child and get them interested in science early on.
Who It's Best For
Great for children aged 4 and up, this is another hands-on gift that will require parental assistance. Some of the experiments take time and may require materials you don't have on hand, but most of them use everyday household items. You may need to read ahead a bit and pick ones that seem particularly fun or that you know you have all the necessary supplies for.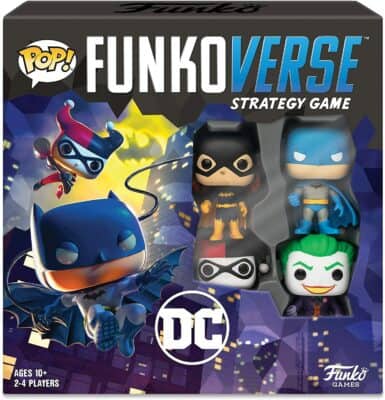 What It Does
The DC Comics universe might be playing second fiddle to Marvel when it comes to the silver screen, but it's a powerhouse of a brand that attracts die-hard fans, young and old alike. This board game is designed for children aged 10 and older due to its complexity and depth.
Quality
Featuring fan-favorites like Joker, Batman, and Harley Quinn, this board game offers a lot of depth and replayability thanks to its clever design. This game is sure to be a big hit with young board game fans that are into the DC Universe characters.
Who It's Best For
Intended for children aged 10 and up with 2-4 players and a total play sessions time of 20-60 minutes, the Funkoverse: DC Comics Strategy Board Game is a strategic and exciting game for board and card game enthusiasts. The small pieces and complexity of the game make it unsuitable for younger children.
What It Does
This interactive coding toy is awesome for getting kids interested in programming ideas at a young age. It's also just super adorable and fun to play with, offering hours of educational fun for your little ones.
Quality
Sporting an included storybook that is sure to get the little ones interested right off the bat, this playset offers a lot of fun and educational interactivity. This playset even won the Toy of the Year Award from the Toy Association.
Who It's Best For
This set does include some small parts making it less than ideal for children ages 3 and younger; however, it tackles coding ideas in such a simple and approachable way that it's great for kids 4+. Kids at this age are sure to enjoy the adorable puppies and cute playset pieces. The Learning Resources Coding Critters playset is the perfect way to introduce coding concepts at a young age.
What It Does
Crystals are amazing natural structures that seem to defy logic. Inexpensive and super fun, this Crystal Growing Science Experiment Kit is the perfect way to introduce young ones to the wonders of science.
Quality
This experiment kit starts working right away and the crystals reach their full size after about a week or so. The colors of the crystals are vibrant and watching them grow is a real treat. Kids are sure to love their tiny, beautiful creations. This kit even comes with little display cases for the fully-grown crystals.
Who It's Best For
Due to the chemicals involved in this kit, this gift is recommended for children aged 10 and older. Parental supervision is necessary throughout the process.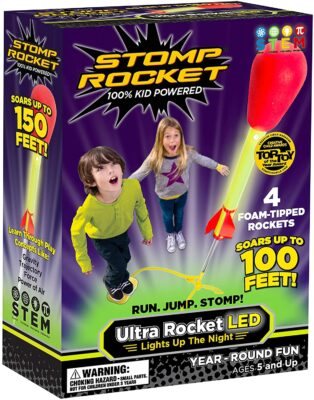 What It Does
This is a great way to get kids jumping up and down—literally! The Stomp Rocket Ultra LED offers hours of fun, active outdoor play. This toy is more of a novelty and doesn't offer a ton of interactivity, but it can make for fun games of catch with everyone running around trying to catch the rocket as it hurtles out of the sky on its way back down.
Quality
These stomp rockets use kid-powered propulsion in the form of compressed air that is capable of sending the light-up rockets upwards of 150 feet into the air. These make for a great night-time activity in the yard.
Who It's Best For
Children of all ages can get a kick out of jumping on top of the launch pad that shoots the rocket off into the sky. It's great for kids who enjoy frenetic and energetic play sessions, but its novelty might wear off after some time.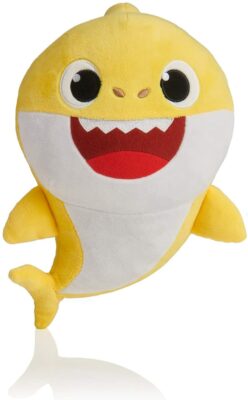 What It Does
If one thing is for certain, the little ones love the Baby Shark Dance. This adorable Singing Baby Shark doll is the perfect gift for the toddler in your life who just can't get enough of Baby Shark.
Quality
Crafted carefully from a beautifully soft plush that is adorable and cuddly, the WowWee Singing Baby Shark doll is sure to delight. Batteries are included and replaceable should your child squeeze the life out of this little guy's tummy to hear it belt out his song on endless repeat.
Who It's Best For
This WowWee Singing Baby Shark Doll is guaranteed to be a hit with Baby Shark fans, but it could also be the final nail in the coffin of your sanity so tread carefully with this gift.