Top 14 Best Mickey Mouse Toys for Kids 2021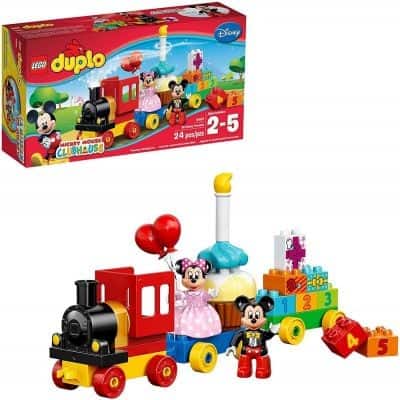 Choking Hazard: No
Age Range: 2-5 years
This 24-piece LEGO Duplo set lets your toddler build a birthday parade led by none other than Mickey and Minnie Mouse! Designed by LEGO for children as young as 18 months, the Duplo bricks in this set are not only compatible with other Duplo sets, but they will even work with your child's LEGO bricks when they get older.
Aside from the large Mickey and Minnie figures, this set includes a train featuring balloons, a buildable birthday cake and three bricks decorated as gifts. The birthday theme also makes this an excellent birthday gift or cake topper. Duplo bricks are the perfect size for toddler hands, and nothing contained in this set is a choking hazard.
What they will learn: Toddlers playing with Duplo blocks learn about shapes and colors, fine motor skills and more. The five brightly colored number bricks that come with this set will also help develop counting skills.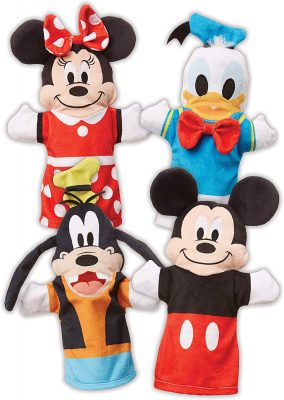 Choking Hazard: No
Age Range: 2-5 years
Puppets are great for playtime because they encourage creativity, help build verbal skills, and give toddlers a fun and unique way to tell their own stories. This adorable four-puppet set from Melissa & Doug brings Mickey, Minnie, Goofy, and Donald to life as soft, plush hand puppets. Measuring about 10 inches each, these puppets are comfortable for children and most adults to use.
It's hard to find anything negative to say about this set. Every parent we talked to agreed that all four puppets included were really cute and very well-crafted. The Melissa & Doug brand of toys was called the "Gold Standard in Early Childhood Play" by NBC News, and these puppets are no exception. Each puppet is a perfect representation of a beloved character, and Mickey and Minnie's mouse ears look just right.
What they will learn: By encouraging pretend play using puppets, you will help your toddler develop language skills, self-confidence, and hand-eye coordination.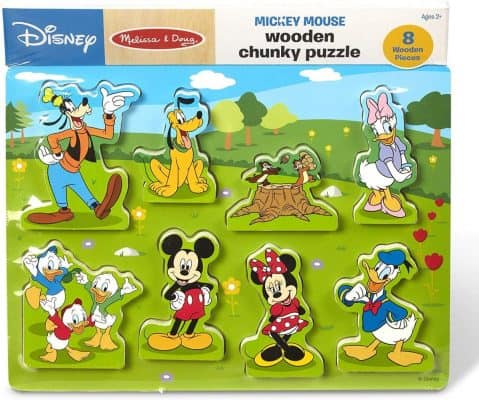 Choking Hazard: No
Age Range: 2-3 years
We absolutely love this Mickey Mouse Clubhouse Wooden Chunky Puzzle from Melissa & Doug. With eight chunky wooden pieces that extend well above the base, this puzzle is perfect for tiny hands. We also really liked the colorful art. Each character's picture is printed under the pieces to help toddlers complete the puzzle. Those factors combine with an excellent price to make this our favorite Mickey Mouse puzzle for toddlers.
This is one of those simple but compelling toys that parents will notice their toddlers picking out of the toy box again and again. The Mickey Mouse Clubhouse Chunky Puzzle is a great demonstration of the qualities that make wooden toys from Melissa & Doug superior. The paint is smooth and colorful, the pieces are a perfect weight, and the sound of a piece falling into place is just right.
What they will learn: Puzzles like this one can be helpful in developing early problem-solving skills by encouraging toddlers to match shapes and symbols. Your toddler also develops fine motor skills by solving tactile puzzles such as this one.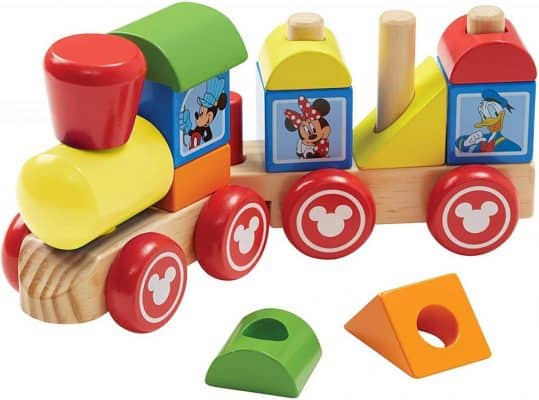 Choking Hazard: No
Age Range: 2-5 years
Complete with adorable mouse-ear designs on the wheels, this wooden stacking train from Melissa & Doug features Mickey and his friends. With 14 solid wood pieces and a host of fun Disney characters, this toy will have your little conductor stacking the blocks and taking the whole crew on a railroad adventure.
Aside from train engineer Mickey, passenger blocks with Mickey, Minnie, Goofy, Pluto, Donald, and Daisy can be swapped and interchanged with the other blocks of various shapes and sizes included with the train set. There are four large pegs that extend from the base of the train that keep the blocks securely on the train during play. We liked how sturdy the construction on this toy train was and would have no problem recommending this for any toddler who has a habit of being rough on their toys.
What they will learn: By playing with the Mickey Mouse and Friends Wooden Stacking Train, your toddler will develop hand-eye coordination and learn different shapes. This train is also great for playing pretend and sparking your child's imagination.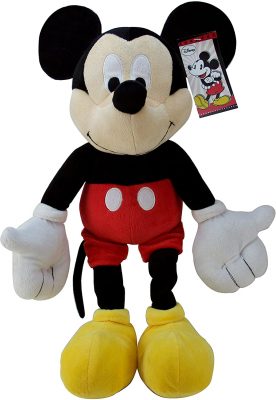 Choking Hazard: No
Age Range: All ages
Having a stuffed Mickey Mouse is a childhood rite of passage. This plush Mickey Mouse pillow buddy by Jay Franco may quickly become your toddler's favorite. The first thing we noticed about this toy is how big and fluffy it is. Rather than simply calling this Mickey Mouse plush a stuffed animal, it's sold as a "Pillow Buddy," and it's easy to see why. At 15 inches tall and made of soft polyester microfiber, not only is Mickey huggable and fun to play with, but he also makes a great pillow for napping in bed, in the car, or on an airplane.
When we reviewed the Mickey Mouse Classic Plush Pillow Buddy, we were impressed by its quality and durability. Parents will be relieved to hear that this toy is durable enough for many trips through the washing machine and can be spot cleaned without fading or bleeding color. There are also no pieces that are liable to fall off and create a choking hazard. More than 50 percent of toddlers end up keeping their beloved childhood stuffed animals through to adulthood, and after our review, we are confident this Mickey Mouse plush can stand the test of time.
What they will learn: Stuffed animals are more helpful in toddler development than most parents realize. Having a "friend" for comfort can play a vital role in your child's development of self-soothing and coping with anxiety and stress. There are also studies that show a benefit to the social and communication skills of toddlers who develop an attachment to a stuffed toy.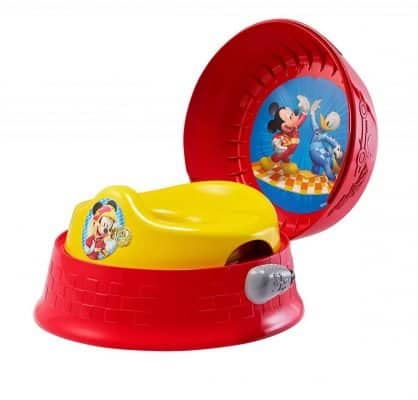 Choking Hazard: No
Age Range: 2-4 years (50 lb. weight limit)
Okay, so calling this a toy might be a bit of a stretch, but we think that making a list of Mickey Mouse products for toddlers and not including this excellent potty training device would have been a big mistake. If you have a toddler who is about to start learning to use the toilet, this 3-in-1 system is a must-have that will make your life easier and reward your little one for using the potty like a big kid.
As the name suggests, there are three different ways to use this potty system. The first way is to use it as a standalone training toilet complete with a pretend flush handle that plays sounds for rewarding a successful potty trip. Once your toddler is ready, you can take the removable potty ring out and attach it to any standard toilet for an easy transition. Finally, the base becomes a sturdy step stool that will help your child reach the sink for a long time after they have mastered using the toilet.
What they will learn: The Mickey Mouse 3-in-1 Potty System will help you teach your toddler how to use the toilet like a big kid.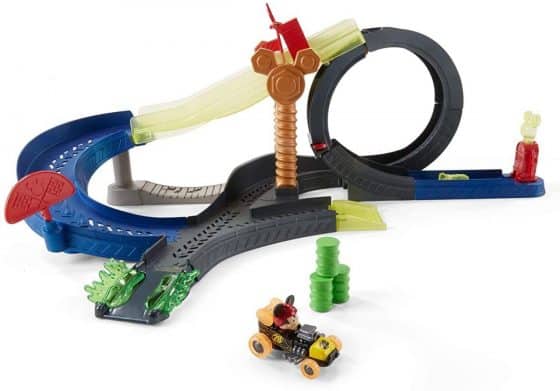 Choking Hazard: Yes
Age Range: 2-7 years
Based on the Disney Junior show Mickey and the Roadster Racers, the Super-Charged Drop & Loop Playset is one of our favorite toy stunt tracks for toddlers. With two ways to set up the track, this set includes a loop-de-loop and crashing barrels, and finishes with a big splash! The set comes included with a die-cast Mickey hot-rod and fits any of the other Mickey and the Roadster Racers cars sold separately, as well as most other die-cast cars, including Hot Wheels.
Our favorite part of this set is the "Goofy Gas" launcher that propels the cars down the track and into the loop-de-loop. The Super-Charged Drop & Loop Playset is also compatible with the other Mickey and the Roadster Racers sets that have been introduced, allowing kids to build longer tracks by combining two or more playsets. We were impressed by how well the cars stay on the track, even when moving quickly.
What they will learn: Not just about crashing cars, toddlers playing with the Mickey and the Roadster Racers Super-Charged Drop & Loop Playset will have a great time experimenting with different track configurations and learning basic lessons about physics.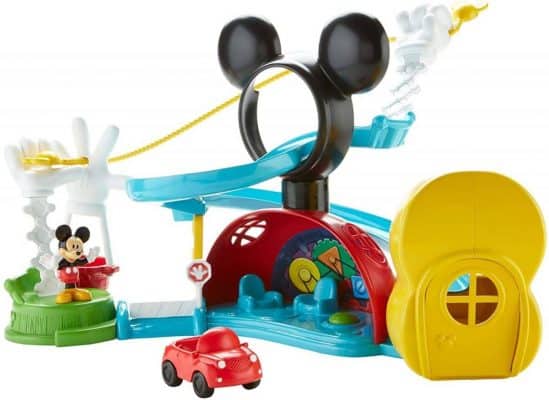 Choking Hazard: No
Age Range: 2-5 years
The Zip, Slide & Zoom Clubhouse is a unique playset with a lot to do. Featuring a zip line with a hot air balloon in the shape of Mickey's trademark white glove, there is also a slide and a launcher that sends Mickey's red convertible speeding out of the garage when your toddler hits the button. Featuring a three-inch tall Mickey Mouse figure with an articulated lower half so that the figure sits easily in the included car, this clubhouse playset offers a ton of activities at a reasonable price.
Zip, Slide & Zoom is the perfect description of the main features of this playset. First Mickey zips down the wire in his hot air balloon, then he lands on the slide which takes him around the clubhouse and through the large, Mickey-ear-shaped ring. Once he has landed in the garage, pressing the big green button will send Mickey zooming out of the garage in his red convertible. The playset resets easily, so your toddler will love doing this over and over again.
What they will learn: The Zip, Slide & Zoom Clubhouse playset gives toddlers a great outlet for their imagination and encourages creative play. The nifty combo of the zipline, slide and garage launcher will inspire future mechanical engineers.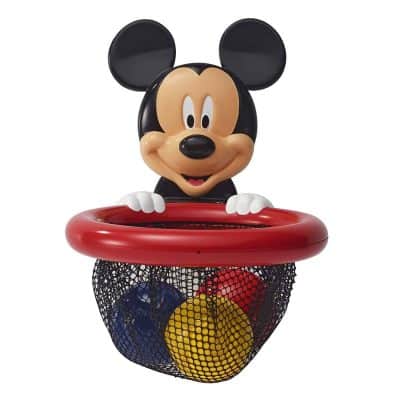 Choking Hazard: No
Age Range: 18 months+
Any parent of a toddler can tell you that bathtime gets much easier with a few good toys. The Mickey Mouse Shoot and Store Bath Toy does double duty as a fun activity as well as handy storage for the bathroom. Resembling a basketball hoop, the first thing parents will notice is that there is no hole at the bottom of the net. While this is very helpful for storing balls and other bath toys between baths, this could make it difficult for toddlers to play with alone depending on the positioning of the hoop.
When not in use, the hoop folds down in a way that makes it fairly flush with the wall and takes up less space. While this makes the storage net smaller, there is still plenty of room in the mesh net for the included floating balls as well as a few other favorite bath toys even when the rim is folded down. The hoop is mounted using a very secure suction cup that moves easily. We even heard from some adults who confessed to moving the Shoot and Store Bath Toy higher so they can play during shower time!
What they will learn: Not only will it keep them occupied during bath time, the Shoot and Store Bath Toy is a great aid for developing motor skills.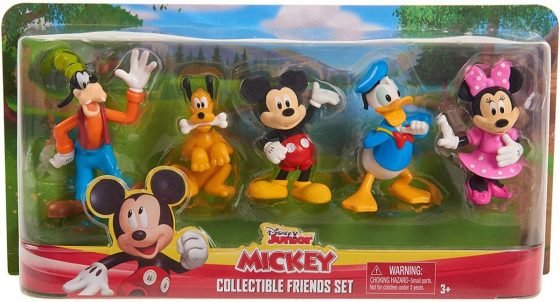 Choking Hazard: Yes
Age Range: 3+
Featuring Mickey, Minnie, Donald, Goofy and Pluto, this set of five collectible figures is fun for toddlers to play with by themselves, or as part of any Mickey Mouse playset. Measuring three inches high, each character is depicted wearing their signature outfit in a fun pose that shows off their personality. The figures are very detailed, making them perfect for display as well as being played with.
Made from high-quality plastic, the figures are sturdy and look great. A mom who purchased this set to use as a combination cake-topper and gift for their son's 2nd birthday was very happy with the result. One drawback to this set of figures is that they are not poseable in any way, with each one permanently frozen in the same pose. This makes it tough to use these figures with toy vehicles.
What they will learn: Toddlers will have a blast developing their imagination, language, and social skills while playing with this set of collectible figures.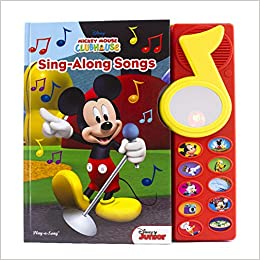 Choking Hazard: No
Age Range: 3-7 years
Featuring 10 play-a-sound buttons, Mickey Mouse Clubhouse Sing-Along Songs lets your toddler sing along with their favorite Disney characters. While there are several Mickey Mouse books that also play music, the addition of the "Surprise Mirror" feature makes this one our favorite. When kids press one of the buttons to play sound, they will never know which of their favorite characters will appear in the mirror on the front of the book.
The Mickey Mouse Clubhouse is one of the most popular shows for toddlers on the Disney Channel, so it's a logical choice for a sing-along book for little Mickey fans. Instead of telling a story, every page of the book is filled with colorful illustrations, activities, and lyrics for each song. When one of the buttons is pressed, the book plays the music to one of 10 classic children's songs.
What they will learn: The Mickey Mouse Clubhouse Sing-Along Songs book will help your toddler develop their matching and basic reading ability.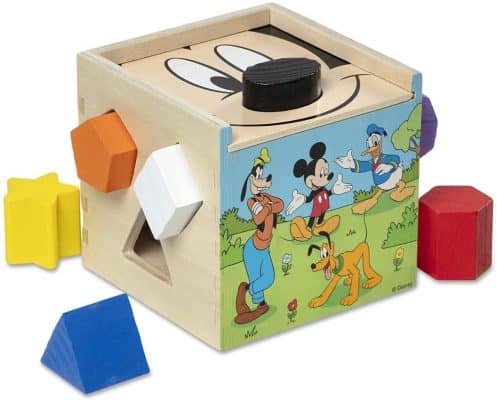 Choking Hazard: No
Age Range: 2+
Melissa & Doug is one of our favorite brands of wooden toys for young children. Through a partnership with Disney, they have begun producing Mickey Mouse toys, and this perfect match is why so many Melissa & Doug toys appear on the list of our best-reviewed Mickey Mouse toys for Toddlers.
The Melissa & Doug Mickey Shape Sorting Cube is a great twist on a classic toddler toy. In order to fit each of the 9 colorful and differently shaped blocks into the sturdy wooden box, toddlers must match the shape of the block to the cutout in the side of the box. Once they are done, the top can be removed to get all the blocks back. We were impressed by how solid the blocks felt, each landing in the box with a satisfying clunk.
What they will learn: The Melissa & Doug Mickey Shape Sorting Cube is a great way to teach your toddler to match shapes. It's also a great way to teach them to put their toys away by themselves.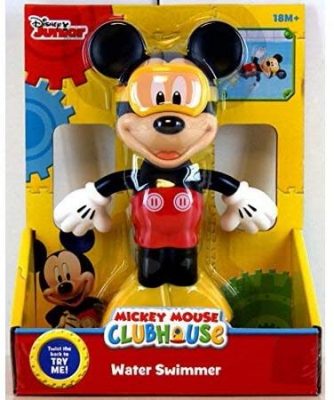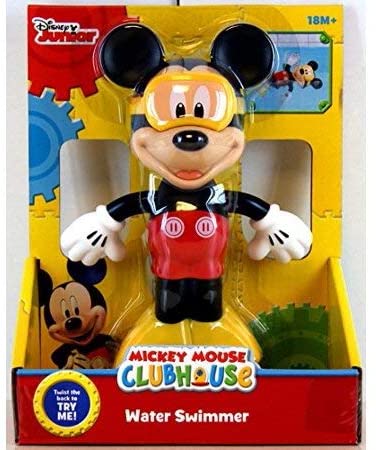 Choking Hazard: No
Age Range: 1 month+
Fun for the pool and the bathtub, the Mickey Mouse Water Swimmer lets kids splash around with their favorite cartoon mouse. Just wind up Mickey, place him on his back in the water, and watch him do the backstroke! Decked out in a classic swimsuit and swim goggles, Mickey will entertain swimmers and spectators of all ages.
We were impressed by the swimming motion. Mickey turns at the waist and moves his arms swiftly enough that he gets through the water pretty quickly. Parents should note that while the toy mostly floats, it can take on water and sink. We advise you not to play with this toy in situations where it could not be retrieved if it sinks to the bottom of the swimming area.
What they will learn: This toy helps toddlers become more comfortable in the water. Several parents reported that this toy is a great aid for teaching toddlers how to swim.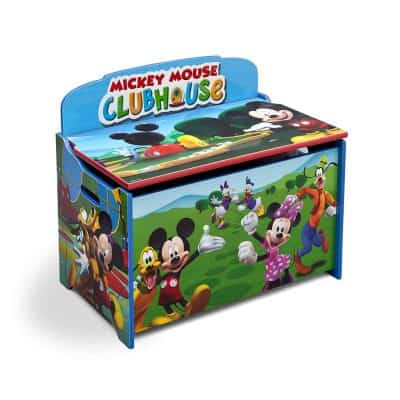 Choking Hazard: No
Age Range: 3+
To a toddler, a toy box full of toys is a magical thing. To a parent, a child's clean room has a very similar effect. Thanks to this excellent Mickey Mouse Clubhouse toy box from Delta Children, everyone can get their way. With a classic arch design, sturdy wood construction and colorful exterior featuring Mickey and his pals, this is the perfect toy box for any toddler who loves Mickey Mouse.
We were especially impressed by the slow closing lid, which prevents little fingers from getting pinched or slammed. Delta Children has been manufacturing children's furniture for over 50 years, and this toy box is one of many pieces of furniture offered as part of their Mickey Mouse collection. Delta also makes toy boxes featuring other popular Disney characters, so instead of Mickey parents can choose toy boxes featuring Minnie, Disney Princesses and more. We also like that Delta Childrens donates a portion of each sale to charities that improve the lives of children.
What they will learn: It's technically not a toy, but using the Mickey Mouse Clubhouse Toybox will help your toddler learn to take care of their space and their possessions.