As a parent, your child's health becomes the most important thing to you. Even though diaper rash is a common ailment among babies, it can still be unsettling to change out your little one's diaper only to find the area looking red, chapped, or even blistered. The good news is that this issue is usually treatable by over-the-counter creams and pastes, as well as a few changes to your normal diapering routine.
Knowing the ins and outs of diaper rash creams is the best way to pick the one that will provide the most benefit to your baby.
Factors to Consider When Shopping for a Diaper Rash Cream
With so many products on the market, it may seem a bit overwhelming when you start searching, especially if you are a first-time parent who has never dealt with diaper rash before. Let's start with the basics. Here's a useful overview of the main topical diaper rash treatments available. Each type has its pros and cons, which are explored further within our specific product reviews.
Product Type
All of the below types appear in our product review list, and in this guide, we use the term 'cream' as a catch-all for the full range of topical diaper rash treatments.
Creams: smooth, rich consistency that can be fully rubbed in or left to soak on the skin's surface
Pastes: similar to creams, but richer and even more hydrating
Ointments: more of a liquid base, rubs into skin easily
Sprays: sold in bottle-pump form and can be spritzed over your baby's sensitive parts
Balms: waxy in their consistency and can be sticky when applied
Sticks: can be applied directly onto your little one's skin without touching your own hands
Purpose
Consider what you need diaper rash cream for. Is your baby in the middle of a terrible diaper rash that needs immediate treatment? Or are you looking for something gentle and preventative to use with each diaper change? There are diaper rash creams that cover just about every base.
Mild Diaper Rash and Prevention
If your baby has mild redness, or if you are looking for an everyday ointment to protect against wetness, you might look for a petroleum-based cream. These are typically clear or yellow-colored jellies (think petroleum jelly) that lightly coat the skin and protect it from moisture.
Using a preventative ointment every day can keep a rash from developing in the first place and can soothe and heal an existing one. One example of good preventative diaper rash ointment is A+D Ointment.
Not all preventative creams are petroleum-based, however. Some are made with waxes, like beeswax and oils. If you are looking for organic or more natural ingredients, you may wish to try Earth Mama Organic Diaper Balm.
Moderate to Severe Diaper Rash
If a serious diaper rash has already developed and you are looking to treat it quickly, consider a diaper cream with zinc oxide. Zinc oxide creates a strong barrier between your baby's skin and any moisture it may encounter. As such, it's much more difficult to scrub off than petroleum-based creams. This tight barrier promotes quick healing and eliminates further irritation of the rash.
Most zinc oxide-based creams are white with a thick and creamy texture, like Boudreaux's Butt Paste. Though they are gentle enough for everyday use, they are best for quick healing of serious rashes, as the pastes can get messy and difficult to wipe off once applied. Typically, these pastes will stay on for several hours, but they provide amazing soothing and relief during that time. They are great for overnight use for that reason.
Now you know what to consider, here's a closer look at the top 9 diaper rash creams available.
Top 9 Best Diaper Rash Creams 2021

Why we like it:
Boudreaux Butt Paste contains 40% zinc oxide, which is the maximum allowed without a prescription.
Editor's Rating:
Product Type: Paste
Boudreaux's Butt Paste has been around for 40 years and comes highly recommended by parents and pediatricians alike. The cream has the highest allowed amount of zinc oxide but only six total ingredients and is dye, paraben, preservative, phthalate, and talc-free. It is nice to be able to read exactly what you are putting on your baby's tender bottom.
What It's Best For:
This paste is great for the most serious diaper rashes but can also be used for preventing rashes as well. The cream goes on in a thick, white layer, which can be messy and difficult to wipe off when it is applied but is perfect for sealing out unwanted moisture and promoting healing. If you're looking for a mess-free application, GroVia Magic Stick is unrivaled in this regard but simply doesn't treat diaper rash as effectively as this paste can.
Boudreaux's Butt Paste soothes the irritated areas and promotes a less irritable mood in your little one almost immediately. The paste can stay on for several hours before needing to be re-applied, making great for overnight use as well.
Ingredients:
Zinc Oxide 40%, Castor Oil, Mineral Paraffin, Peruvian Balsam, White Petrolatum.
Pros
Great for severe rashes

The thick paste coats and protects the skin well

Soothing properties for immediate relief
Cons
Paste can be messy

Doesn't come off easily once applied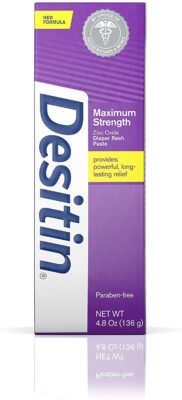 Why we like it:
Desitin Maximum Strength has 40% zinc oxide for quickly relieving a severe diaper rash.
Editor's Rating:
Product Type: Cream
Desitin is a thick, white cream that is designed to protect a baby's bottom for up to 12 hours, which means it can be great for overnight use. It creates a waterproof barrier that keeps moisture out while healing an existing diaper rash.
Desitin is well-known for soothing and helping prevent irritability in your little one and has been a classic go-to baby shower gift for years.
What It's Best For:
Desitin Maximum Strength is suitable for even severe diaper rashes and is a favorite of many parents who boast its almost overnight healing ability. Though formulated for advanced rashes, Desitin Maximum Strength is hypoallergenic and gentle enough for everyday use, so it can be applied daily for preventative care as well.
Unfortunately, we find it can be rather difficult to remove – so you'll need to make sure not to overapply. If time is of the essence, you may find that A+D Ointment serves you better in a pinch, thanks to its ease of application.
Ingredients:
Zinc Oxide 40%, Petrolatum, Cod Liver Oil, Lanolin, Glycerin, Beeswax, Sorbitan Sesquioleate, Fragrance, Pentaerythrityl Tetra-di-t-butyl Hydroxyhydrocinnamate, Tocopheryl Acetate, Talc.
Pros
Maximum amount of zinc oxide for serious rashes

Soothes irritated areas

Gentle enough for everyday use
Cons
Hypoallergenic but not completely fragrance-free

Can be messy and difficult to remove after applying

Why we like it:
A+D Ointment is easy to apply and amazing for everyday preventative use.
Editor's Rating:
Product Type: Ointment
A+D Ointment is a yellow-tinted petroleum-based diaper ointment that is easy to spread and creates a soft, light layer of protection on your baby's bottom. The lanolin in the product is great for repairing skin, and the product creates a barrier that keeps moisture out.
What It's Best For:
Though this ointment is great for light rashes and chaffed skin, it works best as an everyday protectant to keep diaper rash from developing. So if you're dealing with a more severe rash, Boudreaux's Butt Paste will be a much better choice. Still, this ointment is quick and easy to put on at every diaper change and can be done easily with your fingers or a baby wipe.
Ingredients:
Petrolatum, Lanolin, Cod Liver Oil (contains Vitamin A & Vitamin D), Fragrance, Light Mineral Oil, Microcrystalline Wax, Beeswax.
Pros
Great for diaper rash prevention

Spreads smoothly and easily

Contains lanolin for skin health
Cons
Better for very mild rashes only

Why we like it:
Aquaphor Baby Healing Ointments is great for diaper rash as well as other skincare needs such as drool rash, chapped lips, and cradle cap.
Editor's Rating:
Product Type: Ointment
Aquaphor has a reputation for putting out quality skincare products, and their Aquaphor Baby Healing Ointment is no different. With minimal ingredients and no fragrance or preservatives, this ointment is gentle enough for your baby's skin just about anywhere.
What It's Best For:
This petroleum-based diaper ointment is best for minor diaper rashes and preventative treatment. It works great for any skin irritations, including rashes around the chin and neck from drool, chapped baby lips, cracks, scrapes, and even cradle cap.
Unfortunately, the tube is very hard to squeeze, and it may take a minute or two to get sufficient product into your palm. Once you do, the ointment itself more than makes up for this. But still – not ideal when you're dealing with a crying tot.
Ingredients:
Petrolatum (41%), Mineral Oil, Ceresin, Lanolin Alcohol, Panthenol, Glycerin, Bisabolol.
Pros
Dual-purpose – works for both treatment and prevention

Treats more than just diaper rash

Fragrance-free

Preservative-free
Cons
The tube is hard to squeeze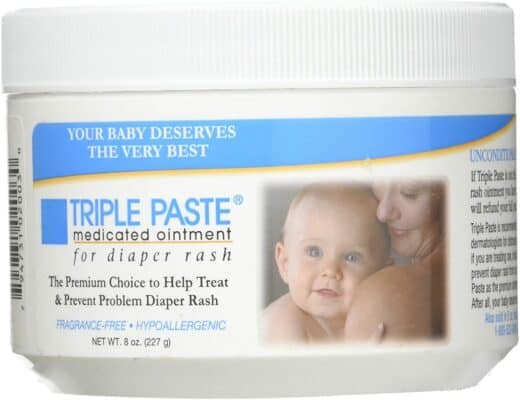 Why we like it:
Triple Paste is a soothing ointment known to heal diaper rash almost overnight.
Editor's Rating:
Product Type: Ointment
Known as a premium healing ointment for diaper rash, Triple Paste Medicated Ointment guarantees satisfaction right on the product's label, guaranteeing your money back if it's not the best diaper rash cream you have ever used. It is suitable for the rawest, most irritated skin and can provide immediate relief to a baby's discomfort.
It is both fragrance-free and hypoallergenic, so there are no worries that it will make your little one's rash worse. In our experience, this paste works wonders for babies with very sensitive skin who may even have reacted to other zinc oxide pastes.
What It's Best For:
Though it is powerful enough for the worst diaper rash with 12.8% zinc oxide, it is also gentle enough for daily preventative treatment. It can be applied at every diaper change, although as it tends to be a bit more expensive, you may want to save it for those bad rashes.
If you're not as concerned with preventing future rashes and simply want the strongest zinc Oxide you can find, check out Boudreaux's Butt Paste, which boasts the highest zinc percentage available.
Ingredients:
Zinc Oxide 12.8%, White Petrolatum, Corn Starch, Anhydrous Lanolin, Stearyl Alcohol, Beeswax, Bisabolol, Cholesterol, Water, Glycerine, Oat (Avena Sativa) Kernel Extract, Polysorbate 80.
Pros
Top tier for quick relief of serious rashes

Money-back guarantee right on the label

Fragrance-free

Hypoallergenic
Cons
Pricier than other diaper creams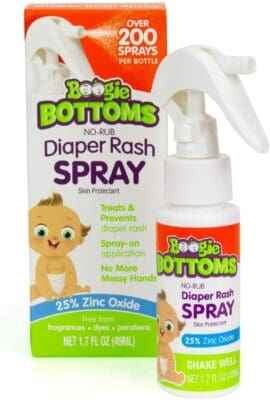 Why we like it:
Boogie Bottoms Diaper Rash Spray is a touch-free zinc oxide formula that can be applied through a simple spray.
Editor's Rating:
Product Type: Spray
Boogie Bottoms, who also created saline wipes and drops for baby noses, created a diaper rash spray that requires no touching or wiping. To apply, you just need to clean and dry your baby's bottom, then spray the diaper cream liberally over the area and put on a fresh diaper.
This is great for some, but you'll need to consider that you can't be as precise in your application as you can be with a hand-applied cream. So if your little one has a recurring problem area that just won't seem to resolve, this may not be the ideal product for you.
Still, it's great for on the go situations as the spray itself only requires one hand and can be applied quickly and with no mess. Though the bottle is small for what you pay, Boogie Bottoms boasts over 200 sprays per bottle, and we find the convenience makes it worth it.
What It's Best For:
Containing 25% zinc oxide, Boogie Bottoms Diaper Rash Spray is great for even more serious cases of diaper rash. The spray forms a protective barrier that blocks out moisture and heals irritated skin. The product also contains lanolin, which is great for promoting skin health.
Ingredients:
Zinc Oxide (25 %), Dimethicone (20 %), Cyclomethicone, Hexamethyldisiloxane, Lanolin, Light Mineral Oil, Microcrystalline Wax, Vitamin A Palmitate, Vitamin D3, White Petrolatum.
Pros
Touchless spray formula

Contains 25% zinc oxide and lanolin

Quick and mess-free
Cons
Smaller bottle

Less precise application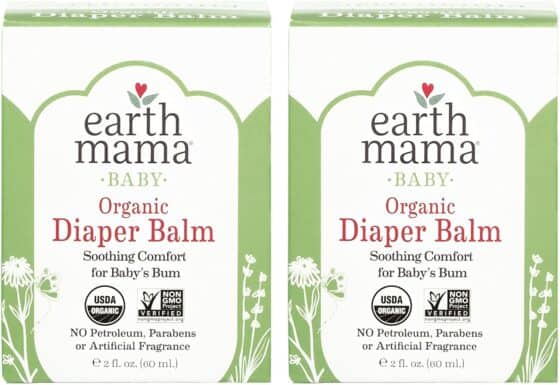 Why we like it:
Earth Mama Organic Diaper Balm contains only gentle, organic ingredients for your baby's backside.
Editor's Rating:
Product Type: Balm
Earth Mama Organic Diaper Balm is a soothing cream made of ethically sourced beeswax and natural herbal ingredients and oils. It contains no artificial fragrances, as well as no petroleum or parabens.
What It's Best For:
The gentle scents and herbal ingredients make Earth Mama Organic Diaper Balm a great salve for irritated skin, and the wax provides a nice barrier to keep moisture off of the diaper region. It is great for diaper rash prevention and is safe to use on other parts of the body as well, such as minor cuts and scrapes.
Ingredients:
Organic Olive Oil (Olea Europaea), Organic Calendula Extract (Calendula Officinalis), Organic Chickweed Extract (Stellaria Media), Organic St. John's Wort Extract (Hypericum Perforatum), Organic Plantain Extract (Plantago Major), Candelilla Wax, (Euphorbia Antisyphilitica), Shea Butter (Butyrospermum Parkii), Tocopherol, a Proprietary Blend of Pure Essential Oils (Tea Tree, Lavender, Myrrh), Rosemary Extract (Rosemarinus Officinalis).
Pros
All-natural, organic ingredients

Fragrance, petroleum, and paraben-free

Safe to use as first aid on minor scrapes and cuts
Cons
May not heal more serious rashes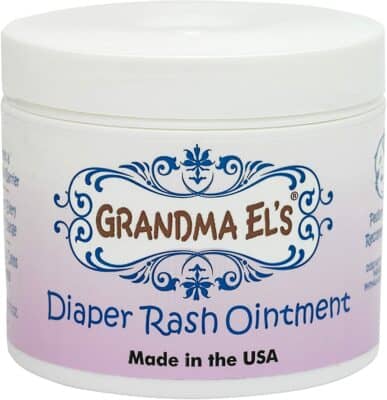 Why we like it:
A great ointment for preventing and healing diaper rash that won't stain cloth diapers.
Editor's Rating:
Product Type: Ointment
Grandma El's Diaper Rash Ointment is hypoallergenic and made with minimal ingredients. It is easy to spread and is a favorite of those who use cloth diapers as the ointment is not too thick and won't clog or stain the fabric.
What It's Best For:
This yellow-tinted petroleum-based ointment is great for creating a moisture-resistant barrier on your baby's bottom and is effective at healing minor diaper rashes. The formula is hypoallergenic and contains lanolin, which is great for skin health and repair.
Ingredients:
Amber petrolatum, Anhydrous Lanolin, Natural Vitamin E, Balsam of Peru Extracts.
Pros
Good for most cloth diapers

Easy to spread and apply

Contains lanolin for skin health
Cons
May not be suitable for more serious diaper rashes

Why we like it:
GroVia Magic Stick eliminates the need to get your hands dirty but still protects your baby's bottom.
Editor's Rating:
Product Type: Stick
GroVia Magic Stick is a great preventative diaper ointment that is simply rubbed in a light layer directly onto your baby's bottom. The stick is convenient and easy to spread and can be great for a diaper bag.
The stick should be used only on a clean bottom, and it is recommended that only one child uses a GroVia Magic Stick to reduce the spread of germs. As such, if there are multiple children in your household, it is safer for each child to have their own designated stick.
What It's Best For:
The GroVia Magic Stick is a great protectant that uses beeswax and natural oils to create a moisture barrier on your baby's skin. It soothes mild diaper rashes and irritations and locks out wetness to prevent future rashes, but it's not strong enough to resolve anything more severe.
Ingredients:
Grape Seed Oil, Beeswax, Lavender Essential Oil, Organic Jojoba Seed Oil, Rosehip Fruit Oil, Meadowfoam Seed Oil, Shea Butter, Organic Calendula Flowers (and) Organic Olive Oil, Tea Tree Leaf Essential Oil, Roman Chamomile Flower Essential Oil, German Chamomile Flower Essential Oil, Tocopherol (Vitamin E).
Pros
Convenient stick applicator

Made from natural and organic ingredients

Mess-free and great for diaper bags
Cons
Stick must not be shared between babies

Won't do much to treat existing rashes
Guide to Buying Diaper Rash Creams
To understand the best methods of treating diaper rash, it might be best to understand what exactly diaper rash is, what causes it, and the best methods of prevention.
What Is Diaper Rash?
Diaper rash, a type of dermatitis, is simply a term for inflamed skin in your baby's diaper area. It can appear as patches of pink or red skin or even small blisters, and if advanced enough, can cover the entire diaper region as well as the thighs and torso. In some cases, the red areas may feel warm to the touch. It will often cause fussiness and discomfort in an infant and can be painful.
Usually, diaper rash can be treated at home, using one of the creams from our product review list. Still, if your little one's rash appears to be infected or oozing, causing severe pain, or is worse than the typical red baby bum, you should consult a doctor as to your next step.
That said, the chances are you're dealing with a milder rash or simply looking to prevent diaper rash for your little one altogether. Keep reading to find out more about what causes diaper rash and how you can treat it, then prevent it from reoccurring in the future.
Causes of Diaper Rash
One of the most frustrating things about diaper rash is that it can originate from a variety of sources. According to the Mayo Clinic, being able to pinpoint and eliminate the irritant can help clear up the diaper rash quickly and potentially avoid it in the future. Here are the most common causes.
1.     Urine and/or Stool
If your baby has a diaper rash, it could simply be from prolonged exposure to either urine or stool. The acidity of human waste can irritate a baby's sensitive skin if it is not removed quickly.
Frequency of urine or stool can play a big role as well. If a baby is currently having a bout of diarrhea, they are more likely to develop a rash.
2.      Chafing
Wearing a diaper that is too tight (or incorrectly fastened) can lead to rubbing and chafing, irritating the skin and causing a rash. Wearing bottoms that are too tight over the diaper may cause this as well. Make sure the diaper fits slightly loose and that the fasteners on the sides are not rubbing the skin.
3.      Teething or Runny Nose
When babies are teething, they tend to swallow excess saliva, and this can cause stool issues as well as diaper rash. The same can be true for a runny nose. Infants can swallow the draining mucus, which can cause loose or frequent stools and a rash in the sensitive diaper area.
4.      Exposure to a New Product
Using a new brand of body wash, baby wipes, detergent, or any product that touches the diaper region may produce a rash. If a sudden diaper rash has appeared, look at any new products that have touched your baby's skin. Have you switched fabric softeners or shampoos? Even certain brands of disposable diapers can have different effects on a little one's bottom, and they may be able to tolerate one kind just fine but break out in another.
5.      Sensitive Skin
New babies can have sensitive skin and will react easily to the perfumes and dyes found in some products. Many baby products are fragrance- and dye-free for this very reason, but some can contain mild scents or other chemicals that your baby's tender skin isn't ready for.
If your baby reacts easily, use scent and dye-free baby soaps and lotions, as well as detergents. Most baby wipes and other baby-geared products can be found in fragrance-free varieties as well.
6.      New Foods
Introducing a new food can change the acidity of their stool or even cause loose stools until their body has adjusted to it. These changes can sometimes bring on a diaper rash. It is good to introduce new solids slowly, and one at a time, so a culprit can be pinpointed if a serious diaper rash develops. This can also be a good way to recognize food allergies early on, without having to guess which food was the cause.
7.      Antibiotics
Taking antibiotics can cause diaper rash as a side effect, and antibiotics can kill off good gut bacteria and encourage yeast growth. If your baby develops a rash following a round of antibiotics that does not seem to disappear or improve after a few days, it may be a yeast infection, and in that case, may need the care of a doctor.
Diaper Rash Prevention
There are several easy steps you can take to help prevent diaper rash in the first place. Though none of them are guaranteed to work 100%, they are a step in the right direction for a rash-free baby bum.
Frequent Diaper Changes
One of the best preventative methods is to change your baby's diaper every few hours. While some babies have more sensitive skin and may be prone to more irritation even with frequent diaper changes, limiting the amount of time your baby's skin is in contact with urine and feces should keep most diaper rashes at bay.
If you are finding your baby is getting diaper rash after sleeping through the night and waking with a full diaper, try switching to overnight diapers, as well as coating your baby's bottom with a preventative diaper cream.
Thoroughly Dry the Area
If you are changing diapers frequently and still seeing bouts of irritation, make sure you wash your baby's bottom with water or a scent-free baby wipe and pat it completely dry during every change. If the patting irritates already sensitive skin, try air drying by waving a diaper.
Excess moisture may cause a rash to form or worsen an existing rash. It is also worth noting that most doctors no longer recommend using baby powders as babies can inhale the powder.
Use a Diaper Rash Cream
Diaper rash creams can help heal serious diaper rash and prevent diaper rash from occurring to begin with. There are great preventative creams that can be applied at every diaper change if your baby is extra sensitive to moisture.
Diaper rash creams typically use petroleum or zinc oxide to create a protective barrier on your baby's chapped skin that repels away moisture and helps to heal the skin underneath. Check out our product reviews for more detail.
Have Diaper-Free Time
Give your baby's bottom some time to breathe and dry out. Excess moisture is often a trigger of diaper rash, so by giving the skin a break from the constant wet atmosphere of a diaper, it can have a chance to heal.
If you are worried about messes, just let your little one play bare-bottomed in an enclosed area and protect the floor with towels or pads. A short inconvenience for you could have a long-term benefit for them. This is also a great idea when trying to clear up a yeast infection in the diaper area.
Use the Correct Diaper Size
Using the incorrect size could cause rubbing and chaffing, particularly if the size being used is too small. Make sure your baby's diaper fits slightly loose, and check for weight requirements on the diaper box, so you know when it's time to size up.
How Do Diaper Creams Work?
Most diaper creams work by creating a barrier between the baby's bum and any moisture that might be present in the area. Applying a diaper rash cream during each change can help the skin stay protected from urine and feces that may cause irritation.
Most over the counter diaper rash creams are good for preventing and treating diaper rash, but some more serious diaper rashes require stronger creams.
Prevention
Most diaper rash creams for prevention and mild diaper rash are petroleum-based. They tend to be clearer and thicker in appearance, and often have other beneficial ingredients like lanolin, which is beneficial for skin repair.
An example would be A+D Ointment, which is a thick, translucent yellow cream that has long been used to coat and protect baby bottoms. While these petroleum-based creams can treat mild diaper rash and help heal irritated skin, they are great as an everyday protective barrier.
Treatment
Diaper rash creams intended for more severe cases of diaper rash often have the ingredient zinc oxide, as well as other soothing ingredients for pain relief. Most of these zinc oxide ointments are white with a creamy texture, such as Desitin Maximum Strength Cream, which goes on thick and is difficult to wipe off. These creams are often powerful enough to heal a serious diaper rash in just a day or two.
Disposable vs. Cloth Diapers
There is no evidence to suggest that either disposable diapers or cloth diapers are superior for staving off diaper rash, but which kind of diaper you prefer for your little one may affect which type of diaper cream is best for you to use. While most diaper creams are suitable for disposable diapers, cloth diapers are a different story. Here's what you need to know.
Diaper Creams for Cloth Diapers
Some diaper creams do not pair well with using cloth because they can coat the fibers of the material and cause the diapers to lose all absorbency. The diapers may even leak out from the sides.
Some thick creams may be difficult to wash out of the cloth and can even stain and leave residue behind. Here are our tips and suggestions.
Ingredients:
Try to avoid diaper rash creams with petroleum, as this is one of the ingredients that can buildup and repel water out of the diaper. Thick creams with zinc oxide also cause significant buildup and should be used sparingly or with a liner, as the zinc oxide can be difficult to wash out.
If these are the diaper creams that happen to work best for your baby, consider using a liner inside the cloth diaper. Alternatively, test a little of the cream out and washing the cloth diaper in hot water to see if it comes all the way clean.
Our Recommendations:
Many of the creams with all-natural ingredients like Grandma El's Diaper Rash Remedy and Prevention are safe to use on a cloth diapered bottom and will come out easily when washed. Another is the GroVia Magic Stick, whose manufacturer boasts that the stick's all-natural ingredients are cloth diaper friendly.
You've Got This!
We see you, tired parent. If you began this article overwhelmed and exasperated, then we hope you have finished confident and ready to take on any redness that dares threaten your little one's backside.
Don't let the uncertainties of parenthood overwhelm and discourage you! With some basic diaper rash knowledge and a little trial and error, you will figure out what works best for you and your baby, and diaper rash worries will be a thing of the past.