Zoom zoom zoom!
What's that?
It's the sound of your kid zipping around your local neighborhood on a hoverboard, of course!
You probably also know it's also the sound of the newest trend in children's ride-on toys. Kids today love zooming around hands-free on these self-balancing scooters. In fact, you're probably reading this article because kids are already begging you for a hoverboard, telling you that all their friends have one and that they can't possibly live life without one.
So we're here to make all those dreams come true. With our list of the best hoverboards for kids, we know you'll find a hoverboard that your child will absolutely love.
What to Consider When You're Looking for The Best Hoverboard
In this list, we've assembled our eight favorite hoverboards to buy in 2020. When deciding on the best one for your kid, here are the main things you need to consider:
Appearance
What does the hoverboard look like? To adults, all hoverboards might all look weird. But to kids, there's seemingly a distinction between which ones look good and which ones don't. It's important you buy one that looks cool – some are classy monochrome, some are colorful, and some even have flashing lights. Hoverboards don't all look the same.
Special Features
Different hoverboards are good at different things. Some are built for riding uphill. Some have handles. Some have rugged tires. Some even have Bluetooth speakers built into them.
Safety
This is essential. A few years ago, lots of unsafe hoverboards flooded the market. All of the ones we've recommended are very safe, but that doesn't mean that every hoverboard on the market is very safe. It's important you buy a properly certified hoverboard.
We'll address hoverboard safety in detail later in our guide, but you want to check that the hoverboard you buy is UL2272-certified.
Price
Hoverboards come at a wide variety of prices. Think about your price range before you invest. Some are as inexpensive as $100, while others can hit prices of around $1000.
Speed and Distance
Some hoverboards are faster than others, and some can travel further distances on one charge than others. If it's just for fun, distance probably doesn't matter, but for long journeys, it might. Though a speedy hoverboard is more fun, slower ones are better suited to kids who are clumsier, younger, or less experienced.
Below, we've listed eight of the best hoverboards for kids.
We've given you a quick breakdown according to safety, style, price, speed and distance, along with a more detailed description of each hoverboard's appearance and special features. We've also included a handy list of brief pros and cons for each hoverboard.
No matter the type of hoverboard your kid is looking for, we've got the perfect one here.
Here are the top eight best hoverboards for kids. If you are looking for more ways for your kid to get around, make sure to check out our lists of the best scooters, bicycles, and skateboards.
Top 8 Best Hoverboards for Kids 2020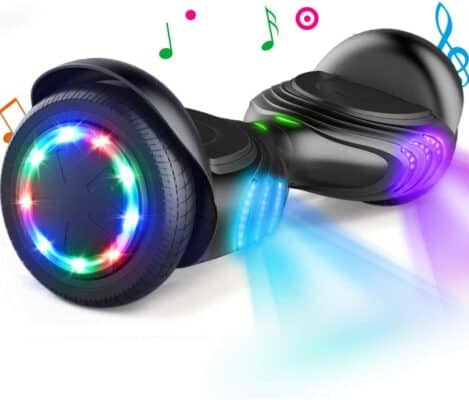 Why we like it:
This hoverboard charges quickly, plays music via a Bluetooth speaker, and has fun flashing lights.
Editor's Rating:
Quick Facts:
UL2272 certified? Yes
Style: no handles
Price range: mid-range
Max speed: 7.5mph
Max distance on one charge: 7.5 miles
Appearance
The build of the model itself is pretty basic, with a rudimentary shape, a smooth black build, and pretty flat, uninteresting tires. But forget all that, because all you'll see when riding is the flashing lights! Your kids will zoom along and delight onlookers with a sound and light show.
This hoverboard looks a little cheap and tacky, but if anything is allowed to look cheap and tacky in the pursuit of fun, it's a hoverboard.
Special Features
This has lots of features that are great for young kids.
First, you get the flashing lights (have we mentioned them?). Five different lights come from the board body itself, while four different lights come from the tires. Along with the music, you've got yourself a show on wheels!
But that's not all – there are lots of great subtle features that make this hoverboard excellent for kids. The charge time is a swift 2 hours, it's incredibly lightweight (which is great for small kids), it has a great self-balancing mechanism, and it's specifically built for entry-level riders.
As a hoverboard for kids, this is excellent. It's safe, it's fun, and it charges quickly.
Pros
It's ridiculously fun, with Bluetooth music and millions of light combinations

Very lightweight

Great charge time

An excellent entry-level hoverboard for kids

Great self-balancing
Cons
Not as sturdy or rugged as more advanced hoverboards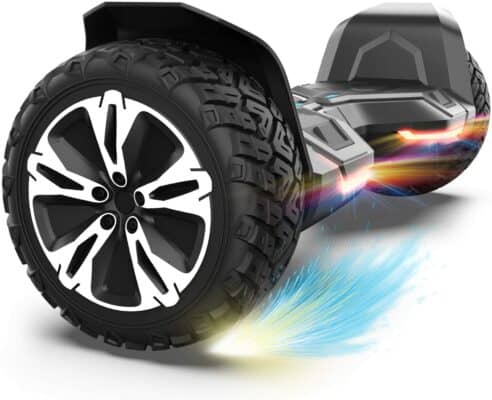 Why we like it:
Rough, rugged and robust, this is the Jeep of hoverboards. Looking for something a little tougher than your average hoverboard? This is it.
Editor's Rating:
Quick Facts:
UL2272 certified? Yes
Style: no handles
Price range: mid-range to expensive
Max speed: 9.9mph
Max distance on one charge: 9.5 miles
Appearance
This is rugged, and it looks rugged. Zooming along on this, your kids will look like something out of the army, riding along on their mini little tank. Its square design is very angular and jagged, which makes it look super tough. Got a kid who wants to look hardcore? They'll love this. The aluminum rims on the wheels are a very nice touch.
Along with a build fit for an army major, this hoverboard also has LED lights, so it looks funky as well as ferocious.
Special Features
There's a built-in Bluetooth speaker, so your kids can listen to tunes while they're zipping around on this hoverboard. It also has a good self-balancing mechanism, which works on lots of various terrains.
The main event here is the excellent all-terrain build. Most kids will only want to use their hoverboard on the asphalt near their home, but for kids with more ambitious adventures on the horizon, this is fantastic. It tackles grass, dirt and more, perfect for older or more adventurous kids. The tires are made of genuine quality rubber, and they're thick and wide, which is great for balance.
Want an off-road hoverboard? You won't find one better than this. It performs well and it has a very durable build. It charges in just 1.5 hours.
Pros
Excellent for off-roading

Rugged and robust

Looks hardcore

Great charge time of around 1.5 hours

Good for older kids

Great durability
Cons
A little pricey

Pretty heavy, at 33lbs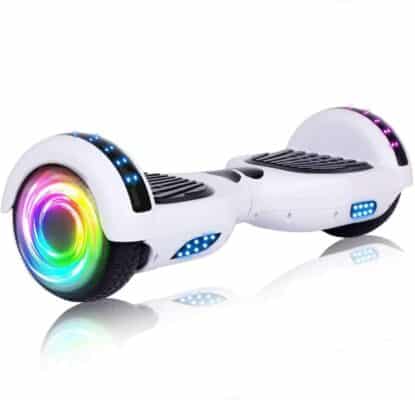 Why we like it:
If you're looking for an inexpensive but reliable and attractive hoverboard, this is it. It looks good, it performs well and it comes in a huge number of different aesthetic designs.
Editor's Rating:
Quick Facts:
UL2272 certified? Yes
Style: no handles
Price range: low-range
Max speed: 9mph
Max distance on one charge: 9 miles
Appearance
The shape and construction of this hoverboard are pretty basic, but there are almost 25 different designs, offering bright colors, camo designs, and glitzy metallic aesthetics. No matter the design your kids are looking for, there's something for them here.
Though the LED lights on this model aren't as exciting or powerful as some more expensive models, such as the TOMOLOO Hoverboard, they're still pretty good.
Special Features
This is a pretty basic hoverboard, but it offers LED lights, Bluetooth music and a self-balancing mechanism. The lights aren't as exciting as some other hoverboards, and the music quality isn't as good as some other hoverboards, but that's all pretty understandable at this price point.
At a maximum speed of 9mph and a maximum distance of 9 miles per charge, it's a pretty reliable model, leaving your kids zooming around at high speeds for plenty of time. But it does come with a tradeoff – it takes 5 hours to charge this, which is where its lack of quality really shows.
Pros
Very affordable

An excellent entry-level hoverboard

Lots of fun design choices

Offers pretty fast and lengthy rides

Offers bright lights and Bluetooth music
Cons
Long charging time

Not particularly durable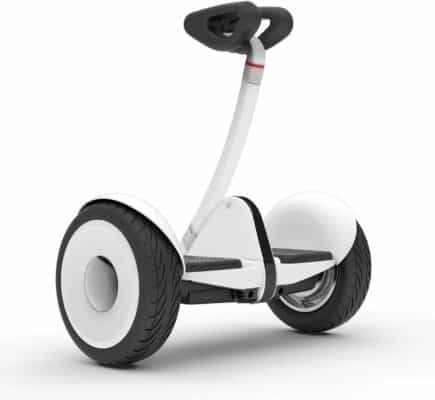 Why we like it:
This isn't your average hoverboard - it has knee-height handles, and it's a little more high-tech than most hoverboards we've featured on this list.
Editor's Rating:
Quick Facts:
UL2272 certified? Yes
Style: handles
Price range: high
Max speed: 10mph
Max distance on one charge: 13.7 miles
Appearance
This looks pretty futuristic, with a design that wouldn't be out of place in a sci-fi movie. If your kid is seeking something sleek which looks like it should be mounted by an astronaut, they'll love this. With huge wheels, a bright-white design and a curved shape, it's very unlike most other hoverboards on our list, perfect if your kid wants something unique.
Special Features
The handles! We've featured this on our list specifically because it has handles, which can help to keep your kid safe. According to the retailer's specifications, this is built for people aged 16+, but it's definitely suitable for teens and older pre-teens.
The weight is great, and clocks in at only 28lbs despite looking a lot heavier. For a compromise between lightness and safety, it doesn't get any better than this.
Other special features include lights for great visibility in dark conditions (rather than lights for fun) and an app that offers speed adjustment and an anti-theft function. This isn't fun in the same way that many other hoverboards on this list are (such as the TOMOLOO Hoverboard) but it offers excellent safety and sleek functionality.
Pros
Excellent safety offered by handles

Looks very high-tech

Lightweight in spite of its mega-safe build

Offers great distance on one charge
Cons
Very expensive

Not as fun as some other hoverboards we've featured

Only suitable for teens and pre-teens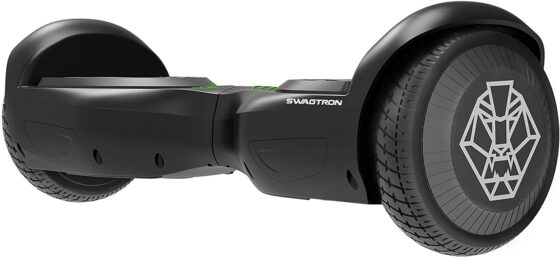 Why we like it:
If you're shopping on a budget, this is a great choice. The Swagboard Twist offers hoverboard fun at a very good price point. Looking to save money above all else? Go for this.
Editor's Rating:
Quick Facts:
UL2272 certified? Yes
Style: no handles
Price range: low
Max speed: 7mph
Max distance on one charge: 4.8 miles
Appearance
It's plain black, with no exciting lights, no exciting music and no exciting finishing flourishes. For some, this might be a little dull, but kids who like a plain and basic design might actually prefer this, so it's perfect for any mini minimalist. There's a cool geometric design on the outside of the wheels, all jagged lines and edgy shapes.
Special Features
The special feature here really is the price point. While we've featured another affordable hoverboard as our best budget pick, this is the best option if you're looking to save money above all else. Maybe your kid doesn't want flashy lights or music or wacky designs. And if that's them, they'll absolutely love this.
Pros
For a low price point, this is an excellent choice

The design is pretty minimalist, but some kids might like the basic matte-black finish

For kids seeking a basic model, this is absolutely the best pick on our list
Cons
Doesn't travel very fast or very far

Doesn't look particularly exciting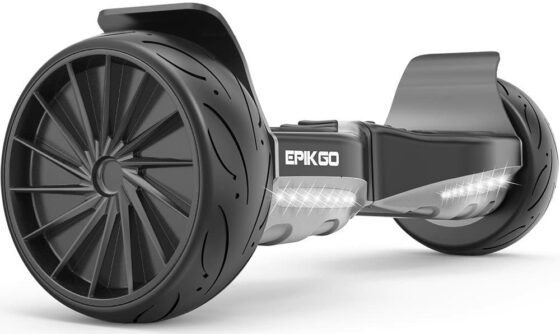 Why we like it:
This thing is like a tank. It's hardy and robust, it has thick, wide tires and it moves fast. More like a vehicle than a hoverboard, it's a perfect choice for anyone who wants a hardcore hoverboard.
Editor's Rating:
Quick Facts:
UL2272 certified? Yes
Style: no handles
Price: high
Max speed: 12.1mph
Max distance on one charge: 10 miles
Appearance
The lights on the EPIKGO Hoverboard are more subtle compared to those offered by other hoverboards on this list, and it looks more like the Batmobile than a hoverboard. If your kids are looking for something with a high performance and a high-end aesthetic to match, this is a great pick.
Special Features
This is special because it performs like a vehicle. More powerful, versatile, and hardy than most other hoverboards on the market, it rides up to an impressive 12.1mph, helping kids to zoom along at a pretty impressive clip. It's also bigger than most hoverboards.
The performance-enhancing tires offer incredible grip on a huge range of surfaces, and they're crafted with metal for hardy strength and style. This has a hardcore style built into its core – if your kid is looking for a vehicle rather than a hoverboard, consider this.
Pros
Mature aesthetic for older kids or more grown-up kids

Thick, high-performance tires

Moves very fast, up to an impressive 12.1mph

It's very big
Cons
Might be too rough and fast for some kids

It's very expensive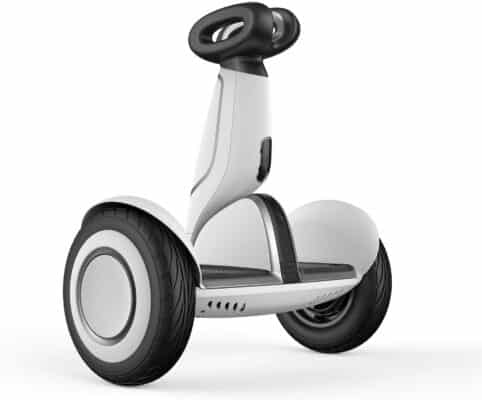 Why we like it:
If you have a large budget, the Segway Ninebot S-Plus Smart could be for you. It's the most advanced hoverboard on the market.for
Editor's Rating:
Quick Facts:
UL2272 certified? Yes
Style: handles
Price range: very expensive
Max speed: 12.5mph
Max distance on one charge: 22 miles
Appearance
Like the other Ninebot model we've featured elsewhere on this list, this looks like something out of WALL-E. Somewhere between a Segway and a hoverboard, it's a fantastic option for kids who want something futuristic rather than subtle. It's very unique and unusual, and it looks like an alien should be sitting atop it.
Special Features
For functionality and features, you won't find any better than this – if you have the money, you get a huge amount for your cash.
First off, this hits speeds of up to 12.5mph and can travel up to 22 miles in one charge, so there's plenty of speed and distance on offer. The handles, which sit at the knees, are excellent for staying safe and offer excellent insurance against falls.
For steering this, your kids can use their legs (as they would on a hoverboard without handles), and they can use the handle at the knees. But even better, they can use the included remote control, which can steer the device while they're on it. If they feel like walking, they can switch the remote on to follow mode, and the hoverboard can follow them around like a little robot servant. It's fantastically futuristic.
And that's not the only cross-functionality on offer: there's a downloadable app with anti-theft function, speed limiting, speed adjustment and more. This is outrageously high-tech, with way more features than your average hoverboard. The wheels clock in at a massive 11 inches.
Pros
Looks mega futuristic

Travels very far and very fast

Lots of high-tech touches come with the app

Comes with a remote control and a 'follow me' command
Cons
For some, this might be prohibitively expensive

Doesn't look like your average hoverboard

Only suitable for teens and pre-teens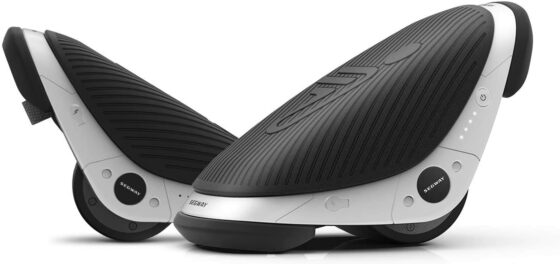 Why we like it:
Truly unique and unusual, these are a great pick if even a hoverboard isn't cool enough for your kid. Like having one hoverboard for each foot, this is a fantastic option for mega adventurous kids who want to be as cool - and look as cool - as possible.
Editor's Rating:
Quick Facts:
UL2272 certified? Yes
Style: a roller skate style
Price: expensive
Max speed: 7.5mph
Max distance on one charge: 45 minutes, equivalent to around 5 miles
Appearance
These don't look like anything else we've featured on our list. They come as a pair and look like shoes that belong to a robot. With their black and white design, they look sleek and sophisticated and are undoubtedly the classiest edition on this list. If you're buying for an older kid who wants to look like they've stolen a cyborg's shoes, these are a great choice.
Special Features
For the fun factor, these might just be the best option we've included. A bizarre combination somewhere between hoverboards and roller skates, these offer self-stabilizing technology which seems to defy explanation. The rubber tires offer great traction, the soles of the roller skates have great grip, and they're very lightweight, with a combined total of less than 18lbs.
These skates aren't technically a hoverboard, but they work on the same tech and are just as fun – and for kids who are a little more adventurous and experimental, they're fantastic. They're a brilliant alternative to a standard hoverboard for any kids who want something very exciting.
Because they're small, these only work on smooth surfaces – don't try to use them on any rough or uneven terrain.
Pros
Very unique and unusual

Super fun

Excellent for kids who want something exciting and adventurous

Have fantastic self-balancing technology
Cons
They're not your normal hoverboard

They're expensive

They're a little difficult to use, and a little volatile on all but the smoothest of ground
Everything You Need to Know Before Choosing a Hoverboard for Your Kids
There you have it – the eight best hoverboards for kids!
They're all very safe, very reliable and very durable, and they'll all make your kid the trendiest little rider on your street.
But there are many things you need to think about before you buy one of the hoverboards we've listed. Though they're all brilliant, it's essential you know what you're buying before you buy it. Get on your hoverboard and join us as we explore exactly what you need to consider before buying something from our list…
Safety
As we've already mentioned, you need to buy a hoverboard with the proper safety certifications. Don't buy any hoverboards without a UL2272, which offers a guarantee that the hoverboard you're buying is reliable and safe.
Many hoverboards have a history of bursting into flames, overheating or breaking easily. But any hoverboard with a UL2272 certification absolutely shouldn't do any of those things.
How can I keep my kids safe on a hoverboard?
The most important thing is to make sure that your kids know how to use their hoverboard safely and properly. Don't let them use the hoverboard without your help for the first few times, as it's easy to fall if you're not accustomed to using a hoverboard.
Good news, though – once your kids have mastered how to use a hoverboard, they become very easy to use, so they will not require constant supervision for long.
Your kids should:
Make sure they're practicing on flat, even surfaces the first few times they use their hoverboard
Practice moving with the ankles rather than bending at the waist
Practice turning slowly and subtly
For a more in-depth guide on riding a hoverboard, this site is great.
The second most important thing is to buy – and wear – the correct safety equipment. Without the correct safety equipment, innocuous falls and slips can be dangerous, potentially breaking and damaging bones and joints. But with safety equipment, those same falls and slips are likely harmless.
In short, make sure your kids are wearing good safety equipment. Here's what we recommend:
Helmet: this one doesn't need much introduction, but a helmet is essential for any kids (or adults!) riding a hoverboard. It's better to get a full-head helmet than a cycling style one, but both are better than nothing. Here's a good all-rounder.
Knee pads: because hoverboards are low to the ground, any slips from one can give the knees a beating, so it's essential that hoverboarding kids keep their knees protected. These are a great pick.
Elbow pads and wrist pads: the must-have tool for skaters, scooterers and rollerbladers the world over, elbow pads are also necessary for anyone on a hoverboard..
If you need all of the equipment listed above, you can buy it all in a helpful pack such as this one.
Kids should also avoid riding in areas with traffic, and they should avoid riding their hoverboards at night. Both are dangerous for obvious reasons.
Terrain
Most hoverboards are basic, and built for flat ground. If you buy one which is only for use on flat ground, your kid shouldn't use it for anything else, or they might get hurt.
If your kid wants something a little more exciting and adventurous, you can instead buy them a hoverboard built for difficult terrains, uphill journeys, or both. If that's what they're looking for, we recommend the Gyroor Warrior. With this model, you can ride on grass, soil and wet ground, and go uphill.
Hoverboards built for difficult terrains offer better traction, better power and typically have wider wheels.
Purpose
Why does your kid want a hoverboard? For messing around with their friends? For climbing hills? For getting to school and back?
You should shop accordingly.
If your kids only want to mess about with their friends, a hoverboard with a short battery life and a lightweight build will definitely be enough. But if they want to take long journeys, you should go for a hoverboard with a long battery life, such as the Segway Ninebot S Plus. If your kid wants to climb hills and play on grass with their hoverboard, you should go for something a little more rugged and robust, such as the Gyroor Warrior.
Bottom line is, think about what your kid wants to use a hoverboard for before you buy one – because if you buy the wrong one, you'll be wasting a lot of money.
Tires
Because terrain and purpose are important, tires are important. If your kid is only going to be riding their hoverboard on asphalt, thin narrow tires are more than enough. If they're going to be riding on more difficult terrain, choose wide, thick tires with good traction. A good choice here is the Gyroor Warrior.
Price
Most decent hoverboards run at somewhere around $250 or so, but cheaper ones typically sit at $150 – and it's quite easy to find very good hoverboards for around $1000.
We'd typically recommend buying something a little more affordable, as most kids want a hoverboard just as a toy, not as a serious piece of equipment. At around the $200 price range, you'll find something excellent.
That said, if your kid is looking for something for use on difficult terrain, or a hoverboard which is particularly safe (with handles!), you should be prepared to spend a little more money.
Battery Life and Charging Times
Both of these things are important. A short charge time is always helpful, as it means your kid won't have to wait around forever while their hoverboard is charging. If you're looking for a good hoverboard with a short charge time, we recommend the TOMOLOO Hoverboard.
Battery life is also important. If your kid is only going to use their hoverboard for short jaunts, battery life is almost irrelevant. But if they'll be using it for long trips, or to get to school and back, go for a hoverboard with a long battery life, such as the Segway Ninebot S Plus.
How Should I Take Care of a Hoverboard?
Hoverboards are expensive, so you don't want them to break.
But good news – if you and your kid take care of their hoverboard, it should last for many more exciting floating-filled days to come.
Here are some tips on maintaining your hoverboard, regardless of what type of model you buy:
Clean the tires: The tires are close to the hoverboard's motor, so any dirt or debris which gets trapped in the hoverboard wheels can very easily get trapped in the motor. After every use, clean any dirt, dust and debris from the hoverboard wheels.
Clean everything: This won't keep it running for longer, but it'll keep it looking better for longer. Clean your hoverboard regularly.
Look after the battery: Don't let the battery run dead, and do fully charge it before every use. Letting the battery sit half-charged (or uncharged) can damage it over time.
Take a chill pill: If a hoverboard is in constant use, it's constantly hot. And if it's constantly hot, it can break. Let hoverboards cool down from time to time.
Store it properly: Keep the hoverboard in a cool, dry place, not somewhere with lots of moisture. Moisture can get into the circuits and damage the hoverboard over time.
Use it appropriately: Don't allow your kids to use their hoverboard where they shouldn't. If they use it on the wrong terrain, they'll damage it. And if they damage it, it'll stop working properly.
Are There Hoverboards for Adults?
For adults, the Hover-1 is a great choice. It can handle up to 265 lbs. and it has lots of great features, including an excellent app for managing battery life, GPS, and trip recording. It also comes at a decent price point for an adult hoverboard.
Are all hoverboards self-balancing?
They should be, and they all claim to be. But some are better than others. All of the ones on our list offer excellent self-balancing. If you buy one which isn't on our list, be careful, as they might not do a great job of keeping your kids safe and upright – and that can be very dangerous.
Final Thoughts
Hoverboards may look weird at first, but they're mega fun.
While they all offer your kid the chance to zoom around like a Jetson, some have other great features, like lights, sound, handles, and futuristic designs.
When you buy a hoverboard for your kid, it's important you buy a good one, with good features and proper safety certification. If you don't, the hoverboard you buy might be at best subpar, and at worst dangerous. All the hoverboards on our list are top-quality and safe, so they're all excellent picks.
Before you buy a hoverboard for your kid, make sure you think about why they want one and what they'll be using it for – and then buy accordingly.
No matter why your kid wants a hoverboard, no matter the style they're looking for, and no matter your budget, there's a perfect hoverboard on our list.