If your toddler has taken the first tentative steps and he/she is raring to go, it is high time you looked for push toys for your toddler. Push toys help toddlers perfect their walking skills. Instead of restricting them for their furniture, push toys help them navigate around. Push toys will help your baby develop essential skills such as coordination, strength and balance that will make them more confident in their walking abilities.
Although push toys provide a helping hand as kids develop their skills, ensure you buy age-appropriate push toys. With so many push toys available in the market, choosing the best one for your toddler can be an uphill task. Best push toys like any best toddler toy should assist in fast development in terms of social, mental and physical growth during this time. To help you as you look for a push toy for your toddler, this article showcases the 30 best push toys for toddlers.
Top 31 Best Push Toys for Toddlers 2020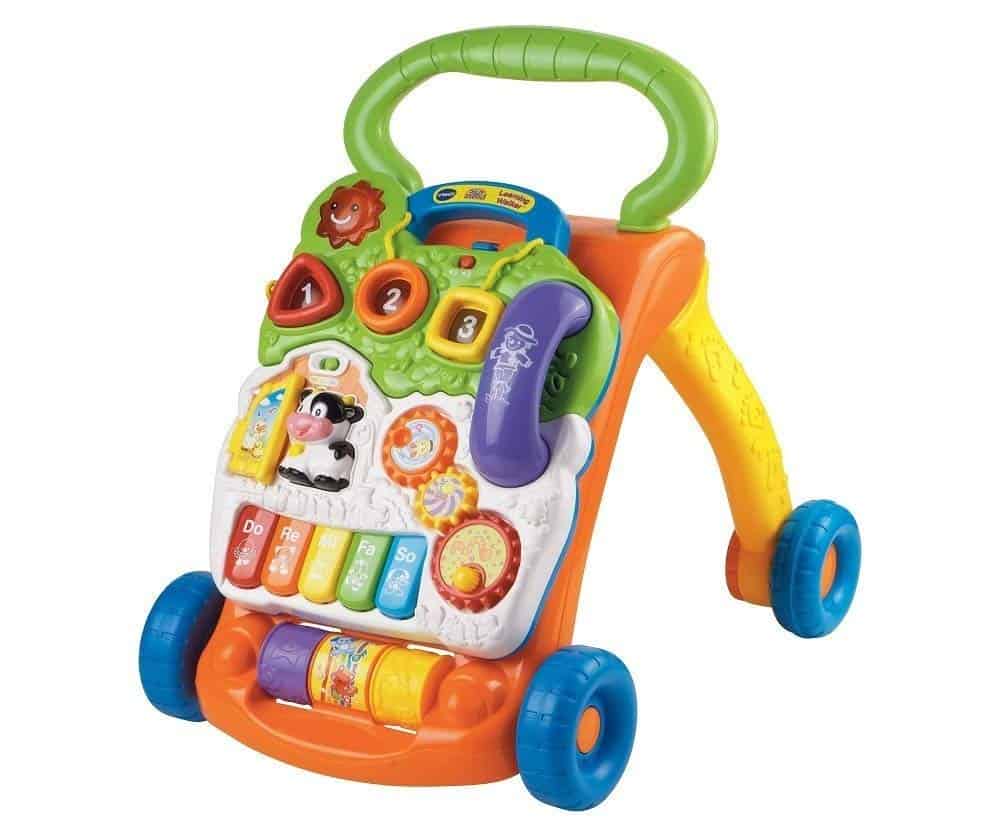 Why we like it: This push toy is equipped with colorful toys that are designed to enhance the motor skills of your toddler. Undoubtedly, this toy will attract your kid's attention.
This toy is appropriate for toddlers between 9 and 36 months. One of the best things about this push toy is the ability to be useful even before your kid can take the first steps. It is equipped with a removable activity panel that has a shaper sorter, telephone, piano keys, spinners, lights and sounds. What's more, it comes with 70 different songs and volume control. Whenever its time to walk, you can always re-attach the activity center to the sturdy frame and the baby will be able to pull themselves up before pushing the toy. The toy's rubber-coated wheels work well on carpet or hard floor. For safety, the wheel speed is adjustable.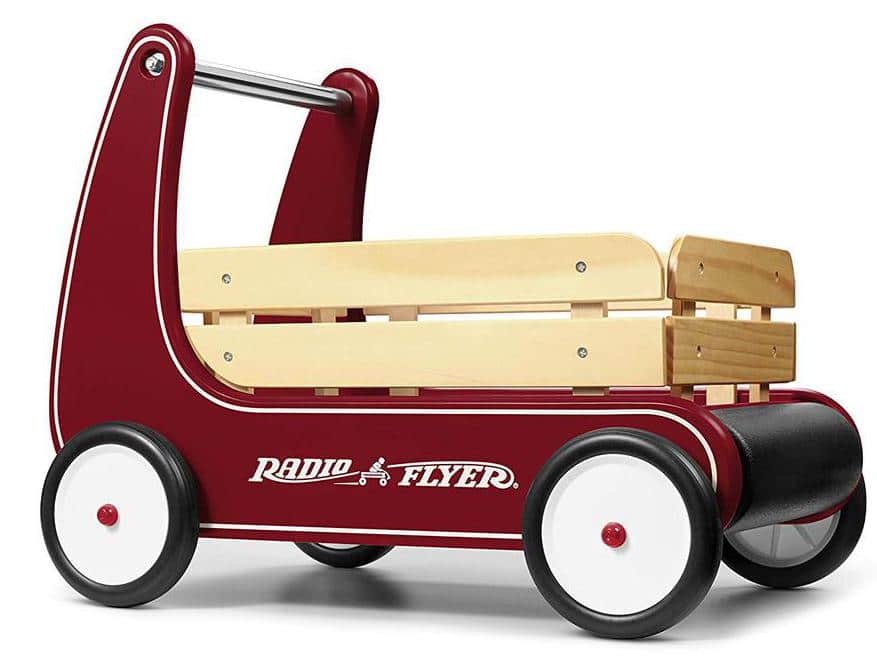 Why we like it: It is among the best wooden baby walker that helps children to stand up in their first steps. It is equipped with a resist push feature that lets your toddler build confidence.
This push toy is ideal for toddlers between 1 and 4 years old. If you are concerned about your house, this push toy is equipped with a furniture-friendly bumper. The toy has removable sides that let your toddler enjoy during child play. For parents who want to give their kids a classic toy, this toy's body is made from natural solid wood. As the toddler grows, they can use the space in the toy to put other toys as they push it around. The wheels move in a straight line to ensure your kid is always on track.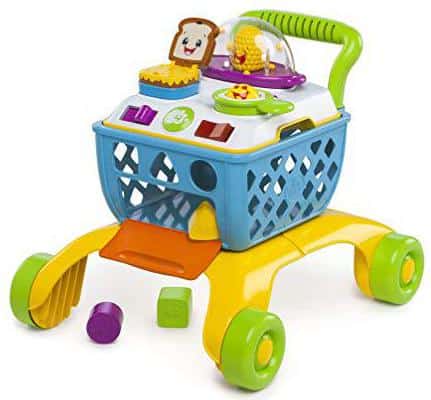 Why we like it: This push toy is equipped with fun features and activities.
This push toy is ideal for toddlers 6 months old and above. It comes with a detachable cooktop that lets your kid play while sitting. The push toy has a sliding lever for popping the sandwich and a button that produces cooking sounds when pushed. Also, your toddler gets a spinning egg roller with this toy. If your kid develops the ability to stand on their own, the lockable wheels allow the push toy to be a stationary play table. When your toddler starts to walk, then you can unlock the wheels. This lets your child use the push toy's shopping cart design to gather other items and toys just like mum at the store. This toddler walker toy is equipped with plastic wheels that work better on hardwood floors and carpet.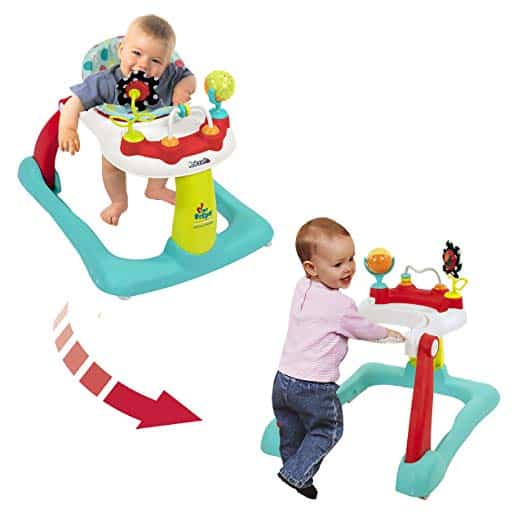 Why we like it: This 2-in-1 design easily converts from a seat-based walker to push baby walker toy for both boys and girls.
The push toy can support children weighing 15 pounds who can pull themselves up and try to support themselves. It comes with an adjustable seat that let your toddler to sit and play or stand up and walk through this toy support. When your toddler masters their walking skills, this product can change into a push toy for your toddler. The kit comes with many fun activities for your toddler. It has a flower mirror that has crinkly petals, bead bar and a spinning ball that will keep your toddler occupied and develop motor skills. With this toy, your little one will take the first steps with ease. It features brightly colored toys that will keep your kid entertained while stimulating their mind.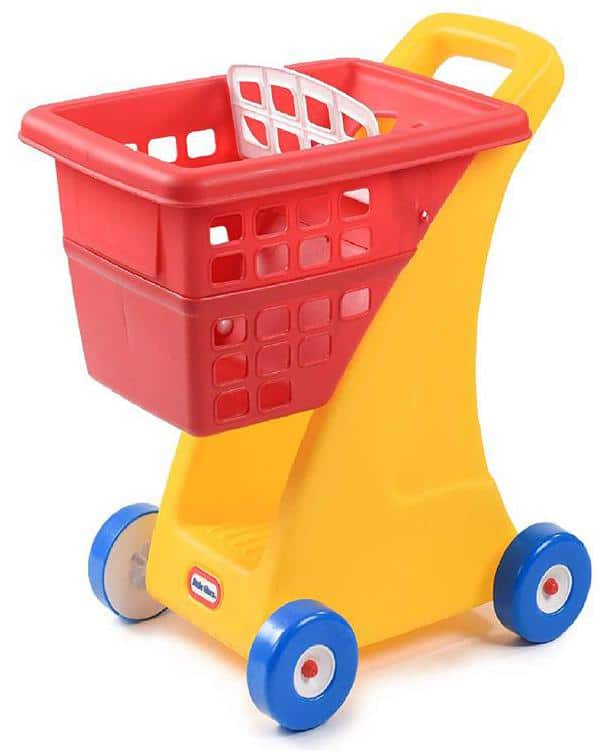 Why we like it: The shopping car design promotes the development of gross motor skills and stimulates social skill development.
This toy shopping cart is durable and timeless. It promotes role-play and imagination. With this toy, your toddler has a shopping cart that they can use in the make-believe play. The toy is appropriate for toddlers 2 years and above. It comes with a seat in the shopping basket like those they see in retail stores. Adding some play items and their preferred teddy or doll and the toddler will have plenty of shopping fun. Even your toddler gets a small hidden storage area beneath the basket useful for hiding their valuables.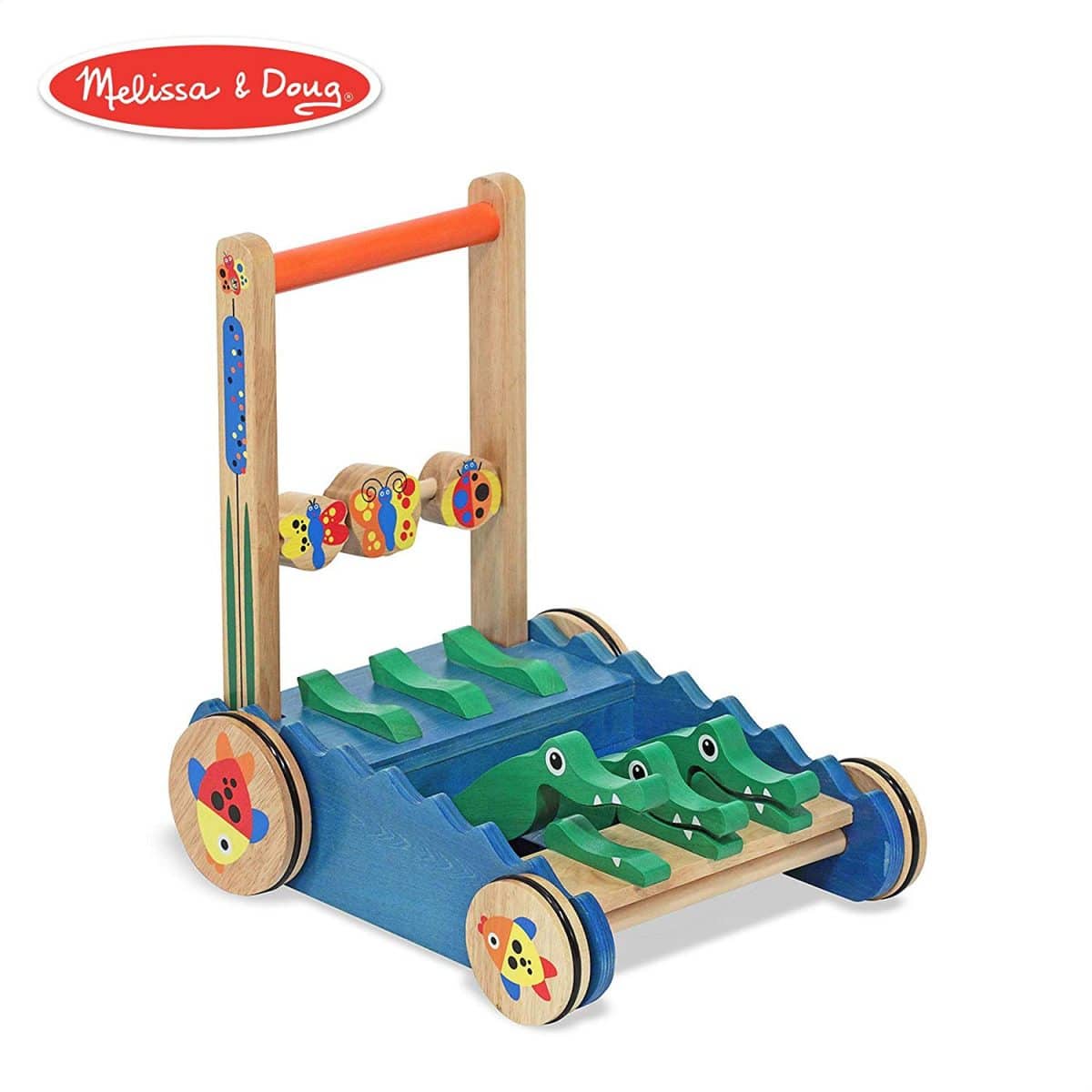 Why we like it: This push toy is brilliantly made. It helps coordinate several learning exercises for toddlers.
This push toy from Melissa and Doug is made from high-quality wood with a wonderful, shiny and safe finish. The wide and strong base makes this a toy very stable when moving. Also, the low center of gravity helps to be super stable. The most fascinating thing about this toy is the up and down motion of the three charming alligators, which makes a clicking sound as well as chomping motion. Above the alligator's back is handlebar that doubles up as support for the 3 spinners located between the handlebar and the alligator backs. The toy comes with 3 spinners decorated with bright insects i.e. butterfly, ladybug and dragonfly. Also, the wheels are decorated with colorful fish. This toy is appropriate for kids 12 months and above.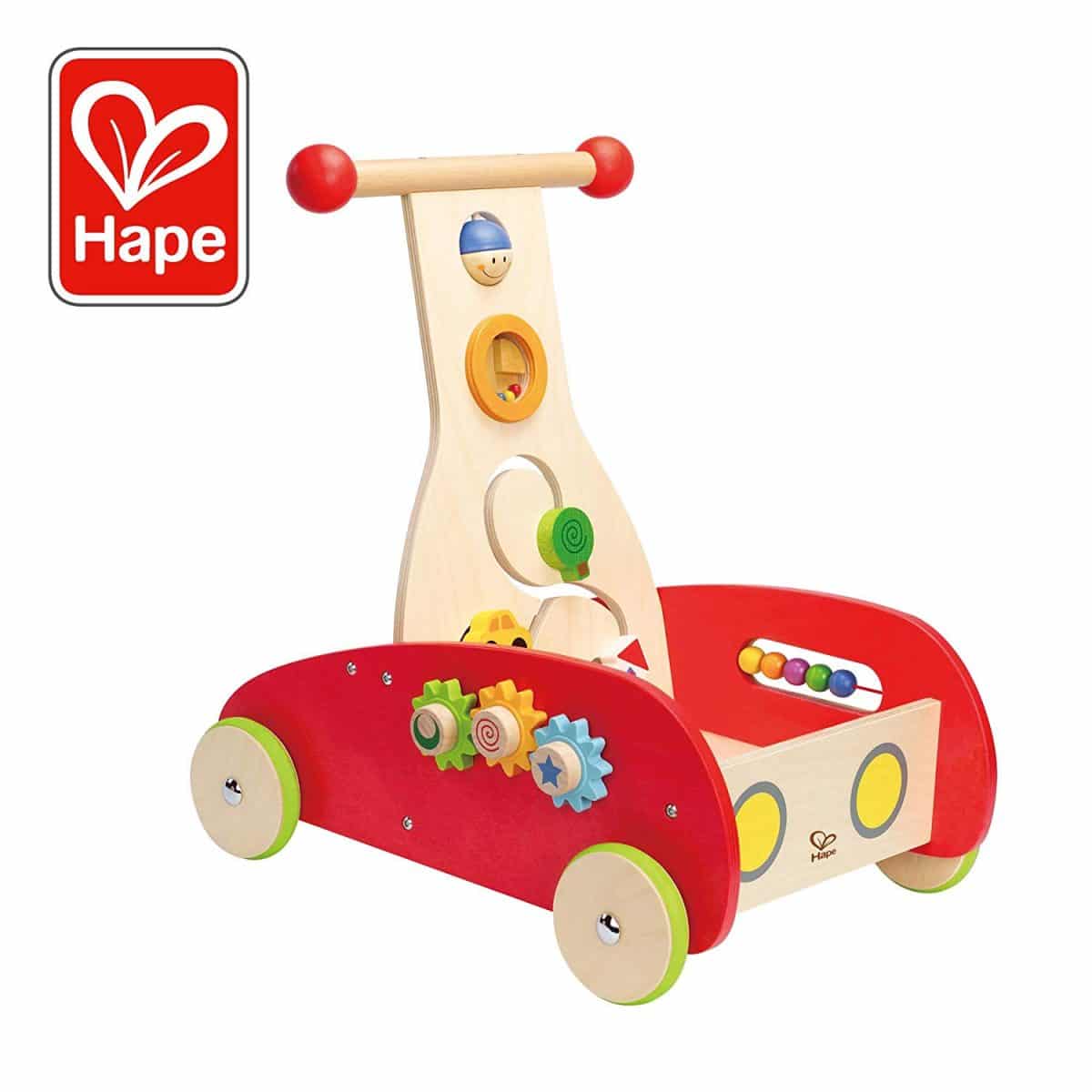 Why we like it: This is one of kind push baby walking toy. The toy instead of going for a design that features animals, the designers opted for geometric features such as circles and gear shapes among others.
The wooden toy has a durable wooden box at the base and includes two side panels for learning activities. The square-shaped storage space is made using wood sourced from the forest, which makes the product eco-friendly. The low center of gravity in this toy ensures you kid never tumbles over when they spin with this wonder walker. The storage space lets your toddler store several items. The product wooden wheels have a rubber coating to make sure they don't leave scrape marks or destroy your floor at home. On one of its side panels, there are revolving gears that will help stimulate your toddler's sense of imagination.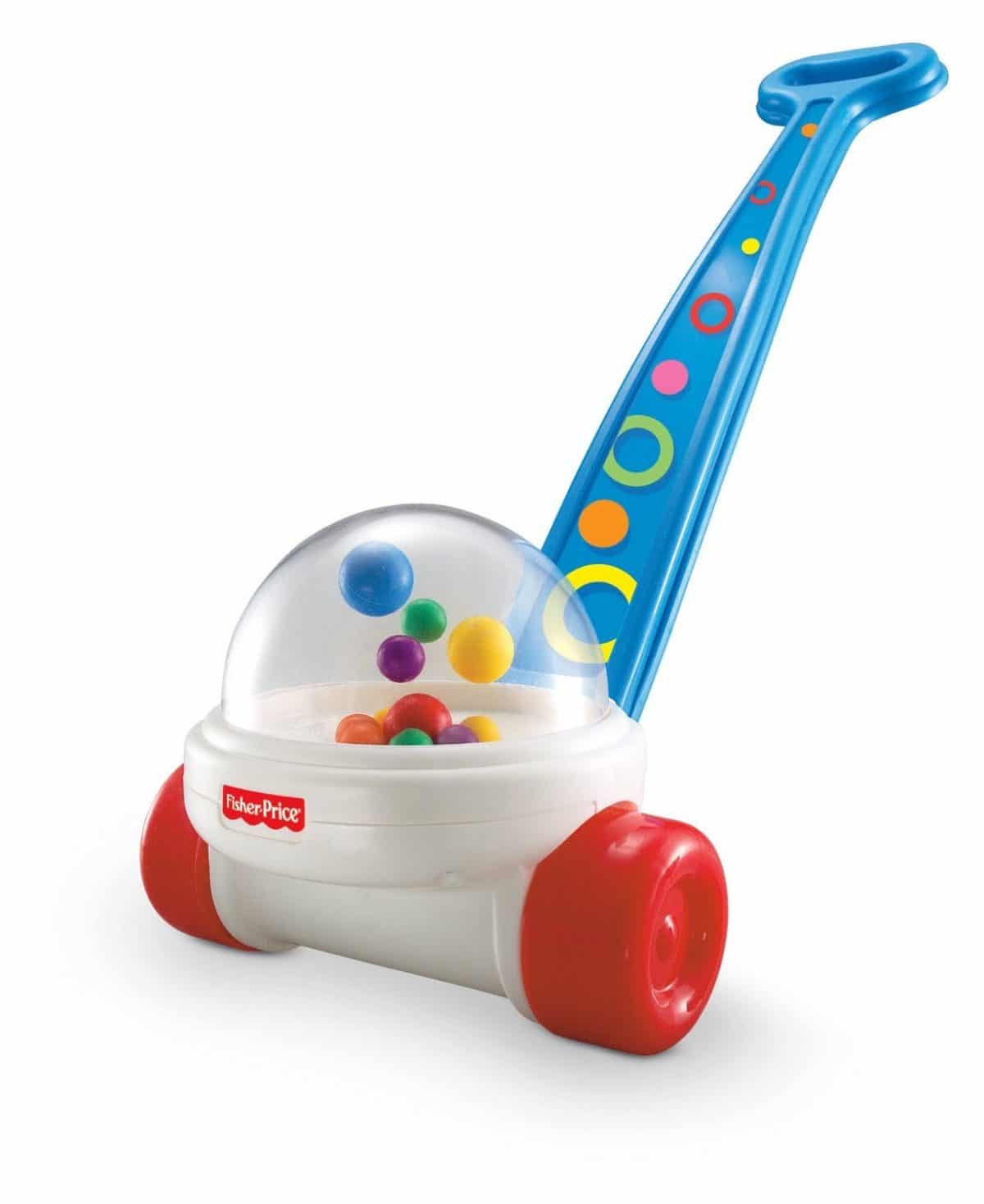 Why we like it: This Brilliant Basics Corn Popper from Fisher-Price is one of the best toys for helping toddlers begin and master walking skills.
The toy has a lawnmower or a vacuum cleaner design with a clear dome that is equipped with beautiful balls of different sizes. When your toddler moves the toy, a component on the toy revolves sending the balls against the internal dome surface. For many reasons, this push toy is popular among toddlers. The different color balls help improve your toddler's visual tracking as their eyes will focus on multiple balls simultaneously. The Corn Popper comes with an adjustable arm and handles to ensure your kid will push it regardless of his/her size. The large two wheels allow for easy movement of the toy even though it may not at par with four-wheeled toys.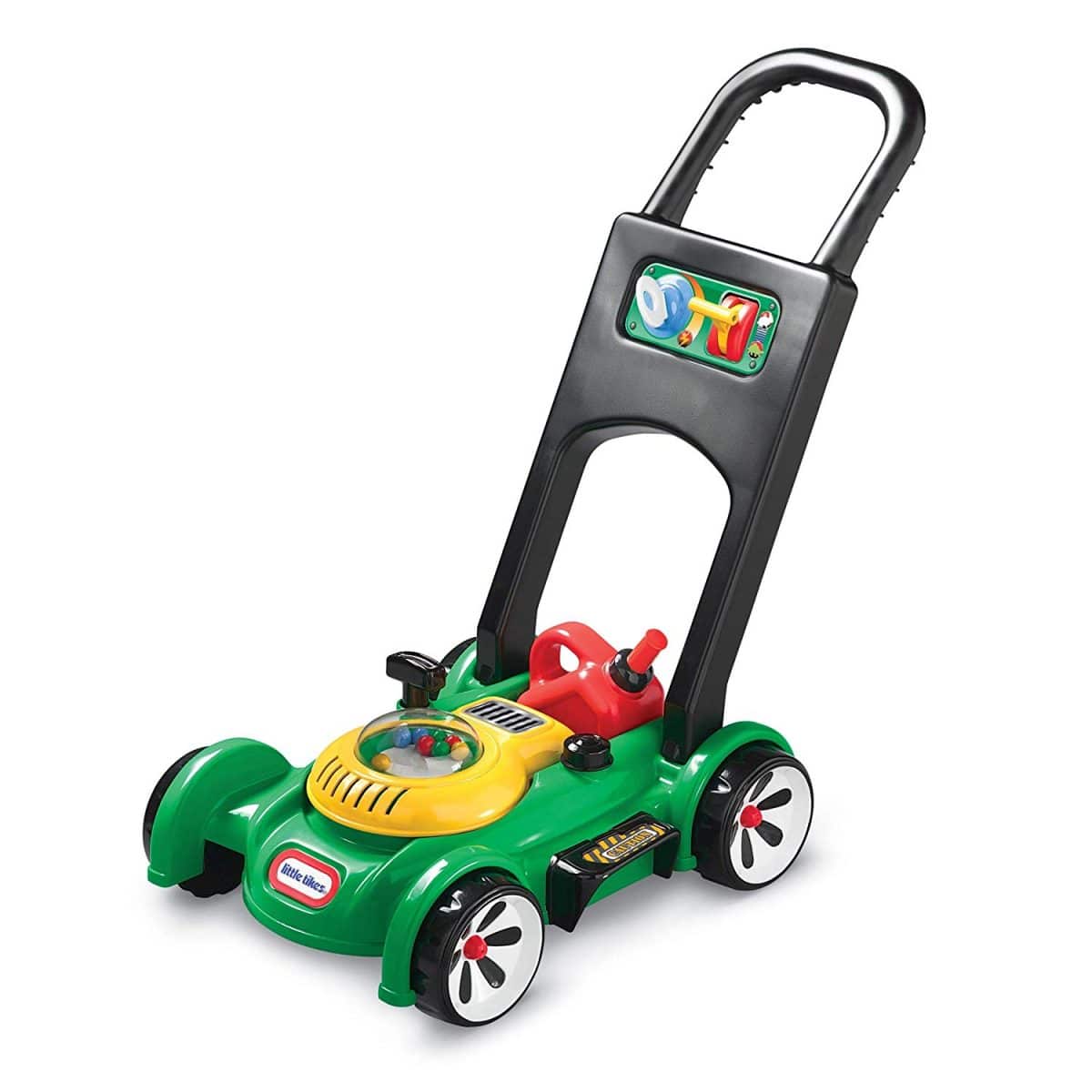 Why we like it: Since toddlers learn from their surroundings, with this little mower, your little toddler will help during gardening sessions as they learn to walk.
The toy mower is equipped with popping beads which make popping sound whenever pushed. Best of all, it does not require batteries because the sound is generated mechanically. The toddler will feel helpful since mower generates a sound like a running mower engine. What's more? The toy features a removable gas can that makes the experience more realistic for your toddler. Assembling the toy is easy with just one bar which needs to be snapped into place. It is removable to ease storage. Unlike battery-powered toys, this toy may be annoying since toddlers enjoy the noise and you don't have a way of ending all the noise for peace of mind.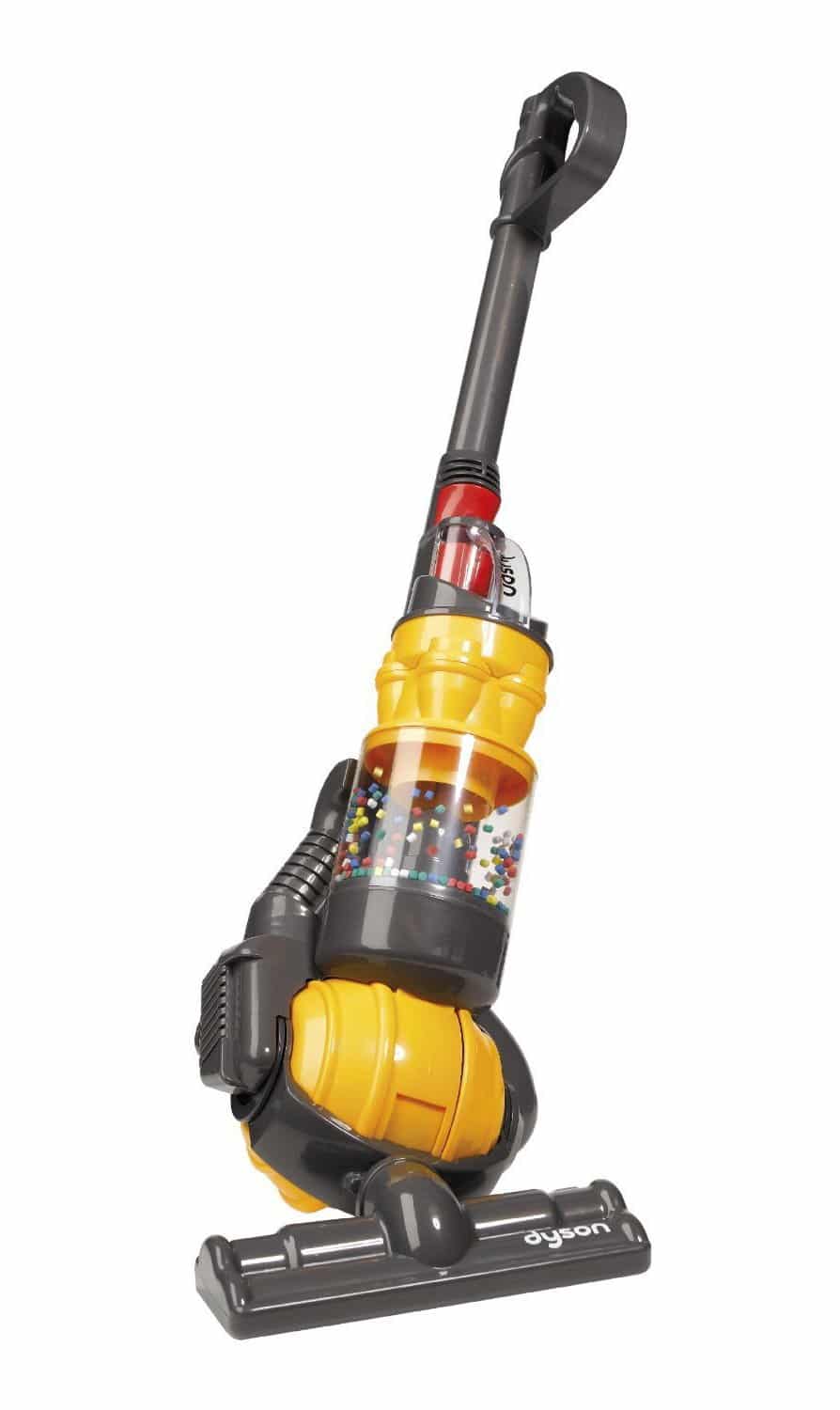 Why we like it: Although vacuum cleaner may terrify some toddlers, this Dyson Ball Vacuum helps your kid to be happy with the cleanup time.
This is an awesome imitation of the original vacuum machine. It is equipped with real suction capable of picking up polystyrene balls and paper. The toy is great for cleaning up particularly when the toddler is through with an art activity that generates tons of small paper pieces. Like a real vacuum cleaner, this vacuum cleaner toy can turn and twist. It comes with a clear cylinder that has colorful balls that whizz around when turned on. Also, it features a tiny removable debris drawer. It uses 4 type C batteries. This push toy is fun for your toddler but most importantly they learn the importance of cleaning up and helps them form this habit. The toy is recommended for toddlers 3 years and above.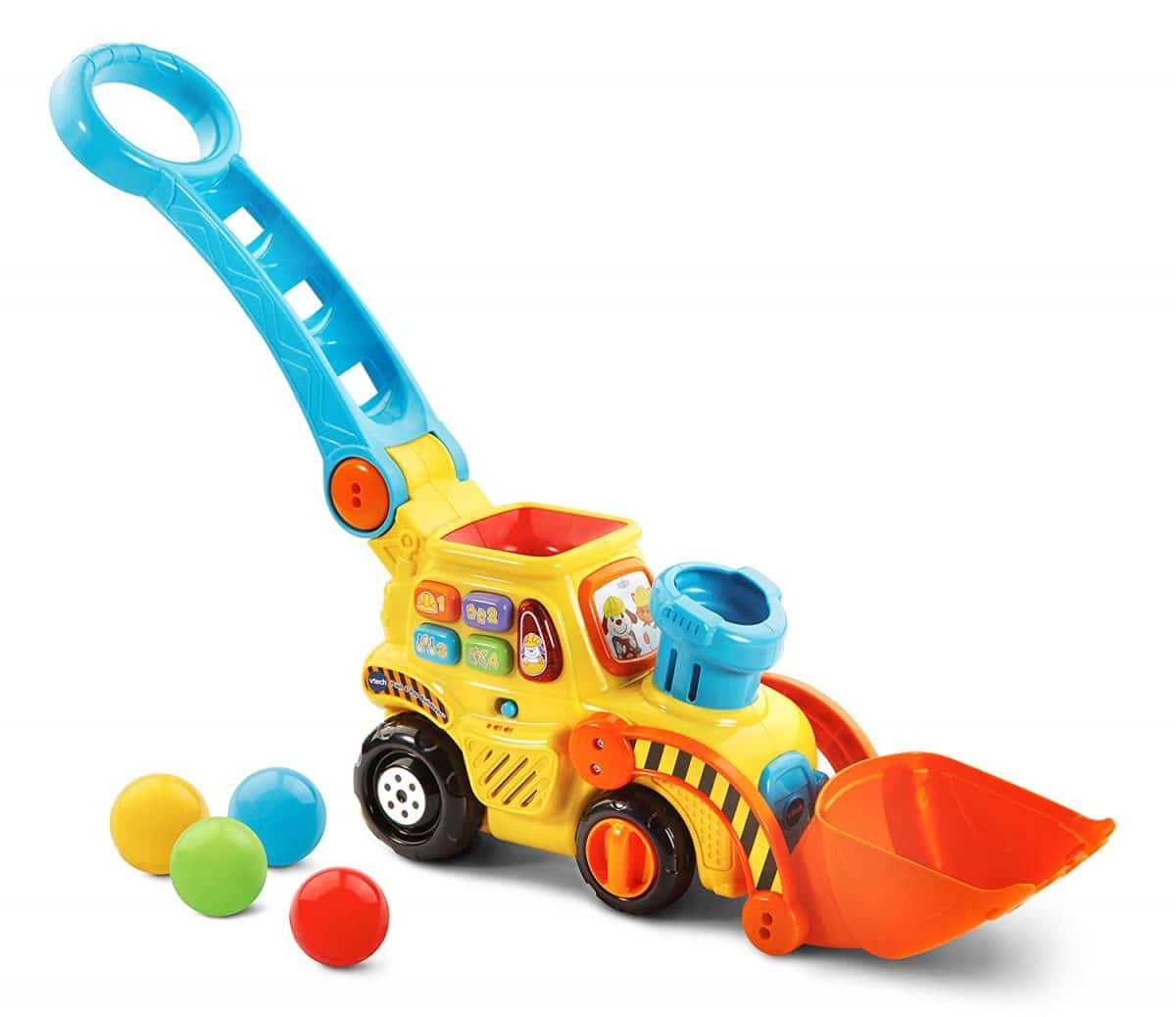 Why we like it: This push and pop toy from Vtech is a great choice for a toddler who loves construction vehicles.
The toy comes in bright colors and is equipped with sounds and buttons that will surely engage your toddler as they develop motor skills. This bulldozer toy encourages toddlers to exercise their legs as the balls pop out of the chimney into the bucket, which excites them. The various buttons on the toy generate sounds that let the toddler learn about numbers and colors among other phrases that help in the development of language skills. This toy will make your toddler busy when gathering the balls and putting them back in the bulldozer for more fun. When the playtime is up, the balls can be stored in the bulldozer. This toy is ideal for toddlers between 1 and 5 years old.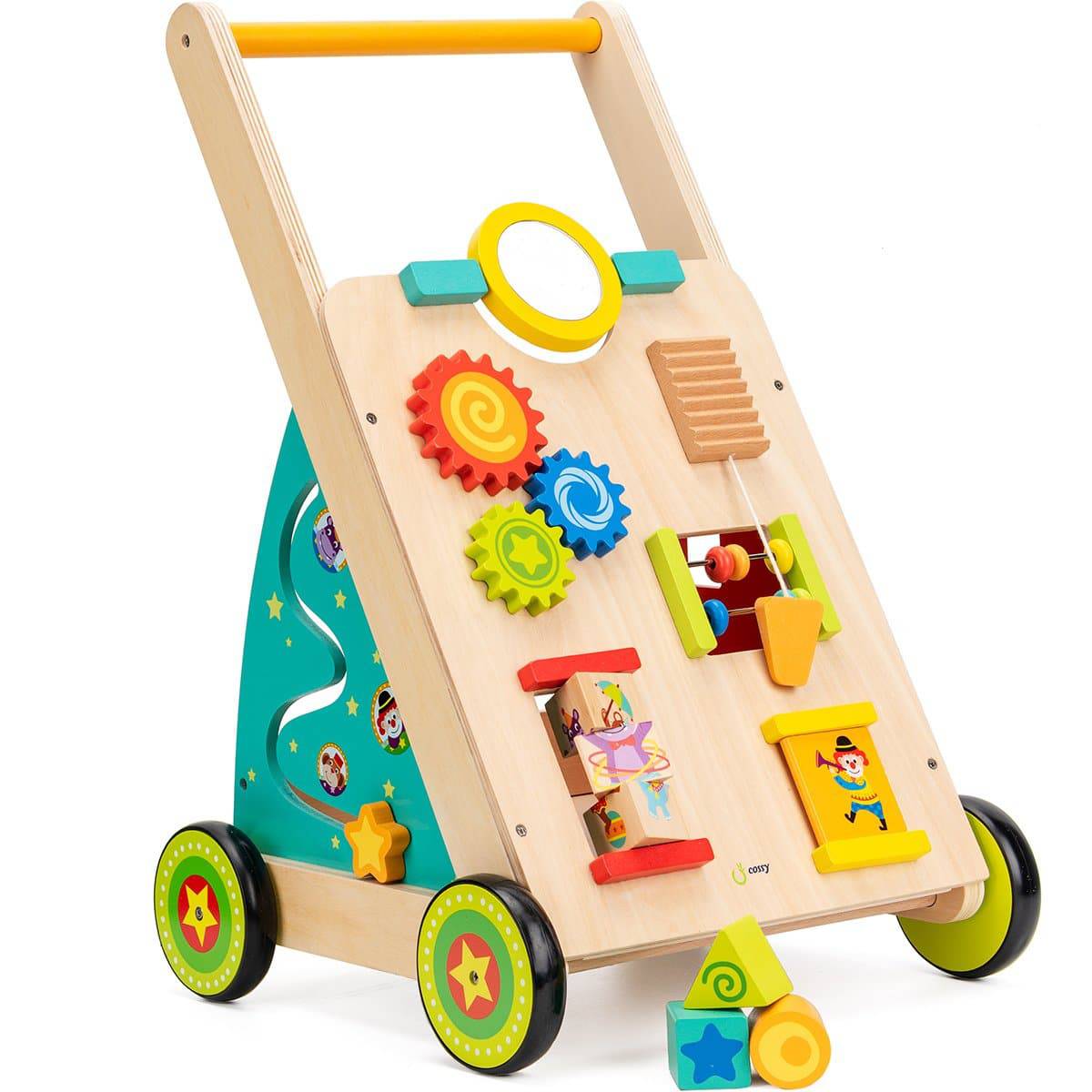 Why we like it: This wooden baby walker comes with very interesting activities for your toddler.
On the wooden sloping wall, there are various play pieces that include shape sorters, a maze and animal blocks. Such activities motivate children to be creative and use their imagination. This push toy baby walker has a rubber trimmed wheels that protect your floor. This is useful since toddlers can be very aggressive. Also, non-toxic paint is used on the toy, so it won't harm your little soldier. The blocks are big for this baby walker making it appropriate for toddlers 1 year if they have mastered walking skills. It is highly rated on Amazon so you be assured that it is one of the best push toys around for your toddler.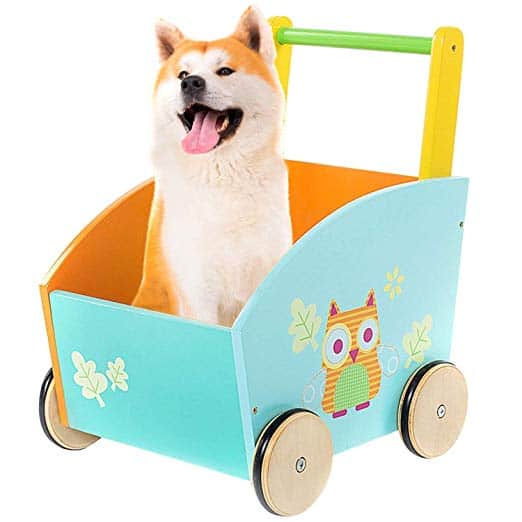 Why we like it: It is made from beautiful wood and is safe. It meets both European and US safety standards on paint.
The clever design reduces topple with the two little knobs at the bottom next to the handle. This is important if your toddler starts pulling themselves up on it. Although it is not heavy, the cart design of this push walker lets you add heavier objects in the cart if your toddler is stronger or heavier. The wooden wheels have a rubber strip that protects wooden floors while providing friction. Also, the push walker is equipped with simple wooden blocks, which are great for creativity and imagination. Also, the toddler can play with the simple blocks while seated. So, it is better to opt for other baby walker products listed here if you have a tall toddler.
Why we like it: This is a solid wood baby walker that will provide balance for your toddler as they learn to walk.
The wooden Janod Crazy Doggy Cart has metal wheel axles and lightweight felt ears. This push baby walker features a bright colored doggy with a bell around the neck that rings when pushing the cart. The cart design lets your toddler fill it with toys as they push the cart around. The design is strong enough to support your toddler as they begin to take those tentative steps. Also, the high-quality wood used to make this toy will last and be useful to your toddler as they explore after mastering walking skills. Pushing the toy to hear the bell ring will help develop your toddler's motor skills. The wheels have a soft plastic ring to protect the floor from scratches. Recommended for toddlers 1 to 4 years old.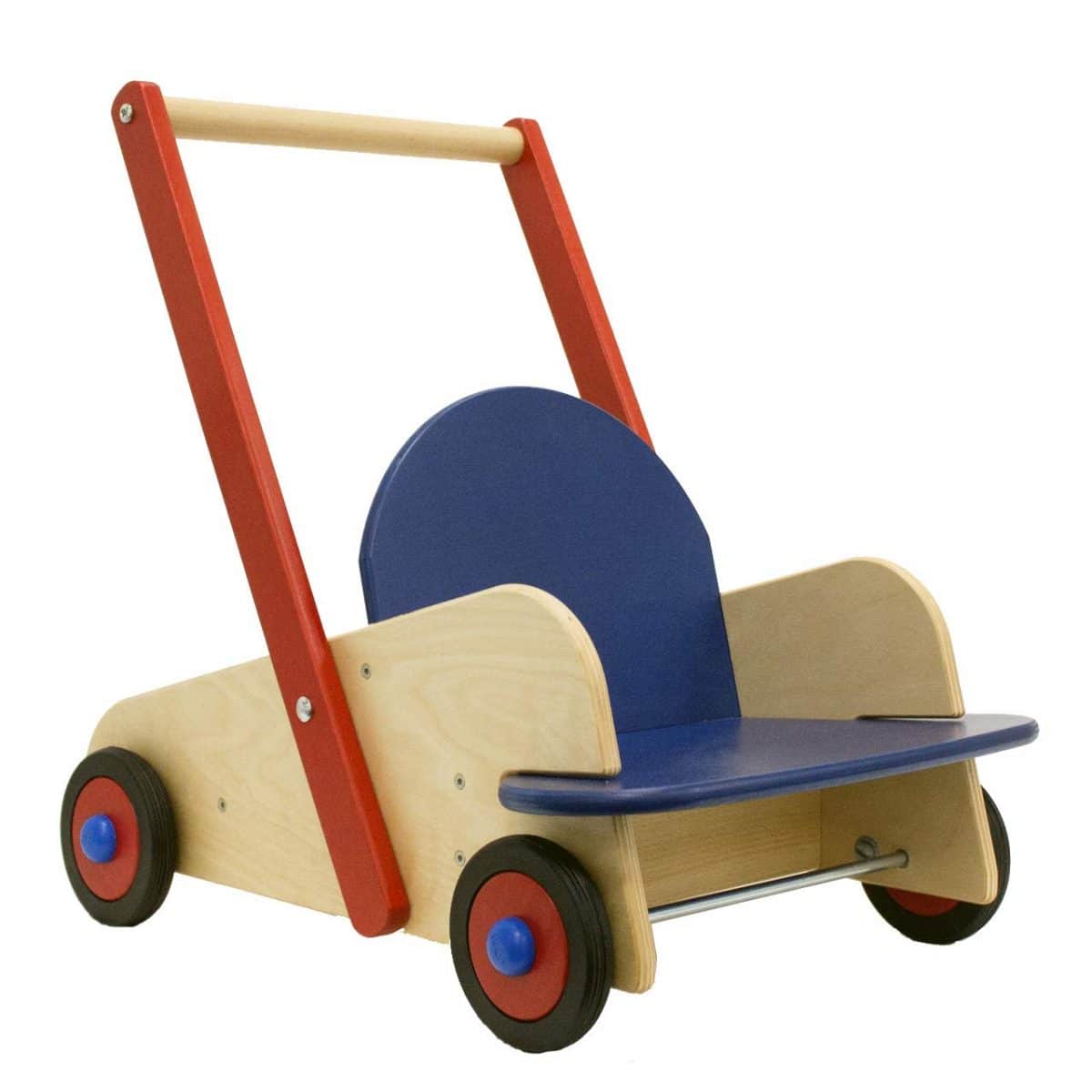 Why we like it: It is great for toddlers who are just taking their first steps. Also, it doubles up as a doll stroller.
The beautifully designed HABA walker wagon will help your young one take those first tentative steps. This push toy for toddlers has a speed adjustment features that let you choose the right speed for your toddler during those early days. Pushing baby walker will promote motor skills development in your toddler. This toy has a seat that lets your toddler give a sibling a ride. The toy has silicone wheel treads that allow it to be useful both indoors and outdoors. The toy was the winner of the German Spiel Gut "Good Toy" Award. So, you can rest assured that it has undergone a thorough examination and passed. The toy has enough space for your toddler to store their toys. Recommended for toddlers 10 months and above.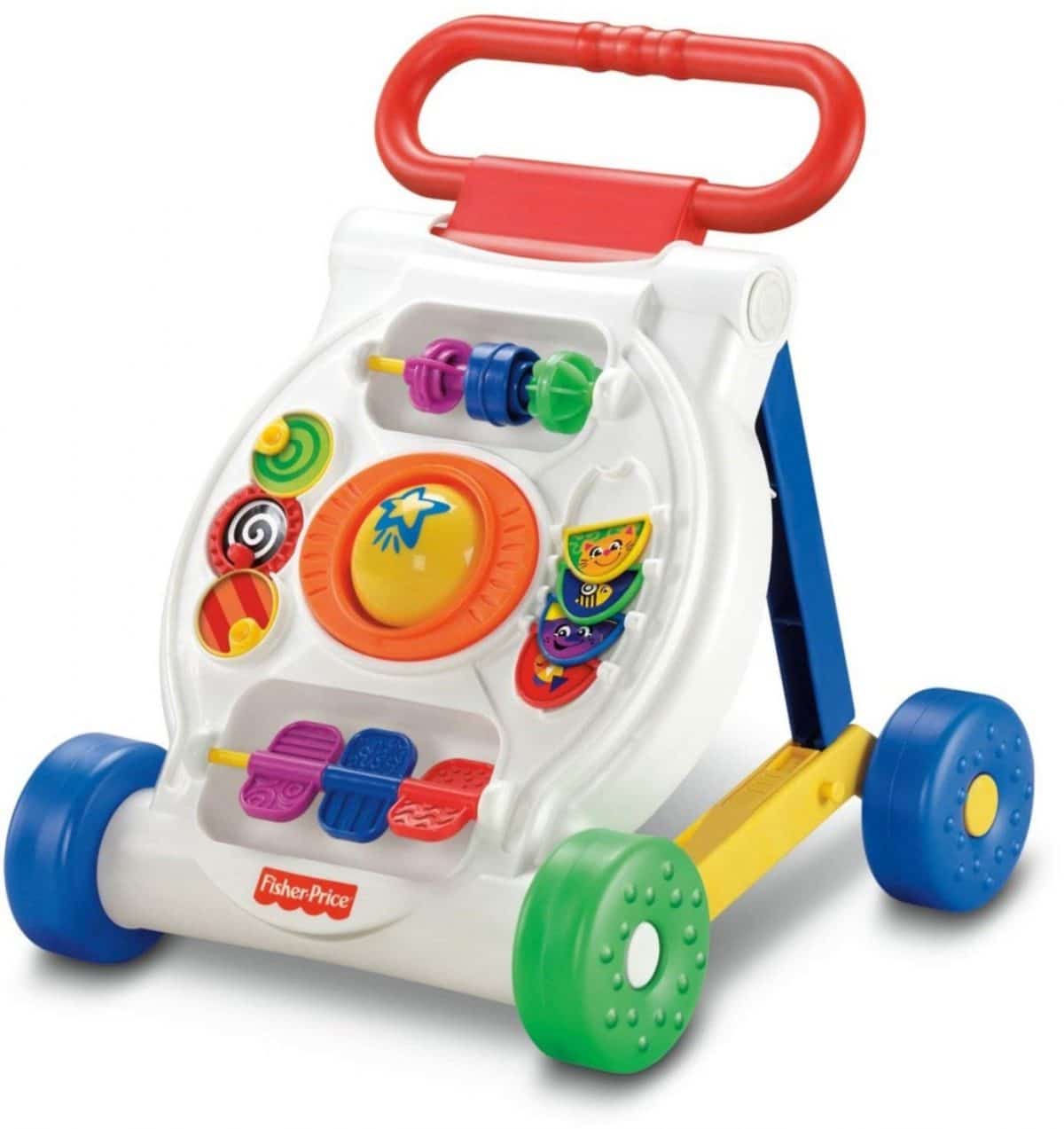 Why we like it: Bright Beginnings Activity Walker by Fisher-Price is a classic baby walker packed with classic fun activities that will keep them occupied.
This toy will let your child play while seated on the floor. Also, it can support them as they take their first steps and master their walking skills. Your toddler will get a lot of features with this toy. The toy has sliding beats and flipping doors and turning gears and many more fun features for your young one. The toy can be folded to provide your toddler ample time as they enjoy the fun activities on the floor. It supports fine motor skill development through activities that let you your child explore. Such activities include a rollerball and colorful beads. The foldable design lets you store the toy with ease.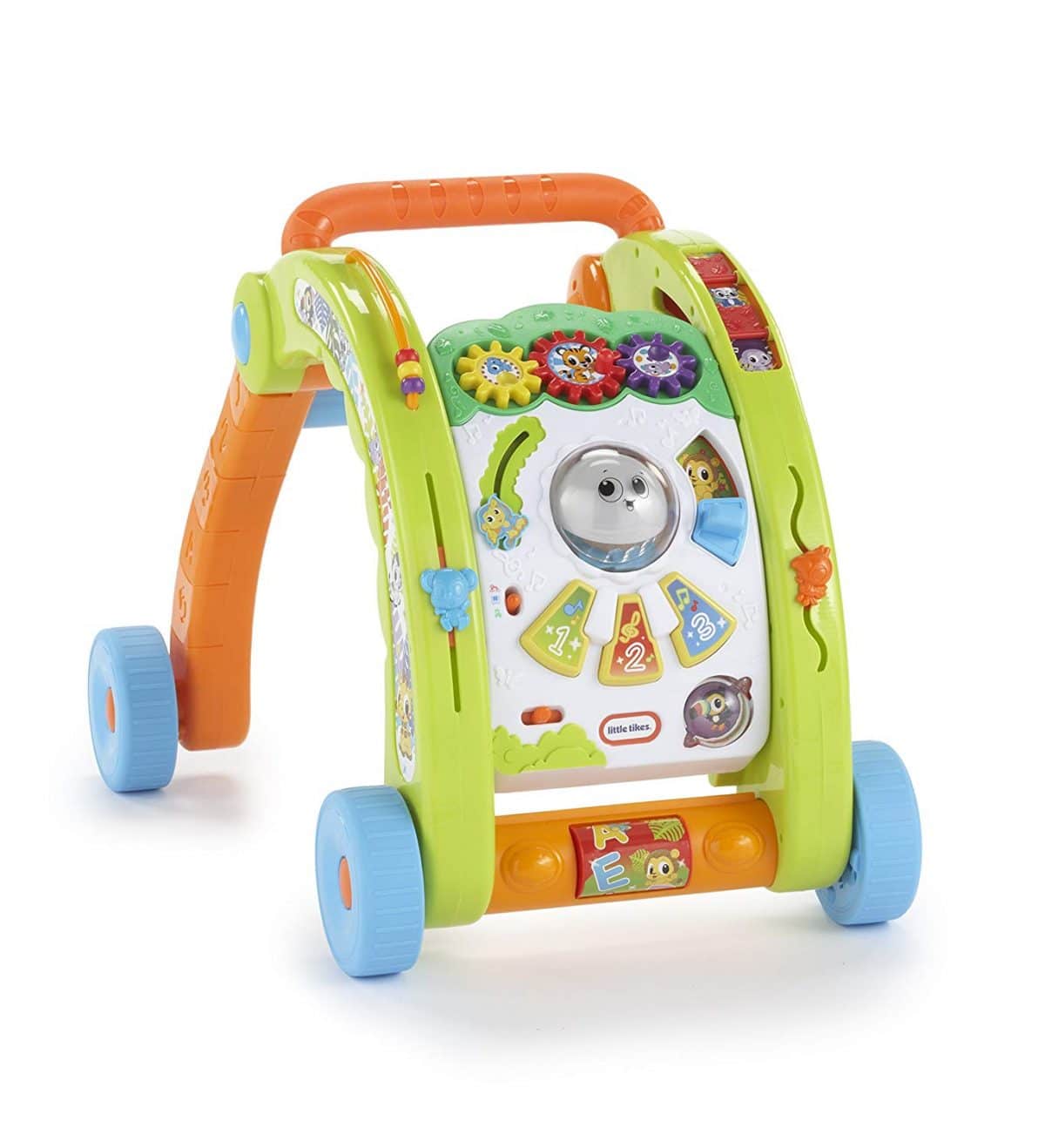 Why we like it: This baby walker comes with a lot of colorful and fun features that will keep your toddler busy.
This activity walker is a 3-in-1 baby walker. First, as a walker, it comes with lights that are projected on the ground to encourage your toddler to take their first steps. Second, it can act as an activity table using the activity board that slides and locks to allow for activity table play. The table has a lot of fun features. Lastly, the toy supports sit & play with its foldable frame allowing your young one to play on the floor. This also makes the toy easy to store. The toy offers more than 70 activities, sounds and songs in all the three ways the toy can be used. With this toy, your toddler is going to learn about colors, music, shapes and much more. The toy promotes the development of visual and auditory senses in your young one.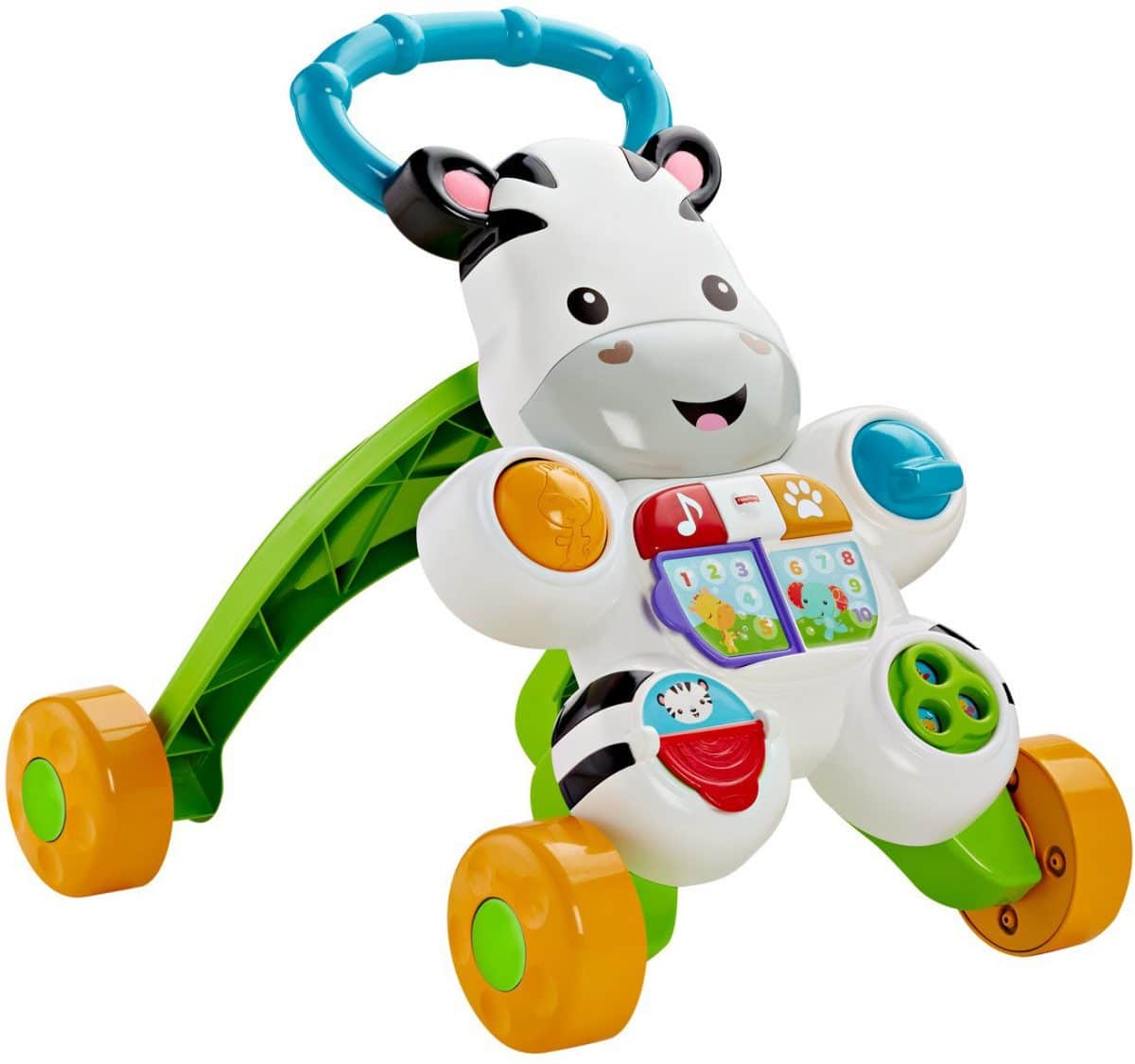 Why we like it: This toy will kick start your toddler's ability to learn by teaching them numbers and letters in sing-along songs as it helps them master walking skills.
This Learn With Me Zebra Walker is designed with stability in mind. The toy provides two modes of play with plenty of finger activities that will surely promote motor skills development in your toddler. The sturdy design ensures that your kid can stand and walk or sit and play under the support of this toy. The sit & play mode of play has plenty of features for your kid to explore. For instance, it comes with a light-up button that when pressed produce sing-along songs. With the stand and walk mode, this baby walker encourages your little one to take those first steps and invites the kid to keep moving through fun music and sound. It comes with an easy handle for the toddler and the four wheels ensure the toddler is at ease as they master their walking skills.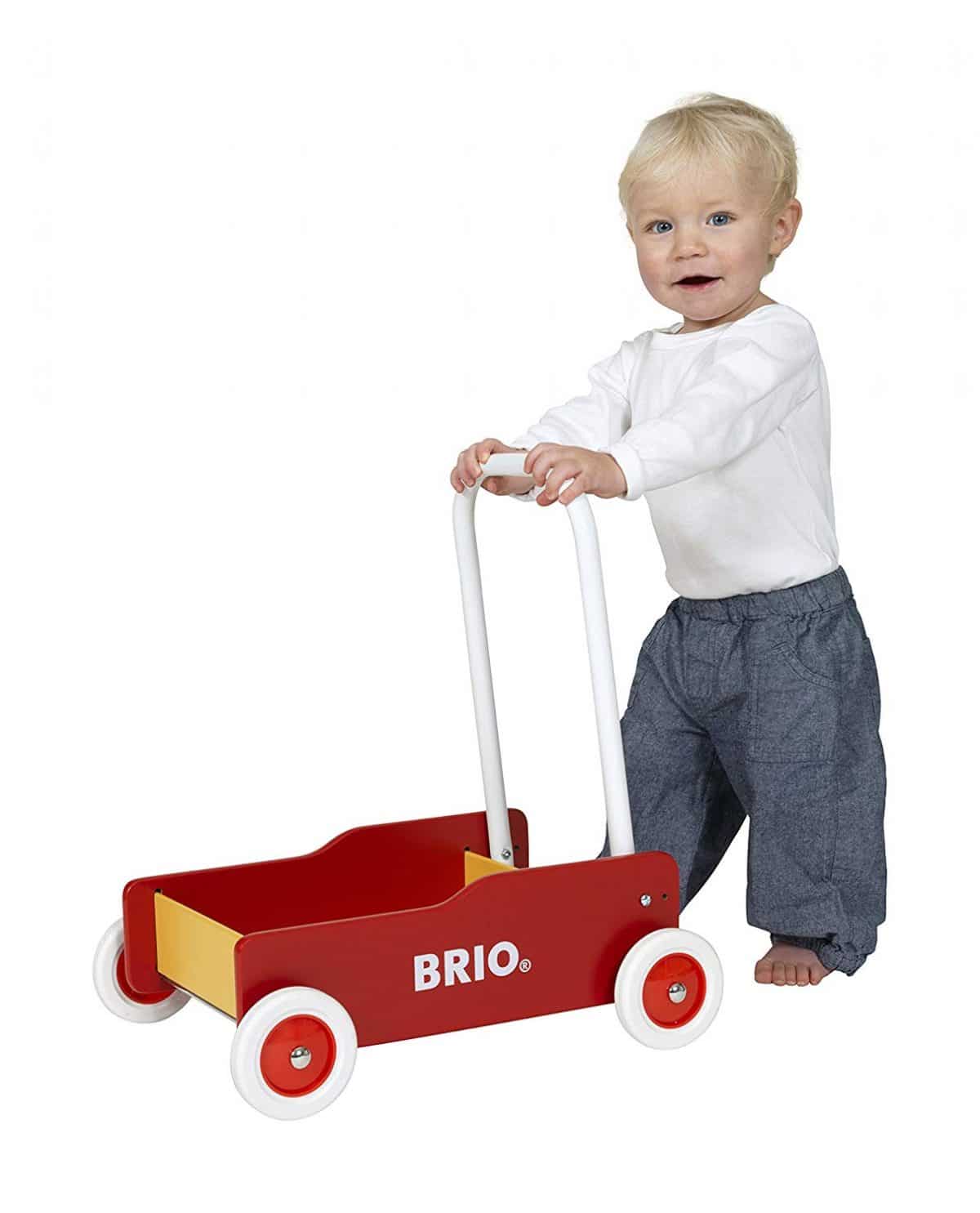 Why we like it: If you are not a fun of the super-packed push toys, this is a nice minimalist alternative. The toy lets your toddler interpret and use it in their unique way which promotes creativity.
The open design let your toddler's imagination roam which is essential for their development. This Toddler Wobbler is made from wood that is fashioned as a flatbed cart. The minimal design of this toy is quite attractive and stylish. Also, the product is of great quality. It comes with an adjustable handle and brake that can be adjusted as the toddler grows. The rubber wheels help protect the floor. This is ideal for early walkers as it helps them develop balance and master walking skills.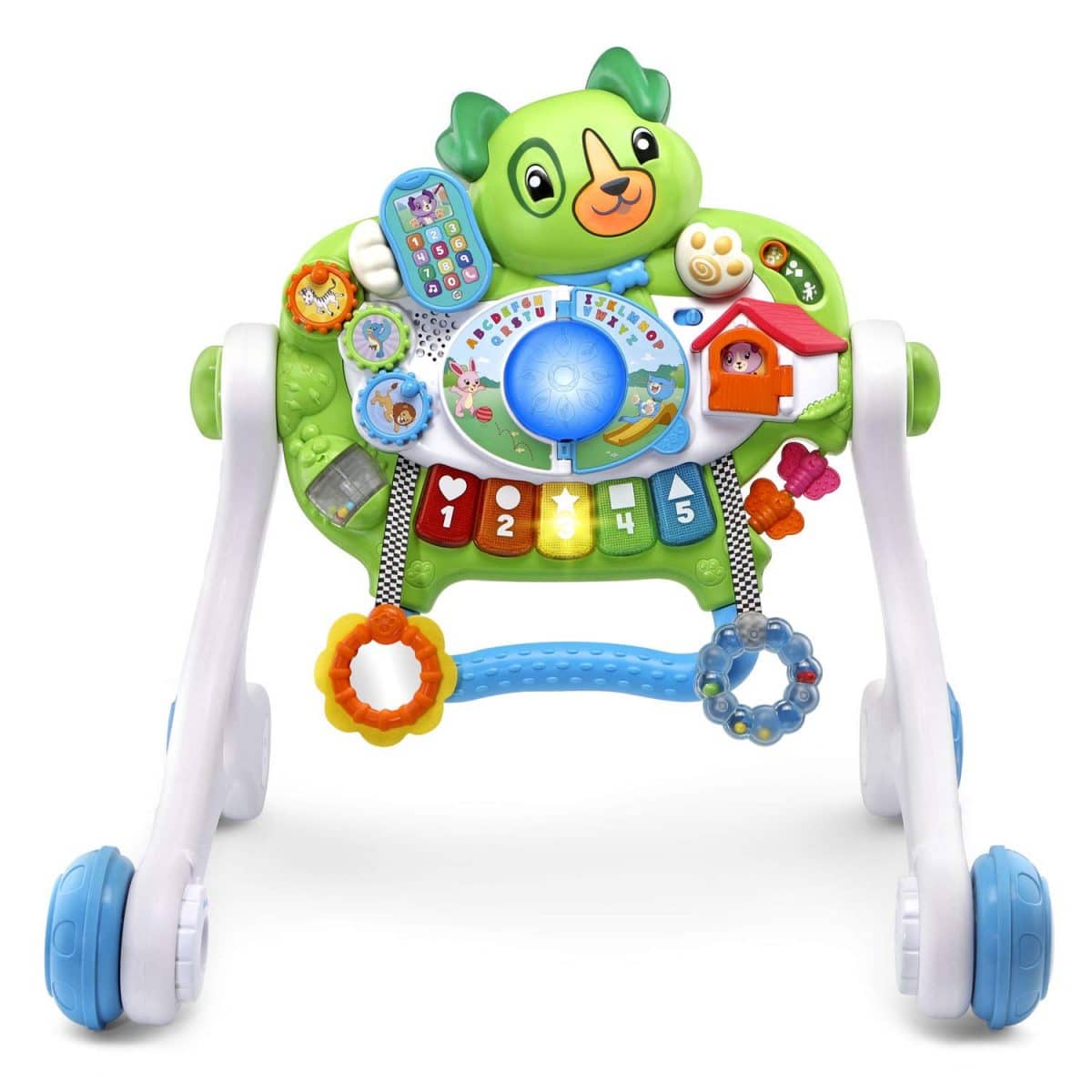 Why we like it: If you are looking for a toy that will see your infant graduate into a toddler this 3-in-1 toy from LeepFrog is a good choice.
This push walker is a 3-in-1 toy that transforms from being a baby gym to a floor-play panel to a baby walker with speed control and locking wheels. The toy will stimulate your toddler fine motor skills and promote cognitive development through bright colors, piano keys, number, shapes and letters. For stand and walk activity, this toy wheels snap into the legs fast to ensure your toddler is on the way in no time. The central dome in this toy changes color to enhance musical learning in your toddler. Your toddler will get an early start in math skill development with the many letters and numbers they get with this toy.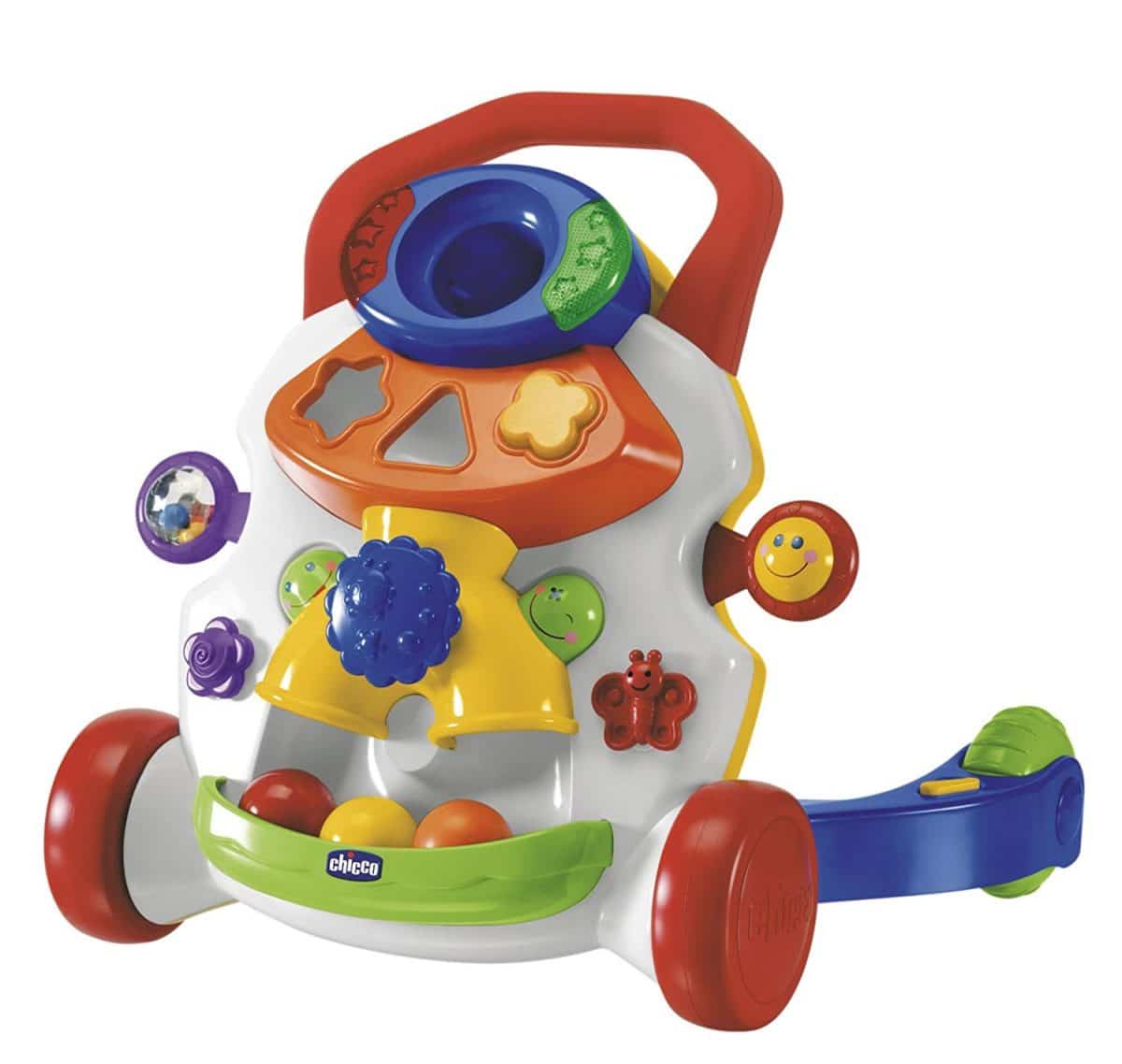 Why we like it: Unlike most toys that play music nonstop, this baby walker will stop playing music when the toddler stops walking. This encourages the toddler to make a few more steps.
This push toy is ideal for toddlers 9 months and beyond. The baby walker will help your baby stand up and take the first steps. This Chicco baby steps activity walker plays some amusing melody once your toddler starts pushing it. As an activity center, the toy will stimulate the imagination and coordination skills of your toddler through its amusing lights, fun sound and games. The kit also has some levers that your toddler can push to make some noise. The walker is ideal for your toddler's little feet. The sturdy design ensures the toy is not easy to topple so your little one will have a lot of fun running around the house.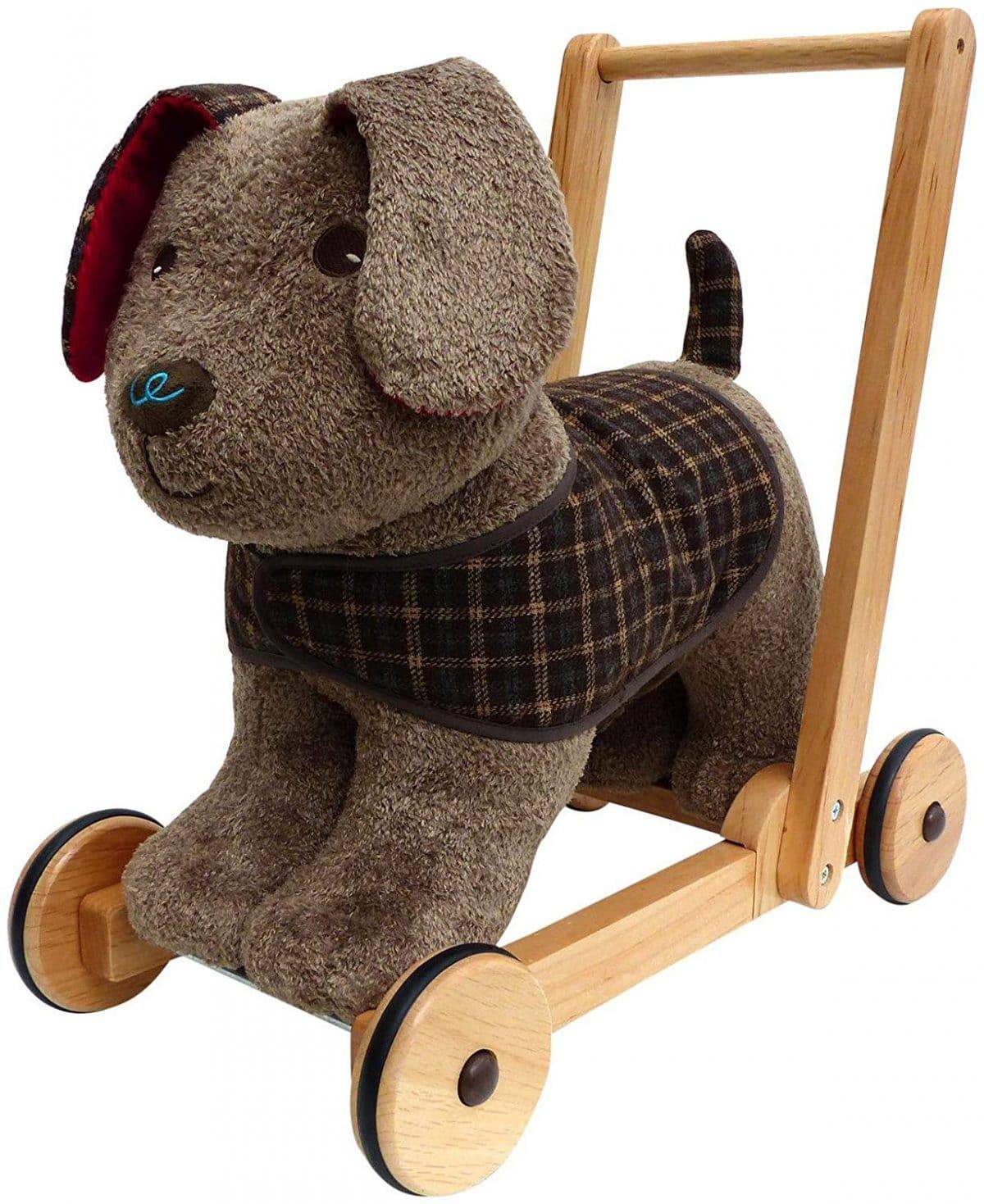 Why we like it: Although it at the luxury end of children toys, this adorable push along toy is a great baby walker. It doubles up as a push toy and a ride-on toy.
This baby walker will inspire your toddler to take those early steps. The plush puppy on top of the wooden walker is clothed in a checked coat and seems to be ready to go. Your toddler will enjoy taking this puppy for a walk. When his/her legs cannot take it anymore he/she can hop on the puppy and enjoy the ride. The pup has a room for one and provides a great ride on too. The toy comes with rubber tires on the wooden wheels that ensure the toy never slips on smooth floors. It is ideal for toddlers learning to walk. The strong frame makes this toy capable of withstanding the weight of your toddler when he/she decides to hop on the pup.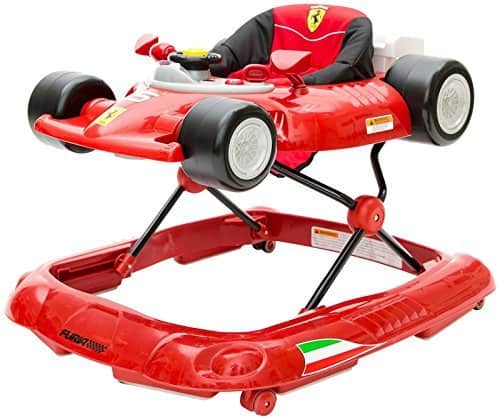 Why we like it: This car baby walker is great for a baby boy. The unique design features one of the most desirable cars ever.
The elegant shape will draw the attention of your toddler because of its stylish design and shape. You get a couple of toys with this baby walker that help your toddler develop their cognitive skills. It comes with a rather comfortable cushioning on the seat. The play tray is removable to let your toddler stand. Best of all you can machine wash the materials in case of any mess. Also, you can wipe down the trays. This unit is expensive for a baby walker and although the electronic toys help enhance your little one's skills, you have to ensure the toddler does not damage the toys.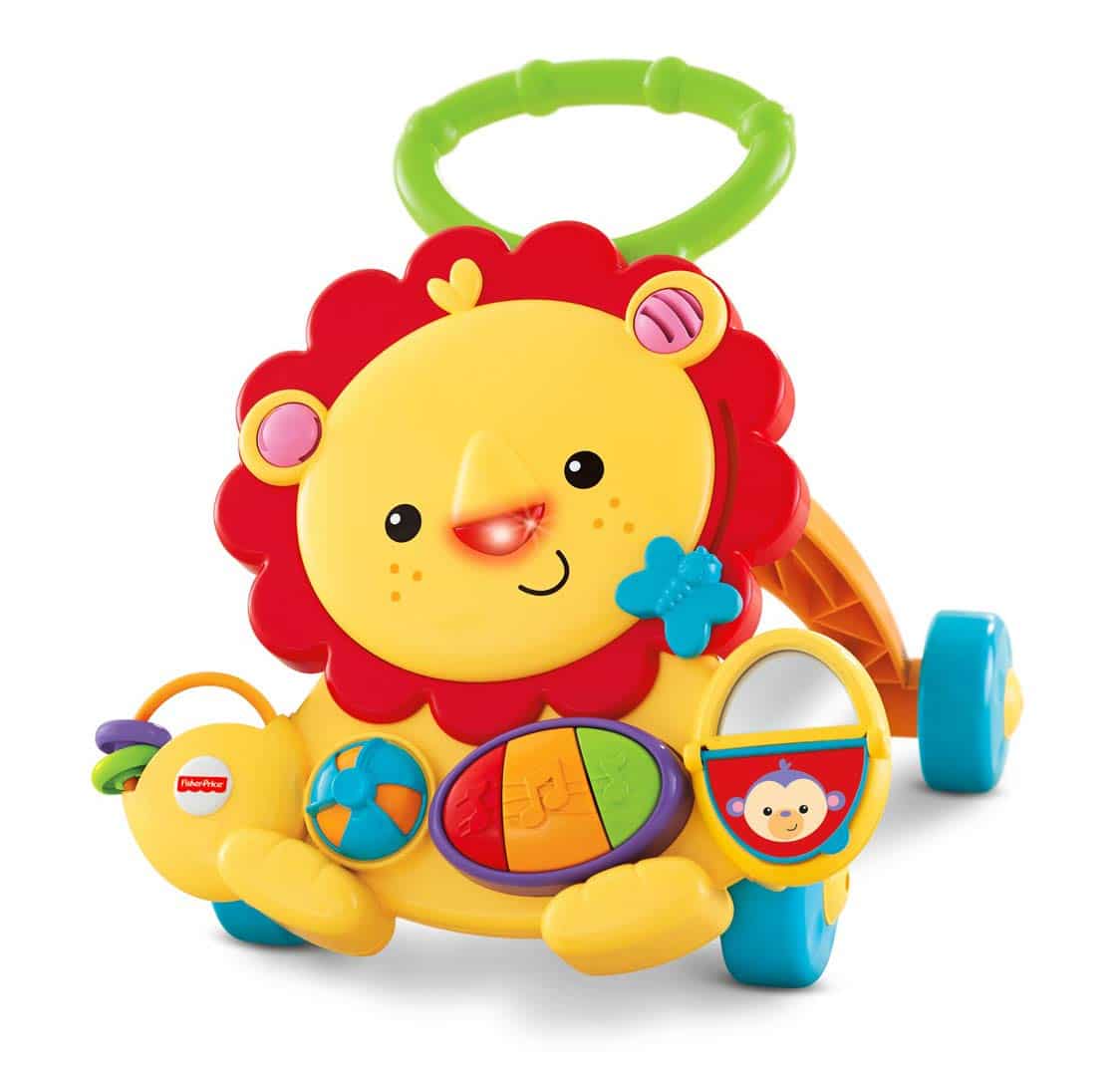 Why we like it: The Musical Lion Walker from Fisher-Price is designed with sturdiness in mind and is equipped with large wheels.
This Fisher-Price baby walker is crafted from durable plastic but its lightweight makes it easy to push on various surfaces. The toy will help your toddler develop their sensory and motor skills. The baby pusher not only entertains your toddler but also let he/she enjoy playing as they learn new things. However, the biggest drawback is that it lacks traction on the wheels, so it may skid all on tiles. This is an affordable push toy with great features, which make it a worthy investment for your toddler. It will last several years and will help your kids ability to walk with confidence before they can start walking without support.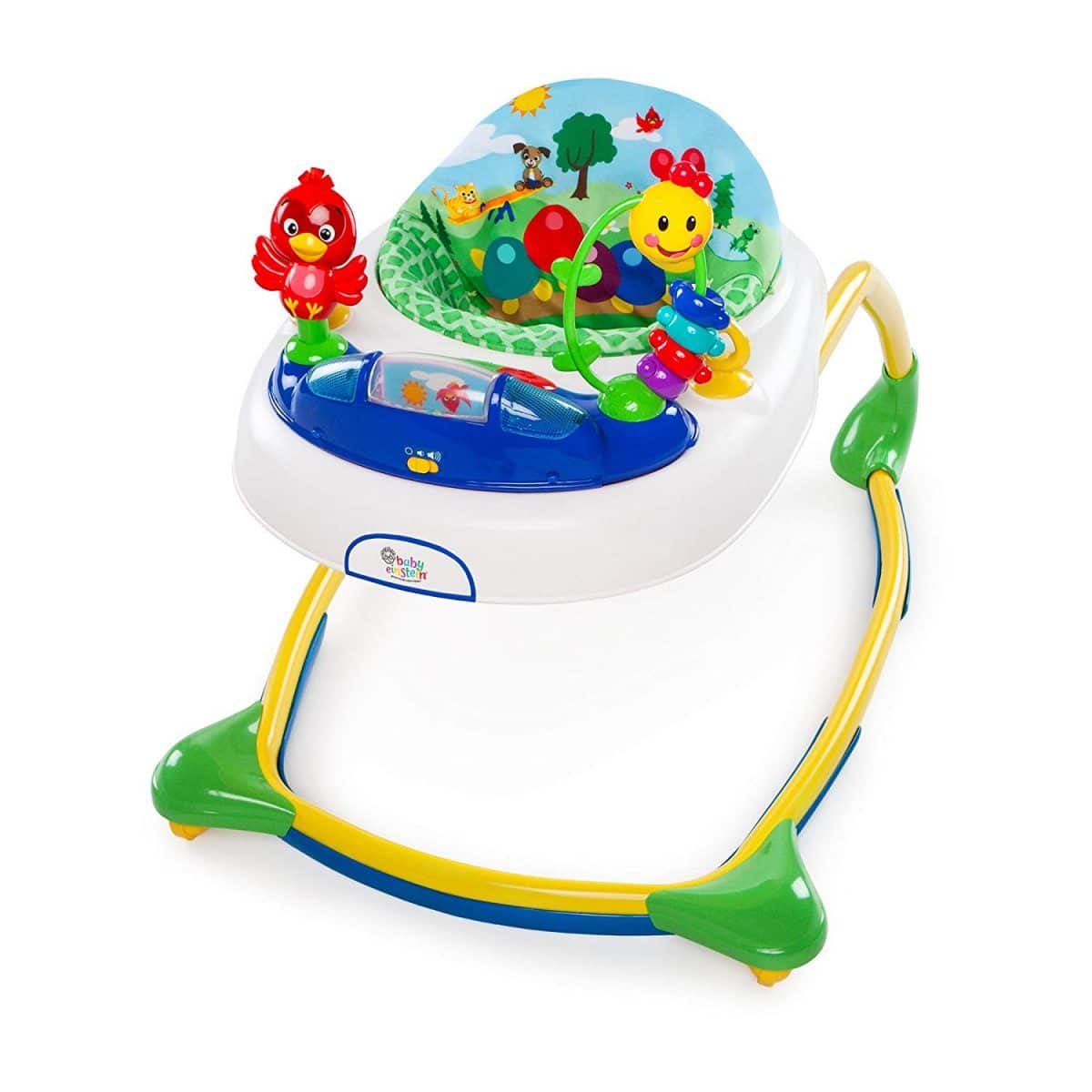 Why we like it: This baby walker is designed to promote the performance of your toddler and enable them to take their first steps.
The frame bounces on walls to and ensures your young one is always upright, enabling them to explore their surroundings without the fear of either tipping over or falling. The design ensures that your toddler develops and enhance their cognitive and motor skills. The tray is big enough and has extra space and 2 extra loops. Here, you can add their favorite toys to keep your toddler entertained as you attend to other chores. This baby walker is among the most affordable walkers around. So, you won't go wrong with this one if you consider it for your toddler. It is recommended considering the value and features your toddler with have access to with this baby walker.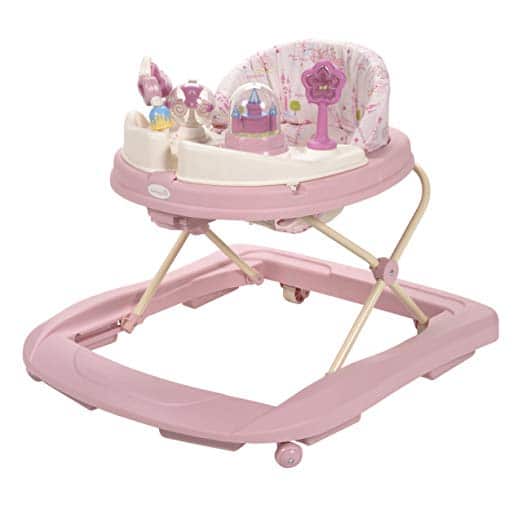 Why we like it: There is a time when Disney products appeal to children. With this Disney Music and Lights Walker, you will be ready when the time comes.
Although the product is for girls, it will turn out to be great when your toddler starts to walk and move around to explore independently. The product includes a couple of Disney toys that your baby girl will adore. All the lights, as well as the toys, are modeled from their favorite Disney movies. This baby walker is quite large making it perfect for protecting your baby and keeping them safe. The materials used can be removed and cleaned in a machine washer. One big drawback; however, is the inability of this walker to move on uneven surfaces or carpets. It is designed for wooden floors and tiles, otherwise, it will frustrate your toddler.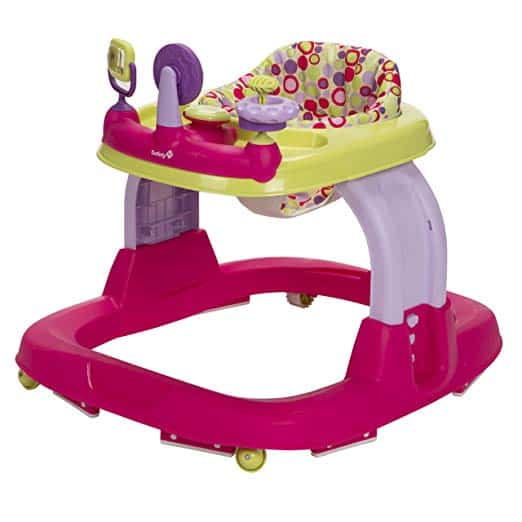 Why we like it: This toy product is designed to help your toddler start life and enhance their senses. The toy includes various toys that help your toddler in one way or another as they learn the basic walking skills.
This adjustable toy comes with 12 different songs installed that your toddler can choose from. These help your toddler learn and improve their cognitive skills. The toy includes a small tray that gives your child some space. Also, the tray gives you an easy area to clean if your toddler feels like eating or snacking. This walker is affordable and makes it a worthy investment for your toddler. Although mobbing it on carpets is a struggle it is comfortable and easy to fold for storage. If it is within your budget, this baby walker is highly recommended.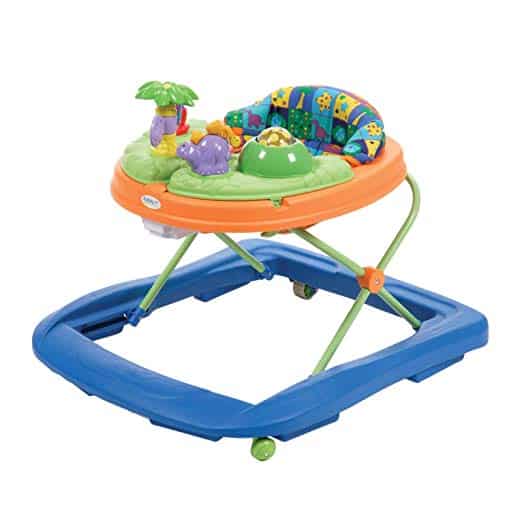 Why we like it: This Safety 1st product is big and easy to move around. This toy comes in an appealing dinosaur theme for kids especially boys fascinated by animals and in search of new things.
Your toddler will get 5 different toys as part of the package. All the toys have lights and sounds that guarantee to keep your toddler busy for hours. The walker has 3 height adjustable settings. Also, the tray on this toy can swing away to leave your young one to enjoy their snacks. The walker is machine washable. This is a foldable toy for easy storage. This is an affordable unit and a good investment for your toddler. It is versatile and effective for all toddlers. It is recommended for toddlers on the verge of taking their first steps.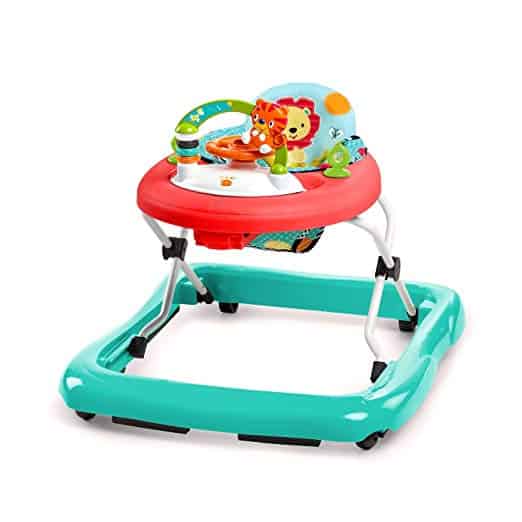 Why we like it: This quality baby walker is equipped with many things that your toddler will keep your toddler busy.
The toy is equipped with removable toys which can be swapped to keep your toddler entertained as they use this walker. Its height is adjustable making it more useful to the baby for a long period. The included toys are electronic and have different melodies that will soothe your baby. The noise is adjustable using volume control in case it becomes unbearable to suit your need while ensuring the toddler enjoys the music. It is a colorful toy that comes at an affordable price. The walker will certainly help your toddler stand and take their first steps. The enhanced safety features make this a great toy for babies ready to start walking.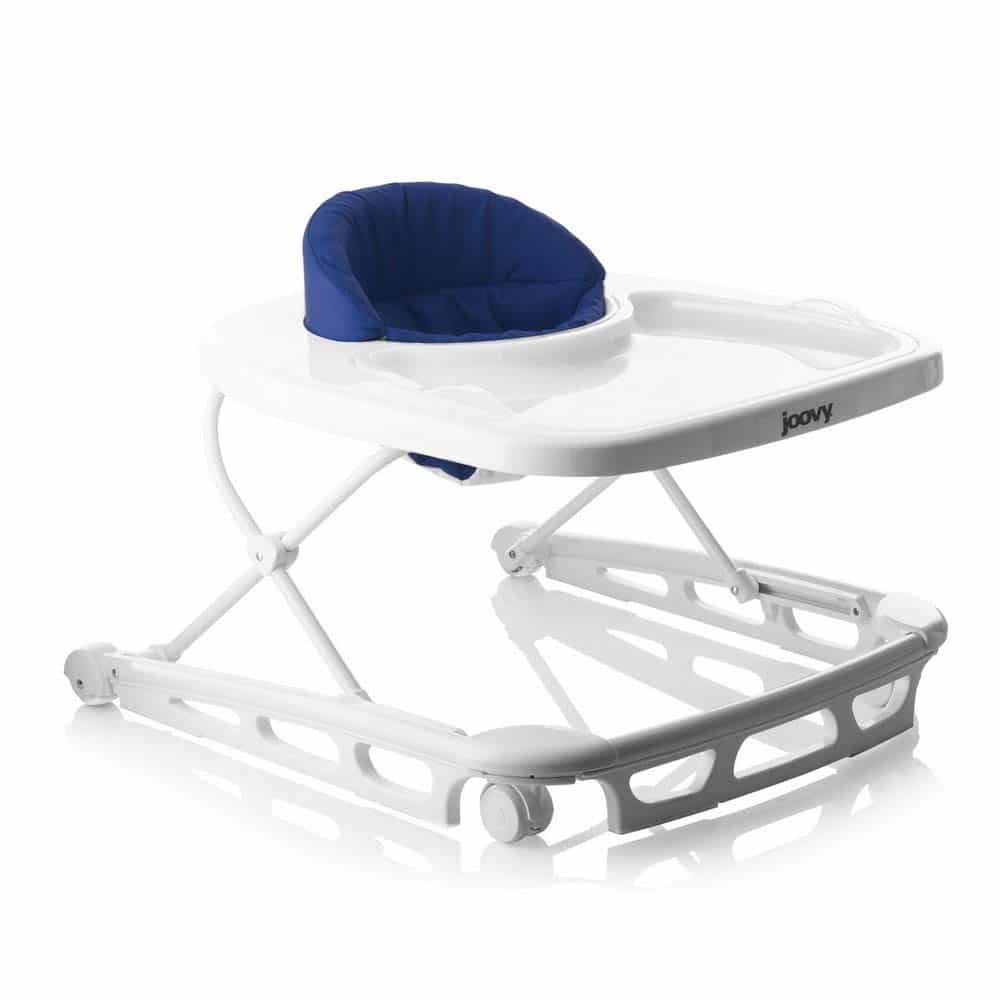 Why we like it: This toy baby walker has a stylish and modern look.
The design of this toy includes a large tray that is hardy during mealtime. The walker gives your toddler some space in case they feel claustrophobic. Also, you will be able to add your toy's favorite toys if they need them. It is wide which protects your child from hurting their hands. In case of any mess on the tray, you can easily wipe it. Although no toys are included, you can still attach them separately if you feel that your toddler needs them. It is quite easy to move the walker on carpets and floors. This makes it among the most useful baby walkers for helping toddlers take their first steps. The toy is rather expensive, so keep that in mind. However, it is open and gives your child a lot of space.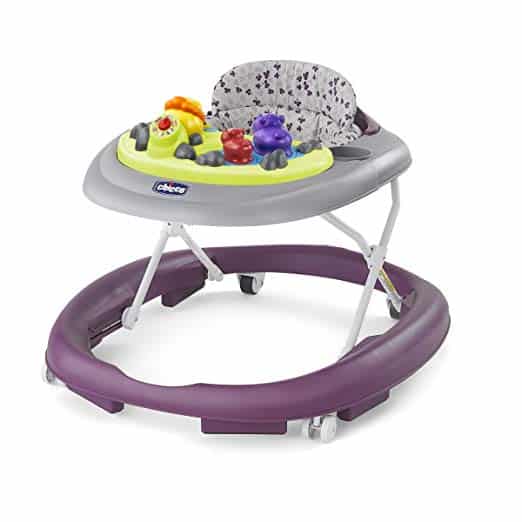 Why we like it: This is an advanced baby walker is designed with comfort for your toddler in mind.
The toy will let you do other chores as your child enjoys playing with the various toys at their disposal. The round design increases safety for your toddler by letting them bump into walls without hurting themselves. Among the top features, your toddler gets with this toy is the 3D toy bar that can be adjusted up and down. This results in different configurations to ensure your toddler does not get bored. The walker has 3 adjustable height settings. The brakes included in this toy makes it one of the safest. It will ensure your kid does not get hurt. Although it may be expensive, you get advanced features and value for money. It is ideal for babies starting to walk.
Conclusion
Push toys are handy in helping your toddler develop on their own. The toys help free you from helping your toddler walk all by yourself. They can be mobile toy boxes equipped with developmental toys or fun toys for your toddler. In this article, we have gone through what we consider to be the 30 best push toys for toddlers. Since everyone's need are different, you can go ahead and choose whatever is appropriate for your toddler. Hopefully, the list has been helpful as you look for a push toy for your toddler.