A baby doll stroller will come in handy when you want to keep your child entertained. Kids often like to mimic what their parents do. When you move them around in a stroller, they eventually end up wanting to do the same with their toys. Baby doll strollers allow your child to explore this curiosity. They offer a perfect way for your child to carry their stuffed toys and dolls, whether in the park or just inside the house.
Moreover, stroller toys for babies are sized just for dolls and have some features similar to their larger counterparts. However, they aren't sturdy enough to carry real babies but perfect for playtime. These toys are portable so your little one can bring their stroller on the next trip to the park and can push their doll around just like mom and dad. Here's a list of the top 30 best doll stroller toys for babies and kids that will add to their imaginative play.
Top 30 Best Doll Stroller Toys for Kids 2020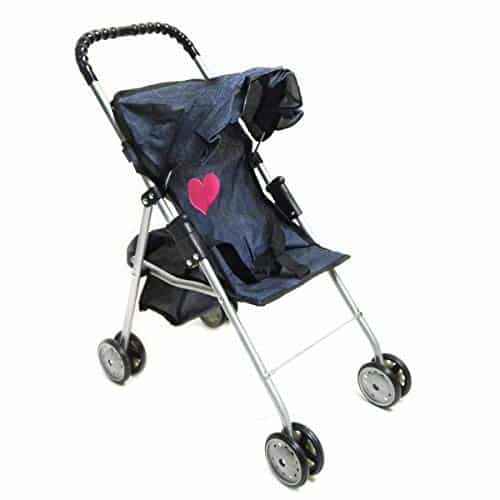 It can be a challenge when searching for the perfect accessories for your kid's dolls. My First Doll Stroller Denim will end your search and will be great for all the 18-inch dolls that your kids play with. It's a quality constructed stroller with a cute and unique look. The real working features will be loved by the kids. It's a perfect fit for all the 18-inch dolls that they've collected. The stroller has a four-leg design that's great for extra stability and it allows them to quickly push them around and with little effort. It comes fully assembled and ready to play with and features a clasp system to secure the dolls in the stroller and a basket underneath. It's been constructed from a denim material and features a pink heart in the seating area. This is the perfect stroller with all the real-world features that your kids will just love. Pushing a stroller around is a great way for the little ones to enhance their gross-motor skills. Balancing while pushing the stroller and then managing the turning and maneuvering around the house or even outside is great skill-building. The basket can be accessed from the rear of the stroller. When they're finished playing with the stroller, they can fold it into a compact storage, also making it easy for taking on a travel adventure.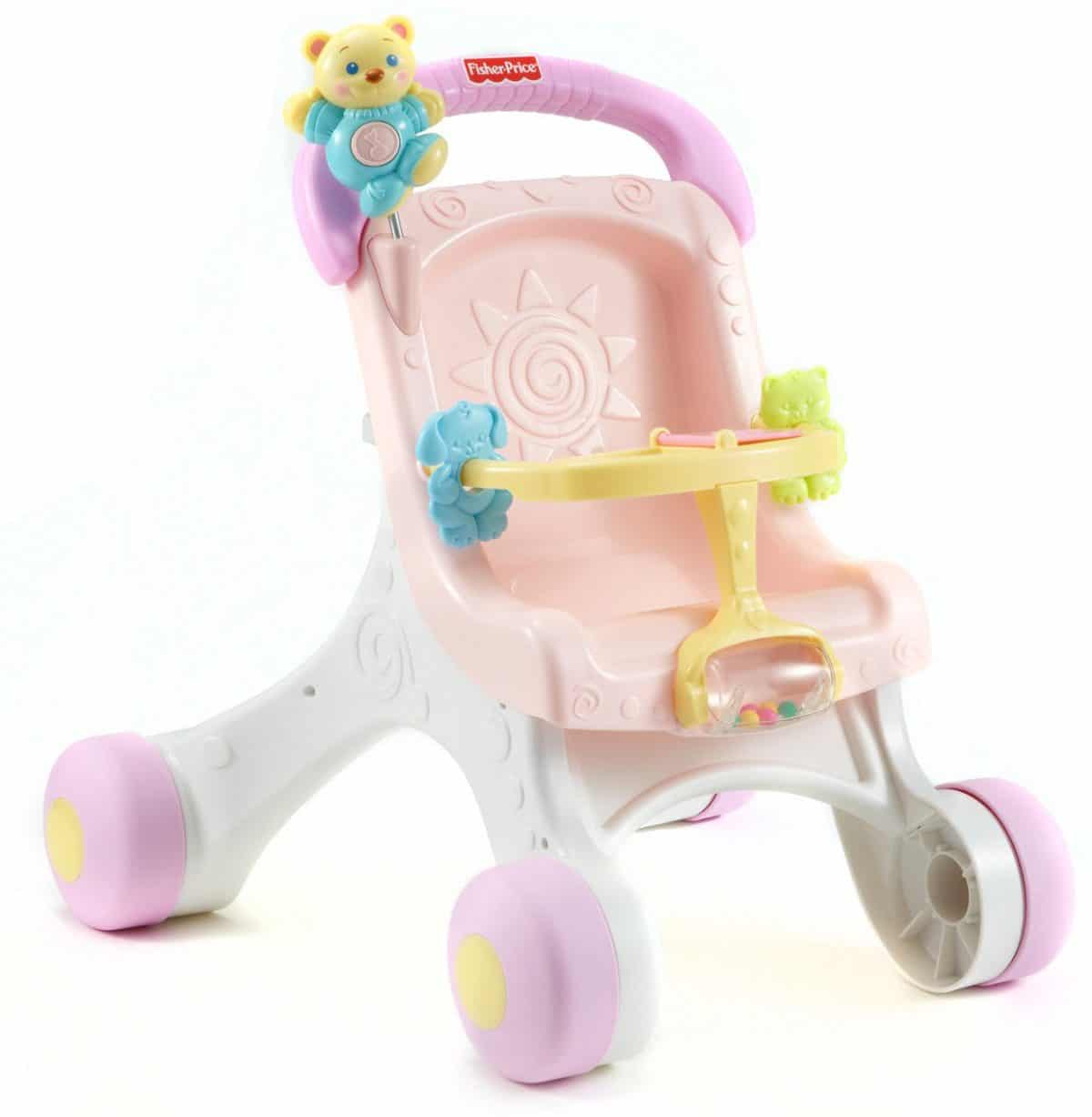 The bouncing bear plays three different tunes when the baby pushes him, and a roller, two animal spinners, and a flipbook hooked up to the front safety guard provide even more stimulation and gadgetry to be explored. The Brilliant Basics Stroll Along Walker lets you kid push their doll along just like their mom/dad pushes them along. When it's difficult to take steps all on their own, this provides the necessary support of a walker while also functioning as a cute doll stroller. The seat won't fit all dolls, but Fisher-Price Makes one specifically compatible with the walker, and most 10-12″ stuffed animals or plush dolls can easily slip into the seat. Help your baby build the confidence and coordination necessary to take their first steps all on their own. The walker provides a sturdy base for them to lean on while their leg muscles grow and they figure out how to balance. Adding their favorite baby doll into the mix just means they're all the more likely to stroll.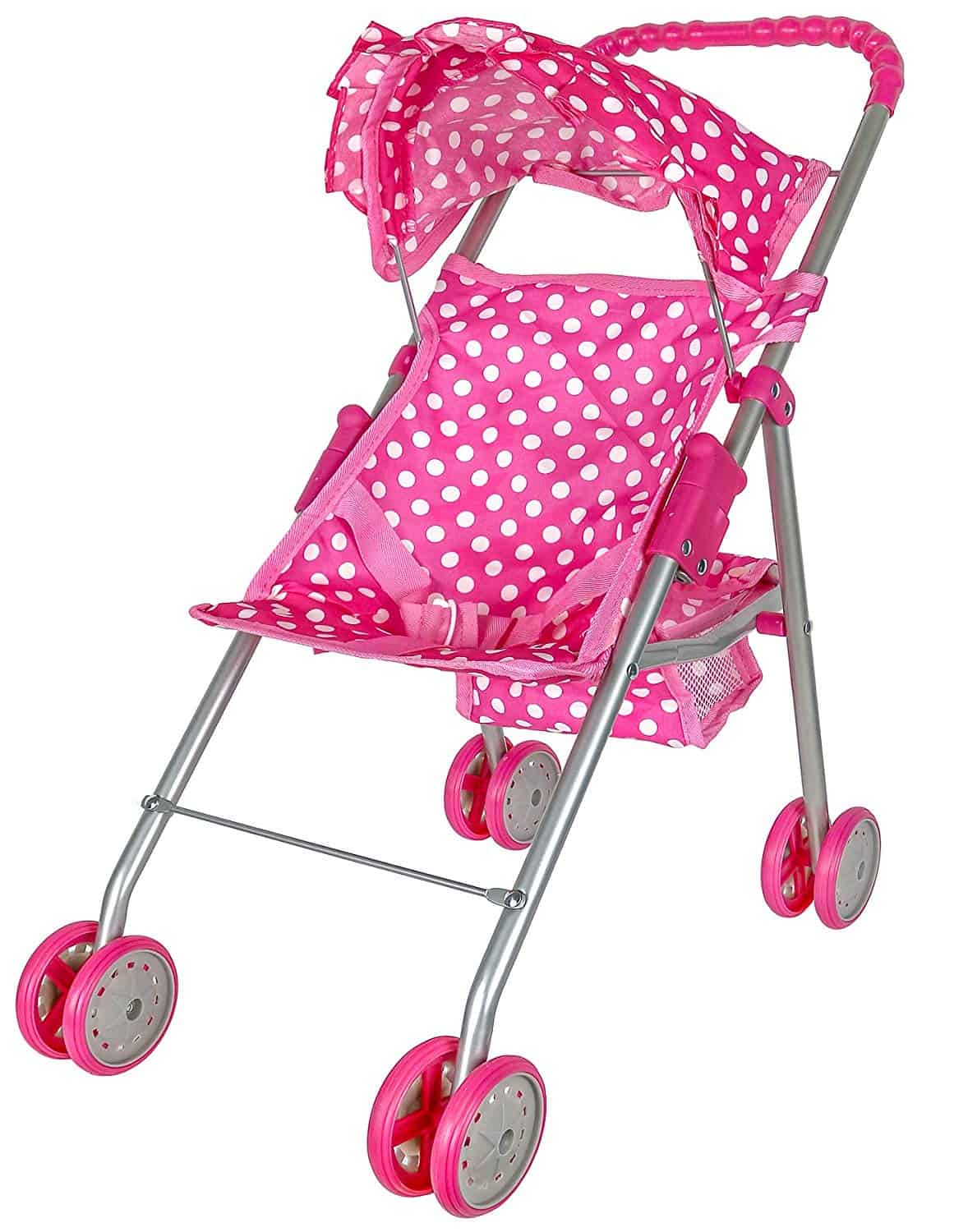 The materials used in the construction of the stroller are lead-free and have been tested to ensure that it has met all the safety regulations. From the bright pink fabric to the folding design, the stroller is sure to put a smile on any kids face. It makes for compact storage and ease when transporting. When kids are finished playing with the stroller or they want to take it to the park, it folds up just like the stroller you use for them. The stroller also comes fully assembled and has been designed to carry 18-inch dolls. It features a working seat belt, a hood that extends out and folds down, and a cute little pink basket at the bottom to hold all their accessories plus everything they need for their doll. The four wheels will provide a stable and smooth ride for their doll on a variety of terrains.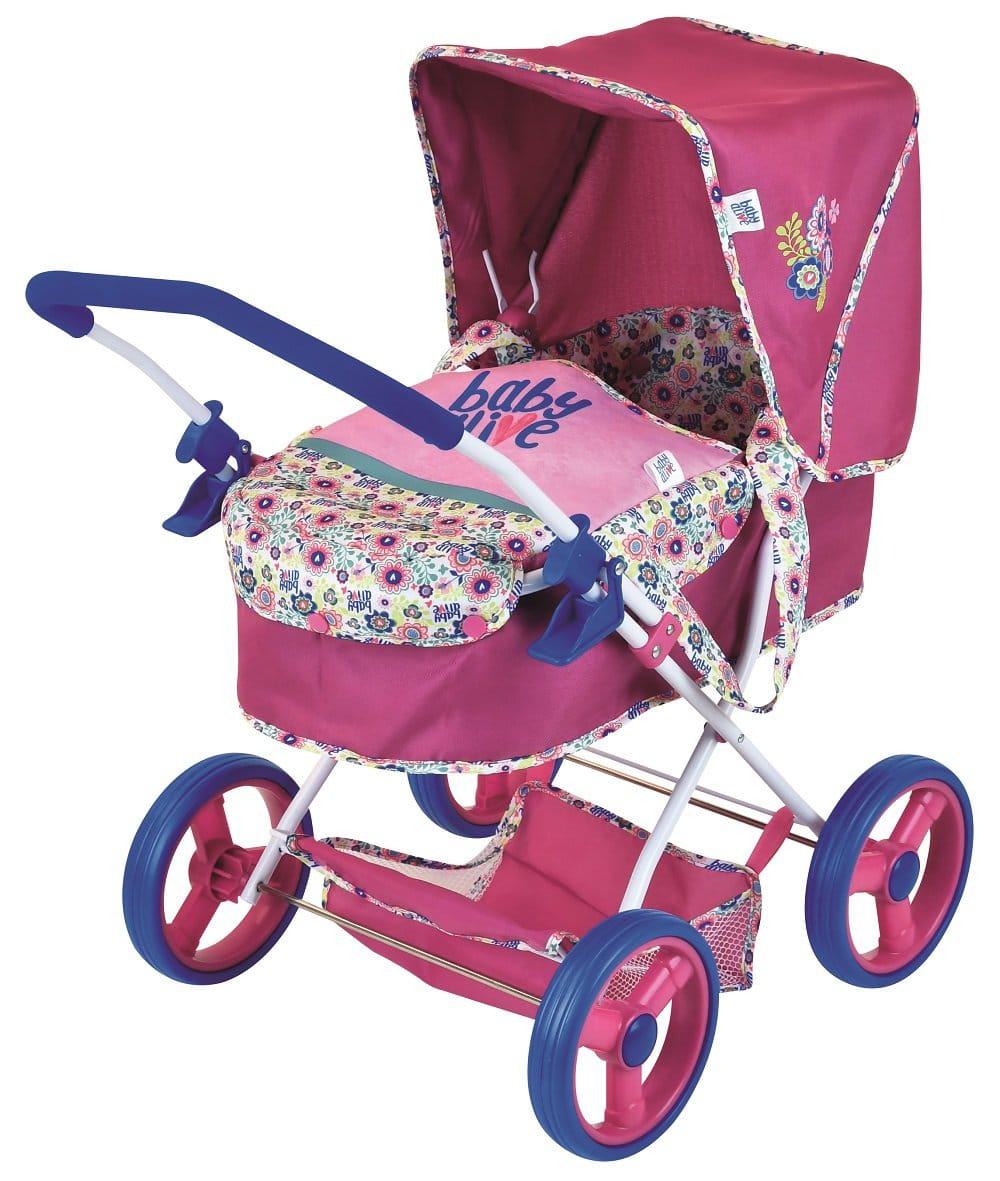 The Classic Pram Doll from Baby Alive is an adorable bright pink and purple stroller. Baby Alive has modernized the design of the classic pram. The steel tube frame is designed to fold up, thus making it easy for you to transport the stroller from your home to the park. The soft foam handle provides your child with a comfortable grip while the plastic wheels provide their baby doll with a smooth ride. The retractable canopy and large shopping basket will enhance the fun of your child's imaginative play. The cot can be removed from the stroller and carried by itself. Children between the ages of three and eight can enjoy taking a stroller with their doll in this pram.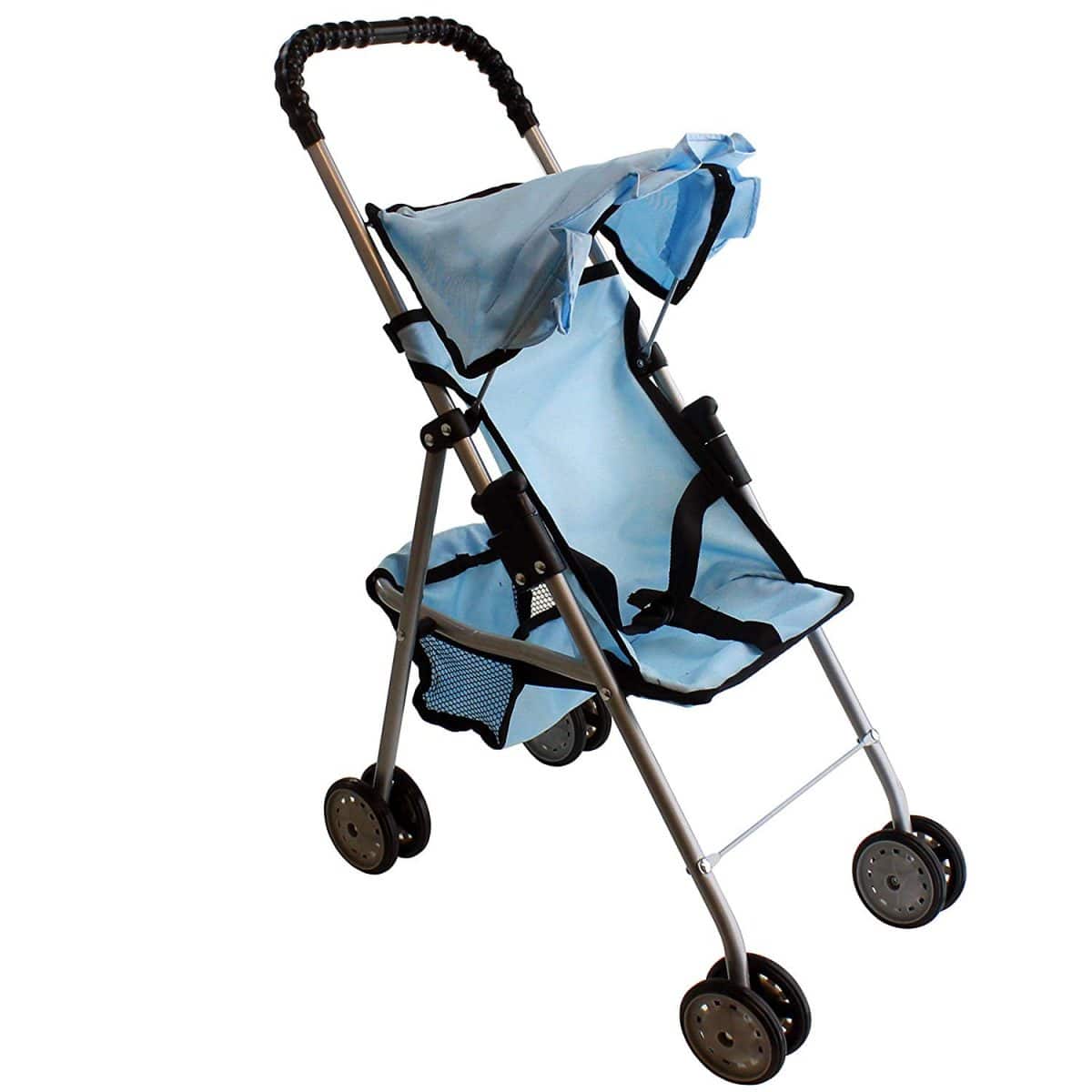 The classic design of the product from Mommy & Me is both endearing and wonderfully conducive for little minds. The most beneficial thing about the stroller is that it fulfills a child's want for imaginative playtime and pretending without any extra bells and whistles. Children love simple toys, and My First Doll Stroller is a classic. It also comes with a fully retractable hood with ruffled piping plus an undercarriage basket for putting your kid's trinkets, playthings, and other play essentials. The frame is made of high-quality materials and is shipped fully assembled. That should be welcome news so you won't fret about how to put it all together once you receive it. The narrow profile of its frame, as well as the smaller double wheels, makes it rather unsuitable as a walker. Nonetheless, it's an excellent tool for children's make-believe play and role-playing activities.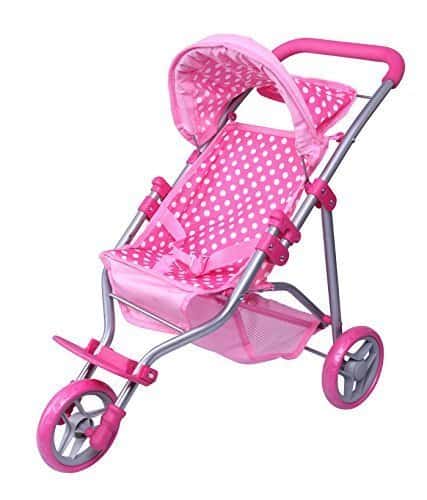 The Precious Toys Doll Stroller Jogger comes fully assembled. The only thing you need to do is add the wheels. The polka-dotted stroller is designed to fold and unfold, thus allowing you to load the stroller and take it on a day of adventures with your little one. Your child's imaginative play will be taken to the next level with fun features such as a seat belt, storage basket, and foldable hood. Eighteen-inch dolls or smaller can fit in the stroller. Composed of plastic, the entire stroller is lead-free and has been tested for USA safety regulation. The high-quality materials give the stroller high-level durability thus allowing your child to enjoy countless jogs with their doll. Children can comfortably push the stroller for hours as the soft foam handle won't hurt their hands. The plastic wheels will allow your child to push the stroller smoothly indoors and outdoors. Also, the plastic material won't scratch and leave marks on your floors.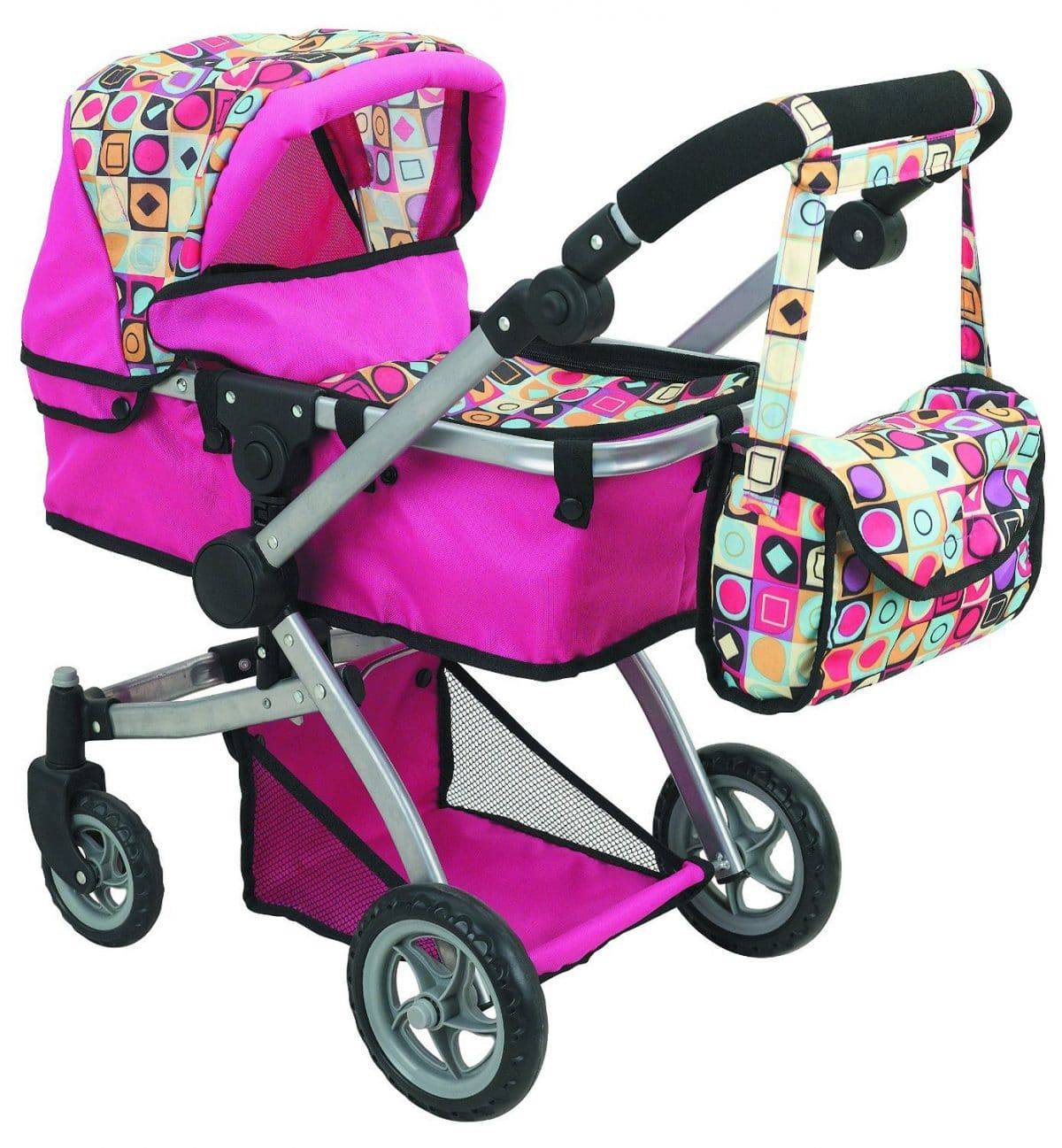 The Doll Strollers Pro is a deluxe-looking, ultra-realistic, and plush toy stroller. With its very unique realistic styling, it's one of the most sought after gift suggestions. The comfortable handlebar of the stroller can be swiveled backward to let the carriage face in the direction of traffic or readjusted to allow for a back-facing toy baby. The 4 wheels come in 2 sets of asymmetric sizes with the rear larger yet thinner than the front wheels. The front tires themselves come with a full 360-degree swivel mechanism allowing for excellent and superb maneuverability. This will help any kid move the Deluxe Pram wherever they may choose to go. The carriage is made of high-quality fabric material and is also a washing machine and dryer safe. At the very least, you'll not have to worry about the stroller being played dirty an soiled. The carriage is also spacious enough to accommodate 18-inch dolls and also features a fully functioning hood and seatbelt. Underneath the carriage is a mesh basket for storing your kid's personal belongings as well as playtime accessories. The only assemble it'll ever require is the set of wheels and it's ready to go.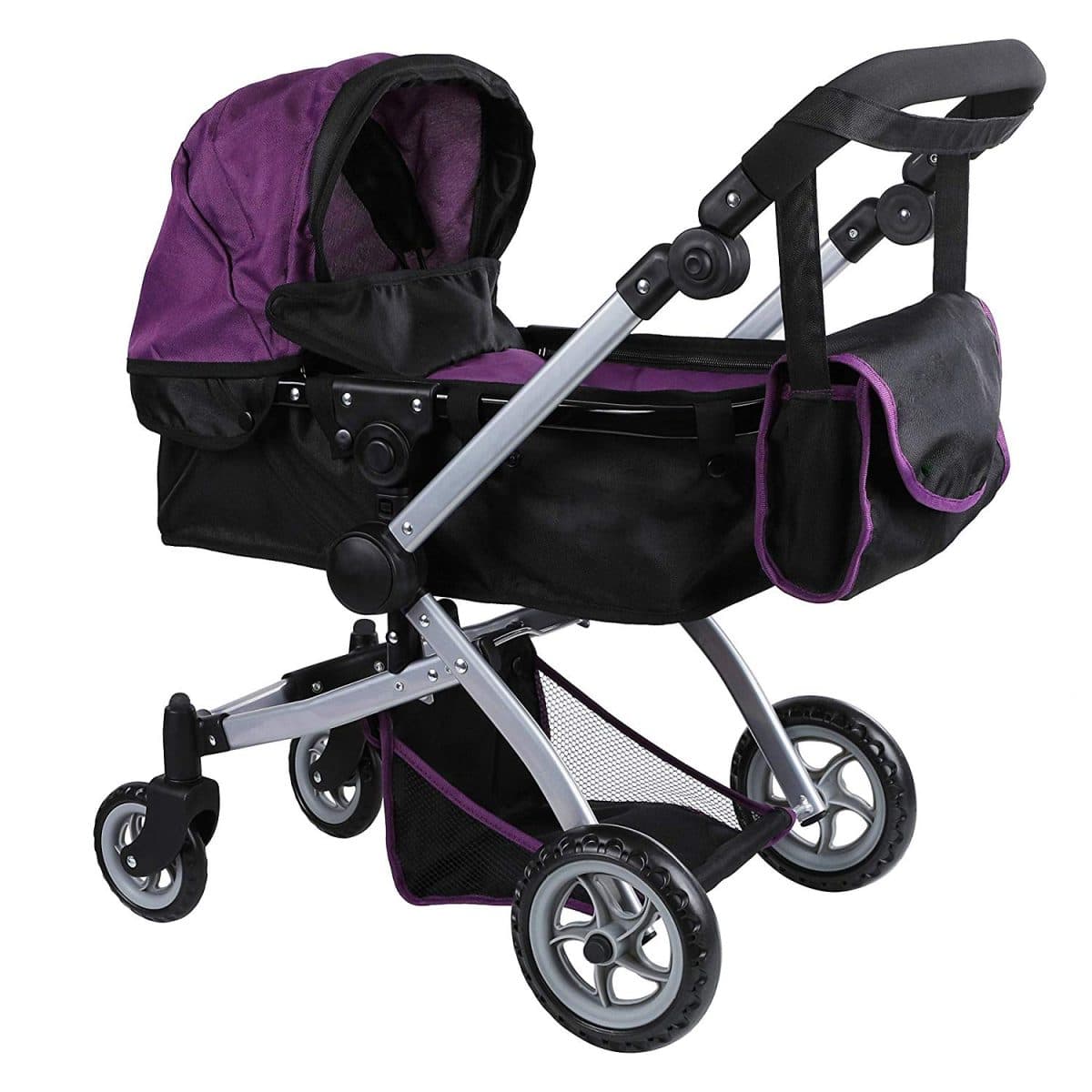 The Babyboo Deluxe Doll Pram features a stylish black and pink design. It shouldn't come as a surprise then that it's one of the most common gift suggestions being sought by moms and dads. The dolls are protected from the glaring heat of the sun by a folding hood that comes in three segments, much like the retractable roof of a convertible supercar. The handle is dutifully wrapped with soft and cushiony foam to allow your kid to hold onto it without risking the formation of calluses or even getting uncomfortable. The handle can also be swiveled or repositioned to allow for baby dolls to either face the traffic or face your kid. Your daughter can engage in imaginative playtime with multiple dolls and pretend to be a little mommy to twins. Not only does it amplify the experience, but the seat belts also teach her about important safety rules. Moreover, there's also a convenient storage basket under the carriage.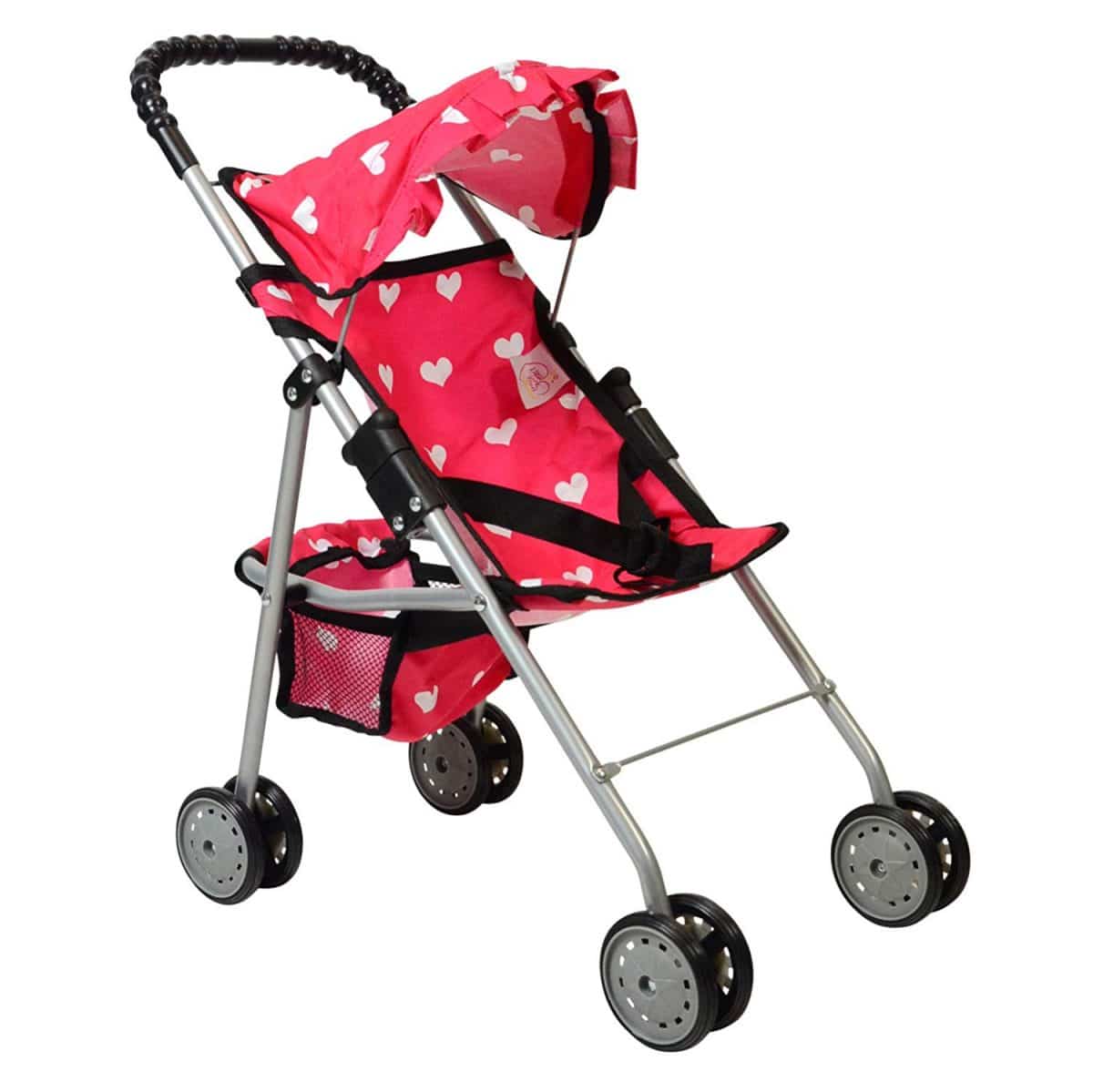 Strollers come in many designs and this one is 'girly' with the ruffled canopy and pink fabric. The New York Doll Collection also makes 18-inch dolls, so My First Doll Stroller has been made to fit dolls that size. Your little one can strap her dolly in and just go. The double wheels make for a steady walk, and the stroller can be folded flat when playtime is over. Quality materials are used in this toy, and the company is known for the safety of their products. Your child will love that her baby doll is protected by the seat belt and the canopy. Children imitate what they see going on around the house, and taking care of their babies is no exception. Kids can use the stroller toy to take their dolls shopping, for a walk, or out wherever their mom goes. This little stroller will enthrall your child and let them take their best friend everywhere, growing up through milestones of growth with his close companion at his side.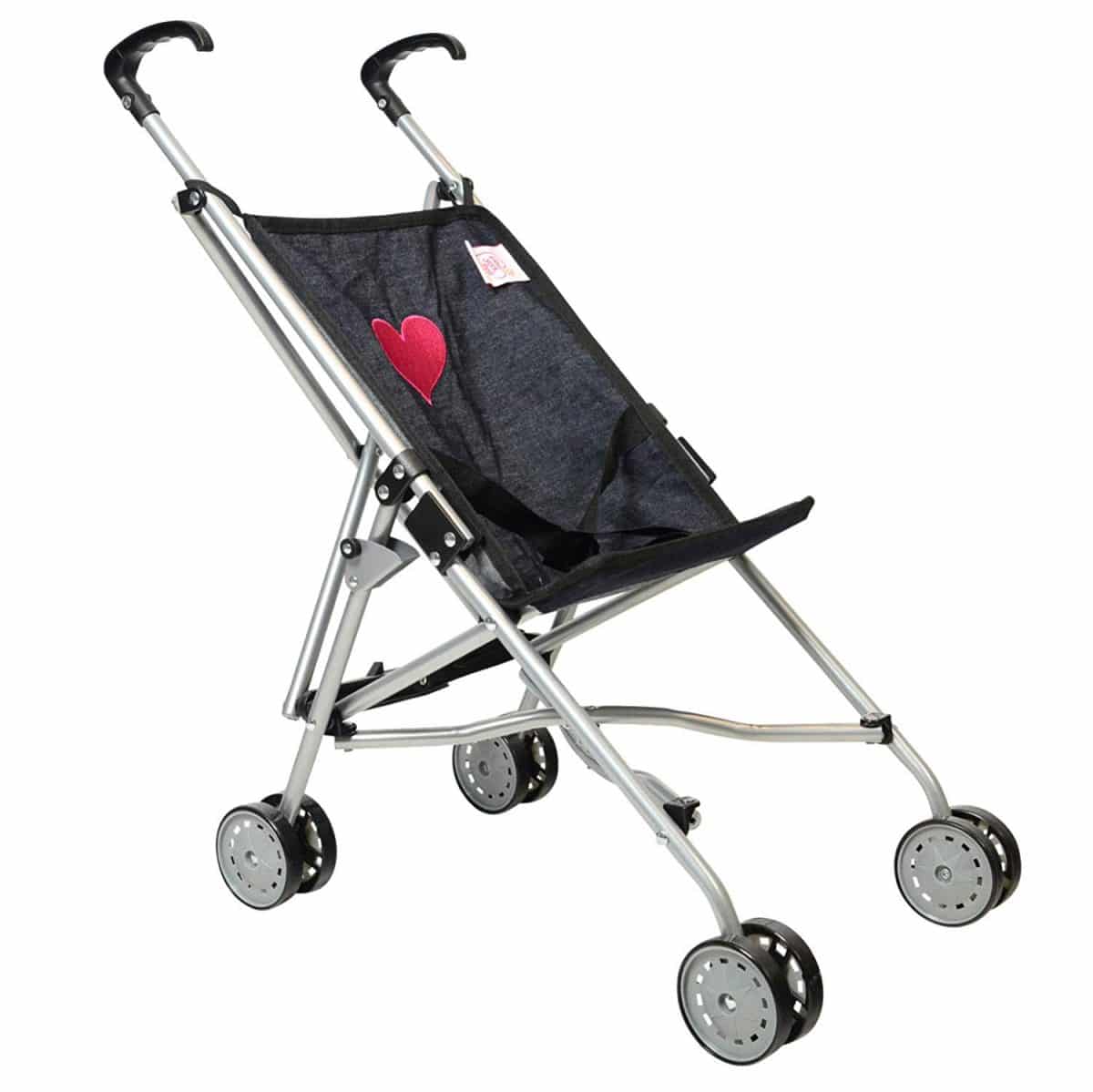 My First Umbrella Doll Stroller is constructed entirely of BPA-free material and meets all national safety regulations. The denim seat belts keep dolls strapped safely inside. Double wheels on all four legs add extra stability, and the seatbelt and fabric seat can house a doll or stuffed animal up to 18″ in length. It's simple, cute, and compatible with the New York Doll collection of dolls and accessories. It can fit any doll up to 18" and the fact it folds away so easily is a major bonus. Learning nurturing habits is a great asset for little ones. As they start to focus more on those around them, they employ behavioral skills they absorb from watching their parents or family and then practice for themselves, particularly in creative and imaginative play.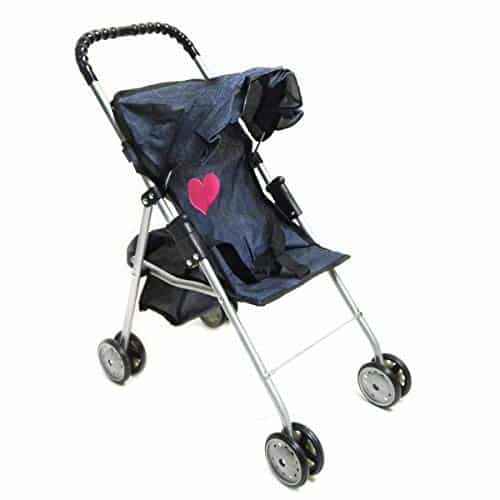 My First Doll Stroller Denim has basic functionality but a lot of personality. Unlike most other baby doll strollers, denim helps this baby doll stroller to stand out. Denim is far from merely an aesthetic choice as it's tough to damage and should stand the test of time. Your little girl will enjoy many play sessions with the stroller thanks to its sturdy materials and good build quality. There's one important downside to the stroller, however. For all its merits, denim is tough to clean. This fact means that whenever your child accidentally stains the stroller, you'll have to live with the sight of the stain for the rest of the time your child plays with it. Therefore, this is probably not the best choice for kids who tend to get their baby doll strollers dirt. For children who enjoy a clean play, the stroller is tough to beat.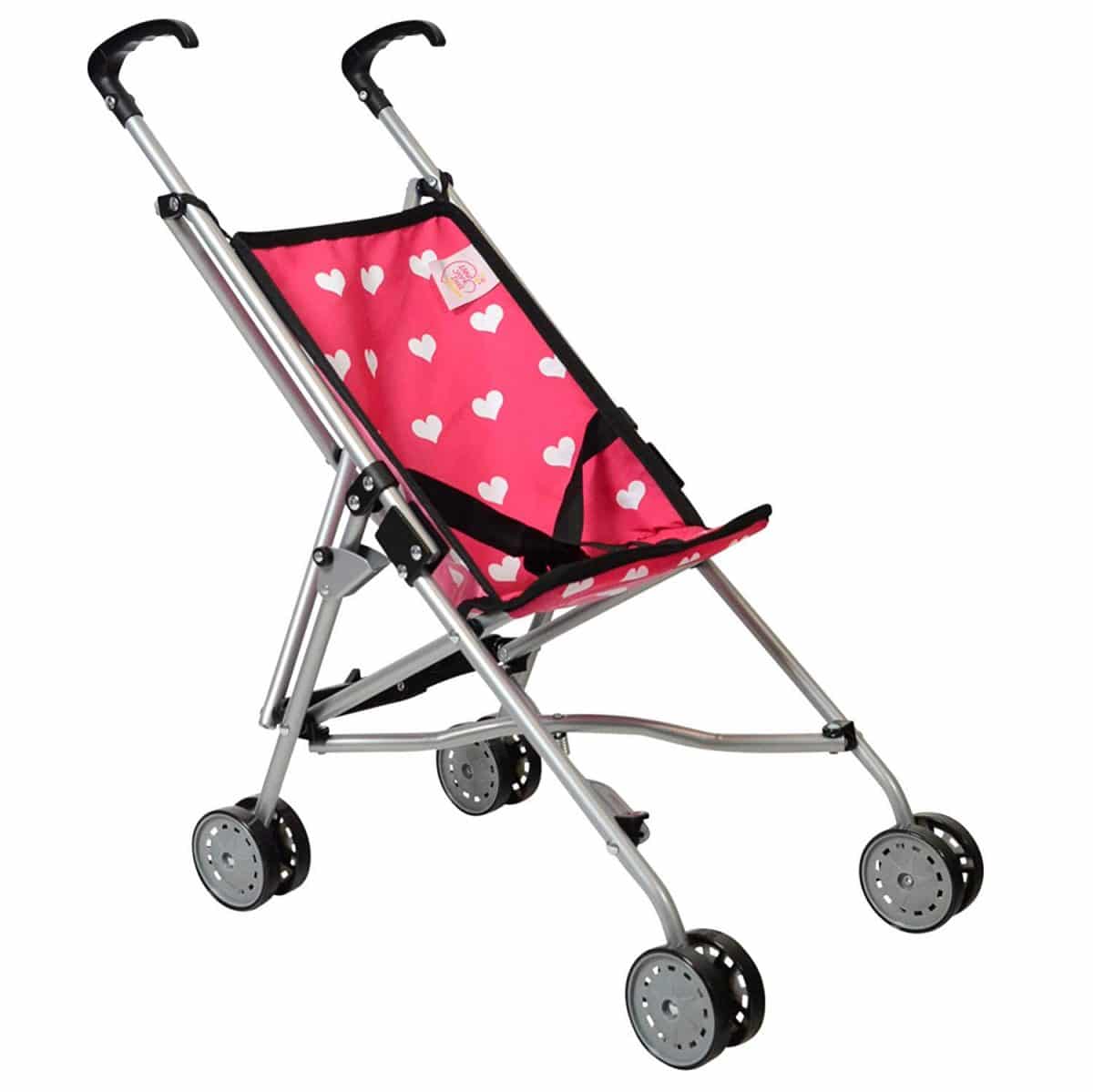 The Hearts My First Doll Stroller is great because of its high-quality wheelbase. You should expect this baby doll stroller to stick around for a long time. Likewise, you'll have an easy time cleaning the stroller if it gets dirty because the fabrics are made of cotton and nylon. No need to worry about major stains. The only issue with the baby doll stroller is its strapping system. The straps don't always do a great job of keeping the baby doll attached to the stroller. This is particularly the case for smaller baby dolls that fall out over and under the strap and onto the ground. While the strap issue is only minor, it may frustrate your child if they're a stickler for realism and prefer to keep their doll in pristine condition. You may find that your child's baby doll has an easier time staying put in the straps if you simply attach it to the seat rather than having it sit on the seat.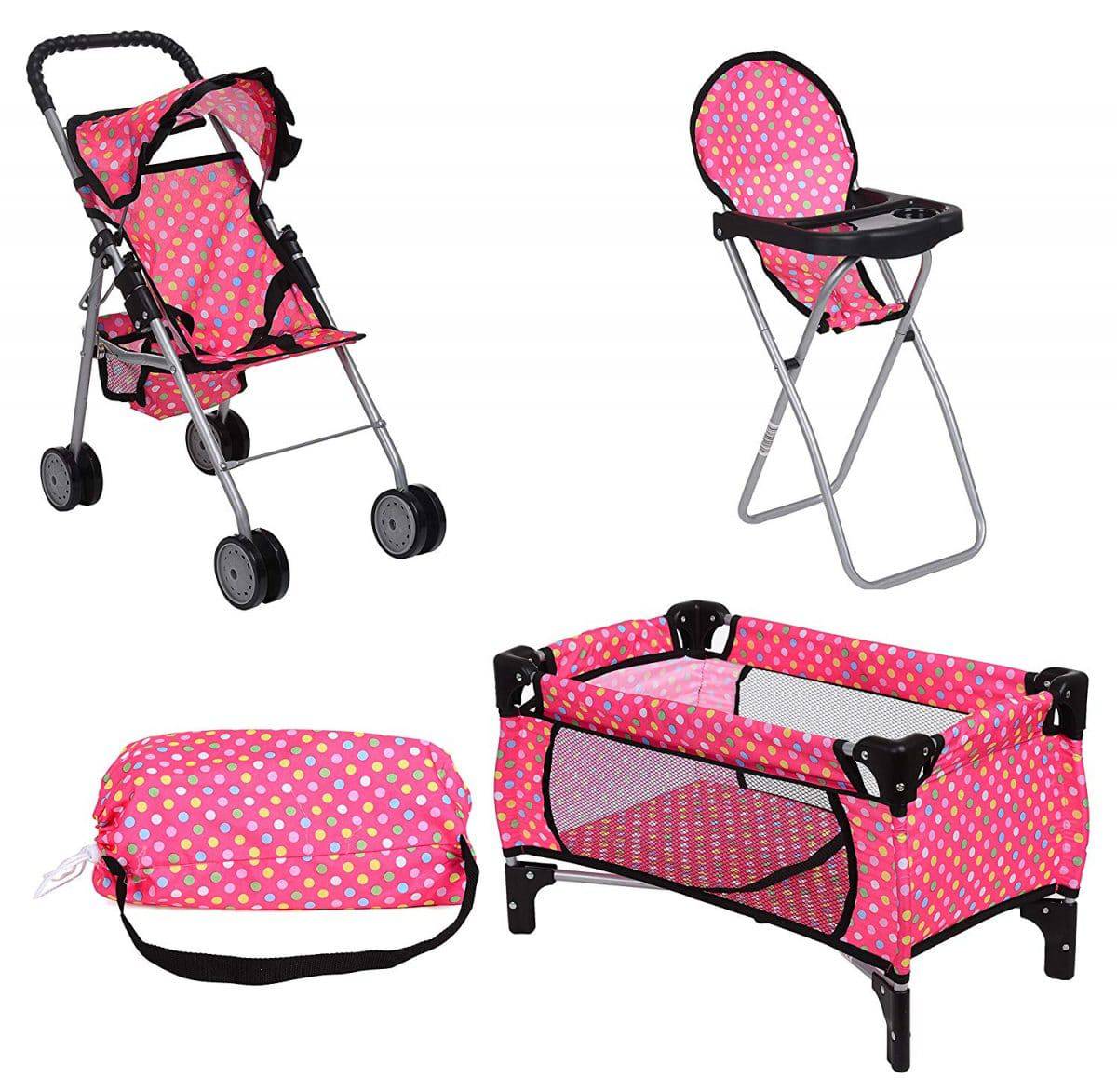 The Exquisite Buggy Doll is the perfect choice for children whose baby dolls are smaller than average. Likewise, it's a great starting gift for a child who's just getting into building their baby doll collection. When you purchase the set, you'll also get a crib and high chair for your child's baby doll. You'll still need to purchase additional accessories like utensils and mobiles to play with the non-stroller items in the set, however. The downside of buying a three-piece set is that the baby doll stroller itself isn't as sturdy as it might be. While it does have nice features like a sunshade, carrying container, and crossbar for added support, the stroller itself has wheels that are very vulnerable to small pieces of gravel. Moreover, the fabric of the stroller, while easy to wash, is pulled taut over the skeleton of the stroller. Because the fabric is taut, it's easy to tear, which can make the stroller's cute appearance degrade very quickly in the face of vigorous play.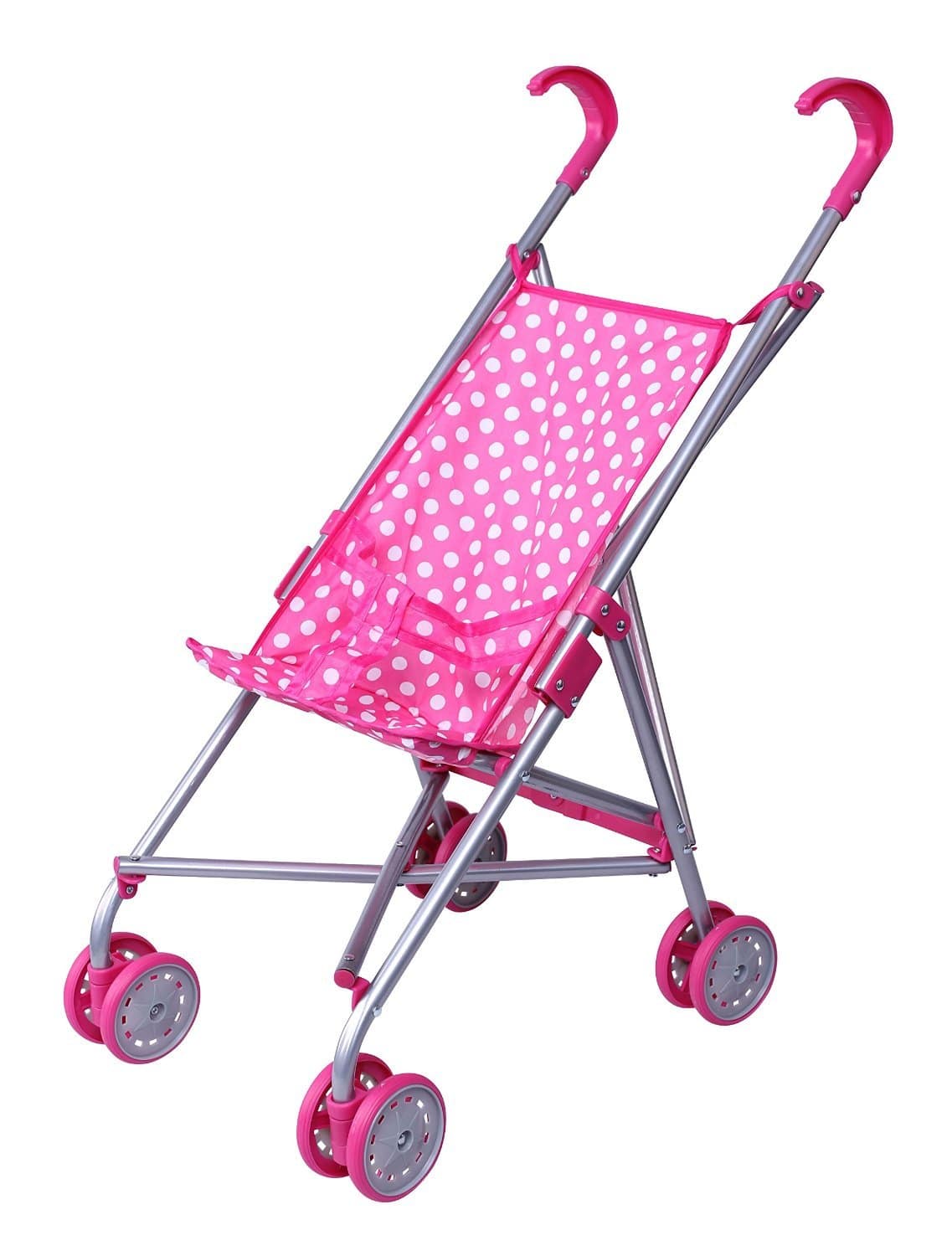 When your child loves to bring their baby doll with them everywhere they go, you need a baby doll stroller that's just as active as they're. With the Precious Toys Doll Stroller, you'll never have to worry about your child going without their doll's preferred transportation method ever again. It's perfect for walking around the city streets. The wheels and wheelbases are extremely maneuverable and they're very tolerant to all manners of grime and pebbles. The downside of this stroller is that it simply isn't put together very tightly. After a short amount of play, you should be surprised to see the handles popping off when gently pulled. Likewise, the entire back that secures the seat to the frame tends to come apart when you try to compact the stroller for transport. These issues can, however, be averted by being gentle with the stroller to some extent.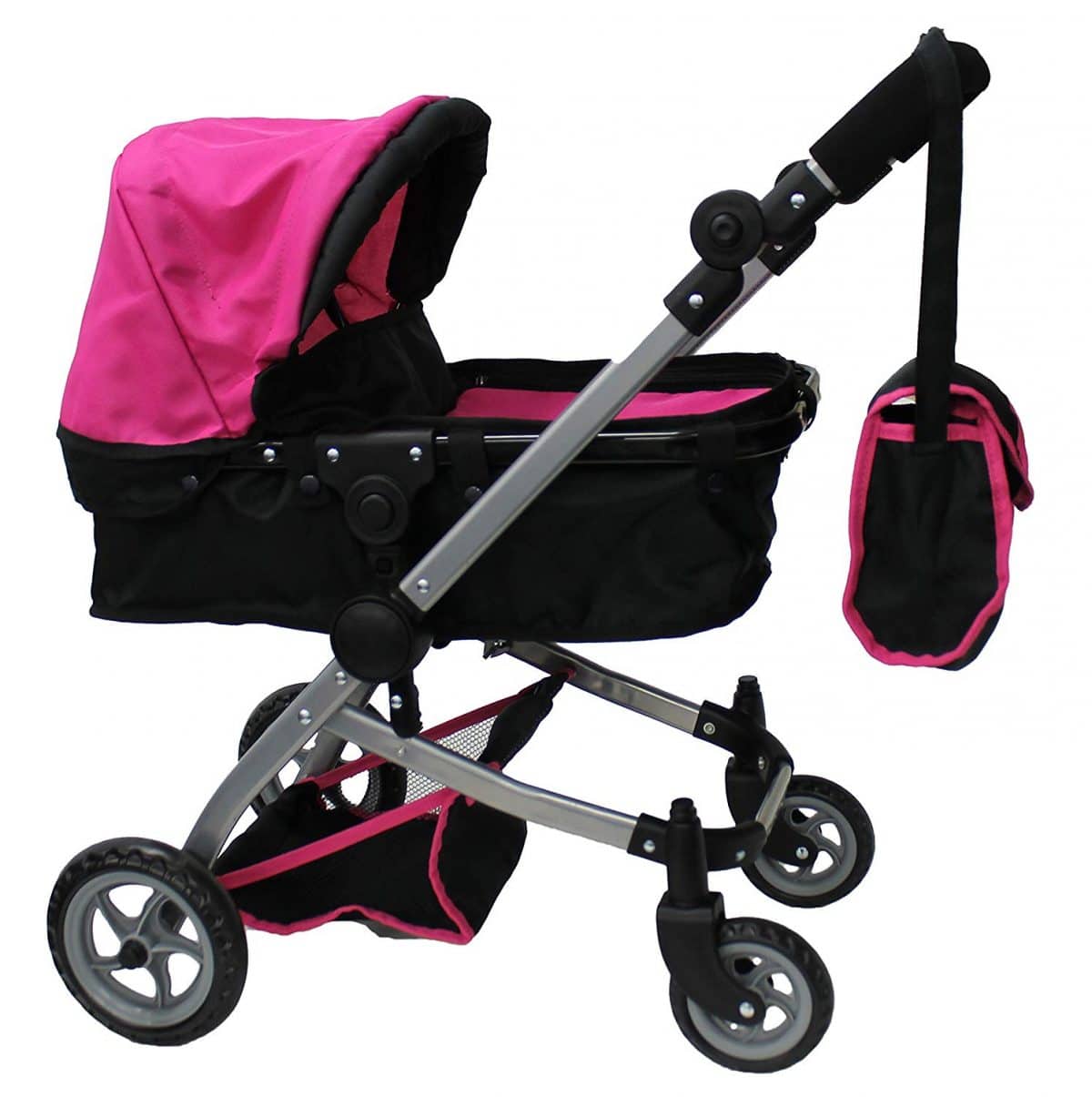 The deluxe stroller looks and feels like a real pram albeit a classic one. You can let your little one bring it along on trips to the park, the supermarket or to the grandparents' home without worrying about it falling apart. The sturdy construction and strong materials used for the stroller are made in such a way that it can hold a few items. Aside from the baby doll on the seat, its bottom mesh basket can hold doll accessories and a few small toys, while its handle can be used to carry a small bag. The stroller already comes with a pink-and-black carry bag that can be used as additional storage space. The adjustable handle can be extended up to 27-inches in length so that the stroller can grow with your daughter. The seat can also accommodate a large doll up to 18-inches although many kids also like fitting smaller dolls into it. Moreover, the hood can also be closed and opened to protect the dolls from the sun and rain, just like in a real stroller.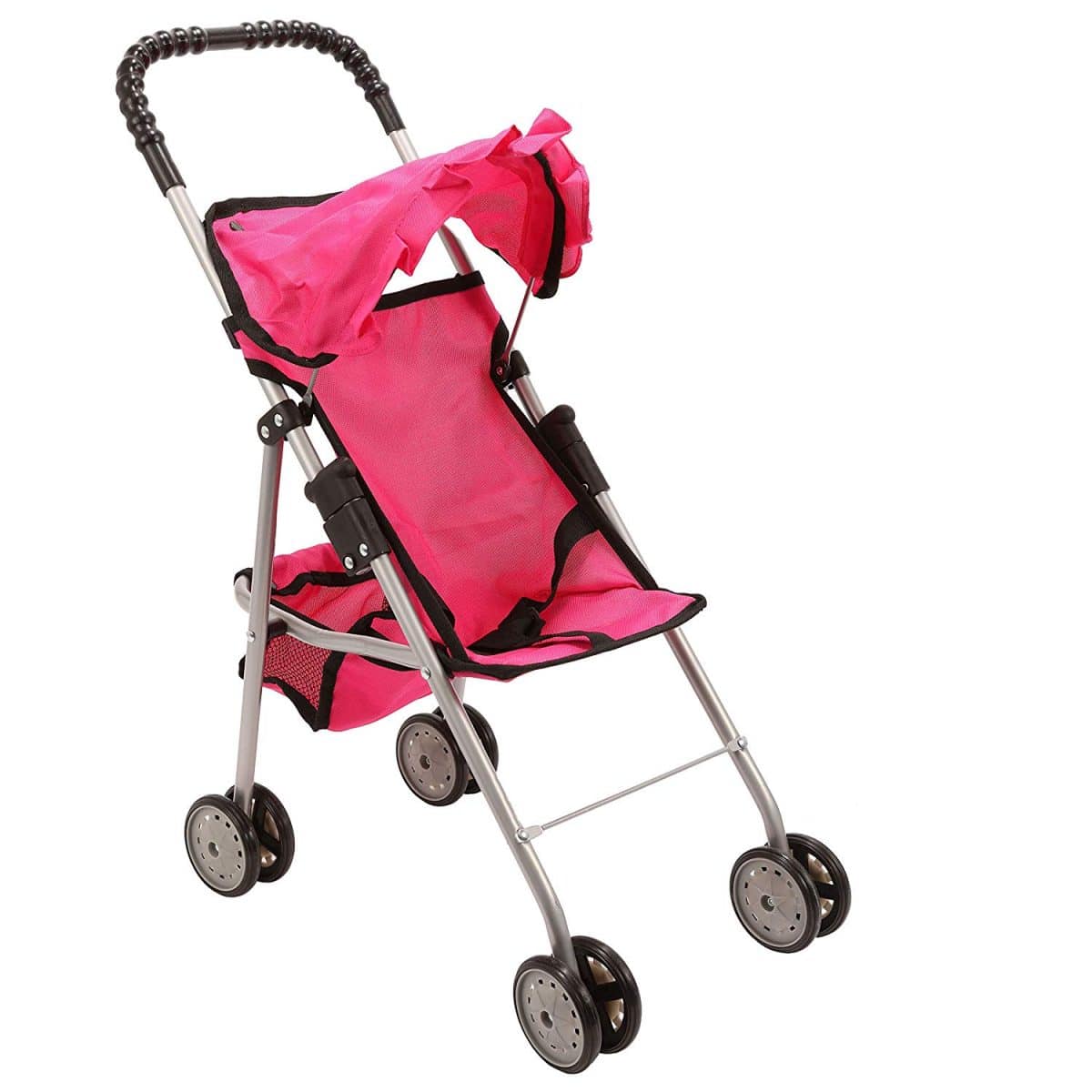 The Mommy & Me 9318 Stroller has a simplistic design and comes ready to play right out of the box. It has basic features of a real stroller, even an assigned seat belt for the dolls so they don't fall out of their seats. The foldable hood encourages your daughter's imagination, such as protecting her baby doll from the sun's rays. No baby doll stroller would be complete without storage options. Your daughter can place her baby doll's accessories as well as her small playthings in the undercarriage.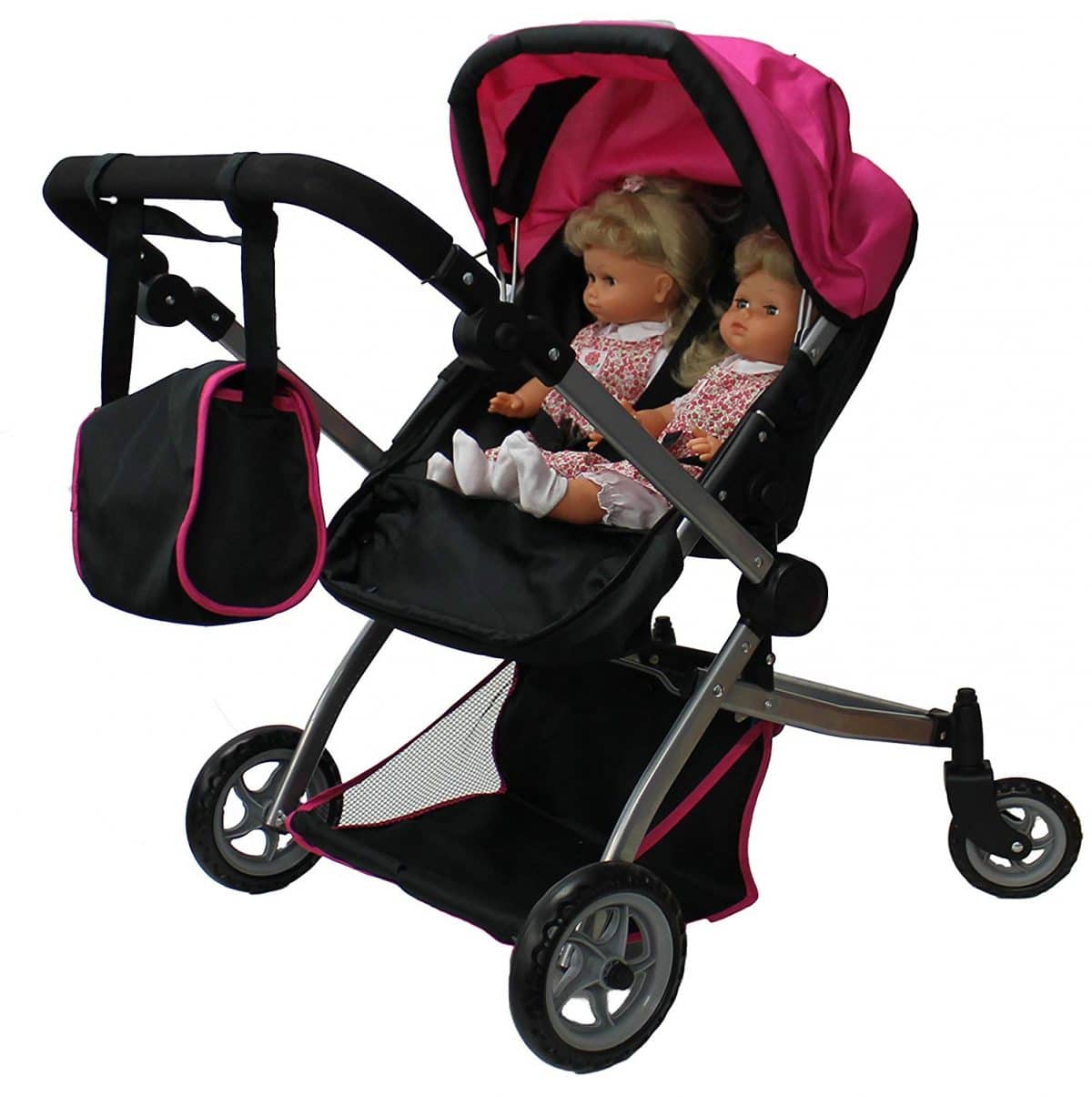 The Deluxe Twin Doll Stroller immediately attracts attention to detail with its stylish pink-and-black color, large size, and realistic design from the handlebar to the wheels. It has a sturdy aluminum frame that's designed to carry two large dolls up to 18-inches in size and various accessories. The easy-to-fold and easy-to-unfold design also means more convenience for parents and more play opportunities for kids. It's quite wide at 19-inches but still easy to push and pull across smooth terrain, thanks to its large rubber wheels. The folding hood has three segments for ease of use, even for younger kids who are just learning to protect their precious toys.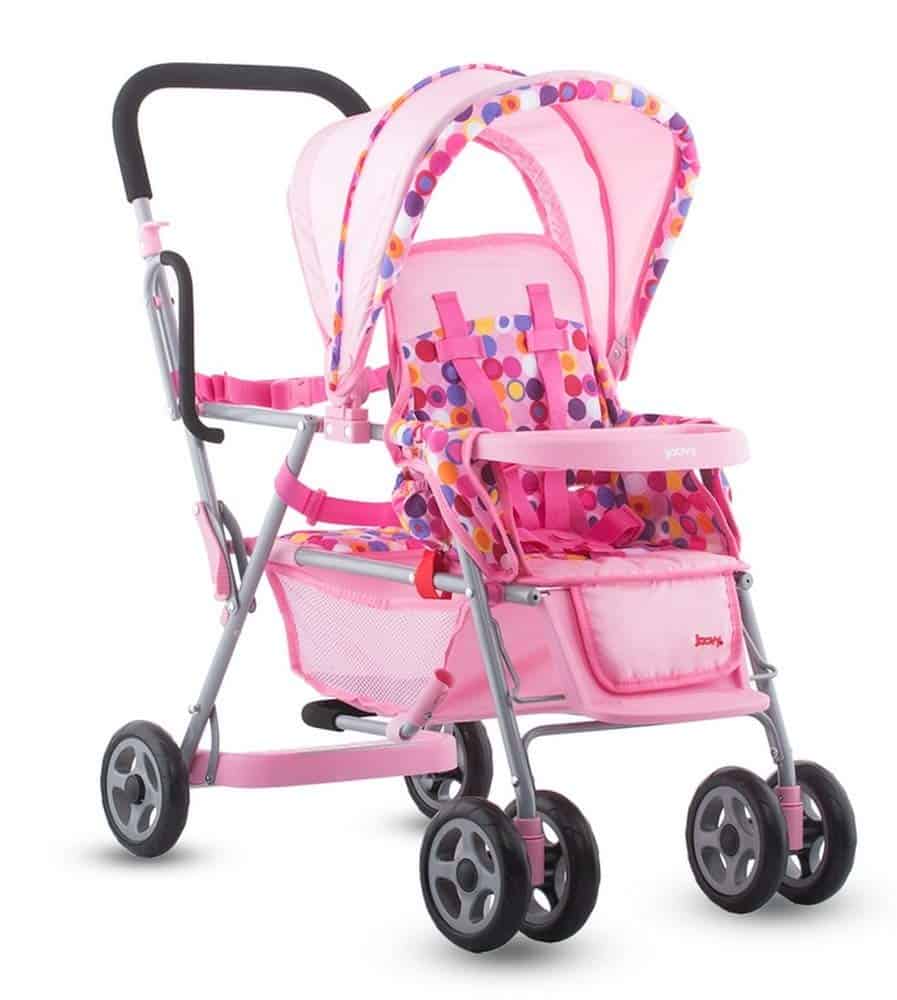 The stroller has a wide body that can accommodate two 18-inch American dolls in tandem fashion – one doll in front of the other. The main storage area is a mesh container basket located underneath the carriage that can carry several small accessories. It's an easy-to-maneuver play stroller, despite its larger size. The large double front wheels can swivel 360-degrees to allow for maximum maneuverability over smooth surfaces. It also features an adjustable five-point seatbelt for dolls. The deluxe padded handles mean more hours pushing the play stroller with fewer calluses while the 2-position footrests will make it seem like the dolls are enjoying it too.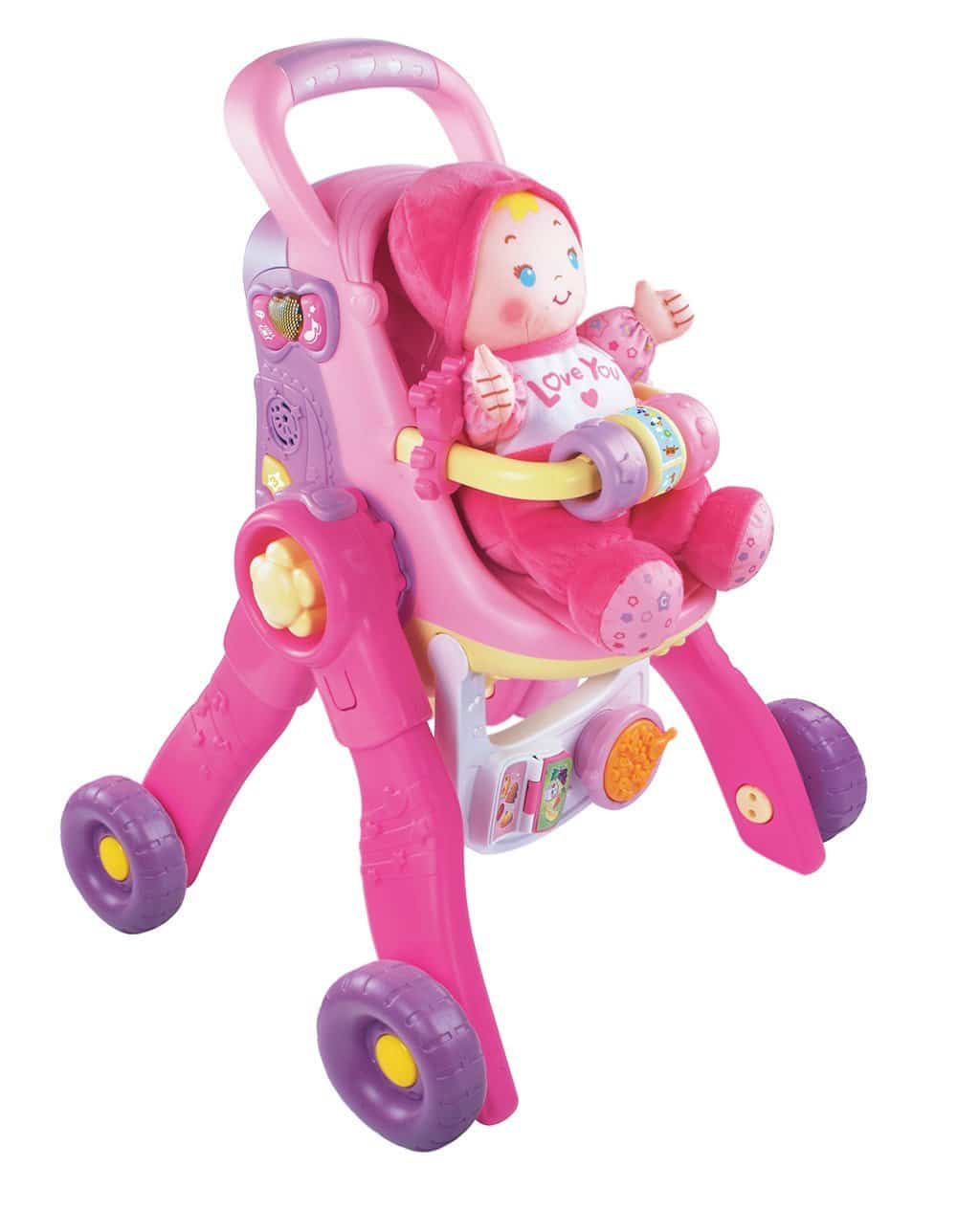 The 3-in-1 play stroller can be converted from a bassinet into a high chair with a few easy steps. Like convertible baby furniture, you'll get more value for your money, and your child will get more playtime opportunities from its conversions. Your little girl can learn her letters, colors, animals, and places with this educational toy. The carriage may only accommodate one 14-inch doll but that's a minor flaw. Your child, after all, can develop her cognitive, creative and caring skills with just one toy.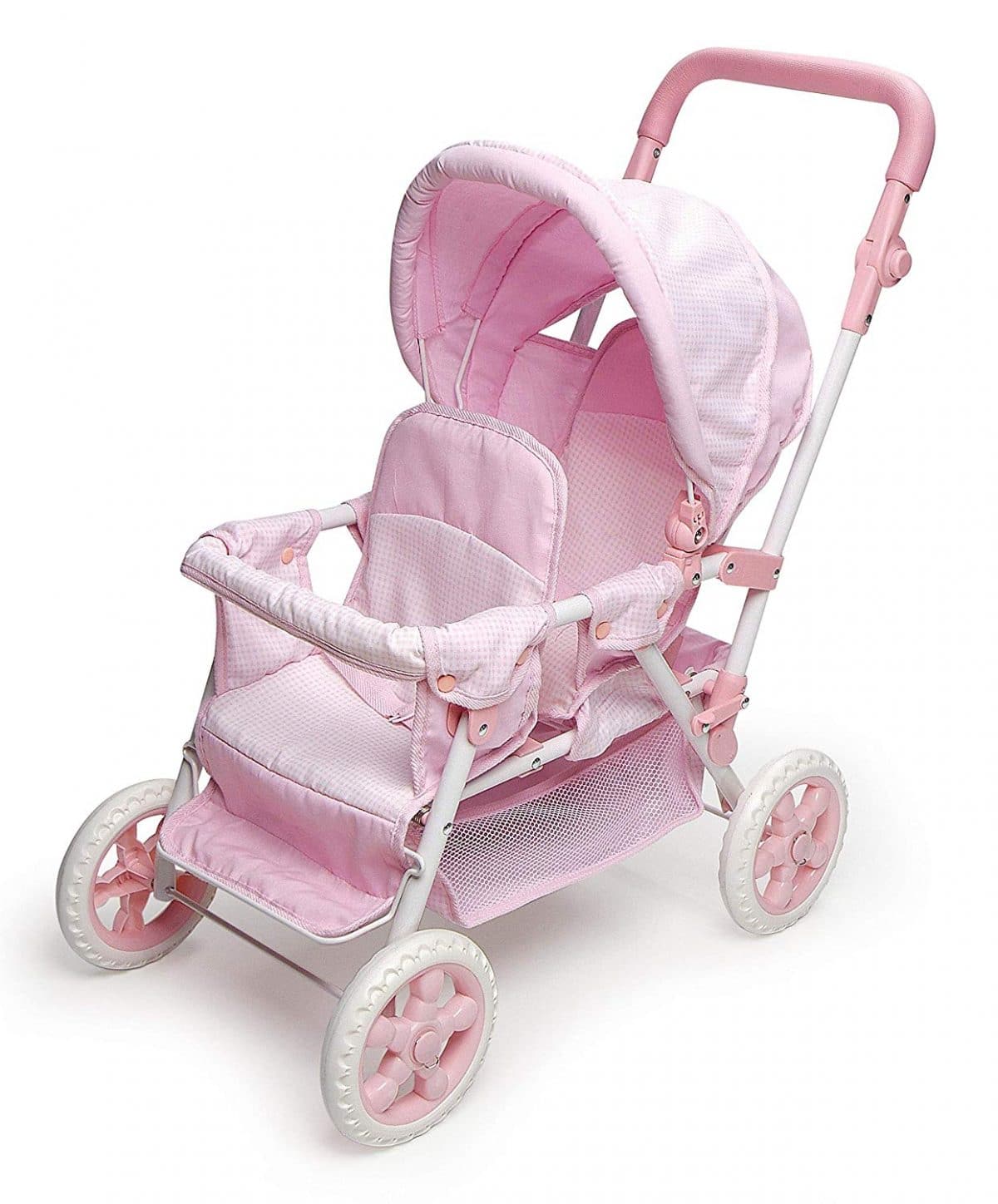 The Folding Double Doll plays stroller allows your daughter to bring along two of her large dolls up to 18-inches at once. These beloved dolls will be protected from the sun and rain too, thanks to the folding canopy while the rubberized handlebar means your daughter can comfortably push the carriage around. Stability isn't an issue since the four 5-spoke wheels can hold their own on smooth ground. The mesh basket can hold several small play accessories too, while the handlebars are sturdy enough for a small bag.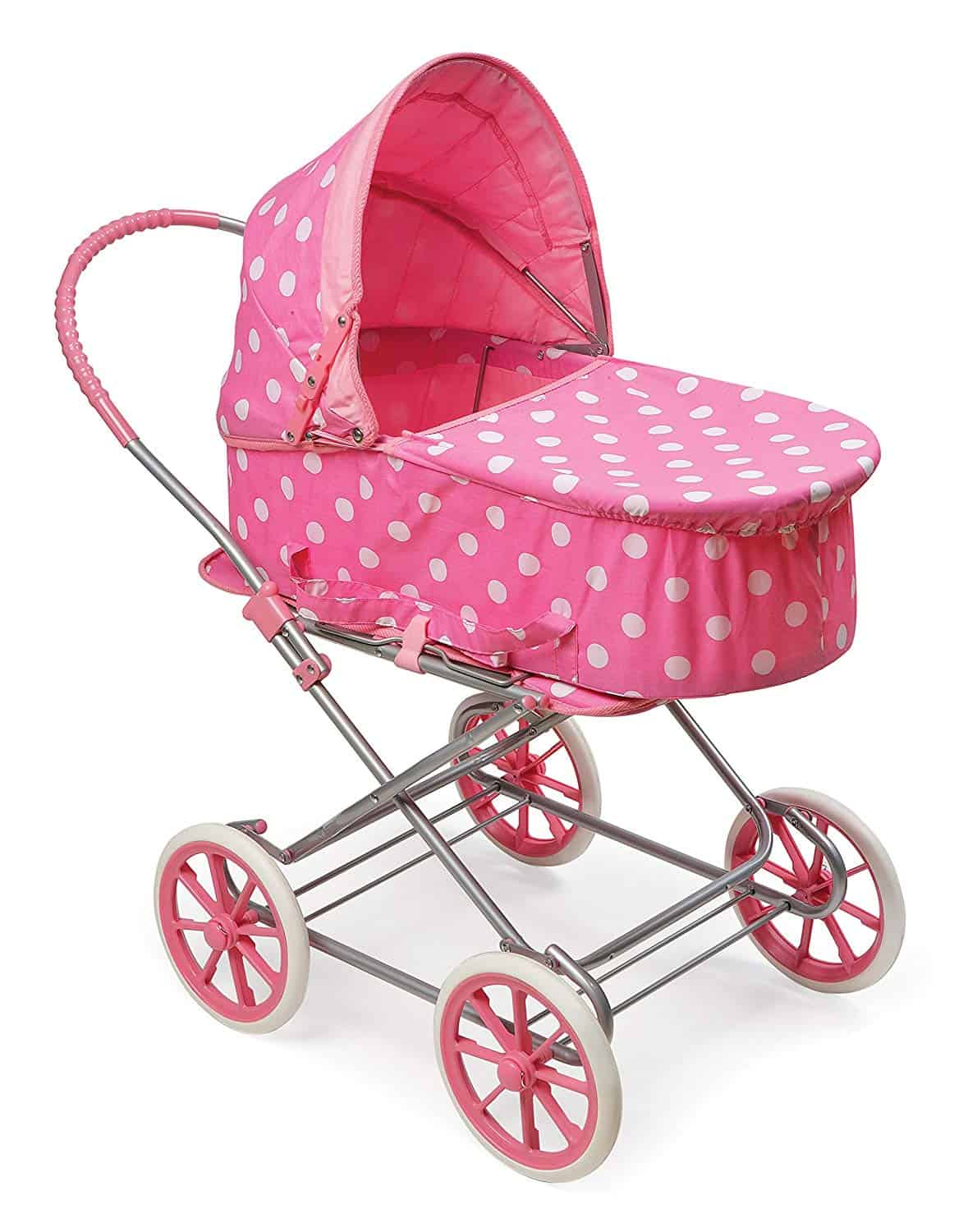 The Badger Basket has three functions in one, namely a carrier, a stroller, and a pram. Each one can easily be converted to the other. Even a toddler, after a few lessons about the conversions, can turn the carrier into a bassinet and back into a stroller. The creativity and cognitive skills that your child can develop from using this stroller will benefit them for the rest of their life. Since dolls are prized possessions where your child is concerned, the play stroller has four large wheels, a wide wheelbase, and a sturdy frame to ensure stability for the precious cargo. Your child's hands are precious too, so there's soft padding on the handlebar for superior comfort.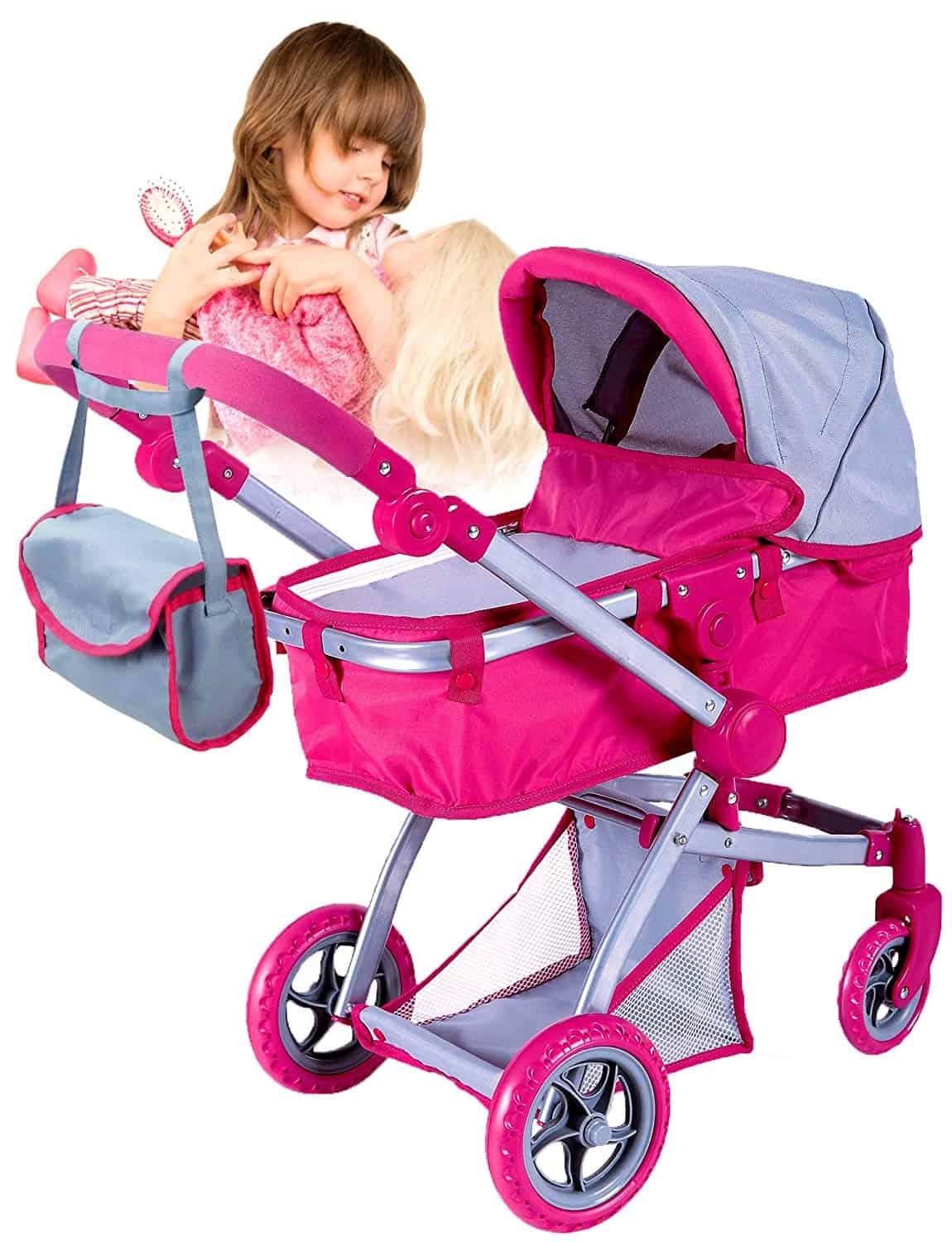 The main attraction of the Like Bugaboo Doll Stroller lies in the durable, functional and beautiful features that make it one of the best baby doll strollers around. The canopy and seat can be removed for cleaning in the washing machine. A large 18-inch doll can be placed inside the carriage and strapped in place with the 3-point seatbelt. An undercarriage basket and sling bag are the main storage options for your daughter's doll accessories and toys. It's a convenient feature considering kids like to bring their treasures on every adventure.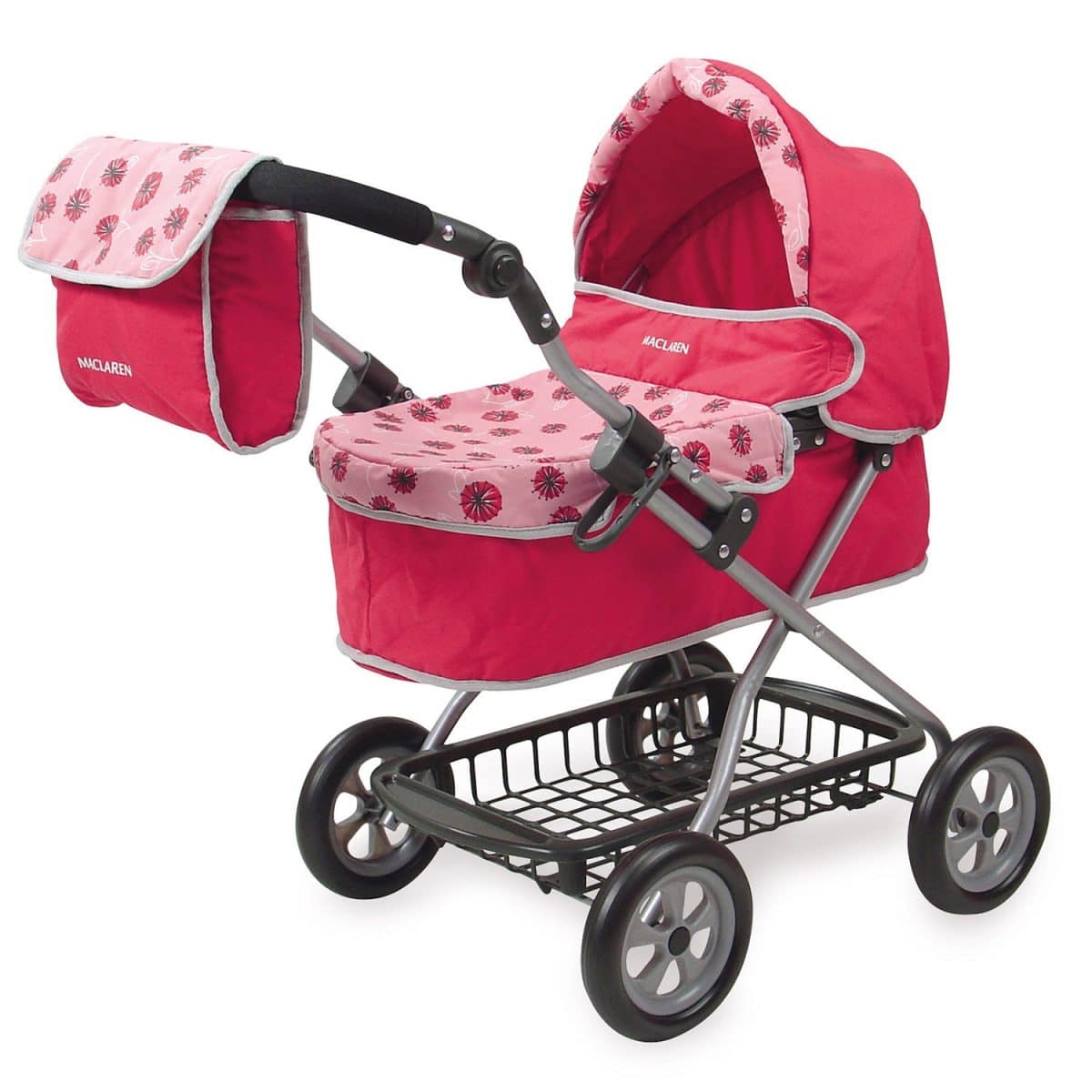 The Maclaren Travelmate Pram Doll Carriage is considered to be a deluxe stroller and a must-have for all little girls of ages three and above. The manufacturers have given it realistic details and an adorable design, thereby making it a wonderful toy that can be taken out for walks around the neighborhood or backyard. It features steel frame construction, height-adjustable handle, harness, and a pull-back hood, to enhance the overall playing experience of your little one making it appear completely magical.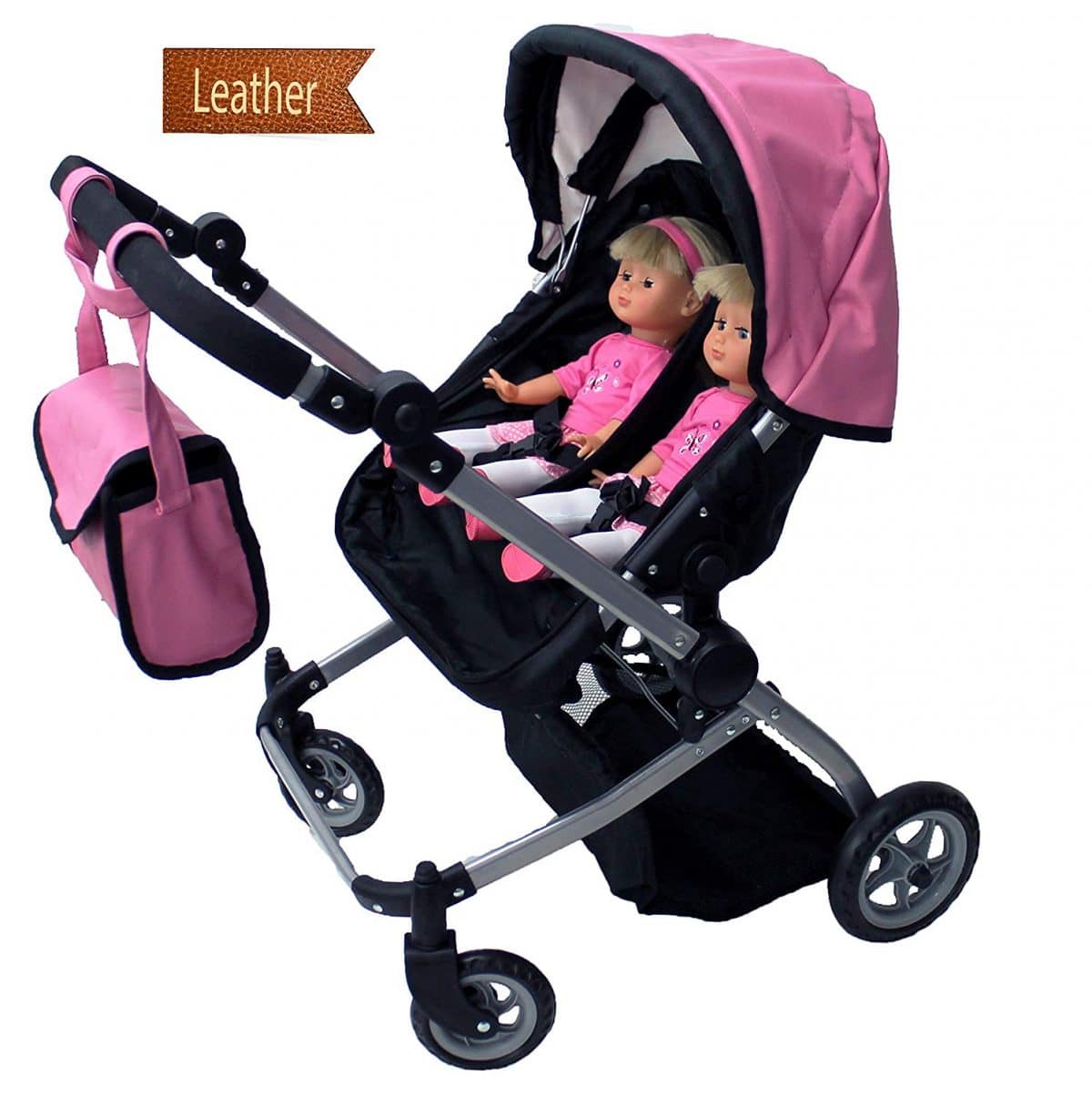 The Babyboo Luxury Leather Look Twin Doll Stroller with free carriage comes in an attractive pink color that your daughter will love. The weight of the stroller us about 7-pounds, with its dimension being 20.1" by 19.1" by 6". This stroller is recommended for small girls of 3-years and above. It has an adjustable handle to about 29" by 19" by 24" and the seats are also adjustable for a laying or sitting position. The handle could be moved to make the dolls face the street or your little one. The stroller can also be easily folded for travel purposes.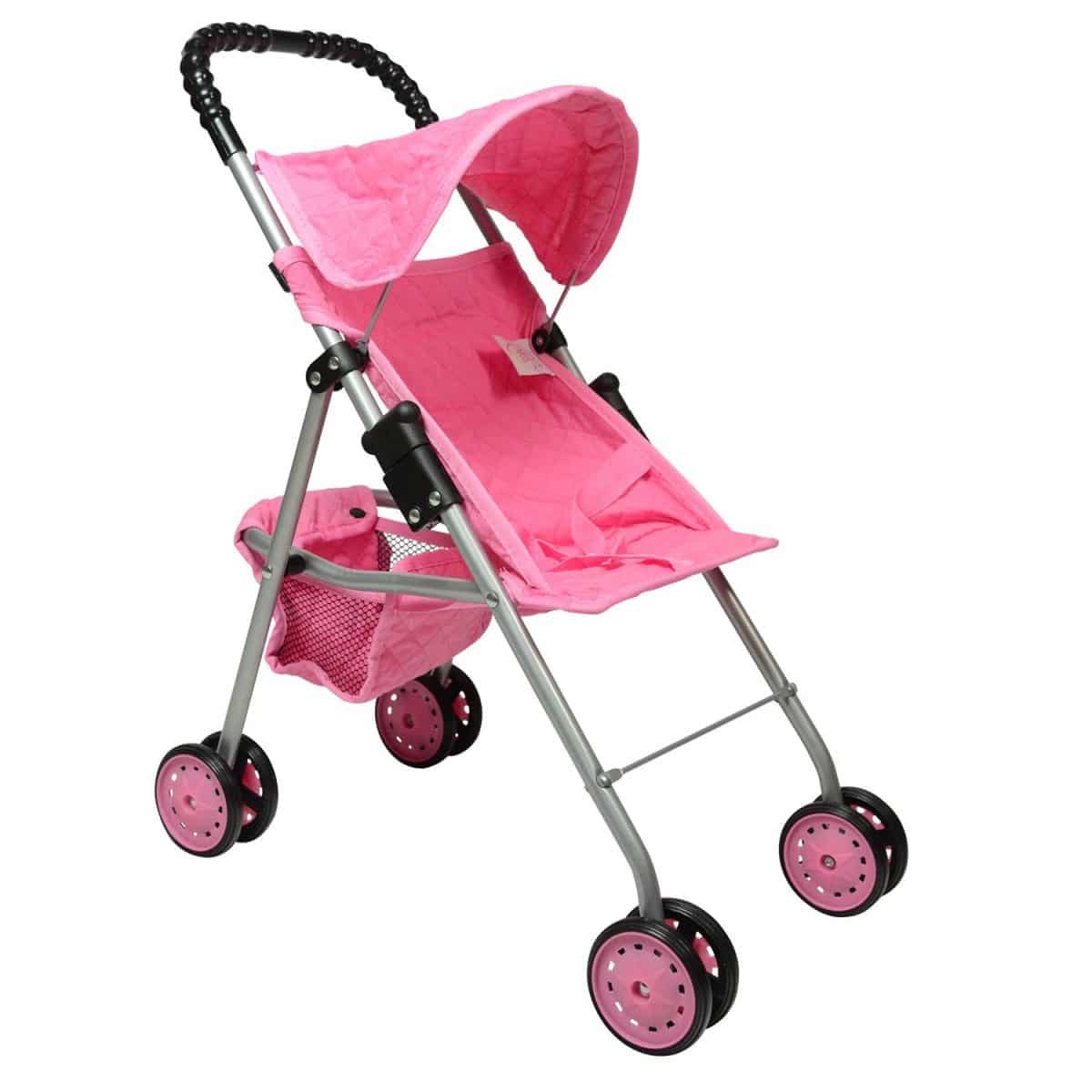 Everything else in this doll stroller is pink except its handle and the frame. It comes from the manufacturer when fully assembled for use and, amazingly, it's easy to fold for storage. The doll stroller has an immense basket at its bottom. It comes alongside 18-inch doll furniture, 18-inch doll accessories, 18-inch doll shoes, and 18-inch doll clothes. Its four double wheels enhance its stability and the seat belt on its single-seat safeguards the doll from falling apart when the child is on the move. It's ideal for a two-year-old child.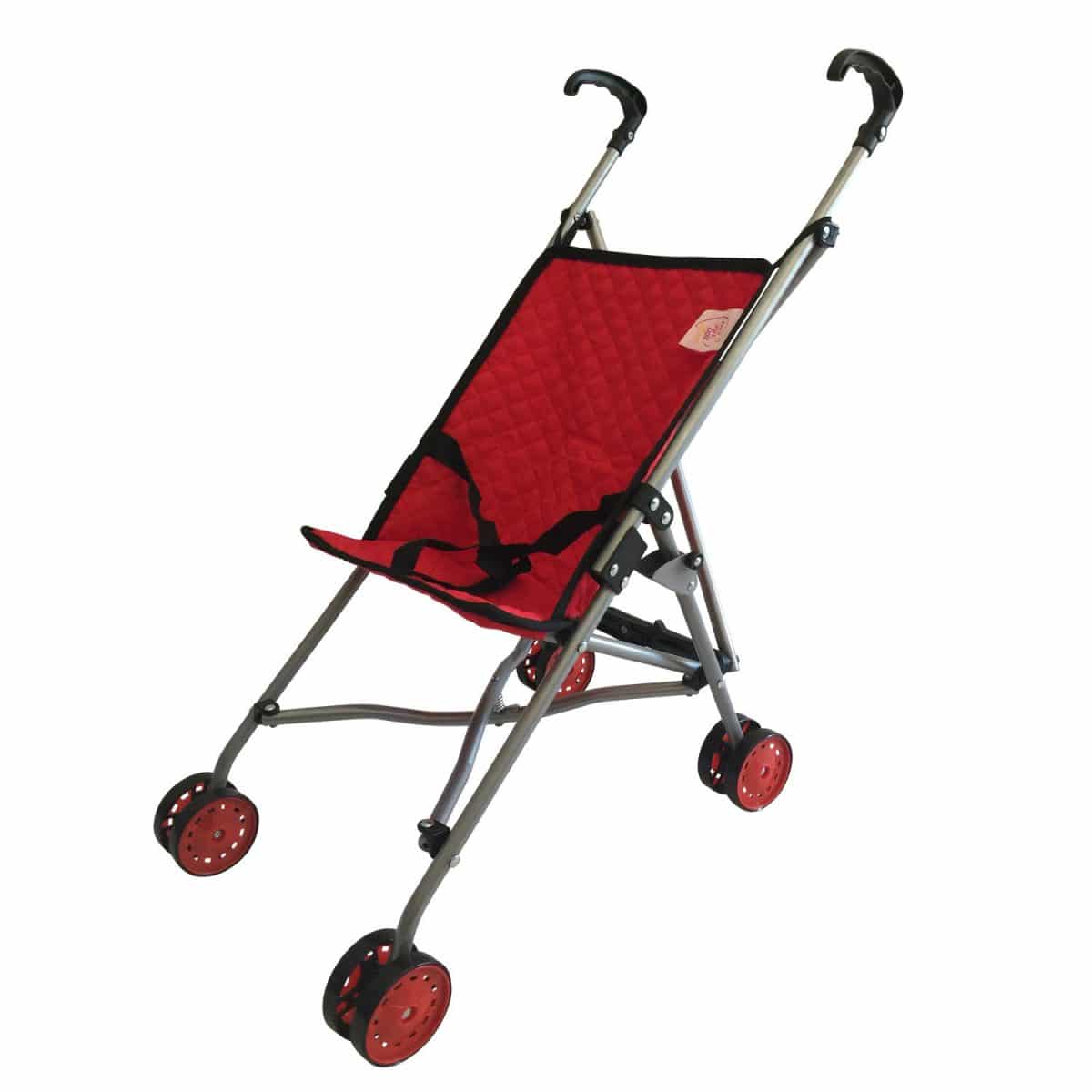 The First Dolls Stroller for Kids is another quality product from The New York Doll Collection. It also offers 18-inch doll stroller, 18-inch doll shoe, 18-inch doll furniture, and 18-inch doll accessories. It's one of the most affordable strollers on the market at the moment but doesn't come with a doll. Its low cost doesn't compromise its quality in any way as it has high-quality double-sided red quilt fabrics. The presence of the double four wheels on all its legs increases the stability of the stroller.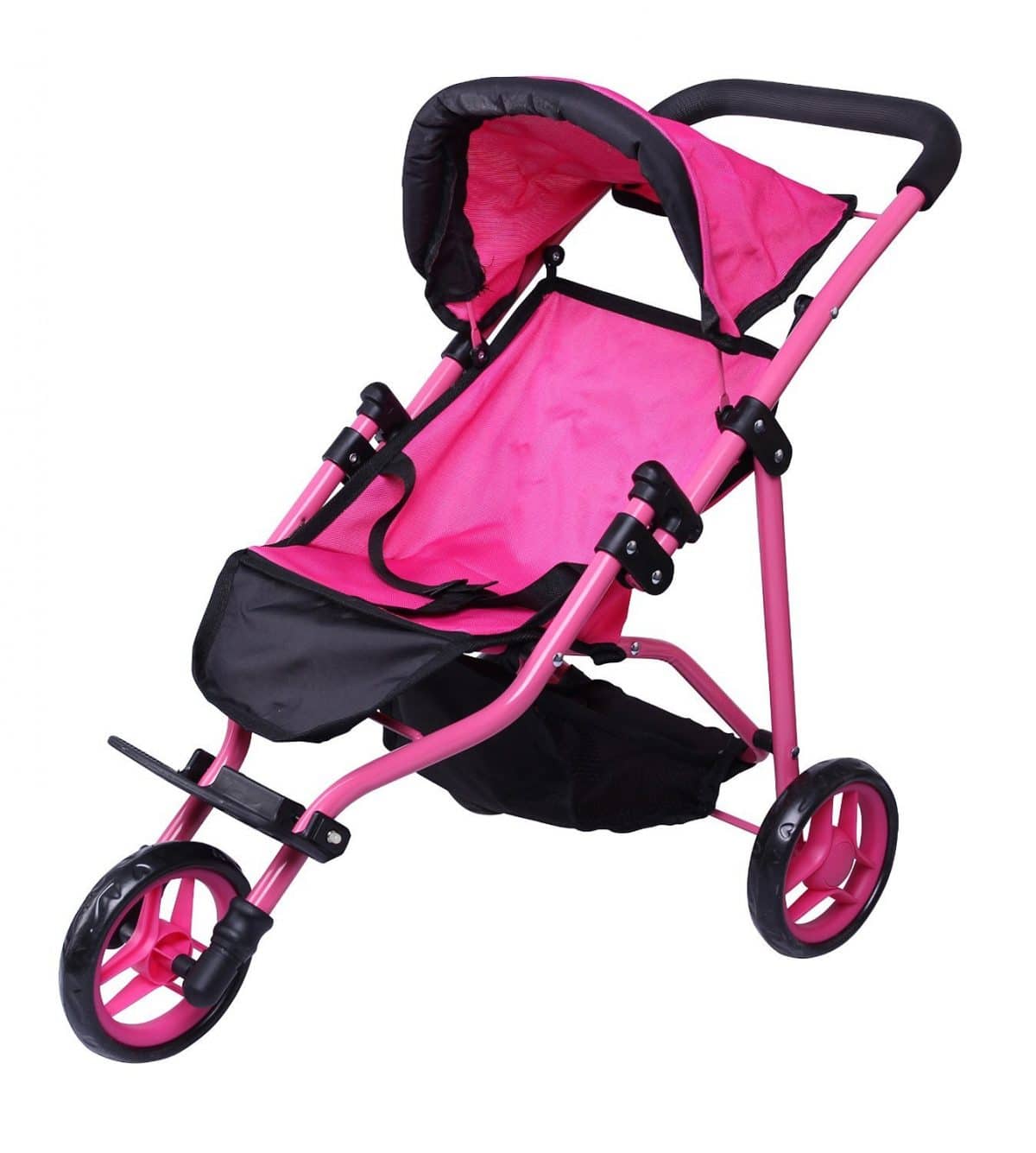 The three-wheeled doll stroller comes when fully assembled except for the wheels that you'll have to fix yourself in readiness for use. The wheels are made of perfect quality. Therefore, it cannot damage your worthy floor or even the delicate rug. The doll stroller is safe for use as it meets all the USA safety standard regulations. It has a large basket at its base where a child can store their extra dolls. The large hood on the seat protects the face of the doll from the harsh weather while the safety belt ensures that the doll never falls off while your child is pushing the stroller.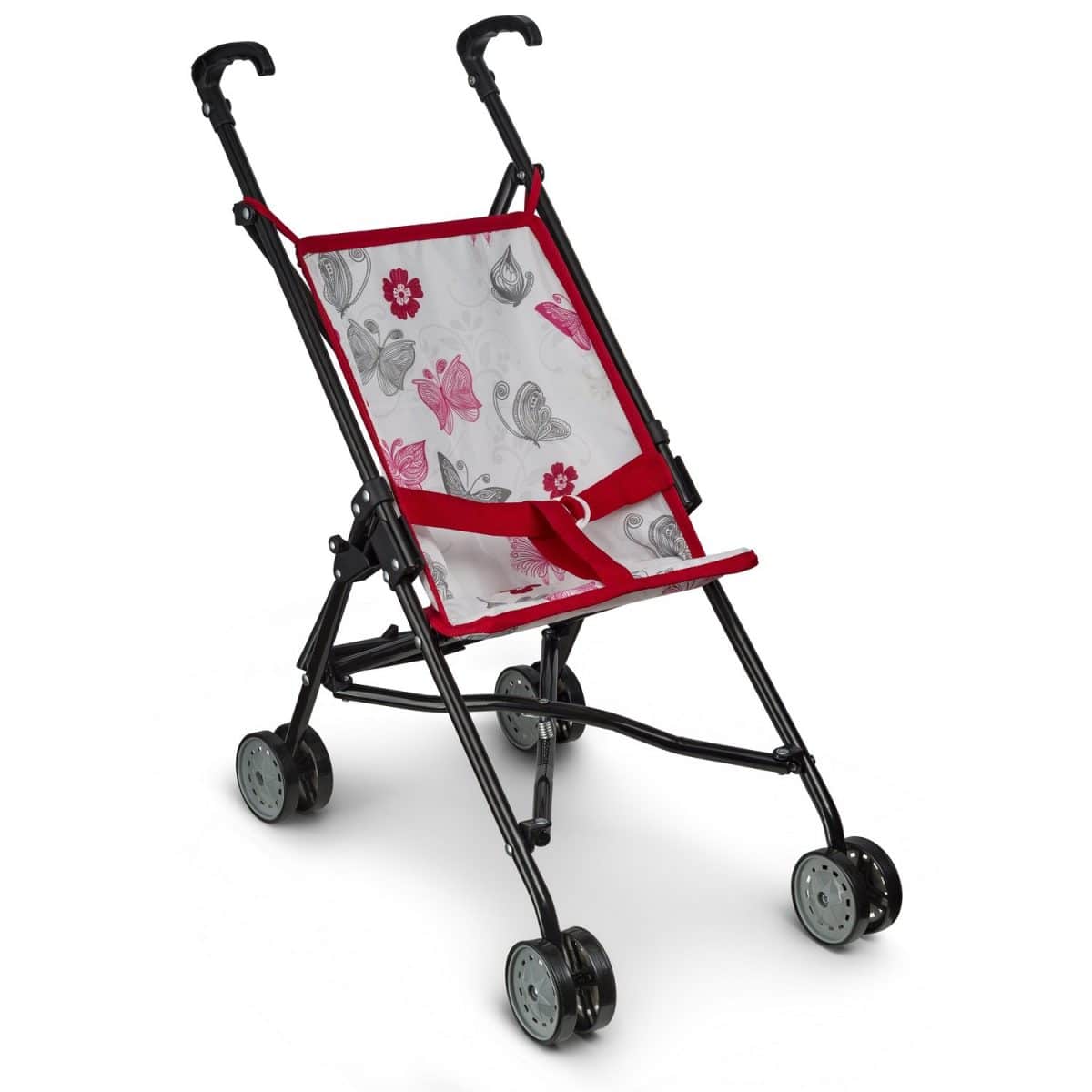 The doll stroller looks simple, but that doesn't mean that it can't grant a child maximum fun and joy. It comes almost fully assembled as you have to attach the wheels separately. The double four wheels on each of its legs guarantee stability and durability. The doll stroller is ideal for kids, especially girls of above two years. The smooth wheels are friendlier to any floor as they don't cause damages. Besides, the wheels can maneuver within small spaces making it convenient for both indoor and outdoor activities.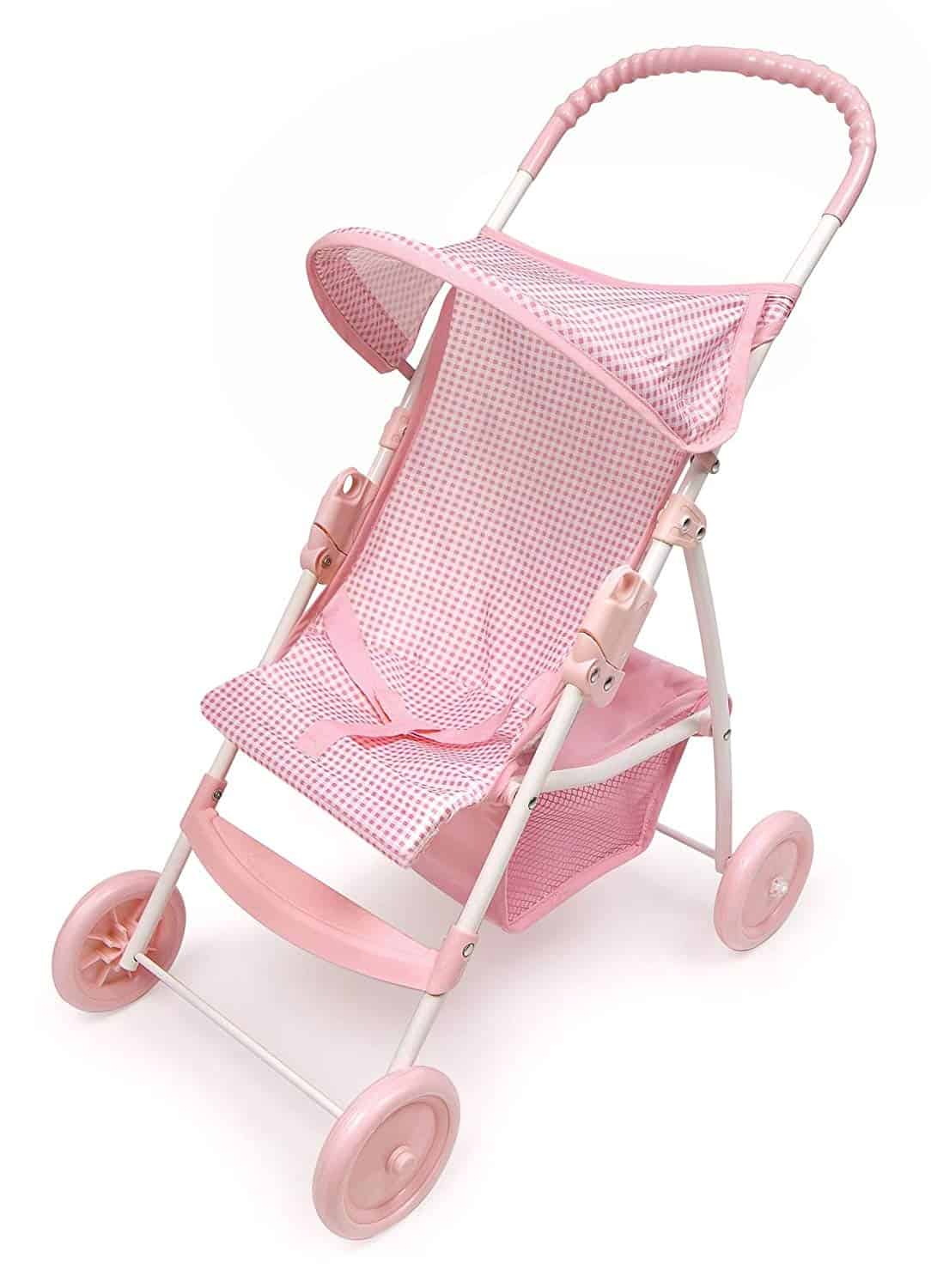 The easy to clean doll stroller gives your child the comfort as they push it, given that it has a soft rubber cushioned handle. It folds easily and simply with the help of your hands. You can wash or wipe it. The doll stroller is ideal for children beyond three years old. With the pink hood over the seat, your child's doll is well protected even when it's drizzling. The seat belt helps hold the doll firmly on the seat.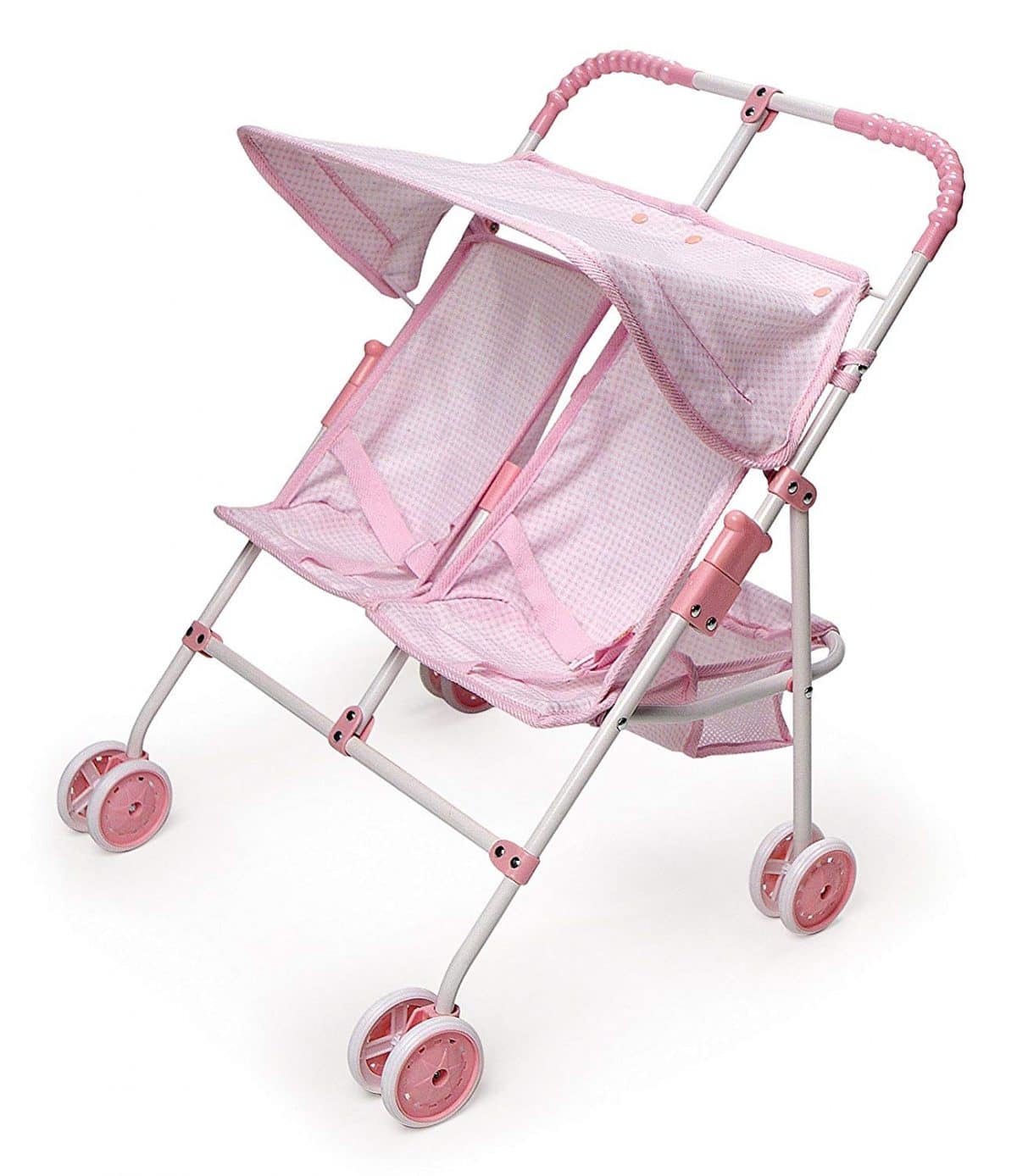 The baby doll stroller with double seats has a soft handle that's adjustable to accommodate the height of every child. Besides, you can opt to remove the handle to allow two dolls to face your child. The doll stroller is easy to fold and assemble. Other features include an immense basket at its base, wheels that can't damage the floor and a seat belt on each seat. Even though the doll stroller is slightly expensive, it gives value for the money given that it meets all the safety tests. It's equally durable.
The Verdict
The best doll stroller toys for babies may seem like an indulgence, especially when your kids already have dolls in varying sizes, styles and shapes. But when you think of it, these strollers complete the set as kids can use them in their imaginative play. Most doll stroller toys are geared towards the stimulation of cognitive functioning and creative thinking.
Getting a doll stroller for your child shouldn't elicit any debate given that it offers massive benefit to the growth and entertainment of the child. However, it's good to avail a stroller that suits them best. Go for a stroller that easily folds and assembles for convenience purposes. Also, a stroller with a large basket is ideal as it provides adequate space where the child can store other toys.