One of the best toys that will keep your kids busy is an erector set. The toys are very important since they help kids develop their analytical and problem-solving skills. The sets are made up of many different parts that kids join up together to come up with a masterpiece toy. Finding the best erector set can be a difficult task. Highlighted below is a review of the best erector sets.
Top 30 Best Erector Sets 2020
The toy is the perfect gift for the curious young minds who are on the lookout for some challenge. The Meccano's excavator widens the scope for budding engineers with its realistic replica of the front scoop. There are easy-to-understand instructions of assembling the Meccano using bolts, nuts, and wheels. This gives the novice builders such an authentic experience as they interact with the real tools. Moreover, it is a STEM educational kit as the children get to apply principles from the fields of science, technology, engineering and math as they assemble the excavator. With an intermediate complexity level, however, it is only recommended for kids above the age of 9 years and the building can take between one to three hours.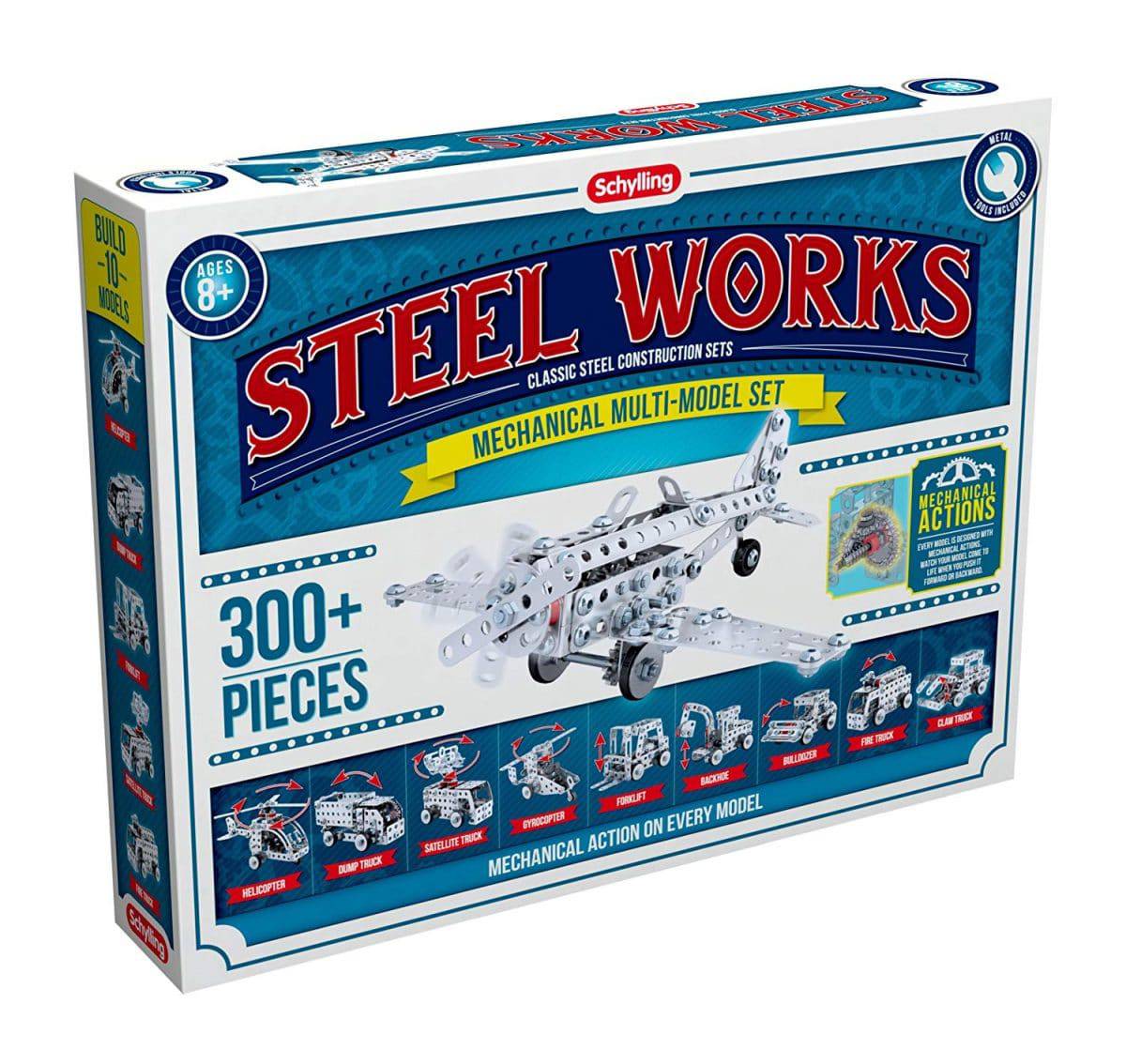 The best thing about this product is the fact that you can even create bigger models in accordance to your imagination using the steel work sets. The only limit when using this product is your own imagination!
Every other model contained in this set has properties of mechanical actions. It comes to life when pushed forward or backwards and is ideal for children aged 8 years and above. It has dimensions of 6*3*3 and weighs 1.75 pounds. Made in China, the product is available in different designs all at a pocket-friendly price.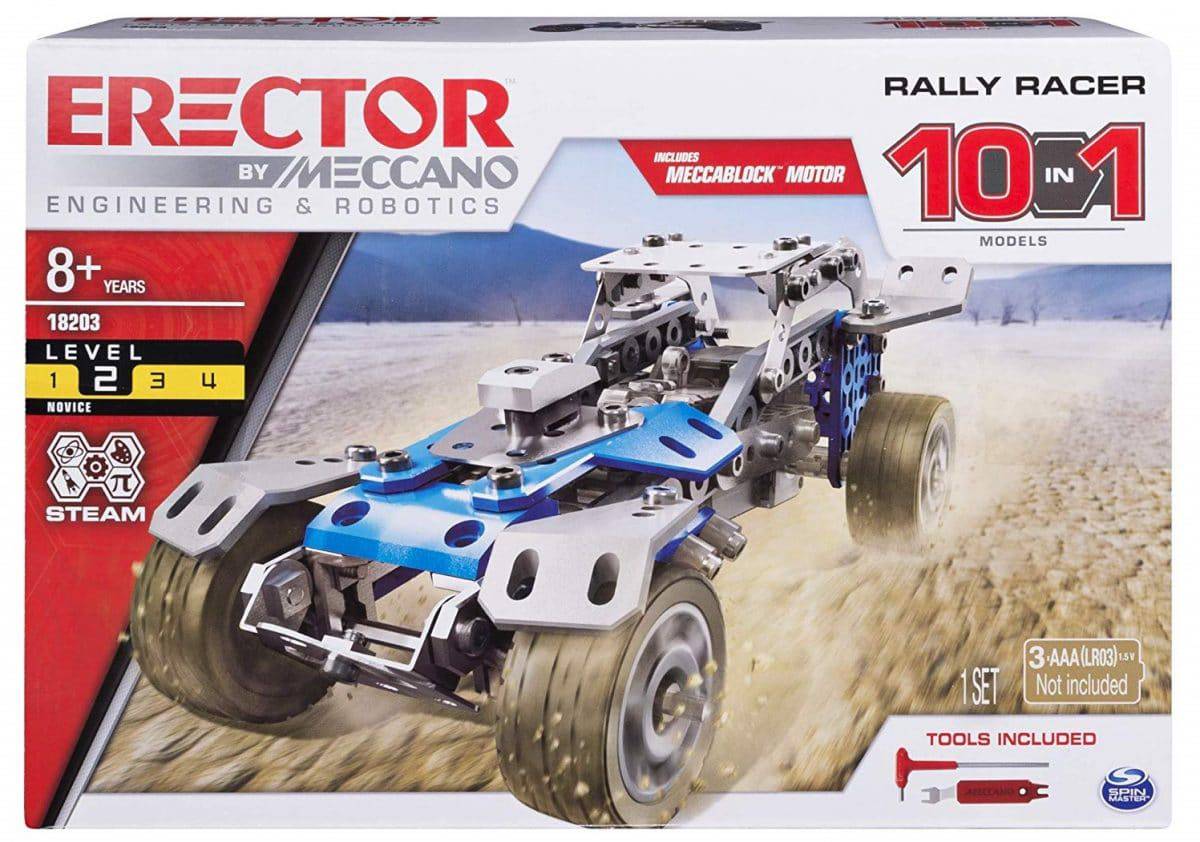 The rally car also contains a MeccaBlock motor which enables it to speed nimbly especially on surfaces that are relatively flat. Its kit contains different real metal ergonomic tools and parts. This gives aspiring engineers a wide variety of vehicle choices to create.
The kit is highly versatile as it contains 10 different possibilities that can be built. In addition, it is so much fun assembling and reassembling the parts into different exciting variations. It has authentic metal tools and parts which give it the element of durability and also give the kids a real taste of what engineering is all about. Moreover, the kit is designed in such a way that encourages a lifelong enthusiasm for STEAM learning. It has dimensions of 2.3*9.8*6.9, weighs 1.25 pounds, and contains 159 pieces.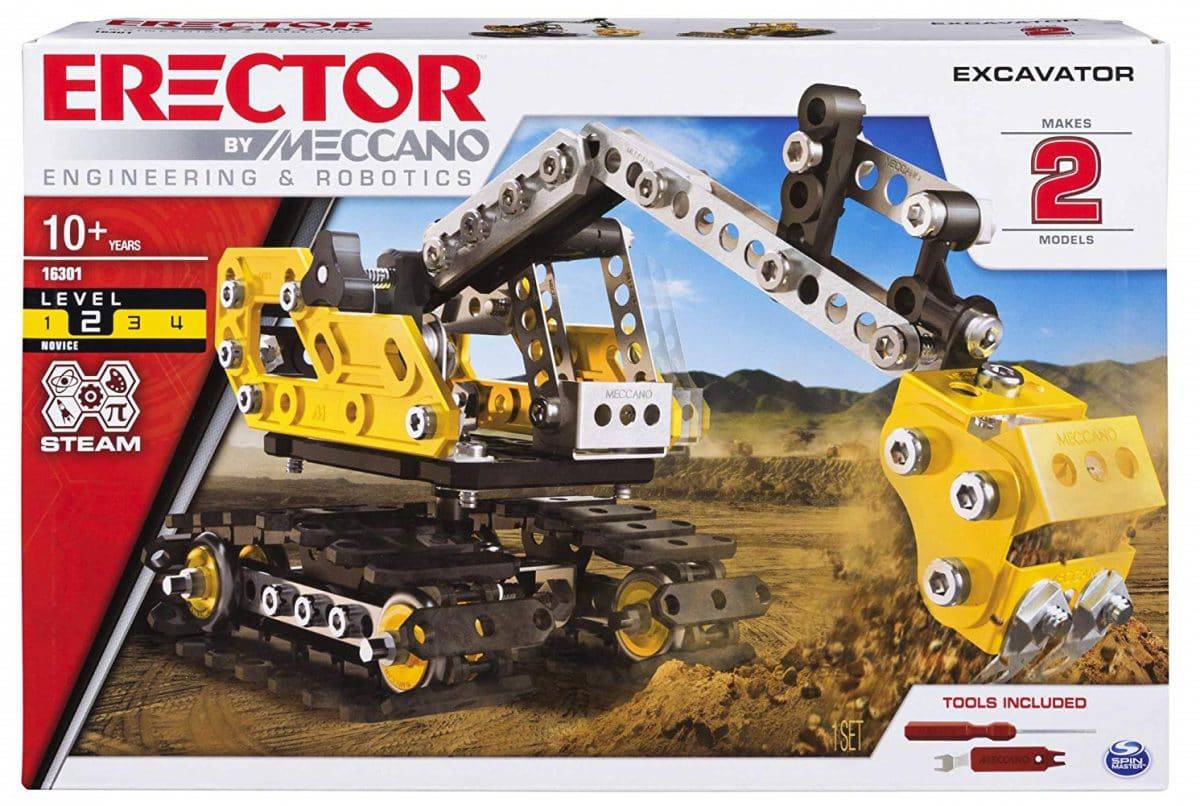 It comprises a 2-in-1 Bulldozer and Excavator model. The excavator has a cab that rotates at 360 degrees, working boom with bucket, and has custom treads. In addition, it is rebuilt as a bulldozer with a real working front scoop.
When fully built, it measures 3.75" tall, 4.25" long, and 3.75" wide. There will be no batteries required if you order one for ages 10 years and above. It is great for the boys as it brings out the creative builder in them. Such a good alternative for video games as the assembling and dissembling is practical and hands-on.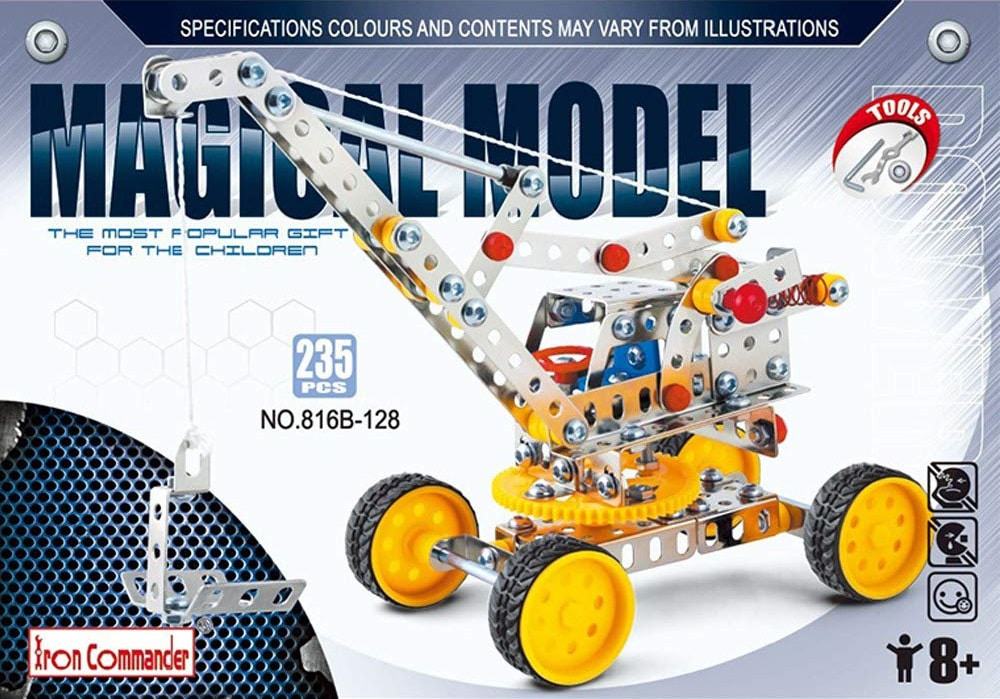 The engineering vehicle model includes 235 metallic pieces for construction. This is guaranteed to keep children entertained for long periods. Creating the model cars is so much fun since it comes with a colorful booklet that details the step by step process. 
The kits further promote STEAM learning especially for the boys. The model kits have a beautiful decoration and their metal erectors have a funny look. They are designed to excite the kids using them for play. Unlike similar products, this set does not use batteries to play. Moreover, they contain no harmful chemicals meaning that they do not expose the children to danger.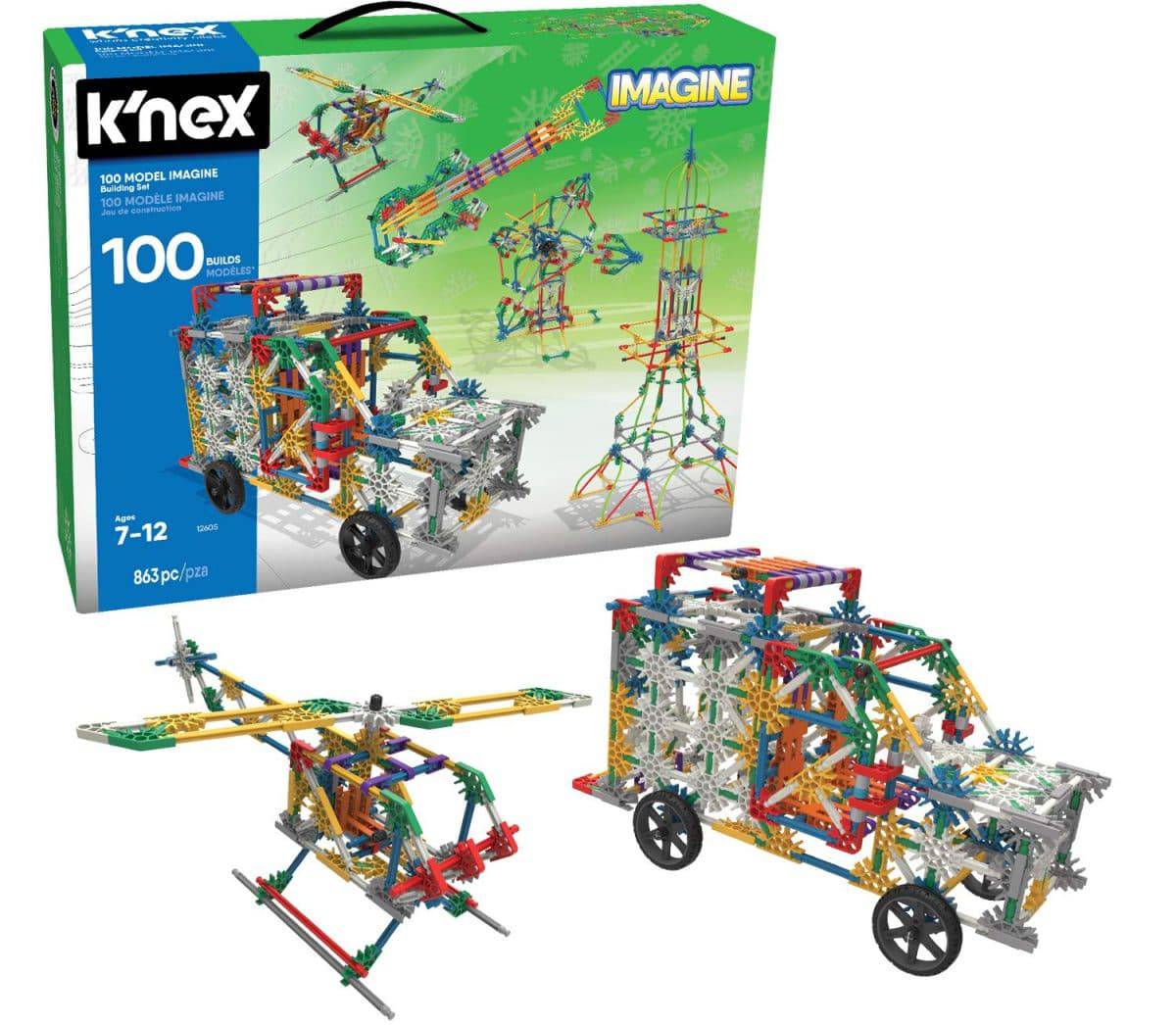 It comes packaged in a box with a suitcase-style design. This makes it easily portable, easy to handle, and easy to clean. It allows for a wide range of possibilities with more than 860 parts. Moreover, it has color-coded building instructions that are easy to follow. It can be used to create diverse models such as a guitar, an ambulance, a T-rex, and even the Eiffel Tower!
The K'NEX building set is very ideal for the growth and development of children. In particular, it develops their motor skills, hand-eye coordination, spatial awareness, problem-solving skills, and exercises their imagination. It has real moving parts and is extremely versatile. Moreover, in case of missing or broken parts they can be replaced with equally authentic ones from the company. The kit has dimensions of 18.5*4*14 inches and weighs 5.4 pounds.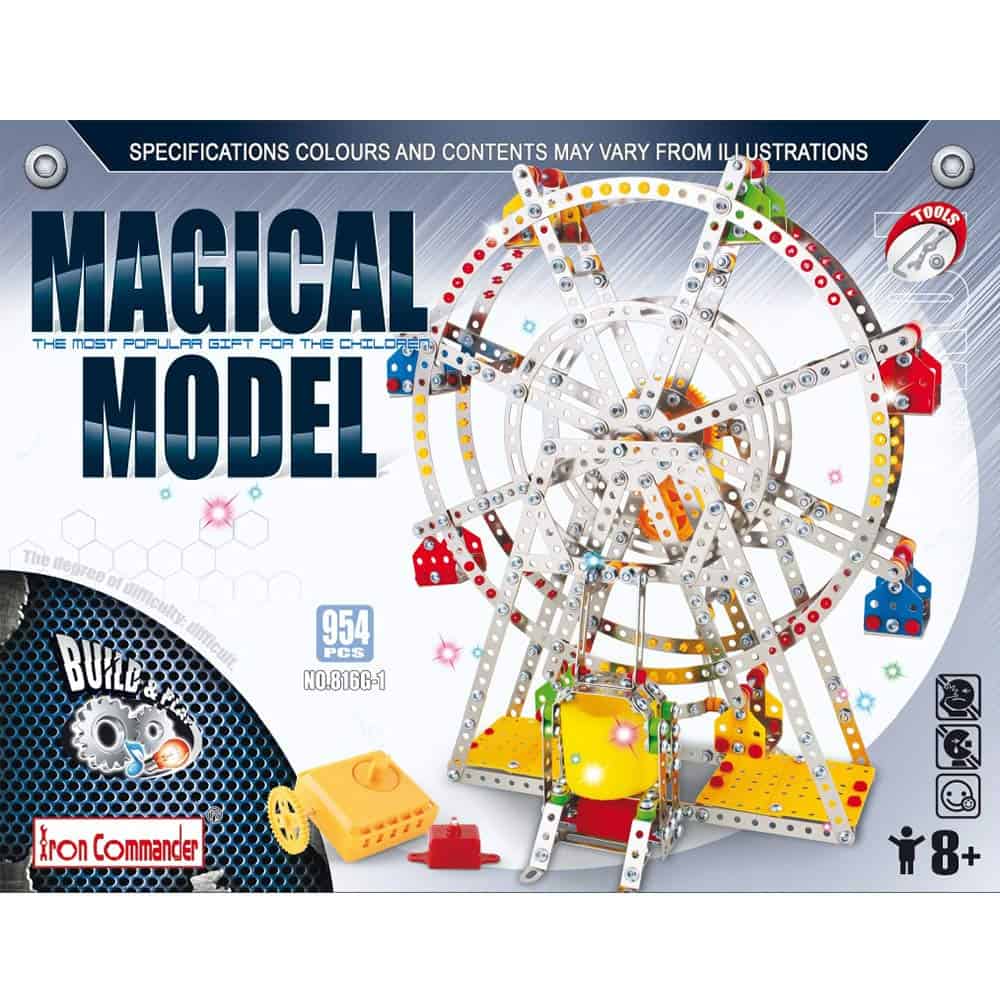 It also comes with a colorful booklet that contains easy step-by-step instructions on creating a Ferris wheel. There are strict quality controls taken under consideration when making it to ensure that it does not contain chemicals that may be harmful to children. 
Once you figure out the metal construction set well, you can a beautiful decoration that can be up to 35 cm high. The kids can have a great time doing this. What's even better is the fact that the kit can be used by girls as much as it can be used by boys. It promotes interactive play among kids and even between the kids and adults. In fact, you could spend more than 5 hours creating a magical model with your child and they could learn a lot while at it. The dimensions of the package is 14.6*9.1*12.2 and weighs 3.26 pounds.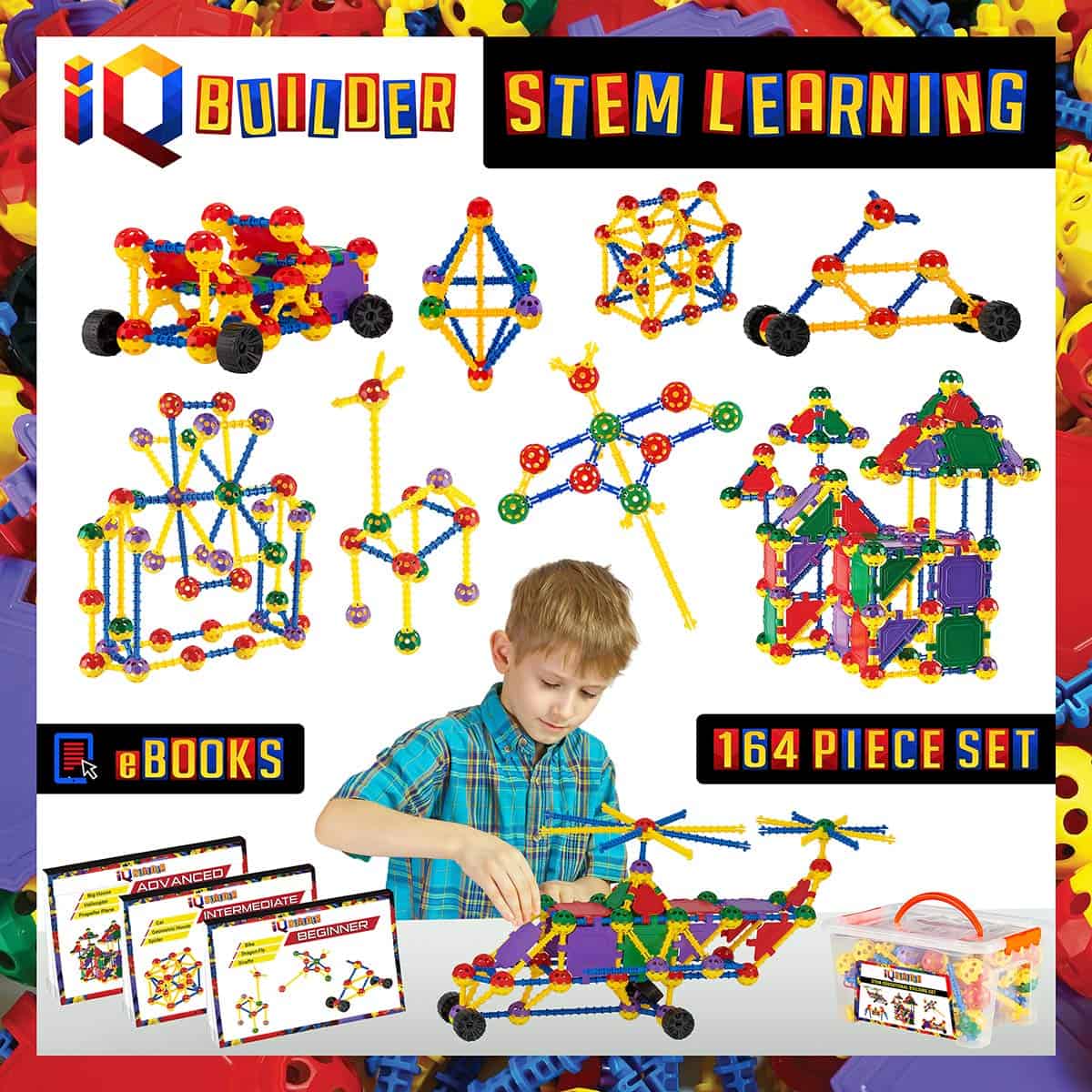 IQ Builder toys are unique and innovative in that they are engineered to promote learning, develop the cognitive system, and provide productive play for hours. They are also toxin-free which means that they are not only safe but also facilitate early brain development and childhood progress. 
IQ Builder toys are designed for optimal STEM engagement such that the children are equipped with the necessary in-demand skills from an early age. These skills help them to succeed in the classroom as well as in a world that is getting more dynamic every day. Its design is innovative with 40 connecting balls, 24 cover plates, 5 wheels and wheel connectors. In addition, the set includes 88 ball connectors of different lengths' so as to give unlimited options of model designs.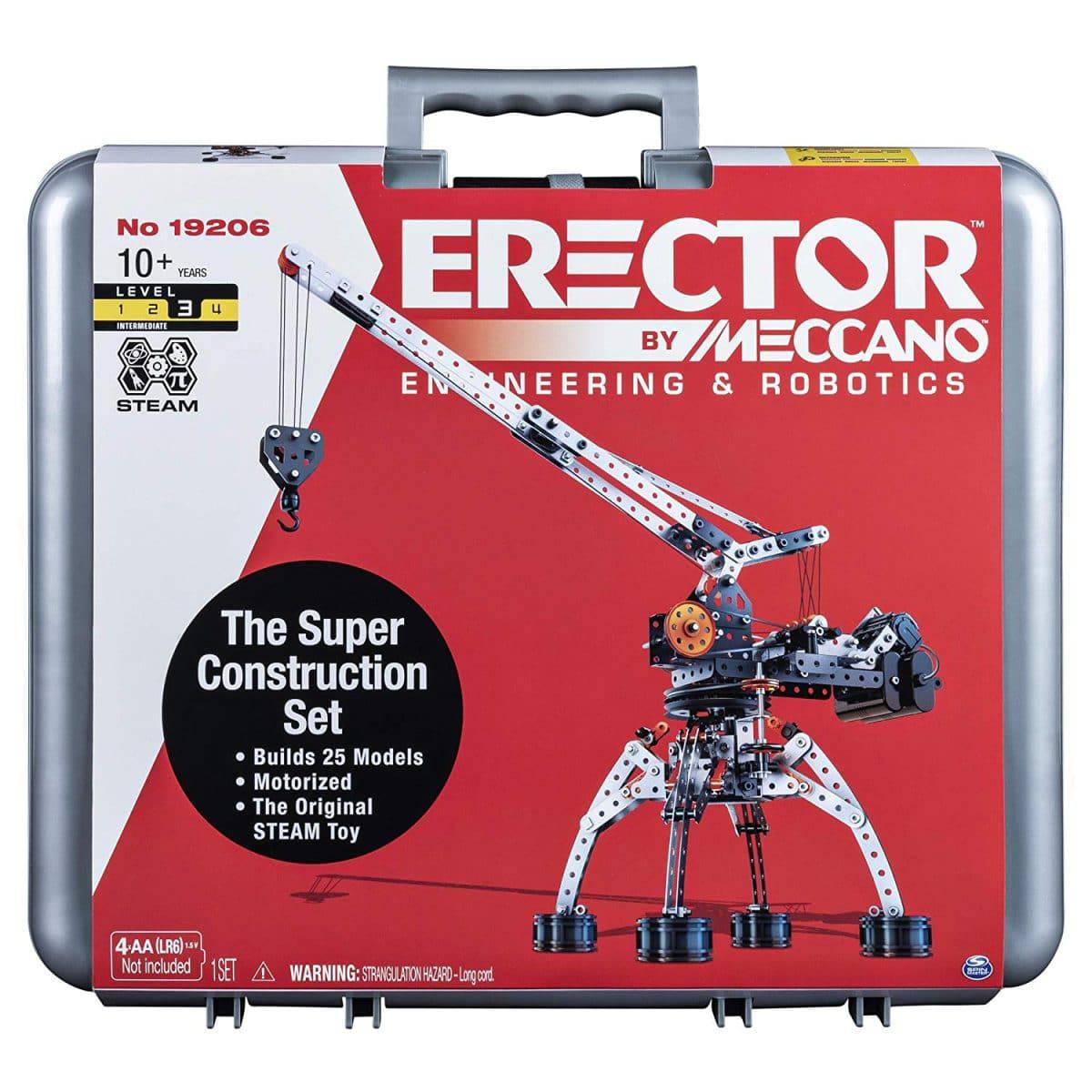 It contains a robust 6-volt motor which gives the created models a real, functional motion.  With 638 pieces, the kids can create a wide range of models such as a helicopter, a crane, a motor vehicle, and so on. In addition, it is designed to promote learning because the more the kids interact with it the more they develop a lifelong interest in STEAM.
This set is ideal for kids who are aged 10 years or above because it contains an ingenious system comprising small parts that can be combined in different ways to create different models. Playing with this kit makes the kids learn vital life skills such as patience, coordination, organization, and reading directions. To give kids the excitement of seeing their models move, the set is mounted with a battery-powered motor of 6-volt. The dimensions of the kit are 4*16*13.9 and weighs 7.3 pounds.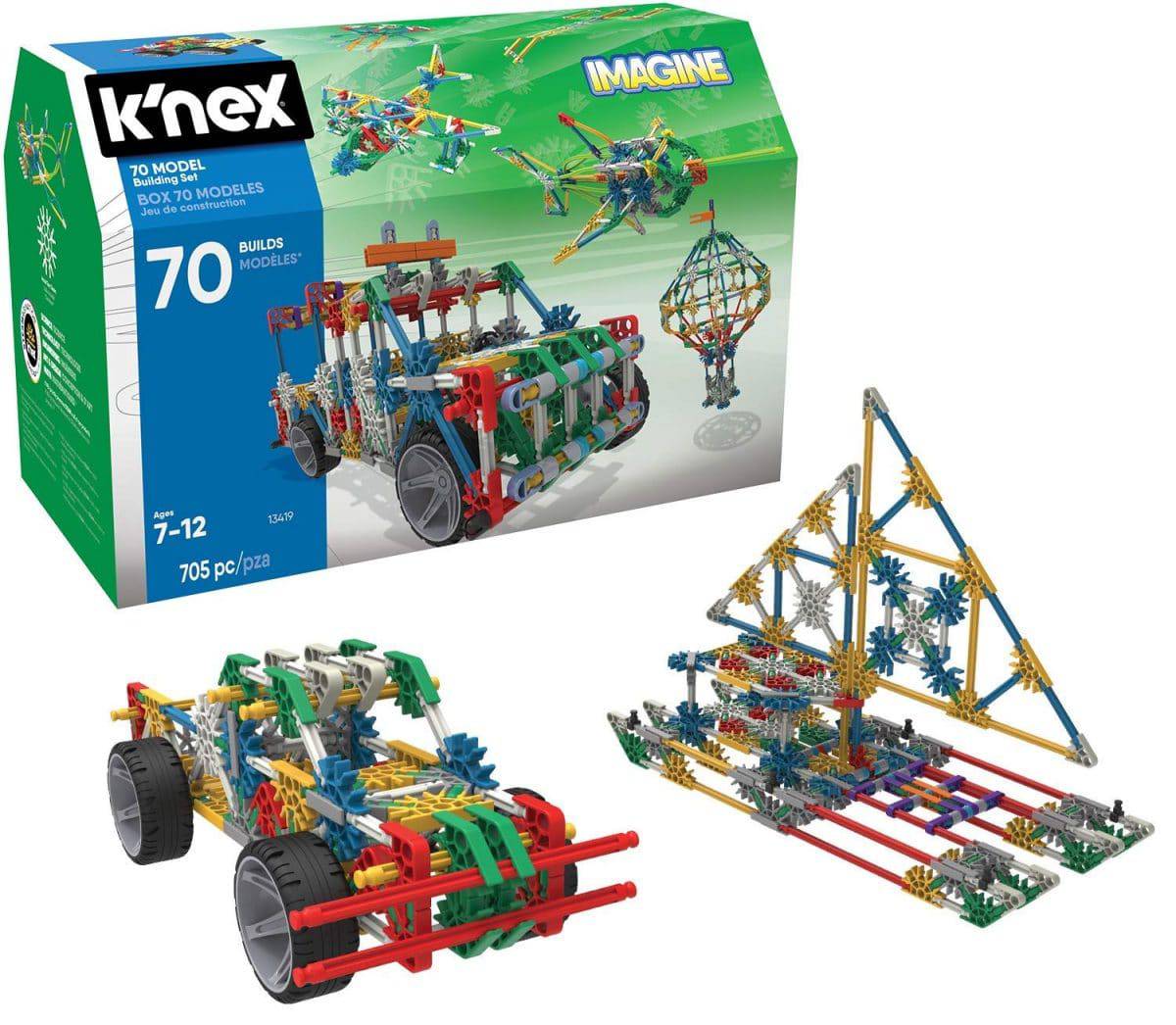 They can construct animals, trucks, planes, amusement parks, and many more possibilities. It can also be used by both boys and girls because each gender will construct things that interest them the most. It comes with a step-by-step instructions for building some given examples. This makes it easy to use it especially for first-time users. 
Even with the pieces so many, the good thing is the package comes with a handy storage box that is used to keep all the parts I one place and well organized. The models constructed using this set have real moving parts which makes the whole process even more exciting. This product is versatile and when the kids put their minds to it they can create anything they imagine. The package measures 16*7.8*10.5 inches and weighs 3.35 pounds.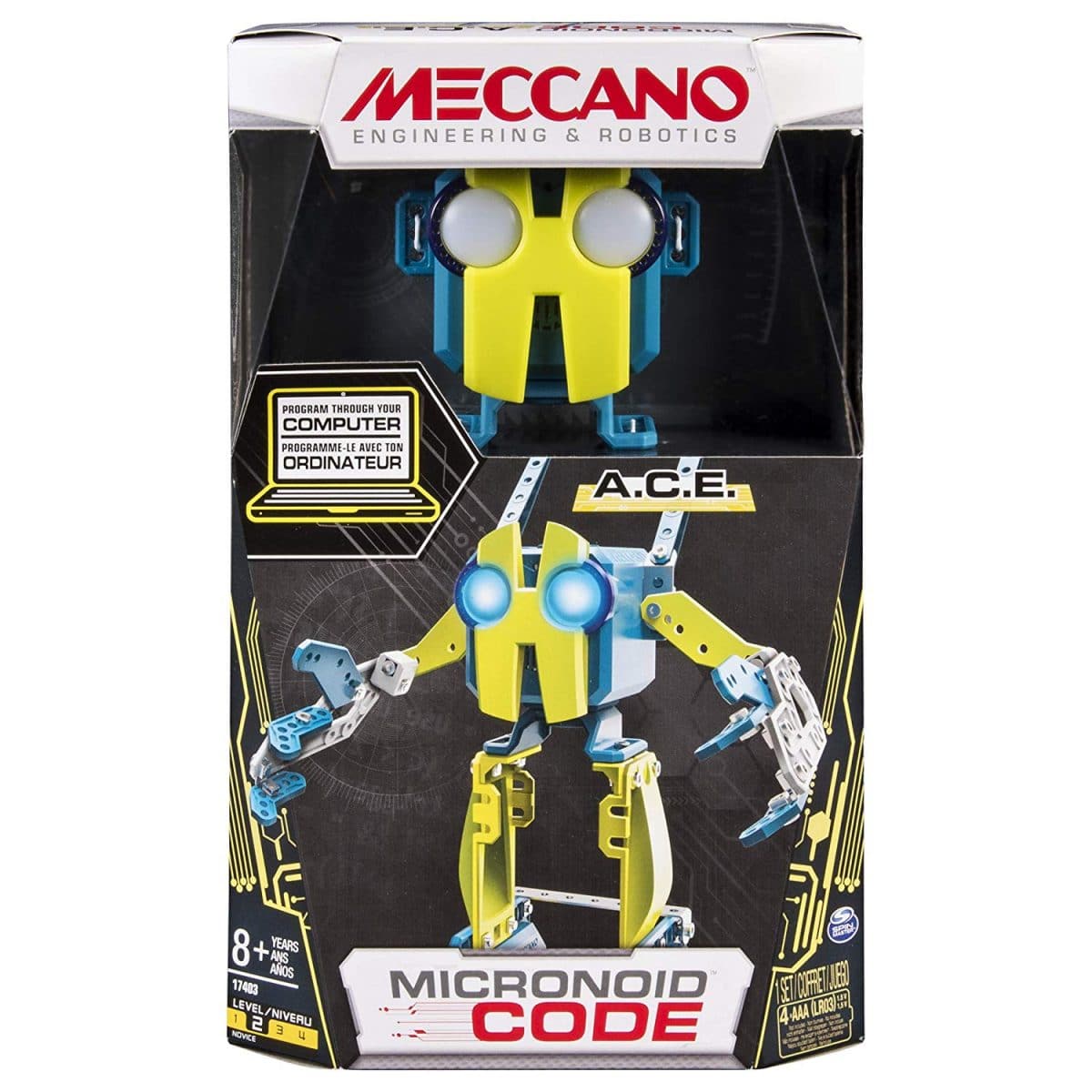 It is best suitable for kids aged 8 years and older as they are more likely to be robotics and engineering enthusiasts. Moreover, building this quirky robot can be quite challenging but highly rewarding at the same time. The whole process of assembling it and interacting with it through play taps into vital skills of science, engineering, and math. 
It is possible to personalize each Micronoid to make it unique to you. As such, the kids can custom-make their own sequences of walking and turning and even make it record sound phrases using their own voice. Even more interesting is the fact that it comes equipped with beat detection such that immediately they hear music they start dancing. They have buttons that can be used to create own tunes when it is in DJ mode.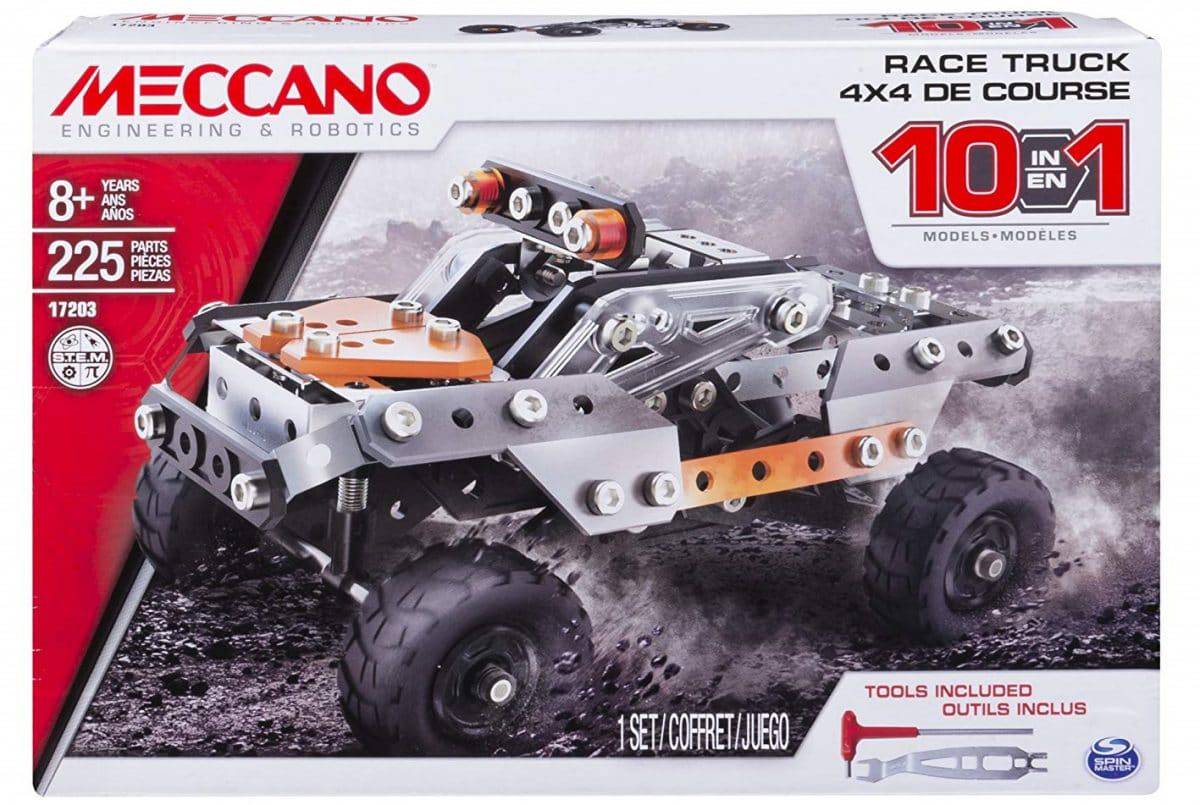 It also contains new generation of colors that kids can use to create new generation models that have real mechanical abilities
Out of its 225 parts are 2 real tools and one instruction manual with easy step-by-step guidelines. The young builders using it get hands-on as they use real tools to screw bolts, wheels, and metal nuts. Constructing it is so mind-engaging but upon completion there is always this huge sense of satisfaction. When packaged, the dimensions are 6.4*6.9*3 inches and it weighs 1 pound.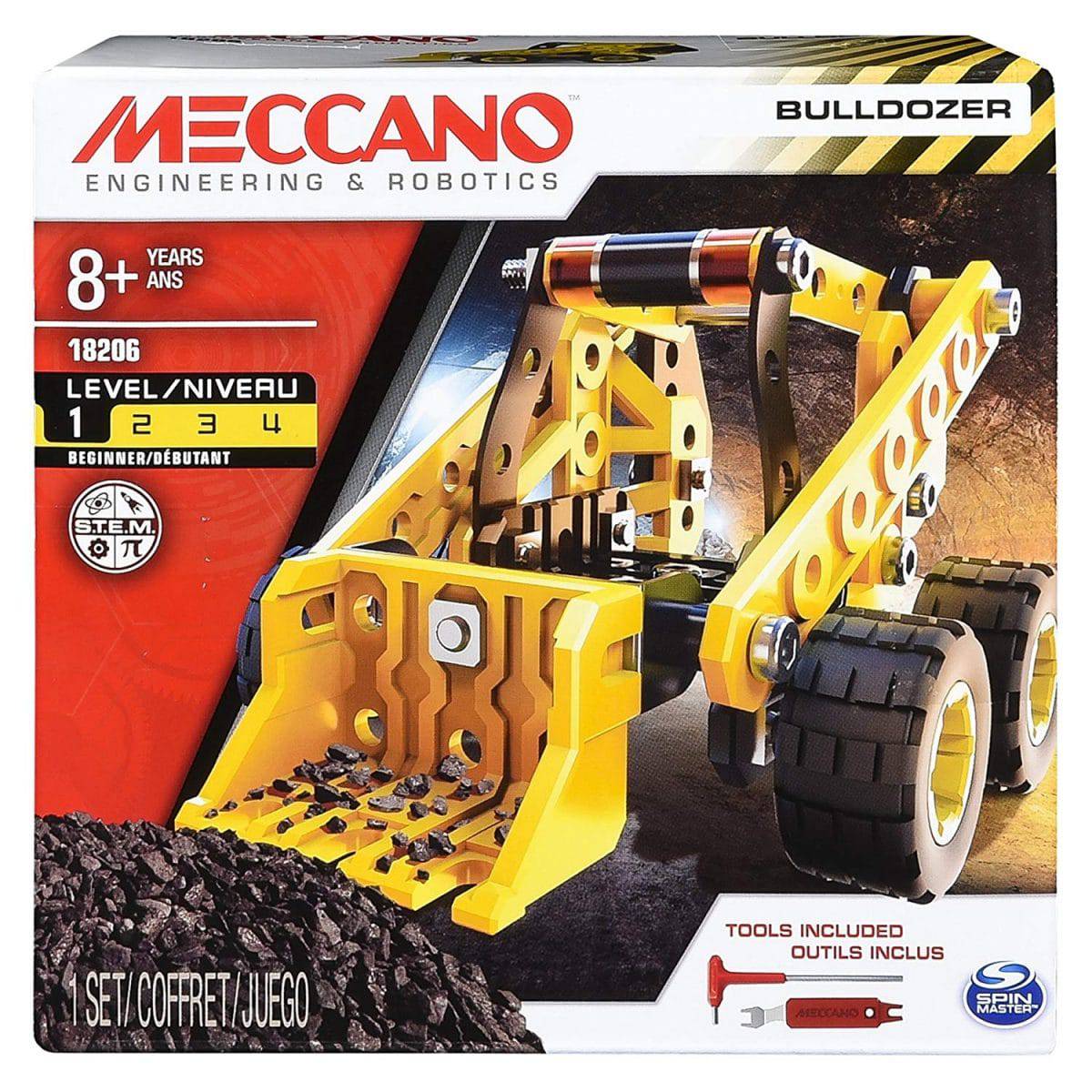 It is an easy to use kit that combines arts with STEM education thus offering your kids a chance to explore both worlds. It makes a great gift idea for young kids above the age of seven years. 
This Meccano bulldozer has real metal parts such as wheels, nuts and bolts and it also comes with real tools for kids to use when assembling the model vehicle. All parts add up to 87, the tools are two and one instruction manual is included to help construct one car model. Once the model is complete, the kids can use it for imaginative play together with the rear scoop and moving front loader. It can cause a choking hazard in younger children so parents should be on the lookout for that.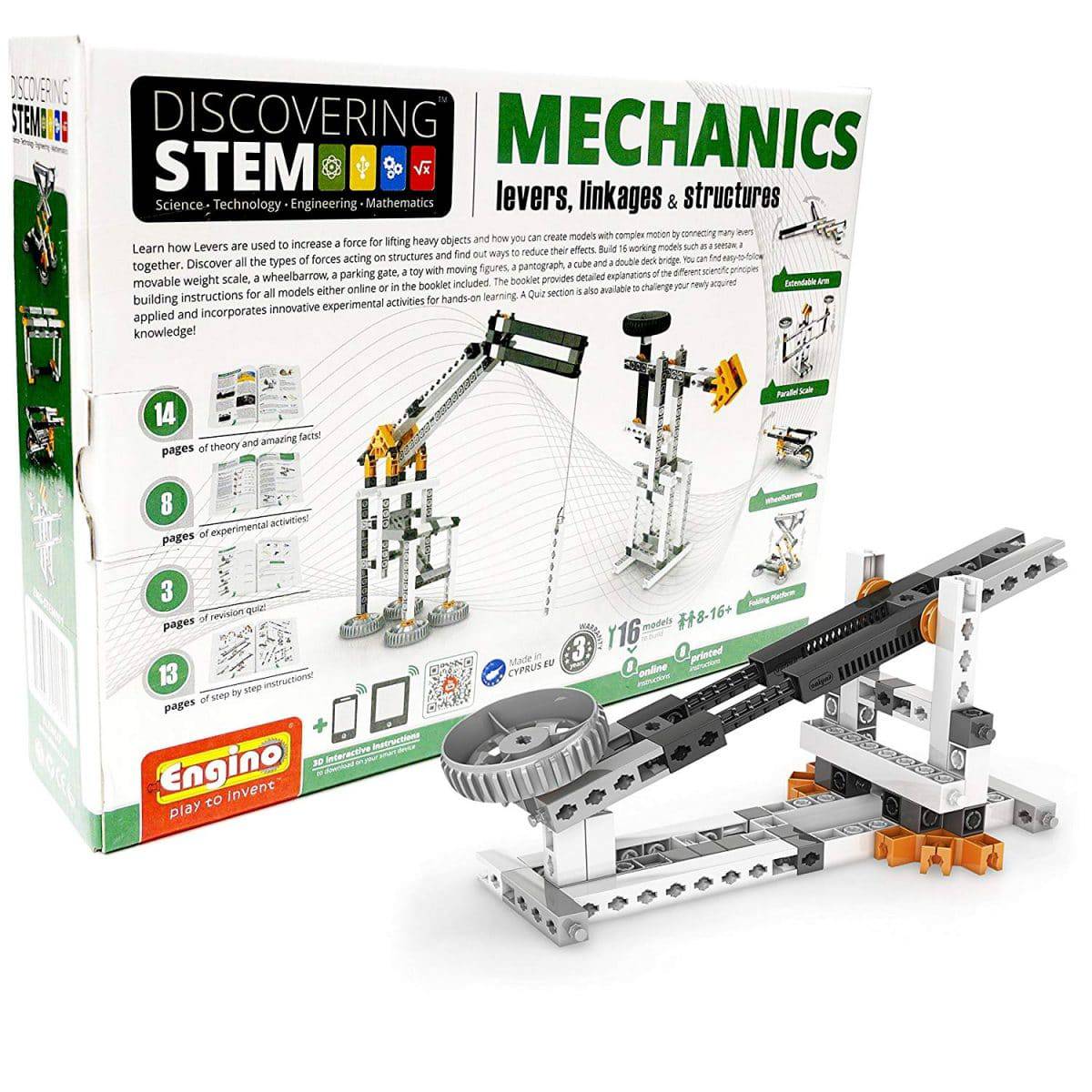 This ENGINO building kit comes with a 13-page booklet with 3-d rendered instructions on how to build and more information is available is their website. It also has another booklet with theory and facts on the topic and a 4 page quiz to evaluate your child's understanding. This kit supports STEM education and is great for kids interested in engineering. Its special design allows children to build both simple and complex designs using a small number of components at a shorter period of time.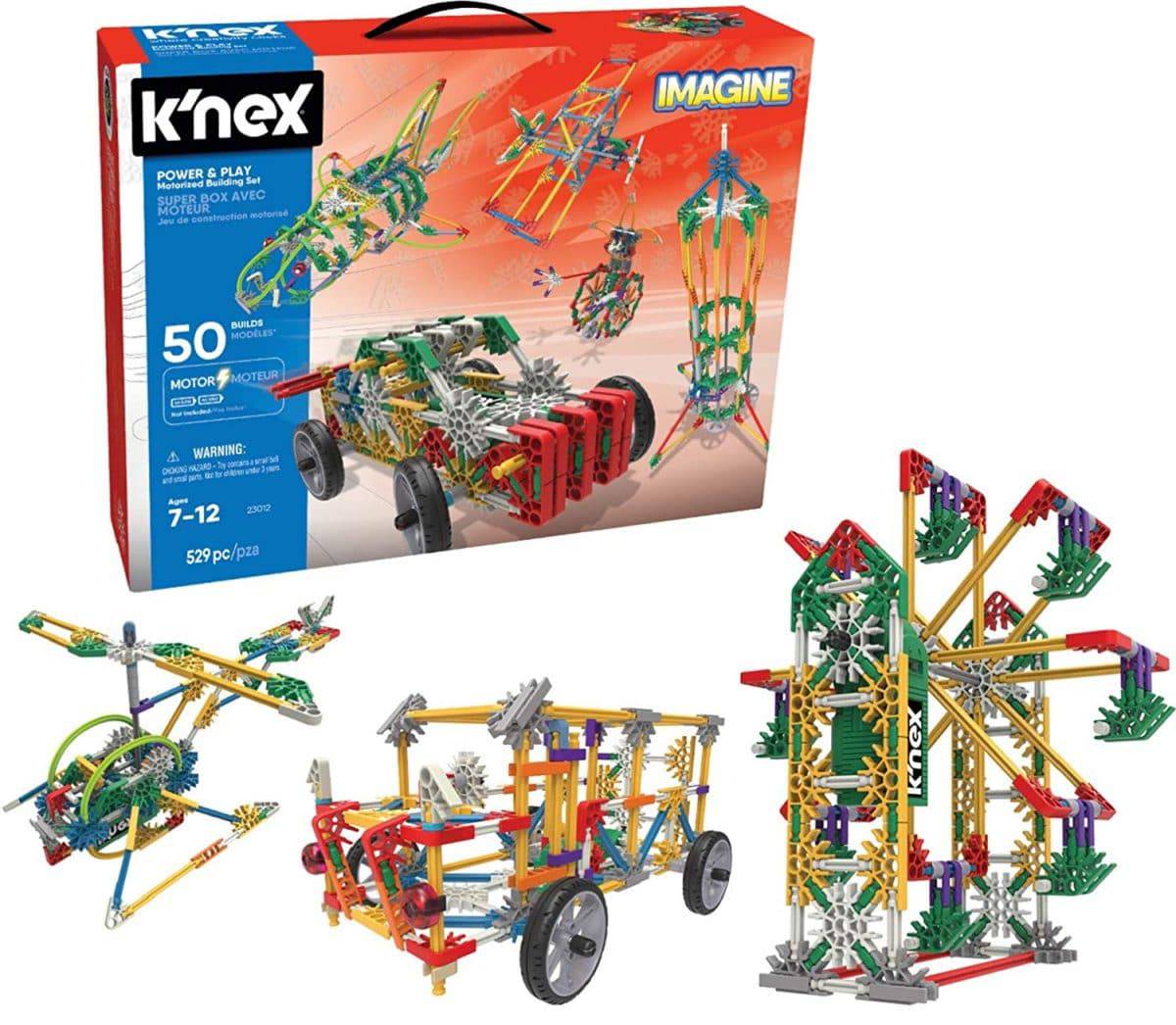 It's not all play with this kit, it combines STEM education with your child's creativity and therefore offering your child the best of both worlds. The kit comes a suitcase packaging that makes travelling with toys hustle free. It has 529 assorted pieces which include connectors, rods and wheels all in different sizes. The pieces click together easily and this gives kids the chance to create 3D configurations. It also a step by step guide that will guide your kids as they create different models such as aircrafts. Your children are bound to gain key developmental benefits such as better spatial awareness when they use this building kit. All building pieces are tested to the stringent safety and quality standards.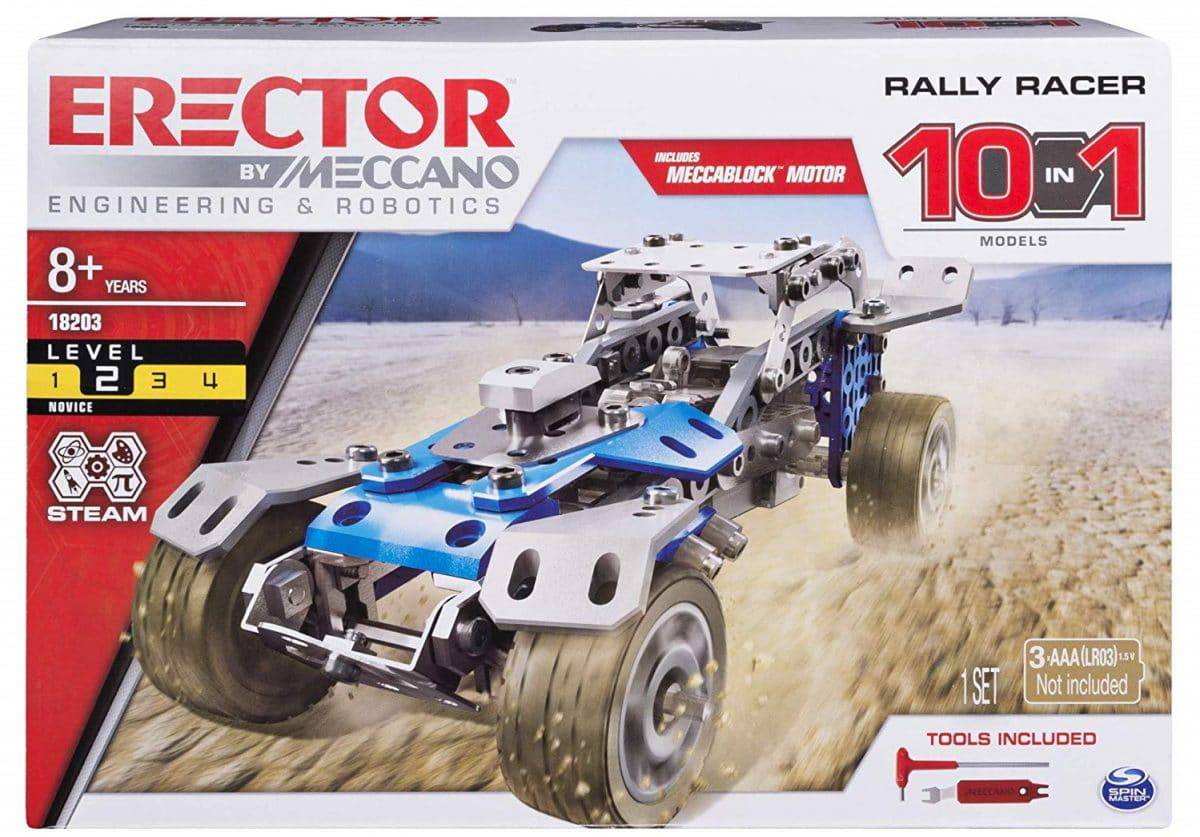 K'NEX is known for creating some of the best play sets and this is one of their best pieces. This particular set was designed by the inventor of K'NEX, Joel Glickman. The kit has 744 pieces, including rods and connectors. They are made of durable plastic which is also flexible for easy assembly.  Kids can use their imagination to create limitless models such as Ferris wheels and roller coaster for the amusement park. This kit is motorized which allows all constructed models spin or rotate in the same way amusement park rides work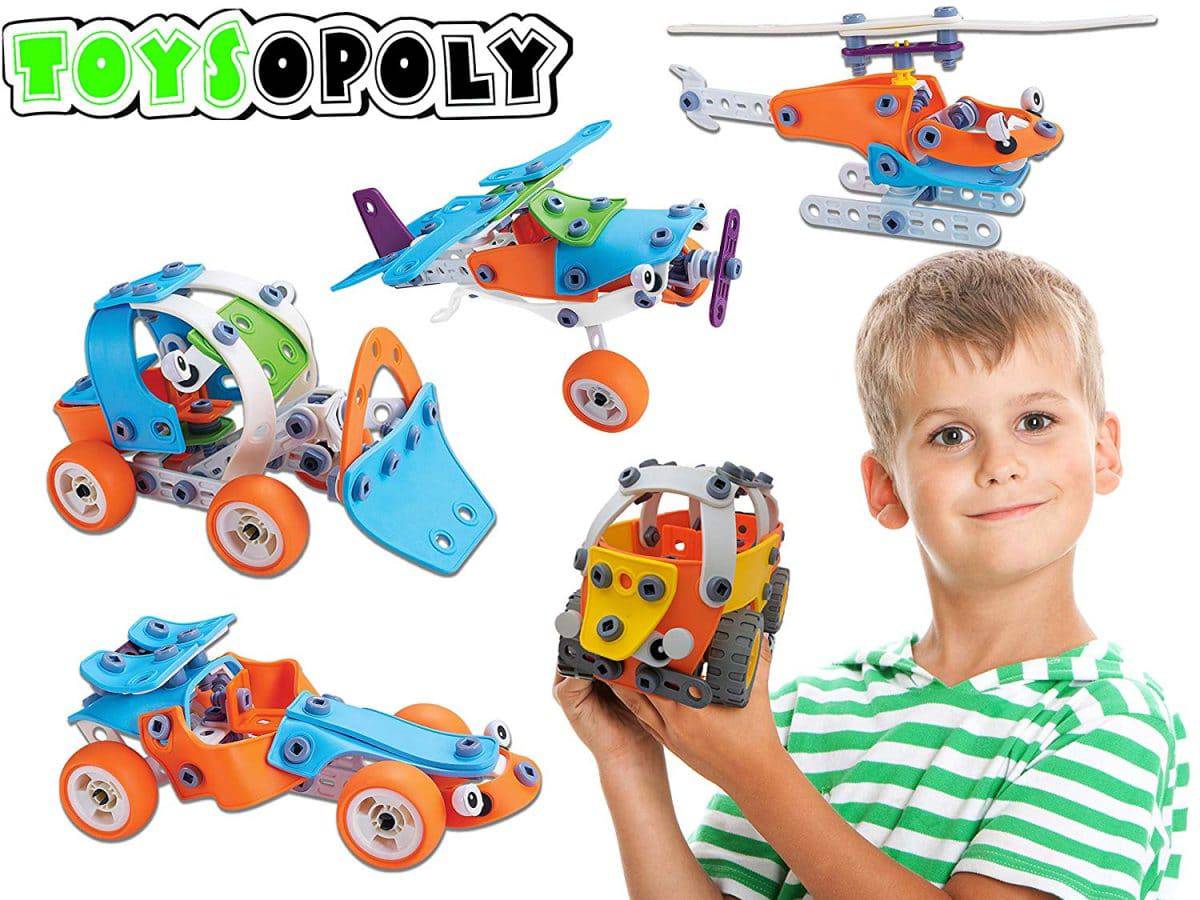 This building kit from ToysOpoly contains 136 blocks that come in different shapes and sizes. It also features; plates, wheels, screws, nuts, a screwdriver and a wrench. An idea sheet is also provided to help inspire your children. This kit can build 5 different models but not at the same time. An e-book and videos containing step by step instructions for building are also provided on the website. This building kit helps in developing better hand- eye coordination and motor skills in children, it promotes problem solving skills and logical thinking which are very important in a child's life later on.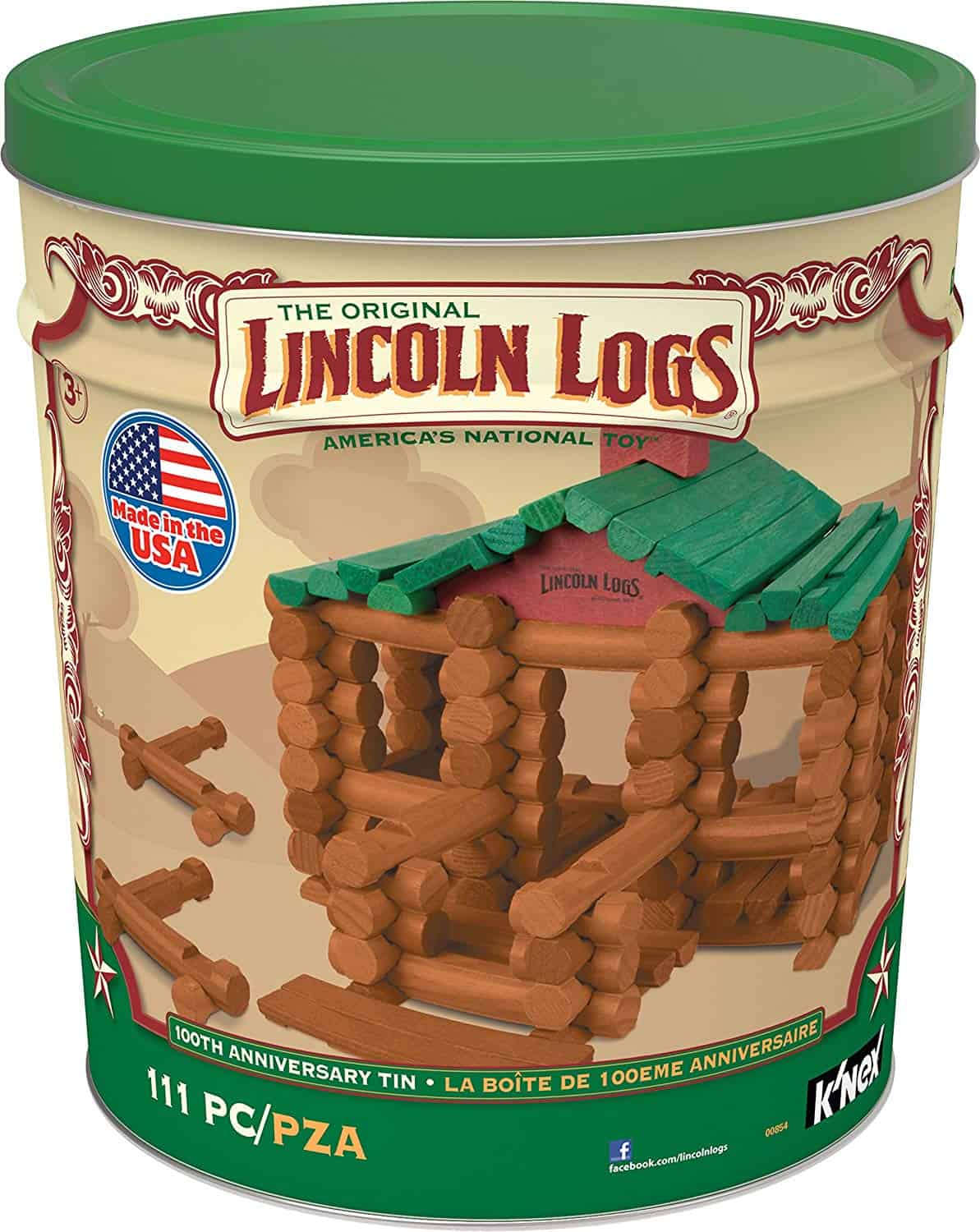 It was inspired by one of the original Lincoln logs. They teach STEM subjects in a fun easy to understand way. This construction toy is made of real, high quality maple wood. All 111 pieces have indentations that are used to connect easily with one another. These pieces are inclusive of the walls, chimney, porch, bonfire, bonfire seats, the roof and the roof façade. Your children are provided with three building ideas to try and reconstruct but they can also use their imagination to come up with their own unique designs. It also comes with a collectable tin that allows you to quickly tidy up your kids play station This set is a great way to introduce your children to STEM subjects. The Lincoln logs are manufactured in the USA and follow the highest quality standards.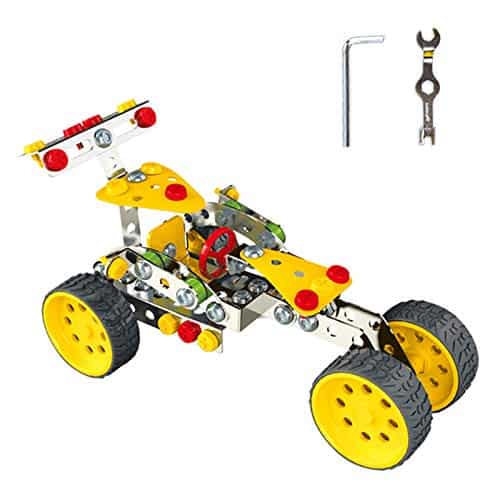 The KAIM DIY building kit has 149 pieces, a wrench and screwdriver which will help your kids construct a racing car model. A step by step instruction manual is also included to make the task easier. The set is connected with scientific mechanical designs which enable the assembled model fit perfectly. A storage bag is also included for better organization and transport. The set is manufactured using high quality safe materials certified by the European and American Toy Safety Standards. All metal material is well polished to prevent rusting. There is also a 30- day money back guarantee if you are not satisfied with the product.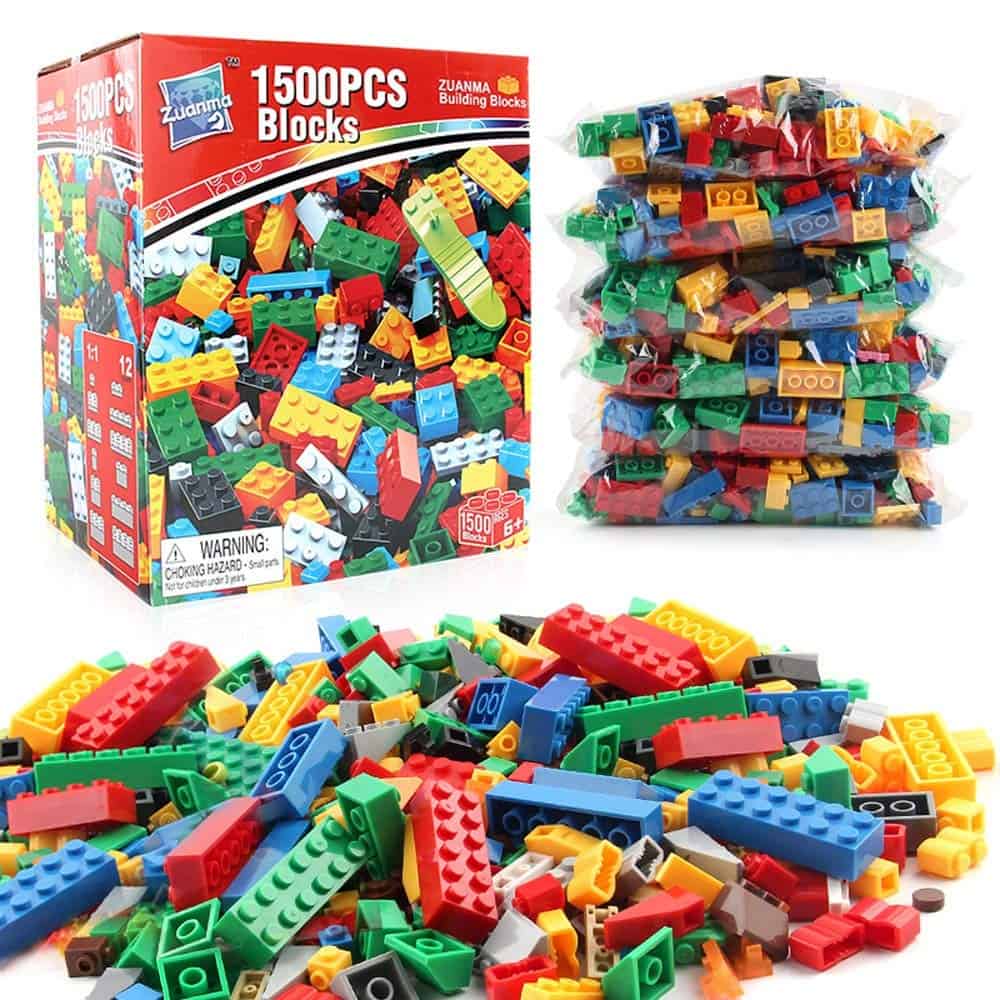 It also provides a good opportunity for you to spend quality time with your children. Your kids get developmental benefits such as divergent thinking, improved hand- eye coordination among others.
This building set from StemKids comes with 271 colorful building pieces, chrome metal, a model for your kids to assemble. The pieces are easy to assemble and can mix matched to create an array of models. Each vehicle consists of metal pieces of different shapes and sizes that complement the plastic parts aesthetically. This set helps build your child's technical aptitude, patience and manual skills.  It is ideal for kids the age of eight years and above who are particularly interested in construction and engineering.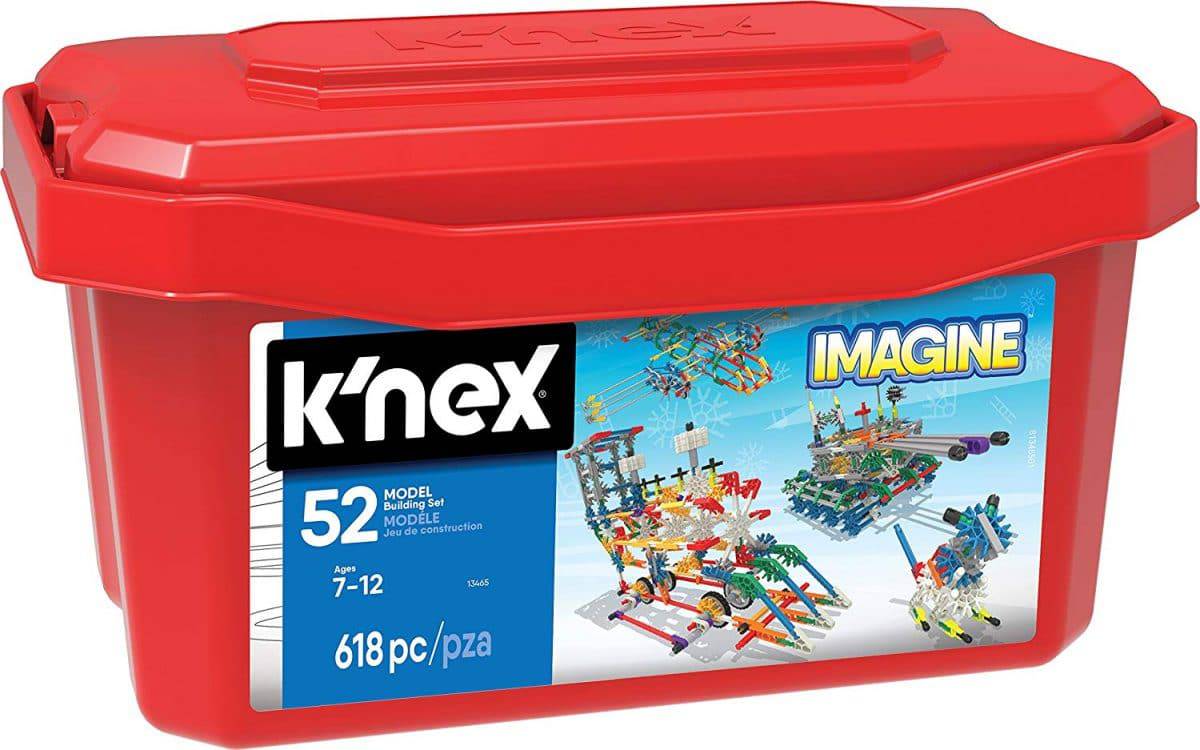 It connects STEM education to creativity and the natural curiosity in children. It also offers developmental benefits such as better hand–eye coordination, problem solving skills and spatial awareness. This 52 model building set comprises of 618 micro and classic parts and pieces which include connectors and rods. These pieces snap together easily to create rounded and cornered shapes. The set also comes with more than fifty model ideas such as a windmill, fire truck, giraffe and many more. A storage tub is also included for easier storage and travelling. This set is manufactured under the strictest rules which ensure the best quality and guaranteed safety. Any broken or missing pieces are replaced as soon as you report it.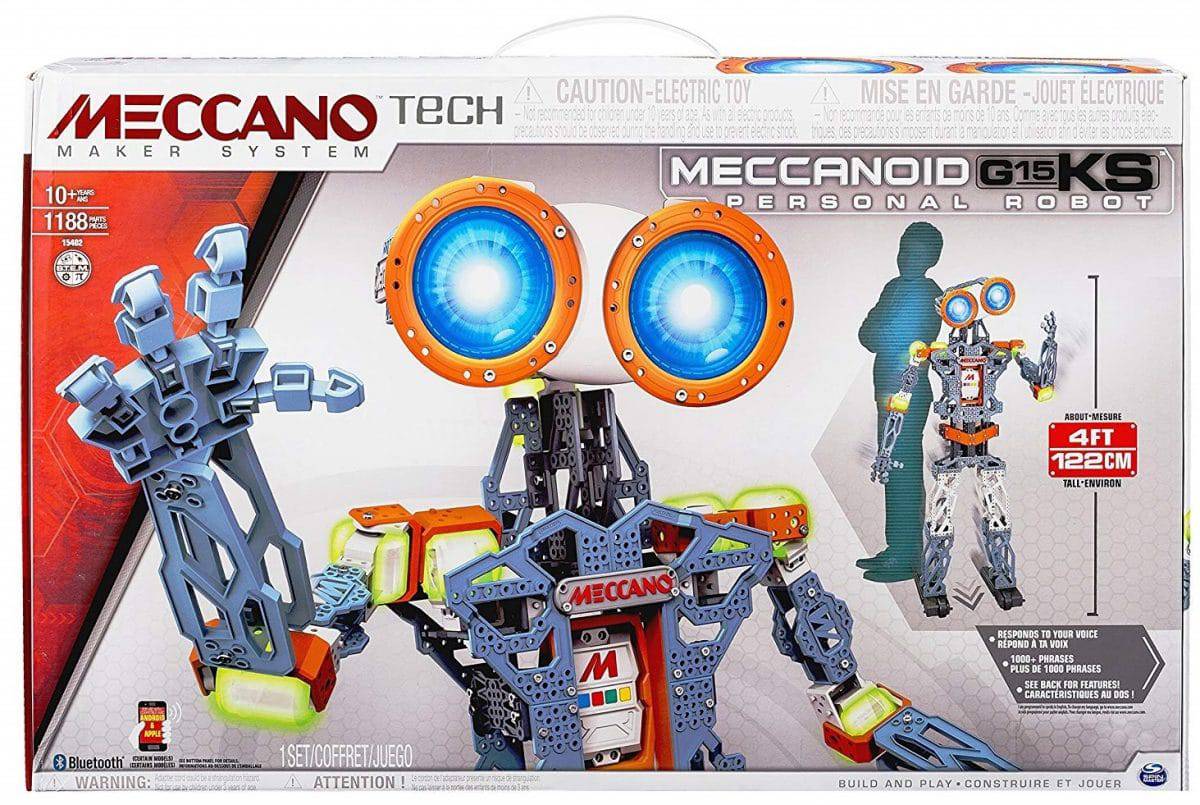 It comes with a rechargeable battery and its control app is available on both play store and apple store for free. This robot has voice recognition which allows it to respond to more than 100 pre-programmed commands. It can also recognize limitless user-recorded voice commands. It has the ability to remember names, tell jokes, start conversations and play games. The Meccano robot has programmed movements and sounds. You can command it to do actions with a push of a button. Motion capture allows it to mimic your movements using the smartphone camera mounted on its chest. Its system allows you to rebuild it in different ways. It comes with one wall mount charger, a rechargeable 1800 mAh battery etc.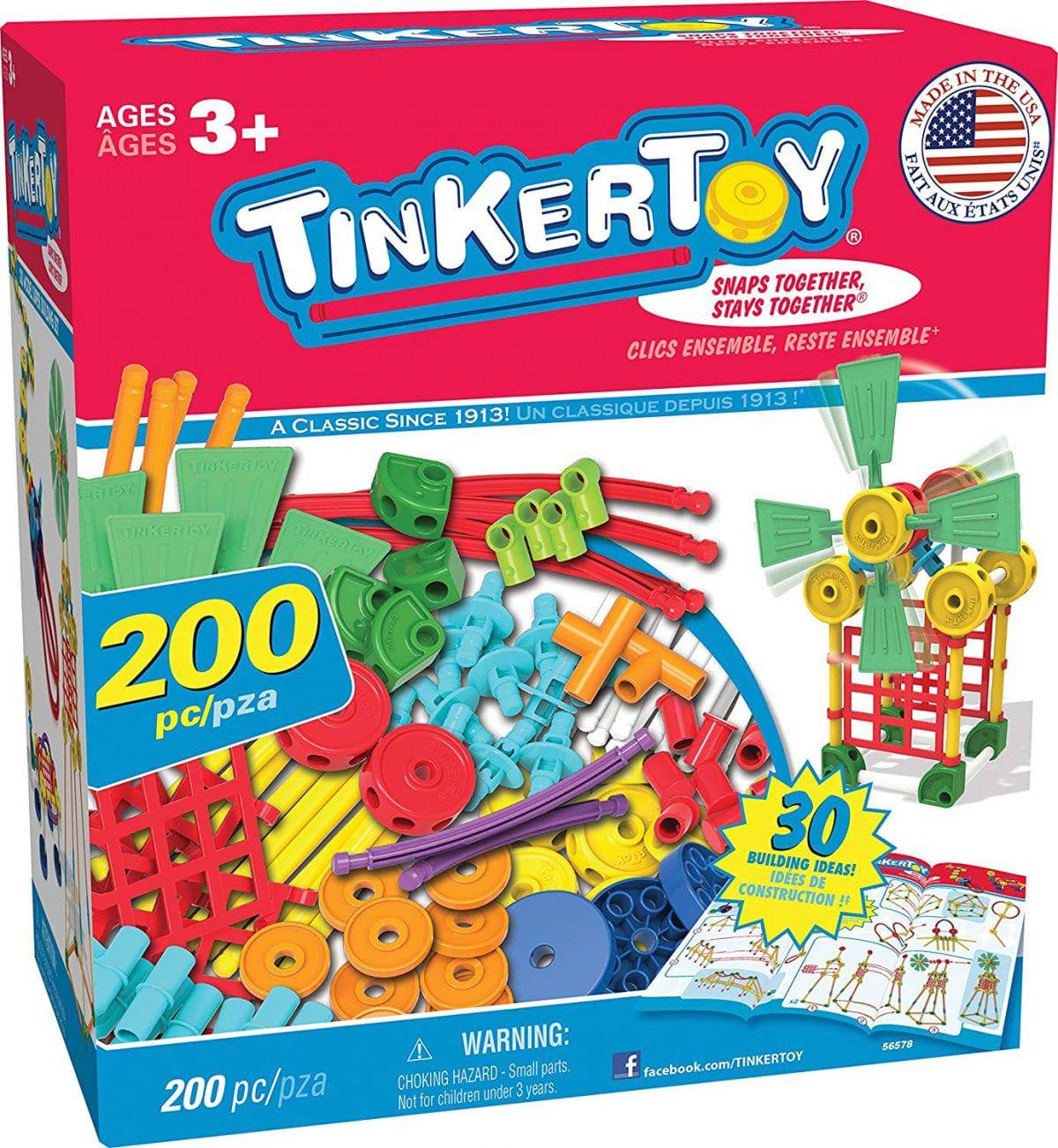 It is used as an advanced preschool learning kit that lets your children harness their creative and analytical skills. This building set from tinkertoy comes with 200 brightly colored building pieces which are inclusive of flags, rods, spools, end caps and washers. Your kids can build a variety of models such as houses, castles, bicycles and many more. This building set also comes with a storage box and an instruction manual with 30 ideas. The building pieces snap together easily and stay that way for long lasting play.  They are also flexible and this allows for easy manipulation when building. They are made of durable plastic which ensures you get value for your money.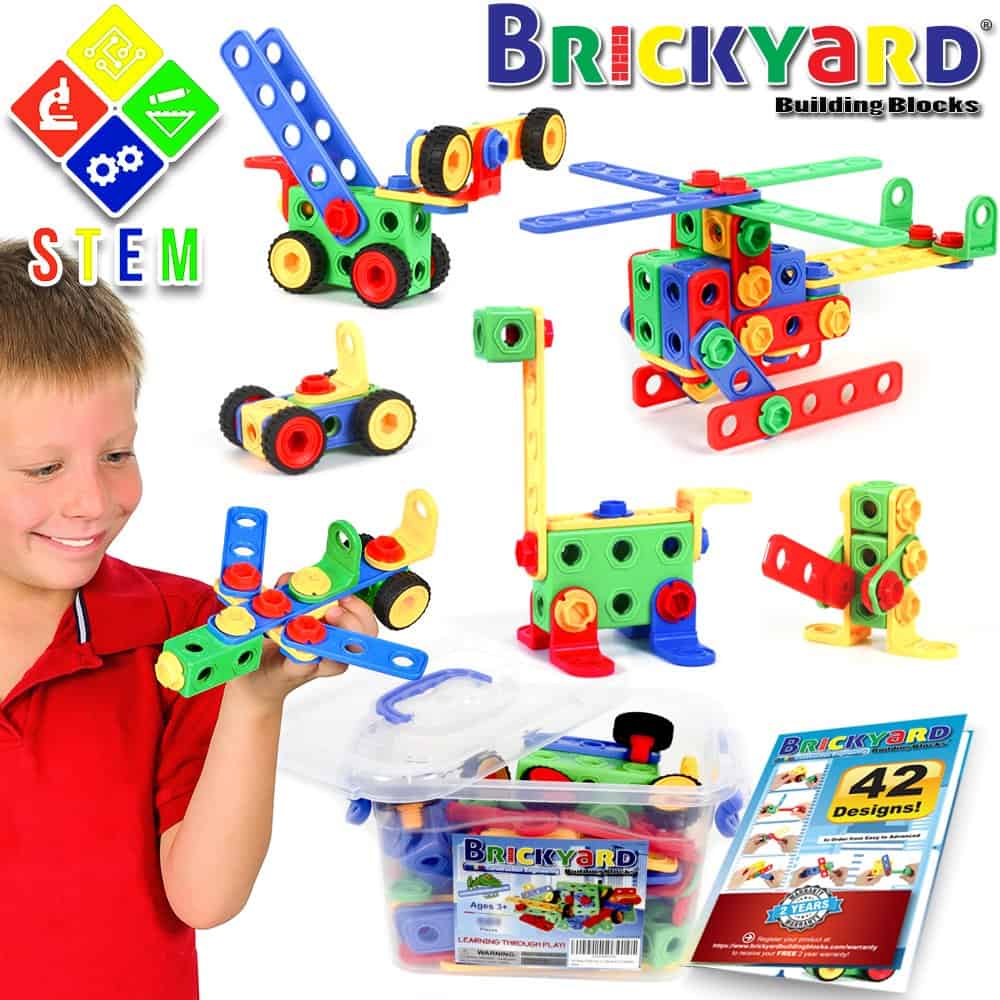 It has 75% more pieces than ordinary sets and the seller guarantees a full refund if you don't like it for any reason. They are easy to clean and come with a sturdy storage box.This kit comes with six buildings tools that allow up to six children to play with it at a time. The brickyard construction building blocks comprises of a large full color guide with 42 designs. This kit can be used by kids as young as three year and kids as old as six years and above. The kit comes with a storage box that makes cleaning and organization much easier. These building blocks are Lead and BPA free and are made using Phthalate. They are also made using children- friendly materials that ensures your child's safety.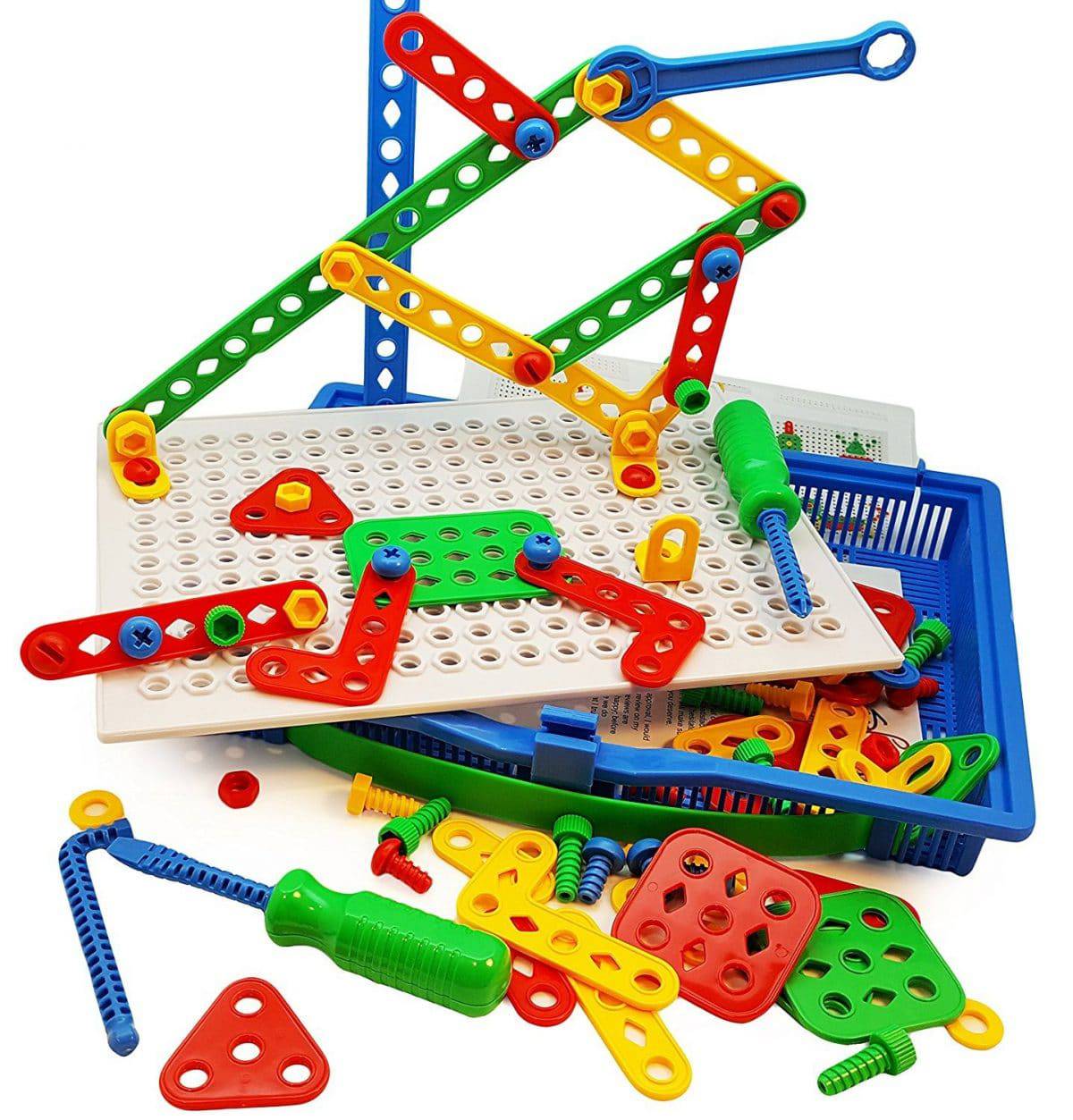 The skoolzy engineering tool set building toys allow kids to create life like three dimensional structures using their motor skills muscles while screwing and unscrewing the dexterity toys. The open-ended design on the building blocks and drill screw set allows kids to build from their own imagination and creativity. It improves color recognition, hand-eye coordination, counting, sorting and it also increases children's attention to detail. It comes with an illustrated idea guide that shows how to create vehicles, animals and many more. This is also a great pre-school building toy set to slowly teach your kids. A storage box is also included for easy organization.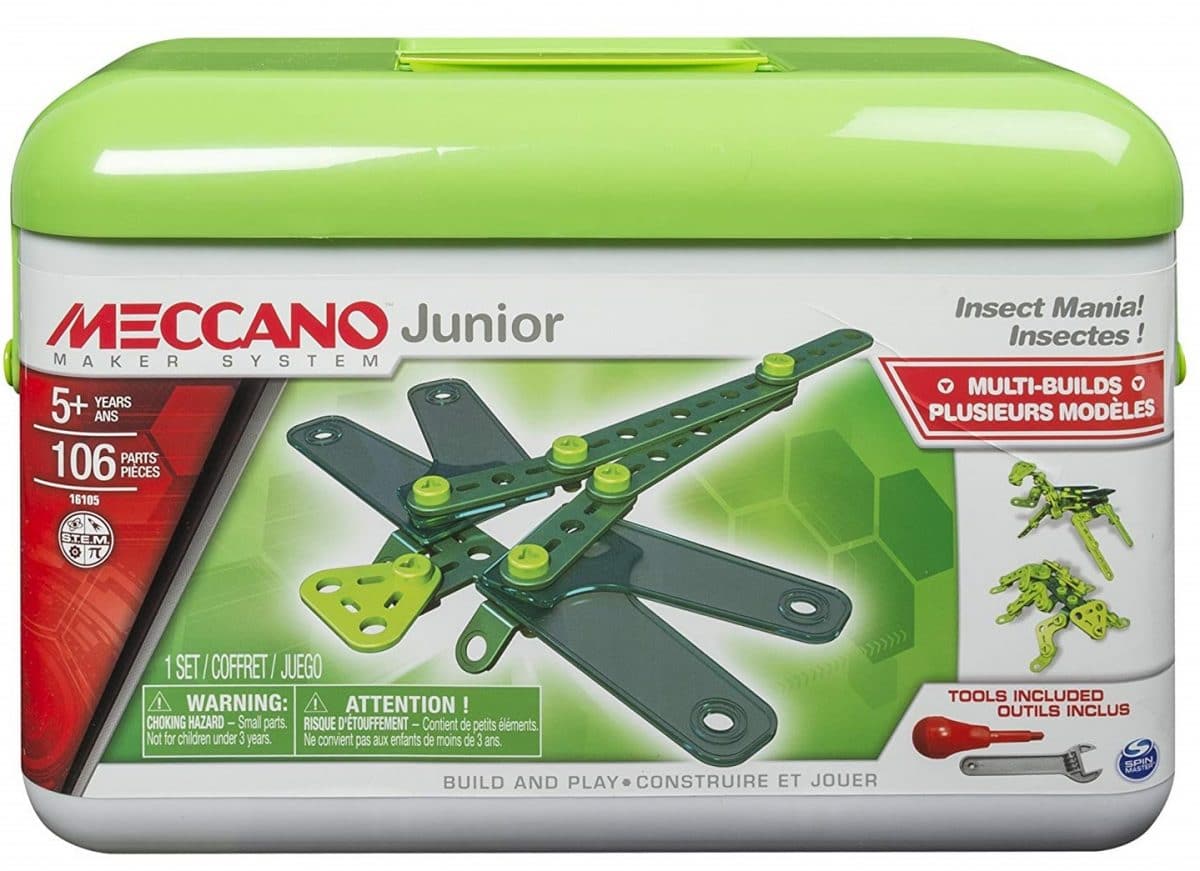 The models have real working parts such as moving wings. This kit also offers developmental benefits to children. This meccano building kit comes with a hundred and six parts, one plastic toolbox, an instruction manual and two real tools. It has four building models of insects which include a dragonfly, a praying mantis and a cricket. It also allows children to put their creativity into use by mix matching pieces to come up with other designs. The complete dragon fly built from this kit is 7.5 inches long, 7 inches wide and 3 inches tall. This kit promotes STEM learning in children and it also offers benefits such as fine motor skills and problem-solving skills.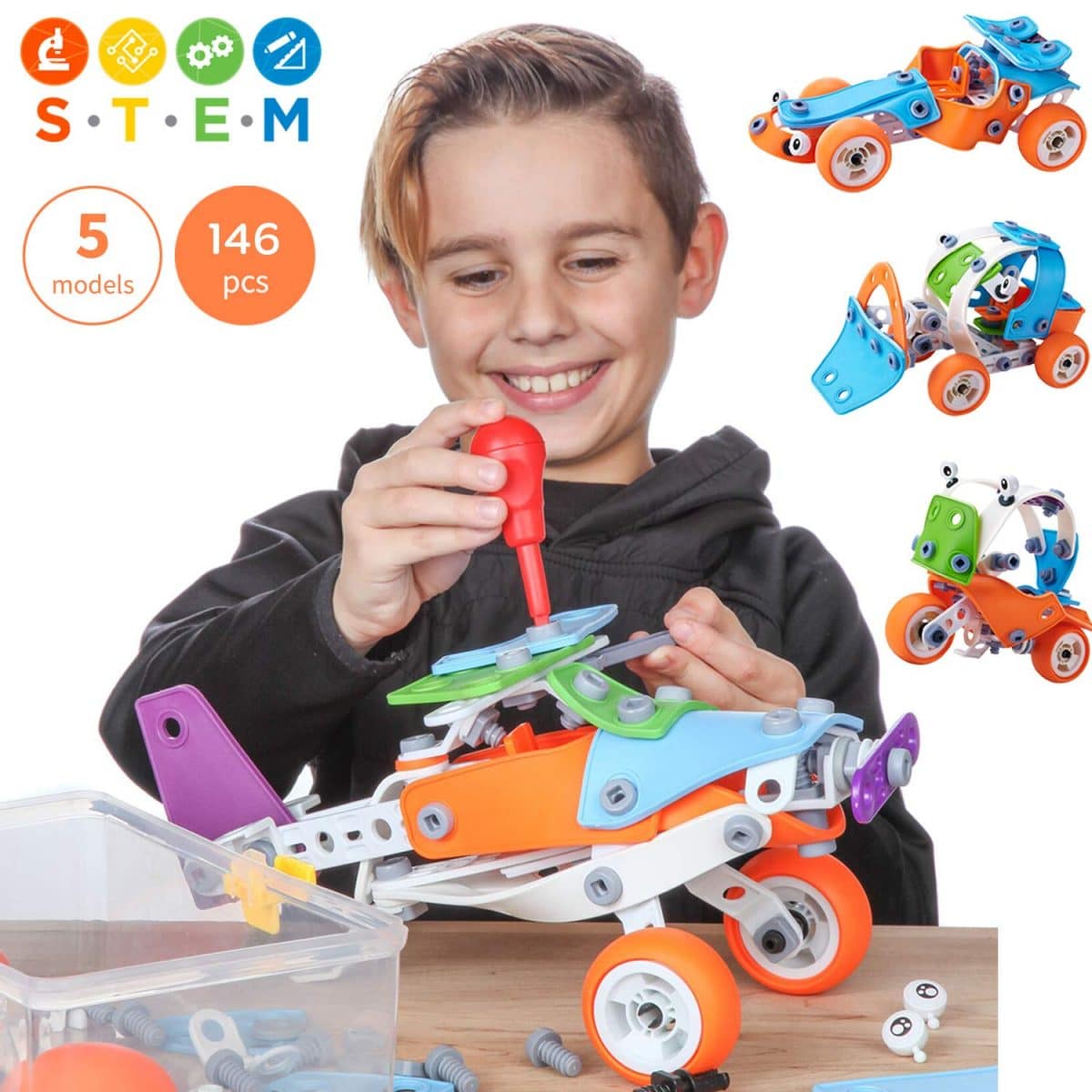 This toy pal toy set allows your kids to build more than five vehicle models using the 146 pieces. The set also includes, wheels, flexible plates, connectors, two wrenches, screws and nuts and an instruction manual. It helps kids appreciate team work, it promotes creativity and problem solving skills. It is also a fun way to keep the kids occupied therefore creating free time for parents. Children get other benefits such as hand-eye coordination and fine motor skills. This set is ideal for teenagers between the age of eleven and thirteen.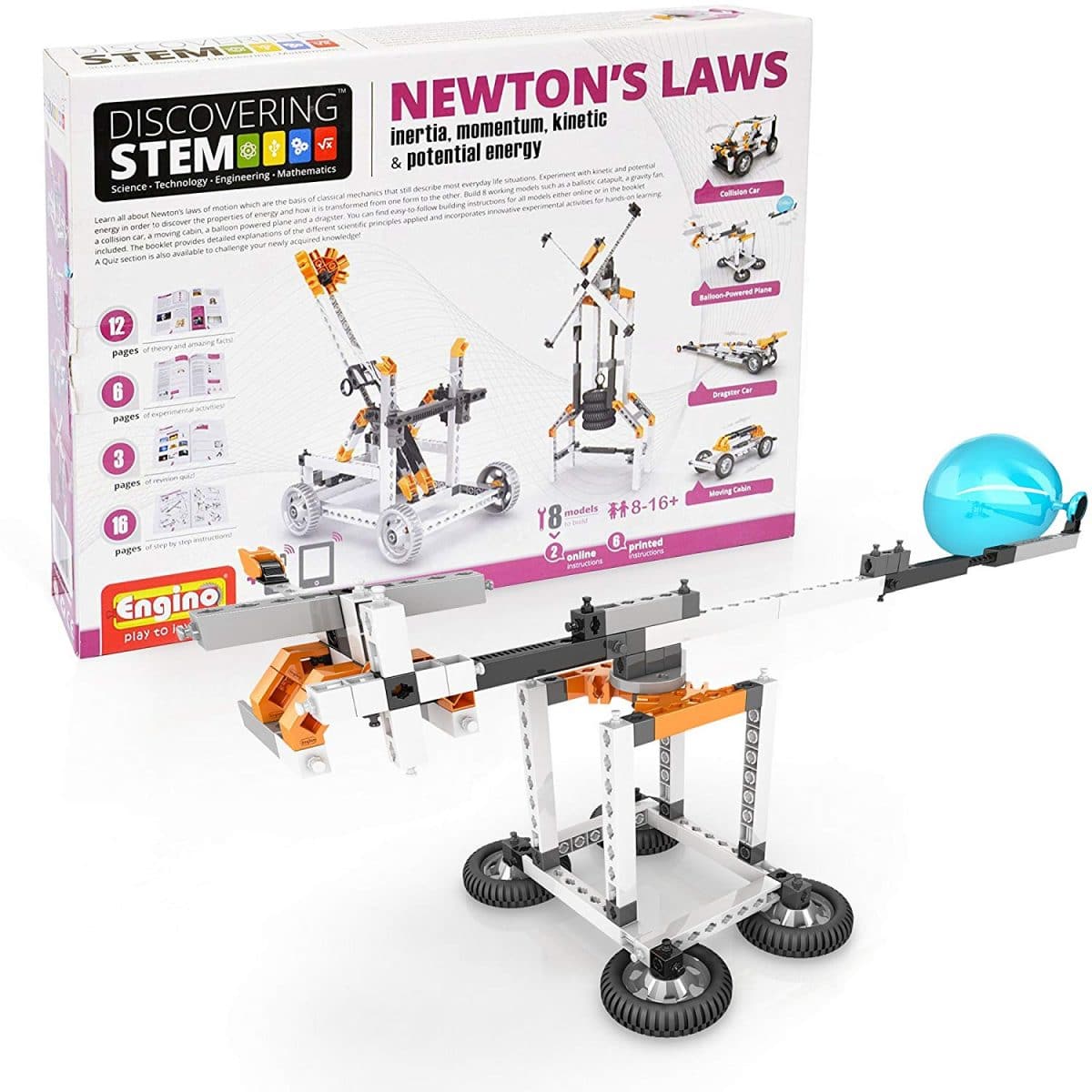 This Engino construction kit is suitable for children of 8 years and above. It is constructed using ABS plastic making it more durable. This kit is great for teaching mechanics that describe everyday life situations such as kinetic and potential energy. It offers children a chance to see how energy is transformed from one form to another. Kids can build eight working models such as a collision car, a gravity fan, a ballistic catapult, a moving cabin, a dragster and a balloon powered airplane.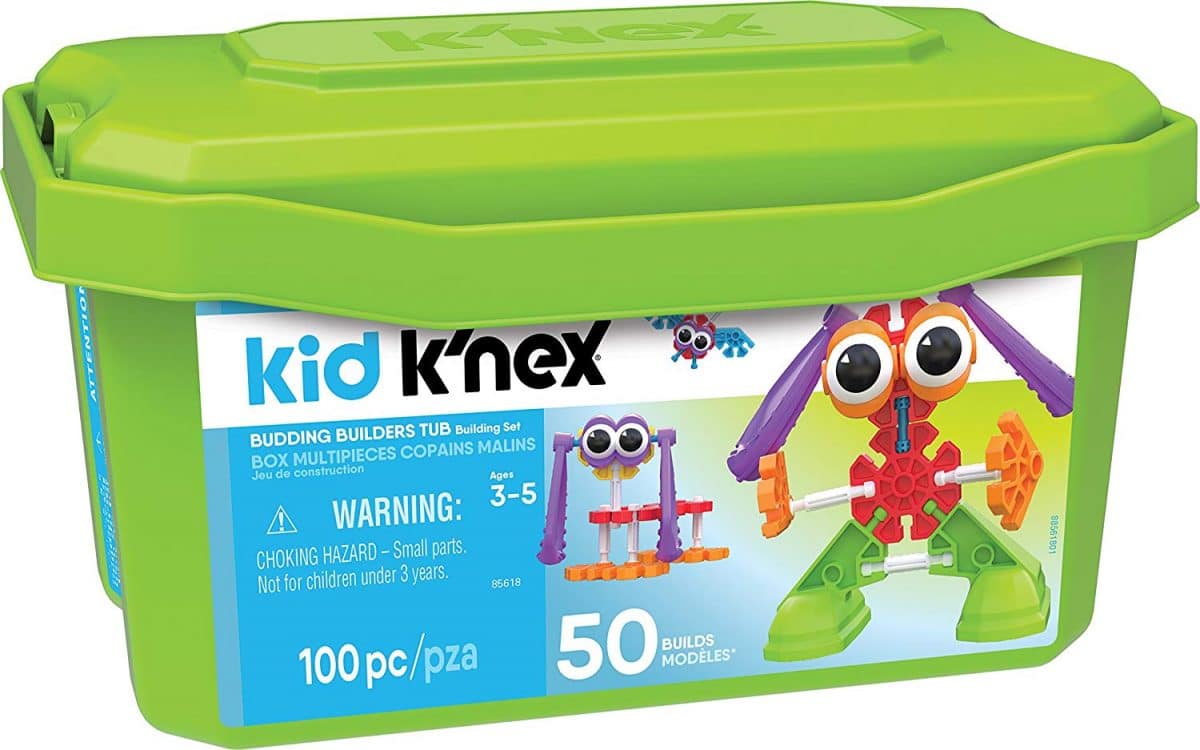 It has a storage box that allows you to carry toys during family trips. It is a great way to combine arts and STEM education and it also supports a child's developmental growth by strengthening problem solving skills, fine motor skills and hand-eye coordination.
This building set from kids K'NEX features rods, connectors and 100 building pieces that include colorful eyes, floppy ears, curly tails, spinning propellers, bendable joints and big feet which allow your children to create imaginative interpretations of different animals. They are able to create anything they want from animals to fish to robots. It is suitable for kids at the of 3 years and above. It is a great teaching tool that incorporates play time with learning. It has an instruction manual that guides your kids as they build.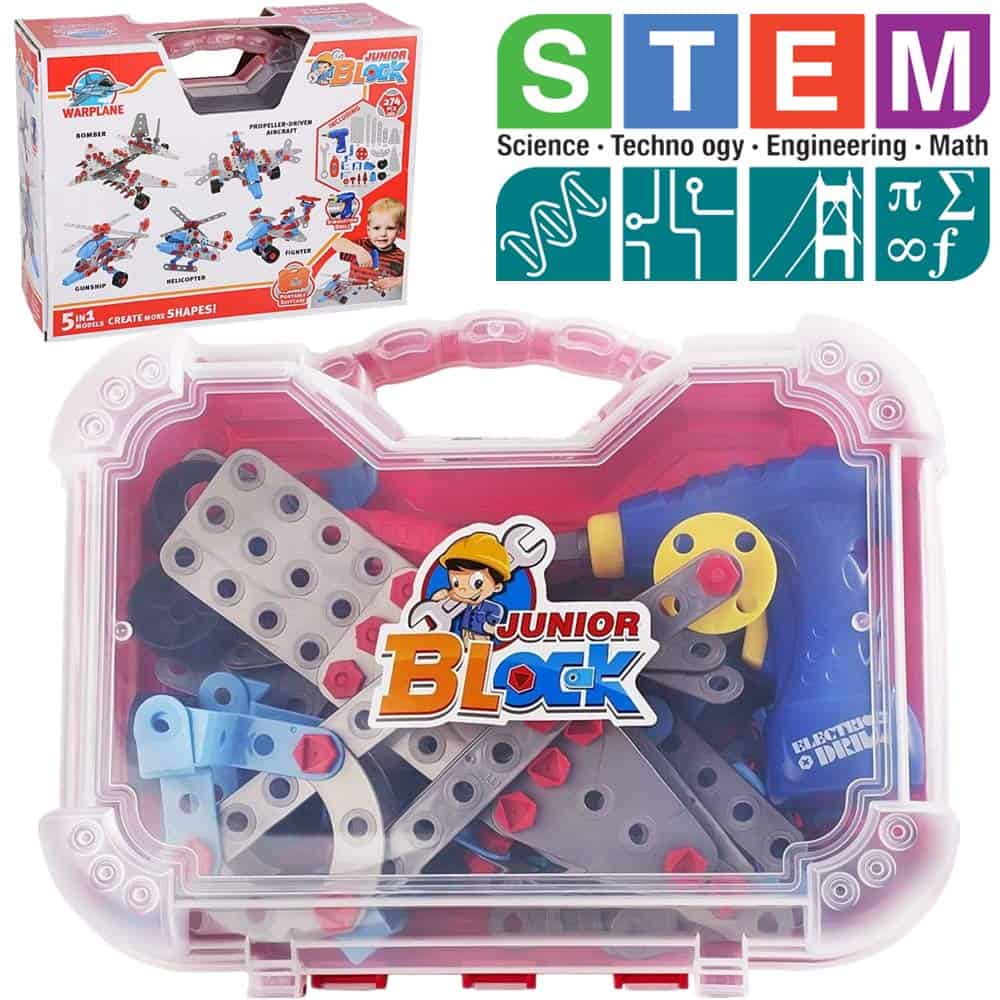 The GILI STEM building set comes with 274 pieces which allow your kid to build five different airplane modules by following the instruction sheet provided. They can also create other designs such as helicopters and gunships. A screwdriver, wrench and other tools are provided. The building pieces are packaged in a reusable storage box that can also be used when travelling. All building pieces are made from high quality and safe materials for children. There is 100% money back guarantee if you are not happy with the order. Any damages or missing pieces are also replaced.
Wrapping Up
There are many erector toys in the market. However finding the best toy for your child is not an easy task but, we believe that the above review will ease your purchasing decision.