Top 12 Best Cloth Diapers 2023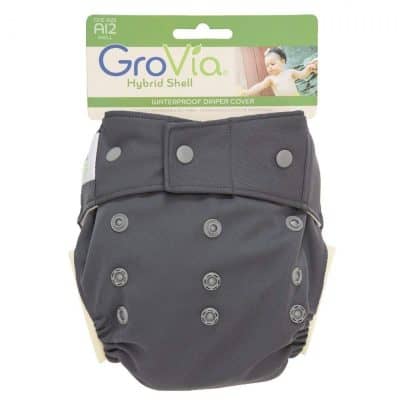 Diaper Type: Hybrid
Material: Polyester
Baby size: 8-30 pounds
Design:
Moms on the fence about going for cloth diapers will love the hybrid style, and GroVia makes the best of the bunch. Sold in 12 cute unique designs to suit boys and girls, this option boasts all the comfort, aesthetics, and eco-credentials of a cloth diaper will still retaining the convenience of a disposable. When the occasion calls—say you're on a weekend away or visiting grandma for the day—you can use an eco-friendly disposable insert and just throw it in the trash. Under normal circumstances, however, you can put in the reusable inner lining to save both money and the environment.
Remember, you'll only need a few of these outer shells as you don't need to wash them after every use (unless they get wet). One of the best things about the GroVia Hybrid is how well the system snaps into place—fastening them is easy peasy and suits babies of (almost) all sizes.
Although they're machine washable, you'll have to dry them in the open air because the drier will see them shrink.
This product is an outer shell only, so you'll need to purchase the inserts separately (GroVia sells soaker pads specially designed for these diapers). Absorbency depends on the type of soaker pad used, so grab a few heavy duties bamboo ones for night time.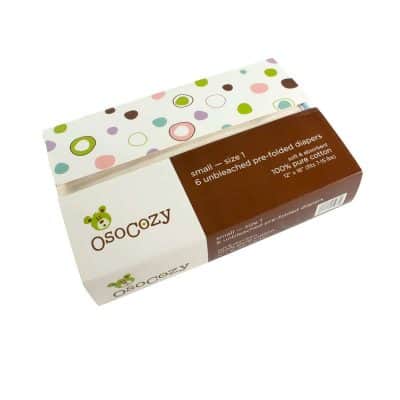 Diaper Type: Prefolds
Material: Indian cotton
Baby size:
Design:
These prefolds from Osocozy are top of the range for two reasons: absorbency and affordability.
To give you an idea of just how cost-effective prefolds can be, you'll get a six-pack for a little over $10, making them among the most affordable diapers on the market. Of course, you'll need to factor in the cost of your fasteners and waterproof covers as well, but that won't break the bank. We recommend checking out this model from Kanga Care, which works wonderfully with Osocozy's prefolds.
The Osocozy Prefolds also get top marks for the cushy material. Made from soft unbleached Indian cotton and featuring a lint-free thick gauze weave for extra durability, the middle panel contains eight levels of absorbency, which is far superior to other products at this price point and a godsend at minimizing leaks. The outer panels are thinner with four layers of absorbency, which affords easier folding and storage.
Washing these is easy: just toss them in the washer and either machine or line dry. Do note you'll need to put these through 8 cycles before they're fluffy enough to reach optimal absorbency.
And once your baby's grown its diapers, you can repurpose these as burp rags to save even more.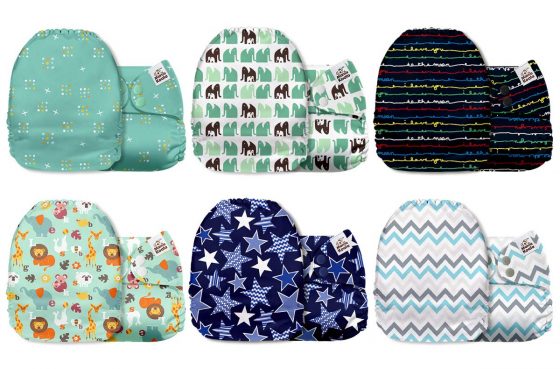 Diaper Type: Pocket
Material:
Outer: 100% Water Resistant Polyester TPU
Inner: 100% Polyester
Insert: 80% Polyester and 20% Nylon
Baby size: 7 to 35 pounds
Design:
Mama Koala makes our favorite pocket diapers, and this user-friendly one-size model is the cream of the crop. Sold in a set of six for a very reasonable rate, the polyester diaper comes with a sturdy adjustable snap to fit babies of all sizes, which means you'll only have to fork out for these once. The diaper is good for babies up to 35 pounds, by which time most are ready to move on to potty training.
One of the reasons we rate these above other pocket diapers is there isn't any elastic on the back, which makes stuffing the inserts a breeze. You'll get a six-pack of reusable microfiber inserts included in the deal, which are lightweight yet absorbent enough in most situations. Be aware, however, that the inserts inevitably start to stink, but it's easy enough to buy separate charcoal bamboo liners, which smell fresh and offer better protection. Outside, the breathable TPU shell does an impressive job at containing leaks.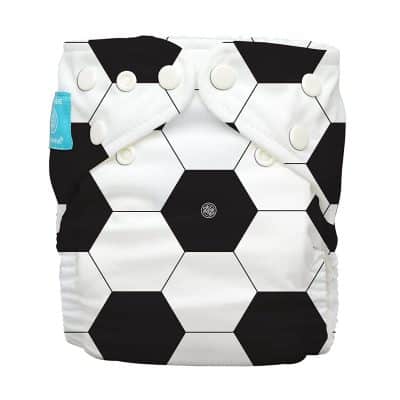 Diaper Type: Pocket
Material: Polyester
Design:
If you don't mind splashing out on a diaper, these premium pockets from Charlie Banana are well worth your hard-earned money.
The first thing you'll notice about these is cloth liners go into a pocket at the front of the diaper, which means less poopy mess when it's time to change—and that's a definite plus in our book. Disposables, on the other hand, come out through a flap on the end so you can swiftly toss them in the trash. Hemp inserts are available if you're not fond of those that come included in the pack.
The two deluxe inserts that come included with the diaper are soft with a luxurious fleece top lining—your little one will love you for it (if only they could speak). Another great plus for Charlie Banana is their wide range of wonderful prints are fantastic to behold.
Stretchy elastic allows the diaper to grow with your baby; although we do feel adjustable straps work a bit better in that regard. Smaller babies, in particular, may struggle to find a snug fit.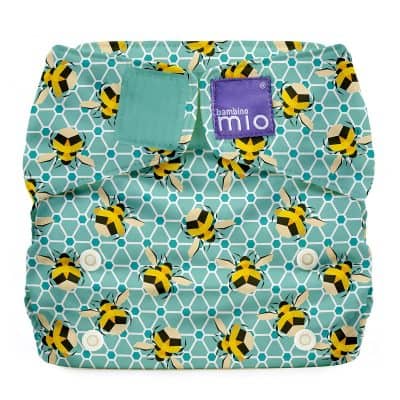 Diaper Type: All-in-one
Material:
Outer: 100% polyester laminated to polyurethane
Inner: 100% polyester
Core: 85% polyester/15% nylon
Design:
Albeit expensive, all-in-one cloth diapers are fabulous because they're so easy to use; you'd swear it was disposable. And Bambino Mio's Miosolo is the best on the market for its super soft absorbent fabric and convenient one-size system.
As is the norm with all-in-ones, you won't have to be worrying about separate inserts or outer shells, which makes these things a breeze to handle. The liner is tethered to the diaper, however, which you'll need to pull out for washing, and putting it back inside is a bit of a chore. On the plus side, you can slip an extra booster pad into the pocket for more absorbency if need be.
Adjustable Velcro tab closures sit snuggly around the thighs for a comfortable fit, and these grow with your baby through the use of a resizing snap. This nifty feature lets you keep using the diaper until your tot hits around 35 pounds, which is just as well because the one-pack unit doesn't come cheap.
And for the pint-sized fashionistas out there, there's no denying these designs are incredibly cute.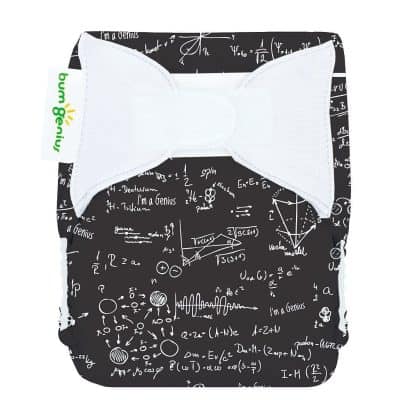 Diaper Type: All-in-one
Baby size: 6 to 12 pounds
Material:
Inner and Outer: 100% Polyester
Tabs: 95% Polyester, 5% Spandex
Soaker: 80% Polyester, 20% Polyamid
Design:
Looking for a newborn diaper you can toss in the wash with minimal fuss? Then this all-in-one option from bumGenius is the perfect product for you. You won't need to worry about buying or washing inner liners or outer shells separately because this diaper serves as a singular standalone unit—no stuffing or folding required.
Before you get too excited, though, note the bumGenius All-in-One is designed for itty bitty newborns only—specifically,  babies between 6 and 12 pounds, so moms of larger tots are going to have to look elsewhere. And this short shelf-life adds considerably to the cost; you'll have to buy a whole new diaper collection when your baby outgrows these.
This tiny toy's diaper fits lower than most, just below the navel, which keeps the umbilical area clean. And it's remarkably comfortable on a newborn's delicate little frame, with loop closures and stretchy tabs ensuring a comfy fit. The included soaks are made from microfiber terry and do a wonderful job at keeping baby dry with help from the suede cloth lining. Leaks won't be much of an issue either thanks to the elastic leggings that fit snuggly around your little one's legs.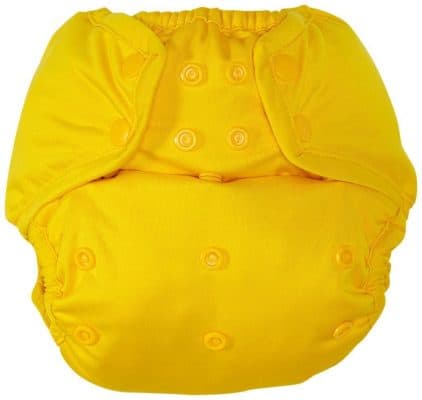 Diaper Type: Waterproof cover
Baby Size:
Newborn: 4 to 15 pounds
One-size: 6 to 35 pounds
Material: 100% polyester with TPU laminate
Design:
If you've opted for a prefold/fitted diaper underneath, then you're going need a high-quality waterproof cover that wraps around the top. And the Rumparooz from Kanga Care is our top pick for two simple reasons: they grow with your baby and won't leak.
The one-size model uses a snap hook and loop system to find a comfortable fit for baby's between 6 and 35 pounds, so rest assured this one is good to go until it's time to potty train. If you want the best possible fit for your newborn, you can get the smaller size (4 to 15 pounds) instead, which you'll pay to replace when the baby gets bigger.
The waterproof polyester fabric comes with TPU laminate and stretchy elastic leggings to prevent leaks. Even though some wicking occurs through the label that's sewn onto the TPU, the Kanga Care Rumparooz is still one of the best anti-leak covers out there. Incidentally, if you'd want a leak-proof pocket diaper, the same company makes a fantastic one of those, too.
It's a baggy fit, as you'd expect for a cover, which allows it to work well with almost every prefold on the market (We recommend OsoCozy Prefolds. Pricewise, it's midrange and offers excellent value for the quality of the merchandise. Remember: you'll only need to grab 4 or 5 in total as you can wash them just once per day.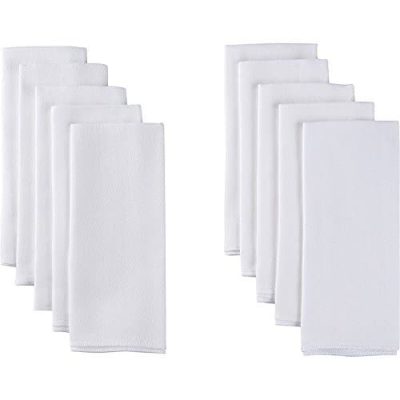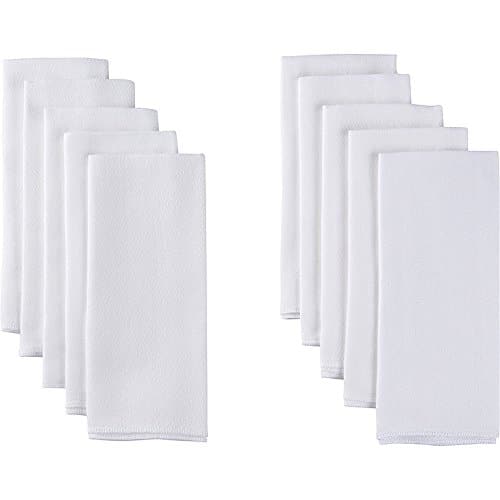 Diaper Type: Flats
Material: 100% Cotton
Design:
With all the other expenses that come with bringing a bundle of joy in this world, it's understandable many parents might try to find ways to save on diapers. And this ten pack of no-frills flats from Gerber Birdseye is as cost-effective as a diaper can be. At less than $2 per diaper, which you'll be able to reuse time and time again, you could spend as little as $50 on flats to last your tot right through until potty time.
Having said that, you will need to grab some fasteners and a few waterproof covers to go on top, so go out and get the hybrid diapers or outer shells of your choice (you'll find plenty on our list).
And there's one big fat caveat here: you get what you pay for.
Although the plain cotton material is quite comfortable, it's a little too thin, which makes it less absorbent than other diapers on our list. These flats also tend to fray around the edges after multiple wash cycles, which makes them look a bit ragged and become harder to fold.
Nevertheless, if sticking to a tight budget is your biggest concern, then the Gerber Birdseye Flats are impossible to beat. The fact they work well as a burp rag long after your tot has become potty trained adds to the value-for-money factor.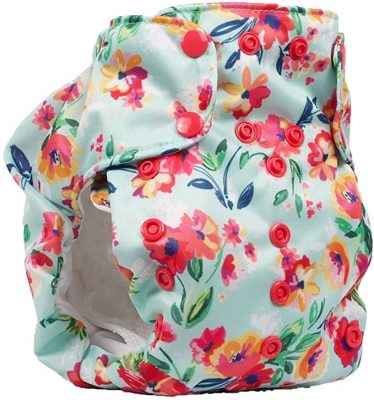 Diaper Type: Pocket diaper
Baby Size: 10 to 35 pounds
Material:
Inner: 55% hemp and 45% organic cotton
Outer: water-resistant PUL
Design:
If your little one keeps breaking out in hives and you're sure it's not diaper rash, then there's a good chance the baby could be allergic to polyester or other synthetics. In that case, it's worth giving an organic material like hemp or cotton a try, and this diaper from Smart Bottoms is the best of the bunch. As a neat little bonus, these all-natural materials boast eco-friendly cred.
With a luxurious hemp and organic cotton blend inside, the diaper is extra soft and absorbent while remaining irritant-free (no harmful chemicals or solvents here). Outside, PUL fabric serves well as a waterproof shell and holds in leaks nicely. The sizable pocket has plenty of space for all sorts of inserts, affording greater flexibility in terms of choice. You'll get one snap-in insert as part of the package, which is fairly absorbent, although you might want to get a thicker one for overnight sleeping.
The thing we love most about this organic diaper is just how easy it is to use, perfect for rookie parents who loathe the thought of doing a diaper change. The pockets snap in and out of place with ease, and the whole product can safely run through the drier and wash. Although it's expensive, the Dream Diaper 2.0 will save you a heck of a lot of hassle. And the fact it's made right here in America helps justify the expense.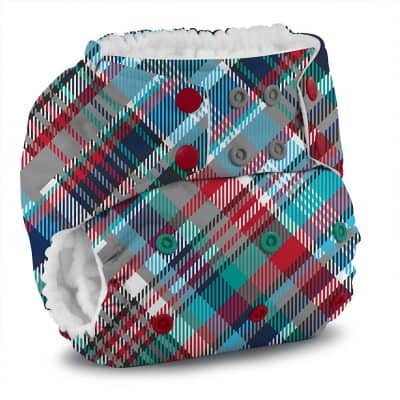 Diaper Type: Pocket diaper
Baby size: 6 to 35 pounds
Design:
One of the greatest struggles for any new mom is dealing with those ever-so-prevalent leaks. And the Rumparooz Pocket Diaper from Kanga Care provides the best possible solution to the dreaded blow out.
The brand's impressive leak protection technology includes double inner gussets and soaker pads with six adjustable absorbency settings, which both work together in unison to contain any kind of mess. Tight-fitting elastic around the legs has both an inner and outer barrier to provide additional protection, and you can buy bigger bamboo or hemp 6-r inserts for an optimized anti-leak set-up. Rumparooz has put a patent on their anti-leak tech, which is a testament to how well the whole system works.
Like most premium pocket diapers, these things will set you back quite a bit as you'll need 25 units or so. However, you do get adjustable snaps to fit babies up to 35 pounds, so at least you'll be able to use them for life. They come in a wide range of cute prints, too, so you can be sure your tot will look adorable every day.
Like other pocket diapers, removing and restuffing the inserts for each wash is going to be a chore.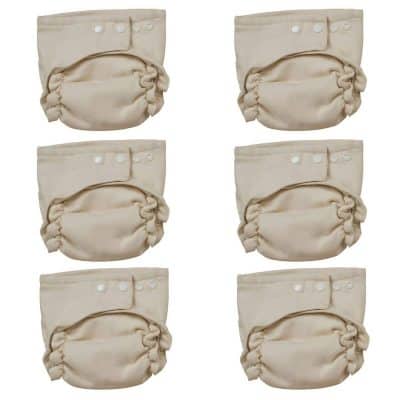 Diaper Type: Fitted diaper
Baby size: 7 to 18 pounds
Material: 100% Unbleached Birdseye Cotton
Design:
Osocozy makes our favorite prefolds, and they do a damn fine job on these fitted diapers as well—they're considerably softer, more absorbent, and easier to use than their competitors.
The great advantage of the fitted diaper is, unlike prefolds, there's no crafty origami-like folding process involved, which saves mom a lot of precious time. And considering they come in a six-pack for under 50 bucks, you'll save heaps of money too when compared to pockets or all-in-ones.
The main reason we love Osocozy's fitted diapers is their level of absorbency is second to none. The birdseye cotton material, which feels soft on the baby's bum, comes in 12 separate layers for optimal absorbency, thus rendering leaks a thing of the past and offering a mess-free solution for sleep time. The natural material is super easy to launder, too: just toss it in the wash and tumble dry. Of course, you'll need to purchase a bunch of waterproof covers. We recommend this diaper from Kanga Care
Be aware that these only fit babies up to 18 pounds, so you'll need to find a new solution once your little one becomes…not so little.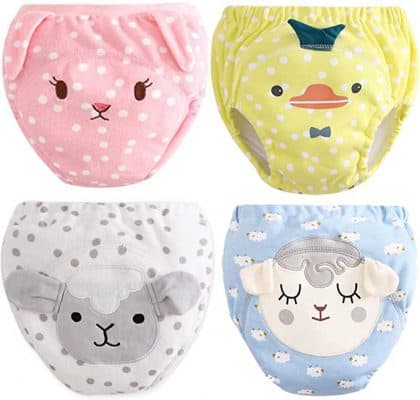 Diaper Type: Training diaper
Baby size: 18 months to three years
Material:
Outer layer: 100% Cotton
Inner later: waterproof cotton interlining
Design:
When your little one finally reaches the potty training stage (hallelujah!), you'll need a set of diapers that are comfortable and capable of containing minor leaks—somewhere between baby diapers and big kid underwear. Enter the training pants, a halfway solution for little kids learning to potty.
We love these pants from Babyfriend because they've got a soft and waterproof cotton interior that's both comfortable and absorbent; it's no big deal when your tot has a little accident.  A stretchy elastic waistband makes them easy to whip on and off, encouraging your child to learn how to potty the grown-up way. Washing is easy enough as well, just throw them in the drier, and you're good to go. Five training pants come included at the low-price point, and you get to choose from five fun and unique designs.