With technology dominating our 21st-century world, making sure kids are spending enough time outside and on their feet is more important than ever. For many parents, fitness trackers might be the perfect way to track their child's activities.
Many affordable options are made specifically for kids. This guide will help you navigate through the different options and figure out how to choose the best one for your child. The best part about fitness trackers is that most of them will let you connect with the rest of the family for some friendly competition. Saturday errands can become a race to reach the daily step goal.
What to Look for in Fitness Trackers
If you need to monitor your child's health or need help getting them up and active, fitness trackers might be the answer. Still, they could become a problem if they cause your child to stress how much they eat and exercise or don't want to wear one. Our complete buyer's guide explores this debate in more detail, but first, here's a look at the key factors to consider before you buy one for your child. Take a look at the following so you can get an idea of what to look for while you're shopping.
Usability
A child should be able to navigate their fitness tracker easily. Too many buttons and menus might be confusing and cause a child to lose interest in using it. A young child might accidentally hit a button they shouldn't have and change a setting that's tricky to reset.
Be sure to pick a tracker that's age-appropriate for your child. Most trackers made for children have limited menus and settings on the actual device; most settings are controlled in an app that you install on your smartphone.
Battery Life
Technology might be a child's first lesson in keeping something alive in our modern world. Keeping a device charged is the first step to monitoring your child's activities. If they forget to charge it, they won't be able to benefit from any of the tracking data.
The simple solution is to purchase a device with a long battery life. Many devices only last about a week before needing to be charged, and devices that run on watch batteries are often low tech and don't have the fancy bells and whistles that 5-day devices have. Each of our reviews highlights the battery life you can expect.
Statistics
Why do you want your child to have a fitness tracker? Or perhaps the better question is, what do you want to track? You may well have to prioritize your most-desired features here, as not every fitness tracker offers the same options.
Trackers can offer some (or sometimes all) of these statistics:
Number of steps
Distance traveled
Calories burned
Heart rate
Blood pressure
Blood oxygen
Sleep patterns
Goal Setting
If you're hoping to motivate your child to get outside, goal setting should be the feature you prioritize. Many kids benefit from games or even a simple chart to keep track of their goals.
Many trackers also have companion apps that will give children badges or coins to collect. Some brands will even let families compete in challenges together. If your family enjoys friendly competition, look for devices that will give you that option.
Wear and Tear
Kids are often rowdy and, admittedly, a little on the destructive side. So they're bound to cause some wear and tear on their devices. Fortunately, products made for children consider this and make their products a bit more sturdy than their counterparts.
You'll probably still find your kid's device with scratches and dirt, but hey, at least they were active, right?
Pricing
If you're buying your child their first fitness tracker, you might not want to go all out. Wear and tear and losing the device at school are common realities, and so it's better to buy a cheaper option if you think that's a possibility. Older kids might be able to handle nicer devices. You know your child the best, so buy whatever you think will suit your child.
We've highlighted both our favorite budget and premium picks within our review list.
Now you know what to look out for, let's take a look at the ten best fitness trackers for kids.
Top 10 Best Fitness Trackers for Kids 2023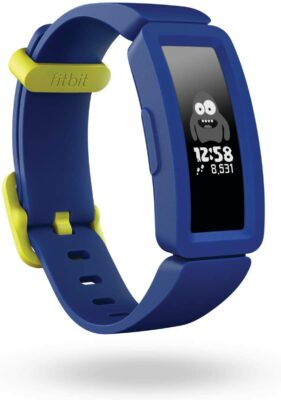 Why we like it:
This is a great choice for any kid because the screen is easy to navigate, it's waterproof, and you don't have to break the bank to get it.
Editor's Rating:
This tracker by Fitbit is perfect for any kid and is great to buy if you're not quite sure what you're looking for. It's available in several colors, so you're sure to find something that suits your child.
The downside is that some bands will break quicker than others, and they're a bit pricey to replace. It's not normal for the bands to break quickly, so it seems like a sporadic production issue.
Usability
The tracker has a side button and a touch screen, so it's super easy to navigate. You can rotate through different statistics by swiping up and down.
It connects to the Fitbit app that's available for all smartphones. If you also use a Fitbit, you can create a Fitbit family account so that you can keep track of all devices in one place. A limited kid's view is available so you can control how your child uses the device.
Battery Life
The Ace 2 will last up to 5 days before it needs to be charged again. If your child interacts with the screen frequently, it will need to be charged sooner. However, it might be able to last an extra day if the screen never lights up.
It should be fully charged in about 2 hours.
Stats and Features
The Fitbit Ace 2 will track steps and sleep. It has reminders to get up and move each hour and a goal of one hour of activity. It can show alarms and includes a timer and a stopwatch. The alarms are silent but will vibrate.
In the Fitbit app, you can set morning alarms and bedtime reminders. There are also badges your child can earn and challenges they can join with friends and family to stay motivated.
Pros
Easy for kids to navigate

Can control your child's device through the app

Silent alarms
Cons
Doesn't track heart rate

Replacement bands are a bit pricey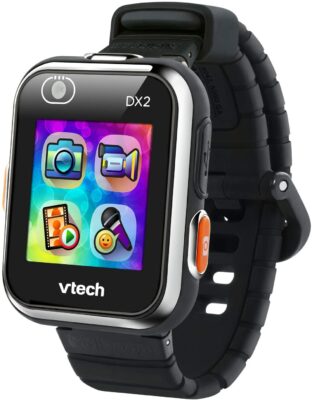 Why we like it:
This smartwatch encourages kids to get active by incentivizing them with games that require physical activity. It's perfect for those who want a device that's more than just a fitness tracker.
Editor's Rating:
This VTech smartwatch is a watch instead of a fitness tracker, but it does have a built-in pedometer and games that require activity. If you'd like your child to have a way to track their steps without becoming obsessive, this smartwatch might be the perfect alternative.
This watch has several other games as well as a camera on it, so it might distract from physical activity.
Usability
This watch's screen is much bigger than the Fitbit Ace 2 with several buttons and menus. The buttons have pictures that represent the actions, so it's easy to navigate to all the different settings and activities. Small children might need help using this device.
Battery Life
The watch comes with a rechargeable battery that you can charge by using a USB charger that plugs into a computer.
The battery will last for 2-3 days with average use. You'll need to charge it daily if your child frequently uses the screen. Rarely using the screen will allow the watch to last for up to two weeks.
Stats and Features
Your child can track their steps with the built-in pedometer. The motion sensor allows children to play active games by running and moving around.
The watch has a camera and several other games to play. If fitness is your focus, this isn't the best option for your child.
The watch can't connect to Wi-Fi or Bluetooth, so photos and videos can only be accessed if they're uploaded to a computer. This ensures that your child's device is secure and that their photos will remain private.
Pros
Built-in pedometer

Physically engaging games

Can't connect to the Internet so kids can play safe
Cons
Short battery life

Can't truly be defined as a fitness tracker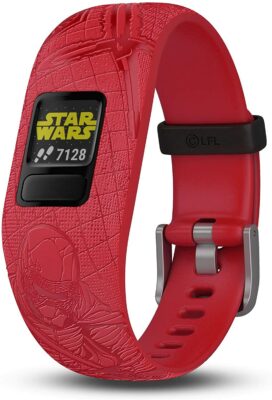 Why we like it:
There's no need to charge every week. It comes with a watch battery that can easily be replaced about once a year.
Editor's Rating:
This fitness tracker does more than just encourage a healthy lifestyle – it also helps kids track chores and other responsibilities you assign to them in the app. It's waterproof (so it can even be used during summertime water activities, like playing on inflatable water slides) and doesn't have to be recharged, so you really can't go wrong with this one. It has several colorful options based on Star Wars and other movies.
Usability
This device is meant to be controlled by parents. The tracker itself has very little functionality since it doesn't have an interactive screen. This can be beneficial to children who are easily distracted. It will sound off alarms and show the time, steps, and reminders. All of these things must be set up in the app.
The app has several games children can use to get motivated. Several of the games progress as daily goals are achieved. The app is easy to use, but younger children might need parental supervision.
Battery Life
The device is powered by a watch battery that can be replaced once it dies. The battery should last for up to a year, but might have to be replaced sooner than that. Still, it's much better than charging it every few days.
Stats and Features
This tracker will estimate daily activity, steps, and sleep patterns. Unfortunately, this device isn't always the most accurate, but it's also not the worst.
In the app, you can set up reminders for your child. If your child needs reminders to do chores, go outside, or do homework, you can set up reminders for each so you can give your kid a chance to accomplish things on their own before you have to tell them.
Pros
Long battery life

Minimal interaction with device means fewer distractions

Set reminders for chores
Cons
Counting isn't always accurate

Must be controlled by the app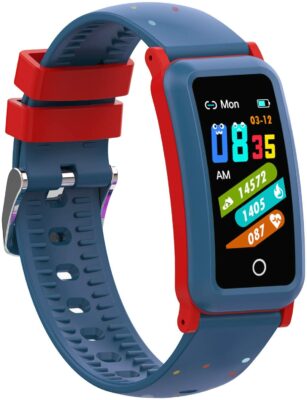 Why we like it:
The colorful interface of this fitness tracker encourages engagement and motivates kids to stick to their goals. The screen is easy to maneuver and isn't overly complicated.
Editor's Rating:
This fitness tracker has three colorful screen interfaces to choose from and the bands come in four different colors. The colorful tracker encourages kids to keep using it. This device has a surprising amount of capabilities and battery life for its price.
Usability
The touch screen can be tapped or swiped and it also has a button on the side. As a result, kids can easily understand how to use it and there aren't too many settings on the device that can be accidentally messed with.
Battery Life
The tracker needs to charge for about 2 hours and will last for about 5 days, which is pretty standard for a fitness tracker. As always, using the screen will require more frequent charging.
Stats and Features
This watch will track the following:
Steps
Calories burned
Heart rate
Blood pressure
Blood oxygen
Sleep pattern
Sports (including running, walking, biking, and climbing)
If you need to monitor your child's health for medical purposes, this tracker is a great option since it monitors heart rate and blood pressure. Keep in mind that it's not a true substitute for devices recommended by doctors, but it will at least give you a general idea of your child's health statistics.
The device has an app that you can set up alarms and reminders. The device can pair with your phone and can be used to take pictures just by shaking your wrist.
Pros
Easy for kids to use

Tracks several stats that other devices don't

Good battery life
Cons
Must use the app to set up alarms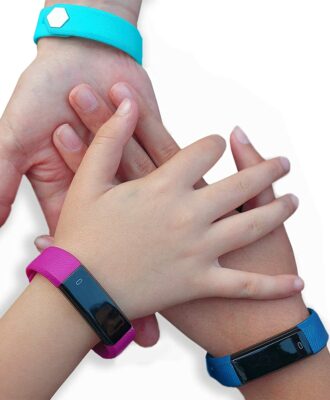 Why we like it:
Families who love to engage in friendly competition will like this fitness tracker since they can sync up for competitions. A poster is also included to keep track of goals.
Editor's Rating:
Friendly competition can drive a family to stay active together (emphasis on friendly). TRENDY PRO offers fitness trackers in all sizes so families can easily connect them together to compare stats and achieve goals. If you're looking for a way for your family to get active together, consider these trackers. The affordable price makes it easy to get some for the entire family.
The downside is that these bands secure shut with a pin rather than a buckle. Pin closures are more prone to coming undone, meaning you could potentially lose it when you're out running through the neighborhood.
Usability
The screen is super easy for kids of all ages to use. All you have to do is tap the screen to scroll through the statistics.
The companion app is easy to use. This is where you can set alarms and look at your long-term goals. You'll have to make an account for each tracker. You can't pair more than one device to an account, so if everyone wants to use the same smartphone or tablet, you'll have to log out and let the next person log in.
Battery Life
The battery will last for about a week with average use, and it only needs to be charged for a few hours.
Although uncommon, some of the trackers will stop holding their charge after a few months. It seems to be a manufacturer issue.
Stats and Features
This tracker will count steps, distance traveled, the number of calories burned, and will keep track of sleep patterns. You can set up to 10 alarms and reminders. You can also control your phone's camera from the tracker.
A poster comes with the device so your family can easily track goals outside of the app if you choose to do so.
The tracker is water-resistant, so it will be able to endure getting splashed, but you shouldn't go swimming in it.
Pros
Families can easily compare stats

Battery lasts for about a week

Variety of sizes available for the whole family
Cons
Doesn't have the most reliable closure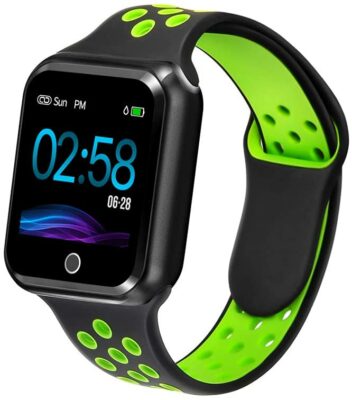 Why we like it:
A great transitional option for older kids who don't want something that looks like it's for kids.
Editor's Rating:
Although this isn't specifically designed for kids, it's a good option for tweens and teens who want a fitness tracker that feels age-appropriate. Eventually, many kids grow out of wanting cutesy animations and characters on their devices. If your kid is reaching that stage, this tracker is a good one to pick.
Usability
The tracker doesn't offer much interaction since it has a single button to flip through the different screens with. It doesn't have a touch screen either, so you can't easily swipe through everything.
Battery Life
It doesn't take long to charge, but don't expect it to last more than a couple of days. If your child wants to wear it at night to track sleeping, the best time to charge it is when you take it off to take a shower.
Stats and Features
This device counts steps, distance, heart rate, blood pressure, and sleep patterns. Like the BingoFit, it's another great device to use for medical purposes.
The watch relies on the companion app to set alarms and reminders. You can answer phone calls and receive notifications for many social media apps from the tracker. This might become a distraction for tweens and teens in school, so that's something to think about.
This tracker is waterproof, so you can wear it in the shower or go swimming while wearing it.
Pros
Tracks heart rate and blood pressure

Can answer phone calls and receive phone notifications

Simple design and interface
Cons
Short battery life

No touch screen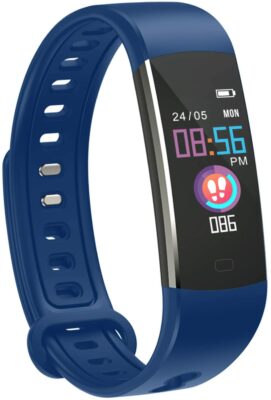 Why we like it:
This tracker's minimalistic design is sure to please the kids who prefer the sleek look of modern technology.
Editor's Rating:
We can't deny that kids are drawn to owning name brand items. Name brand is what makes kids feel "cool," especially if all their friends have the latest gadgets. This tracker from moreFit has a minimalistic modern design that gives it the look of top brands. But, it's only a fraction of the price.
Usability
There's a small button below the screen that's used to flip through the various screens. You can raise your arm to light up the display so you can easily see the time.
Battery Life
Like most other trackers, this one will last for about 5 days before you need to charge it again. It should only take a few hours for it to be fully charged.
Stats and Features
This tracker will keep track of steps, calories burned, heart rate, blood pressure, and can track sports activities like cycling or running. You can also adjust the screen brightness so it doesn't light up your entire room while you roll over at night. This is a handy option that helps make sure you don't accidentally wake up your child while they're sleeping.
It connects to an app where you can look at statistics in detail to see progress over time. You can also set up alarms and receive phone notifications, as well.
Pros
Simple design

Easy to use

Adjustable screen brightness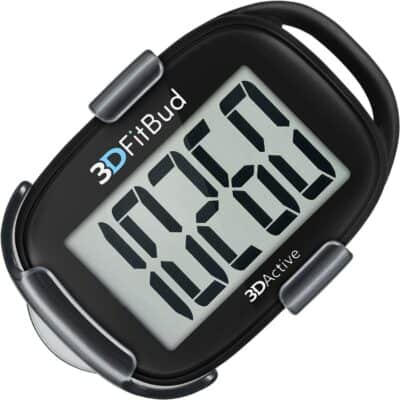 Why we like it:
If your child doesn't like to wear bracelets or doesn't need in-depth health details, this pedometer will work well. Easily slip it into a pants pocket to get steps counted.
Editor's Rating:
Maybe your child needs a gentle motivator to get active, or they need steps tracked for health purposes, or you want to encourage a low-tech lifestyle. The 3DFitBud pedometer is a great alternative to the activity bracelets that dominate the fitness tracker market.
It doesn't use Wi-Fi or Bluetooth in any way. It's step counting in the simplest form.
Usability
The only button is a reset button on the back. Hold it down to clear the pedometer, and you're good to go. You can slip it in your child's pocket and send them outside to play.
Battery Life
The battery should only need to be replaced about once a year. The battery it uses is a 3-volt coin battery, which is sold at most grocery and convenience stores, as well as Amazon.
Stats and Features
There isn't much to report about this gadget. It only counts steps. It doesn't connect to the Internet or phones. Plus, there's no memory function, so if you want to track steps over time, you'll have to do so in a notebook or on a spreadsheet and track it manually.
It comes with a clip and lanyard, so your child will have multiple ways to wear it. It can attach to the waistband with the clip, or they can wear it in their pocket. It's small and flat and won't be noticed if it's in the pocket.
Pros
Replace the battery just once a year

Simple step tracking

No settings or menus to mess with
Cons
Doesn't track calories burned or anything else; just steps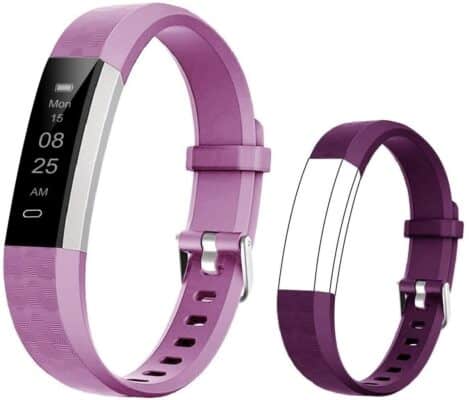 Why we like it:
This tracker gives you all the features of similar fitness trackers for a fraction of the price.
Editor's Rating:
This tracker from BIGGERFIVE is truly the best budget option. Each device comes with two different band colors that you can switch around. It uses a tang buckle (which looks like a typical belt buckle) to keep the tracker in place.
This device tends to count steps while you're traveling in the car, so it can be a little inaccurate, but it counts based on arm movement, which can contribute to counting when it shouldn't.
Usability
The screen is super simple for kids to use. You can scroll through the different stats by tapping the screen. The screen turns off when it's not being used to save the battery, so you just tap it to check the time or your steps.
This device connects to a smartphone app so you can set alarms and reminders that will make the tracker vibrate. You can also check your child's stats through the app.
Battery Life
The tracker takes a few hours to reach full charge and it will stay charged for about 5 days. If you disconnect the Bluetooth, you can extend its battery to last for over a week. You won't be able to use the app without Bluetooth, however.
Stats and Features
This tracker will keep track of steps, calories, burned, and sleep patterns.
The device is somewhat waterproof. It can resist sweat, rain, and showering, but it should be dried off immediately. It's not recommended to wear while swimming.
Pros
Easy to use screen

Charges quickly

Comes with two different bands
Cons
Not completely waterproof

Sometimes the step counter is inaccurate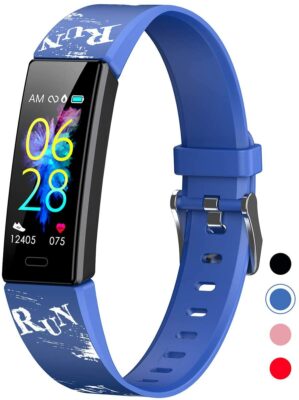 Why we like it:
This tracker has 11 different sport modes so it can track the steps and calories burned during those sports a little more accurately than other devices.
Editor's Rating:
If your child loves to play sports, this fitness tracker is perfect for them. It tracks specific exercises to get more accurate results and will allow you to make goals for yourself. This is a great tracker for middle school and high school students who are in sports. If they need to achieve specific goals while they exercise and practice, they can use the features with this tracker to do so.
This tracker is suitable for all kids, but it will likely benefit the older ones the most.
Usability
The touch screen on the tracker allows you to swipe up, down, left, and right. Each direction will give you a different menu. It's easy to navigate between menus, but young children might find it confusing.
Battery Life
As expected, this tracker will last about 5 days between charges. If you keep the screen lit up for longer, it won't be able to last 5 days.
Stats and Features
This tracker will cover the basics, including step count, calories burned, and distance traveled. It will also track heart rate and blood pressure.
The best feature of this tracker is its ability to track different sports. Many trackers are based on wrist movement alone and won't accurately count calories burned if you're doing something that doesn't require arm movement (think stationary bikes and treadmills with hand bars).
You can pick from a variety of sports and exercises while you're doing them and it will take into account your heart rate and blood pressure to guess how many calories you're burning.
There is also a companion app you can use to keep track of statistics, but it's not required to make this tracker work.
Pros
Tracks specific sports and activities

Touch screen swipes in 4 directions

More accurate than other trackers
Cons
Younger kids don't get much benefit from sports tracking
Guide to Buying a Fitness Tracker for Kids
You might be wondering if fitness trackers are suitable for kids to have. There's quite a bit of debate about whether or not children should use them. Let's look at some of the most common questions surrounding the topic of kids and fitness trackers.
There are several pros and cons of giving a child a fitness tracker. Ideally, you want your child to develop healthy habits and have a fun time getting fit or staying healthy. That's definitely a possibility, but there are also adverse effects that could happen.
The Good
They can develop healthy habits and break unhealthy ones. If your kid has become a couch potato, a fitness tracker might inspire them to get up and get active. Kids need about 1 hour of physical activity a day. TV and video games can pull kids away from the outdoors and a tracker might help get them moving.
You can monitor your child's health. Some children need their health monitored because of health concerns or medical issues. If you need to watch your child's heart rate, blood pressure, or sleep patterns, fitness trackers are a great way to do this without having to rely on a medical professional for these statistics.
They can teach children how to set and achieve goals. If your child needs a lesson in setting goals and sticking to them, trackers are a great way to get there. You can set up realistic goals for your child that they can work on reaching throughout the day.
The Bad
Fitness trackers can add to the problem of too much technology. There isn't a whole lot to do on a tracker, but it can be enough of a distraction for your child to prevent them from being active. It's possible that they get too caught up changing the clockface colors or flipping through menus.
They can take the joy out of being active. Young or old, humans seem to want to do things less when they're told to do them. If your child's tracker is telling them to go play outside, they might not want to do it, especially if they're expected to do it every day. It could begin to feel like a chore Mom or Dad is telling them to do.
The Ugly
Fitness trackers may inadvertently cause your child to develop low self-esteem. If your child can't reach the goals that are set for them every day, they might fall into beating themself up for it. They could begin to feel like a failure for not being able to achieve their goals.
They might cause children to become too focused on numbers. Kids shouldn't have to worry about how many calories they're eating and burning, but that could potentially become a worry for them if they're looking at their tracker all day.
Fitness trackers aren't inherently good or bad – they're merely tools. If they're used appropriately, they can encourage a healthy lifestyle. When they're used obsessively and start to interrupt your child's lifestyle, that's when they can become a problem.
If you get your child a fitness tracker, monitor how they use it, and encourage open discussion about how they're feeling about the results. If they start to show signs of worrying about things they shouldn't be, it's probably time to stop wearing it for a while.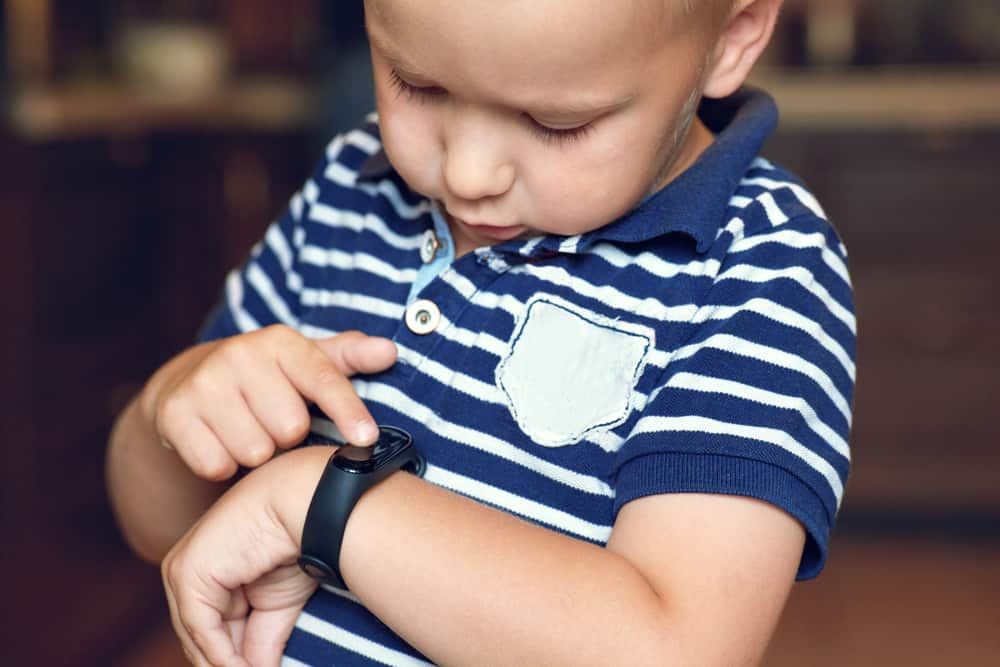 Should I Buy a Fitness Tracker for My Kid?
If we could give you a simple yes or no, we would. Whether you should buy your child a tracker or not is ultimately up to you and your child's lifestyle. Trackers are able to change how you live your life for better or worse. Consider the following factors.
Interest
Ask yourself who's interested in having a fitness tracker. Are you the only one interested in your child wearing it, or is your child interested in it, too?
If your child doesn't want to wear one, it might take some serious convincing. They may eventually come around and start wearing it, or they could conveniently "lose" it in a drawer. If you want your child to wear it for medical purposes, that's a different story.
Responsibility
For young children, a fitness tracker might be a lesson in responsibility. They'll have to adjust to wearing it every day, keeping it clean, charging it every night, and making sure it doesn't get lost. Keeping up with something as simple as a fitness tracker can be a great way to help your child establish daily habits.
Price vs. Wear and Tear
It's no secret that accidents happen, and they sometimes cause you to regret buying your child things in the first place. For some kids, it's better to buy the cheaper options if they're prone to breaking or losing their things.
If your child is super active and loves to play sports or go swimming, the tracker is guaranteed to get a few dents and scratches. It might be worth it to buy a more expensive, sturdy option, but keep in mind that one day your kid might leave it in their locker, or it could disappear into thin air.
Smartphone Usage
Most fitness trackers connect to a smartphone app. If you want to limit your child's technology usage, you might not want to get them a tracker that will require them to use their phone. For younger children, you can put the app on your phone and control it that way. But, your tweens will want to control it themselves. If their tracker has coin or badge collecting games, it could result in them checking their phones frequently.
Do Fitness Trackers Have to Connect to a Smartphone?
Most fitness trackers connect to a smartphone app. The app makes it easy to look at long-term statistics, glance at all the information on one screen, and collect badges and other rewards.
In our tech-heavy world, it's easy to forget that you aren't required to use the app to make trackers work. You can use a fitness tracker that has app compatibility without ever installing the app. The tracker will count steps and do all of its other stat collecting it's supposed to do.
The downside of not using an app is that you won't get to see long-term results because many trackers don't allow you to look at previous days. If you want to forgo the app, you might want to keep a notebook to write down your child's stats.
Final Thoughts
There are plenty of options to choose from if you decide to get your child a fitness tracker. Remember, trackers are meant to be tools to help with fitness, so you should choose the one that will allow you to help your child in the way that they need it.