If you are a parent of an infant or young child, you have undoubtedly experienced having to try to calm them down while they are uncomfortable. In most cases, giving them a bottle, changing their diaper, or just holding them will be enough.
When they are struggling with gas, indigestion, colic, hiccups, acid reflux, or other digestive issues, however, they may need something more. That is where gripe water can be used.
Gripe water is a homeopathic remedy used for a number of different issues that babies commonly experience. Various different formulas of gripe water have been used for hundreds of years, and millions of parents today still swear by its effectiveness.
Today, there are many different brands making this product, each of which uses its own special formula. Take some time to learn more about how to choose the right gripe water for your child, and then take a look at our list of the top 10 options available today.
What You Need to Know About Gripe Water Before You Buy
If you are looking to purchase gripe water for your young child, you will want to make sure you get the right one. There are many options available, and each will have its own set of advantages and disadvantages. When deciding what gripe water to purchase, there are a number of different things that you need to consider, including the following:
Ingredients
You will want to look both at what the ingredients are, and the quality of the ingredients used in a given formula. For example, some brands use only organic ingredients. Others have gotten their ingredients certified as vegan or kosher.
Almost as important as the ingredients that are included in a formula is what ingredients are excluded. Most of the top gripe water brands are careful to avoid sugars, alcohol, grain, dairy, and other things that could cause problems for your child.
Reason for Use
Make sure the symptoms your child is facing are going to be relieved by the gripe water you choose. If your child is only having issues with hiccups, for example, you may not need gripe water that is formulated to help with acid reflux.
Choosing a brand that is focused on the symptom or symptoms your child is facing will help you to provide them with relief without any unnecessary ingredients.
Price
Gripe water is generally very affordable, but the price does vary significantly from brand to brand. In addition to the cost of each product, we made sure to also look at how much of the gripe water you get in a single bottle. Also, we looked at how long the gripe water will last once it has been opened since this will directly impact how often you need to make a purchase.
Get All the Information You Need
We made sure to look closely at each of these items when evaluating the various gripe water products on the market. You will also find other information about each of the top 10 products in this category.
Of course, whenever purchasing a product for your child, you want to be absolutely sure that you are choosing the right one. If you still have any questions, make sure to read our complete gripe water buyer's guide.
Top 10 Best Gripe Water Products for Babies 2021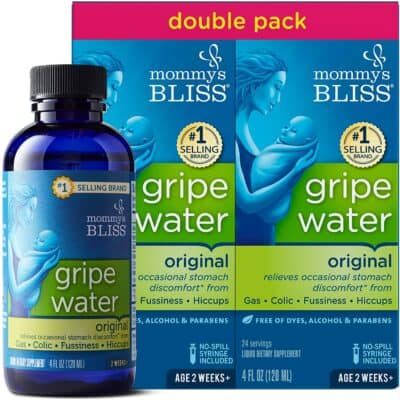 Why we like it:
This is an all-natural product that is also vegan friendly, while still remaining very affordable. It is easy to see why this is the best-selling gripe water product on the market.
Editor's Rating:
Quick Facts
Key Ingredients: Ginger Extract, Fennel Extract
Best Used For: Hiccups, Colic, and Gas
Mommy's Bliss gripe water is the number one best selling option, and it is easy to see why. It has been shown to be very effective at providing relief of several very common issues that babies face. Whether your child has the hiccups, is colicky, or has painful gas, they will almost certainly find relief when you give them a little bit of this product.
If your child is struggling with acid reflux, however, this is not the right option for you as it does not contain any ingredients to counteract the stomach acids.
The active ingredients in this product are both fully organic (ginger extract and fennel extract) and all the ingredients are vegan friendly so all parents can be comfortable giving it to their baby.
This gripe water is also free from all ingredients associated with the top 8 allergens for babies and young children, which is essential for safety. If you have ever used this product before, make sure you look at their new dosage guidelines, which have been updated to make it even more effective. Specifically, they now recommend smaller dosages that are given more frequently throughout the day.
Mommy's Bliss is a family-run company that was founded by a mother who was also a nurse and certified midwife. They pride themselves on always putting the safety and overall wellbeing of children first in all their products, including this gripe water.
Pros
Best selling gripe water on the market

Vegan friendly

Uses organic ginger and fennel extracts

Can be taken up to 15 times per day
Cons
Not made for acid reflux or general upset stomach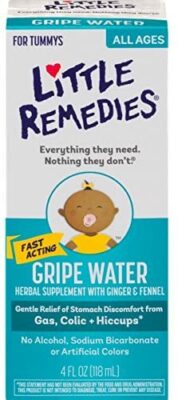 Why we like it:
This is the least expensive option available while still being very effective. It also tastes great!
Editor's Rating:
Quick Facts
Key Ingredients: Organic Agave, Natural Ginger Flavor, Fennel
Best Used For: Gas, Colic, Hiccups
The Little Remedies gripe water is made using a formula that dates back at least 100 years. This formula includes organic agave, natural ginger flavor, and fennel to help provide your little one with relief from gas, colic, and the hiccups. What is almost as important as the ingredients that are included are those that are left out.
This gripe water has no artificial flavors, no dyes, no sodium bicarbonate, no parabens, and no gluten. For parents who do not want their infants getting anything that they don't need, this is a great product to consider.
This gripe water is safe for use on infants of any age up to six times per day when needed. While there are no added flavors in this product, its natural taste is quite pleasing so you should have no trouble at all getting your little one to drink it from the included dispenser.
One important thing to note with this brand is that the ingredients can become separated while sitting so it is important that you shake it well before each use or it will not be as effective.
In most cases you will find that the Little Remedies gripe water has the lowest price of all the options on this list. This is, at least in part, because they sell it in smaller four-ounce containers. For parents who want to give gripe water a try to see if it works, this smaller amount may be the ideal option.
Parents who will only need to use it once in a great while will also appreciate the smaller container because it will not likely go bad before it is used. Of course, if you find that you need to use it regularly, a larger amount would be helpful.
Pros
Proven formula that is over 100 years old

Gluten free

Very affordable
Cons
Only four-ounce container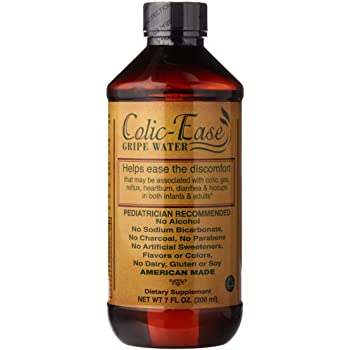 Why we like it:
This can treat many different symptoms. It is also effective for both infants and adults.
Editor's Rating:
Quick Facts
Key Ingredients: Dill Weed Seed Oil, Caraway Seed Oil, Cinnamon Bark Oil, Clove Bud Oil, Cardamom Seed Oil
Best Used For: Colic, Gas, Acid Reflux, Heartburn, Diarrhea, Hiccups
Colic-Ease Gripe Water is unique on this list in that it is not intended just for infants and young children. Instead, this option can provide relief for anyone, including adults. It is still gentle enough for newborns, however, which makes it perfect for the whole family. You will also find that it can be used to provide relief for a much larger list of different conditions than other grip water formulas. This is thanks in large part to the long list of natural ingredients.
While this formula has more ingredients than most other gripe waters, they do not put in anything that is unhealthy or unnatural. This means you will not find any sodium bicarbonate, charcoal, veg carbon, parabens, sucrose, sorbitol, wheat, yeast, alcohol, artificial sweeteners, artificial colors, or anything else you do not need.
If you choose this option, you do need to be very careful with the dosing. Since it is effective for the whole family, they list multiple different dosages based on the age of the person taking it. If you give an adult the infant dosage, it will be ineffective.
If you give an infant or small child an adult dosage, the resulting effects could be mildly harmful. Since this can be used for adults as well as children, it comes in a larger bottle, which makes this more expensive than brands focused only on infants.
Pros
Provides relief for many symptoms

Safe and effective for both infants and adults

Free from Any Unnecessary Ingredients

Gluten, Dairy, and Soy Free
Cons
One of the most expensive gripe waters on the market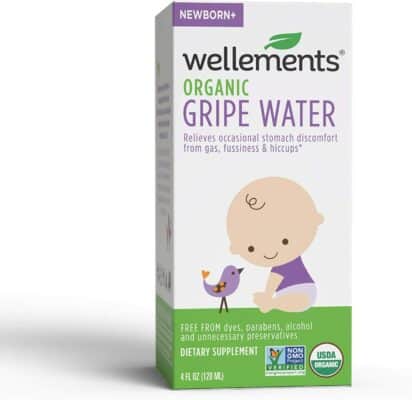 Why we like it:
This gripe water is made from 100% certified organic ingredients that are safe for your little one.
Editor's Rating:
Quick Facts
Key Ingredients: Organic Ginger Root Extract, Organic Fennel Seed Extract
Best Used For: Gas, Colic, Hiccups, General Fussiness
Wellements Organic Gripe Water follows the same basic formula as several other brands, but they are committed to using only 100% organic ingredients. For many parents, this is going to be a big advantage.
While there is some debate over the importance of ingredients being organic, there is no doubt that organic ingredients are of the highest quality. At the very least, giving your little one organic ingredients will make you feel better, and happy parents are important for babies.
Another thing that sets this product apart from many others on the market today is that it contains absolutely no preservatives. While this is important for ensuring your infant does not get anything potentially unhealthy, it also means that you have to refrigerate this gripe water after opening and pay close attention to the expiration date. This will not be a big deal for most parents, and the little bit of extra effort is well worth it for the benefit of avoiding preservatives.
One last thing to note about this gripe water is that the ingredients tend to settle over time. This means you need to shake it very well between each use.
Pros
100% certified organic ingredients

Zero preservatives

Free from dyes and parabens
Cons
Slightly more expensive than similar products

Must be refrigerated after opening

Why we like it:
This one of few gripe waters that contains chamomile, which may help to calm your little one.
Editor's Rating:
Quick Facts
Key Ingredients: Ginger, Fennel, Chamomile, Lemon Balm
Best Used For: Gas, Stomach Discomfort, Colic, Hiccups, Fussiness
Zarebee's Natural Baby Gripe Water was developed by a pediatrician and father. When he began, he would just mix up small batches for his own family to use. He did this because he couldn't find a good quality product that was chemical-free. At the time, he would handpick the ingredients.
Today, the same formula is used but on a much larger scale. They still work hard to make sure only the highest quality ingredients are selected, and it shows. While there are no artificial flavors added, babies still love the taste, so you will not have to fight with them to take it.
The first two active ingredients in this gripe water are the same as you will find in most other similar products, ginger and fennel. In Zarbee's, however, you will also find chamomile and lemon balm.
These two added ingredients are there to provide a calming effect on your child. Just about all parents of infants will appreciate anything that helps their child to calm down, especially after they have been crying. While not all babies calm right down thanks to these ingredients, many do, which makes it worth a try at the very least.
Pros
Includes chamomile and lemon balm for calming

Originally developed by a pediatrician and father

Babies seem to really love the taste
Cons
A little more expensive than some other brands

Why we like it:
This gentle,
organic formula
can be used on newborns without a problem.
Editor's Rating:
Quick Facts
Key Ingredients: Organic Ginger Root, Organic Dill Essential Oil, Organic Kiwifruit Extract, Organic Fennel Seed Essential Oil
Best Used For: Stomach Discomfort, Colic, Teething, Hiccups
This is another organic gripe water option that will help to provide relief and comfort to your child. It is safe and gentle for babies of any age, yet still very effective. One interesting thing about this product is that it uses essential oils of fennel and dill, rather than simply the extract of these ingredients. This has not been shown to be better or worse, but some parents may prefer this, so it is good to be aware of it.
The ChildLife gripe water is free from ingredients that are among the most common allergies for young children such as milk, eggs, soy, and wheat. It is also free from undesirable ingredients like benzoates, sorbates, parabens, artificial colors, and artificial sweeteners. There are also no preservatives in the formula, which most parents will love. It does mean, however, that you should discard any remaining gripe water six weeks after it has been opened.
While there are no added sugars, this formula does include organic kiwifruit extract, which gives the gripe water a slightly sweet taste that your infant will undoubtedly love.
Pros
Sweeter taste that babies enjoy

USDA organic ingredients

Uses essential oil versions of ingredients
Cons
Only lasts six weeks after opening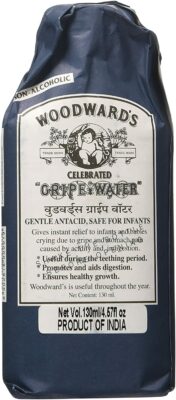 Why we like it:
This brand has been a popular option for gripe water for over 150 years.
Editor's Rating:
Quick Facts
Key Ingredients: Oil of Dill, Sodium Bicarbonate
Best Used For: Upset Stomach Due to Acid Reflux and Indigestion
Woodward's gripe water has been a popular option for more than 150 years, making it one of the oldest options on the market today. This really shows just how trusted it is, and also that it is entirely safe for your infant since it has been used by millions of families. They take great care to ensure each ingredient is of the highest quality and able to provide your baby with quick relief.
This particular gripe water is primarily focused on helping ease stomach discomfort due to excessive acid while also providing relief from gas. If your infant spits up a lot and struggles with acid reflux, this gripe water is going to be one of the best options to consider.
While most other gripe waters specifically state that they do not contain sodium bicarbonate, Woodward's lists it as one of the important active ingredients. This is because it is so effective at neutralizing acid in the stomach.
Many parents of infants with acid reflux have found that this gripe water is effective even where others did not give relief. If your child does not experience acid reflux, however, it is likely best to go with an option that does not contain the sodium bicarbonate. One other important thing to note about this product is that it is the only gripe water we have found that is certified halal, which will be essential for some parents.
Pros
Formula has been used over 150 years

Extremely effective for acid reflux

Certified halal
Cons
Primarily focused on acid reflux

One of the more expensive brands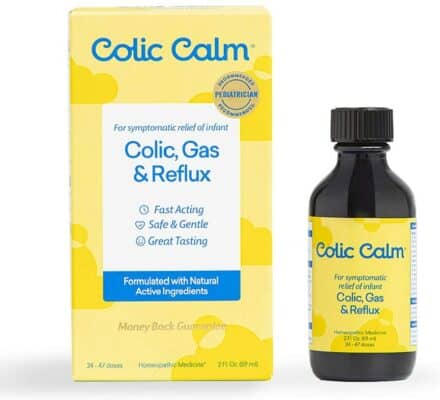 Why we like it:
This gripe water combines eight separate ingredients making it effective even where some other gripe waters are not.
Editor's Rating:
Quick Facts
Key Ingredients: Ginger, Blackthorn, Lemon Balm, Fennel, Chamomile, Peppermint, Caraway, Vegetable Carbon
Best Used For: Gas, Upset Stomach, Colic, Bloating, Hiccups
Colic Calm Homeopathic gripe water is the product in this list with the most active ingredients. This makes it a great option for parents who have tried other types of gripe water but didn't get the relief they were hoping for. If this one does not work, then the discomfort or other issues your little one is facing likely go beyond what gripe water can fix. The specific active ingredients for this formula include ginger, blackthorn, lemon balm, fennel, chamomile, peppermint, caraway, and vegetable carbon.
According to the company that makes this gripe water, the ingredients were selected to help your infant's body heal rather than simply suppressing symptoms. This is especially useful for babies who have acid reflux or similar issues that could cause damage to the stomach or esophagus. The ingredients will also neutralize gas that could be causing uncomfortable bloating. Despite the fact that this gripe water has so many ingredients and is able to provide relief from a variety of problems, it is still gentle enough for regular use with your little one.
If your child is struggling with gas, upset stomach, colic, bloating, or hiccups, this gripe water will likely provide relief. That being said, this is much more costly than other gripe waters on the market. Not only is the checkout price one of the highest, but the bottle is quite small at just 2 ounces, meaning you will have to purchase it more often. If this is the only gripe water that works for your little one, however, it will be worth every penny.
Pros
Formula is focused on healing any damage

Combination of eight active ingredients

Effective even when some other gripe waters are not
Cons
Most expensive gripe water our list

May contain more active ingredients than your child requires for relief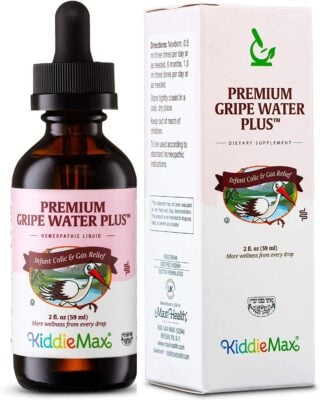 Why we like it:
This gripe water helps to comfort and calm your baby down after their discomfort has been relieved.
Editor's Rating:
Quick Facts
Key Ingredients: Chamomile, Peppermint, Ginger, Fennel
Best Used For: Gas, Bloating, Colic, Irritability, Hiccups
This premium gripe water uses a formula that is designed not only to provide relief from discomfort but also to calm your infant. As any parent knows, even after an issue has been fixed for an infant, they can continue to cry for quite some time because they have gotten worked up. The chamomile and peppermint ingredients in this formula have been shown to help infants and young children calm down more quickly, which will be a true blessing to parents (especially at night).
The calming is only made possible thanks to the effectiveness of the ginger and fennel, which help to eliminate gas and air bubbles that can cause bloating and discomfort in your little one. All of the ingredients in this product are selected to be effective and of the highest quality. This gripe water is vegetarian-friendly and certified kosher, making it an ideal option for infants with these dietary restrictions.
The one potential concern with this brand is that their instructions say you can only use it up to three times per day. Compared to other brands that can be given ten or more times per day, this is quite restrictive. If you have used other brands in the past, make sure to keep this restriction in mind or you could cause harm to your little one.
Pros
Great at comforting your child

Certified kosher

100% vegetarian
Cons
Can only use up to three times per day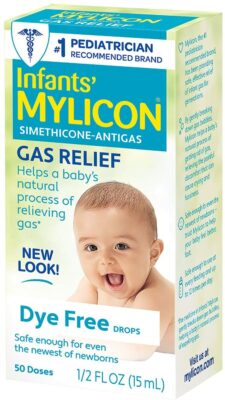 Why we like it:
This is specifically formulated to provide relief from gas, which is one of the most common issues infants face.
Editor's Rating:
Quick Facts
Key Ingredients: Simethicone
Best Used For: Gas
The Mylicon gas relief drops are not technically marked as gripe water, but it provides similar types of relief. We included it in this list because it is focused exclusively on providing relief from the discomfort associated with gas, which is one of the most common issues babies face. There is just one active ingredient, which is simethicone, and that is proven to quickly and effectively eliminate gas from the stomach and digestive tract.
Parents who only want to give their child what is absolutely necessary will love the fact that there are no additional active ingredients. It is even the #1 most recommended brand by pediatricians for the relief of gas in infants. Of course, if your child is suffering from more than just discomfort caused by gas, this particular product won't be effective.
Pros
Focused only on gas relief

No unnecessary active ingredients

#1 recommended brand by pediatricians
Cons
Does not help with issues beyond gas
The Complete Guide to Purchasing Gripe Water for Your Baby
Gripe water is one of those products that most people have never heard of until they have a child. Once you have an infant who is fussy or crying because of an upset stomach, gas, hiccups, or another issue, you will look for anything to provide them relief. With just a little research, you undoubtedly discovered gripe water and now you want to give it a try.
While this product has been around for hundreds of years, it is still important to learn everything you can about it before giving it to your infant. In this guide, we will discuss the various ailments that gripe water can help with, the different ingredients used in gripe water, and more so you can decide if it is a good option for your child.
What Is Gripe Water Used For?
Gripe water is used to treat a variety of different ailments that are common in infants. In most cases, a specific formula will treat multiple different ailments, but it will depend on the ingredients found within. The following are the most common things that gripe water is used to treat:
Gas – When infants get gassy and have trouble passing it, their stomachs can become quite painful. Many gripe water formulas will counteract the gas to provide almost instant relief.
Colic – Babies who have colic are often inconsolable. Gripe water can relieve any digestive discomfort that causes colic and help to comfort your little one.
Hiccups – Hiccups can be funny at first, but when they start keeping your infant awake at night, they become a problem. Many formulas of gripe water can almost instantly put a stop to hiccups.
Bloating – Bloating in the stomach and intestines is often caused by gas or air bubbles, both of which can be addressed with ingredients in most brands of gripe water.
Acid Reflux – Just like adults, infants can struggle with acid reflux. Some brands of gripe water can provide relief from this uncomfortable condition.
Certain brands suggest that their formula can help with other issues not listed here as well, but these are the most common. Some, for example, say that they can provide a calming effect that can help teething babies. While this may be true, gripe water has not traditionally been used to provide relief from the pain associated with teething.
What Ingredients Are Found in Gripe Water?
The specific ailments that can be treated by gripe water will depend on the ingredients found in the formula. Learning about some of the most common ingredients that are used in gripe water will help you to choose the right one for your child.
Ginger
Ginger root has been used to help provide relief from digestive issues such as indigestion, constipation, and gas for hundreds of years. It is a natural and very effective option for both children and adults.
In gripe water, the ginger is typically in the form of either ginger root extract or ginger essential oils. Since the ginger root extract or oil is dissolved into the water, it can take effect almost instantly and provide your child with relief.
Fennel
Fennel is a relatively popular plant that has a licorice flavor to it. The root and seeds can be used in cooking, but they are also great for relieving digestive health issues. Fennel has a lot of dietary fiber, which helps to stimulate the gastrointestinal muscles. This can help to provide relief for bloating, gas, and other issues causing digestive irritation.
When in gripe water, it is typically in the form of fennel seed extract or fennel essential oils. Similar to the ginger used in gripe water, the fennel extract or oil is completely mixed into the water for the fastest results.
Dill Weed Seed Oil
Some gripe water formulas include dill weed seed oil. This is not nearly as common as ginger and fennel, but it is not exactly rare either. Many homeopathic health professionals say that dill weed is great for providing relief for digestive problems, which is why it is included in some gripe water formulas.
Many parents who didn't get the results they were hoping for with just ginger and fennel-based gripe water will want to try one that has additional ingredients such as dill weed seed oil.
Caraway Seed Oil
Caraway seed oil is another all-natural plant-based ingredient that people have been using for hundreds of years. This seed is said to fight inflammation and stimulate the digestive tract. There are only two examples of gripe water that include caraway seed oil on our list, but one of them may be perfect for you.
Chamomile
Chamomile is legendary for its calming properties. Millions of people around the world enjoy chamomile tea just before bed to help them fall asleep. Many mothers will even give their children a little bit of this type of tea with the same goals in mind. Some gripe water formulas include chamomile to help your infant calm down more quickly after their discomfort has been relieved by the other ingredients.
Sodium Bicarbonate
Sodium bicarbonate is an ingredient that is used in many antacid products for adults. It works quickly and is very good at helping to get rid of excess acid in the stomach, especially when related to acid reflux. Many gripe water brands make it a point to say that their formulas do not include sodium bicarbonate. This is important because if an infant does not have acid reflux, this ingredient could actually cause digestive problems.
If your child does suffer from acid reflux, however, choosing a brand like Woodward's Gripe Water, which does have sodium bicarbonate, is a great idea.
Other Ingredients
The above-mentioned ingredients make up the vast majority of the active ingredients that you will find in gripe water. Some brands will use other ingredients as well, such as lemon balm, kiwifruit extract, and peppermint. These ingredients are primarily to help improve the taste or help with calming your infant down.
Does Gripe Water Work?
The biggest question that parents have when looking at gripe water is whether it works or not. Since gripe water is a homeopathic remedy, it is not tested or evaluated by the Food and Drug Administration (FDA) or other agencies. This can make some people think that it is ineffective, or even dangerous, to give to infants.
The reality is that while this type of product has not been evaluated by the FDA, and in most cases has not gone through extensive scientific studies, many parents still find it to be beneficial. Parents have been using gripe water for hundreds of years with great success.
Can Gripe Water be Dangerous?
Almost all gripe water formulas are made using primarily natural ingredients. Every ingredient is specifically chosen to be gentle enough for infants to use. Most brands even say that newborn babies can safely use this product. As with anything that you give to your child, however, there are some risks to be aware of.
Allergies
Gripe water formulas avoid using ingredients that infants and small children are commonly allergic to. This is why many of the brands specifically state that their formula is dairy-free, gluten-free, soy-free, and more. While very rare, some children could be allergic to one or more of the ingredients used in a particular gripe water formula.
With this in mind, the first time you give it to your child make sure to watch them closely for at least fifteen minutes after giving it to them. If you notice any serious reactions, bring them to the emergency room right away. Thankfully, serious allergic reactions to gripe water are extremely uncommon.
Unnecessary Treatment of Stomach Acids
If you choose a gripe water with sodium bicarbonate, you need to be careful that you do not cause problems with your baby's stomach acids. Most brands do not include this ingredient, so unless you are specifically looking for an option to help with acid reflux, this small risk can be entirely avoided.

Overdosing Your Child
Every gripe water brand will list exactly how much you should give to your child, and how often. The specific dosages can very significant from brand to brand so it is critical that you fully read the instructions before giving any to your little one. If you give your child too much, it can cause diarrhea, vomiting, and other relatively mild issues.
Final Thoughts
If your child is constantly uncomfortable and fussy, you would likely do just about anything to give them comfort. Of course, you also want to make sure you are not doing more harm than good. For many generations, parents have relied on gripe water, and you can too.
Go through our list of the top 10 gripe water brands to see which one will be best for you. Make sure to look closely at the ingredients in each formula, and what each one is made to do. Once you make your decision and it arrives at your door, you and your little one will hopefully start feeling better right away.