Kids are cutely naughty, a bundle of joy, and they're always full of life. From the time they begin walking till they come to a point where they show a keen interest in something, it's always going to be worth supporting. Playing music instruments such as a guitar is one of those things that could spark your child's interest, particularly if someone in the family plays one.
Finding the best guitars for kids these days is much easier since most brands make smaller versions of their full-scale guitar models. These guitars for kids are no lesser than their bigger counterparts in terms of the playability to play the guitar fingerpicking or strumming style. In case your kid has shown interest in playing the guitar, have a look at our review of the best guitars for kids.
Top 30 The Best Guitars for Kids 2020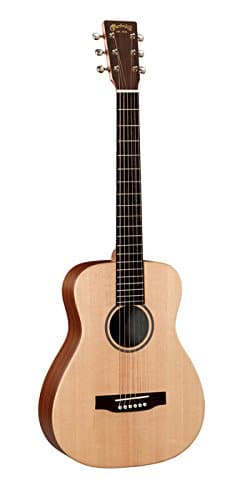 The Martin LX1 Little Martin Acoustic Guitar offers a big name guitar at a small price. However, it's not the price that's the only small thing. This acoustic guitar has a tiny 23-inch scale length, which makes it perfect for small-handed player and travel. The body is made from an HPL mahogany on the back and sides, capped with a solid Sitka spruce top delivering a well-balanced tone with a nice warmth. There are no electronics on this version, but the hardware it comes with supports the overall feeling of quality. This is a solid purchase for any small handed guitarist.

The Yamaha FG JR1 Acoustic Guitar is a very popular travel guitar due to its smaller proportions. Besides, it's an equally impressive affordable guitar in its own right. This guitar sports a reduced ¾-size body with the same simple but stylish aesthetics that are on offer in the rest of the FG series. It's an all-laminate guitar, with spruce and nato used for the body, while solid nato is used to craft the 20-fret neck. Overall, it's a simple but sophisticated little acoustic, with the black body binding enhancing the elegance. The compact size won't appeal to every play, especially as the projection is quieter than a full-sized dreadnought. However, it's a worthy consideration for those who want a smaller guitar on a budget.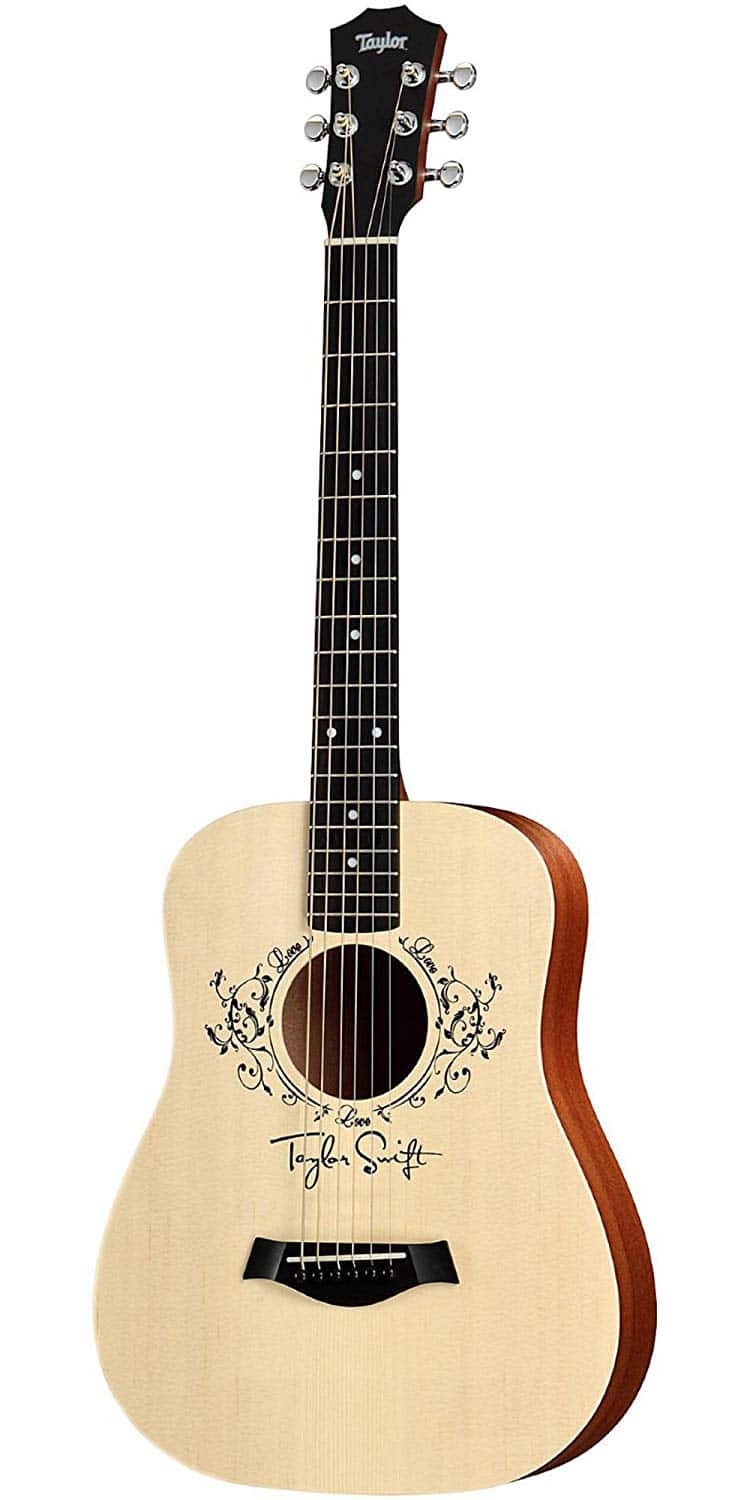 The Taylor Swift Signature Acoustic-Electric Guitar is one of the more expensive child-friendly steel-string guitars on the market. This guitar features exclusive soundhole rosette artwork and signature of global superstar Taylor Swift. With a compact ¾-scale dreadnought shape, the Taylor Swift signature features a solid Sitka spruce top with laminated sapele back and sides. There's a tropical American mahogany neck, which is comfortable for smaller hands, and a 19-fret ebony fretboard. The guitar is fitted with great hardware including a set of good quality die-cast chrome tuners, an ebony bridge and Elixir coated strings. It also comes with a great little padded gig bag. Furthermore, it sounds pretty sweet too, well-balanced and quite rich in tone for such a small body. 

The Yamaha APXT2 Acoustic-Electric is an excellent guitar for kids with a thin line body and a compact ¾ scale. It also shows great value for the quality and style on offer. With several color choices, the APXT2 is made with laminated spruce on the top, along with dark meranti on the back and sides. The small, fast neck is very comfortable for kids, with a rosewood fretboard and a total of 21 easily-accessible frets. For kids who have advanced past the beginner stage, it features simple Yamaha electronics for amplifying their sound. This comes along with a handy built-in tuner. The price tag, coupled with things like a plastic nut and laminated woods, suggest that this is an entry-level guitar.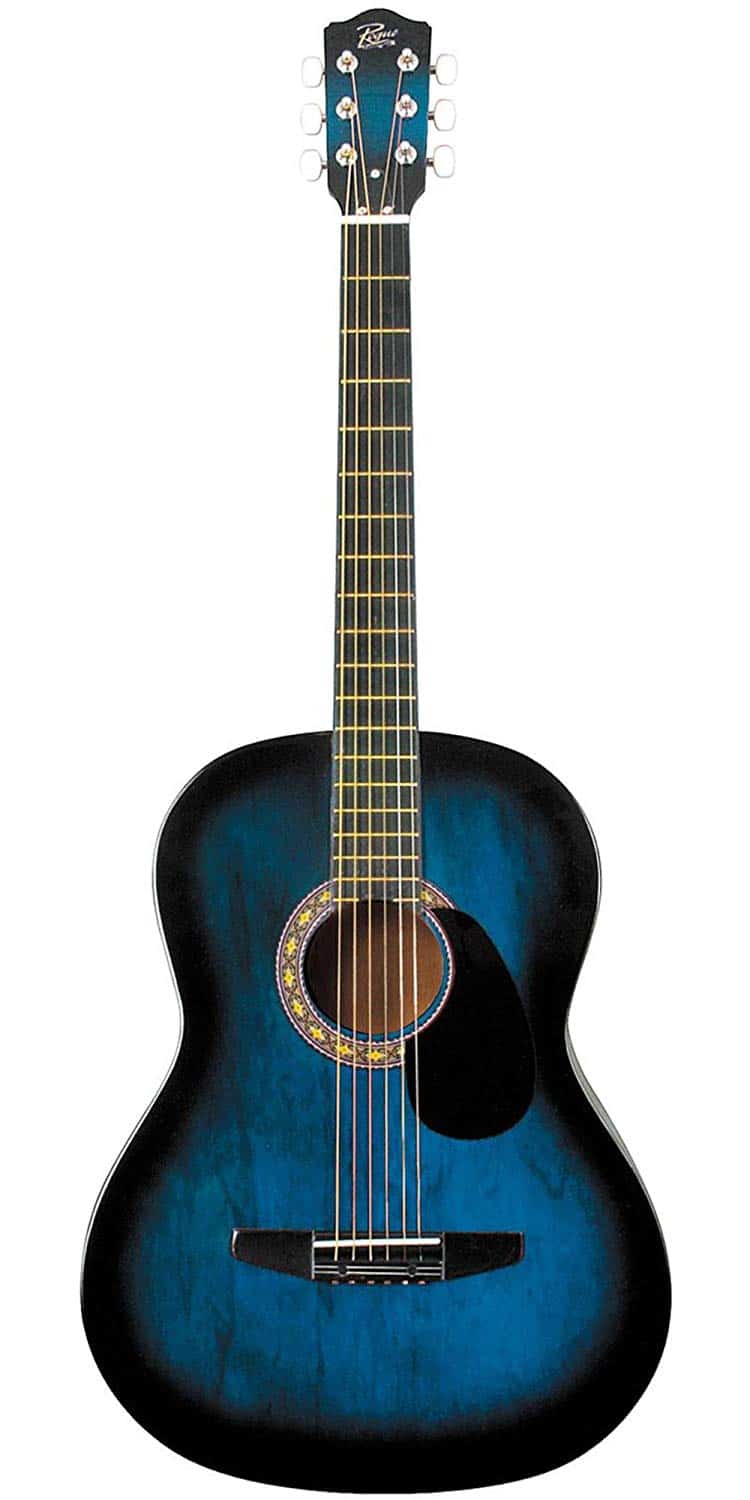 The Rogue Starter Acoustic Guitar is among the budget-friendly guitars for kids available in the market today. One of the first impressions that make this guitar stand out is its aesthetic side. Besides being cheap, it's also quite good looking. The blue to black sunburst finish is gorgeous and it has a yellow rosette. The sound and playability is perfectly acceptable by beginner standards. The quality may not be comparable to other guitars such as the Martin, but it still works very well for the price. This is thanks to a distinctive mid-range punch and a set of bright and clear treble frequencies. The build quality is solid but it has some fret noise and the resonance isn't exactly top-level.

The Luna Aurora Borealis Acoustic Guitar is a cool steel-string model with a traditional ¾ scale non-cutaway body and a comfortable small hand-friendly mahogany neck with a rosewood fretboard. The 19-fret neck and laminated basswood body come enrobed in either pink, blue, black or white. All these come with a sparkly finish along with a moon-shaped soundhole rosette and Luna's intricate moon phase fret-marker inlays. Overall, this guitar for kids feels pretty well-built and sturdy enough, while the sound is clear and bright, but well-balanced. The hardware includes sealed die-cast chrome tuners, stock strings, and a simple gig bag.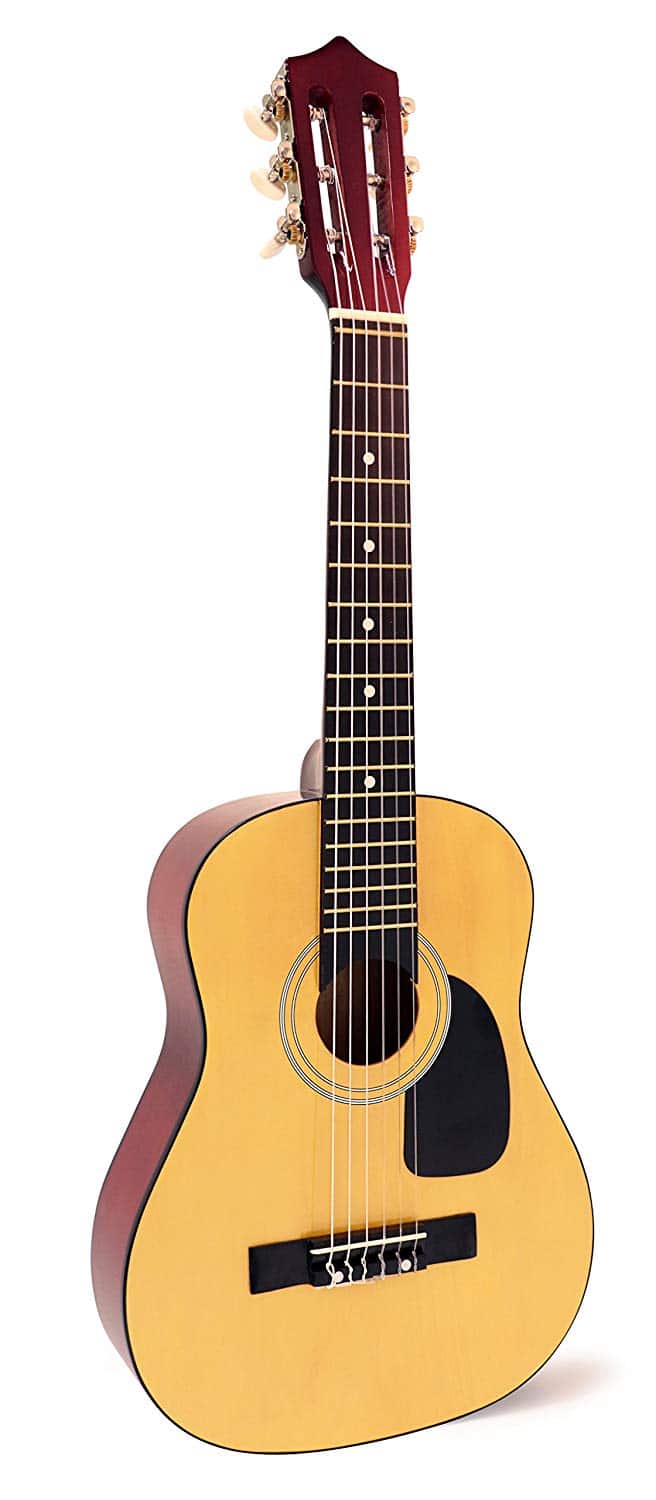 This inexpensive guitar for toddlers from Hohner is a ½ size nylon-stringed guitar that proves it's much more than a toy. It sports a traditional body shape and construction, made with laminated agathist on the top, back, and sides. Mahogany has been used for the neck, with hardwood making up the fretboard and bridge. For such a cheap instrument. it feels lightweight but sturdy and is a good partner for kids aged around 5 to 8 learning the guitar for the first time. However, the tuning machines let it down a little, but the overall sound is one that's very acceptable for beginners. The sound on offer with the HAG250P is quite basic but certainly not bad. Provided the guitar is in tune, the sound is audible and clear, and gives beginners exactly what they need in terms of projection and tone. It's hard to complain about such a price.

The Loog Mini Acoustic Guitar for Children and Beginners features only three strings. However, this bona fide kid's guitar, not to be confused with a ukulele, was designed to help children understand the fundamentals of the instrument and play songs from day one. The guitar itself is basic but fun. It's made with a cool retro design, real wood, and three nylon strings. It's very playable for those with tiny hands, and while a bit quiet, it sounds like a guitar should. This mini guitar comes with a selection of handy learning aids, which help your child hit the ground running.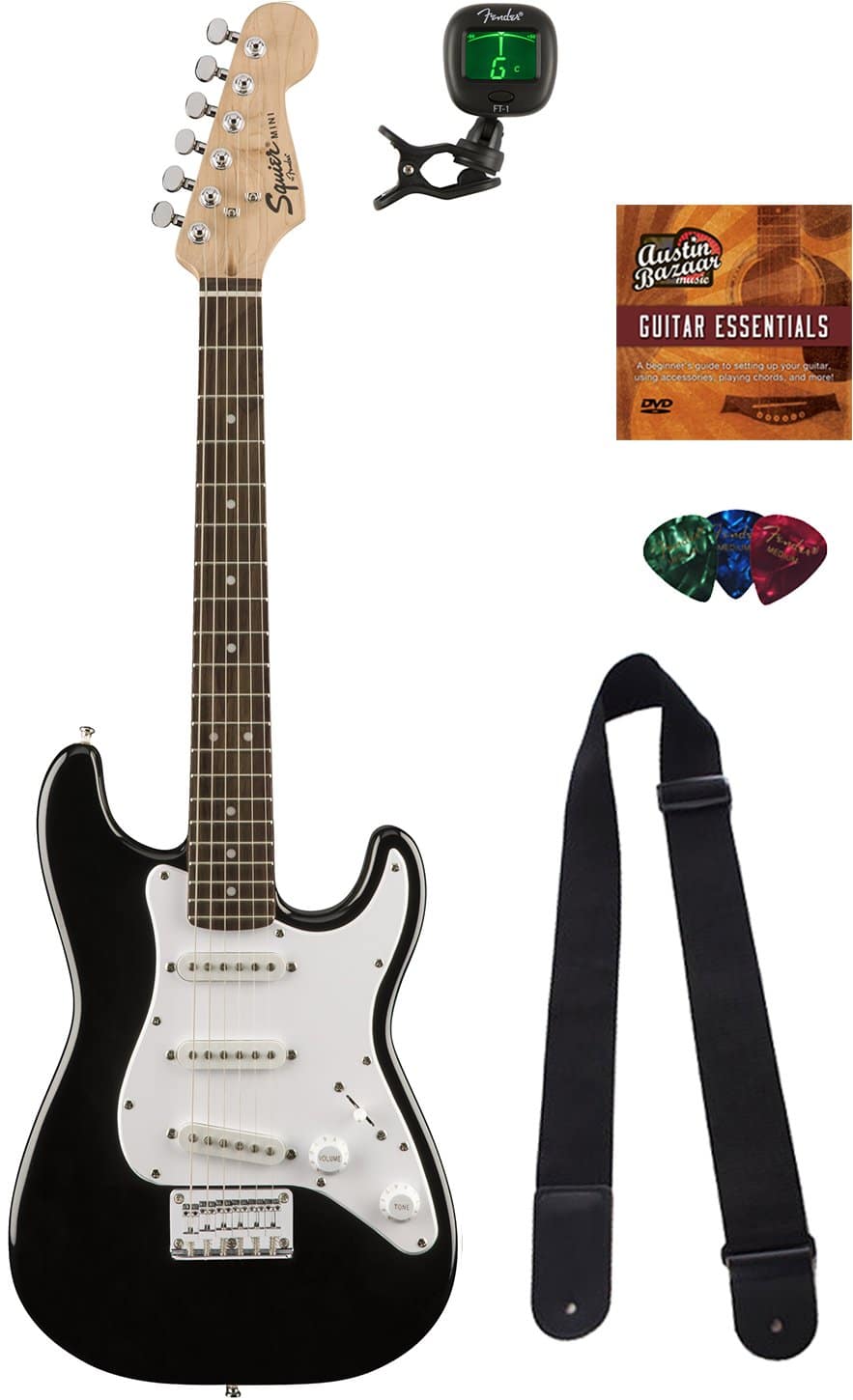 The Squier by Fender Mini Strat Electric Guitar has been crafted for all the young rockers and blues wailers, or even fresh jazz aficionados. This guitar is a small version of Squier's Bullet model and the copy of the iconic Stratocaster. The guitar features a set of three single-coil pickups and a standard five-way switch that can secure a variety of sounds, ranging from light and bright tone for jazz to a more bass-filled, gain-driven tone for rock. It features a sturdy body specifically crafted for younger players. Furthermore, it has a brilliant showcase of how Fender knows to hit that sweet spot between quality components and fair pricing.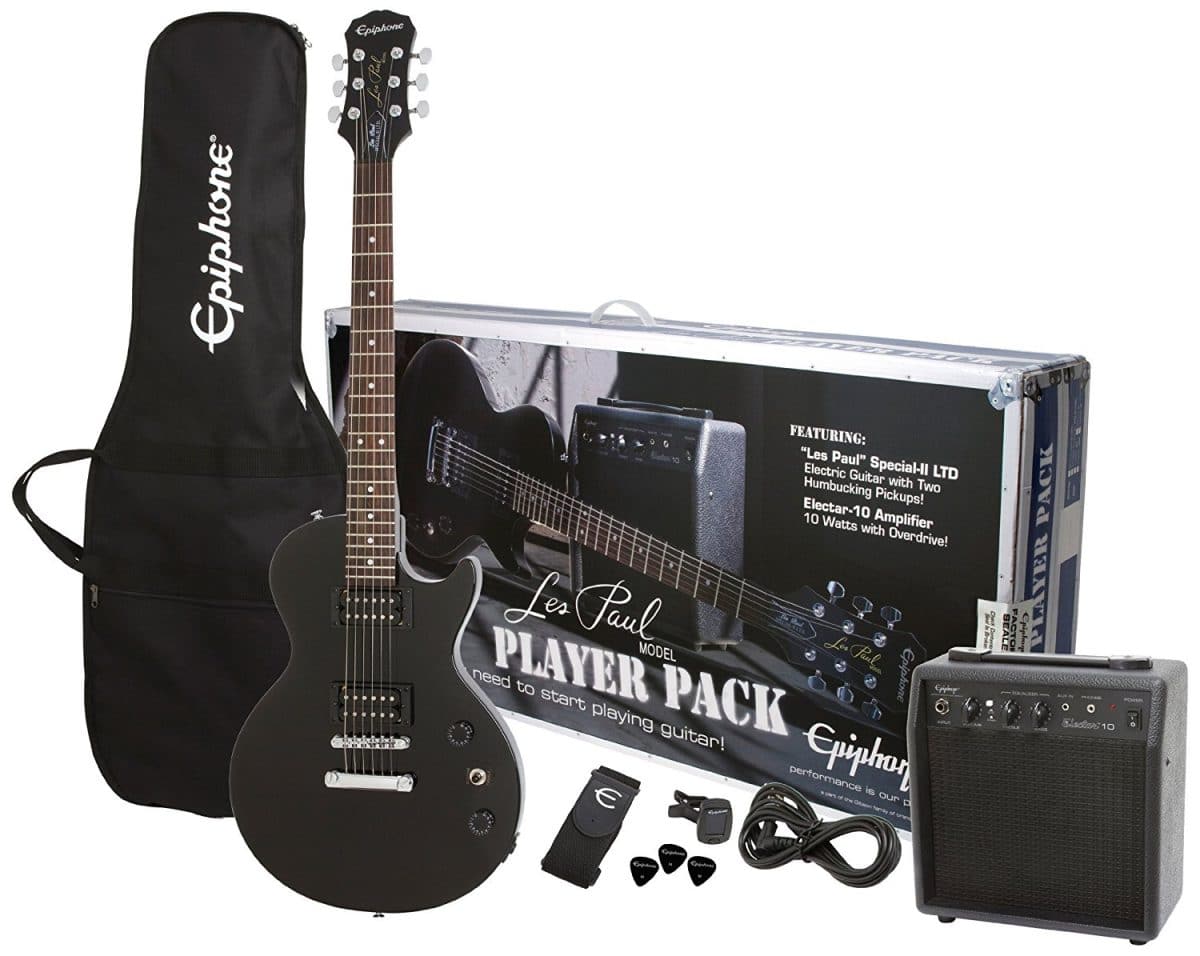 This Electric Guitar Player Package from Epiphone marries convenience and affordability, with quality and playability. This is everything your child will need to start off in the world of guitar. This pack features an original LP Special II LTD guitar, a ten-foot cable and an Electric guitar amp with 10 Watts of output. As for hardware, you get good quality covered machine heads as well as a classic Tune-o-Matic bridge and stop bar, which means changing your strings won't be a tough task. It's voiced by two Epiphone-designed pickups –  a 700T at the bridge position, and a 650R. These provide a clear sound, with good aggression when the overdrive is cranked up. Besides, the package comes with a series of guitar instructional videos, which allow you to play along with popular songs and slow them to speed your kid is comfortable with.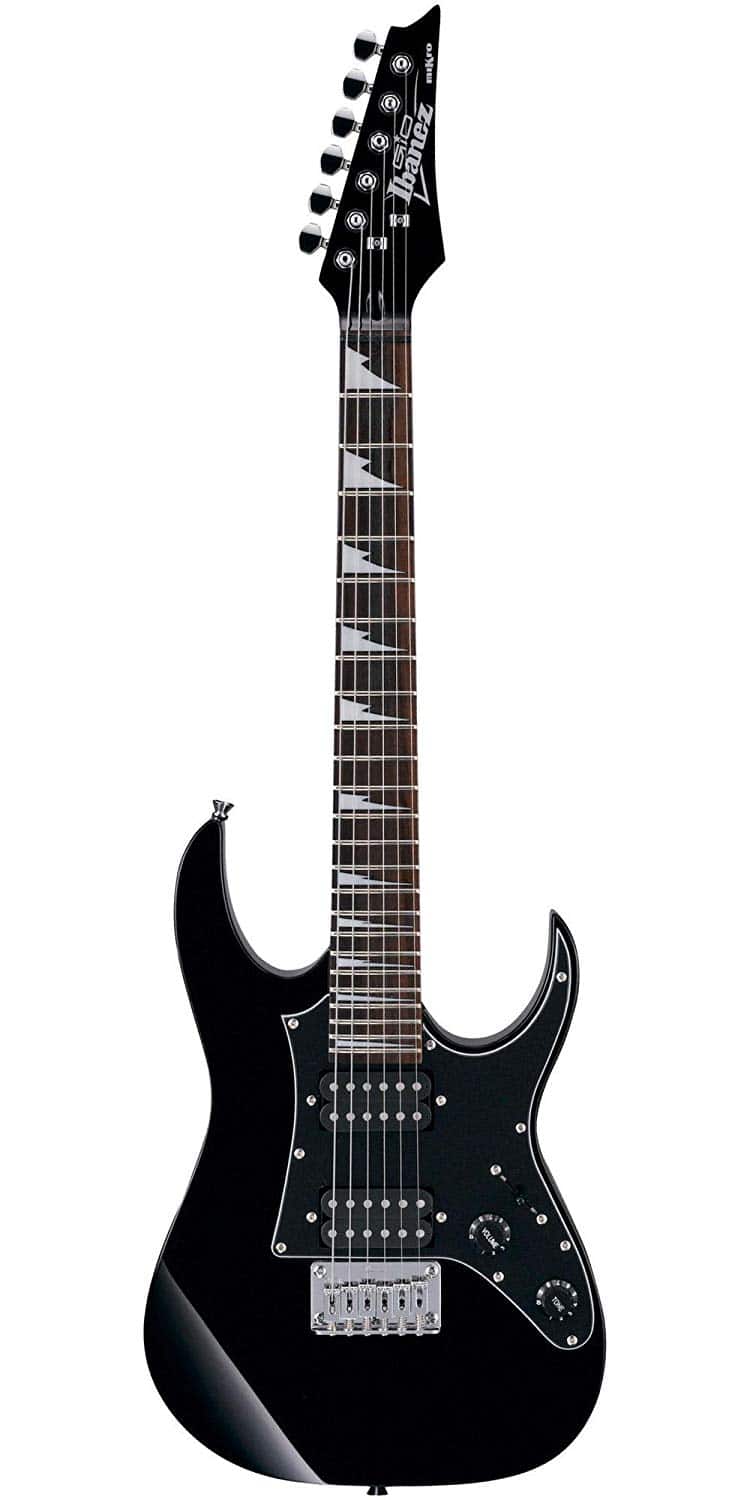 If you're looking to gear up a young metal head and a future shredder, then this model should be the one. The GRGM21BKN model comes in elegant black, with a 22-inch scale maple neck with low tension. This instrument, like any other made by Ibanez, boasts an incredibly slim and playable neck piece, perfect for shredding away. The guitar comes with two humbucker pickup, allowing plenty of gains and a strong metal crunch. The smaller size makes the guitar convenient for younger players.

If Captain America played guitar, chances are the Peavey Captain America 3/4 Rockmaster Electric Guitar would be the one. The powerful Marvel superhero features prominently on the body of this cool 3/4 size electric guitar, aimed at kids and players with smaller hands. The glossy basswood body features the tried-and-tested Super Strat shape, with a reduced 22.5-inch scale length for excellent playability and comfort. This affordable guitar is quite basic in its hardware, but it all works well. Keeping things simple, Peavey offers a single humbucker which features coil-splitting capabilities. Moreover, it offers tone and volume controls and a fixed bridge. As for sound, it's not the fullest but quite good for the price.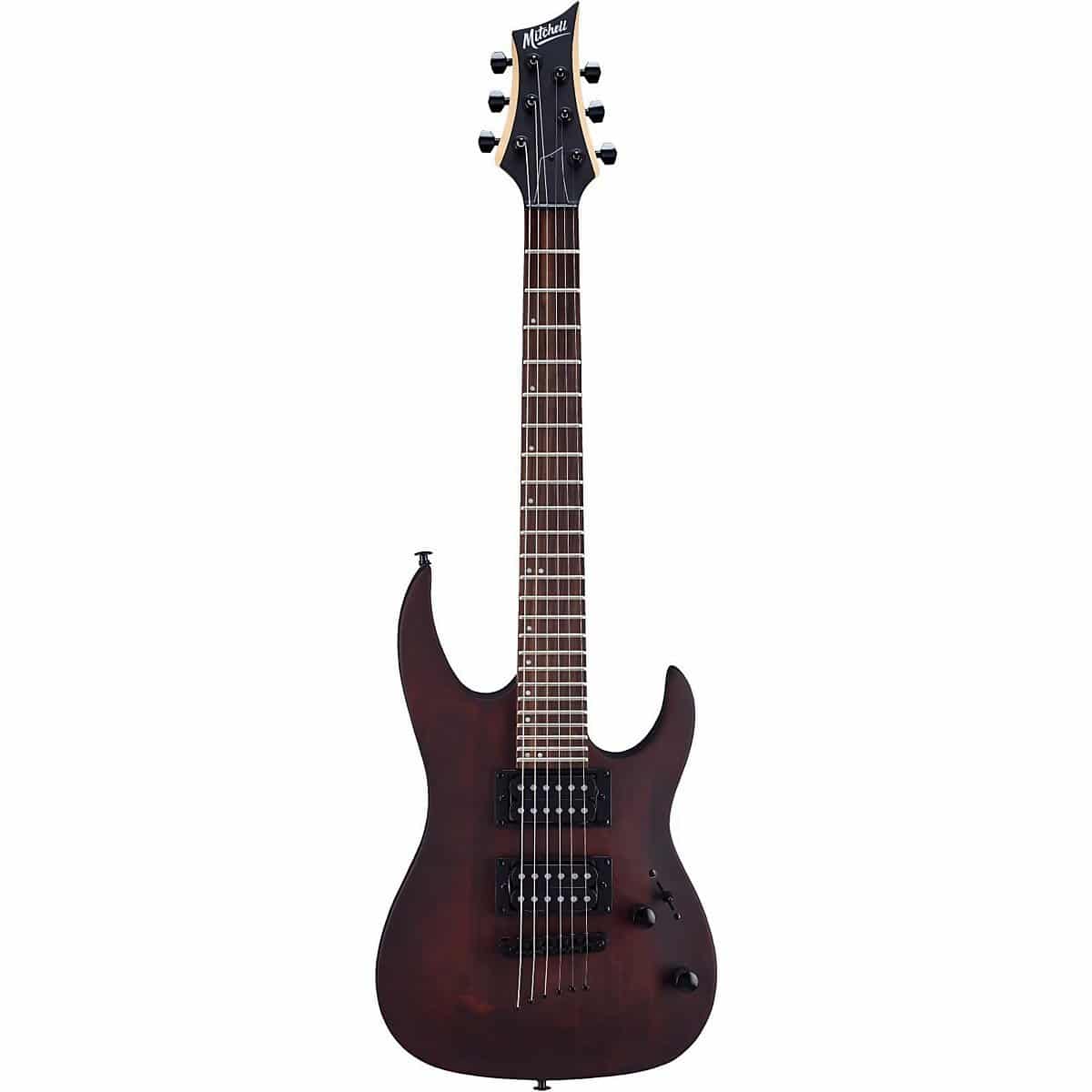 While the Mitchell MM100 Mini Double Cutaway Electric Guitar lacks a little something in the tone department, what you get for your cash is one good-looking electric guitar. With a small hand-friendly 22.5-inch scale length, the MM100 features a cool superstrat body with nice curves and edges. There's a basswood body along with a bolt-on maple neck that features a shallow C shape, an Indian rosewood fretboard, and a full 24 medium jumbo frets, The three color choices – glossy Blood Red, glossy Black, or matte-finished Walnut Stain – are all excellent for the price too. The hardware is acceptable and the two humbuckers giver a thick distorted tone, which is good for the beginner to rock.

Although the name implies this guitar is for kids, the Epiphone LP Junior Solid-Body Electric Guitar is full-size and so will be a better fit for older kids (above nine). It's lightweight and fits well in hand without feeling too wide. This guitar makes an excellent vintage sound when your kid strums. It has a 700T humbucker and two knobs for controlling volume and tone. The style is also a beautiful classic, with its vintage sunburst color, and mahogany finishes running up the neck. It surely is an impressive guitar that your young rock 'n' roller will love to own. Moreover, the upside of buying a full-size guitar now is you won't have to buy a new one as your child grows. The excellent quality of the instrument makes it durable for years to come.
The six-string electric guitar from Ibanez will surely give your kid some rock 'n' roll vibes. It has a smooth, slim neck for smaller hands, which makes it easier to slide up and down to change chords. Children often base their choices on colors. So one way to keep their interest going is by giving them something that they won't get bored looking at. This model comes in a variety of shades. An example is a bright blue that screams for attention with its rock star appearance. It's available in purple and more conservative colors of black, white or classic walnut. It has all the qualities of its full-size bigger brother, so you know you're buying a real guitar, not just a toy. This is another guitar that bigger kids and smaller adults could enjoy.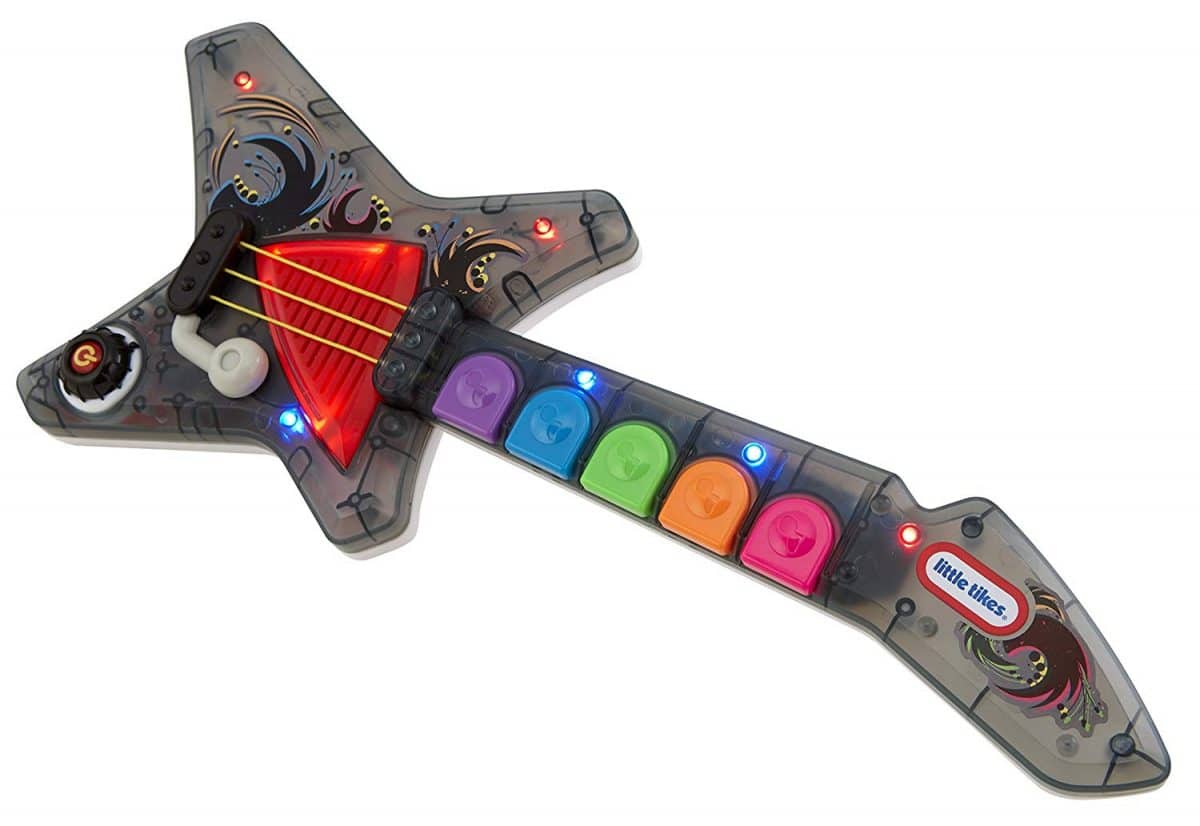 This little toy guitar from Little Tikes is the perfect puck for an active toddler who wants to rock out. If your little toddling rug rat tends to get bored quickly, this will likely keep them swinging for longer. The Little Tikes toy guitar comes in a grey translucent design, fitted with red and blue LED lights for special effects. It features two modes of play – preset tunes, and rock 'n' roll riffs, where your toddler can go crazy. Each string will sound a tune, and on the baseboard, there's a small tuner to help give the effect of a real guitar. Of course, this is only for play pretend. This toy guitar is a decent size and weight so it won't be too heavy for your child.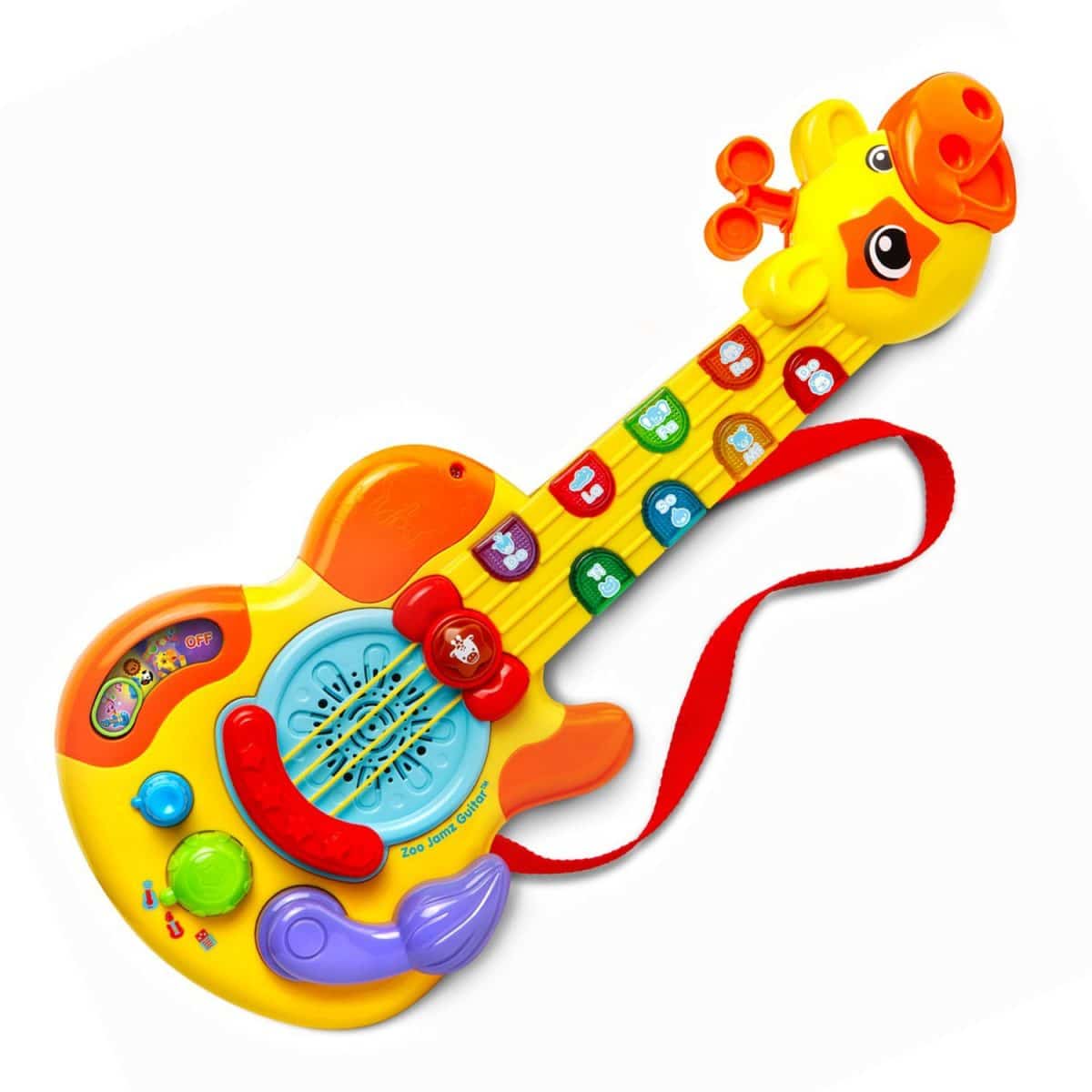 If you have a smaller toddler and want a guitar-inspired toy, this is ideal. It's a super cute guitar with a zoo animal theme. The shape of the toy is a giraffe with its long neck being the neck of the guitar. This makes it more appealing to the young ones. Down the neck are eight light-up buttons to push, and four strings down at the center. The light-up buttons make cute animal sounds as well as chords. This way, children can compose their own zoo song, or play along to the present tunes. They can also pick between acoustic and electric guitar sounds. It comes with a strap so your toddler can take it anywhere with ease.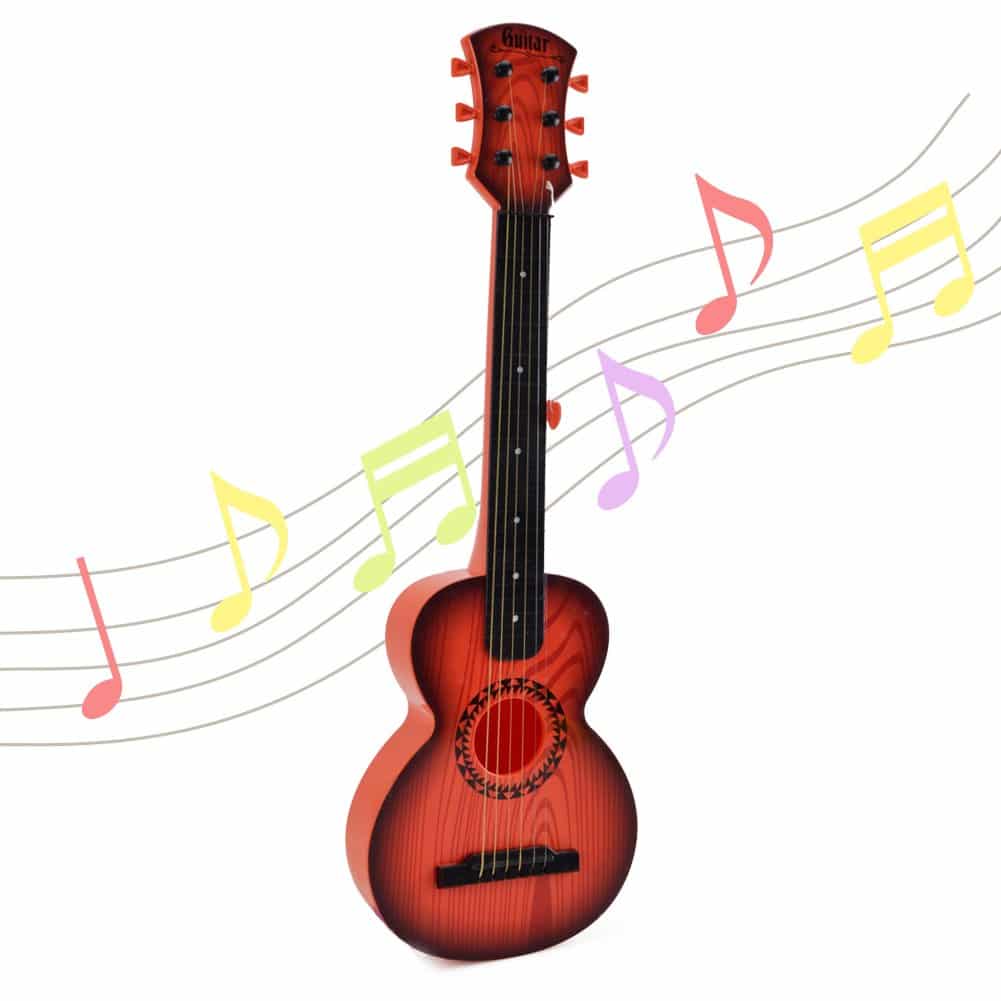 The Happytime Kids Emulational Guitar is an authentic looking acoustic guitar for your musical toddler. The appearance of this guitar comes close to a real guitar, with all the essentials such as strings and tuners. It's excellent if you want to get your little one into instruments or if you frequently spot them trying to strum yours. With this toy guitar, your budding Jimi Hendrix can play some tunes alongside you. It consists of a plastic, wood effect body, with six strings. Up at the top, you have six tuners, one for each string. These tune the guitar so your little one can get an authentic experience.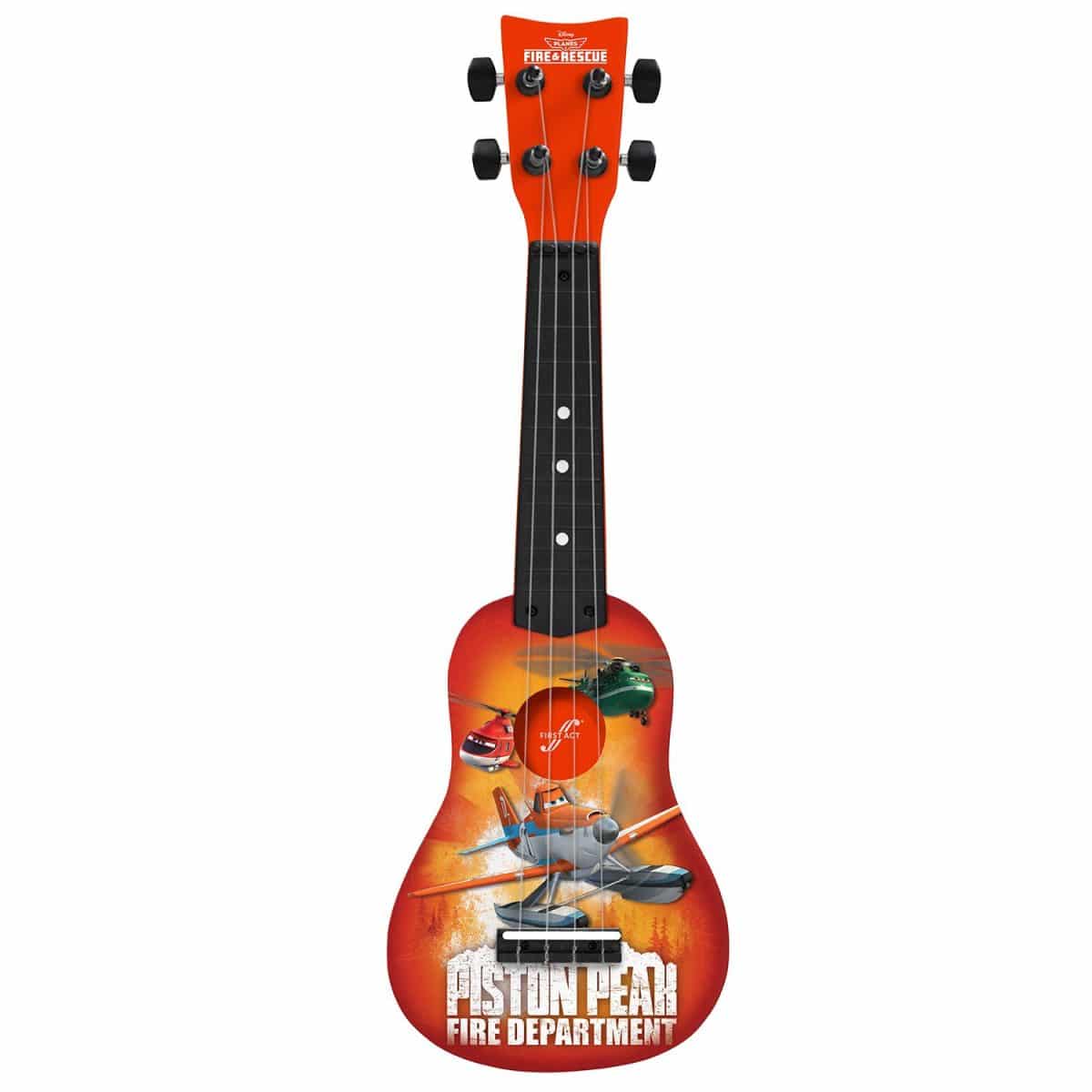 The Disney Planes Mini Guitar Ukulele is ideal for kids aged 2 to 8 years. It's a very good toy for imaginative play and with the theme of the plane, any kid can be transported to the air where they can make believe they can fly. It carries none of the stress of tuning and maintenance that an ordinary instrument would since it's more play. With its 4-string arrangement, young kids with smaller hands will have no problems strumming their way in the same fashion as the original players in Hawaii. The soundboard has been marvelously adorned with colorful graphics from kid's favorite characters like Frozen, Cars, Barbie, and Hello Kitty. Besides, the strings are made of nylon, it shouldn't pose a threat to the integrity of your child's fingers.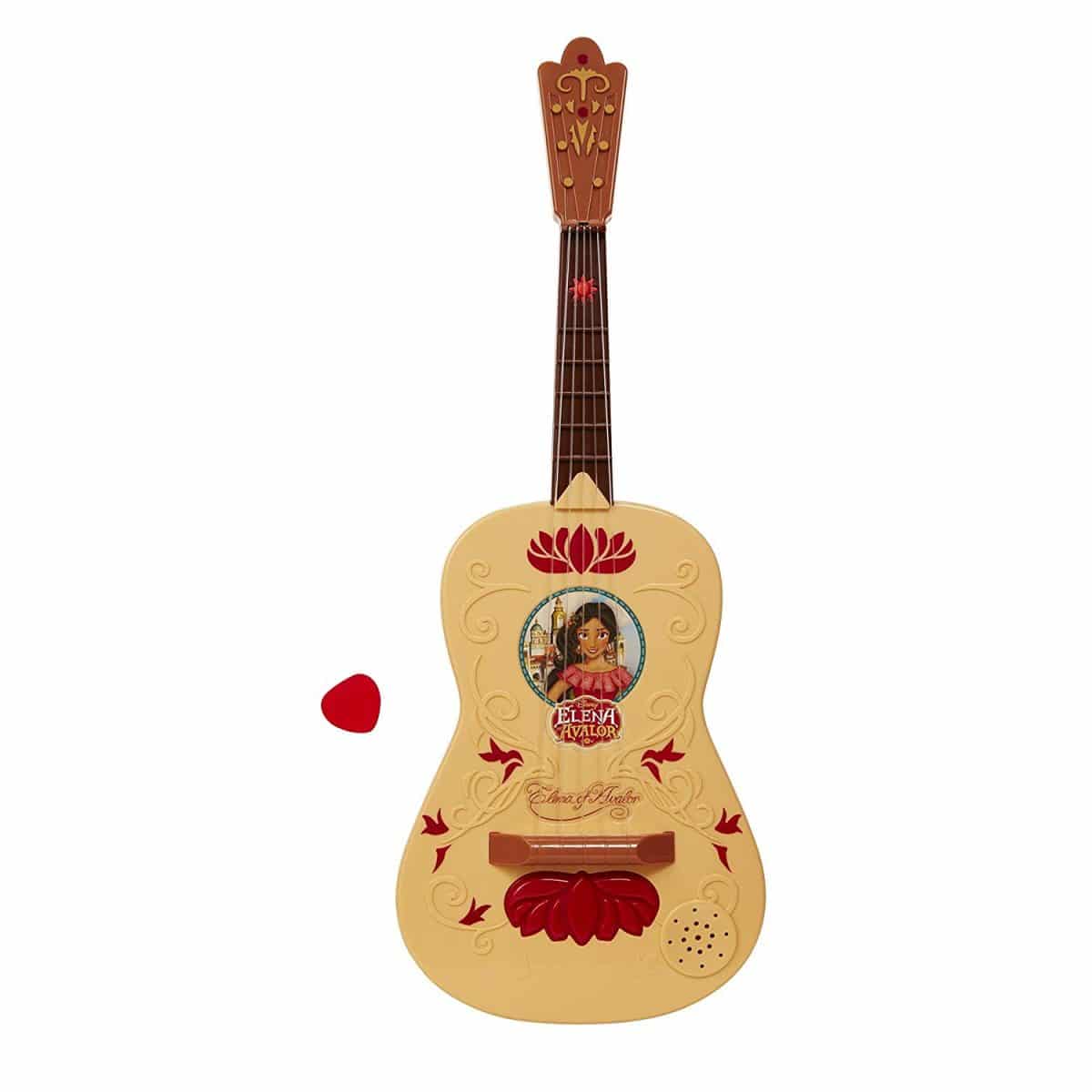 This guitar will enable your kid to sing along with the three hit songs this guitar features. It's the perfect way to get your little one involved with rhythm, music, and interaction. While the songs on the guitar can be a bit karaoke like as your child will be able to sing along to any of their favorites from the hit show your child will love dancing, singing, and just having this guitar with them anywhere they go. This guitar comes with its own pick and is ideal for kids aged three and older. It'll help your little one enhance their creativity, fine motor, and social skills when using it. It'll also help them understand the basics of rhythm and using their imagination as they pretend to be their own version of this sassy, strong character.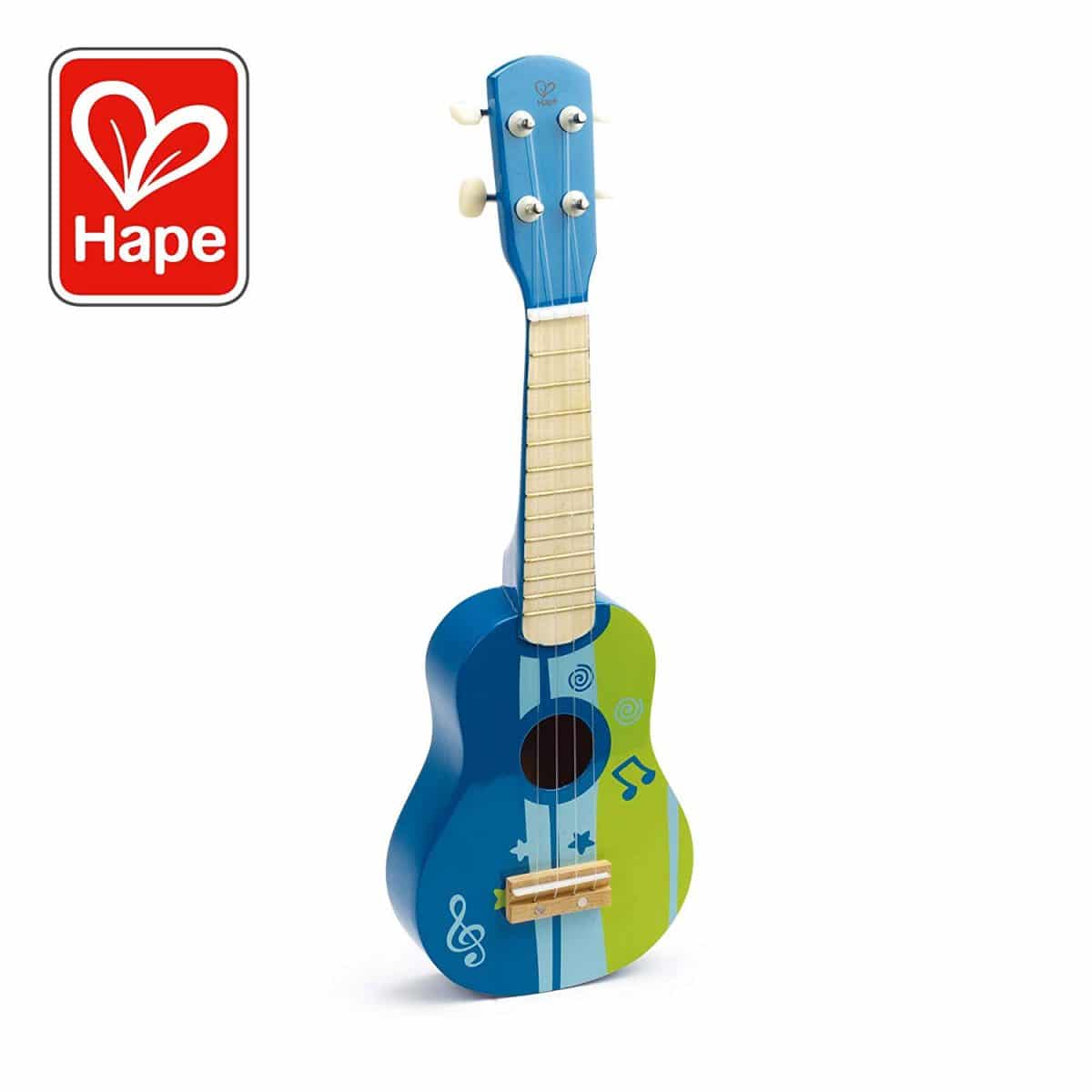 Learning to pluck and strum can help augment young children's need for mastery of hand-eye coordination. This mini version of the ukulele is great for kids who may not have the full understanding of notes yet and just enjoy the sound of an instrument. Strumming will help challenge your kids to find the perfect pitch and rhythm while strengthening their fingers in preparation for a full-sized guitar. The body of this ukulele is quite small which allows it to be easily hugged by your little one so they'll have a great time strumming away. The neck is quite wide yet thin enough to allow children to wrap their hands around the structure and press on the nylon strings that make up this instrument. The tuning gears have also been made smoother for easier handling.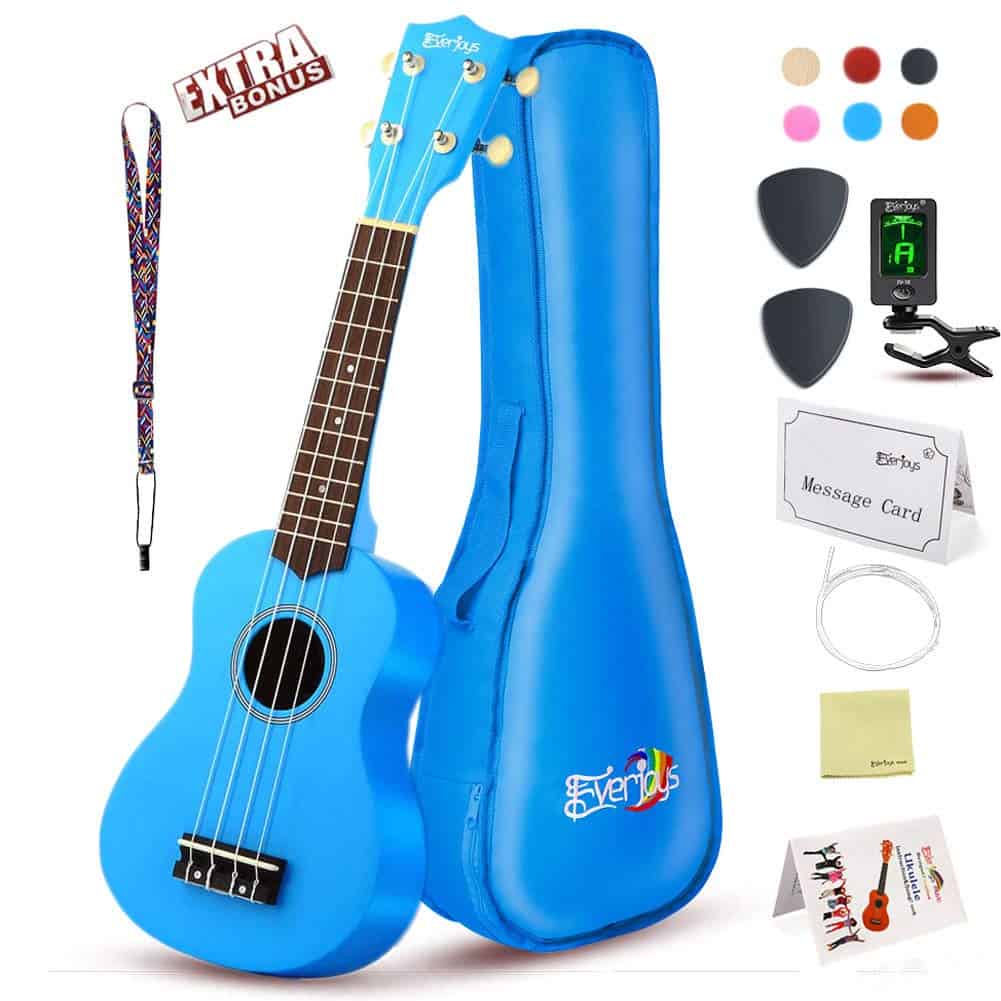 This ukulele is a step up from most beginner guitars in the sense that it's built to feel and real and to last. It produces a sound akin to what you would hear on any tropical island while giving kids the feel of a real string instrument. The traditional nylon strings will emanate the island sounds as your child perfects their strumming rhythm and learns how to perfect each sound. It comes in six different colors which make it a great option for either a boy or a girl. Everjoys has included with this beginner ukulele a beginner's ukulele songbook, a guitar strap, a pic, a microfiber cloth, and an electronic tuner. The guitar itself is high-quality and made out of Blackwood, complete with real silver frets on the fingerboard and tuning keys that resemble that of a guitar. There's a maple board at the base of the strings that hold them together.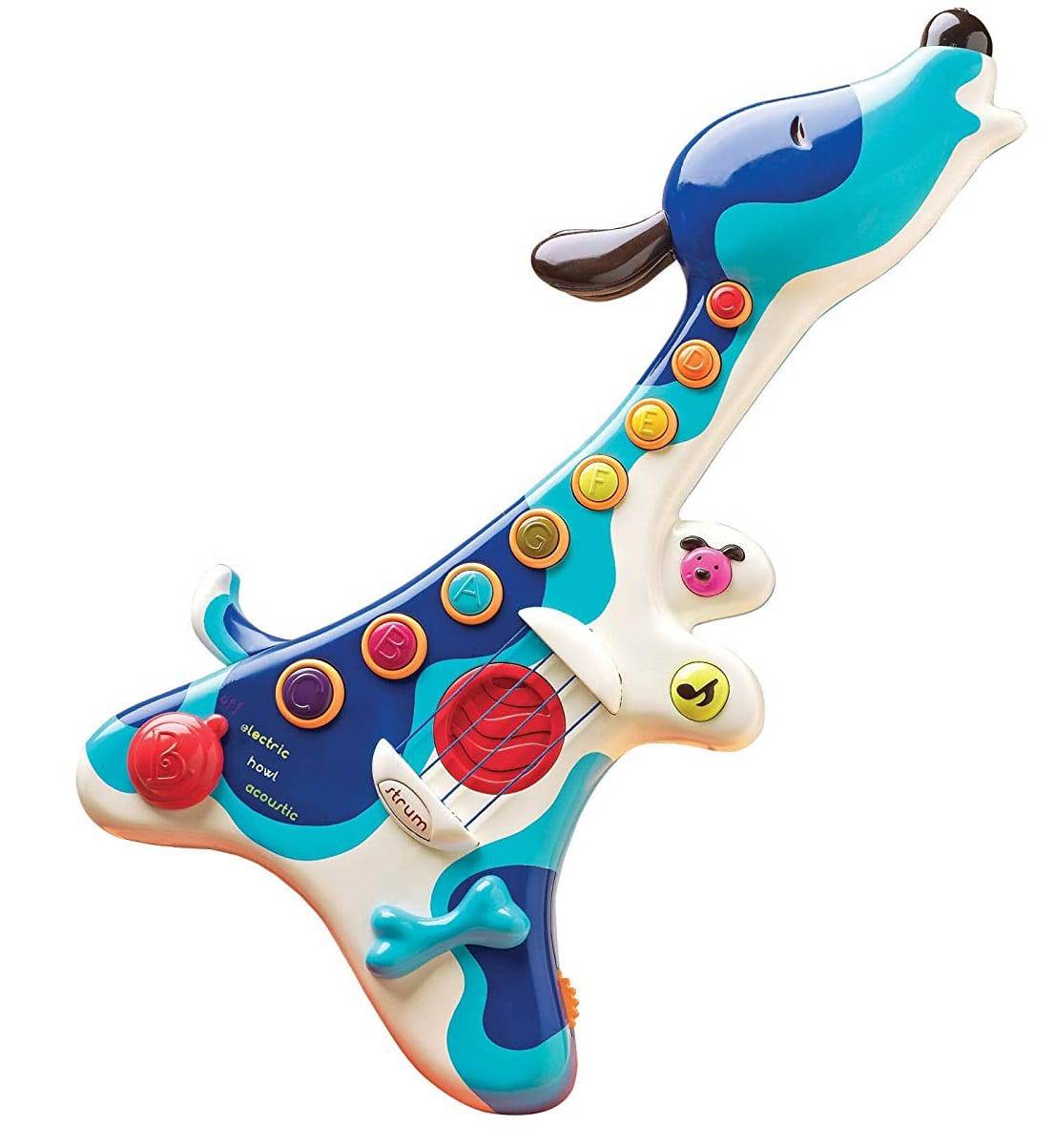 Although this guitar looks somewhat funny and cute, it'll get your kids up and active in no time with the addition of a microphone and a guitar strap designed for toddlers. It's good to get them moving and encourage active play as well as imaginative. With the three sound modes, your child will love to jump around and make noise. The guitar has an inventory of 20 favorites that your child will love singing along as well as eight songs that are upbeat and will get them playing along and singing in no time. Some other cool features of this magical singing pup include a retractable microphone and a comfortable guitar strap that allows your child to move and jump around like they're on stage.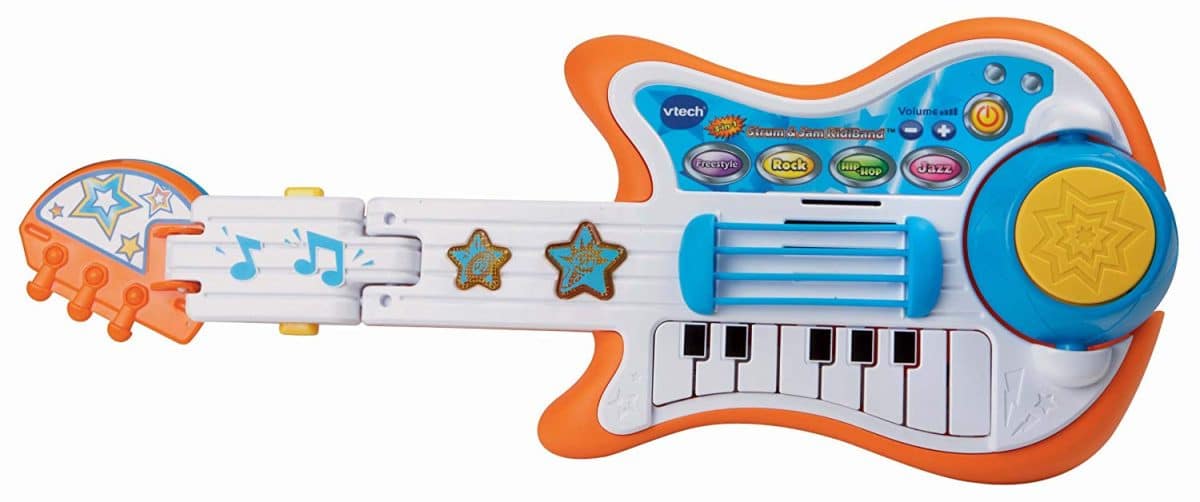 The VTech Strum and Jam Kidi Musical Guitar are a great Segway to the real thing for any kids who already have a passion for making music. With 12 different melodies, they'll get a feel for a real guitar and get a head start in recognizing rhythm and pitch. It's clear that this is not a real guitar for kids. However, it does make for an excellent impression of a future rock star in your kid. The 3-in-1 functionality makes it an excellent tool for familiarizing your child with the different sounds of various instruments.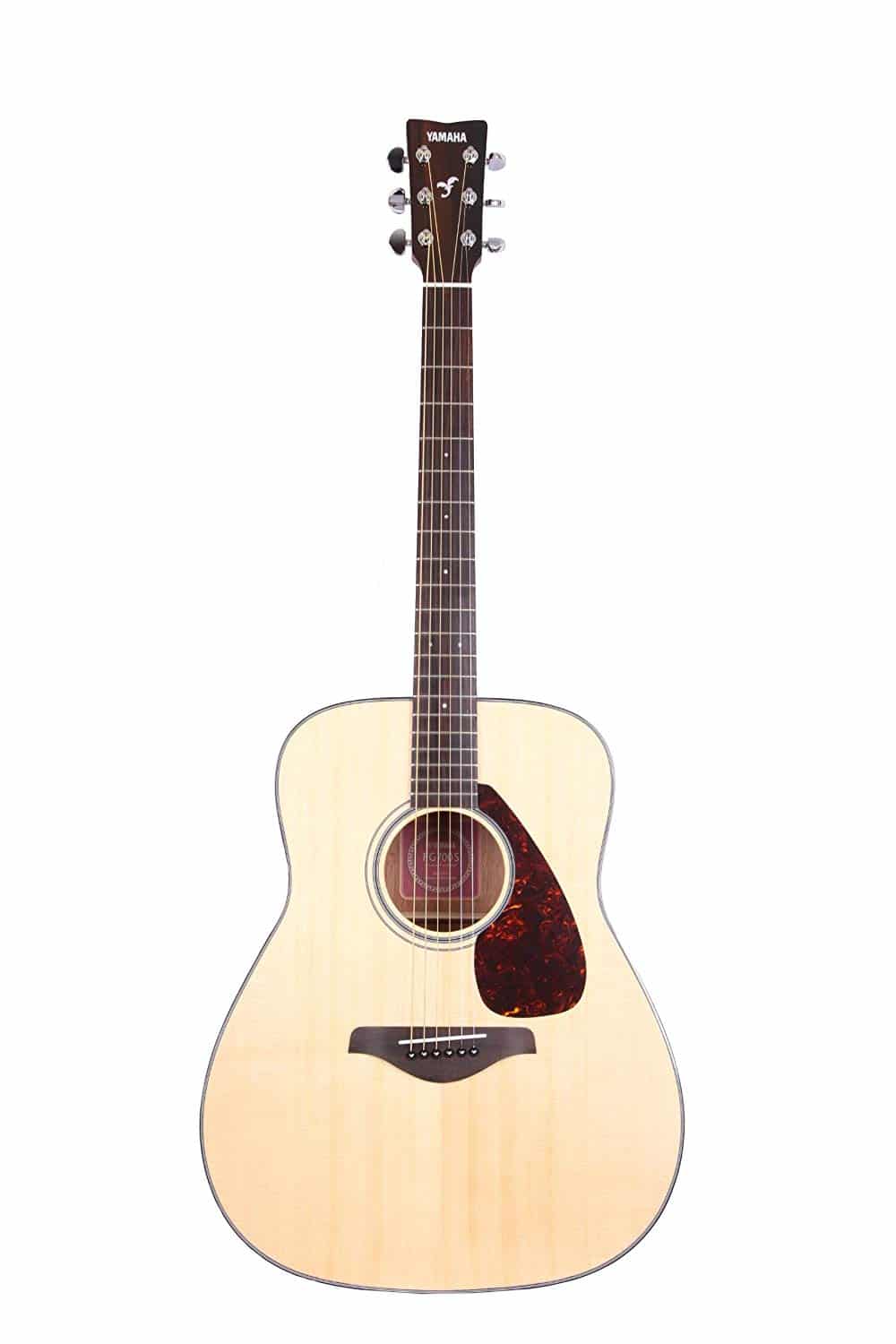 The Yamaha FG700S Solid Top Acoustic Guitar is a high-quality six-string guitar that's ideal for kids aged 3 to 12 years. Featuring a solid Sitka spruce top and rosewood fingerboard, this guitar shines on stage and will help your little one feel like a real guitarist as they learn to play. It incorporates a short scale that makes it easier for players with small hands to hold and strum the guitar effectively despite it being a full-sized instrument. Non-scalloped bracing is utilized to help the guitar keep its rich low-end tone clear and clean through hundreds of hours of practices and performances.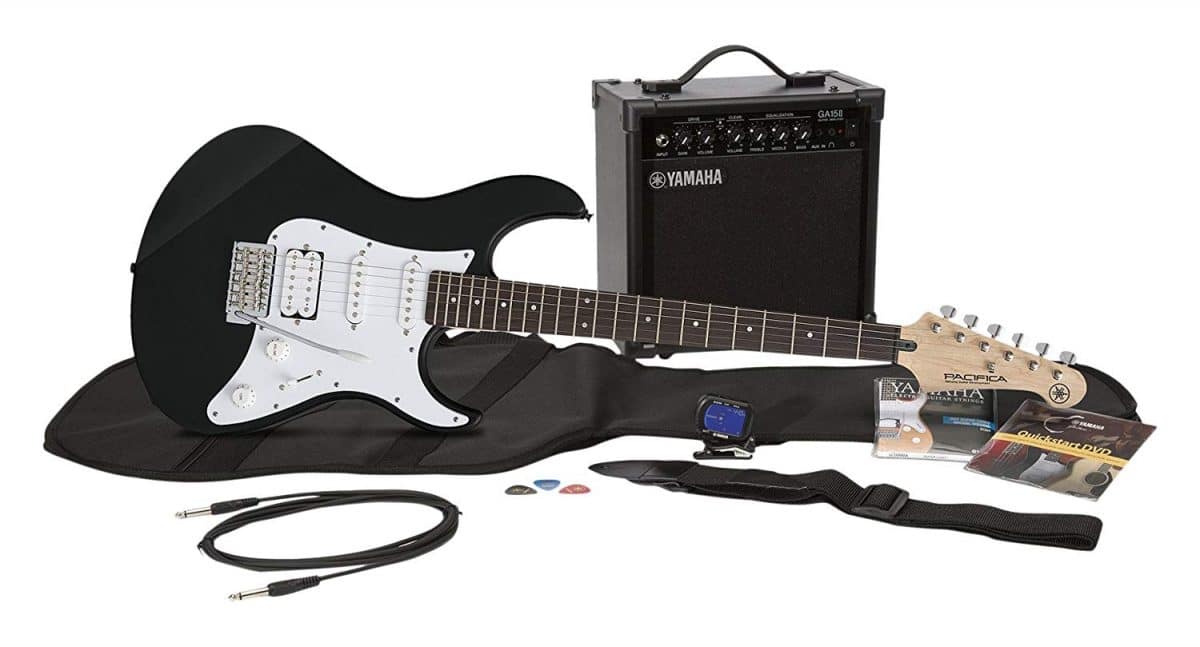 The Yamaha Gigmaker has all the qualities of a good entry-level guitar for kids. This guitar holds a tune well enough and has been built for easy playability. Besides, it has a tremolo bridge system just like any other full-scale Yamaha. It comes with fun and exciting accessories such as an amplifier, a gig bag, a tremolo bar, a tuner, cables, straps, guitar strings, and picks. What's more, it also has an instructional DVD which is a must for a young learner of the electric guitar.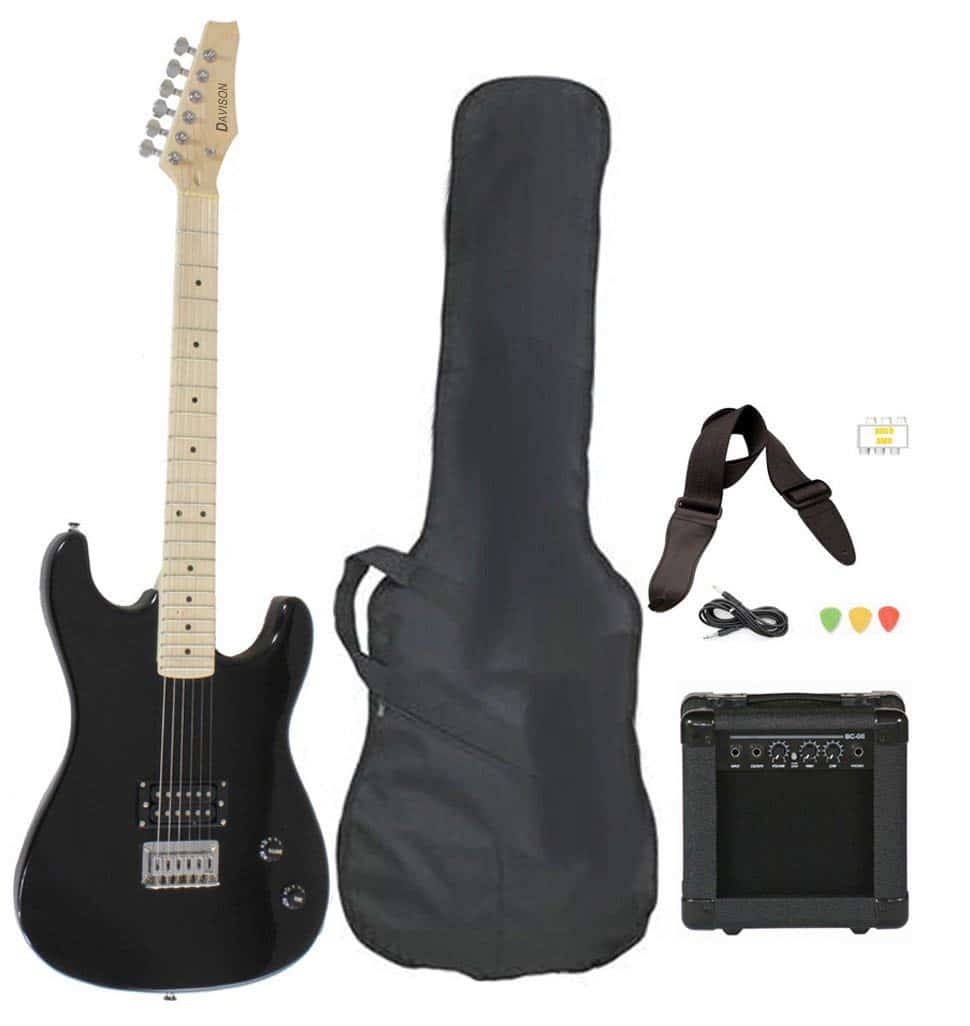 The Davison gives you the same standards as a full-scale guitar. It has a wonderful fretboard that's great for small hands and comes in a comfortable shape that beginners will love. The good quality humbucker pickup on this guitar was created specifically for the ultimate rock sound. So if you've got a kid who aspires to be a rock star, this is the guitar to buy for their birthday.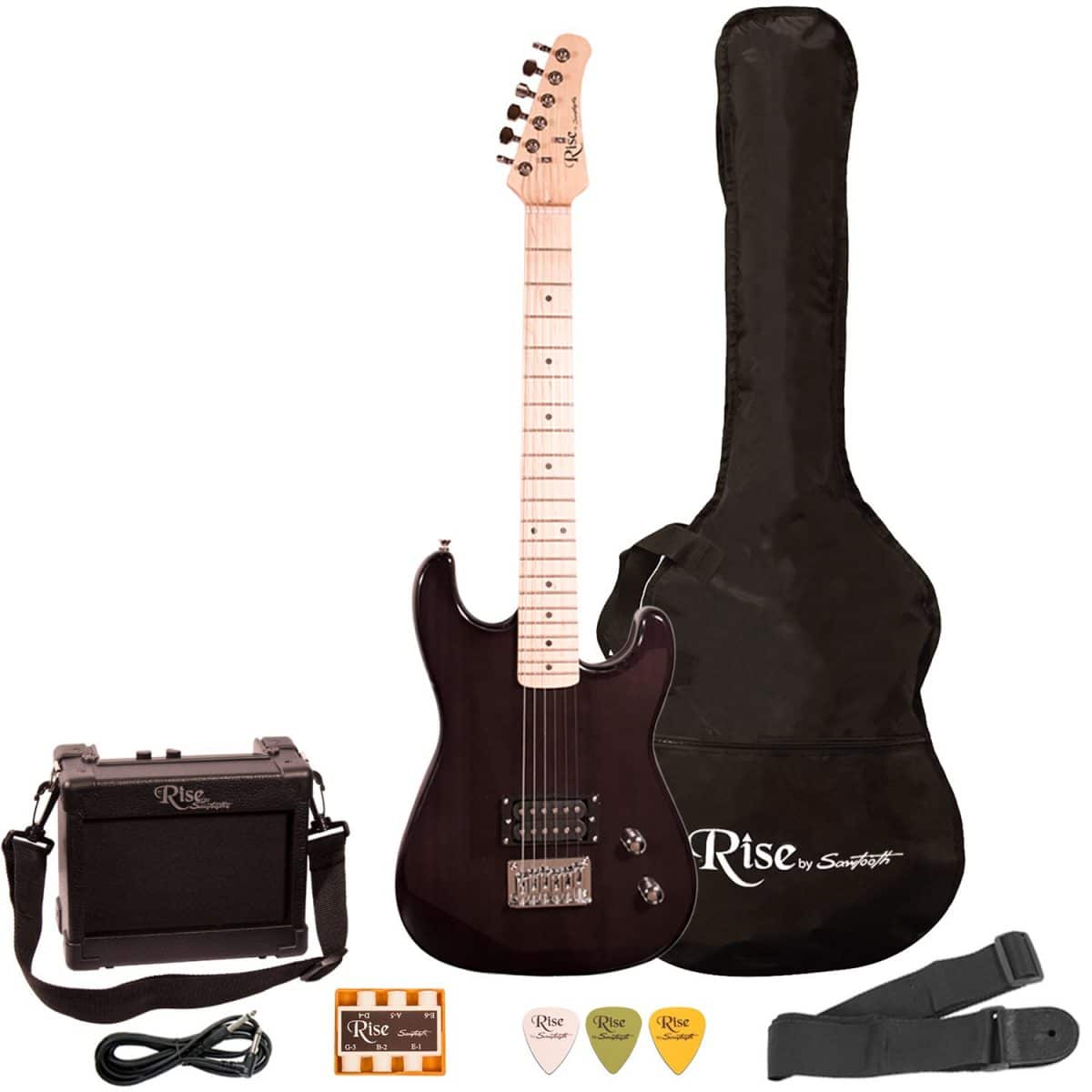 The Rise by Sawtooth guitar has a stunning design comparable to other guitars in the Sawtooth catalog. It doesn't look like a toy, a good plus for any kid who wants to play like a pro. It's also available for both right-handed and left-handed players. With the high-quality materials used to make this guitar, it's meant to last long enough.

Begin your child's musical journey with an electric guitar that promises superior quality. As they say, learning with a guitar that produces a better sound makes all the difference. The precision and stability of the Fender guitar can teach your kid how to identify a good-sounding tune. Fender is also known for its craftsmanship so you can expect top-notch craftsmanship.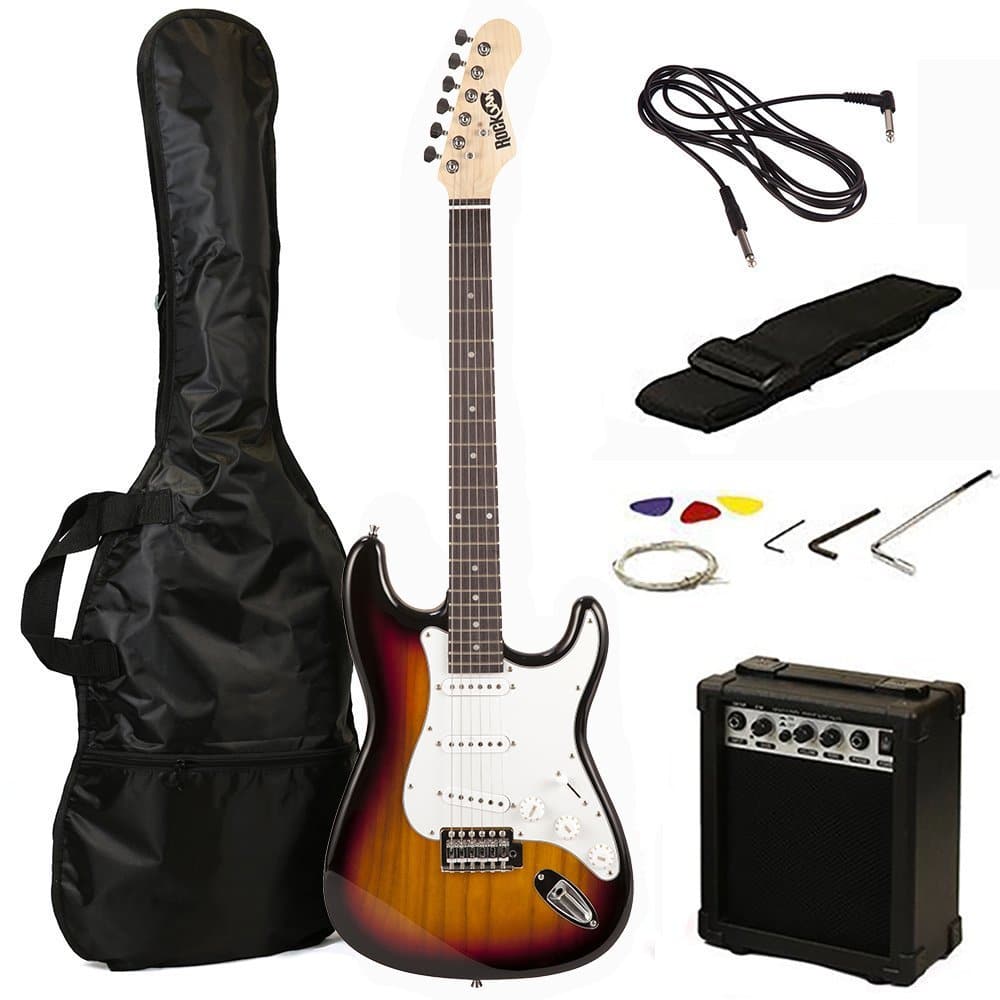 The RockJam Electric Guitar comes in the iconic ST design with a high gloss finish that will make your child look like a pro. The guitar has been designed with a lot of attention to detail and doesn't compromise on the quality. It has great quality metal gear heads and a solid basswood body to generate a truly refined sound. The starter package comes with a 10-watt amp, a gig bag, a strap, lead, picks, and spare strings.
The Verdict
First, you should ask your child what they want to play. It's important to do a solid research so that your kid can get the best guitar there's on the market. As a parent, it'll be your job to find the perfect guitar your kid wants to play, and teach them how to play it as well as maintain the guitar.
Kids can choose whether they want to play with toy guitars, acoustic, or electric guitars. Whichever they choose, it'll be a great way for them to start learning how to strum. With the many quality brands reviewed above, we hope you pick the best guitar for kids that will last them till they become pros.