Top 30 The Best Solar System Toys for Kids 2022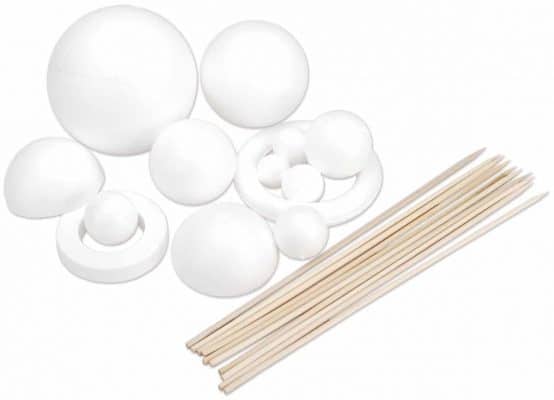 The Smoothfoam Styrofoam Solar System Kit for Modeling comes with balls that are less rough and porous than many of their contemporaries, making them a solid choice for kids. Kids will love getting to paint and construct their own model of the solar system. The styrofoam balls are smooth and take color well, and are all different sizes to help stimulate the actual dynamics of our solar system. This kit includes everything necessary, even styrofoam stand for the model once it's complete. It takes paint and permanent markers well, so your kids can pick whichever is easiest and best suited to the needs of their project. Kids take pride in their creativity and autonomy, and this kit is the perfect place for them to practice both in conjunction with learning about our universe.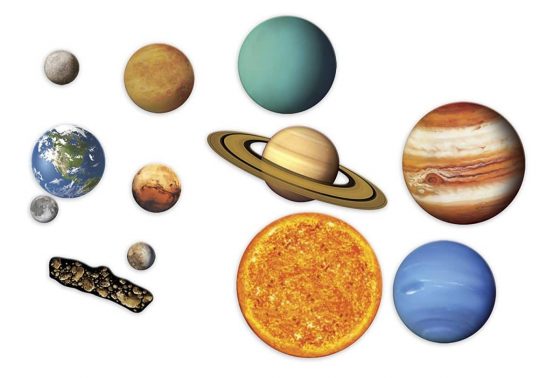 The Learning Resources Giant Magnetic Solar System is captivating, fun to use, and an excellent science-based educational tool. The large-sized magnetic pieces are accurately colored and detailed, helping your child learn to visually identify and differentiate the planets and other astral bodies. The set includes a guide for different activities that help to facilitate a variety of lessons about the solar system. The magnetic model is a great classroom tool as it can be assembled across a large whiteboard for an expansive display of the entire solar system. As your child begins to familiarize themselves with our planetary neighbors, they begin to understand the vast expanse of the solar system and beyond. With this blossoming cosmic perspective of the infinite, your child will be inspired to dream big and realize that anything is possible.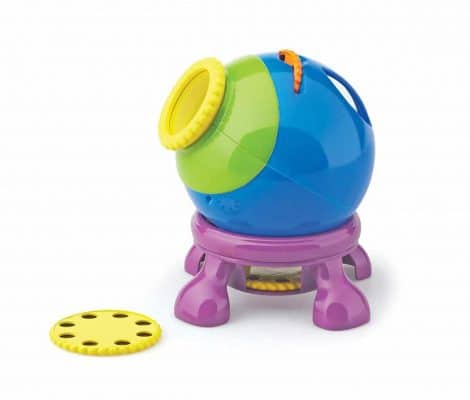 Kids can doze off while looking up at their favorite planets and stars with this neat projector. The activity guide helps them follow along and learn about our adventures out into space, as well as what we know about the planets, stars, and other anomalies of our universe. Tuck your little astrologer in and send them off to sleep with sweet dreams of space. This projector is a great little night light that has the added bonus of an activity guide to help them learn about and understand what they're seeing. It requires 3-AAA batteries, measures about 7-inches high, and is ideal for children aged 3 and up. It's also round allowing for full coverage of the entire room and comes with its own stand and three discs that present a total of 24 images.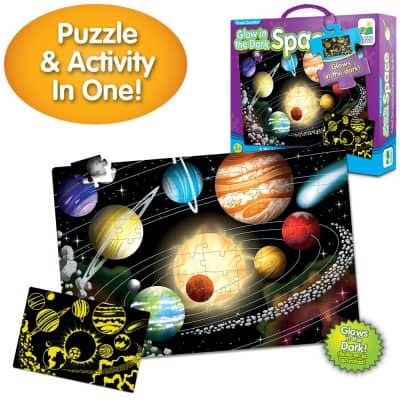 The Learning Journey Puzzle Doubles features puzzles that can be completed in groups to develop collaborative and social skills, or individually. Figuring out the picture and the fit of the many pieces helps children with deductive reasoning, problem-solving, motor skills, and hand-eye coordination as well. With the vibrant colors of the different planets all on display, this one-hundred-piece puzzle is sure to be a hit with any budding astrologers or space enthusiast ages three and up. Moreover, this puzzle glows in the dark. Put the pieces together as a family or let your children work through it on their own.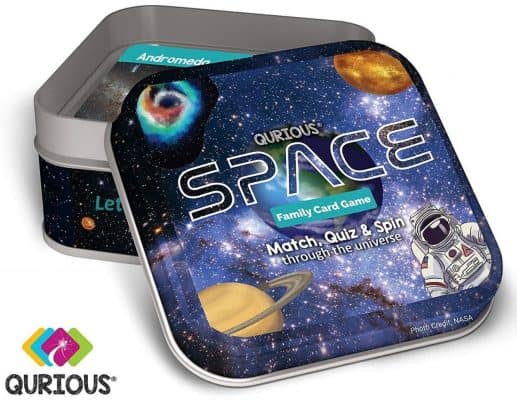 The Qurious Space Card Game is an educational game that offers four different ways to play. Your child can use the cards to explore, match, quiz, or spin. Whichever version they decide to play, they'll be increasing their STEM skills. Each of the four games includes an instruction card making it easy for everyone to learn how to play. The quiz cards will not only test and improve your child's knowledge of space but they'll also appeal to your child's sensory skills as they're designed with realistic space images. Your child can increase their object recognition skills when playing in either the explore or match version. Furthermore, the game allows up to eighteen players at a time, this your child can enjoy this game with all their friends while also increasing their social skills. Children as young as four can begin playing any of the games in this set.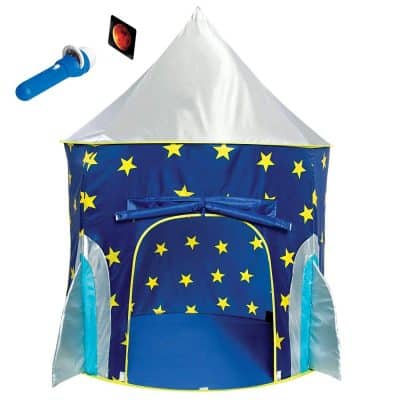 The Rocket Ship Play Tent for Boys comes with a tent and a space projector torch. The torch looks just like a flashlight and can be used to project 24 breathtaking space exploration images. Your little one can project the images inside the tent or onto any flat surface. This large tent will give your child plenty of space to play or relax. The roll-up door allows children to easily get in and out of the tent. Both boys or girls will love pretending to be astronauts. Designed with rocket fins and vibrant stars, this tent will allow your child to create tons of exciting space adventures as they immerse themselves into pretend play.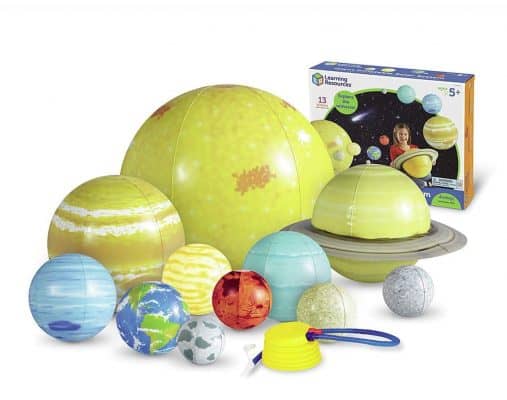 The Learning Resources Giant Inflatable Solar System comes with models that'll foster a love of astronomy and science in your child. The set encourages learning as your child can learn about each planet and how they orbit. Since all of the planets orbit around the sun, the designers made the sun the largest model of the set. While they're durable, accidents happen. A repair kit is included in case one of them pops. The material of the models can easily be wiped clean and folded for easy storage. Furthermore, this kit comes with loops that make it easy for you to hang the inflatables from the ceiling to turn any classroom or bedroom into outer space.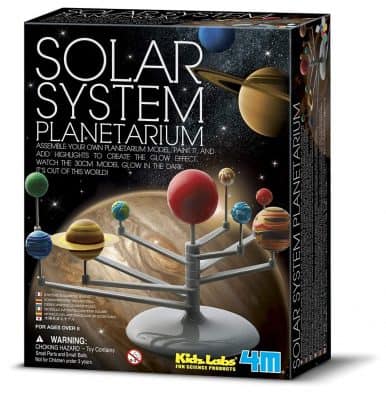 The 4M Solar System Planetarium comes with a wall poster with interesting facts about the solar system and quiz questions so your child can truly integrate the scientific knowledge. This craft kit will enhance your child's creative skills and knowledge, inspiring them to imagine and discover the stellar spectacles of the cosmos. It includes stencils, rods, pens for squeeze glow paints, and even a wall chart that contains many interesting and fascinating facts. There are also Kidz questions that come in 10 sets to help enhance your kid's understanding of the Solar System. It may be small but the 4M Planetarium can surely provide the punch. Moreover, this DIY model of the solar system is an awesome art project that also serves as an educational science tool. With all the supplies included, you and your child will be able to assemble the moving model and paint the planets with glow-in-the-dark paint.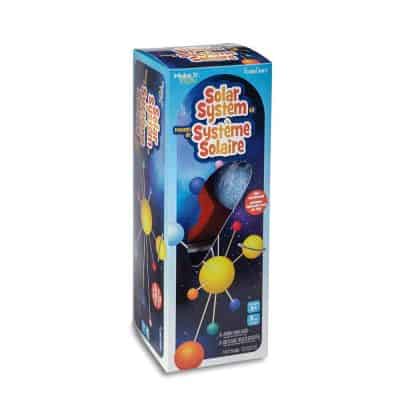 The FloraCraft Model is a great kit for teaching children about the planets using hands-on props. It's especially helpful when it comes to order, as well as to understanding size. A few of the colors are off, and all the planets are solid. However, if you're looking for something fun to display in a room around the house, this is pretty hassle-free. If you're worried about accuracy, you can easily repaint and add on to the design of this set quickly and cheaply. This kit is probably going to be the most popular with younger children, who are still learning to categorize the world in those ways.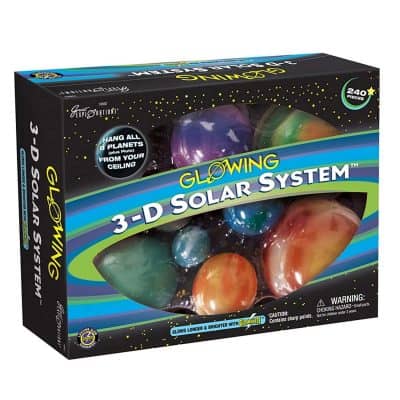 With over 200 different planetoids in the set, this solar system is considerably bigger than the one we live in. This means that the kit is great for playing pretend regarding the planets we know of and for teaching lessons about the cosmos outside of our solar system. There's a great informational booklet which comes with the set that you can use to educate your child regarding the most important features scientists look for in the cosmos when they're hunting for new planets. You can easily have your child design their planetary system once they get going with this kit. The only real downside is that the glowing of each planet isn't entirely accurate. Planets need to be lite by a star before they're visible but this is a very minor concern for your young astronomer.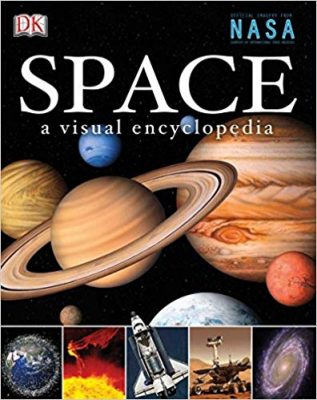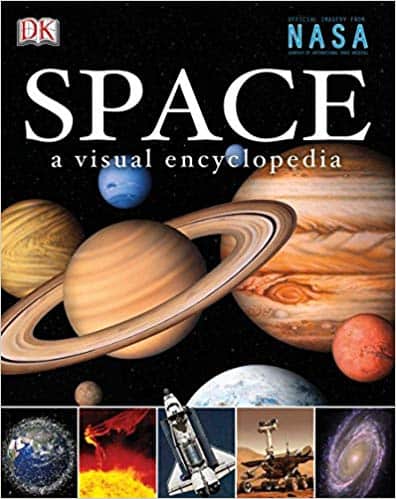 Space: A Visual Encyclopedia by DK is the perfect companion to practically every other solar system toy that you could think of. If there's a celestial body that's proximal to Earth, it'll have an extensive article in the encyclopedia. Unlike other encyclopedias, this one is perfect for a quick browse. You and your child don't need to commit to hours of reading to figure out the answers to your questions – but you might want to. The downside of this encyclopedia is that raw knowledge isn't very interactive. For active play, you'll obviously need a different thing.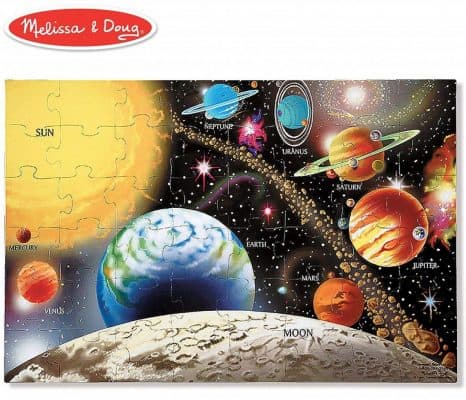 Jigsaw puzzles are entertaining because they build your child's visual and motor skills along with their ability to recognize and match patterns. This puzzle isn't an exception as it'll give you access to a wonderful perspective of the planets in the solar system from the moon's surface. The point of view depicted in this puzzle is interesting because it's rare that a solar system toy would try to display the Earth's moon as well as some of the major moons in the solar system. While the perspective depicted in the puzzle isn't perfectly accurate or to a single consistent scale, it's still an attractive way of displaying the celestial bodies in the solar system. Your child will have a lot of fun putting together the image of the planets splayed against the darkness of space.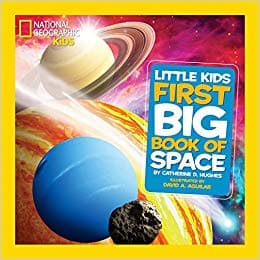 The National Geographic Little Kids First Big Book of Space is perfect for children who need an introduction to space. The images in the book are less about inspiring awe and more about providing a robust educational foundation for future exploration of the cosmos. For the youngest children, this may mean that the book isn't as attention-grabbing as others may be. Nonetheless, for children who are old enough to read, this book provides an excellent first look at other celestial bodies. While there won't be any particularly deep lessons taught, the book is a good companion to other toys which allow your child to experience the wonder firsthand.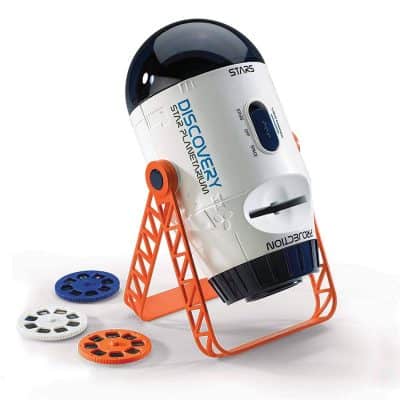 Gazing at the night stars is surely one of the most mesmerizing and awe-inspiring experiences that we humans can get. With the Discovery Kids Planetarium Projector, your kids can bring the stars into their own rooms. This kid's projector has two modes: "Projection Mode" which automatically rotates three discs which project celestial bodies onto the ceiling walls. It has solar system objects as well as galaxies and nebula. "Star Mode" projects a majestic starscape onto any surface and then slowly rotates it to mimic the movement of the stars. Besides, it features 3 interchangeable discs with 24 stunning slides. The motorized 360-degree rotation projects a beautiful, crisp, and realistic starscape that'll provide endless fascination and wonder for kids.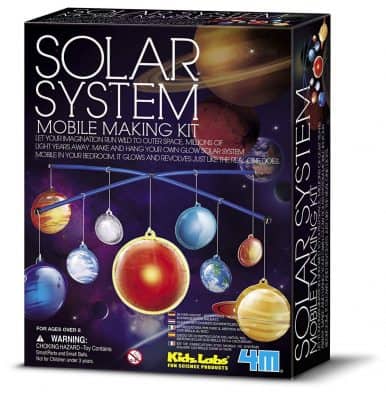 4M offers a couple of kits for crafty kids who enjoy painting and putting things together (or who have parents who like helping). This Solar System Planetarium Mobile-Making kit is a great project that results in an awesome glow in the dark mobile that includes all our planets in their correct order. It's recommended for kids over 7 if they're going to be doing most of the work on their own. If you're the big kid in the equation, as long as your little ones are past the choking hazard stage, they'll enjoy the fruits of your labor. It works really nicely when coupled with a star projector. Together they transform a bedroom into a fully immersive space experience.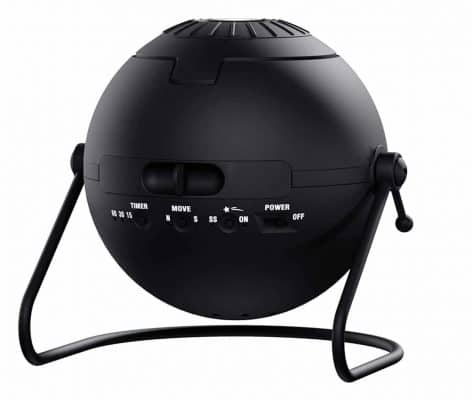 The Homestar Flux star projector is arguably one of the best on the market, and for a good reason. It comes with over 30 star-discs that project over 60,000 high definition stars onto walls and ceiling. The incredible part is that these starscapes are accurate. You and your youngsters will literally be gazing at the night sky the way it appears in reality. The projector itself is aimed at teenagers and adults. It's well-built and looks cool and classy in a satin black finish. Besides, there's a USB and 2 discs included in addition to the 30-star discs.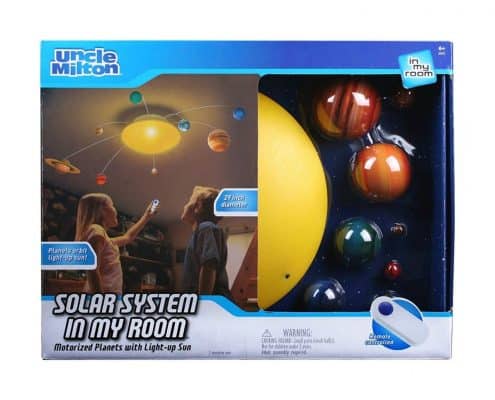 This mobile is battery operated and runs for about half an hour before automatically shutting off. The sun provides a soft enough light to work as a nightlight, and the auto shutoff means the three C batteries required to operate it aren't wasted. The Solar System in My Room attaches to the ceiling, and the planets rotate around the lit sun at different speeds, like they do in our galaxy. It can be operated with remote control and has a code to use on the manufacturer's website for an audio tour of the solar system.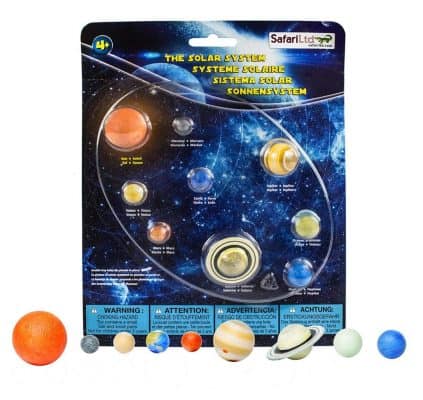 The affordable Safari Ltd Safariology The Solar System is a little kit that includes 8 hand-painted planets and the sun. It comes with a tray that holds each of the planets in their correct orbit, and they are removable so kids can examine them up close and imagine their own stories. Since the planets are on the small side, you have to keep them away from babies and toddlers to prevent any choking accident. The manufacturer recommends this toy for kids aged 4 and up.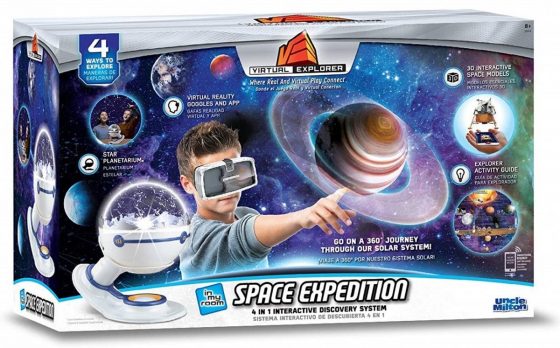 Virtual Explorer Space Expedition uses your smartphone to make a virtual reality solar system for kids. This toy comes with four different ways to learn about space and the solar system. The tabletop planetarium projects space right onto the walls of your home. Learning about planets and space expeditions is fun with the Explorer Activity Guide. The answers on the guide unlock amazing virtual space adventures. There are also 3-D interactive models for hands-on learning. But the highlight is the virtual reality goggles for use with the free phone app. A solar system for kids learning is available through these goggles. This high-quality virtual reality toy features some high-tech capabilities which makes it quite impressive.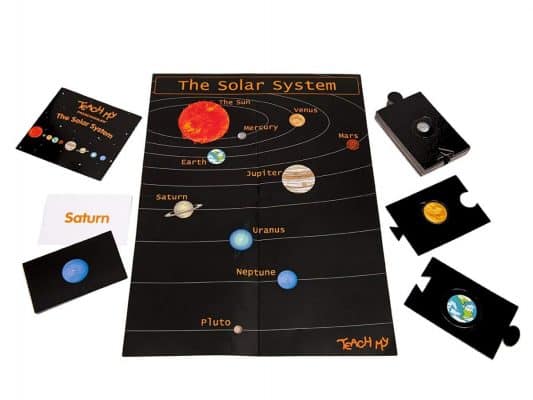 Teach My Preschooler the Solar System may not have the most creative name, but it's packed with solar system information and educational fun. This unique solar system for kids includes a puzzle within a puzzle to the delight of many kids. Not only can they take apart the puzzle pieces, but you can also remove the individual planets from the puzzle pieces as well. The set also includes a book, poster, and flashcards. If you have a curious preschooler, this is a fun way to learn about our fascinating solar system. It's recommended for kids aged 18-months to 6-years.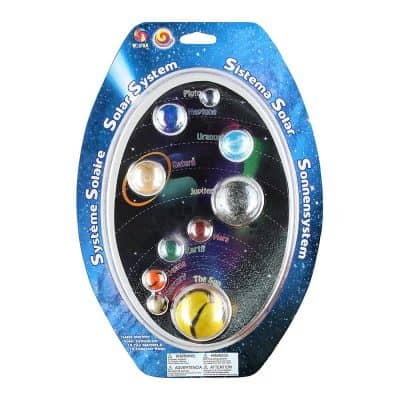 The Solar System Marble Set is a beautiful do-it-yourself system for kids. Each of the ten included marbles represents a planet or the sun and is sized appropriately. Kids playing with this set or making it into a model will learn the order of the planets and other features represented by the marbles. This well-made set is beautiful and would make a great school or homeschool solar system project. Although the manufacturer recommends this set for ages three to fifteen, it's most appropriate for older kids in no danger of putting the marbles in their mouths. Younger children can, of course, enjoy this with supervision. This can easily be placed on a desk or the dresser of a young space science fan.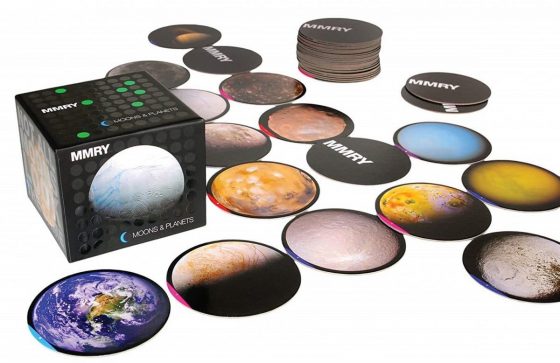 The Moons and Planets Game is a fun, space-inspired take on the traditional memory game. The cards are pictures of the actual planets, not cartoon images. This makes them stunning. These beautiful images are sure to inspire an interest in our stars and planets in young players and adults alike. Included with the game, you'll find a guidebook with facts about all the stars and planets. This game has a broad age appeal and while a fun way to introduce your six-year-old to space, it will also appeal to a twelve-year-old who is already dreaming of becoming an astronaut.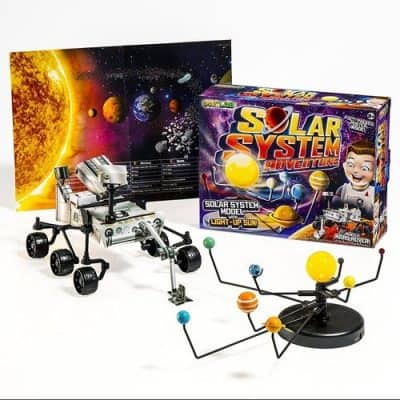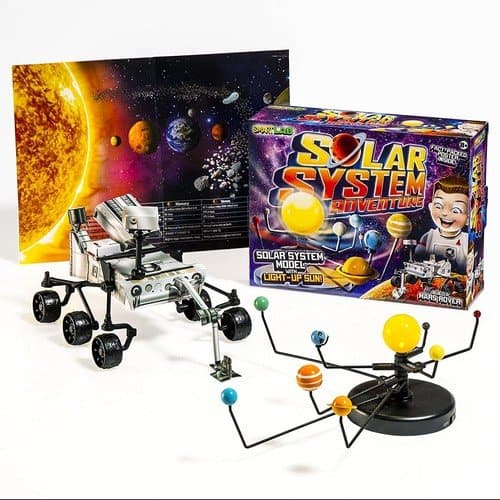 SmartLab Toys Solar System Adventure is a build your own solar system model that also comes with a rolling Mars Rover. Another fun feature of this solar system is that with a couple of batteries added, it lights up. Included with the game, your child will find a poster full of fun space facts. If your budding space explorer prefers independent projects, this is a great set for them. Setting up this solar system by themselves is completely doable in the manufacturer recommended age range of 8 to 15 years. It offers a hands-on learning opportunity for kids.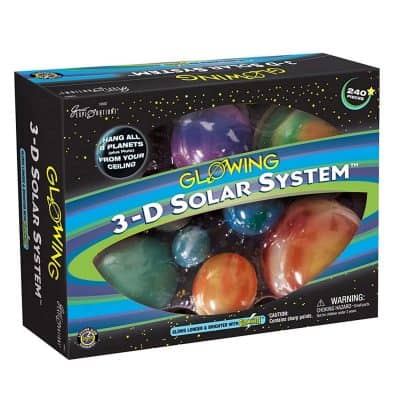 Great Explorations 3-D Solar System includes over 200 planets and stars your child can hang from their bedroom ceiling. This isn't just a science toy, it's a whole room decoration. You can hang the planets from the ceiling, then surround them with the adhesive stars, asteroids, and comets in whatever pattern suits your child's taste. Surrounding yourself with your very own solar system will teach and inspire curiosity about outer space. The set also includes a list of fun planetary facts. The ceiling solar system is high-quality and comes with a Lifetime Glow Guarantee. It's recommended for ages 5 and up.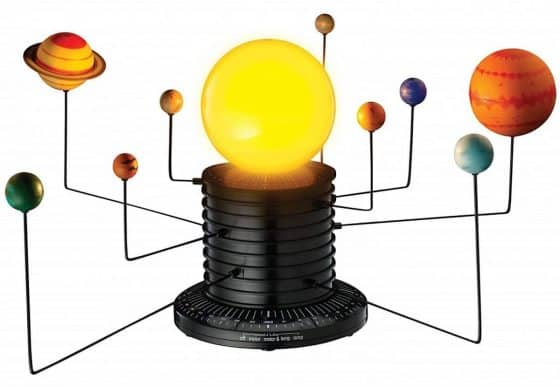 The Educational Insights GeoSafari Motorized Solar System can convert your child's room into their own planetarium. The brightly lit sun, eight planets, and Pluto will light up the room and allow young space enthusiasts to study the orbits and rotations of the planets on their very own ceiling. This solar system for kids is a working model of the planet and a great way to encourage scientific curiosity and learning. For budding astronomers, this is a must-have toy. However, this toy requires 4C batteries that aren't included in the package.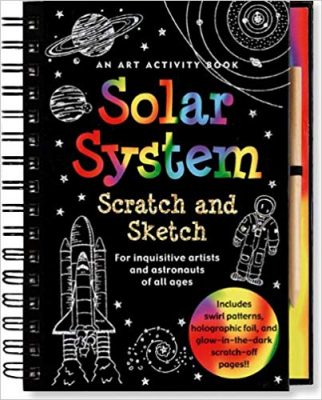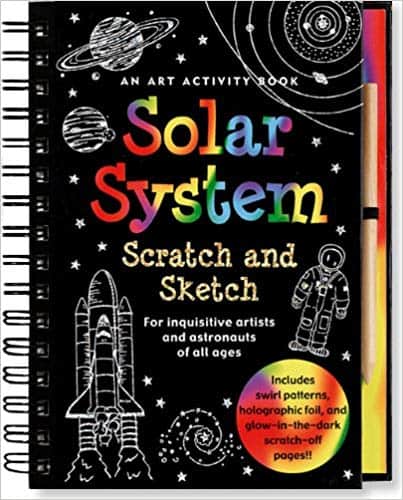 This activity book offers kids the opportunity to explore the amazing world of outer space as they scratch pictures of planets, comets, and spacecraft to reveal glittery, swirly, and even glow-in-the-dark colors beneath. It comes with a wooden stylus for drawing on black-coated paper to reveal colors beneath. This book includes 20 scratch-off, 20-illustrated, and 20-sketch pages. However, this isn't a trace-along book and is best enjoyed by kids who are comfortable copying the simple drawings. It's recommended for kids aged 6 and up.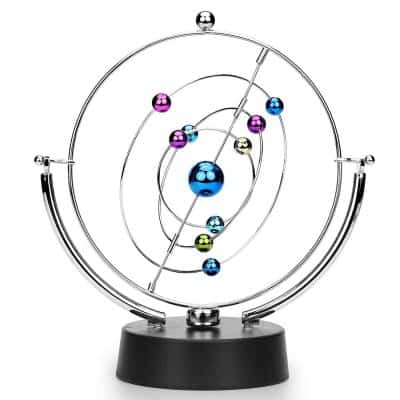 The makers of the ScienceGeek Kinetic Art Asteroid understand that the Sun and the planets don't exist on a flat plane, so neither does their perpetual motion device. It's perfect for your outer space themed office or room décor. It's also great for those enthusiastic about science or those looking to demonstrate the laws of physics in science classrooms. It's fun and useful for those kids who want to learn more about magnet and physics. Besides, it's made of metal and plastic but requires one 9V battery to operate.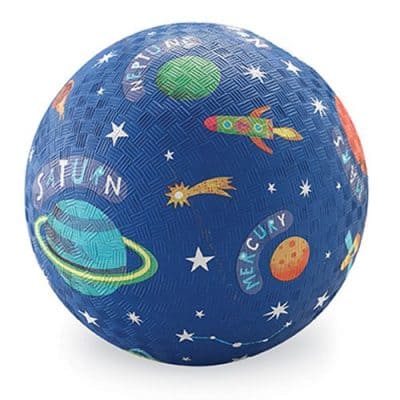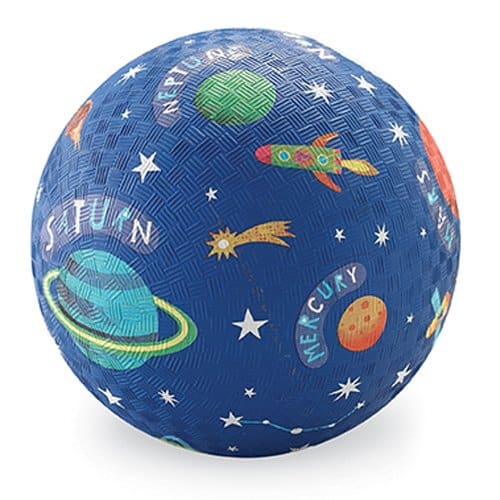 This 5-inch diameter Solar System Playground Ball by Crocodile Creek is a heavy-duty inflatable ball that's made from high-quality natural and synthetic rubber. This material is PVC and BPA-free making it suitable for kids' use. It arrives inflated and features labeled drawings of the astronomical bodies. Kids can now play indoors and outdoors with this beautifully illustrated solar system play ball. Kids aged 3 and up will love the educational planets and outer space artwork. It's perfect for camp, sports, and playground activities including kickball, dodge ball, and Foursquare.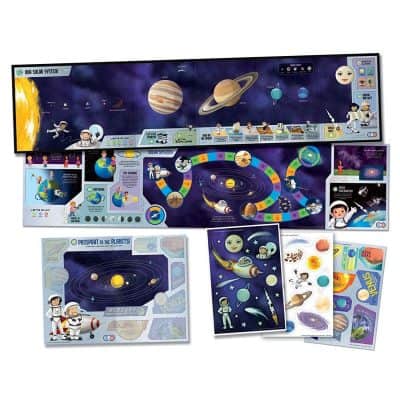 This interactive map allows children to learn about and explore our solar system right from the kitchen table. It has a lot of great and informative blurbs, all boiled down in such a way that children will comprehend the lesson still. It's meant for kids but adults can learn from it, too. It's easy for children to interact with on their own as well, so you're not constantly having to divide your attention between supervising their play and the infinite to-do list all parents have. Kids and adults could learn a thing or two from this fun set. Besides, it comes with over 40 family-friendly activities related to our solar system, as well as more than 240 audio responses. Kids can learn about planets, moon phases, and how stars form constellations.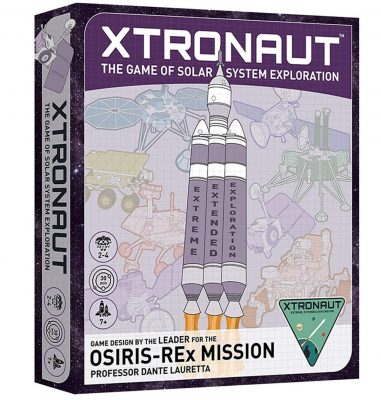 Xtronaut: The Game of Solar System Exploration is the perfect toy for any kid who ever wanted to go on a space mission and race through the solar system. This game is fun for the entire family to play together and everyone will learn something new. Besides teaching space science, this game also educated players about engineering and space technology. Overall, it's a unique game for family game nights and this is one that'll impress and educate players. It's recommended for kids aged 7 years and up.