Top 15 Best Toy BBQ Grills for Kids 2023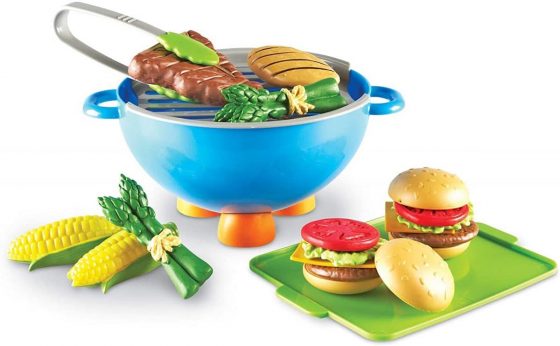 Review
Learning Resources creates top-quality educational toys for children, and this is no exception. Help children develop fine motor skills and learn a massive variety of food vocabulary with this BBQ grill. It does lack a full-sized grill-master aesthetic, but it is a brilliant option for a young child to play cook. It's made from an exceptionally soft, crush-resistant material that feels nice to the touch. The lack of hard-edges means your children are unlikely to hurt themselves playing with it.
It comes with an exceptional variety of pretend food. Even fake asparagus is included in this 22-piece bundle. It only has one pair of tongs to pair with all the food, but it does come with a serving tray and the variety on offer is superb. This collection can really help augment your young one's vocabulary and get them curious to try foods they possibly haven't encountered yet. It's also very competitively priced for the quality, and although this is due to its lack of light and sound effects – making it less interactive – it's nevertheless a ton of fun for any young one.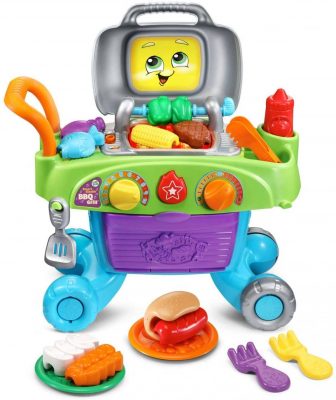 Review
Markedly different from other grills on our list, this BBQ grill from LeapFrog eschews a traditional or authentic look and instead goes all out on vibrant colors, cartoon imagery, lights and sounds.
It has three settings: Learn, Play and Music. It teaches numbers, counting (up to 10) and colors, and it even talks to your child as they cook. As they place food upon the grill, the BBQ grill chimes out with the name of each item. This way, the child can learn the different types of food that come with the set and also talk along with it to build confidence in their own speech. The music also pipes through the speakers as they cook to create a jovial atmosphere while the burgers get cooked. The cooking is accompanied by realistic grill sounds, too.
The lack of an authentic look can be a bit off-putting for the child who wants a more realistic experience. Of all the grills on our list, this is furthest away from reality. Of course, that may be exactly what you and your child are looking for: a little bit of escapism and learning as you sizzle the day away.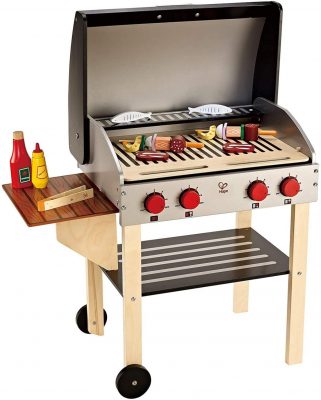 Review
Shish Kabob is a perennial world classic food that is popular everywhere. This grill allows you to skewer your own food and let your kids grill it up and pretend they are serving meaty treats from your local bazaar under a scorching Middle Eastern sun.
The grill itself is beautiful high-quality wood and it has both a top rack and a side tray as well as a hood and removable grates. Combined, these features give the grill a complete quality that not all the grills on this list have. The wooden knobs click satisfyingly and are a pleasure to switch on and off, really adding to the pretend play experience. It's a great size that'll suit even older children (up to 5 is recommended) and is robust enough to withstand some abuse.
It comes with all the necessary accessories, including the titular shish kabobs, as well as tongs and other play food. You don't get a huge amount of toy food to play with, which is a shame, and although there are "hot coals" underneath the grating, it doesn't have accompanying sounds or lighting, which can break the immersion. Finally, it will require some minor assembly. All that said, this is still a stunning complete grill with top-notch build quality that looks fantastic.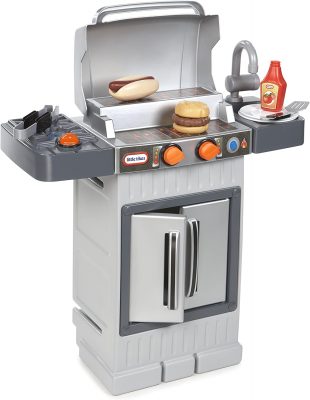 Review
This grill has a pleasing variety of available workspaces so your child can play pretend throughout the whole process. It has two side panels, a two-tier grill and a storage cupboard for all the accessories. It also has two modes, extended and compacted. When extended it'll be the right height for a toddler, and when compacted even very young children can have fun playing with this grill.
However, even extended, it's relatively small, coming in at 23 inches tall, which is shorter than other grills on this list. Furthermore, the paint job is a rather dull grey and off-white, which makes this a little utilitarian in appearance.
The accessories are reasonably good quality, but you only get a small range, and you must make sure to choose the accessories option as the basic grill set comes with only seven accessories – and that set is expensive. The grill does however have lights and sounds to simulate the cooking experience and a button to the get party started and satisfying knobs to adjust. It's lack of vapor counts against it though, despite making the setup experience less finickity.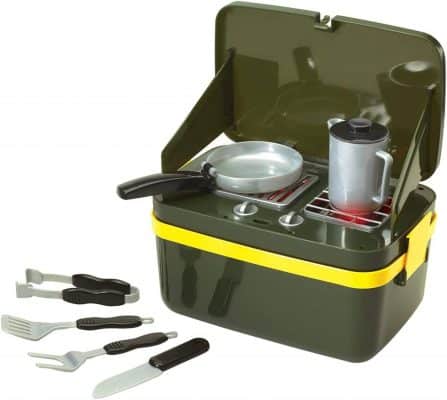 Review
A slightly different take on the grilling experience, this pretend camping-stove is a great pretend item for kids of adventurers or kids who like to be out in the woods themselves. It's carriable, even for a young one, so they can take this to where they want to set up camp and pretend to grill. They can even enjoy brewing a fake coffee from the kettle that comes with the stove.
There is a superb range of utensils with this grill set. As well as the kettle, you get a BBQ fork, knife, a spatula and tongs. There's also a mini frying pan in which to throw the food. The bright light and sizzle sound also make this grill come to life.
However, sadly, plastic food is not included, so you'll have to source that elsewhere. This means this is often a good present for those who already have a BBQ grill they get a lot of pleasure out of, but is looking for something to vacation with if they can't bear to be separated from the grill they have in their yard.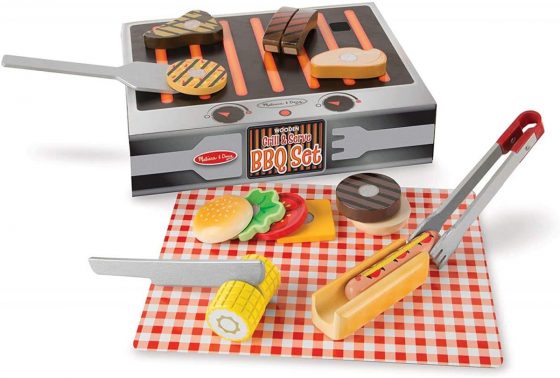 Review
This BBQ grill from Melissa and Doug is a little less fancy than some of the other grills on this list. The grill itself is a corrugated cardboard box that handily stores all the wooden pieces that make up the set. The wooden pieces are excellent. You get 20 different items, with all the grilling favorites including chicken, steak and ribs as well as utensils to turn and push the food around the grill. The pieces are high quality, well-detailed and nice to hold and manipulate. What's more, the buns, toppings and meat can be combined, which can make dishing up a real pleasure.
The same couldn't be said for the box it comes in. It lacks the light and sound features of other BBQ grills and doesn't have the interactivity as the dials are only painted on. Worst of all, it can easily be damaged by over-enthusiastic children. Yet the pieces contained with it are great and can be used in conjunction with a more elaborate toy grill playset you already have.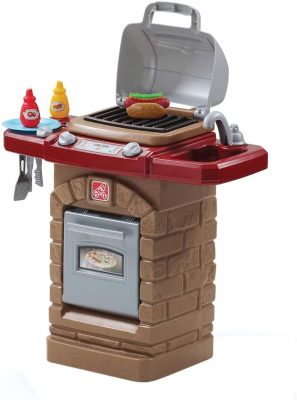 Review
This grill's faux-brick aesthetic is a winner. Ditching the vibrant colors that many child's BBQ grills opt for, this has an understated set of browns and reds that means it more easily fits a mature aesthetic you might be going for.
The set itself offers variety. The shelf and side-grill are a good way of bringing order to the chaos of the grill. The grill itself only has one tier, but has a realistic metal grate that only adds to the overall visual appeal of this grill.
Underneath the grill there is a toy oven, which although we like, is signified mainly by only a picture of a pizza, which we thought was a little cheap. The knobs are not that satisfying to use either, with the clicking sound a little plastic-y, and there is nothing in the way of lights and sounds to augment the experience.
We do like the hood-lid style, though, as that makes starting to play a lot of fun. The oven doubles up as storage space for the 10 accessories you get with the product as well. The accessories are middle of the road in terms of quality, but it's pleasing you get them out the box.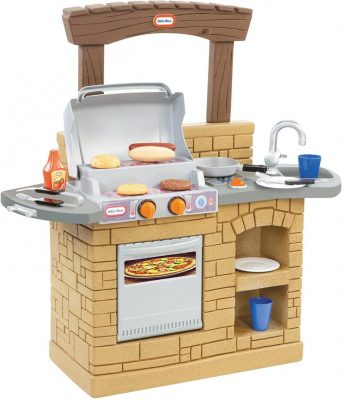 Review
This toy BBQ grill is superb for its excellent variety of storage spaces. As well as two shelves on which to store various accessories, it also has a working fridge and oven door and even a molded-in sink. For the child who wants to take the process from start to finish, this set allows their imagination to really come to the fore.
The grill is two-tiered, which is nice to store the food that's been after it's been "cooked," and it even has a side burner. The grill front has dials that make a pleasing click and a start button to get the whole thing going.
There are no lights and sounds though, which although means there is no need for batteries – and makes the grill set a little less obtrusive – it can reduce the immersion for your little one. It also comes with only 10 accessories. You get tongs, hamburgers and ketchup among others, but they're a little uninspiring.
The pizza sticker on the door is also just a sticker, which is not only a shame but also means its prone to peeling after repeated use. Finally, it's a little short at only 22 inches, so a taller child may not quite the same experience as a shorter one.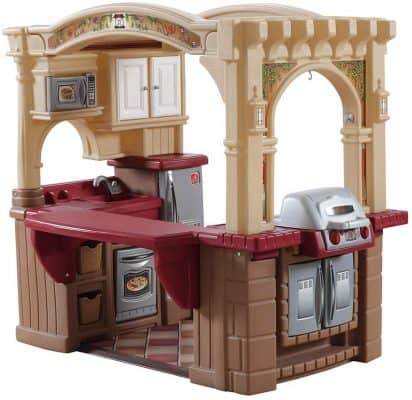 Review
If you want to get you child a BBQ grill but also wanted to inspire them with the full kitchen experience, then this walk-in kitchen from children's toy experts Step2 is a great choice. In terms of children's toy kitchens, this is a palatial experience. It's a three-sided walk-in kitchen with an oven, microwave, worksurfaces and, crucially, a grill! The grill lights up with sizzling sounds and lights to help your child really feel like they are a domestic king or queen cooking up a buffet for all the family.
It comes with 103 accessories, including everything ranging from pots and pans to utensils to fake food, so your little one's pretend kitchen will arrive fully decked out. Of course, the grill is only one part of this entire set, and it's not the best grill out there as it is relatively small and lacks an authentic look. It does have a lid, switch on button, dials and lights though, so the basics are there. If your child already has a grill and got a lot out of it, this kitchen is a serious upgrade.
But there is a drawback—the price. it's significantly more expensive than everything else on this list, and the grill itself only average. Still, if your little one wants a whole toy kitchen that includes a toy BBQ, this product will work perfectly.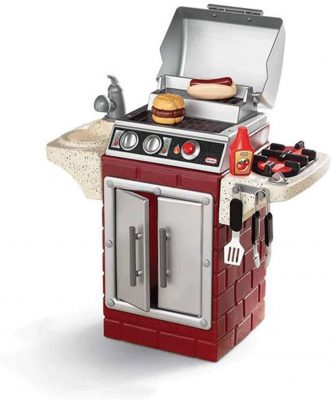 Review
If you're reading a guide to great children's products, Little Tikes always features prominently. From bounce houses to water slides, Little Tikes is the master of creating entertainment for your children that is memorable, fun and – crucially for parents – available at a reasonable price.
This BBQ set is no exception. Although it only occupies a small space – it is arguably too short and the play area is too small for older children– it's got all the best offerings of a BBQ grill. The design has a hood, which is always a plus for us, as well as having a side area for dishing up the delights and a sink area for pretend prep. We like the hangers for the tongs too, so that your little one can pop their utensils on the hook and sit back and admire their handiwork. A two-tiered grill with a side burner keeps things varied, too.
The grill itself is a little unimpressive, though. A relatively cheap-looking plastic knob and buttons produce only a mediocre effect, and there are no lights and sounds to bring this grill to the next level. The included food and utensils are okay, but nothing special and you do not get a lot of variety. What it does come with, however, is easy to store away in the cupboard underneath the grill.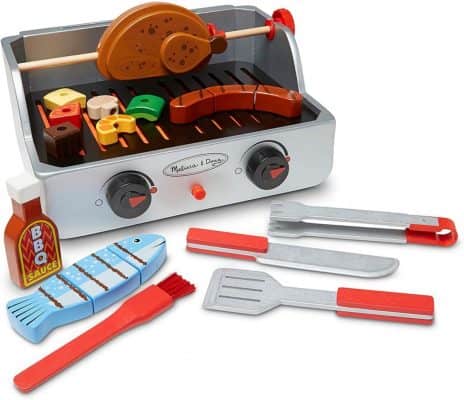 Review
This is a wooden set from Melissa and Doug that's on the premium end of the toy BBQ market. The knobs reveal the flames of the grill when you start cooking. Yet where this grill really shines is the rotatable rotisserie chicken. If your young one loves their roast chicken, they'll have the fun of replicating the cooking experience while not missing out on the usual grill staples like sausages and fish.
This set has a wider range of utensils than most, including a knife to divide the sausage and, best of all, a basting brush. Kids can simulate applying oil to their fake food and it certainly adds another dimension to the pretend play experience. The pieces are satisfyingly chunky. Flipping them using the tongs is a delight.
This is a pricey set though considering how small the play area is. Also, although you get a great range of utensils, the same couldn't be said about the amount of food you get. Yet the chicken and sausage are both a cut above other fake food you come across.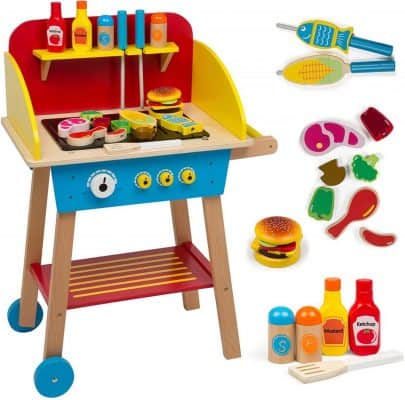 Review
This is another superb wooden BBQ set that looks great and feels high-quality. This one has brighter colors than the other wooden sets on this list so if your child or yourself are fans of a vibrant aesthetic then this grill is perfect.
It's not as tall as you might hope, being only 28 inches tall. Slightly taller children may feel a bit underwhelmed by it, but the majority of children up to the age of 5 will certainly be satisfied by it.
The accessories on this are excellent. The Velcro-attaching burgers and the build-your-own-combination skewers make the toy food in this set a lot more customizable than other sets on this list. You get plenty of them too, with a diverse 30-piece set that can fire up children's imagination and stretch their lexicons.
One thing about the accessories though: Other sets have realistically shaped toy food that is textured appropriately, but this toy food is painted and shaped in a way that is very identifiable for young ones in an educational sense, but doesn't really look like "real" food.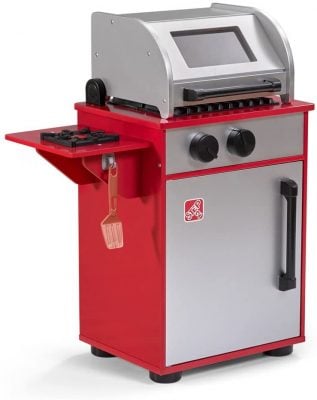 Review
Grillin' Up Goodness is a lovely wooden toy BBQ grill with a nice variety of features. It's well-sized with 25 inches of height, and has a hood-top which we feel makes for a more authentic experience as your kid can put down the hood when they feel their culinary concoction needs to be 'left to cook' for a while.
It has a large storage cupboard as well so any toy BBQ grill accessory they have can be packed away neatly before and after use and they can get the feeling of raiding their very own chef's larder when it comes to cooking time.
It has a nice wooden finish but lacks light and sound, which can be a dealbreaker for some. The knobs and the dials at the front are relatively satisfying, but we've seen better. Finally, and worst of all, this doesn't include any toy food except a spatula (which does have a hook for it to hang on, which is great) and means you'll have to order some to come with it. This is not a major issue, but a little annoying considering its higher price tag. You do get a high-quality wooden build for the money, though, and a grill which is otherwise very fun to play with.
Review
Theo Klein is known for its excellent kid's products, and this traditional looking Weber-style BBQ grill is a great way to add a touch of old school cool to your kid's grilling experience. If you have a real Weber grill in your yard, then this grill is a superb choice to get for your kid so they can more closely imitate you. It is slightly small. Coming in at 20 inches tall and 16 inches wide, it's not the smallest grill you could get, but it can be slightly disappointing, especially if your kid is older.
It comes with a great variety of pretend food. You get all the grilling classics: steak, shrimp, salmon, pepper, onion and tomato. You only get one of each, though, which is a little disappointing, but they are a decent size, but each participant in the pretend feast is going to have to "eat" something different. You get tongs and a lighter too. The tongs hook on the set, but it's a shame that the lighter doesn't. The best part of this grill is the sound the charcoal makes as you light them. They glow and give an authentic hissing sound, which your kid will love doing again and again.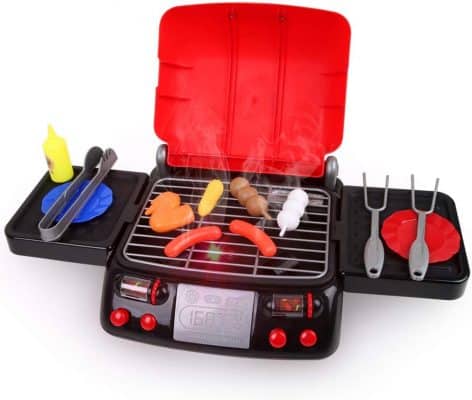 Review
The LBLA pretend grill has a great low profile design that makes it portable and easy to set up on any table where the pretend-play action is. It has classy black and red colors and is made of ABS plastic.
It has an excellent assortment of model food. It comes with chicken, corn on the cob, meatballs and more. The food is a little smaller than some of its rivals, which is a shame. It does come with tongs and BBQ forks, which is a greater set of implements than many of its competitors. It also has a tube of fake mustard! Finally, a removable grill adds to the fun of setting up the BBQ.
The knobs and dials are satisfying to use and do actually create effects. As well as lights and sound, this toy BBQ goes a step further and emits smoke (that's actually harmless water vapor) if you add water to the underneath of the grill. The sensory combination makes this grill feel authentic despite its low profile lacking the full grilling experience of an outdoor play BBQ.