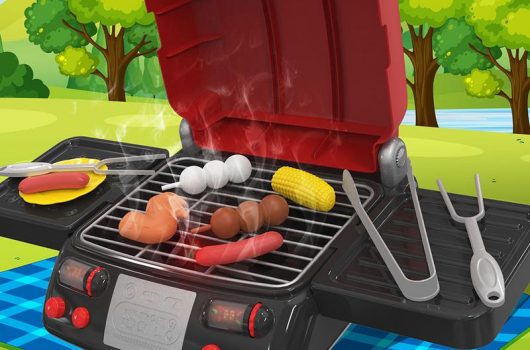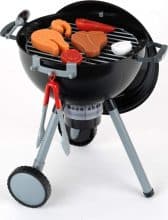 Theo Klein Weber Play Grill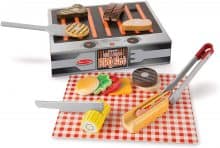 Melissa and Doug Wooden Grill and Serve BBQ Set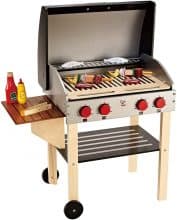 Award-Winning Hape Gourmet Grill and Shish Kabob
Previous
Next
Firing up the BBQ on a warm day often indicates the beginning of a long, glorious summer. The coals catching, the sharp sizzle as the first burger hits the heated grill and the seared meat smell drifting across the noses of the attendees in your back yard make cooking on your BBQ a delight for many.
As your child watches dad or mom flip the burgers, season the steaks and flame-grill the wings, it's very likely they'll want to join in the fun. Kids love to imitate their parents and it is claimed to benefit their psychology. Maybe you want to awaken the Gordon Ramsey in your little one (just hopefully without the foul-mouth) and inspire a passion for cooking that lasts a lifetime. Either way, a toy BBQ has you covered.
These toy BBQ sets not only allow your child to enjoy playing pretend and being their very own master chef, but they'll also develop motor skills, inspire their imaginations and get them thinking about the possibilities of food. It'll also teach them to take care of their surroundings and keep things neat and tidy around the kitchen.
More likely, everything will go flying everywhere! However, unlike a real BBQ, this isn't so much of a problem. By developing their skills and passion on a toy BBQ, they can be upgraded to the real thing by the time they're teens. All the while they can set up next to their parents and feel like they're part of the action. Let grilling commence!
We've listed 15 great toy BBQs in this list. Before we get to it, here are some things to look for when making a purchase:
Features to Consider – Toy BBQ Grills
Size
Toy BBQs run the gamut from a small rectangular cooking surface to a full walk-in kitchen, and our list will make sure to show you all of those options so you can choose what's right for you. When doing so, think about how old your child is and how tall they are. If they're unable to reach the grill or have to stretch unduly to do so, then they might not get the most out of it. Similarly, if they tower above it, they won't get the same sense of pride from using it.
Features
Toy BBQ grills differ in the number of features they come with that contribute to the pretend grilling experience. Although many offer light and sounds, many don't. Others have rotisserie skewers, various dials and more to give your kid the full chef experience. Note that anything with lights and sounds will need batteries, and they are almost always not included.
Material
There are generally two types of material toy BBQs and toy foods are made from. There is the durable, resilient plastic, and the classier but less durable wood alternative. We feel that wooden options are better quality, but they're a little less resistant to wear and tear, so keep in mind how boisterous your young one is when making your choice. Also, think about whether your kid's prized new grill will be set up outdoors or indoors. A plastic grill will be fine if left outdoors, but a wooden grill may need to be brought in and out of the house if that is where they will be playing with it.
Accessories
A chef is only as good as their ingredients! Most toy BBQs come with their own selection of toy food for your little one to mix together into the finest recipes they can come up with. BBQ sets differ in the amount and type of fake food they offer, and it can often be worth grabbing an additional food set so that your child can use their new grill station to the max. This is a great set from Little Tikes with a good variety of items. It might also be worth getting a pretend apron and tongs with your grill. Although tongs often come with sets, the apron is usually something you'll have to source yourself.
Our reviews will highlight the features and advantages of each grill so you can make the choice that's best for your budding grill master so he can get his eye in and one day join his parents at the real grill.
Top 15 Best Toy BBQ Grills for Kids 2020
Final Words
Toy BBQ grills are fascinating for young children. They let them play out what they see dad or mom doing every spring and summer and let them feel like they are the master of their own little kingdom.
Many of these sets are highly interactive and the simple pleasure of manipulating plastic food can bring joy to many. Toy BBQ grills are a nice space for a child to feel "in charge" of proceedings and to make decisions about how and in what manner things are going to be done, which can build up their leadership and confidence. They're also an enjoyable activity to do as a team, either with their siblings or a supportive parent.
We hope this list has given you an insight into the range of excellent options you can get for your child so that they can unleash their inner chef and serve up the best (pretend) BBQ in the neighborhood this summer.