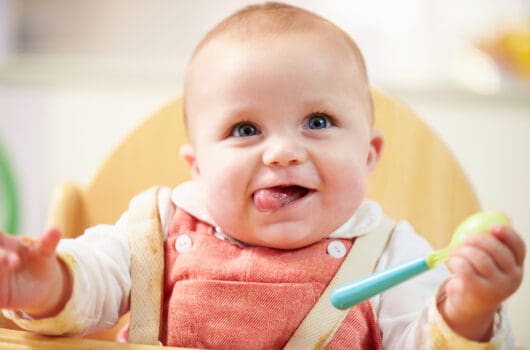 O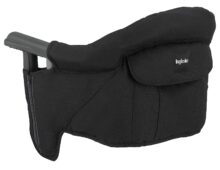 Inglesina Fast Table Chair
B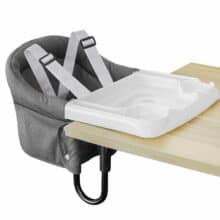 TC Bunny Hook On Chair
P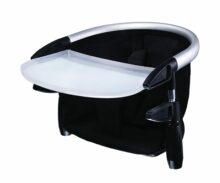 Phil & Teds Lobster Clip-On High Chair
Previous
Next
Do you hate the idea of squeezing a bulky high chair into your kitchen? Or maybe you just want a portable high chair for your baby to take out to eat or to grandma's. Whatever the reason, hook-on high chairs are the perfect solution. You can think of them as a combination of a dining booster seat and high chair, so they're ideal for not only babies but also for toddlers who are ready to join the big table with their family. A hook on chair works by actually clipping onto the table itself, supporting the baby's weight via a clamp system.
If you're not familiar with hook on high chairs, then you probably have some questions about the clever products. We've got you covered with our complete buyer's guide. After getting familiar, our reviews will help you find the best hook on high chair for your little tot.
So, let's get started!
Important Aspects of Hook On High Chairs
When it comes to hook on high chairs, you need one that's slim, lightweight, and secure. Depending on whether you want to use it in your kitchen, take it along with you, or both, there are specific details that you should look for. We've broken down all the crucial aspects of high chairs in our reviews.
Age Range
Hook on high chairs are restricted by weight and size limits: since they're limited by the strength of the chair's clamp and the table they sit on, close attention must be paid to stay within restrictions. Make sure you pay close attention to the age, weight, and size limits of each chair that we have listed below.
Safety
If the thought of your little one hovering in a chair on the edge of a table makes you nervous, we completely understand. That's why we made sure to include the safety features of each of the high chairs on our list. At a minimum, each chair should secure easily and tightly to the table and have a harness to keep your baby secure. We have each of the safety features detailed below in our complete buyer's guide.
Portability
Hook on high chairs are perfect to use when you go out to eat with your baby. No more having to use the questionably clean (and definitely uncomfortable) restaurant high chairs. You can simply clip your baby's own high chair onto the edge of the table.
To tote these chairs along with you, though, it's best if they have features that make them portable. We've made special note of the most portable chairs, like the Inglesina Fast Table Chair, that fold flat and include a carrying bag.
Extras
Are you looking for a colorful high chair? Or maybe one with a handy pocket to store bibs and other baby dining essentials? Sometimes, the right extra feature makes it easier to decide which chair might be best for you and your family. So we've included all the best extras in our reviews.
We've also included the maximum table thickness each chair can attach to, the chair's weight, and the maximum weight limit as a quick reference for you. Now, on to the reviews!
Complete Guide to Buying the Best Hook On High Chairs for 2020

If you're looking to learn more about high chairs or if you have any more questions on hook on chairs, don't worry. We're here to help with a handy buying guide.
What Should You Look for in a Hook On High Chair?
The most important part of a hook on high chair is the part that secures the table to your table or countertop. Without it, all you have is a booster chair dangling in the air. There are different types of attachments on our list, like twist-tight couplings or Phil & Teds Lobster Clip-On High Chair's unique lobster-claw clamps. We'll also break down all the essential aspects of hook on high chairs for you.
Safety
Like everything else baby-related, safety comes first. Any hook on high chair you choose should have several failsafes designed to keep your baby safe. The frame should be strong enough that it won't bend, even slightly beyond maximum weight capacity.
The clamps that attach the chair to your table or countertop should also be a strong metal, ideally stainless steel. You should also be able to attach the chair without using a lot of force. You want even your baby's grandparents to tighten it without trouble.
Non-slip gripping on the armrests and clamps is essential, too, especially with more slippery countertops. The high chair should also have a harness that you can adjust to fit your baby. The harness makes sure your baby doesn't climb out of the high chair and fall!
The leg holes of the high chair are important, too, and not just for comfort. It's difficult to remove a baby from the high chair if the leg holes are too small, and you might have to do so quickly if your baby is choking or you need to leave the table quickly. If you have a larger baby with larger thighs, then look for high chairs with bigger leg holes.
Portable
All the hook on high chairs on our list are portable by nature since they're all much smaller than regular high chairs. They all are also collapsible. Some fold more compactly than others, however. The Mountain Buggy Pod Chair is one that's exceptionally lightweight at only 2.2 pounds and folds into a slim enough package that you can slip it into your diaper bag.
Washable
Babies and toddlers are not known to be delicate eaters. More often than not, whatever they're sitting in will be covered in food. Not only is it helpful for the hook on high chair's cover to be machine-washable, but it's also best if it's easy to remove.
Table Thickness
We list the minimum and maximum table thickness that each hook on chair will fit on each of our reviews. You need to measure your table or counter before purchasing a hook on high chair so you can be sure it'll attach. If you plan on using the chair when you dine out, then a chair like Guzzie + Guss Perch Clip-On Table Chair that fits lots of table thicknesses is best.
Most tables are less than 2 inches thick, but sometimes they have lips or edges that the chair's clamps will have to squeeze past, so you have to add an inch or so for that. Most granite countertops are 1.25 inches thick, so all of the hook on chairs on our list will work with the most common dimension of counters.
Durability
In general, hook on high chairs aren't as expensive as regular high chairs, but you still don't want them to fall apart at the first opportunity. For one thing, it's a safety hazard if the cover rips at the seams because then your baby can potentially fall through. One way to keep your high chair's cover looking new is by handwashing or only washing on delicate. Be sure never to put any of the covers in the dryer, as doing so can cause the cover to shrink or show wear faster.
Colors
Some of the chairs, like the Inglesina Fast Table Chair, have lots of color choices. Bright colors are a lot of fun and add eye-catching interest to your kitchen or when you go out to eat. If you like to keep things clean, we recommend going with a dark color for the high chair cover. Dark colors will hide spilled baby food better than that bright aqua, but are definitely not as attractive. Decisions, decisions.
Included Extras
Depending on your needs, there may be certain extras that are really important to you. An included dining tray is probably the biggest one. It helps if your baby has their own eating space to make cleanup easier. When it comes to restaurants, it's also more sanitary. Even if the hook on high chair on our list doesn't come with a tray included, it may have one that you can buy separately. The Inglesina Fast Table Chair also has a special version that includes the tray.
If you're going to take the hook on high chair to restaurants or when you travel, then a carrying bag might be essential to you. Many chairs have a carrying bag, and some, like the TC Bunny Hook On Chair, have one sewed into a pocket, so you can't lose it.
A storage pocket is another extra that makes your life easier. You can store bibs, spoons, or other baby dining essentials inside.
Are Hook On High Chairs Safe?
You may have seen someone with their baby in a hook on chair while you're at a restaurant and thought to yourself, "Is that safe?" It's a little anxiety-provoking to see a little one just dangling from the edge of a table for the first time, but if you follow the safety guidelines with these chairs, your baby is perfectly safe.
Follow the Instructions
Hook on high chairs are a lot like car seats in that you need to read the installation instructions before using them and follow them exactly. Thankfully. Most of the high chairs available are very easy to install. The Chicco QuickSeat Hook On Chair is especially simple; you just line it up and pull the strap to tighten the clamps.
Stay Within the Weight Limits
So we admit it: we've ignored weight limit guidelines for certain kid toys before. However, when your baby is dangling in the air, you don't want the clamps to give way because your baby is over the weight limit. We've provided the weight limits for all the hook on chairs in our reviews), but it's always a good idea to double-check before buying.
Use the Harness
All of the hook on high chairs on our list have some sort of safety harness. Some are ones that go around your baby's waist and thighs, and others have ones that have shoulder straps, too, like a car seat. If you know your baby or toddler is an escape artist, you should consider a hook on high chair like TC Bunny Hook On High Chair that includes the shoulder straps. This way, you don't have to worry about your baby wriggling out of the seat and falling.
Only Install on Certain Tables
Which tables can you install your hook on high chair? In general, you don't want to attach the chair to any flimsy tables, so no card tables or folding tables. You also shouldn't attach it to glass tables because the glass might break. Pedestal tables are off the list, too, since the weight of your baby on one side can throw the table off-center, possibly causing it to topple.
We've also given you all the table thicknesses that each hook on high chair can accommodate in our reviews. Some of the chairs will work with a table lip or edge, and others won't. Always read the manufacturer's guidelines before installing them.
Why Should You Get a Hook On High Chair?
Most people have high chairs for their babies, so what are the benefits of hook on chairs? For one, they take up far less room in your kitchen than a regular high chair. Since they hook onto your table or countertop, you don't have another big, bulky baby item taking up space in your home.
Many people like using the hook on chairs for dining out at restaurants. The wooden high chairs provided at most restaurants are uncomfortable and questionably cleaned. With a hook on high chair, you can just attach your baby's seat to the restaurant table.
The hook on high chairs are also great for travel. Whether it's to have a high chair at grandma's house or pack in your suitcase while you and your baby travel, the hook on high chair is extremely portable. If you're into hiking and camping, then lightweight chairs like the Mountain Buggy Pod Chair are incredibly easy to carry in a backpack.
When Can Babies Sit in a Hook On High Chair?
Babies can sit in a hook on chair when they're holding their heads up well and sitting more or less independently. This is usually around six months, but it depends on your baby. A good rule of thumb is if your baby is ready to sit in a regular high chair, they're ready to sit in a hook on high chair. There are also hook on chairs with higher backrests, like the Guzzie + Guss Perch Clip-On Table Chair.
What Are the Age and Weight Limits for a Hook On High Chair?
When it comes to weight limits, you'll need to carefully follow the manufacturer's guidelines for each chair. In general, the weight limit for hook on chairs is 37 pounds. Some of the chairs have a weight limit of 33 pounds, like the TC Bunny Hook On High Chair. Of course, it will depend on your baby or toddler's weight, but in general, these chairs can be used from 6 months to 36 months.
Final Thoughts on Hook On High Chairs
Hook on high chairs are ideal for saving on space in your home, and they're perfect for keeping your little one comfy when you dine out. We love how lightweight and portable they are, and you will, too.
We hope our reviews and buying guide have helped you find the perfect hook on high chair for your little one. Now they can feel like a big kid by joining you at the table!