O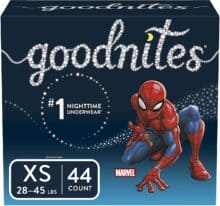 Goodnites Bedwetting Underwear
B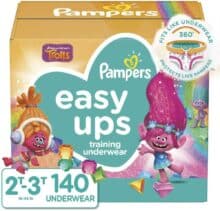 Pampers Easy Ups Training Pants
P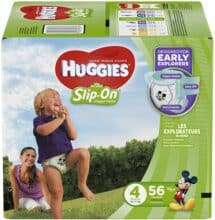 Huggies Little Movers Slip-On Diapers
Previous
Next
Every year, more and more pull up diapers appear on the shelves in your local store. With extra features and choices coming out constantly, it can be hard knowing that you picked out the right brand to start your toddler's potty training journey.
After all, one wrong choice can lead to a lot of discomfort and messes to clean up. To make sure you help your child past this important milestone in their development, we've gathered some of the best pull up diapers to help with potty training.
How to Pick the Right Pull Up Diapers
Pull up diapers are essential when you're trying to potty train your little one, especially if you don't want there to be a mess. But with all the brands and product lines available, it can be hard picking the best one for your toddler. We'll take a look into some of the major factors you should consider when you're picking out the best pull up diapers for your child.
If you're keen on becoming an expert on all things pull-ups, be sure to check out our more in-depth guide to pull ups.
What Are Pull Ups?
Pull up diapers are the most commonly used underwear during the potty training stage, and act like regular diapers that kids and slide up and down themselves. The material is thinner when compared to a normal diaper but remains absorbent enough to hold any potential messes. You won't have to worry about all the adhesives that come with the traditional diapers, as pull ups are meant for kids to be able to use on their own.
Factors to Consider Before Purchasing Pull Up Diapers
With the dozens of options to pick from, you'll get plenty of variety in choice when it comes to pull up diapers. They might look different, feel different, and even have original designs. To make sure you won't be stuck cleaning up too much after your child, here are some of the most important factors when choosing the right pull ups.
Absorbency
The absorbency is the most important factor to consider with pull up diapers. Nothing is worse than your child leaking through in a particularly bad accident. When you buy pull ups, you want them to do their primary job, which is to hold in any possible messes. More absorbency means your child feels secure in their new underwear, which can foster independence as well.
Comfort
The waistband of the pull ups shouldn't be too tight or stiff. You want them to be comfortable enough that your child can pull it on or off by themselves, with no help from adults. Choosing ones that are extra stretchy is essential if you want your child to be able to fit their fingers in.
Material
Since a baby's skin can be sensitive, you'll want to make sure the pull ups won't irritate them. Pick diapers that are made with hypoallergenic materials so that they won't end up with an uncomfortable rash. Some materials are also softer and more absorbent than others as well. If you want to know everything about what goes into a pair of pull ups, take a deeper dive into material choices.
Disposable or Reusable?
Pull ups and potty training underwear fall into two categories: disposable or reusable. In the long run, reusable pull ups help save money and are more eco-friendly, but they also require some extra work from you to wash them. Disposable pull ups are more common and easy to use, but you'll have to keep buying more since you'll be tossing them out with each use.
Reusable pull ups can also be referred to as training pants, and you can learn more about the differents here.
If you are in the market for disposable pull ups, we recommend a great pair on our guide to the best overnight diapers available today.
Sizing
The sizing of the pull ups also determines the fit. Ill-fitting pull ups may leak, causing more of a mess than you'd care for. Make sure the pull ups have good sizing information so that you know they won't be too big or too small. Some companies include a in-depth sizing chart with their pull ups so you know how well they can fit. Otherwise, you'll end up with pairs that are uncomfortable for your toddler when they wear it.
Quick Removal
Sometimes, the inevitable happens, and a mess gets made. When this occurs, the most important thing is getting the pull ups off your child as quickly as possible. Some brands offer tear-away sides so that you can pull it off in a second in case an emergency happens.
Designs
Every pull up brand has unique designs and colors on them. Pick out pairs that your little one enjoys so that they'll be willing to try out this new type of underwear. Now that they're old enough, you might be able to ask them for their favorite colors and designs, or you can let them pick out their favorite one from the set you've narrowed it down to.
When you're shopping for pull ups, you want to make the right choice the first time. You'll need to be extra careful, especially if you plan on buying in bulk. Now that we've explored the most important factors and features in pull up diapers, let's get into our top pull up choices for potty training.
Top 10 Best Pull Up Diapers for Potty Training 2020
Guide to Choosing the Perfect Pull Up Diapers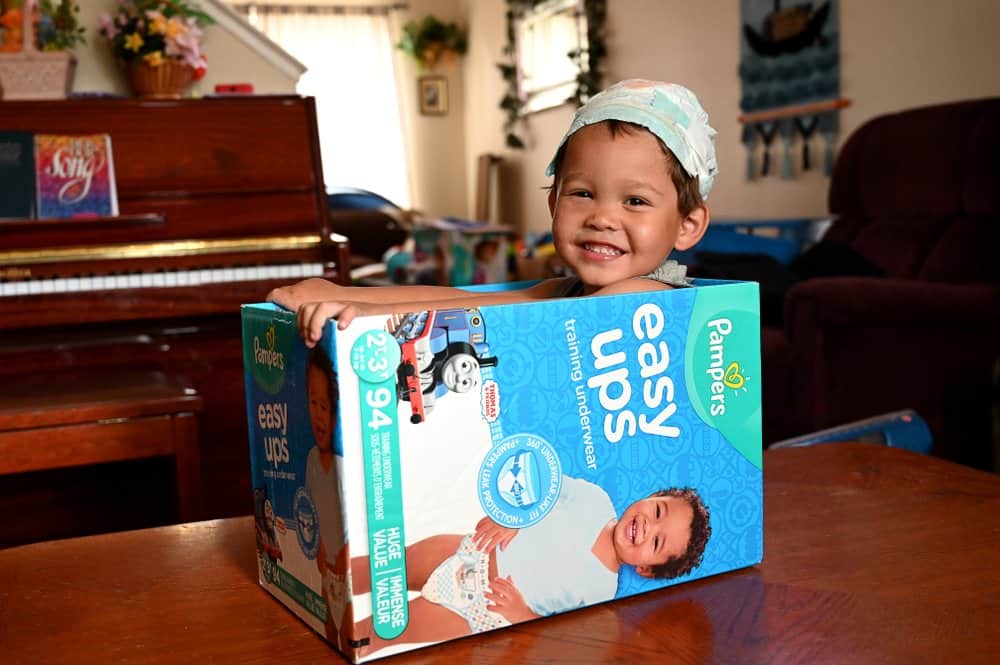 Transitioning from diapers to pull ups can be a challenging task. After all, that's why there are so many books written on potty training. First, we'll get into some of the potty training details before seeing which features of pull ups might help with that. To get this transition to move as smoothly as possible with few accidents, you'll definitely want to do some light reading.

Pull Ups vs Training Pants
Pull ups and training pants sometimes refer to the same products, making shopping much more confusing for the parents. However, we'll be making the distinction between them since understanding the benefits of both are important for your toddler's development – and your bank account.
Pull Ups
Pull ups are the most-used underwear when it comes to potty training. They're good for younger toddlers who are just starting and are prone to accidents. They're not as thick as diapers, but they can still hold a lot just in case.
Pull ups are the first step to potty training for most children and make it easier for the adults to manage. However, most pull ups are disposable, and as a result, you'll have to buy many packs through the potty training process.
Training Pants
Training pants are made from thinner material when compared to pull ups. They're a little closer to grown-up underwear and are designed to be worn on their own. They're just more absorbent and often made with thicker cloth in the crotch area.
For children who have been practicing with pull ups for a little bit, training pants are the perfect solution. They're also reusable after being washed, making them friendly to the environment and your wallet.
Are Pull Ups Necessary in Potty Training?
Some parents move straight from diapers to training pants. While we don't recommend this for every toddler, some pick up potty training ideas faster than others. If your toddler already has very few accidents, progressing them to training pants could be the right step. However, most toddlers will have many accidents at first, so the thicker, disposable pull ups may be the right choice.

Materials
You'll want to have a good idea of what the underwear is made of so that you can help your toddler feel more comfortable. Some are more breathable, while others can be odor resistant. And of course, you'll want to make sure the material you pick is absorbent for those accidents that might happen. Below are some of the most common materials used in making pull ups and training underwear.
Cloth
Cloth is an overarching term used for any diapers with a blend of wool, cotton, and polyester. These diapers are always reusable and durable, and often can be cleaned in the washing machine. However, while most cloth pull ups are more breathable when compared to disposable pull ups, they're also slimmer and cannot hold in as much moisture. If you plan on being more eco-friendly, consider getting cloth pull ups for your toddler.
Polyester
Most synthetic cloth diapers contain polyester. It's more durable than traditional materials such as cotton and wool, and it has a "stay-dry" feeling where your toddler won't be able to feel any moisture as much. They're also more absorbent than traditional cloth pull ups. However, some children are sensitive to polyester fabrics and may end up getting diaper rash from it.
Our favorite pull ups with polyester are the Natural Blossom pull ups.
Cotton
Cotton pull ups are either made of normal cotton or muslin. Muslin is just cotton that has been rewoven to be more breathable and comfortable for your toddler. On hot summer days, muslin pull ups may be the answer to all your problems! They allow for more airflow to reduce the chances of overheating, and durable as well. Both normal cotton diapers and muslin cotton diapers will be able to have some level of absorbency, though they won't be able to match the absorbency of the disposable pull ups.
Our favorite 100% cotton pull ups would be the MooMoo toddler training underwear.
Wool
Wool is one of the more breathable materials available and is water resistant when treated right. They're also naturally resistant towards bacterial growth so that the reusable pull ups will stay good for a long time to come. When it's paired with a sturdy cloth diaper, this can lead to a comfortable pull up that doesn't get too hot and stuffy in warm weather. They're also one of the better options if your child is more prone to rashes.
Our favorite pull ups that use wool would be the U0U potty training underwear.
Wood Fluff Pulp
Another way for disposable pull ups to absorb moisture is by using fluff made from wood pulp. It works to distribute any fluids across the entire surface of the diaper so that your toddler won't feel too much wetness after an accident. It also traps the fluids just like polyacrylate does, but through properties of natural ingredients.
Sometimes, the fluff in the pull ups may also include wheat and corn based materials. For example, the Goodnites bedwetting underwear does a good job with using wood fluff to absorb moisture and keep your toddler comfortable.
Polyacrylate
In disposable pull ups, polyacrylate is the water-absorbing chemical that keeps your toddler comfortable. It can soak up to 800 times their weight and is often spread out to ease some of the wetness if an accident does occur. Polyacrylate is also why many disposable pull ups are so much more absorbent than reusable options that don't contain it.
Many Huggies pull ups, such as the Huggies Little Movers, use them to keep pull ups slim and absorbent. However, it is toxic and you should make sure none of the polyacrylate gel gets eaten by your toddler.
TPU (Thermoplastic Polyurethane)
TPU is a thin, waterproof layer of cloth diapers that help contain some of the leaking. While they're not good when used on their own, when paired with cotton or wool, they're excellent at holding in smaller messes. However, while TPU helps with the absorbency of pull ups, they're not necessary and can be replaced with more layers of cotton.
Polypropylene
The inner lining of disposable pull ups is usually made of polypropylene, which is often used in thermal underwear. This is considered to be safe to the touch, though toddlers with more sensitive skin may find themselves with rashes on occasion.
Sometimes, adding aloe or lotion on this inner lining can help soothe the skin and make it more comfortable.
Polyethylene
Polyethylene film covers the outside of disposable diapers and acts like plastic wrap. It's lightweight, durable, and helps keep the moisture within the pull up until it's time for a change. This material will often not be in contact with your toddler's skin at all! While it is toxic if ingested, it is considered safe for use in diapers.
Potty Training Basics
Potty training takes time and effort from both you and your little one. You'll have to gently guide them along the way, and they'll be using the bathroom on their own before you know it! As you potty train your child, you'll teach them to recognize their body's signals for when they want to use the toilet.
Emphasize how to use the toilet safely, and how to remove their own clothes when they do so. Before long, you'll have a potty trained child.
When Should I Start Potty Training?
All kids are different, but toddlers are typically ready around two or three years old. Some may want to start earlier, while others need a bit more time. Once potty training starts, as long as you keep the experience positive and fun for your toddler, you shouldn't run into too many issues. Below are a few signs that your child may be ready to start potty training.
Interest in learning how to use the toilet
Letting you know when they've wet their diaper
Staying dry overnight
Staying dry for several hours while awake
Trying to remove their own messy diaper
Tips for Getting Your Toddler Ready for Potty Training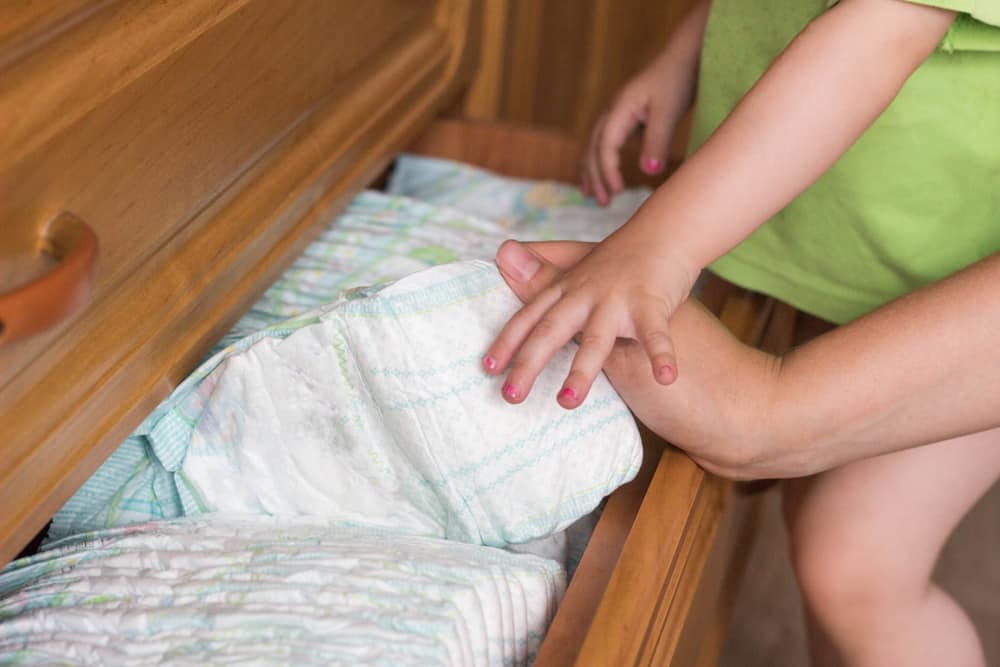 Once you see the signs that your child is ready for potty training, you need to begin preparing. It's more than just buying pull ups and expecting your little one to understand.
First, you'll want to emphasize the positives of potty training. You can say phrases like, "You can flush the toilet just like Mommy and Daddy!" or "You'll be able to pick out cute underwear!"
Don't call your toddler's old diapers babyish, and make sure to always focus on the best parts of potty training to get them excited.
Praise them on their new, grown-up behavior. Every time they recognize their urges, let them know you're proud or happy. Don't worry about them making all the changes at once – reward them for small behaviors first, and it'll soon add up. As long as you stay lenient and don't act too strictly, they'll progress at their own rate to becoming potty trained.
Make sure they start wearing clothes that'll help with potty training. Get them pants without buttons that they can easily pull down themselves. Make sure your toddler practices the pull-down maneuver so that they'll be prepared when the time does come to use the bathroom by themselves. You can start by letting them pull down and up their own pants before and after diaper changes.
You can also show them how using the potty works. Toddlers are good at mimicking adult actions. You can let them see the entire process and maybe let them flush the toilet at the end. Help them become comfortable with being in the bathroom is vital to their potty training.
Finally, when you think your toddler is ready to make the change, you can begin changing them in the bathroom so that they'll start associating the bathroom with when they have to go. You can even let your little one bring the dirty diaper into the bathroom to throw away. Over time, they'll connect the bathroom with the bathroom process, getting them ready for when potty training starts.
Tips for the Potty Training Journey
Now that your toddler is ready to start the process, you're probably just as nervous as they are. Becoming potty trained is an important milestone in their development. If you've been carefully priming them for this moment, you're more than prepared to start.
First, you'll need to switch to pull-ups. For younger ones, disposable ones may be safer and easier to use. They'll be able to pull it down by themselves once it's time to go, and they've been getting enough practice with pulling down their own pants already.
You should keep a close eye on them since they'll likely miss some of the signals at first. When they have to go, they might not always notice their fidgeting and squirming. Having your toddler sit on the toilet, even if you're a little too late, can help reinforce the connection between the potty and its use.
Make sure you keep them motivated. Give them small incentives for doing well, such as a penny each time they succeed or a bit of praise. Make sure you don't scold them when they mess up so that they'll feel more comfortable with the concept. Show them how to check for their own dryness in their pull ups to let them feel more in control.
Whatever you do, make sure you keep from nagging them. When you ask about the bathroom, you need to stay casual. If you continuously try to force them to use the toilet, this will only lead to resistance down the road. Once you start the process, it could take a long time, so make sure you stay patient with your toddler as they learn.
Final Words
With a little bit of research, finding the right potty training underwear no longer seems like a daunting task. Once you choose a good pair for your little one to use, they'll be able to grow and develop as they learn to recognize their own body's signals. Getting the right underwear helps your child stay comfortable and motivated through the entire process. Patience and motivation are all you need, and your toddler will be potty trained before you know it.