Every maternity wardrobe starts with a comfy pair of leggings. Whether you're working out, staying in, or running errands, you need something that's going to move with you and let you tackle the sweaty, often uncomfortable, and unexpected days ahead. Taking the time to find the right pair of leggings is well worth the effort, as it can mean the difference between your clothing helping or hindering you.
While there are thousands of leggings styles and brands, a few stand out amongst their competitors as being the most comfortable, the best value for your money, and the most supportive for your growing belly. We've picked a few of our favorites to help you find the perfect match (or matches!) for your lifestyle.
What to Consider When Buying Maternity Leggings
As your body changes drastically throughout your pregnancy, what you wear needs to be able to keep up. While regular clothing shopping often comes down to just what looks best, buying maternity wear means planning for being a different size month-to-month, finding the right amount of support, and allowing for enough comfort to move about your day. A proper pair of leggings will look good, feel good, and ideally last you through multiple pregnancy stages.
Activity Type
The style, fabric, and cut of your leggings all depend on what activity you're going to be doing in them. Are you going to be lounging around the house? Working out? Running errands? While most leggings are pretty versatile, they can't do everything at once. For a full range of activities, and to account for a regular wear/wash cycle, we'd recommend picking up 2-3 pairs of leggings to keep yourself covered (and comfy) throughout your pregnancy.
Over- or Under-Bump
Also called "over-belly" or "under-belly," this determines where your waistband will sit. Under-bump waistbands do not have a belly panel, and so sit underneath your baby bump. To help them stay up, they are designed with elastics in the waistband that stretch as you grow. Over-bump leggings have an extra tall, wide waistband that rises to sit above the fullest part of your belly.
Under-Bump
If you don't like any pressure on your belly, then under-bump waistbands might be best for you.
Also consider that over-bump leggings are going to have a lot more fabric coverage on your body. If you don't need the support yet, opt for an under-bump legging to keep cool. This is especially true if you'll be experiencing your early pregnancy stages in the hotter months of the year.
Over-Bump
Over-bump waistbands often provide support, while under-bump waistbands do not. In later pregnancy stages, this support will help you feel more comfortable and secure as you go about your day.
While under-bump waistbands are best for early pregnancy stages or postpartum, over-bump waistbands can be worn anytime throughout your pregnancy. If overheating isn't a concern, over-bump leggings can be worn with the waistband folded down in the early stages of your pregnancy, then pulled up at later stages, making them very versatile.
Sheerness
Passing the squat test is the true mark of a quality legging. The principle is simple: if you do a squat in front of a mirror (or a helpful friend), how see-through does the butt become? Some leggings, especially black ones, are safe enough that you can wear anything you like underneath. Some others might need you to put on some nude underwear.
But the lighter the color, and the thinner the fabric, the more likely it is that no matter what you've got on underneath, it's all going to show. A legging normally fails the squat test if your underwear is at all visible.
Fabric Type
Different materials and blends change how leggings will look and feel, even if the styles seem similar at first glance.
Thinner, lightweight fabrics are going to be the best for keeping you cool, but have the highest chance of failing a squat-test, especially as your body changes and gains weight.
A medium-weight fabric will provide enough support without making you overheat.
Heavier fabrics are going to provide the most support, and rarely fail squat tests, but aren't comfortable for hot or humid days.
For a breakdown of popular fabric types, read our detailed guide below!
Length/Cut
No matter the weather, you want leggings that suit it. In the summer, opting for a crop/capri length or biker-short can help you beat the heat. Keep an eye on inseam length, however: if you're on the shorter side, a 7/8 "crop" legging might provide the same coverage as a full-length legging, or vice-versa for taller women. Later in your pregnancy, shorter leggings can also provide much-needed back support under long dresses that might otherwise have none.
Ease of Care
Some fabrics, especially those designed for working out, have specific washing instructions that can add extra work to your day. While many are safe in regular wash cycles, some require that they be hand-washed, laid flat to dry, or hung up. Early in pregnancy this won't be much of a problem, but in later stages, you'll want something easy to wash and wear right out of the machine.
Top 10 Best Maternity Leggings 2023

Why we like it:
A slightly different entry to others on this list, these leggings look like regular pants so you can wear them to work, or for going out and about. They feature back pockets, a seamless stretch over belly panel, and come in two colors.
Editor's Rating:
When you need something that will look good effortlessly, these leggings fit that description. While they are still technically a legging, the back-pocket details give them just a bit of an upgrade to make them feel more polished. The thick material means that panty lines won't easily show, and that they're warm enough for winter. Paired with a sweater and boots, these leggings are just what you need for a work-appropriate winter outfit.
While the leggings themselves are of a heavy cotton-spandex blend, the over belly waistband is of a thinner, nylon material. This prevents them from feeling too constricting, as well as allows your skin to breathe. As an added bonus, the stretchiness of the waistband keeps the leggings in place without letting them slide down—through every stage of pregnancy!
Additionally, these leggings are perfectly fine to machine wash. No worries about tossing them in with the rest of your clothes. As a hybrid of sweatpant and legging materials, be aware that they are going to be very susceptible to pilling, especially where the thighs rub together. If avoid pilling is important to you, consider the Kindred Bravely Louisa Over the Bump Pregnancy Leggings.
Pros
Looks great enough for outside the house

Thick fabric means they're not see-through at all

Comfy without looking too casual for work

Warm enough for winter/cool weather

Thinner material on the waistband for breathability
Cons
Too thick for warm weather

Pills on the inner thighs

Cotton blends are easier to tear, be careful!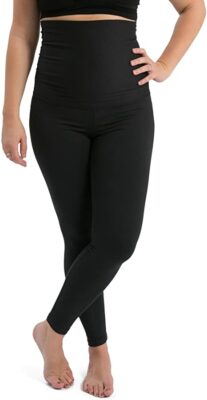 Why we like it:
Well-made and extremely high rise so they don't slip down the belly, these leggings are designed to grow and shrink with you through the entirety of your pregnancy. These can be worn as supportive postpartum wear, or even as regular leggings!
Editor's Rating:
While the Louisa leggings are more expensive than most others, their price reflects their quality and versatility. Made of a slightly sleek, luxurious material, these leggings are a perfect cross between fashion and function. They pass the squat test with flying colors, hold you in, are breathable, and look good to boot. Even through multiple regular washes, the Louisa leggings hold their color and shape with very little chance of pilling.
In later pregnancy stages, most leggings begin to slip when they can no longer cover the fullness of the belly. Enter the Louisa legging's waistband, a game changer in maternity wear. It's tall enough that it reaches all the way up to the bra line, meaning that as your belly grows, these leggings will stay in place without needing to be constantly pulled up.
Rather than a seam or elastic at the top to hold the leggings at your waist, the Louisa legging's waistband is made entirely of a thick, stretchy material. The thickness of the waistband provides some belly support and holds everything in for a flattering, smooth look. Postpartum, the waistband can be folded down to provide tightness and compression where it's needed most. After a C-section, the seamless front of the Louisa leggings is gentle on incisions and make these a comfy alternative to wearing regular pants that might rub and cause pain.
Pros
Unique, flattering waistband

Durable, high-quality fabric

Doesn't easily show sweat

Breathable

Sleek fabric repels pet hair and fluff
Cons
Thicker material likely not suitable for hot summer days

High price tag

Only comes in black

Why we like it:
A well-known, highly reviewed brand that has stood the test of many a wear. Best for early in pregnancy or postpartum!
Editor's Rating:
There's a good reason that 90 Degree's leggings are beloved by so many. Their quality is top-notch, comparable to higher-end brands, and they have great customer service. While not made for maternity, these leggings make the list for their versatility as both early-pregnancy wear and wonderfully supportive postpartum wear. These leggings are famous online for their value. For what you pay, you have a pair of leggings that seem like it should cost twice or three times as much.
The thickness of the Interlink leggings makes them compressive, hides panty lines, and no matter what color you get, you'll pass the squat test. If this tempts you into picking up a lighter color, be careful: white and pale leggings show dirt easily. Be sure to treat them with as much care as you would a white pair of jeans. Sitting on the grass or on a pollen-dusted lawn chair can spell disaster for these leggings.
While these would be a worthy addition to any traditional legging list, these make ours for their high compression as postpartum wear. The wide waistband and flat seams are gentle on incisions, the fabric smooths out lumps, and they hold you in better than most other competitors.
Their price lets you pick up three pairs for the same price as similar, high-end brands without sacrificing comfort or quality. As maternity wear is temporary (unless you plan on having more children, of course!), your wardrobe needs to be as affordable as it is functional.
Pros
High quality material and build

Squat-proof, even in white!

High waisted enough to last far into a pregnancy

Compressive and supportive, with amazing tummy control for postpartum

Wide size range, up to 3XL
Cons
Some colors show sweat easily

Slicker, more athletic material that isn't as good for lounging

Rare issues with color bleeding. Wash first to be safe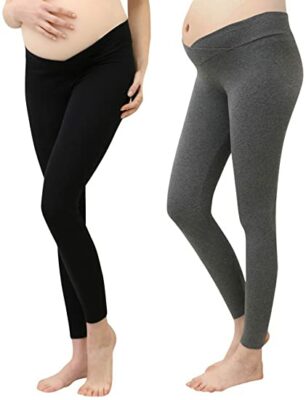 Why we like it:
Affordable, comfy, and come in a few fun colors apart from just black. The crossed-front waistband sits below the belly to keep you cool.
Editor's Rating:
Great for lounging or a day at the office, these leggings from Foucome are a great choice for everyday wear. If your biggest concern is comfort, then these are perfect. Made of mostly cotton with some spandex, they'll breathe well in warm weather and won't make you overheat. The low waistband is less constrictive than over belly leggings, and having your belly free means fewer layers on your skin—perfect for summer weather.
As they are a cotton-based material, they'll be less durable than most activewear leggings. This means a bit more care is needed when washing them to ensure that they won't tear or lose their shape too quickly. All cotton will eventually lose its shape no matter the care you put into it, as that is the nature of the fabric. By washing in cold water and either tumble drying or laying flat on a rack, you can maintain your leggings for much longer.
Pros
Thick fabric with low chance of sheerness on the butt

Good range of colors

Great to wear at any pregnancy stage, and for postpartum

Comfy for lounging about the house or desk work

Affordable 2 pack of grey and black available
Cons
May fit tighter around the belly

Limited size range, and runs small—size up!

Can stretch or shrink in the wash because of the material. Best if washed in cold water and hung dry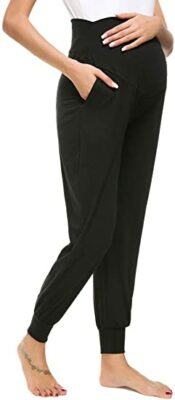 Why we like it:
The perfect loungewear pant, these are loose, stretchy, and extremely comfortable. Not see through and super soft!
Editor's Rating:
While different from the traditional leggings on this list, the Liu & Qu lounge pants deserve a spot. Made primarily of viscose, a plant-fiber based material, they're light, breathable, and absolutely great on the skin. The fabric is soft, but not too thin, and are not at all see-through. They have a semi-loose fit, meaning that while they're baggy enough to allow for pregnancy bloat, they're tight enough to hug your shape and keep you from drowning in too much fabric.
The cut of the pants is great for any outfit—paired with a tighter top, they can be styled like a regular pair of joggers for a cool, laid-back look. The waistband doesn't roll down, and doesn't dig into the tummy. They'll keep you cool and comfy, no matter the weather.
We'd recommend these lounge pants for any stage of pregnancy, including postpartum wear. While not as compressive, they will be gentle on C-section incisions, if that is a concern. If you're looking for something with more compression, consider the CLOYA Maternity Active Yoga Pant.
Pros
Affordable

Flattering, jogger-like fit

Lots of room to grow in the stomach area

Very soft, breathable, mostly natural material that's amazing for loungewear

Has pockets
Cons
Limited color range

Color may run in the wash—wash separately first!

Not as durable long-term

Why we like it:
Extremely stretchy, super high rise to fit over the belly, and won't fall down no matter what.
Editor's Rating:
As a nylon-based legging, these pants feel more like wearing tights than they do pants. This gives them everything you love about the perfect pair of tights: they hug the body, stretch like nothing else, let you move properly, and breathe very well.
While they are thick enough to wear as leggings on their own, be aware that if they fit tighter around the butt or thighs they will probably show through! We'd recommend sizing up just in case. If you do end up ordering the wrong size, nylon is incredibly forgiving.
With a super high rise, these leggings fit over the belly better than most other leggings. Depending on your height, they reach all the way up to the bra line, ensuring that they stay in place.
Their material and style also mean that camel-toe is minimal. Our favorite thing is how these leggings look! Their figure-flattering style holds you in all the right places, meaning you just can throw on a simple ruched top or oversized sweater and you'll still look fantastic.
Pros
Roomy enough to grow with you while also hugging the right places

Maintain their shape better than cotton leggings

Rare fully nylon material provides great support

Cheaper than competitors with similar quality
Cons
Quite long for shorter women

Not good for working out

Tight-like, so often see-through when bending down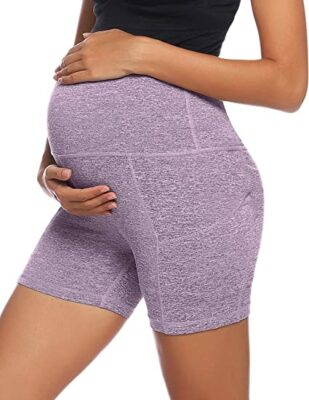 Why we like it:
These shorts are simply great: great fabric, great support, and great color selection. These are our top pick for flattering, functional shorts that won't let you down.
Editor's Rating:
The only shorts on our list, these are a fabulous staple for summer. Made of a sleek athletic material of a polyester-spandex blend, these are best for easy workouts or hot summer days. We'd recommend them for long walks, hiking, and yoga sessions. They're short enough to keep you cool, while not so short that they don't protect your thighs.
The material means that they won't lose their fit as easy as cotton blends, so you can wear them day-in-day-out without fear of wearing them out too quickly. A good thing, too, because these shorts are extremely comfortable no matter what you're going to be doing in them. When the temperature climbs, this is what you'll spend all week wearing.
Be aware that different colors of this short are a slightly different material. We'd recommend the solid colors over the heathered ones, as they have a higher percentage of spandex for a stretchy, higher-quality fabric. The solid colors are also not see-through, while the heather ones are more sheer. If you have any worries about sweat stains, grab a darker color to be on the safe side.
Above any other leggings on our list, we'd recommend these for wear underneath dresses for added support, protection against chafing, and as a guard against unexpected discharge (especially in later pregnancy stages).
Pros
Functional, convenient pockets

Stretchy, not see-through fabric (in solid colors)

Thick fabric hides panty lines

Plenty of room to grow

Not too tight
Cons
Some colors show sweat easily

Can be loose on less curvy body types

No crotch gusset

Why we like it:
Thick fabric with great compression, these high-quality leggings are suitable for everyday wear or for working out.
Editor's Rating:
Made of a thick athletic material, these are the perfect capri-cut leggings to keep you active throughout your pregnancy. They won't slow you down throughout your day at all—squat proof and compressive without sacrificing comfort, these will take you from yoga to the store to home and back. As a longer capri, they are a great option for shorter women looking for a full-length pant that won't bunch at the ankles.
Our one complaint with these leggings is that because the waistband is thick, is it also pretty tight. On some people, they may not fit all the way through a pregnancy comfortably. On the other hand, this tighter waistband means that these leggings are extra supportive and will absolutely stay in place when working out. The compressive waistband also means they can be comfortably worn postpartum.
Pros
Thick fabric that isn't at all sheer

Great compression and support

Stays in place

Super high rise to fit over the belly properly
Cons
Tighter belly-band; we recommend sizing up

Seams on the waistband may show through fitted tops

Seam on the back of the leggings may not be flattering on some body types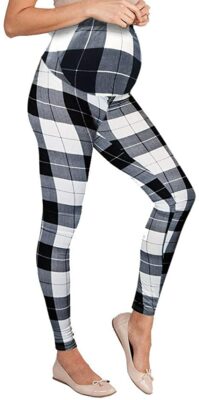 Why we like it:
An amusing twist on regular leggings, these join our list simply for their bright colors. Not the best as everyday wear, but a good way to change things up a few times.
Editor's Rating:
While not the highest quality leggings on this list, these deserve a spot for their wide range of funky, unique patterns. As a polyester/spandex blend, these leggings are lightweight, don't compress very much, and stretch well. If you aren't a fan of pressure from your clothing, then these are for you. If you do want something that offers more compression, you'll want to take a look at the CLOYA Maternity Active Yoga Pant.
Because the fabric is thin and cheaply made, lighter colors will be quite see-through and should be worn with longer tops just in case. If you just want comfy, at-home pants, then these would do the trick. If you're worried about the sheerness, opt for a dark color with an irregular pattern to break up the visuals.
The best thing about these leggings is the pattern availability. They'd be a great way to add some pop and color to your wardrobe without breaking the bank. Just be sure to treat them gently—the fabric isn't very durable, so might end up with holes far easier than you would with other brands.
Pros
Tons of fun colors and patterns

Non-compressive

Lightweight

Very stretchy

Doesn't slide down easily
Cons
Thin, cheaper fabric

Polyester blends aren't as breathable as cotton or other natural fibers

Waistband may feel tight

Why we like it:
High quality, soft, and available in many fun prints, these Colorfulkoala leggings are fully deserving of the online hype. Known as a close dupe of lululemon's Align Pant (for a third of the price), they're a tried and tested legging that won't let you down.
Editor's Rating:
While not made for maternity, these leggings are a great choice for any early-pregnancy wardrobe. Raved-about by thousands, these leggings are an online reviewer darling and an all-time favorite of activewear influencer HopeScope. Unlike most maternity leggings, these come in a variety of prints that follow the year's biggest trends, namely several styles of camo and even leopard.
While these leggings are a medium-weight fabric, they're quite compressive, so are better for moving about than lounging around. They're moisture-wicking, smooth, and do well in the heat, so are great for warm summer days or easy workouts, but aren't light enough for high heat or humidity. The stretchiness of the waistband means that they'll fit over a baby bump and compensate for body changes.
Their high-quality fabric means that you won't have any issues with passing a squat test with most colors. The dark camo and leopard prints are the safest when it comes to coverage, but beware with lighter prints. Any color that is predominantly white or pastel runs the risk of sheerness, and will likely require nude underwear.
Their wide waistband will sit well on a smaller baby bump, so these leggings are most suitable for the first 3-4 months or postpartum.
Pros
Wonderfully soft, compressive fabric

Amazing selection of patterns and colors

High rise to fit over a baby bump

Great at hiding sweat

Crotch gusset to better hide camel toe
Cons
Limited size range

Suitable only for early in pregnancy or postpartum

See-through in light colors
Guide to Buying the Best Maternity Leggings for 2022
Knowing what leggings are good for everyone else isn't always enough—you need to know what's good for you. Here are some things to consider when buying not only leggings, but other maternity wear in general.
When Should You Start Buying Maternity Wear?
Most maternity styles will begin to fit around 3 or 4 months, but no two bodies are the same. In initial pregnancy stages, it may be completely fine to stay with your regular clothing, provided that it allows for some stretch. Leggings with wide waistbands, especially seamless styles, can be safely worn until they no longer fit. Once they begin to dig in, it's time to make the change to maternity wear.
While most tops/bottoms will fit for quite a while, you'll want to begin shopping for new bras right away. This is the first piece of clothing that's going to stop fitting, and it happens sooner than most think. Go for a wire-free option if at all possible, as your chest is going to suddenly be a lot heavier than you're used to, and bra wires can dig into the skin uncomfortably.
Some great options for a new bra include maternity-specific options such as the HOFISH Seamless Nursing Bra, or non-maternity styles such as the Warner's Cloud 9 Wire Free Contour Bra or the legendary Calvin Klein Modern Cotton Bralette.
How Can You Style Maternity Leggings?
The easiest and comfiest pairings for maternity leggings are flowy, loose tops that balance out the tightness on the bottom. As going commando is not the best decision when pregnant, high-low shirts are great for hiding panty-lines while also showing off your thighs.
As well, an empire waistline, like those on the Ecavus Maternity Top, makes for a flattering look that doesn't drown you in fabric. Slim-fitted long-sleeves, tank tops, and cap sleeves are great for keeping your body in proportion. Too much bagginess, especially on the arms and chest, hides your figure and often makes you look much larger overall than you actually are.
In the summer, a light dress pairs perfectly with legging-style shorts or capris. Later in your pregnancy, you'll appreciate the extra belly support that having leggings under your skirt can offer. If you have issues with thigh chafing in the heat, you can simply wear capri-cut leggings, or instead opt for shorts and apply some Body Glide.
In colder climates, fitted turtleneck sweaters, leggings, and long necklaces make for a fashionable, comfortable look. Under sweaters or cardigans, support tank tops or belly bands can help relieve your back and hold you in. Two great options are BLANQI's Everyday Maternity Belly Support Tank Top for wear on its own, or the BLANQI Everyday Support Belly Band for wear underneath tops when you don't want to show shoulder straps.
What Size Should You Buy?
If you plan to wear regular leggings for the first stages of your pregnancy, you can make them last a little bit longer by going a size up. For maternity wear, however, use your pre-pregnancy size as a guide. In general, maternity pants base their fit guides off of your regular size.
For example, if you had a pre-pregnancy waist measurement of 28 inches (a size M in the Kindred Bravely Leggings), then that is the size you should buy, even though it will be different as your belly grows. Not all size guides are made equal, however—be sure to check each brand's individual recommendations for measurements!
While sizing down in a legging might seem like a good way to ensure you have proper compression, be wary of doing so: an unintended side effect of that extra compression is often sheerness. In thinner cotton leggings, especially, a smaller size usually means a failed squat test. It's normally only safe to size down in thicker leggings with a nylon/spandex blend, as activewear is expressly built for maximum stretch without compromising on coverage.
What's the Best Fabric to Buy?
Leggings come in a near-infinite range of fabric blends, but generally speaking, there are a few fabric types that you can look out for. Knowing the properties of these materials can be the difference between a perfect or disappointing purchase!
Cotton
Best only for lounging or errands. When it's dry, cotton is breathable and super comfortable. But cotton easily absorbs water (be that from humidity or sweat), and when it does, it loses all breathability. Dampened cotton shows sweat patches and holds heat, making it unsuitable for working out.
Purely cotton leggings also run the highest risk of being see-through, as cheaply made cotton fabric is thin and tears easily, and cotton does not hold its shape. If blended with spandex and/or polyester, however, cotton leggings are a great choice for super-comfy everyday wear and become much more durable.
Spandex
Spandex (also known as elastane) is the key to making body-hugging, sleek, and stretchy leggings. You won't see spandex on its own, however, as that material would be uncomfortable to say the least—imagine a pair of pants made of rubber bands. When blended with polyester or nylon, spandex makes compressive, stretchy leggings that hold their shape.
Nylon
Durable, extremely lightweight, sleek, and shiny, nylon leggings are comfy and hold their shape. The ideal activewear legging has at least some nylon to keep them light without compromising on strength or compression. The best activewear leggings are normally a blend of nylon and spandex to get the best of both worlds: these leggings are lightweight, stretchy, and as comfy as can be.
Polyester
A synthetic, water-resistant fabric, polyester is a go-to material to use in activewear blends. On its own, polyester can feel cheap, can tear easily, or retain smells. Polyester is best when blended with another fabric to increase water-resistance (especially in cotton), shape retention, and to help wick away sweat.
For more information on different fabrics used in activewear, check out this handy guide from Shape!
Quick Tips for Wearing Your New Leggings
These simple tips can help make wearing maternity leggings an even better experience.
A pantyliner in your underwear can help with preventing camel-toe (pregnant or not!) and can catch unexpected discharge. If you feel self-conscious about your panty-lines, a liner can also be placed right in the leggings when going commando.
The right pair of compressive leggings can help with varicose veins. If you wear compression stockings, a thicker, sleeker fabric is best to stop the fabrics from rubbing together and becoming uncomfortable.
To make your leggings last, wash them in cold water and hang them to dry. If possible, wash them only with other activewear!
Have at least one pair of black leggings, but try to change it up! Neutral shirts look great with loud, out-there legging patterns. If you aren't into patterns, a pair of bold red leggings can make a statement while still matching easily with the rest of your wardrobe.
Wrapping Up
Not all leggings are made equal, and neither are all bodies. What works for others might not end up being the most flattering, nor the most comfortable, and sometimes it might take a few tries to find your holy-grail wardrobe pieces. Ultimately, you'll be shopping for clothing for a time full of unexpected bumps (pun intended), mishaps, and aches that you might never have considered.
Choosing maternity-wear might seem overwhelming at first, but when it comes to expectant motherhood, being overwhelmed is part of the territory. Luckily, the internet is filled with expectant mothers asking the very same questions you have yourself. Answers are always out there, and you're not alone!