Top 21 Best STEM Toys for Kids 2023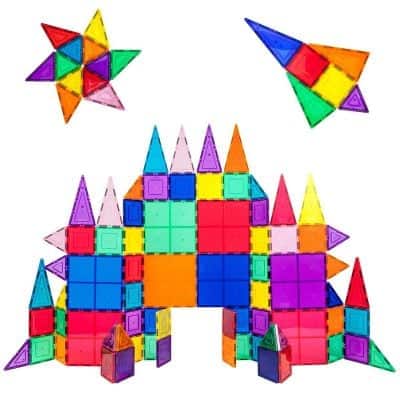 Recommended Ages: 3+
It's hard to imagine any kid (or grown-up) who wouldn't have fun playing with PicassoTiles. You'll be amazed at what your child can build quickly with these innovative, brightly colored magnetic tiles. The winner of awards from several groups representing both parents and teachers, PicassoTiles will definitely be one of those toys you notice being brought out again and again.
We were immediately struck by how convenient playing with PicassoTiles is. Unlike lots of building toys, the flat pieces make cleanup with PicassoTiles easy and allow them to be stored in a small container that won't take up too much space in a closet or a playroom. We were also impressed by how strong the magnets were compared to other magnetic building toys.
Recommended Ages: 8+
Logic is a crucial component of a STEM curriculum. No other toy we reviewed makes developing spacial logic more fun than the Rush Hour Traffic Jam Logic Game by ThinkFun. A winner of several honors including the MENSA Select award, Rush Hour is a game featuring bite-sized puzzles that will grab the attention of even the most distractible kids.
Having sold over 10 million copies, Rush Hour is one of the most popular logic games ever made. The concept is simple, the red car is stuck in traffic and needs the players to help it get out. Getting the red car unstuck requires moving the other vehicle pieces on the board strategically. We were impressed by how broad an age range this product appeals to as the rules are very simple but the puzzles can become very complex.
The set includes 40 puzzle cards that range from beginner to expert, a game grid, and 12 car and truck pieces. There is also an included storage bag making this game very portable.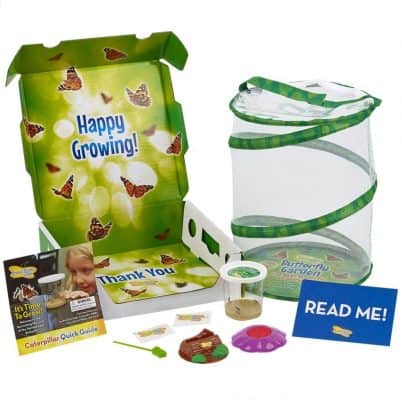 Recommended Ages: 4+
Very few moments in nature are as captivating as watching a caterpillar turn into a butterfly. The Butterfly Garden by Insect Lore is the best way to help your kids experience the magic of metamorphosis up close. Kids of any age will love watching and learning about the science of nature.
It takes approximately three weeks for a baby caterpillar to become a butterfly. The caterpillars you will receive with this kit will quickly grow to ten times their original size. The cup also comes with all the food they will need for this stage of their life. After seven to ten days, the caterpillars will hang upside down and create their chrysalides. About a week later they will emerge as a beautiful painted lady butterfly.
After a few days of feeding the butterflies using the included dropper, they will be ready to be let go. Because grown butterflies are not meant to live in captivity, you should make sure that you only begin this process when there is a suitable climate for releasing the butterflies into the wild. For this reason, your live caterpillars are not included with the kit, but instead, the kit comes with a voucher that can be redeemed online when you are ready to start. Insect Lore guarantees at least 3 of every 5 live caterpillars will become a butterfly.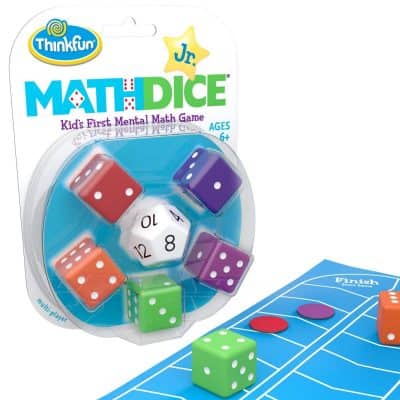 Recommended Ages: 6-15 years
If your child likes playing games, you'll want to make sure that you keep plenty of educational games around the house. Math Dice Jr. from ThinkFun is a math-based game that is a great tool for teaching mental math to children 6 and older. Because of the simplicity and low cost of Math Dice Jr, it has become a favorite tool of teachers and parents across the country.
ThinkFun is a leading brand of educational toys with over 50 million products sold. Rather than overcomplicating proceedings with too many rules, Math Dice Jr. follows a simple gameplay loop that has players concentrating on solving math problems instead of rules.
Each turn begins by rolling a target die as well as 5 scoring dice. Players make progress on the game board by finding combinations of the scoring dice that add up to the number on the target die. There are a few different sets of rules that can be used depending on the number of players and the skill level of the group. Lots of teachers and parents we spoke to have also invented their own rules as well.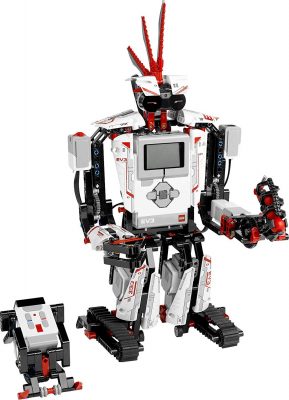 Recommended Ages: Ages: 10-15 years
LEGO has been the world's most popular brand of building toy for over 85 years, so it should be no surprise that they found their way into our list of best STEM toys. Allowing kids to build seventeen different robotic designs with an impressive array of functions, the LEGO Mindstorms EV3 Robot kit is one of the most advanced educational toys we have ever seen.
Once your child constructs one of the provided robot designs or builds a design of their own, then the fun really begins. The "Intelligent Brick" provided with the set serves as the brain of the robot, allowing it to not only walk and talk but also play games and be programmed for more advanced tasks.
Like many LEGO sets, the most obvious downside of the EV3 is the cost. It's a very impressive package, but a $300+ price tag means it's only for the most devoted LEGO fans. Parents should also take note of the 10+ age range for this product as many younger builders will get frustrated with the additional complexity with this set.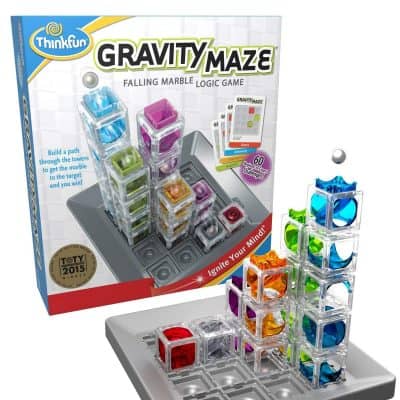 Recommended Ages: 8+
Watching marbles run down a maze has always been fun and mesmerizing, even if it's not necessarily the most educational experience. The ThinkFun Gravity Maze changes that, taking the idea and turning it into a fun puzzle that is guaranteed to keep kids occupied while teaching them logic and experimentation.
The idea is simple, but very well executed. The ThinkFun Gravity Maze includes 9 towers that can be positioned in various ways on a game grid. These towers each have different ramps and shoots that cause marbles to run through them in different ways. Using the included puzzle cards, players must try and arrange the towers so that the marble ends up in the designated target spot. These challenges are easy at first but gradually increase in difficulty as players progress, requiring them to think outside the box and stack the towers in counter-intuitive ways.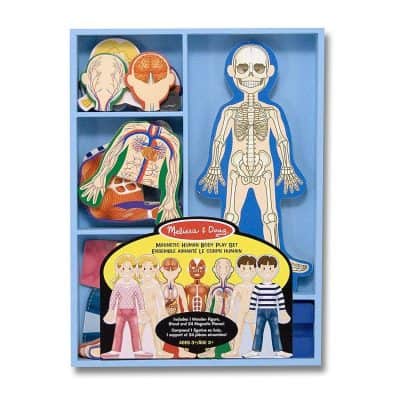 Recommended Ages: 3-6 years
Learning about their own bodies is every child's first exposure to science. It's only natural to have questions about how the human body works. Of course, this can also be a touchy subject. That's why this particular human body playset by Melissa & Doug was such a big hit with the parents we talked to.
Melissa & Doug have been making children's products for over 30 years and were named "the gold standard in early childhood play" by NBC News. Their Magnetic Human Body Playset is a great example of why. The pieces are of high quality, the art is both friendly and scientifically accurate, and the magnets are strong and built to last. The set also comes in a sturdy wooden box with compartments for each piece.
Parents should note that this set is anatomically correct and includes both male and female pieces. While this obviously has the potential to be poorly received, most parents seem to agree that the artwork in this set is tasteful enough that this does not present a problem.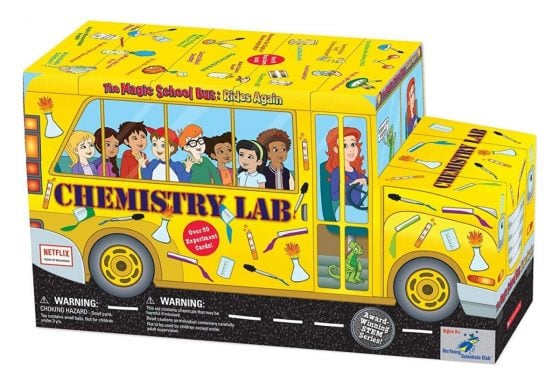 Recommended Ages: 5-12 years
Miss Frizzle and The Magic School Bus have been teaching kids science for over 25 years, so what better theme for your kid's first chemistry set? Parents familiar with the books and the TV/Netflix series will know that the science content is always taken very seriously and explained in a way that is easy for kids to understand. If your child loves the Magic School Bus, this kit is a no-brainer.
The kit comes with over 50 experiment cards developed by a team of Harvard graduates and educators. While there are many experiments here you will find in other chemistry sets, like the ubiquitous baking soda volcano, you'll find lots of original experiments too. We were also impressed by how complete this set was. Aside from a few very common household items, all the materials and chemicals needed to complete each experiment were provided in the box.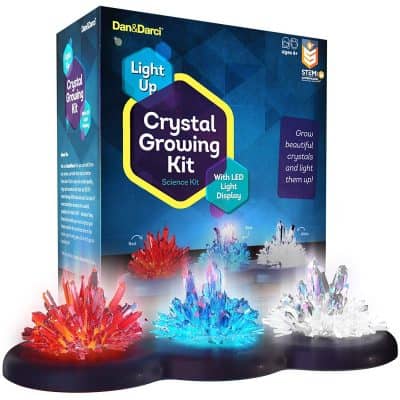 Recommended Ages: 8+
Lots of kids fall in love with science the first time they use it to create something cool. That effect is especially powerful when others share in the excitement of creation. It's clear that manufacturer Dan&Darcy understands this and that's why their Light-up Crystal Growing Kit joins several of their other products on our list of best STEM toys for your kids.
Crystal growing kits have been a STEM toy staple for decades now, but what sets the Dan&Darcy set apart from the pack is how stunning the final product looks. The crystal colors are vibrant. The stand looks great and has bright, beautiful LEDs that give the newly-made crystals a gratifying and ethereal glow. By creating such a visually appealing package, this kit ensures that your child's creation will be something they will want to keep and be proud of for years to come.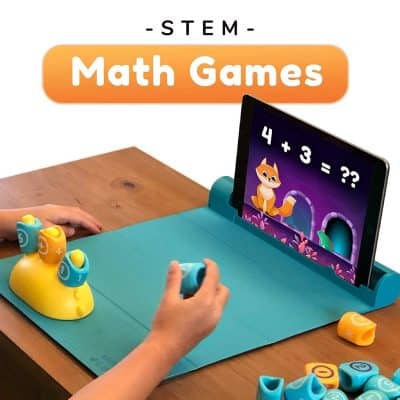 Recommended Ages: 4-10 years
As a rule, when it comes to toys for young children, we try to avoid toys that rely on other devices like phones or tablets. We decided Shifu Plugo Count is worth an exception because of how innovative it is. Using the augmented reality (AR) function of your tablet, Plugo Count uses stories to teach your child math.
At the center of the experience is the "count spike": a three-pronged plastic stand designed to hold pieces displaying digits and math operations. The count spike sits on the folding gamepad and placing pieces on it is the primary way that players interact with the toy while playing. This means that Plugo Count is played without your child touching a screen at all.
Rather than just having players complete random math problems, the questions in Shifu Plugo Count arise from the stories that play out on screen. Complete with a charming cast of characters, we especially liked how well the math connected to the story. With fun stories that provide the reason behind each problem that needs to be solved, Plugo Count makes math more practical than other math toys we reviewed.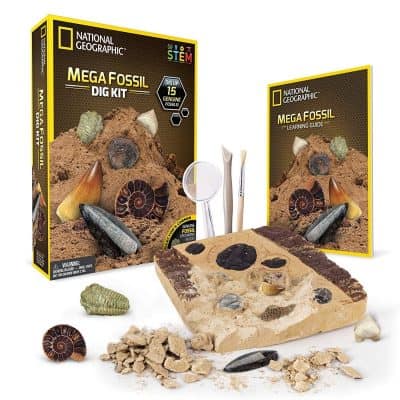 Recommended Ages: 8+
Does your child love dinosaurs? If the answer is yes, then the National Geographic Mega Fossil Dig Kit is an easy buy. The premise is immediately appealing. The kit contains a learning guide, tools, and a pre-cast "dig block". Encased in the plaster of the dig block, kids can find 15 real prehistoric fossils ranging from shark teeth to dinosaur bones.
Of course, the big draw here for any dinosaur-obsessed child is that the fossils they dig up from this kit are real fossils that they get to keep. Many parents have reported back that this factor keeps their kids' attention for hours as they carefully and patiently chisel through the box, eagerly awaiting the fossil they will find next.
Coming from National Geographic, it should be no surprise that the included 16-page learning guide is very well put together and very helpful in helping figure out exactly what each fossil found in the dig block is. The weakest part of the package is the included chisel and brush. Clearly made for small hands only, adults will have to find their own tools to join in the fun.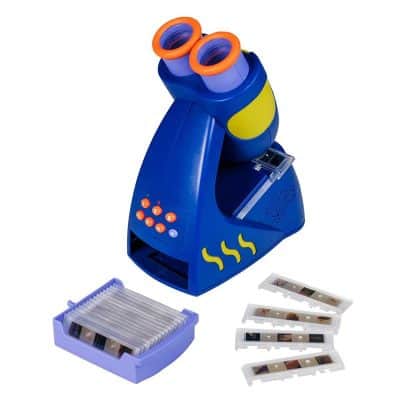 Recommended Ages: 4-7 years
The GeoSafari Jr. Talking Microscope is a great introduction to the wonders of the microscopic world. This toy features the voice of Bindi Irwin, daughter of beloved wildlife expert Steve Irwin, and an accomplished conservationist herself. The kit contains 20 slides with three colorful images each, so there's enough content to keep curious minds busy for a while. There is also a well-placed storage drawer for the slides, allowing for easy cleanup.
The GeoSafari Jr. features a dual eyepiece, making it perfect for younger kids who have difficulty closing one eye. The talking function is easy to use and Bindi Irwin does a great job delivering interesting facts about each slide as they are viewed. Several online reviewers were impressed at how well the talking microscope held the attention of younger children.
Older kids may not be as enamored with the microscope as it has a relatively weak magnification of only 5x. Also disappointing to some kids and parents is that the microscope is only compatible with the provided slides, meaning that adventurous kids wanting to find their own subjects to look at under a microscope are out of luck.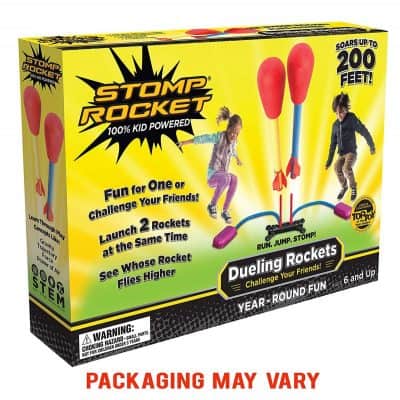 Recommended Ages: 6+
While certainly not the most educational product on our list, The Dueling Rockets set from Stomp Rocket is definitely one of the most fun. These "100% kid-powered" rockets will shoot up to 20 stories high when your little ones run and jump on the Stomp LaunchPads. What really sets this toy apart is the special base that allows for two rockets to be launched simultaneously.
What really impressed us about the Dueling Rockets set was the durability. Seeing as this is a project meant to be stomped on, a poor quality of build could stop the fun very quickly. Thankfully, most customers agree that this is a high quality enough product to take anything your kids can throw at it. Several parents also comment that this is the perfect toy to take camping or for a day at the beach.
Kids won't learn much while using the rockets, but they are an excellent demonstration of lots of physics concepts like transfer of momentum, inertia, and gravity.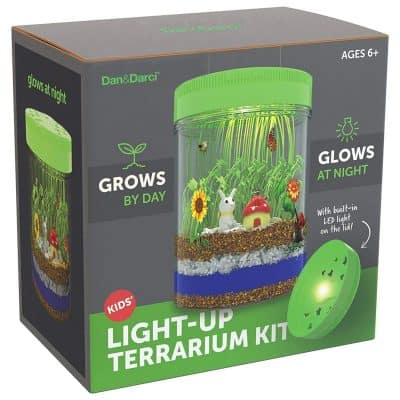 Recommended Ages: 6-12 years
The science of nature has captivated kids for generations. Learning how plants grow is an important part of understanding our world and the life on it. The light-up Terrarium Kit from Dan&Darcy allows your child to create and keep a beautiful self-contained environment in their room. The end result is a work of living art that will make your child proud and educate them on the wonders of nature.
The Terrarium serves a practical purpose as well, acting as an awesome looking night light. The LED inside lights the Terrarium in a visually appealing way that is sure to delight and mesmerize kids and adults alike.
One thing that impressed us about this particular kit was the level of customization. The Dan&Darcy Terrarium Kit allows kids to layer the sand, rocks, and soil in any way they please and the easy-to-follow instruction booklet gives them all the information they need to choose. This means the finished product is totally unique to the child who made it.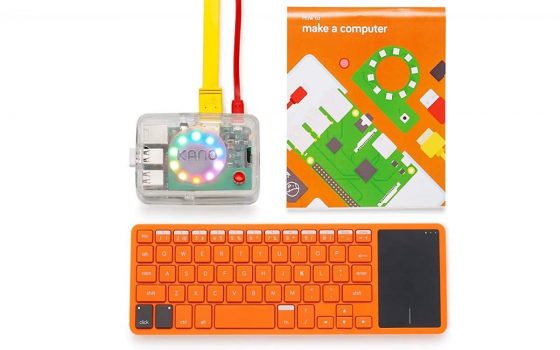 Recommended Ages: 6-14 years
Dubbed "a computer anyone can make" by its creator, the Kano Computer Kit really impressed us with its complete package and tiny price tag. Powered by the Raspberry Pi 3, this kit includes everything required to build a small but fairly powerful computer. There is also a wireless keyboard with a built-in touchpad.
After following the very simple instruction manual and assembling your computer, you can plug your Kano into any TV or monitor with an HDMI port and start using it. The unique Kano operating system comes pre-loaded and is a perfect environment for novice coders of all ages. With over 100 apps included, users can watch YouTube, play Minecraft, and lots more.
Kano is used in over 2000 schools and it's easy to see why. We would recommend this product to anyone who wants to start learning about computers and how to code. We even heard from several parents who bought the Kano for their kids and ended up using it themselves!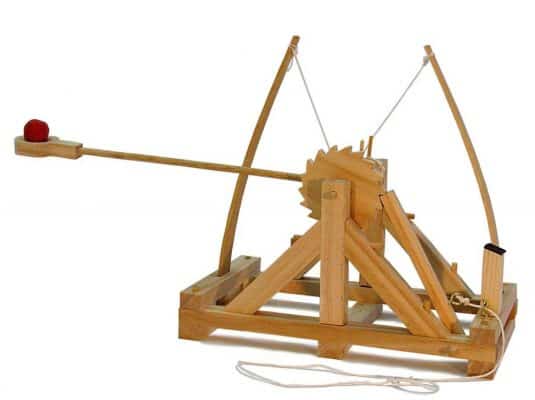 Recommended Ages: 12+
Da Vinci was one of the most prolific inventors in human history. Ahead of his time, he created dozens of inventions that changed the world as we know it. This high-quality kit from Pathfinders allows kids to make an exact wooden replica of Leonardo's famous catapult redesign.
All pieces of this wooden set arrive pre-cut and ready for assembly. We especially appreciated that all materials needed, including the glue, were included. Once assembled, the catapult is a lot of fun to play with and sturdy enough to last a long time. Standing at 10 inches tall, this catapult has no problem launching a marble across a room.
Da Vinci's original design surely stands the test of time as this catapult is a treat to watch in action. It's sure to start some great conversations with your kids about the history of invention. Because of the complexity of the mechanism, we only recommend this as a solo project for kids who are at least 12 years old. With adult help, however, this kit can be enjoyed by kids of any age.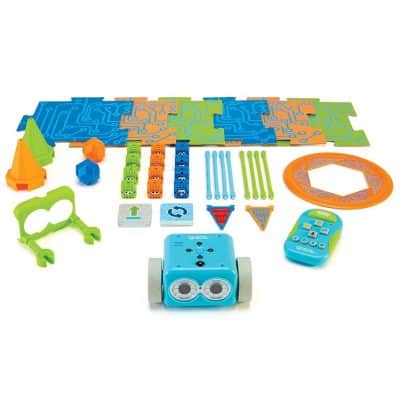 Recommended Ages: 5-8 years
Coding is all about learning how computers think in order to learn to talk to them. No toy we looked at brought this idea to life like Botley: The Coding Robot. The first thing we noticed about Botley is that there are no screens to be found here. It was also nice to not have to download a phone app before playing. Botley is ready to play with right out of the box.
The screen-free aspect makes Botley feel like a very "old school" toy, with commands being given to Botley using the remote control as well as physical "coding cards" instead of inputting them into a computer. This simplicity makes playing with Botley into a very tactile activity that parents won't mind their kids engaging with for hours at a time.
Parents or kids who are looking for more advanced programming concepts, however, may be disappointed by Botley as his coding is relatively basic and older kids will solve the included obstacle course challenges fairly quickly.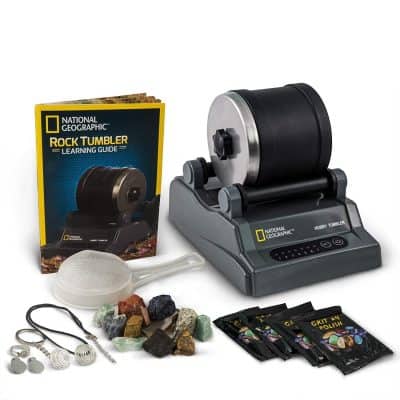 Recommended Ages: 8+
For over 130 years, National Geographic has been a leading name in the science of the natural world. That's why it's only logical that they make the best rock tumbler that we reviewed. The promise of a rock tumbler is simple, you insert jagged rocks or gemstones, let it work for a few days, then come back to smooth, polished versions of those rocks. In addition to showing kids how the smooth gemstones they see in stores are made, a rock tumbler is also a great tool to show how erosion happens in nature.
The two biggest selling features of the National Geographic Hobby Rock Tumbler Kit are its sturdy construction and how easy it is to use. Because tumbling rocks is a fairly harsh process, some tumblers break under the stress of heavy loads, usually resulting in a spill and a big mess. While this is a risk with all rock tumblers, there are very few complaints of this model failing compared to alternatives. Parents also report that customer service is very responsive to any customer experiencing this kind of issue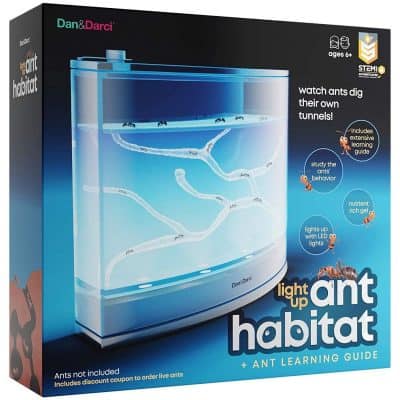 Recommended Ages: 6+
The ant farm has delighted kids and terrified parents for generations. While humans normally avoid insects in their house at all costs, having an up-close view of a colony of ants is a fascinating and educational experience, providing the ants don't get out! Because of their reputation for making decor-quality STEM products, Light-up Ant Habitat by Dan&Darci is our top pick for ant farms.
The first thing you will notice is that this habitat is not filled with sand like most ant farms are. Instead, it contains a translucent blue gel. This is the same kind of gel used to transport ant colonies in space. This gel not only looks awesome, especially when lit up by the LEDs in the unit's base, but it also provides the colony with all the nutrition it needs.
While live ants do not come with the kit itself, you will receive a coupon for a discount when ordering live ants. Because of the thickness of the gel, the manufacturer recommends using harvester ants. Customers who used other kinds of ants report that they did not take well to the gel, either getting stuck or refusing to tunnel into it.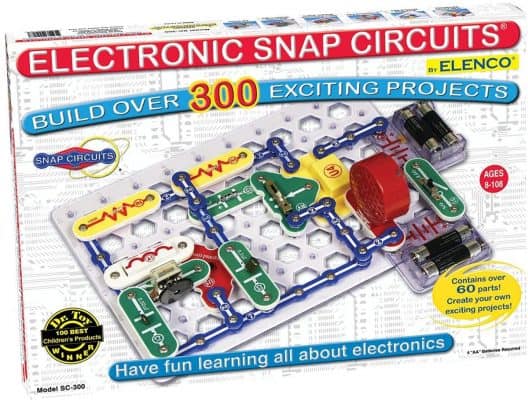 Recommended Ages: 8+
Kits for experimenting with electricity have been a mainstay in every smart kid's home for decades. Taking simple assortments of components and turning them into a functional device is electrical engineering in its purest form. Snap Circuits by Elenco make learning about electricity more fun and more accessible than any other STEM toy we have seen.
Like the electricity experiment kits that have come before, every Snap Circuits set comes with a variety of wires, transistors, switches, lights, and more. Of course, there are also instructions for several projects that can be built using those components. The brilliant twist to Snap Circuits is that every component is designed to snap into place on a well-made pegboard. Not only does this make for projects that are very easy to put together, but it also illustrates the concepts in a very easy-to-follow way.
There are several different Snap Circuits kits with a mixture of piece and project counts. We found the SC-300 kit to be the perfect starting point. With 60 total pieces and instructions for over 300 projects like a lie detector, AM radio and a water detection alarm, this kit offers a lot at a very reasonable price. Upgrade kits are available and pieces from all Snap Circuits kits are compatible.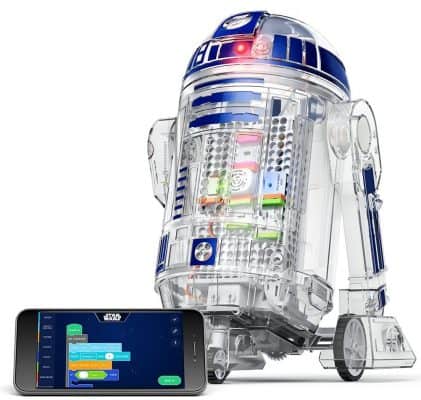 Recommended Ages: 8+
Awarded the 2018 Creative Toy of the Year Award, littleBits Star Wars Droid Inventor Kit lets kids step into the shoes of Luke Skywalker and tinker with their very own R2 droid. Using physical block-based coding as well as the included app, they can change the personality of their droid or teach it to solve puzzles. There are 22 missions for the droid to complete and he makes 20 authentic sounds from the Star Wars Movies.
We were impressed with how much content is here and how many tasks R2 can accomplish. Movie-inspired STEM toys have a tendency to be expensive and shallow, but this kit far exceeds the expectations of its under-$100 price tag. While the littleBits Star Wars Droid Inventor Kit claims to be for kids 8 and up, feedback from parents indicates that they will probably need to be a little bit older before being able to play with it on their own.