1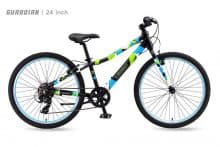 Guardian Lightweight Kids Bike
2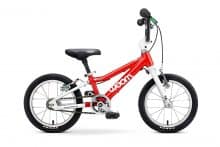 Woom 2 Pedal Bike
3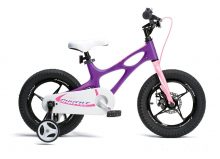 Royalbaby Space Shuttle Magnesium Kid's Bike
Previous
Next
Most people still remember their first bicycles and all the painful yet fun moments they experienced when learning how to ride. Allowing our kids experience the same fun will give them joy and beautiful memories to look back to. There are so many benefits of cycling for kids. A good bike will get your little one off the sofa and let encourage them to explore outdoors which is not only fun but also good for their health.
Getting the right kid's bicycle for your little one is not just about heading down to the bike store and purchasing one, it takes more than that. You have to consider other factors and features. Luckily for you, today we look at the best kids bicycles in 2018 with unique features to ensure your child gets nothing less than fun from their first biking experience while also observing bike safety.
Features to Consider in Good Kids Bicycle
Weight
You have to consider your child's weight against the bike's before making your selection. It is recommended that the bike's weight is not more than 32% of your little one's weight. Anything above that will be too overwhelming to the rider so ensure its frame is as lightweight as possible. A lightweight bike will also give you an easy time when carrying the bike out and into the house.
Wheels
The size of the bike's wheels will depend on your child's age and their level of experience. Young riders of ages 2 to 3 years should be comfortable on 10 to 12 inches tires. 24 inches wheels are great for 9 to 12-year-old kids. Be sure that the wheels on the bike you are purchasing are comfortable enough for your child to maneuver with ease.
Also, consider the width of the wheel. A wide wheel offers excellent traction for your child's safety.
Hands vs. coaster brakes
Hand brakes feature brake levers on the left and right of the handlebar. Although it requires more skills compared to coaster brakes, it allows your little one to take their bike both on hilly and off-road terrains.
Foot brakes, on the other hand, require your child to backpedal to stop the bike. Given new riders naturally pedal both backward and forward, these brakes can be annoying for them. They are however more straightforward to learn compared to hand brakes, therefore, best for beginners.
We recommend picking a hybrid option which comes with both hand and coaster brakes. This way, your child gets to use whichever brake they are comfortable with and given they eventually grow to use hand brakes, this is also a great way to get them ready.
Geometry
Whether a balance or a pedal bike, getting a good geometry on the bike guarantees your child's comfort when riding. A balance bike should leave ample space between the seat and the handlebar and should allow your child's feet to touch the ground fully. A pedal bike should have enough space for your child's knees when pedaling and should allow your child to touch the ground with the tip of the toes when seating on the saddle.
Gearing
Whether to buy single-gear or multiple-gear bikes depends on your child's riding style and where they want to take their bike. A bike with a single gear is easy to pedal and more affordable compared to a multiple-gear bike. Multiple gears allow your child to traverse harder terrains and are best suited for experienced riders.
Durability
Your kid's bike should be sturdy enough to withstand all the harshness of learning. Your kid will fall, hit walls or trees and the bike should be ready for all these to guarantee years of service. Bikes made of either steel and aluminum are the most common.
Top 10 Best Kids Bicycles 2020
Guide to Buying the Best Kids Bicycle
Factors to consider before buying a kids bicycle
Balance or pedal bike?
One of the important decisions you will have to make is whether to buy a balance bike or a pedal bike for your child. A balance bike does not come with pedals and is controlled by your child's feet. It helps your child learn how to balance, steer and maneuver and is the best option to help transition your child to a pedal bike.
You can also consider a bike with removable training wheels to help your child learn how to pedal. Most parents prefer using a balance bike compared to training wheels when teaching how to ride a bike.
Sizing
A bike that's too big or too small for your child will be difficult to ride and could also be dangerous. Unlike adult bikes that use the size of the frame to determine the perfect fit, children's bikes use the diameter of the bike's wheel. The sizes will mostly be from 12, 16, 20 and 24 inches. You can get the sizing chart either online or at the bike store. You can also use the inseam length to determine the right size of bike for your child.
Experience
Your child's experience and riding skills play a significant role on the bike you should get them. Whether a beginner or experienced rider, ensure the bike offers them maximum safety and comfort at all times. A simple bike will work for beginners but ensure you upgrade them to a bike with multiple speeds and advanced brake systems once they gain the skills to allow them to traverse different terrains with ease. Again, it's good to check up the various basic bike maintenance to ensure that your kid is safe whenever they are using it.
Accessories
Consider the necessary accessories your child will need to ensure they are safe and comfortable when riding the bike. Kids' bikes come with an array of accessories including reflectors, water bottle, and cage, bells, baskets among others. Keep in mind that not all bikes will come with these accessories. Select one that gives you most additional items to ensure you get the best out of the purchase.
Budget
Like any other product, setting a budget before buying your kid a bike will make the selection more manageable for you. The prices will vary based on the bike's construction, size, and type. Generally, high-quality bikes are expensive, but this does not mean you won't get a good bike if you are under a strict budget. Whether working on a budget or you are ready to blow it up, ensure you get the best when it comes to your child's safety.
Final Words
Getting your child the best bike makes them confident, develops their muscles and motor skills and also gives them memories they will live to tell. It is essential to choose the right bike to ensure your child gets the best. Our review looks at the best kids bicycles in 2018 to make the selection easier for you. Whether your child is a pro or a beginner, wants to ride for fun or to advance their skills, we have carefully selected different types to ensure you will get something for your little one.