Most people still remember their first bicycles fondly. For a child, a bicycle is often one of the first steps in independence, giving them access to new places and experiences. At the end of the day, a bike helps a child learn and grow, often getting them off the couch in the process.
Features to Consider in a Kids Bicycle
Age, size, personal preferences, and more go into picking a bike for young children. Consider the following factors listed below when shopping around.
Weight
You have to consider your child's weight before making your selection. Take a look at the bike's weight range and make sure your child weight fits within. Think about the weight of the bike itself too, as a lightweight bike can be easier to ride and easier to transport.
Wheel Size
The size of the bike's wheels will depend on your child's age and their preferred riding style. Young riders of ages 2 to 3 years will be comfortable on 10 to 12-inch tires. 24-inch wheels are great for 9- to 12-year-old kids, and other wheel sizes represent an in-between range. Be sure that the wheels on the bike you're looking at are the right size.
Also, consider the width of the wheel. A wide wheel offers excellent traction for offroaders, but is harder to pedal. Look for thinner tires if your child is coming along on family bike rides
Brakes
Hand brakes use brake levers on the left and right of the handlebar. Although they requires more skills compared to coaster brakes, it allows your little one to take their bike both on hilly and off-road terrains.
Foot brakes, also known as coaster brakes, require your child to backpedal to stop the bike. These brakes are easy to learn for beginners, but don't offer as much flexibility or maneuverability. Older children should use hand brakes, younger ones will be better off with coaster brakes.
Geometry
Whether a balance or a pedal bike, getting a proper geometry on the bike guarantees your child's comfort when riding. A balance bike should leave ample space between the seat and the handlebar and should allow your child's feet to touch the ground fully. A pedal bike should have enough space for your child's knees when pedaling and should allow your child to touch the ground with the tip of the toes when sitting on the saddle.
Gearing
Whether to buy single-gear or multiple-gear bikes depends on your child's riding style and where they want to take their bike. A bike with a single gear is more affordable and requires less maintenance compared to a multiple-gear bike. Multiple speeds allow your child to traverse harder terrains and are best suited for experienced riders.
Durability
Your kid's bike should be sturdy enough to withstand all the abuse your child will give it. Your kid might fall, hit walls, or leave the bike in the rain, and the bikes on our list will put up with that and more. Bikes made of either steel and aluminum are the most common and most durable.
Purchasing the right bicycle for your little one is not just about picking the right color scheme: a lot goes into picking out a properly-fitting bike. There are plenty of factors and features to consider. Luckily for you, today we'll take an in-depth look at the best kids bicycles in 2022. Choose wisely to ensure your child gets nothing less than the best out of their first biking experience.
No matter which bike you choose you'll need to get a helmet too, so be sure to read our guide to the best bike helmets for kids too.
Top 10 Best Kids Bicycles 2023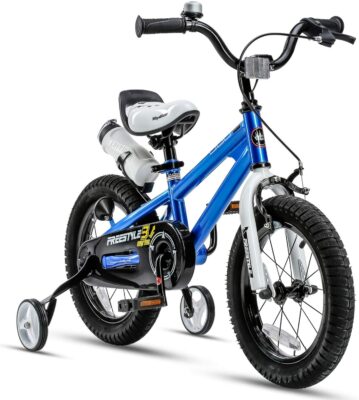 Why we like it:
The Royalbaby BMX freestyle kid's bike uses a sturdy steel frame that is durable enough for years of service to your child. It has a cushioned seat that ensures comfort when riding.
Editor's Rating:
Convenience
The Royalbaby BMX freestyle kid's bike features a quick-release seat post that allows you to adjust the seat's height with ease to fit different (and growing) riders. The seat also ensures that the bike will grow with your child. It comes 95% assembled, meaning you will only need to install the training wheels, saddle, pedals, and handlebar for your child to be having fun in no time. It features a sturdy steel construction so you can be sure of its durability even after years of heavy use. The cushioned seat ensures your little one's comfort whenever they are on the bike, but unfortunately the bike lacks a kickstand to keep it upright when they're off the bike—though buying and attaching one isn't too difficult.
Performance
The freestyle kid's bike from RoyalBaby comes with features that make it easy for your little one to learn how to ride in a fun way. First, the wide air-filled knobby tires offer a smooth and comfortable ride on all terrain, good for learning to ride in grass. It comes with training wheels to offer added stability and a hand bar at the back of the seat that you can use to help your child balance during learning.
The chain guard keeps your little one from getting their pants dirty and protects the most delicate part of the bike. You can be sure of your child's safety during quick stops thanks to the front caliper brake and the rear coaster brake, which will give them multiple options to stop the bike. It offers a firm grip to give your child full control of their bicycle when riding.
Additional Features 
This bike is packed with accessories and features, the most important, a water bottle and cage to hold your child's drink when they are out having fun. It also includes a bell and tools for assembling the bike. There are six color options and multiple sizes, so it's easy to pick something that's right for your child.
Verdict
The Royalbaby freestyle kid's bike could be your best bet if you are looking for a bike that will let your child hit the neighborhood in style. It offers accessories, including training wheels, making it perfect for beginners. The multiple sizes and colors make it an awesome go-to pick.
Pros
Comes with all-terrain tires

Quite easy to assemble

Includes training wheels, a bell, and a water bottle and cage

Comes with multiple safety features
Cons
No kickstand included, but you can buy it separately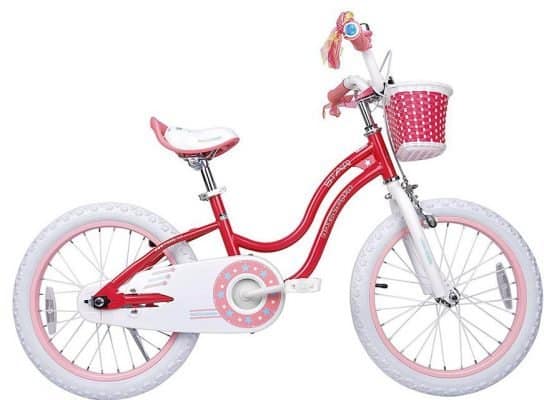 Why we like it:
The RoyalBaby Stargirl features a sturdy construction that allows your child to learn how to ride stress-free. The wide knobby tires, fully enclosed chain guard, and non-slip pedals are perfect for all kinds of terrain.
Editor's Rating:
Convenience
When it comes to ensuring years of service to your little girl, the RoyalBaby Stargirl is phenomenal. Its frame and fork features a sturdy steel construction that will withstand everything thrown at it. The enclosed chain guard keeps your child from getting their pants and shoes greasy and also protects their little fingers from getting caught up in the chain. Its seat post is easy to adjust to different heights, meaning the bike will grow with your child.
Performance
The RoyalBaby Stargirl comes with wide knobby tires that enhance its performance on offroad surfaces, offering a smooth and comfortable ride for your child irrespective of the terrain. The non-slip pedals offer good grip to your kid's feet, giving them full control when riding. The handlebars are great with comfortable hand grips.
The bike features a front caliper brake and a rear coaster brake to enhance your child's safety at all times. Its saddle allows you to hold the bike to offer extra steadiness for your child when they are learning how to balance. It also comes with sturdy training wheels that help improve the bike's stability giving your growing girl confidence when just starting out.
All of this does come at the cost of weight, though. The bike isn't so heavy that your little one won't love it, but it's a bit harder to get going than something like the RoyalBaby Space Shuttle Magnesium Kid's Bike.
Additional Features
The RoyalBaby Stargirl bike comes in cute colors that make it perfect for your little girl. It includes a basket that allows your little girl to take along essentials and a bell for alerting pedestrians. The ribbon streamers on the handlebar add a nice design touch. It also includes assembly tools that will ensure you have an easy time when getting it ready for your kid.
Verdict
The RoyalBaby Stargirl bike is an excellent choice if you are looking for a bike for your growing girl. It comes in attractive color schemes with ribbon streamers that every girl will love. It features an adjustable seat post that makes it perfect for riders of different heights.
Pros
Comes with training wheels

Comes in cute colors

Quite easy to assemble

Adjustable seat post

Includes a storage basket, a bell and ribbon buntings
Cons
Some people may find it heavy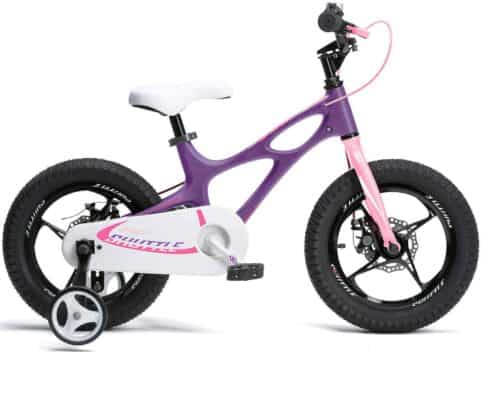 Why we like it:
The Royalbaby Space Shuttle kid's bike comes with wide and knobby tires that offers stable and comfortable rides on most terrains. The magnesium frame and steel front fork construction yield a lightweight yet durable frame. It comes with training wheels to help beginners learn how to pedal and has a unique braking system for increased safety.
Editor's Rating:
Convenience
The RoyalBaby Space Shuttle comes with unique training wheels that enhance the bike's stability to allow your child to learn to pedal with ease. The chain guard keeps the chain from hurting your child and also prevents snagged pants and shoelaces. Its front fork is made of steel, which guarantees durability.
Performance
The RoyalBaby Space Shuttle bike features a lightweight construction that makes it easy for your child to steer and maneuver. The magnesium alloy is lightweight, making the bike easier to transport. The wide tires are designed for most kinds of terrains to guarantee a smooth and comfortable ride for your little one wherever they go. Its handlebar offers a non-slip grip to ensure your child's hands are always comfortable.
The brake levers have a short reach perfect for children with small hands, even offering both front hand and a rear coaster brake options for increased safety. It features a single-speed drivetrain that makes the bicycle simple to ride.
Additional Features
The Royalbaby Space Shuttle comes with extra features that both you and your child will love. It comes with a water bottle for your kid's drinks when riding, a basket to hold their essentials and a bell. It comes in black, white and purple color options, so it's easy to find a good option for your child's tastes. It comes 95% assembled, so it's easy and quick to put together.
Verdict
If you are looking for a training wheel-equipped bicycle for your 4- to 6-year-old, this is a great pick. Its construction offers a lightweight yet steady frame that will give your child an easy time when pedaling and moving as well as ensure stability on rough roads. The training wheels make it suitable for beginner riders.
Pros
Features a lightweight and flexible magnesium construction

Comes with wide tires for comfort and stability

Comes 95% assembled

Has both front hand brake and rear coaster brake

Comes with training wheels
Cons
The single-speed limits the bike's performance on hilly terrains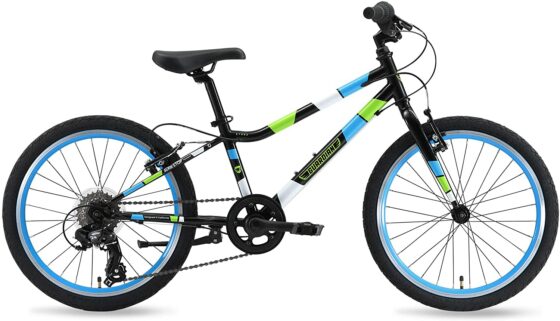 Why we like it:
The Guardian Ethos kids bike brake stops on a dime, meaning it's super safe for your child. It is also lightweight, making it easy to steer and maneuver.
Editor's Rating:
Convenience
The Guardian Ethos Bike is easy for your little one to get on and off of thanks to the low step-in height. It comes 99% assembled, and its package includes all the tools you will for set and assemply. The 16 inch version is a 1-speed, ideal for beginners and everyday use, while the larger versions offer 6 and 7 speed gear clusters for experienced riders. The Shimano Grip shifter with makes it easy to switch between the gears.
Performance
The Guardian Ethos is easy to ride. It is designed with a low center of gravity to help your child balance. Lightweight, it's easy for your child to steer and maneuver. When it comes to safety, the bike's parts are all designed with kids in mind to ensure safety at all times. The breaking system allows your child to activate both front and rear brakes with one lever which offers a quick and safe stop.
Additional Features
Its frame features first-class aluminum construction, yielding a sturdy yet lightweight bike. Its construction coupled with the high-quality components guarantees a durable bike that will serve your little one for years. It offers multiple color options so your child can have an easy time selecting their favorite color. It is suitable for 5 to 10-year-olds.
Verdict
If you are looking for a bicycle that will guarantee your kid's safety at all times, this could be your best choice. It features a unique SureStop braking system that enhances your child's safety. It is lightweight and has a low center of gravity to ensure a comfortable and smooth ride that makes it an excellent pick for beginners.
Pros
Comes 99% assembled

Lightweight

Features SureStop brake system

Great for beginners

Features multiple speeds options
Cons
Its brake lever can be hard for riders with small hands such as 5-year-olds to engage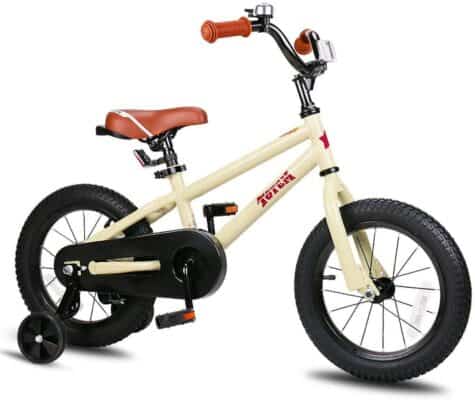 Why we like it:
This inexpensive JOYSTAR bike features a steel frame construction that will withstand all the abuse a learning rider gives a bike. It comes with removable training wheels to help your little one to learn to pedal.
Editor's Rating:
Convenience
The JOYSTAR Totem features a frame that is made of first-class steel that can endure the harshness of learning to allow your child to learn without worrying. At an inexpensive price, you will love that the bike can offer years of service and even be passed down to other children. The included training wheels enhance stability to allow your child to learn to pedal. The wheels can be detached once your child learns to pedal, letting them learn how to balance.
It features an easy-to-adjust seat making it great for users of different heights. You can choose from the 12, 14, 16, or 18-inch wheel options for a perfect fit. Its saddle has a handle that you can hold to help your child balance while learning.
Performance
This kids bike features a coaster brake that stops the bike when its pedal is pushed backward to ensure safety. It also comes with reflectors you can use on the seat post, handlebar, rear and front spokes for increased visibility. The fully enclosed chain guard protects shoelaces and pants from getting stuck in the chainring, ripped up, or dirty.
Additional Features
The kids' bike from JOYSTAR comes 85% assembled and includes all the tools you will need when putting it together. It comes in blue, ivory, pink, mint green, and silver, meaning there's a color option for every taste.
Verdict
If you want a an affordable but high-quality bike that will fit your growing boy or girl, this is in an excellent choice. Its sturdy construction ensures the bike will survive years of use. Coming in options from 12 to 18 inches, you can find an option that's right for any child from about three to nine years old.
Pros
Easy to assemble

Its brake is easy to use

Comes with training wheels

Simple design

Durable and also has a limited warranty
Cons
We wish it had a kickstand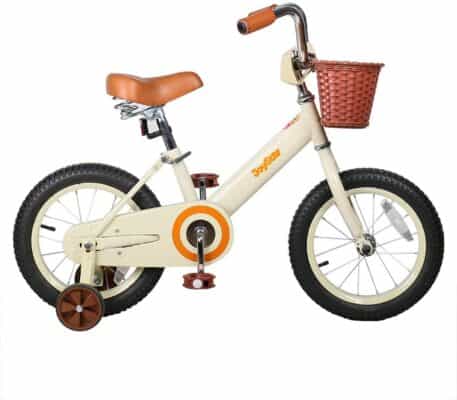 Why we like it:
This vintage-looking bike is a great starter bike that comes in attractive colors and includes an unprecedented lifetime warranty.
Editor's Rating:
Convenience
Convenience with this bike really comes down to the amount of features included. Each bike (there are three colorways, each colorway coming in three different sizes) is equipped with a simple-to-use coaster break, an included basket, removable training wheels, and a comfortable shock-proof seat. So, although it's got a bit of a more vintage look, there's no shortage of modern features.
Performance
Performance for this bicycle is great, as the coaster brake stops on a dime and every part is backed up by JOYSTAR's lifetime warranty. The biggest issue probably won't affect riders much, but it will affect parents: the bike only comes 85% assembled, requiring a little bit of effort to put together. Still, it's not too much trouble, especially considering that it comes with all the assembly tools needed.
Additional Features 
Coming in attractive colors such as green, pink, and vintage-beige, this bike is potentially the most hip-looking in our lineup. The smallest version has 12-inch wheels, fine for anyone two and up, while the biggest version (with 16-inch wheels) will suit anyone under 53 inches, meaning seven-year-olds might have to upgrade to something a bit bigger.
Verdict
At a price about typical for the category, this vintage-looking bike is a good option for all younger riders, especially those who are hard on their equipment thanks to a great warranty and a premium steel construction.
Pros
Vintage-looking bike with a strong lifetime warranty

Comes in attractive colors

Fits riders from 2 to 7 years old

Includes basket and removeable training wheels
Cons
Requires more assembly than typical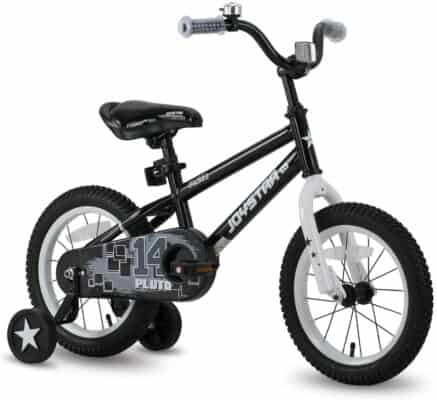 Why we like it:
Coming in a wide variety of colors and sizes with an offroad/onroad construction, this is one of the most varied and versatile children's' bikes out there.
Editor's Rating:
Convenience
Convenience equates to customizability on this model: the JOYSTAR Pluto starts out at a pint-sized 12 inches (the same size as the Strider Balance Bike and goes all the way up to 18 inches, something that will be suitable for riders up to about five feet tall. Each bike comes in five unique, bright, fun color options.
Performance
With BMX styling and a steel construction, this bike is equipped for just about everything a child can throw at it. A single gear is simple to use, especially for younger riders, but once your child gets off training wheels they might want something a bit more capable. Included reflectors help with safety, especially in lower-light conditions.
Additional Features 
The bike has a convenient quick-release seat adjustment device, perfect for on-the-fly fitting. It's also got a DIY decal that's fun and allows your child to customize the bike. Lastly, the bike has a full wrap-around chain guard that will keep pants and shoelaces out of the dirty, greasy chain.
Verdict
For an average-priced single speed bike, this is a fantastic option that will take a lot of abuse. For younger riders, one gear will be enough, but for the 16- and 18-inch options, you might be better off picking up a bike with gears.
Pros
Durable BMX style bike available with multiple gears

Quick release lever is good for on-the-fly fitting

DIY decal allows your child to customize their bike

Four sizes each with five unique color options
Cons
Single speed bike doesn't have any gears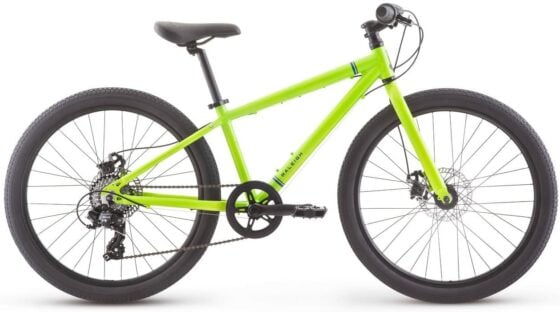 Why we like it:
This bike is really just an adult bike in a slightly smaller format, fully equipped for longer rides and bigger riders. The only issue? Its high price.
Editor's Rating:
Convenience
As a fully-featured bike with eight gears and a front/rear hand disc brake system, assembly is quite involved. It ships broken down, and although it includes most off the tools needed besides a hand pump, it could take several hours for even a more experienced mechanic to put together. If you're not familiar with bikes, we might recommend you take it to a bike shop to get built up.
Performance
This bike shines in performance. The disc brakes stop on a dime and require almost no adjustment. The gears are perfect and perfectly calibrated out of the box. A big high gear means that you can get up to speed easily, while a small low gear means that it's easy to climb hills. It's more than equipped for long rides and even races.
Additional Features 
With aluminum tubing, this bike is just as light as bikes about half the size. Riser bars offer leverage for hill climbing and help with technical steering. A big wheel (27.5 inches) can roll over intense obstacles, this Raleigh can handle light mountain bike trails.
Verdict
This is by far the most professional, adult-style bike in our lineup, but it comes at a price over double that of its nearest competitor. Nonetheless, if you're looking for the best for your preteen or teenage rider, this is one of the best options available.
Pros
A professional, adult-style bike for older kids

Wide gear range is good for big rides on varied terrain

Disc brakes stop on a dime

Handles light mountain bike trail
Cons
Assembly is quite involved

Very high price compared to other childrens bikes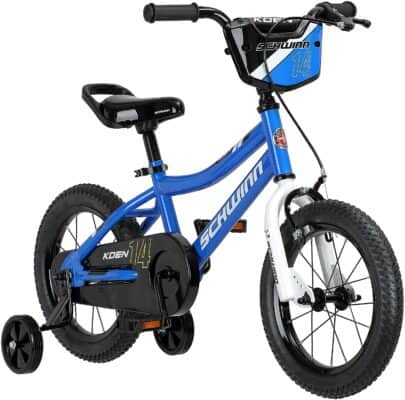 Why we like it:
The legendary bike manufacturer Schwinn was sure to make our list with their Koen lineup, which extends from balance bikes to 20-inch geared offerings.
Editor's Rating:
Convenience
This range is big enough that it could encompass a child's first bike (the Koen balance bike) all the way up to near-adult sizes (a 20-inch geared version). While the balance bike is priced cheaper than similar products, the 20-inch bike is a bit more expensive than typical, which has us scratching our heads a bit.
Performance
We love the fact that the Koen has both a coaster brake and a hand brake, good for teaching young riders how to use a hand brake but with a coaster brake keeping it pretty simple for the riders who are just starting out. This will help riders transition to a hand-brake-only bike once they graduate to a bigger, more adult model. There is only a coaster brake on the smallest pedal version.
Additional Features 
Schwinn's SmartStart technology is meant to be easy for kids that are just starting on their bicycling journey: a light frame, a geometry that allows kids to steer better and sit upright, and a narrow handlebar that's easy to grip. Schwinn has definitely put a lot of thought into this design.
Verdict
For a line of bikes that can take your child from balance bike to long distance riding, there's nothing compared to the Schwinn Koen. Steel construction is durable, but Schwinn made sure to keep it lightweight as well.
Pros
Lightweight construction helps kids maneuver

Comes in a range of sizes

SmartStart technology makes riding a bike easy to learn

Hand brakes available on most sizes
Cons
Larger versions are relatively expensive

Smaller versions don't have a hand brake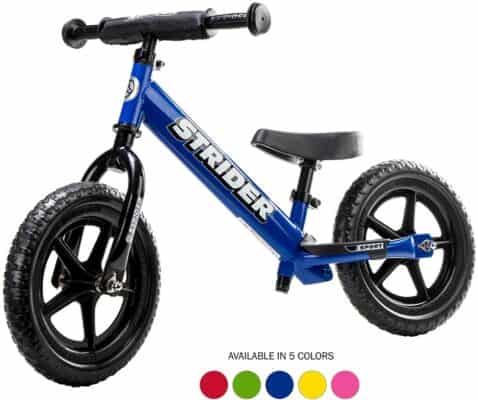 Why we like it:
The Strider Balance Bike comes with large air-filled tires to offer a comfortable and smooth ride for your little one. It's got an easy-to-adjust saddle and handlebar height that ensure it will grow with your child, and it can even be passed down to the next generation.
Editor's Rating:
Convenience
The Strider Balance Bike is a classic balance bike, easy to set up, use, adjust, and learn. With a low center of gravity, it's the perfect starter bike for kids, durable, yet light enough that it's not too hard to carry if your child ends up tired. It's been awarded as the easiest way to learn to ride a bike for children.
Performance
This balance bike by Strider comes with 12-inch air-filled tires that offer a smooth and comfortable ride. The knobby tires also enable your little one to ride on all kinds of terrains. The seat height can also be adjusted, making it easy for your child grow with the bike and change the seat height easily. The handlebars offer a comfortable and soft grip at all times.
Additional Features
The bike comes in eight colors, with something for all kinds of tastes. At under seven pounds, it's lightweight, making it easy to throw in the trunk or even carry around. It also has a really sturdy construction that will endure everything your child throws at it for years of service.
Verdict
The Strider Balance Bike is an excellent choice if you are looking for something to teach the basics of bicycling to a very young rider. Keep in mind that it has no pedals, so you'll eventually have to upgrade to a 'big kids' bike, and that it's for small riders, typically four-year-olds and under.
Pros
Adjustable seat height

Features all-terrain tires

Adjustable handlebars
Cons
Doesn't have pedals

Only for ages four and under
Finding the Perfect Kids Bicycle
A bike is a classic gift, the first taste of independence, freedom, and responsibility for kids. Whether a child is just starting to learn with a balance bike, or taking the training wheels off to begin a new phase in a life, a bike is a big step, and therefore an important purchase. It's hard to overstate the benefits of cycling for kids. A good bike will get your little one off the sofa and encourage them to explore outdoors in a fun and healthy way.
How to Choose the Right Kids Bike
A child can begin on a balance bike as soon as they begin to walk, and there are more than a few cyclists well over 100 years old. For a lifetime of cycling, make sure to pick the right bike with the right features and fit for your growing biker.
Balance or Pedal Bike?
One of the important decisions you will have to make is whether to buy a balance bike or a pedal bike for your child. A balance bike like the Strider Balance Bike does not come with pedals and is controlled by your child's feet. It is a learning tool, helping your child learn how to balance, steer and maneuver. It's the best option to help transition your child to a pedal bike.
You can also consider a bike with removable training wheels to help your child learn how to pedal. Most parents prefer using a balance bike compared to training wheels when teaching their child how to ride a bike.
Sizing
A bike that's too big or too small for your child will be difficult, frustrating, and even dangerous. Unlike adult bikes that use the size of the frame to determine the perfect fit, children's bikes use the diameter of the bike's wheel. With pedal bikes (balance bikes can be smaller), 12, 16, 20 and 24 inches are the most common sizes. Industry recommendations recommend that you use the inseam length to determine the right size of bike for your child.
Experience
Your child's experience and riding skills play a significant role on the bike you should get them. Whether a beginner or experienced rider, ensure the bike offers them maximum safety and comfort at all times. A simple bike will work for beginners but ensure you upgrade them to a bike suitable for preteens like the Raleigh Redux with multiple speeds and advanced brake systems once they gain the skills to allow them to traverse varied terrain and go on longer rides. It's good to learn up a bit on the various aspects of basic bike maintenance to ensure that your kid is having an enjoyable, safe experience every time they ride.
Accessories
Consider the necessary accessories your child will need to ensure they are safe and comfortable when riding the bike. Kids' bikes can be combined with an array of accessories including reflectors, water bottle and cage, bells, baskets, training wheels, and more. Keep in mind that not all bikes will come with these accessories, including our top overall pick.
Budget
Like any other product, setting a budget before buying your kid a bike will help to narrow down the selection. The prices will vary based on the bike's construction, size, and type. Generally, high-quality bikes are over $300, but you can still get a high-performing bike like the JOYSTAR Totem on a strict budget.
Riding Into the Sunset
Picking the proper bike improves a child's confidence, independence, health, and motor skills. It is essential to choose the right bike to ensure your child gets the best. Whether your child is a pro or a beginner, whether they want to ride for fun or to advance their skills, we have carefully selected different types to ensure a variety of suitable options for each and every kid out there.