Top 30 Best Toys and Gift Ideas for 1-Year-Old-Girls 2023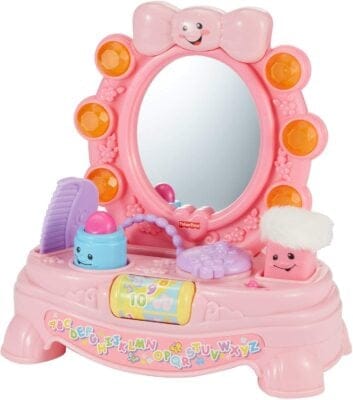 Recommended Age: 1-4
Mirrors are a classic baby toy, engaging babies in a new and exciting way. At around a year old, a baby is beginning to realize their place in the world, a mirror can help a baby with their identity. Holding different accessories like fake lipstick, a comb, a bracelet, and a soft powder puff, playtime has never been more fun. It's a bit too small to be functional for older kids, but your little one will love it for at least a few years.
This toy can also help a baby learn how to count, identify colors, learn alphabets, and differentiate textures.  It even has 15 sing-along songs, tunes, and phrases that are activated when the mirror is open and closed. And, when playtime is over, the accessories can be neatly packed back into the vanity. This magical musical mirror is the perfect combination of engaging and mentally exciting.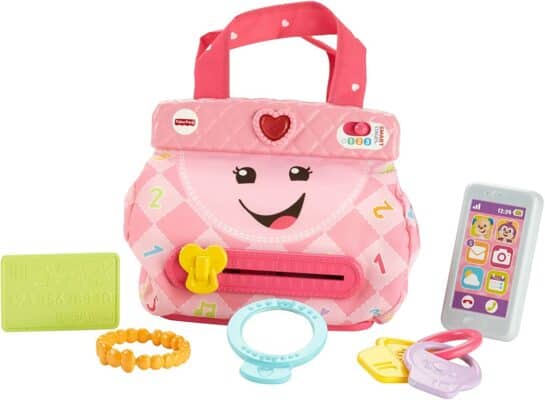 Recommended Age: 6 months – 3 years
Your little girl can start feeling grown up with this pretty purse. Carrying around her stylish, colorful purse around will make her start to feel like a grown-up. The unbreakable straps are perfect for a baby. This fun play toy has various accessories that will help your growing girl learn alphabets, numbers, colors, and also how to act like a lady.
The purse has a handle and a zipper that activate sounds and (English-language only) songs once opened/closed. Also, everything fits in the purse perfectly and they can also add a few more toys and have fun imitating mom or playing pretend. The color is girly and the design is pretty and durable.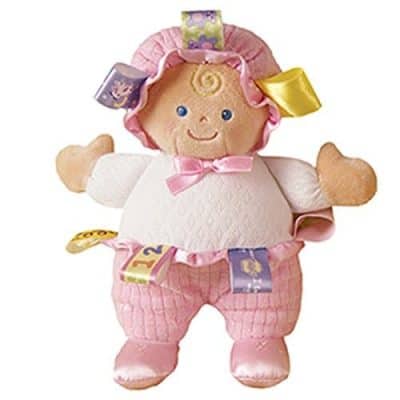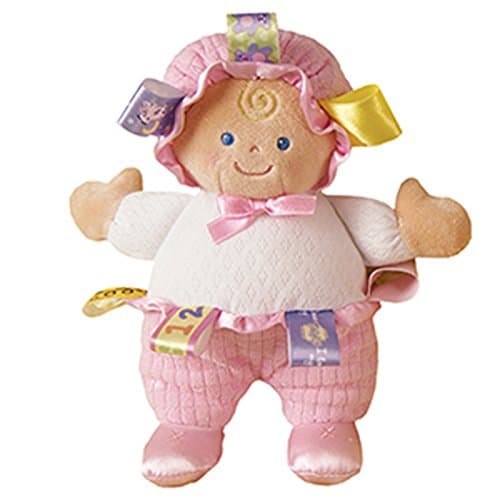 Recommended Age: 6 months – 3 years
Mary Meyer Taggies baby doll is a soft, 8-inch pink doll that has multiple fabrics/textures that help your baby familiarize with various textures.  She has a beautifully embroidered face, soft body, silk feet, and a pretty hat. It's a perfect gift for your 1-year old baby girl.
It is also durable and easy to wash despite its bright colors, and your little one will find the trademarked decorative tags easy to grab when they need to walk around with their doll. It encourages your baby to grasp and hold thus developing her finger dexterity. It's also a nice cuddly doll, so if your little one loves taking naps with her dolls, this will be a great addition.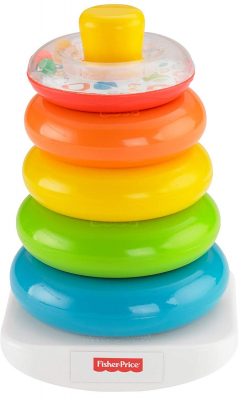 Recommended Age: 6 months – 2 years
Your baby will explore this toy that has five different rings by grasping, shaking, sorting, and stacking them. The rings are of different sizes and colors and are stack to the wobbly base of the toy. your baby will also begin learning the concept of size the moment they will begin stacking the rings from largest to smallest. The topmost and smallest red ring has rattling beads and a shiny reflective surface.
To help your baby develop good balance and coordination as well as other skills, try placing the rings far off in different directions and watching how your little one will make an effort gathering and sorting them.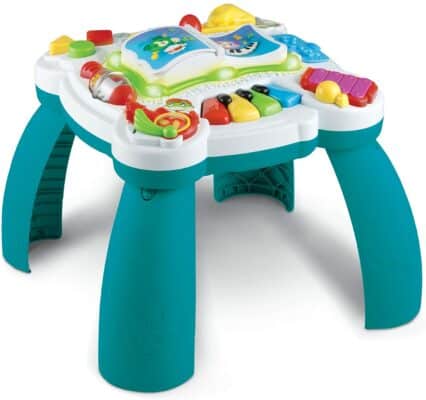 Recommended Age: 6 months – 3 years
This table includes up to 40 melodies and 15 different activities to entertain your child and keep them occupied for hours. your baby will explore these activities by rolling, spinning, tapping, and sliding the different keys and buttons to get different songs and melodies.
It's a perfect toy if you are looking for ways to introduce your little one to numeric, alphabets, and shapes. It also features various bright colors, so they will also start mastering them. It's very durable and versatile, so your baby won't get bored with it quickly. And, it comes with temporary batteries, thus ready for use.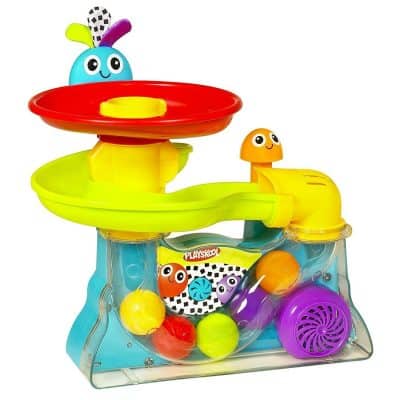 Recommended Age: 9 months – 3 years
This fun-filled toy has 5 colorful balls that pop, roll and drop down the ramp. When the button is pushed, the balls will start popping out and rolling back into the ramp accompanied by lively music and fun sounds just to spice up the game. When one of the balls drops, it will be an opportunity that you will appreciate how your baby exercises eye-tracking and motor skill just to get it back.
It is a perfect toy to help your baby develop their eye-hand coordination, motor skills, cause and effect concepts, while also keeping them very active. It's also a musical toy with 8 upbeat songs for more entertainment. The overall quality is durable, and the design is safe for little ones. It is suitable for kids ages 9 months and above.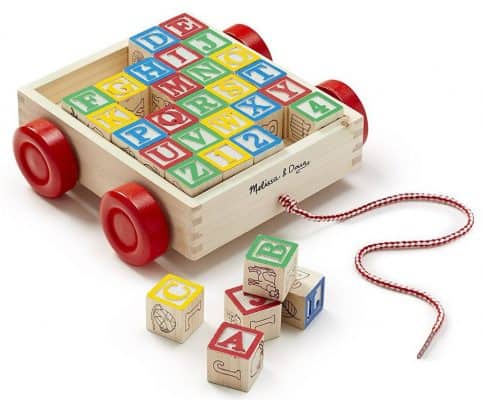 Recommended Age: 1-4 years
This colorful wooden cart with a pull along cord has 30 blocks that will help babies learn alphabets, numeric, pictures, and colors. Your little one will enjoy stacking, sorting, and matching the sizable blocks. Development of motor skills and exploring is also practiced here.
It's a durable toy that's also very safe for use by babies, and it's lightweight, so they will find it easy to pull around. Also, the best part is that you won't need to find a storage bag to store all the blocks once they are done using them. You can just stack them back in the cart and store it away.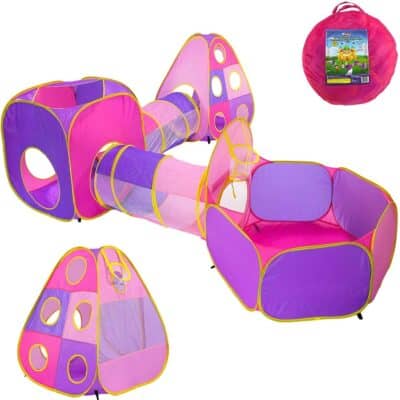 Recommended Age: 1+
This adventure 5 piece tent is the most incredible outdoor play toy for your little ones. It has interchangeable pieces one can customize to create the most suitable combination.  It features 5 net mesh holes, a ball pit that can hold 200-1000 balls, a basketball hoop, and a tunnel made of breathable and flexible mesh. The specially designed ground anchor loops keep the tent protected on a windy day.
Recommended Age: 1+
Not only is this Dilly Dally Turtle Ball lightweight enough that it's easy for younger babies to play with, but its blue and green background make it pretty to play with as well. It's great for babies' motor skills and can teach habits that will help your child stay active for age. In fact, it's the perfect size for babies.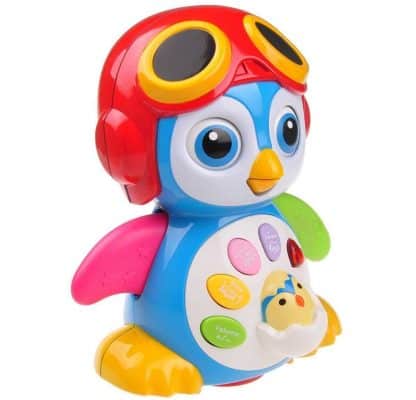 Recommended Age: 1+
This colorful bump and go dancing penguin is the perfect gift for your little ones. It will move around telling stories or playing music. Kids will be entertained through the story mode, music mode, and learning mode, which will ask kids to identify the different parts of a penguin. As the penguin is moving about and happens to bumps into an obstacle, it will automatically change direction.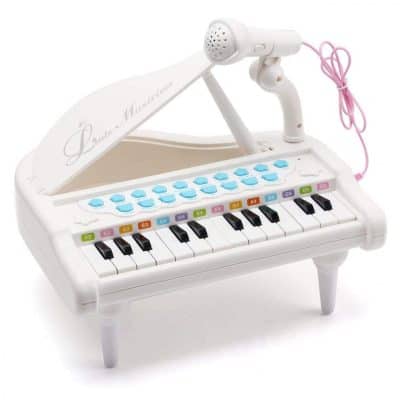 Recommended Age: 1-6
This is the ultimate get into the groove toy for your little musician, offering not only piano sounds but various other electronic instruments. This multifunctional toy will help build your baby's confidence, boost brain development, music theory cognition, enhance auditory senses, and exercise eye-hand coordination. It's beautiful and well-sized for young kids, though a bit small to truly serve as a training instrument.
It has a record and play button that your little one will be able to correct and learn their mistakes, as well as a volume control button that's sure to please parents.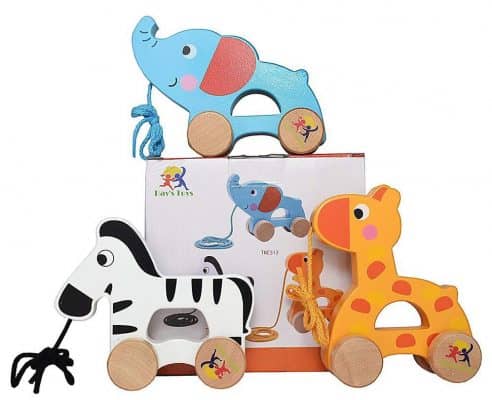 Recommended Age: 1-3 years
This set of three wooden pull-along toys consists of an elephant, a giraffe, and a zebra. Toddlers will love strolling both indoor and outdoor with their new pet. It is an early introduction to the wild for your little ones too.  It also helps in hand-eye coordination, develops balance, and helps your baby learn how to walk early. With this toy, your baby will learn about the wild, animal colors and their body parts.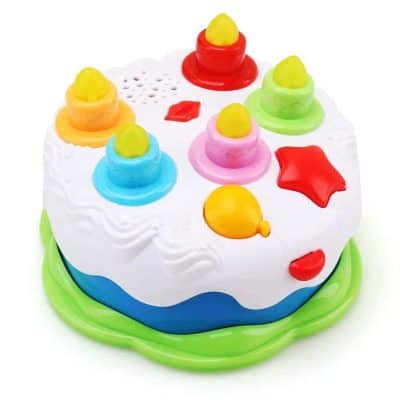 Recommended Age: 1+
Birthday celebrations are a sure way of appreciating kids in our life. With this little toy, every day will be a birthday for your toddler. Different buttons will perform different tasks such as sing birthday songs, light up candles, or ask your little one to make a wish.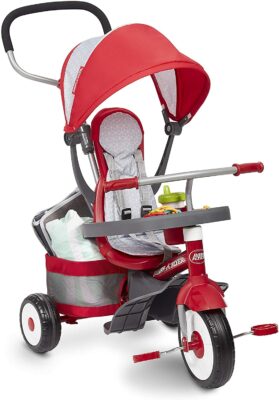 Recommended Age: 1-5
Strolling along with a parent will be even more enjoyable with this 4-in-1 trike that your baby will grow with. These include the infant trike, steering trike, learn to ride, and the classic trike, which together combine to make a toy your little one will love for years.
Each of these features will be able to adequately accommodate your baby's needs and ensure that the kids will learn and enjoy every moment. It has a 3 point secure harness, a high back seat to ensure infant safety, a removable safety tray with a cup holder, and an adjustable seat. An adjustable handle for the adult to steer and stroll, a removable canopy for UV protection, and pedals are among the other features. During the early years of toddlerhood, the pedals can even act as a footrest.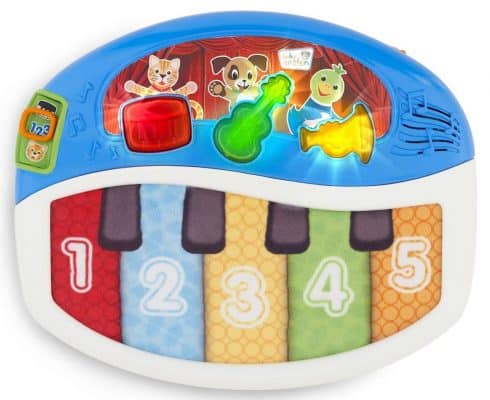 Recommended Age: 1-3
Music is one of the languages that both the young and old appreciate. This little piano introduces babies to instruments, animals, and numbers. Baby taps on to the softly designed keys and gets entertained by instruments mode by the wonderful sounds of the drum, violin, or horn. The animal mode produces sounds made by animals such as meow, woof, or quack, while numeric mode will introduce numbers 1 to 5 in English, Spanish and French.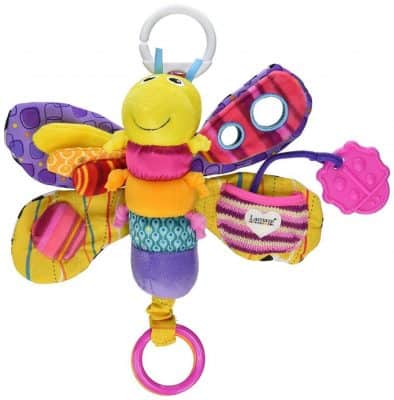 Recommended Age: 0-2
Fifi the firefly is an amazing hug and cuddle toy for your little one.  Fifi has different features on her layered wings. A mirror for baby to admire and explore their face, focus, and track images. Clicking rings to awaken your little one's auditory senses, a squeaker that engages your little one's auditory senses, knotted chewable antennae, and a ladybug teether to soothe your baby's gums. She has a brightly colored soft tummy and a black and white pattern on her back that helps your baby to stay occupied.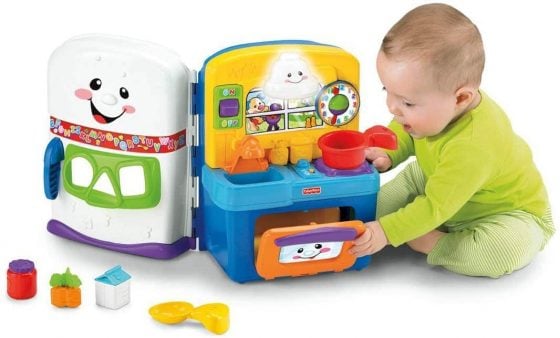 Recommended Age: 6 months – 3 years
This English and Spanish speaking learn and play kitchen is the ideal toy for the young one to help build on imagination and auditory skills. It is a fun-filled toy and will keep your baby busy for hours. Whenever the fridge is opened or closed a song plays to entertain your little one. The cook up time is filled with music that has over 20 sing-along rhymes, sounds, lights along with the 4 modes of play. And because this is a two-sided play toy, your baby will be able to explore.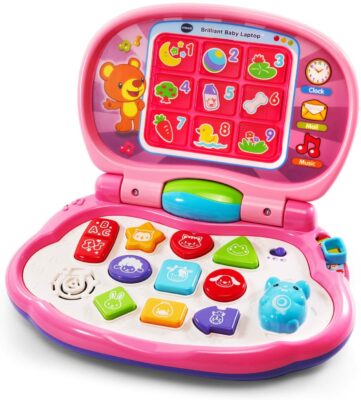 Recommended Age: 6 months – 3 years
Finally, your little one will own her laptop for imitative play and learn. It has multiple buttons that teach your little one about animals, shapes, and colors. Other than learning, there is also entertainment; over 100 songs and sounds make this laptop entertaining for hours. A screen, a volume control button for quieter play, and a little mouse are among other features to continue spicing up our playtime.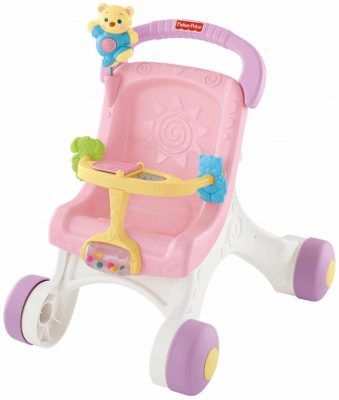 Recommended Age: 1-4 years
This adorable stroller will offer support and help when the little begins to make her first little steps. With every step taken or when the wiggly bear's belly is pressed, the music will start to play. Their hands will also be occupied since there is a spinner, roller band, and a flipbook. The stroller walker helps babies build motor skills development, early role play and nurturing.
It has a broad stable base and it's easy to grasp the handle, so there is no reason to be alarmed when your baby is using it. The stroller is also spacious, so your baby will be able to stroll with a buddy. Keep in mind that it doesn't come with any accessories, though, so you'll need to buy a doll separately.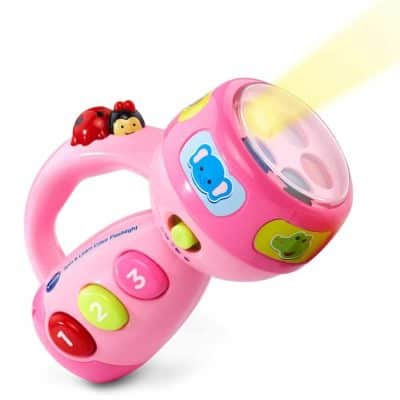 Recommended Age: 1– 3 years
This early learning pink flashlight features exciting songs, colors, and music that teaches your little one about numbers, animals, and colors. The flashlight comes with over 50 sing-along songs, sounds, music, and phrases. The beautiful ladybug activates sounds and ensures your baby's attention is fully captured. It has 5 rainbow changing colors that are not too bright nor too dim for your baby's visual senses to develop.
The flashlight uses batteries, and if it is not in use for at least 45 seconds, it automatically turns off. It also has a volume control button for quieter playtime. It has an easy to grasp handle for your baby to take away.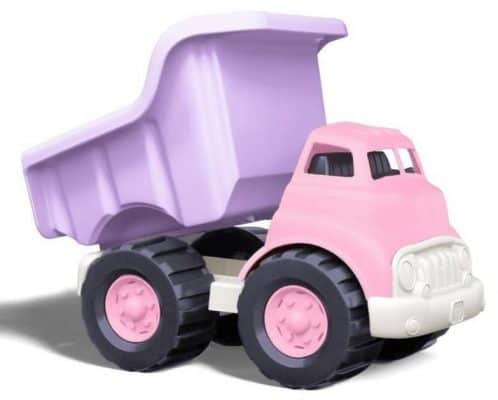 Recommended Age: 6 months – 3 years
This dump truck is made from recycled plastic materials that are safe for your little one. Hauling sand with this toy will help with the development of fine motor skills. The tires are threaded, so this dumper will endure all kinds of terrains with ease. It's not huge, but with a deep and large trunk, this truck will be able to carry a huge cargo and can tilt back and forth when loading/offloading. It is suitable for both indoors and outdoors, and it's very easy to wash.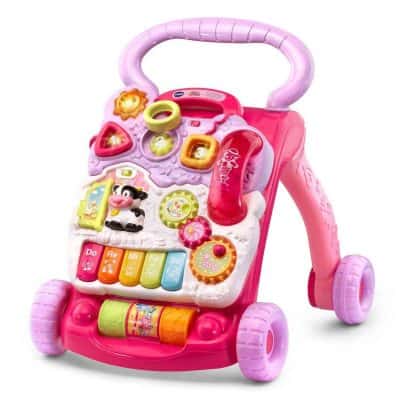 Recommended Age: 9 months – 3 years
It comes with adjustable wheels that can move on hard surfaces as well as carpets, so your baby can take their first steps on any surface. It comes with features like a pretend telephone to help develop your little one's imagination, as well as 5 piano keys to help encourage creativity and produce musical notes.
With 70 sing-along songs, spinning rollers, shape sorters, light-up buttons, sound effects, and phrases, your little one is guaranteed to develop music and motor skills and learning.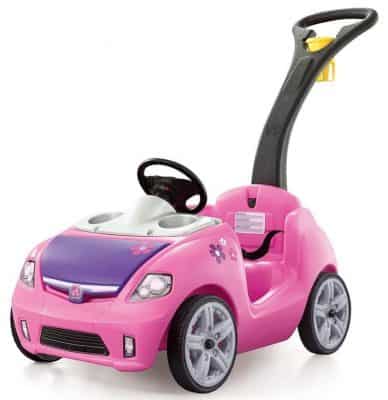 Recommended Age: 1-4 years
This super quiet toddler pusher has been sleekly designed to emulate a car. It consists of a seat belt to firmly hold your little one, a horn, two cup holders for baby and mom as they take their stroll and need to hydrate or have a snack. In case your little one needs to transport her little treasure, there is a spacious storage space on the hood of the car to take care of that. There is an easy fold handle for the adult to enhance easy fold for storage and transportation.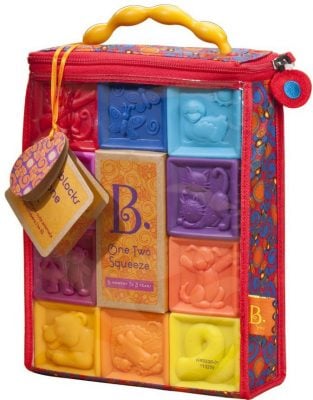 Recommended Age: 6 months – 3 years
These are fun and play with for toddlers and babies. These super soft blocks are BPA-free so your little ones can play with them without alarming the parent. The fun part for these blocks is that your little ones stack them upwards to form a wall then later enjoy kicking it down.  There are 10 blocks, each consisting of different images to delight and educate the little kids. And because the colors are engaging, these blocks can keep them interested for hours. Your baby also learns about colors, numbers, and hand-eye coordination. When playtime is over, the blocks are neatly placed back into the reusable bag.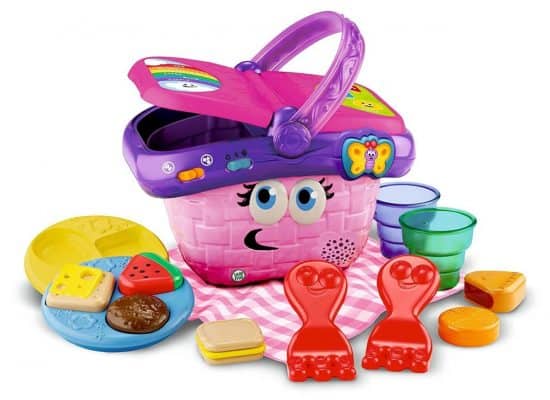 Recommended Age: 9 months – 3 years
It's an ideal picnic basket for your little one to explore, imagine, listen to music, and learn while having fun. This leapfrog picnic basket comes with 14 pieces of 6 pieces of food, 2 plates, 2 forks, 2 cups, 1 blanket, and a basket. Your baby will be able to develop imaginary skills, explore colors and shapes, get entertained with songs, and build their motor skills. There is a lot of activity and your baby will be engaged for hours as she stacks, matches, sorts, fills, and empties the basket.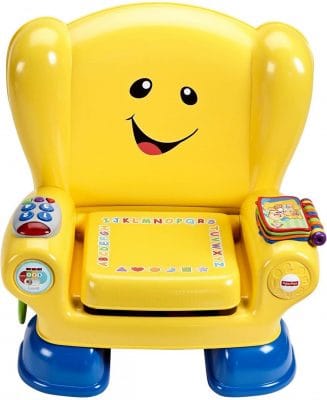 Recommended Age: 1 – 3 years
Every child grows at their own pace. With this magical smart chair, the parent will be able to select the stage that bests suits your baby.  Just slide the switch or enter your child's age, and it will be activated automatically. Your little one will be able to learn the appropriate songs, phrases, and sounds.  Music is activated when your child sits on the chair. Press the light-up remote to learn more about numbers, colors, and shapes. There are also surprises when the cushion is lifted up.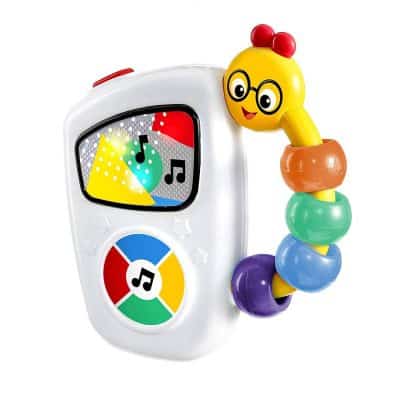 Recommended Age: 3 months – 3 years
Finally, your baby has their own MP3 player where it's only them who can choose their playlist. With 7 different classical music from masterpieces by the likes of Mozart, Vivaldi, Chopin, and Rossini, your baby is able to change genre by pressing the change button. It has dancing lights that appear on the screen that makes it even more entertaining.
It's a light toy with an easy to grasp handle so your baby can enjoy her music everywhere she goes. Again, it helps promote your child's visual perception and auditory development. It also has volume control for quieter playtime.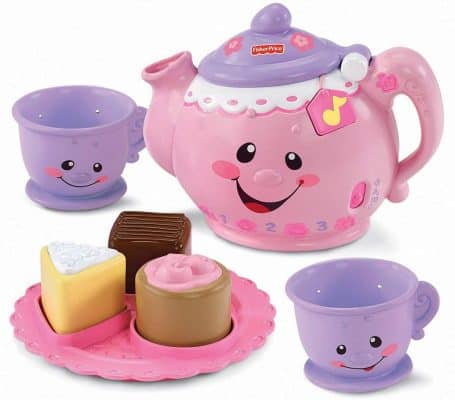 Recommended Age: 6 months – 3 years
Your little one will now begin organizing her tea parties where she can bond with her family or buddies or her favorite doll. Once the tea port is opened, greetings start, and some silly songs go along. The teapot will also start producing sounds of pouring tea on the cups once the pot is tipped. Press the tea bag for more entertainment and phrases like "please" and "thank you" that can teach some manners.
This tea set comes with 2 cups and 3 teatime cookies that are shaped and fit perfectly on the serving tray and teapot. Baby learns about numbers, manners, shapes, music, imagination opposites, and greetings. It also builds their social skills and the concept of sharing.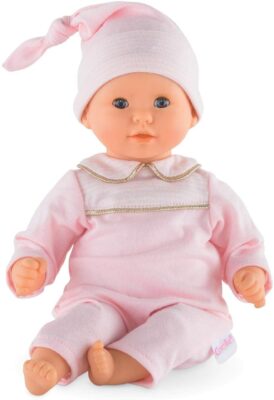 Recommended Age: 1+
You are going to love the look on your baby's face as she cuddles, hugs, and snuggles this soft beanbag-filled doll. The doll is 12 inches tall, has a vanilla-scented smooth face, and is colorfully dressed in pink and white with a matching little hat. Your baby is going to love this doll that appears so real because she also naps; thanks to her eyes that open when she sits down and shut when she lays down. As such, it might make it easy for you to convince your baby to take naps by just laying their doll down.
Also, if you're preparing your little one to be a big sister, this doll can serve as a great teaching tool. It's realistic and it will get them used to the idea of someone else in the house.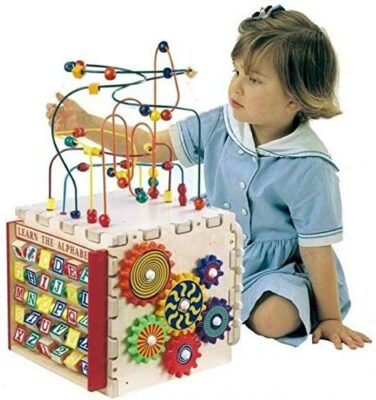 Recommended Age: 2 months +
This 5-sided intriguing toy is brilliant because it will keep your little one engaged for hours. It has features such as alphabets, roller-coaster, counting abacus, fun gears, and a pathfinder. The toy introduces your little ones to visual tracking, hand-eye coordination, maths, colors, and sensory learning. It's a sturdy and durable mini play cube, and it's carefully designed to ensure that it's safe for use by little babies. It's heavy, but this is mostly a good thing for your little one because she can easily and safely pull herself up with it.
The various colors will help capture your baby's attention, and the pathfinders will keep their little hands busy for a while. The wires are very strong and durable, so they will withstand constant use by your little one without bending out of shape. Again, it's perfectly sized to take up just a small space in your toy area and has no loose pieces.